Glasgow is one of my favourite cities in the UK for a long weekend break. There's enough to do to keep you busy and have plenty of options for things to do and places to eat, but it's not so big and busy you're ever going to feel overwhelmed. Glasgow is also a very walkable city so you can get around easily and see a lot in a short space of time. I even got out to Loch Lomond for an afternoon hiking trip and was back in the city by 6pm for a curry!
I was lucky enough to spend two days and two nights in Glasgow and this was my 48 hour itinerary. Massive thanks to lovely people at People Make Glasgow for helping me put this together! There are so many incredible places to eat in Glasgow so I have a whole separate post about that coming soon! My first visit to Glasgow was back in 2011 and it now feels like a completely different city thanks to all the cool bars and restaurants popping up and I loved seeing the vibrant change in the city over the past seven years.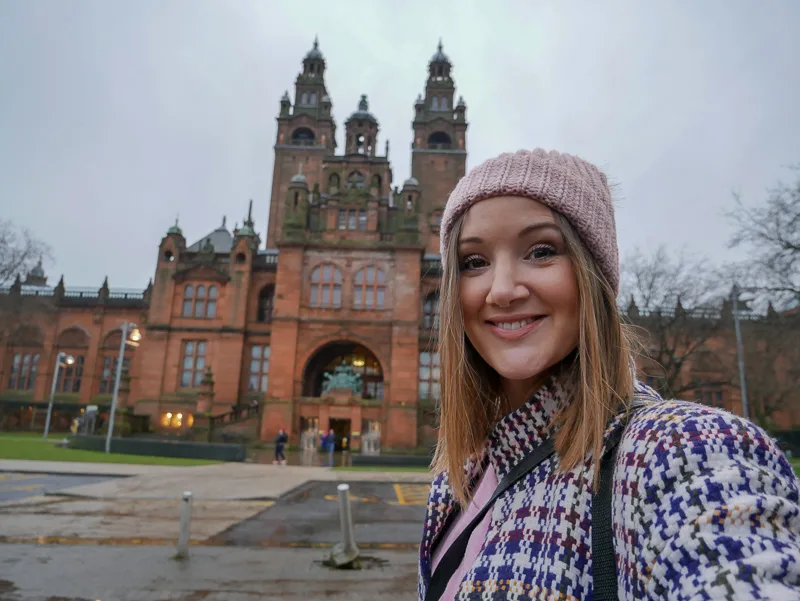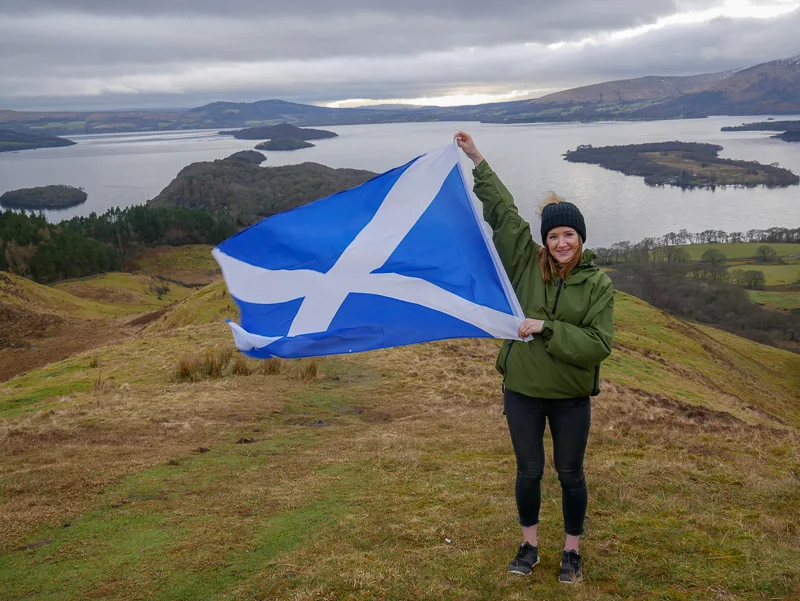 Let's start with the basics before we move on to the 2 day Glasgow itinerary
How to get to Glasgow
I took the train up to Glasgow from Chester and for most people in the UK this is going to be your easiest option. You could drive but you won't really need a car when you arrive so you might as well sit back and enjoy the journey on the train.
If the train isn't the best option for you or you're coming from abroad then you can easily fly into Glasgow.
Where to stay
I stayed at Apex Hotel which was one of those lovely, simple hotels that ticks every box. It's a 5-minute walk from the train station and a great, central location. The staff were lovely and friendly and my room was spacious, modern and comfortable.
If you plan to spend most of your time out and about and want somewhere simple and comfortable to lay your head then I highly recommend Apex Hotel.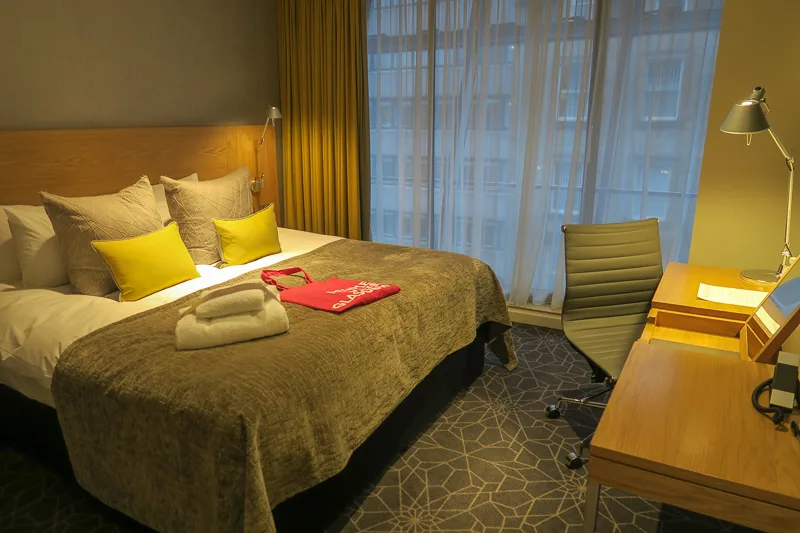 Here goes, how to spend 48 hours in Glasgow…
2pm – Arrival
If you arrive at around 2pm I recommend walking straight to your hotel to drop off your bags and get straight back out again!
2.30pm – Byres Road – Glasgow's trendy area
Head straight to Byres Road, a trendy west end area of Glasgow. This is where you'll find lots of cool cafes, hipster restaurants, boutique stores and vintage shops. It's a really nice place for a stroll and a great introduction to Glasgow.
Find out more about Byres Road here and there's the ultimate guide to eating, drinking and shopping here.
4.00pm – Kelvingrove Art Gallery and Museum
We're staying in the West End and going to Kelvingrove Art Gallery and Museum. Kelvingrove is incredible and is just as stunning on the inside as it is on the outside. It's the UK's most visited museum outside of London and it's an absolute must-see during any trip to Glasgow. It's the kind of place I'd describe as being a 'friendly museum'. There are over 8,000 objects on display but you don't feel like you need to be an art expert or a historian to appreciate them.
I loved the way one minute I'd be admiring an enormous giraffe and the next I'd be gazing at some of the most famous and precious artworks in the world. And then I'd be distracted by a huge Spitfire hanging from the ceiling and then by The Floating Heads installation which displays every emotion you can imagine.
It's an incredible place and very family-friendly if you're bringing the little ones!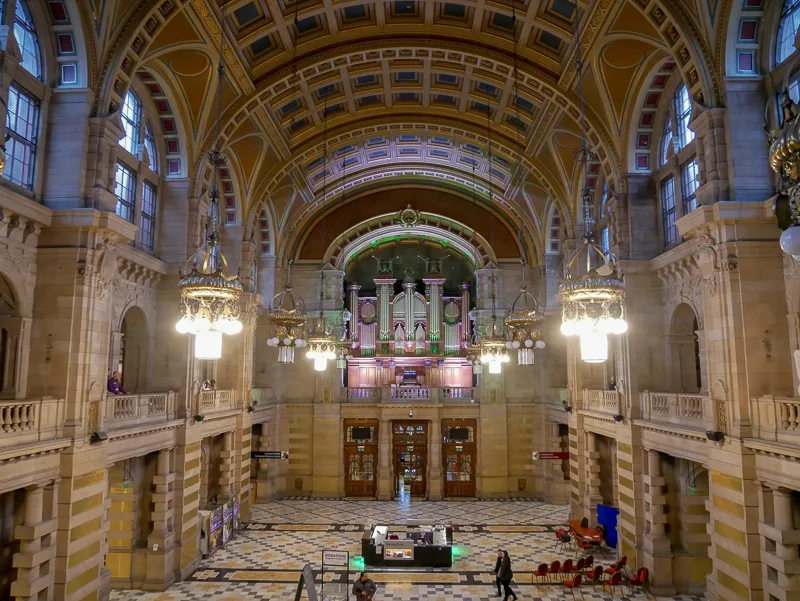 6.00pm – Cocktails at The Finnieston
Have a pre-dinner tipple at The Finnieston, an award-winning cocktail bar and restaurant in Finnieston, another vibrant and trendy area of Glasgow. The Finnieston is home to over 60 gins and it's known as the first and best gin bar in the city. Their drinks are beautiful so have your camera ready because this will be one for the 'gram.
Your next stop is just a few doors away…
7.00pm – Dinner at The Gannet
You'll feel right at home within the cosy yet stylish interior of The Gannet. It was a cold winter's evening when I visited and the roaring fire, flickering candles, friendly staff and hearty food was just what I needed.
I began with Stornoway Black Pudding Scotch Duck Egg which put every other scotch egg I've ever eaten to shame. I followed my starter with Peterhead Landed Cod with Mussels but it was my dessert that really stole the show. I wasn't going to have dessert but I was told people travel from miles around for The Gannet's Salted Caramel Fondant with Tonka Bean Ice Cream. Oh my goodness. Words cannot do this incredible dessert justice. When you've had a lovely day in a new city and you're sat by a fire with a nice glass of red wine, this fondant is the perfect end to the perfect day. Order it and thank me later.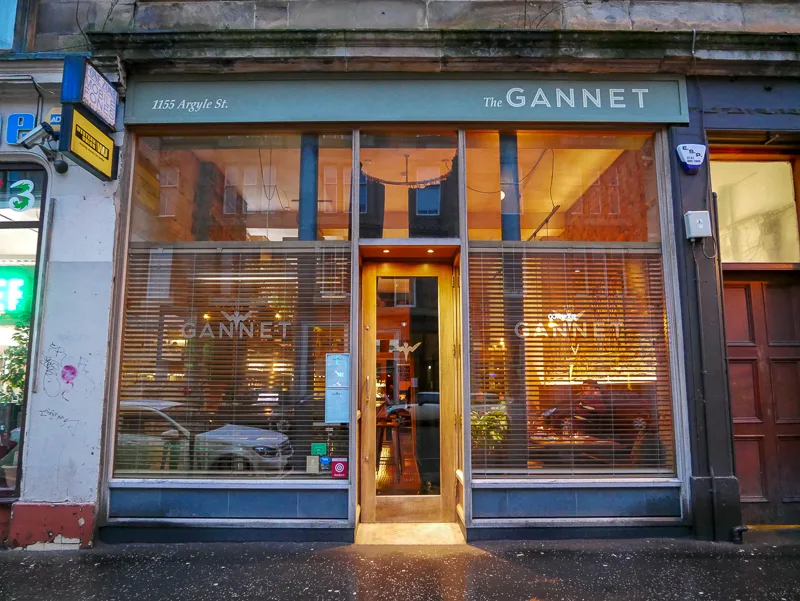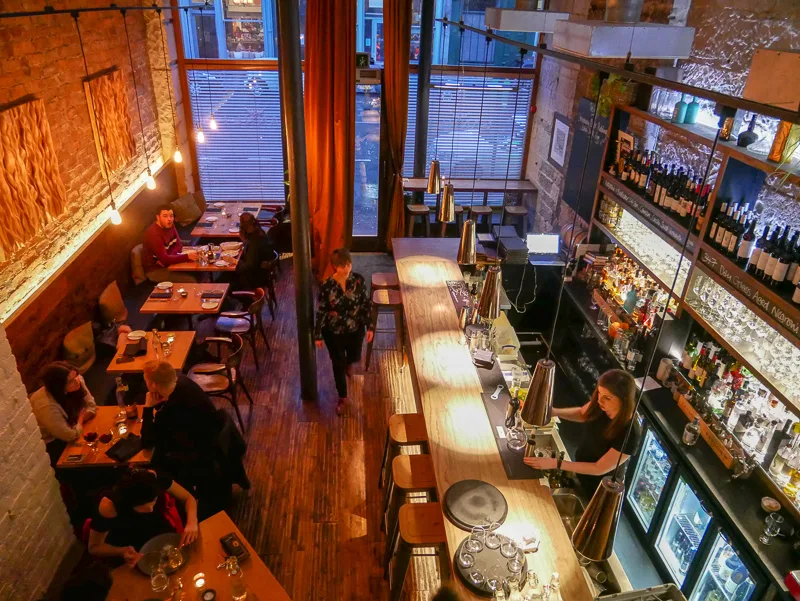 [one_half padding="0 5px 0 5px"]
[/one_half][one_half_last padding="0 5px 0 5px"]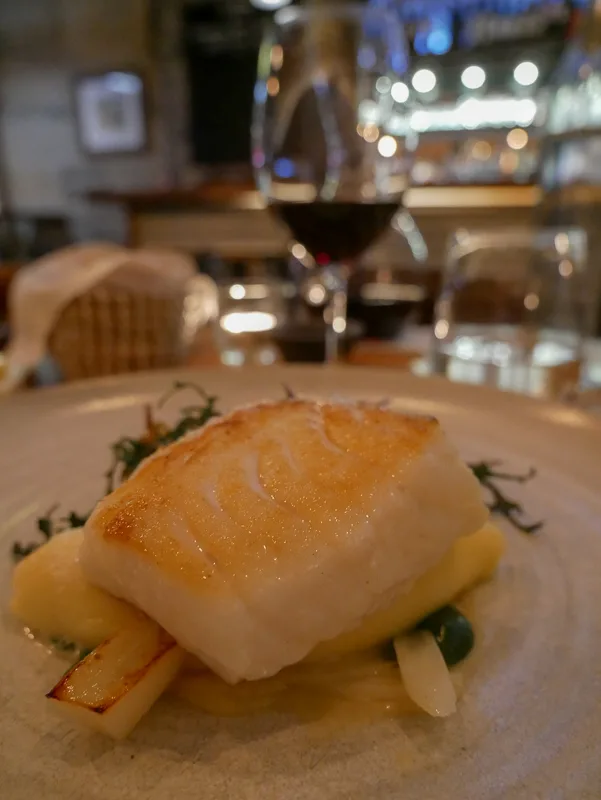 [/one_half_last]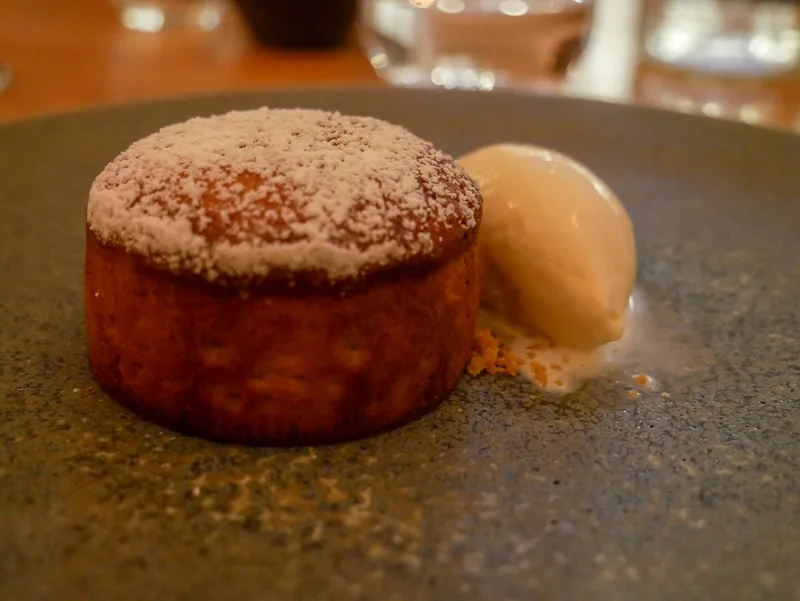 Day 2 in Glasgow
9.00am – Breakfast at Singl-end
This bohemian café and bakehouse is regularly named as the best brunch spot in Glasgow and is a firm favourite with the locals and the stylish students nearby. There's a relaxed vibe as customers tuck into freshly baked cakes and colourful dishes that are begging to be photographed.
The breakfast menu was so good I wanted everything. I honestly would have been happy with any item on the menu! I eventually narrowed it down to two (yes, I had two breakfasts, don't judge) and ordered the Veggie Baked Eggs with Halloumi and the Banana and Pecan Bread with Homemade Chocolate and Hazelnut Spread and Caramelised Banana.
What a way to start the day.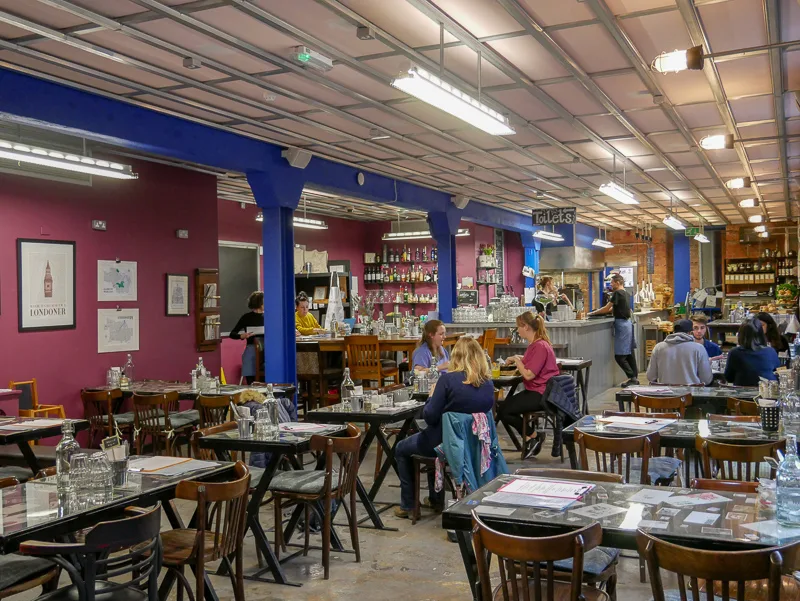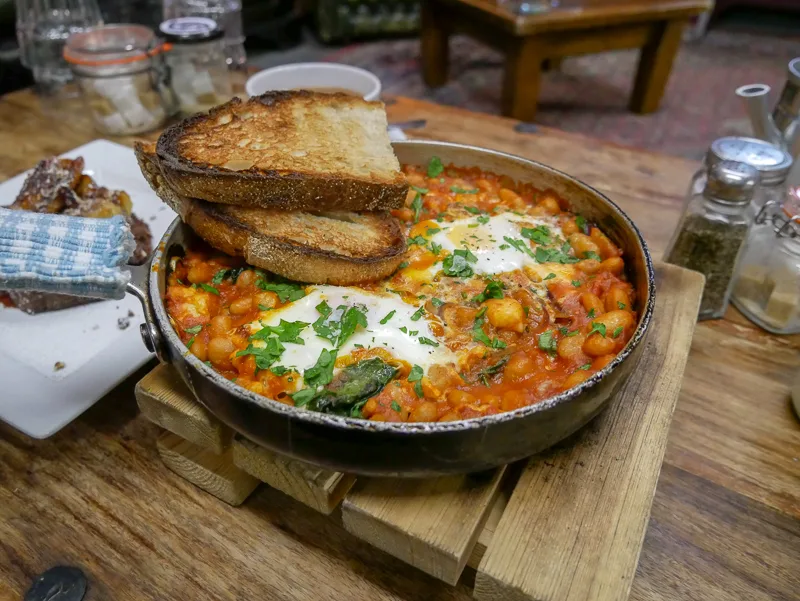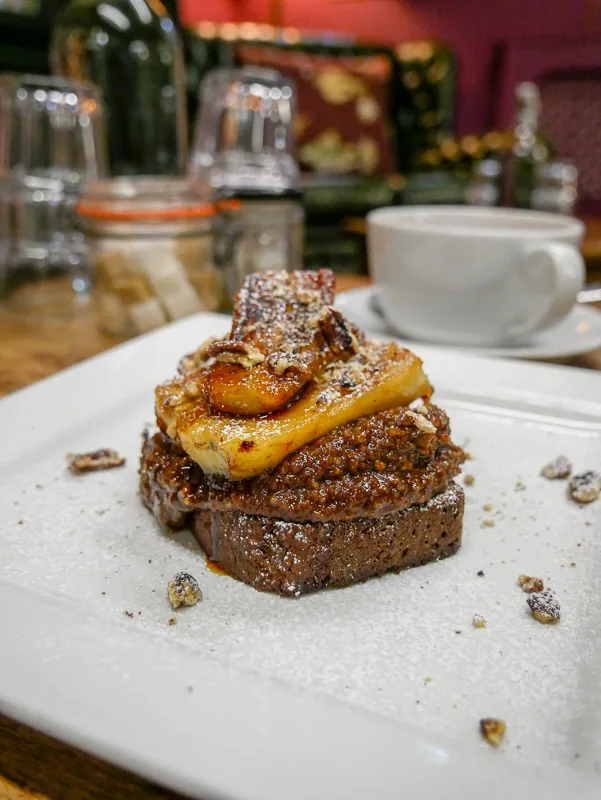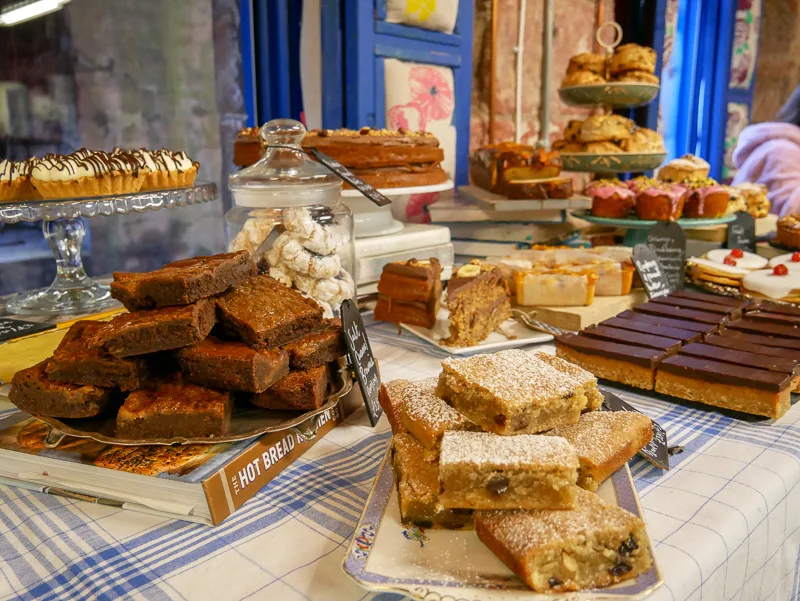 10.30am –Glasgow School of Art
The Glasgow School of Art is a short stroll from Singl-end so it's a perfect way to ease yourself into the day after a hearty breakfast. I took a Mackintosh Tour, an award-winning student-led tour focusing on the architect and designer Charles Rennie Mackintosh who designed the Art School's famous Mackintosh building. He's one of the most influential Scottish architects and designers and the enthusiastic students tell his life story with so much passion. You get exclusive access to some of Mackintosh's famous designs but, unfortunately, the Mackintosh Building is under restoration following a fire in 2014 so you can only see it via a miniature model or by peering through the scaffolding-clad building.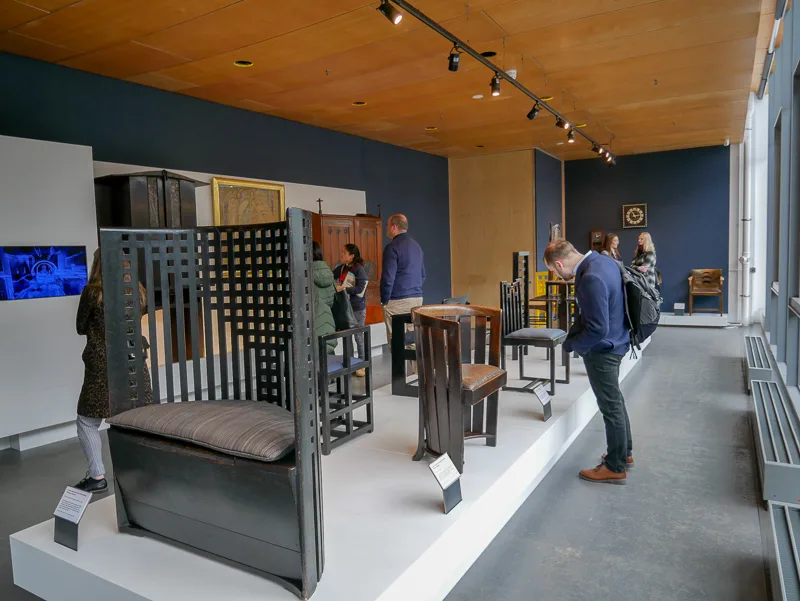 11.30am – The Lighthouse
Following your tour, take a stroll into the centre of Glasgow and make your way towards The Lighthouse. This is Scotland's national centre for art and architecture and also has a permanent Mackintosh Interpretation Centre.
The Lighthouse is well worth a visit for the panoramic views across the city alone. Take the spiral staircase to the top of the tower and enjoy the city from a unique vantage point.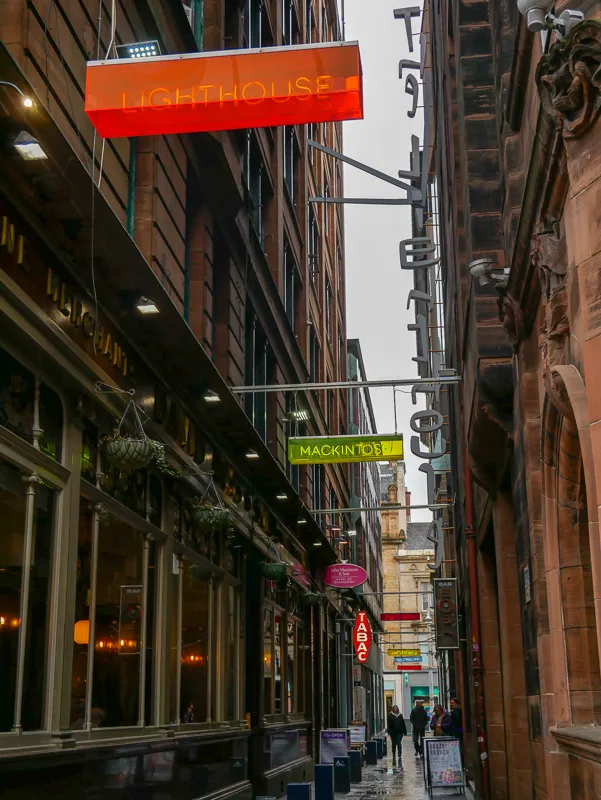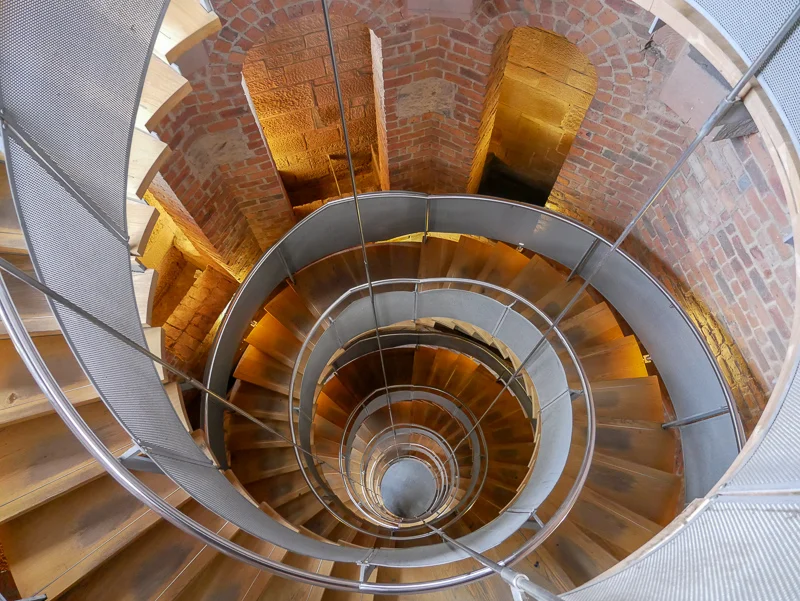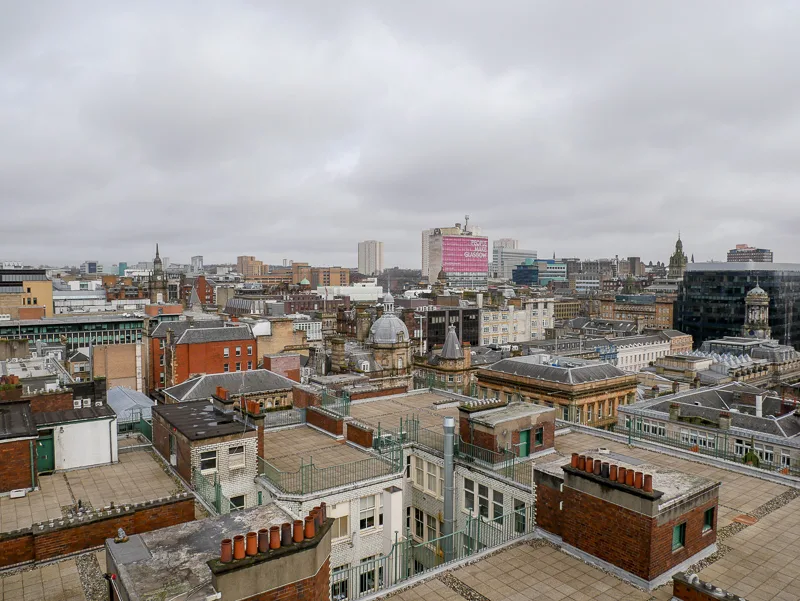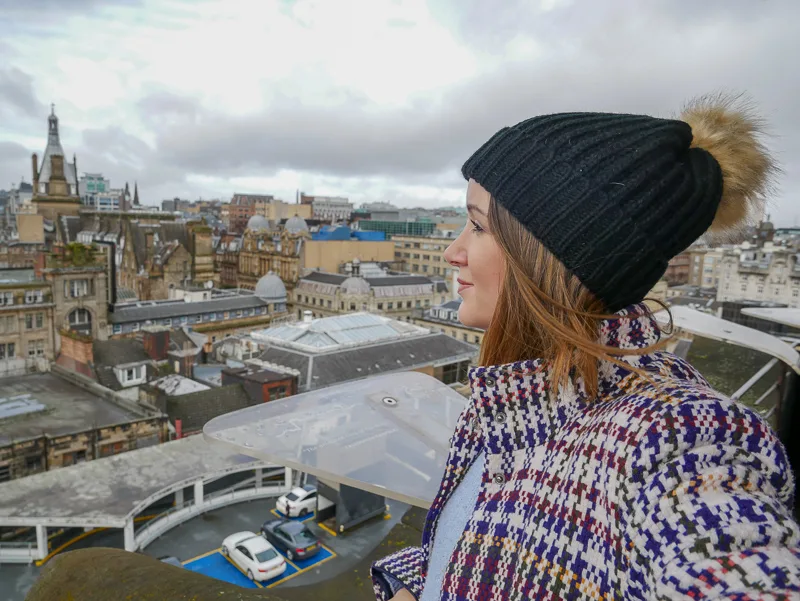 12.30pm – City strolling
Take a walk around the beautiful city and admire the impressive Victorian architecture. Don't miss the Glasgow City Chambers or the Gallery of Modern Art.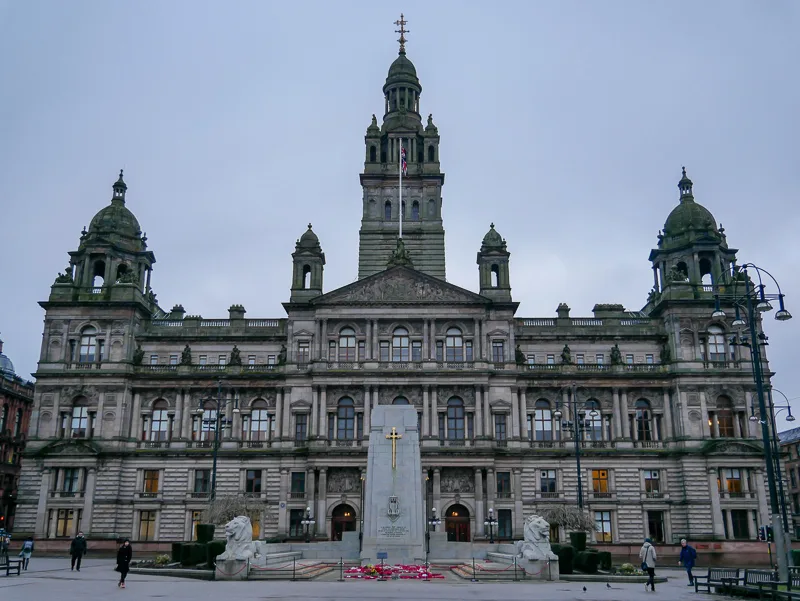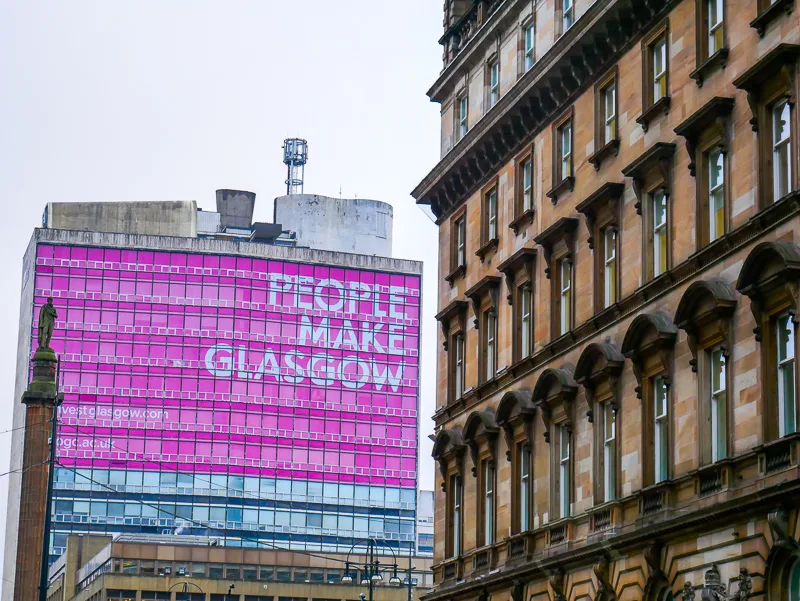 1pm – Lunch and Train to Loch Lomond and the Trossachs National Park
We're getting out of the city for the afternoon to explore the stunning landscapes surrounding Glasgow. Did you know that Loch Lomond and the Trossachs National Park is just a 50 minute train journey from Glasgow? Departing from Glasgow Queen Street Station (where I picked up a picnic lunch for the train), it's just a hop, skip and a jump to Balloch where I was met by John from Experience Scotland's Wild.
John's unique tour company is all about 'sightdoing' rather than 'sightseeing'. I absolutely love this phrase John has coined and the sentiment behind it. This isn't about sitting on a bus and looking at the gorgeous scenery, it's about getting out there and experiencing it for yourself.
John is enthusiastic, knowledgeable and adventurous and he adapted his Loch Lomond and Trossachs Active Sightseeing Tour for a shorter tour to fit my busy itinerary. He picked me up from the train station and took a short drive to begin a scenic walking tour. We walked through forests and past trickling streams and I barely noticed our uphill climb as John pointed out the wildlife and plants around us and told me more about the area.
We reached the top of the hill when John paused.
'I'm going to set you a challenge,' John said and my heart sank as I expected some kind of fitness challenge where he'd ask me to sprint to the top of the hill. 'Your challenge for the next 10 minutes is to not turn around. And when we reach the top you need to close your eyes.'
Relieved there was no sprinting involved, my heart lifted again. But, of course, all I wanted to do was turn around and see the scenery that was slowly coming into view as we climbed higher.
When we reached the top, I closed my eyes as instructed while John took me by the arm and guided me to the edge. It was such a strange sensation to be walking through the wind with no idea of what was around me other than the slippery, uneven ground below my feet and miles and miles of cold air all around. I slowly took my nervous steps until John told me to stop and open my eyes.
Wow.
For that brief moment it felt like my mind was completely clear and all I could see was that view. The way the sun bounced off the glassy loch and the thick clouds hovered just above the distant mountain peaks so their snowy tops were illuminated with a mystical glow.
John pointed out the tiny islands across the loch and had a story for each one. He showed me one island that is home to about 60 wallabies (yes, really, those cute little Australian guys are here in Scotland!) before John gave me a dram of whiskey and some Scottish shortbread while enjoying the view.
This was the highlight of my trip and if I had more time in Glasgow I would have loved to take John's full day tour.
John dropped me back off at the train station and an hour later I was back at my hotel getting ready for dinner.
[one_half padding="0 5px 0 5px"]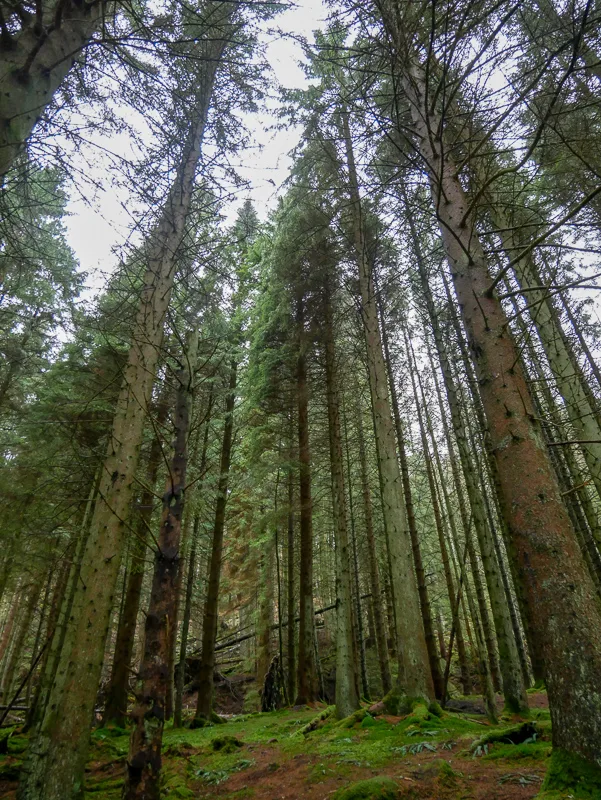 [/one_half][one_half_last padding="0 5px 0 5px"]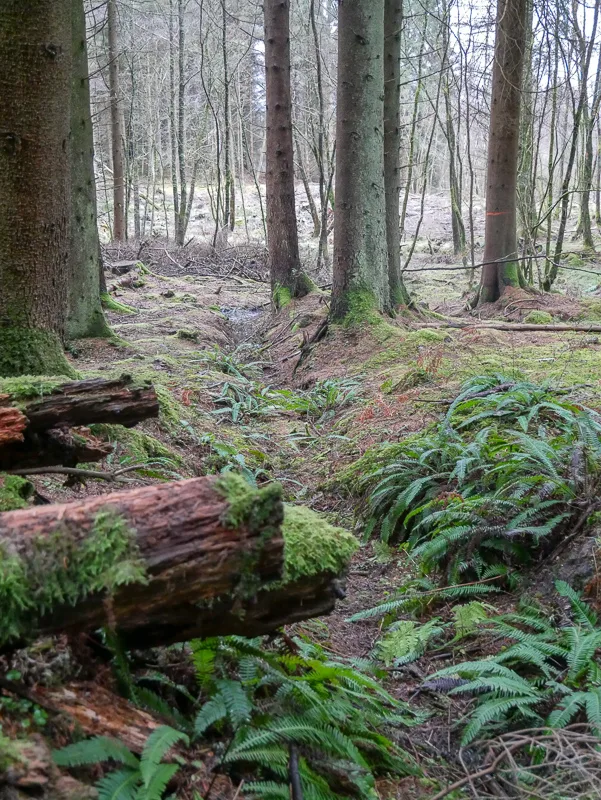 [/one_half_last]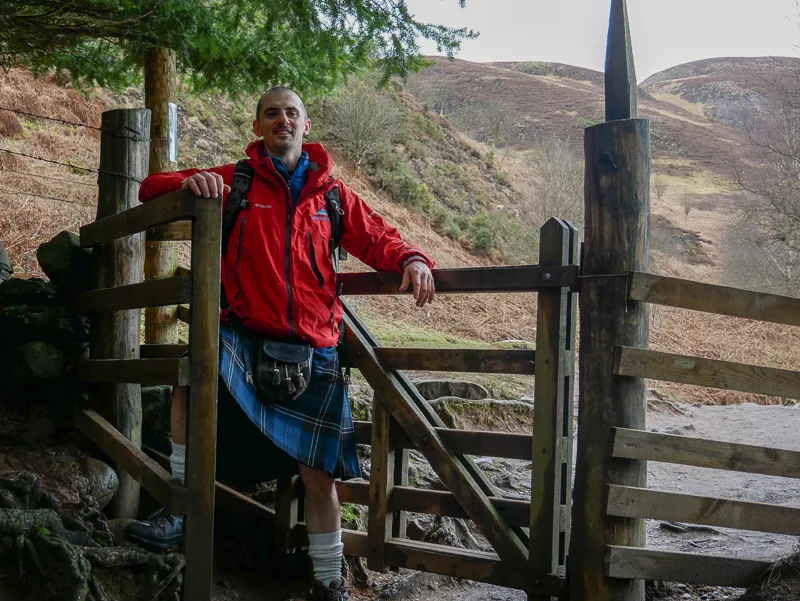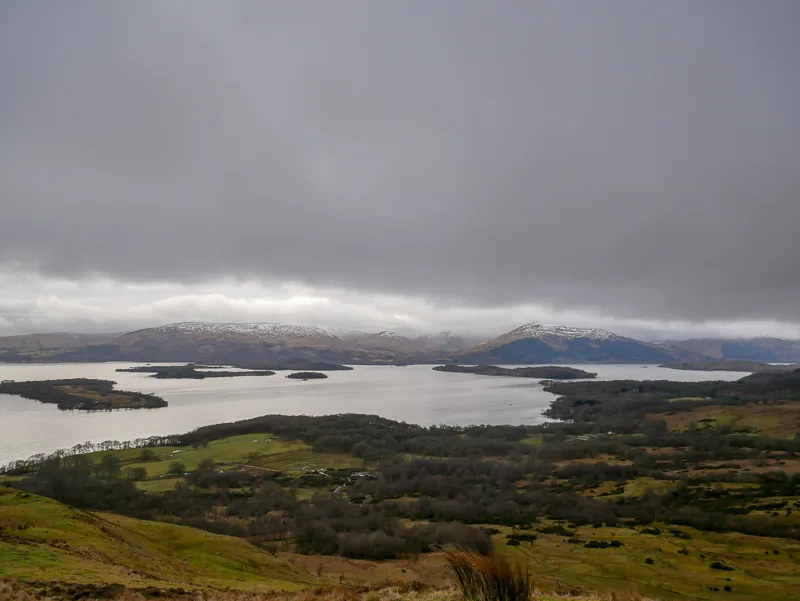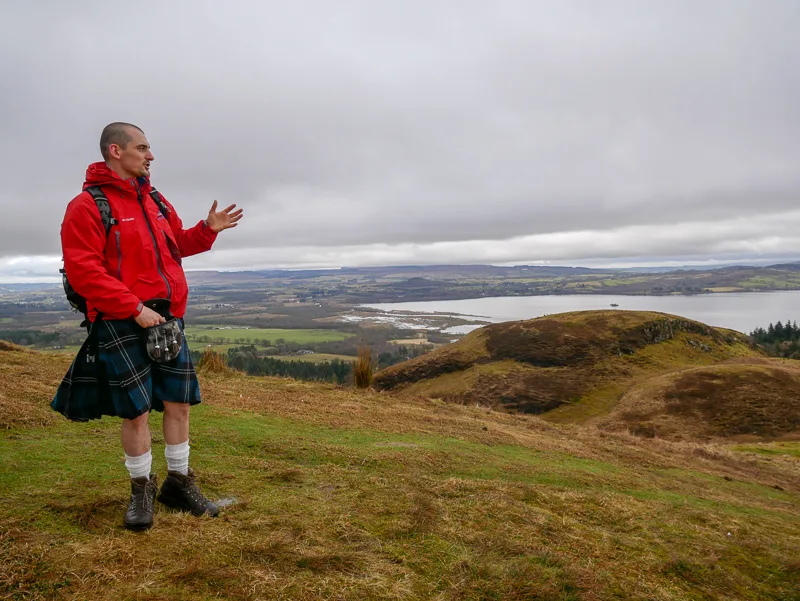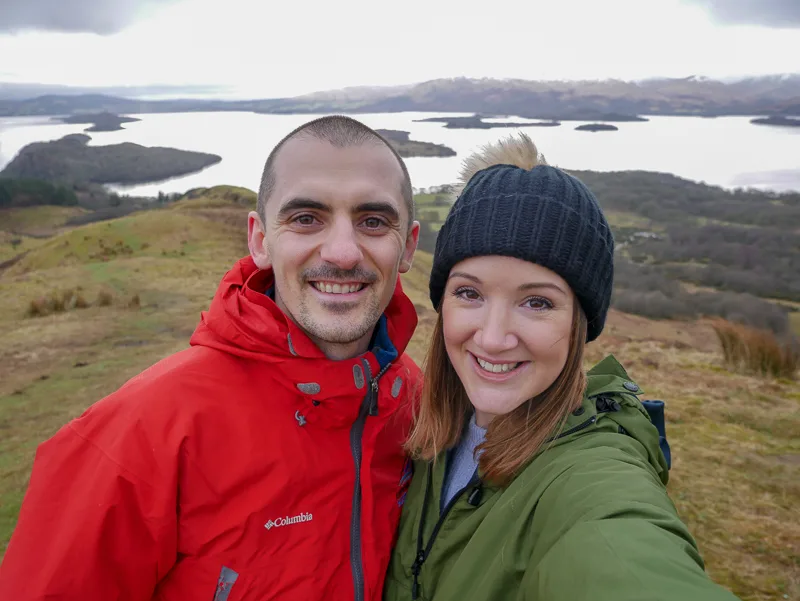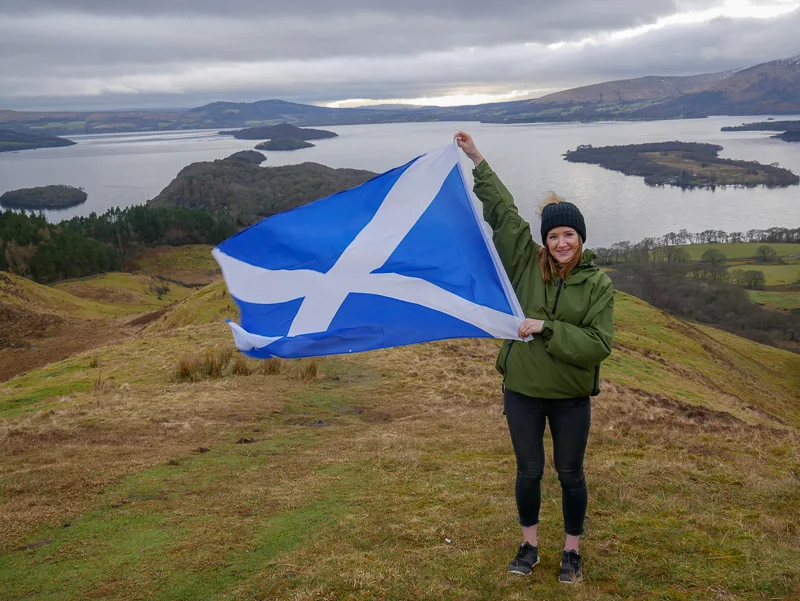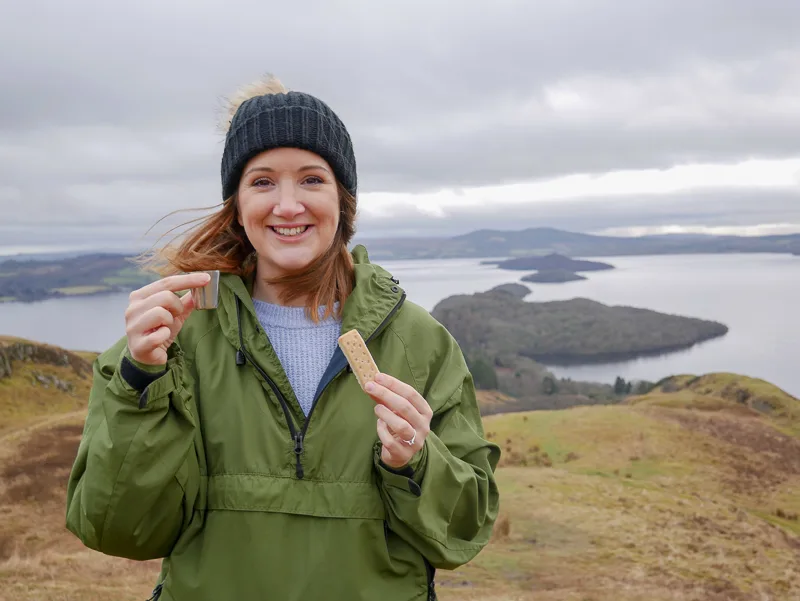 7pm – Dinner at Chaakoo Bombay Café
Glasgow has been crowned The Curry Capital of the UK many times so it would be rude to visit the city and not go for a curry! I opted for Chaakoo Bombay Café and it turned out to be a great choice. The Iranian inspired café/restaurant has a delicious tapas style menu where you order lots of little dishes to try as much food as you can.
My meal was incredible with a smoked chicken tikka Irani kebab and a sweet, butter chicken curry. But it was the décor of the café that really stole the show for me. Chaakoo Bombay Café is grand, ornate and stylish and feels a bit like being in the interior of a very fancy train with private carriages and wooden compartments.
I loved it and I can recommend visiting with a large group so you can order a huge banquet for your party.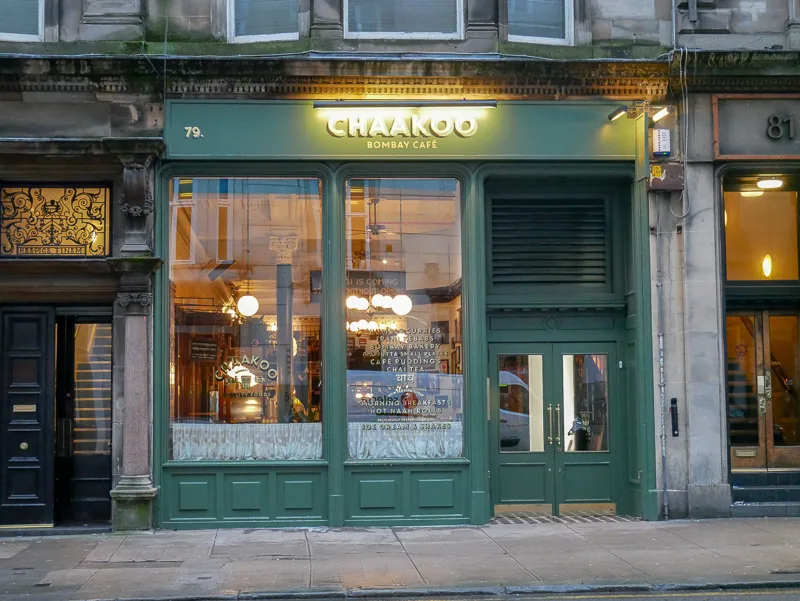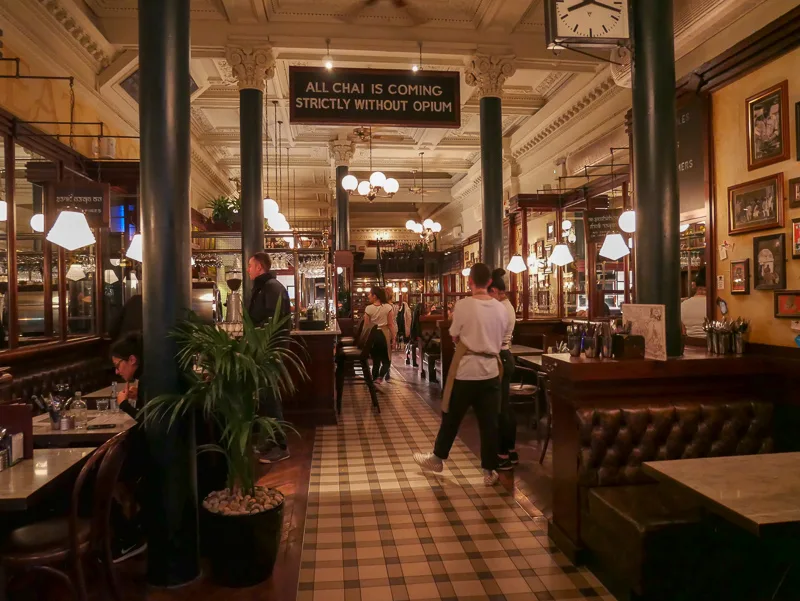 [one_half padding="0 5px 0 5px"]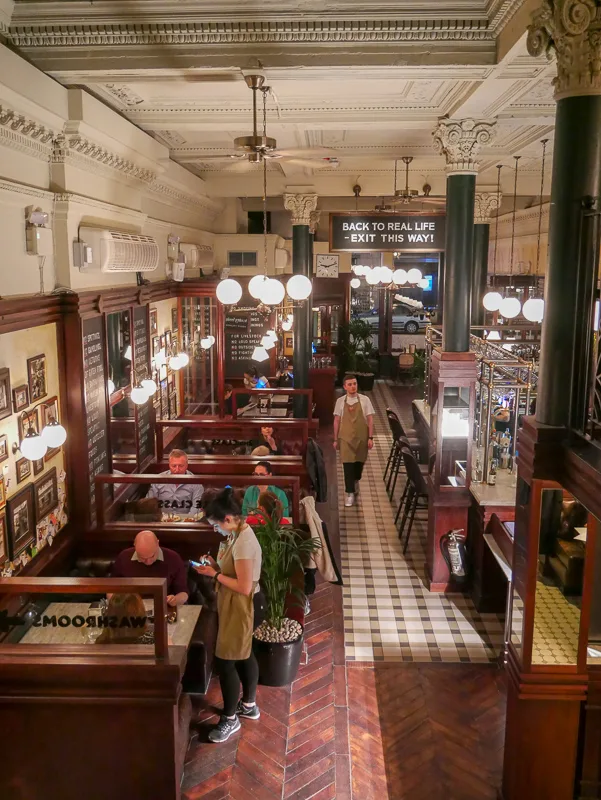 [/one_half][one_half_last padding="0 5px 0 5px"]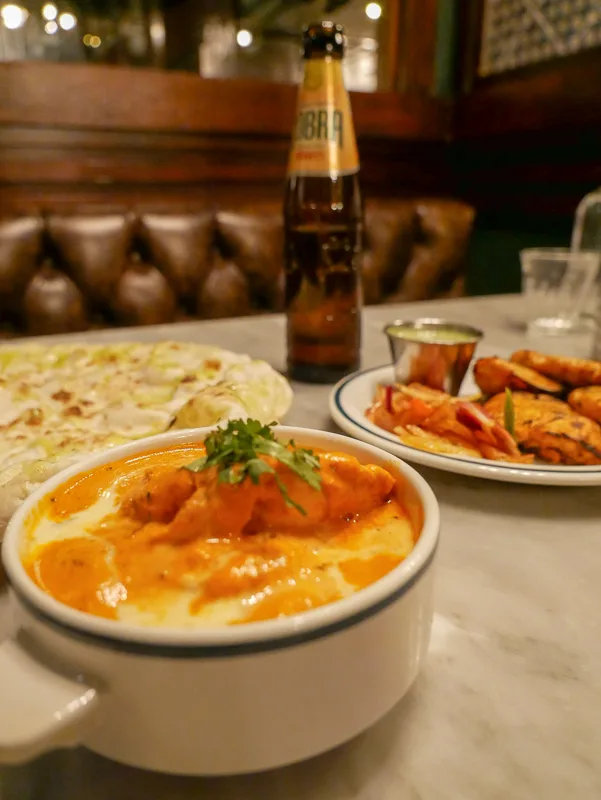 [/one_half_last]
Day 3 in Glasgow
9.30am – Breakfast at Cup Tearoom
My final day in Glasgow began on a high with breakfast at the stylish yet adorable Cup Tearoom in Merchant City. With the striking Victorian interior, dim lighting and a cosy yet elegant vibe, Cup Tearoom is like no tearoom I've ever been to before!
I had the Smashed Avocado Toast with poached eggs, avocado, baby spinach and smoked salmon on sourdough toast.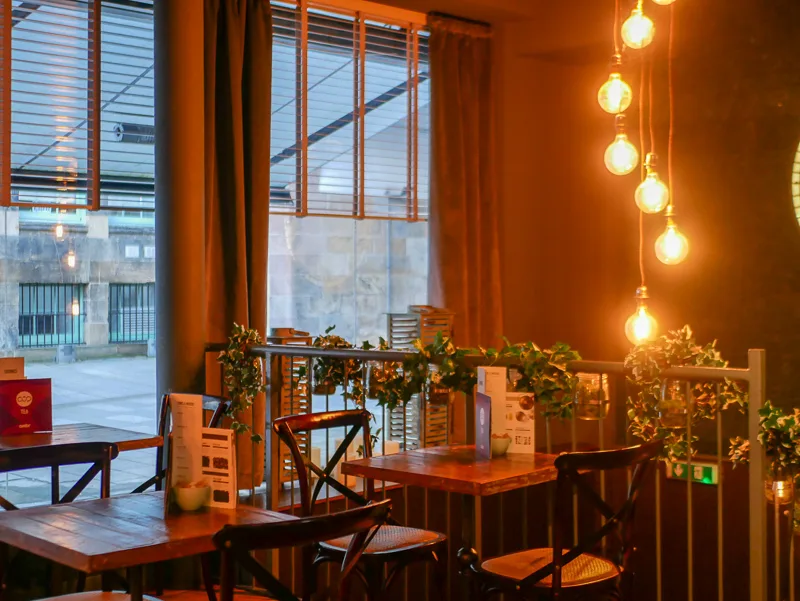 [one_half padding="0 5px 0 5px"]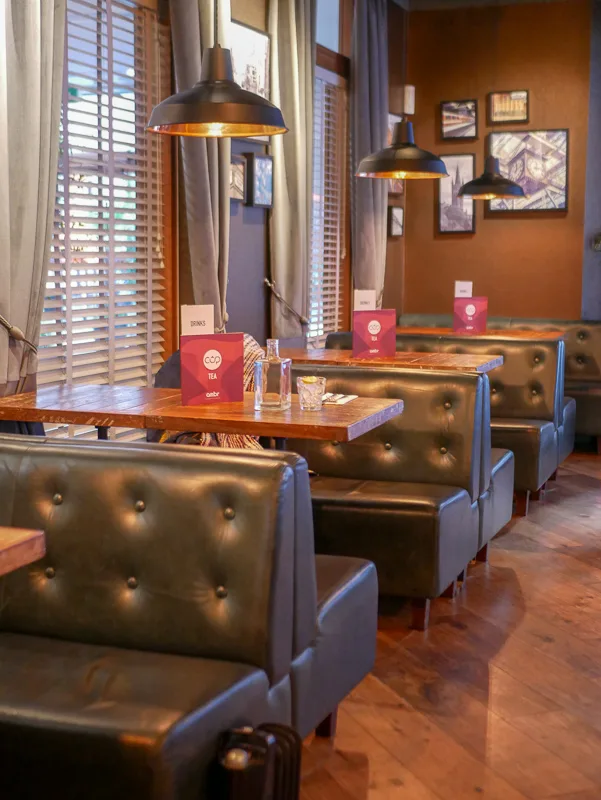 [/one_half][one_half_last padding="0 5px 0 5px"]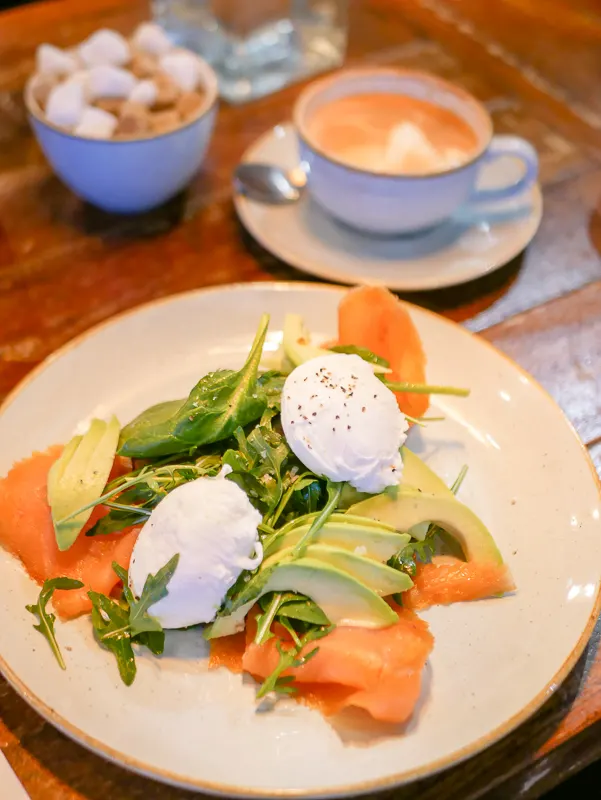 [/one_half_last]
10.30am – Glasgow Music City Tour
Glasgow is a UNESCO City of Music thanks to its music connections and a long list of locals who have gone on to be music megastars. I joined a Glasgow Music City Walking Tour which takes you to some of the most iconic music spots in the city. Some of our stops were obvious ones like the famous Barrowland Ballroom, a famous rock venue where some of the world's biggest rock stars have graced the stage.
There were some hidden gems along the way, such as the Britannia Panoptican, the world's oldest surviving music hall. The incredible theatre had been hidden away down a side street for years and became known as Glasgow's Lost Theatre. Interestingly, this is also the place where Stan Laurel, from Laurel and Hardy, made his stage debut!
This music tour was really interesting and best enjoyed by an older music fan who will remember the music references made through the tour.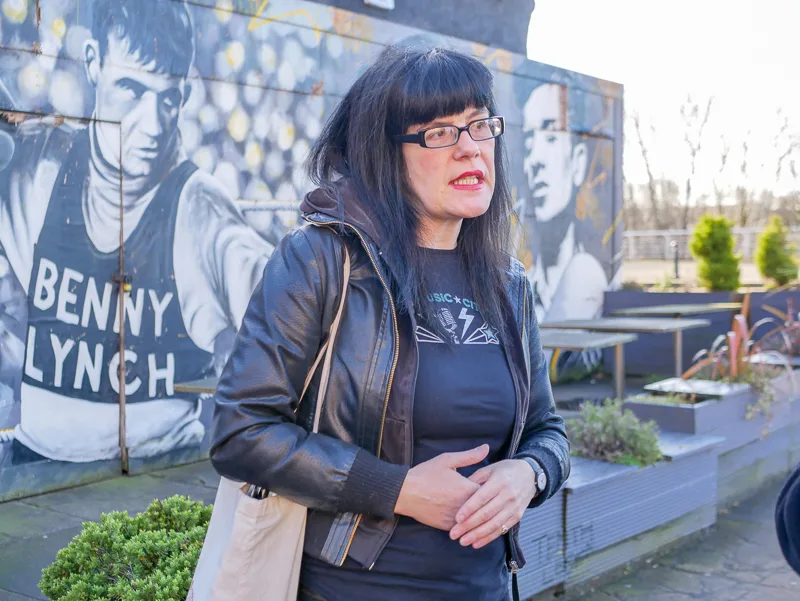 12.30pm – Lunch and beer tasting at Drygate Brewery
This was an unexpected highlight during my time in Glasgow. Drygate in Glasgow's East End is the world's first experiential brewery. It's a craft brewery as well as a bar and a restaurant and on a Saturday night I'm pretty sure you'll find every hipster in the city in here!
I was lucky enough to get a table near the glass wall looking into the brewery so I could watch the brewers at work while I sampled a few beers and devoured a burger.
They pride themselves on being a friendly brewery and the beer experts behind the bar believe they can find the perfect beer for everyone, even if you think you don't like beer! Now that sounds like a challenge…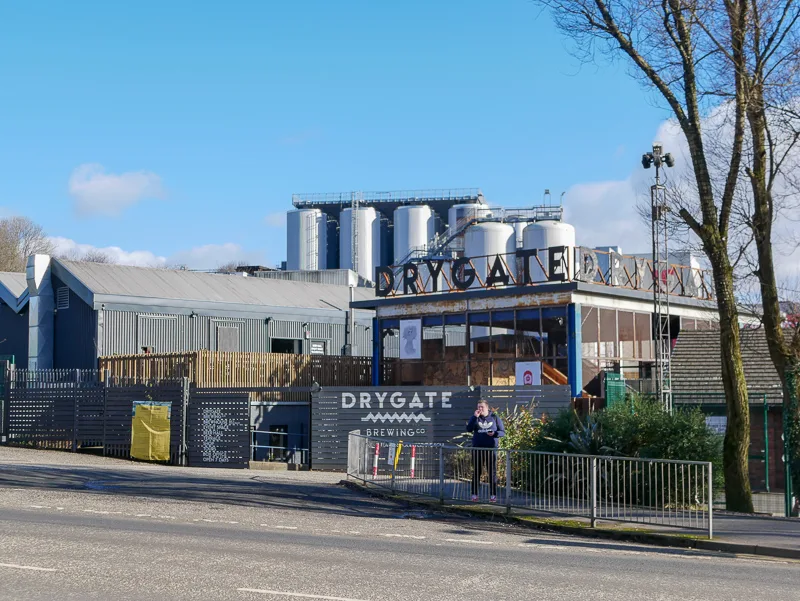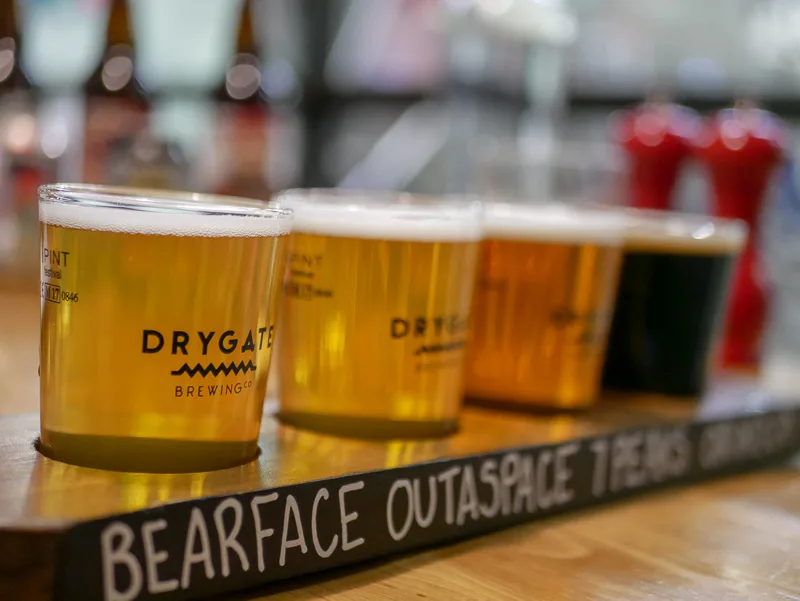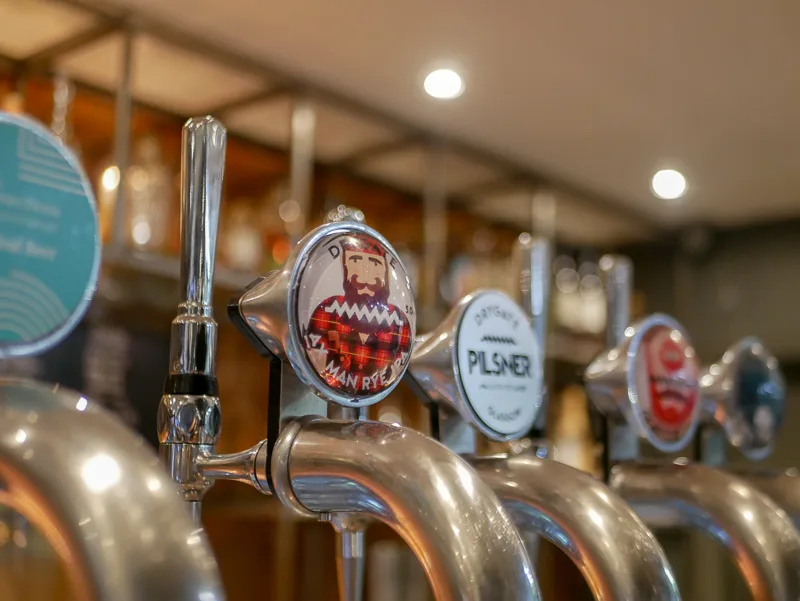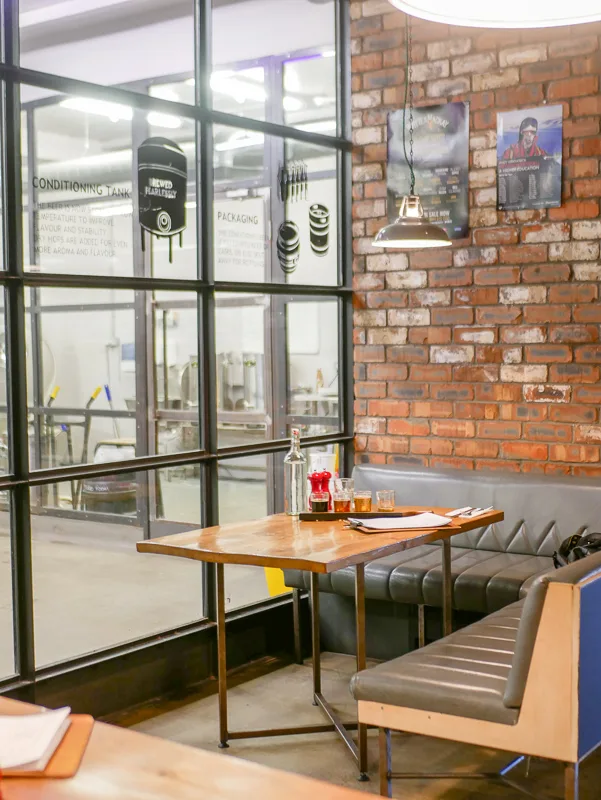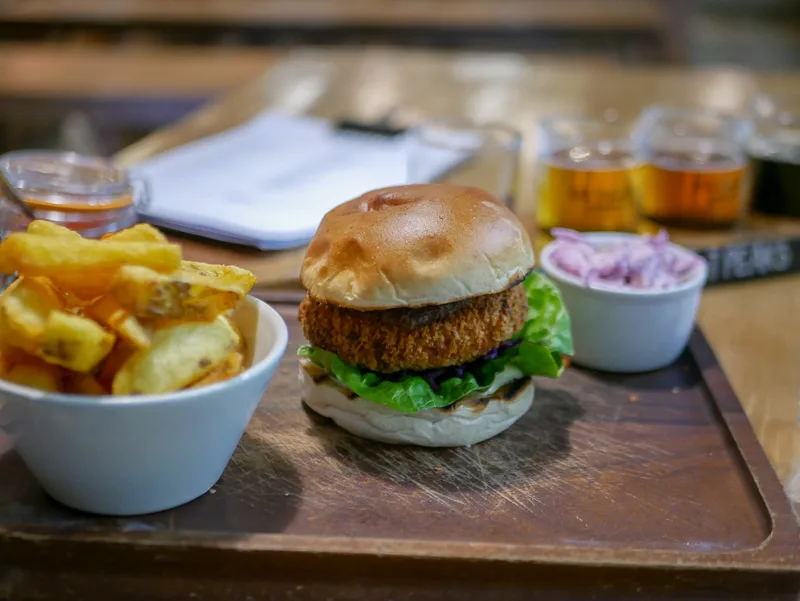 2.00pm – Glasgow Necropolis and Glasgow Cathedral
Just behind Drygate Brewery is the necropolis and cathedral and this will be your final stop during your 48 hours in Glasgow. Now I know it's a bit weird suggesting you visit a cemetery but this is one of the most incredible Victorian cemeteries' and is beautiful. It's perched on a hill overlooking the city and it's a peaceful place for a quiet wander.
Walk down to the cathedral which is one of Scotland's most magnificent buildings and it's just as beautiful on the inside as it is on the outside.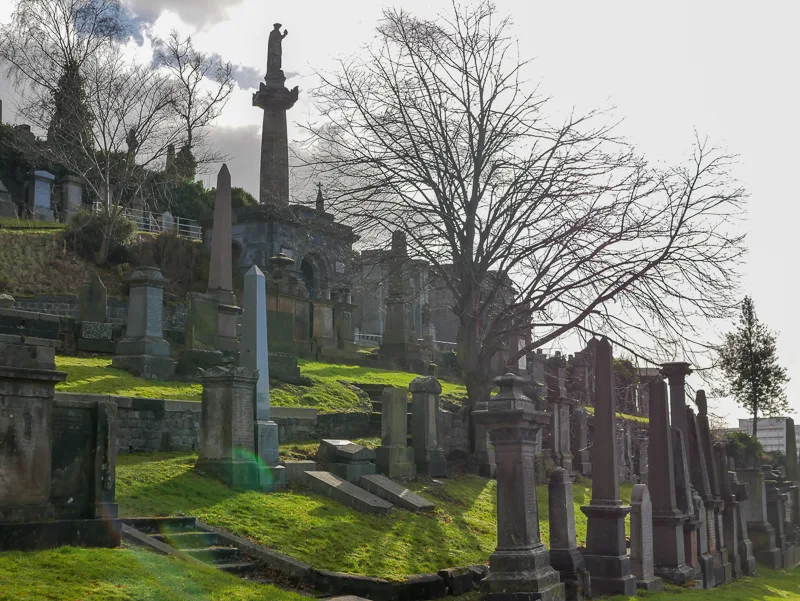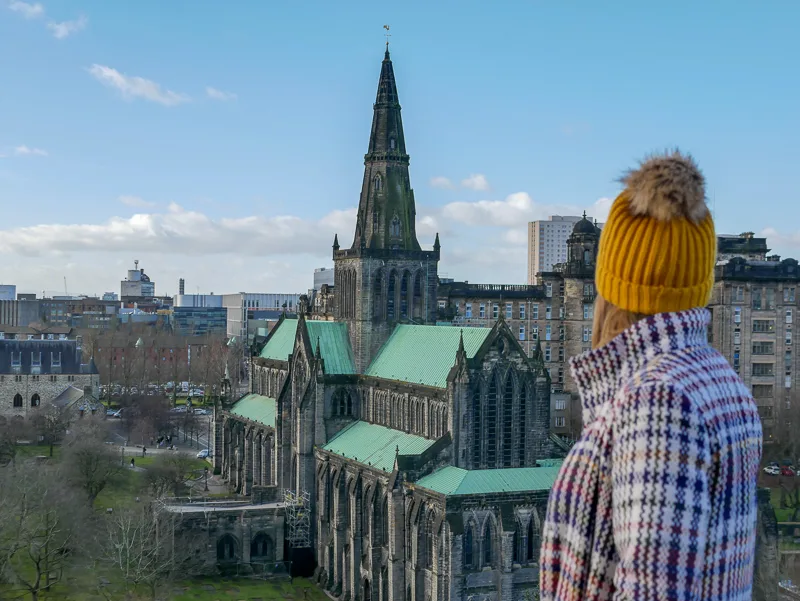 [one_half padding="0 5px 0 5px"]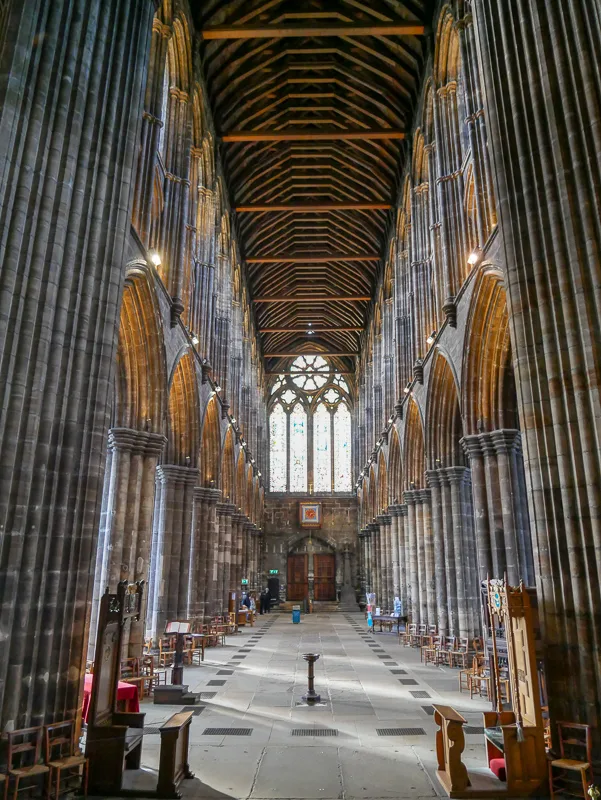 [/one_half][one_half_last padding="0 5px 0 5px"]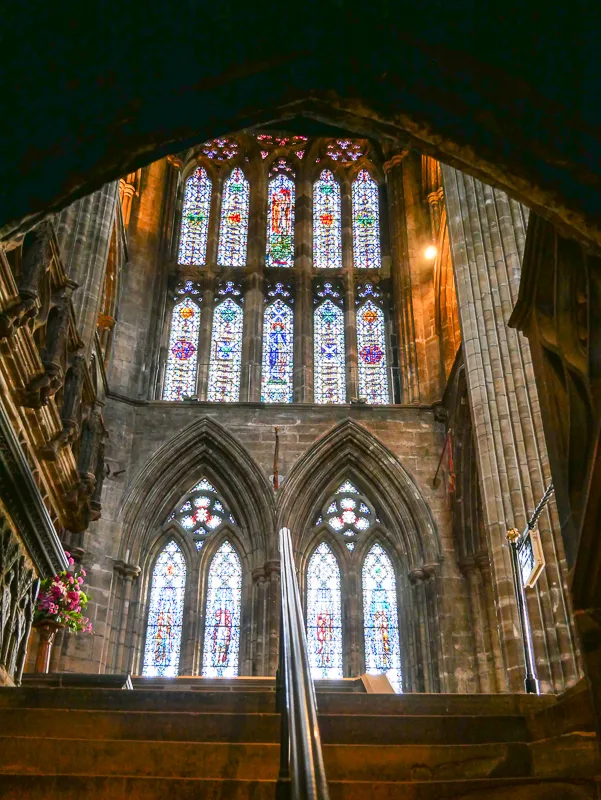 [/one_half_last]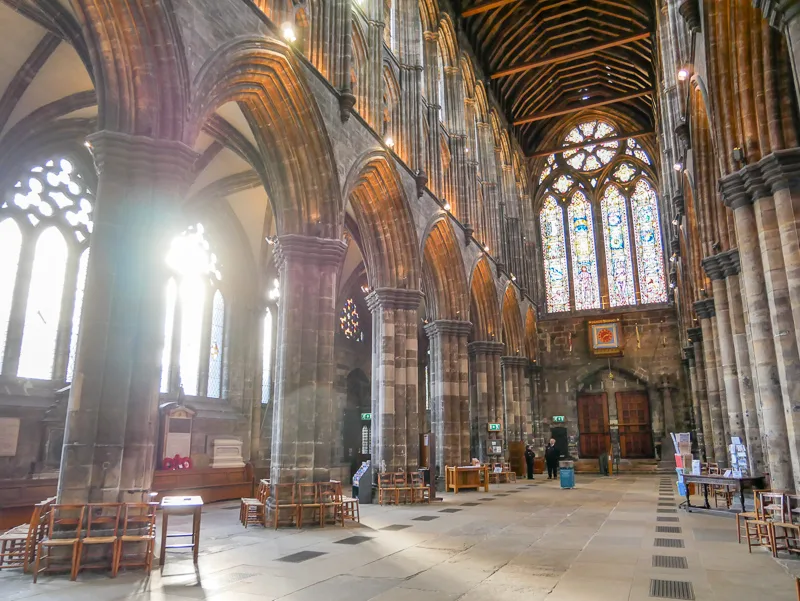 OK, we may have run over a little bit here and it's slightly longer than 48 hours in Glasgow but there's so much to squeeze in!
If you have any more suggestions for things to see and do in Glasgow or places to eat and drink, please do share them in the comments below.
Thanks again to People Make Glasgow for making my trip possible. This was a paid partnership. Check out the hashtag #NextStopGlasgow on social media to see what the other bloggers got up to during their visits to Glasgow.