If there's one thing that stresses me out about travelling it's getting to the airport on time. Anyone that knows me may find this hard to believe because I'm pretty much one of the most relaxed people in the world.
But when I'm sat on the train at 5am, biting my nails nervously and imagining every possible scenario that could make me miss my flight, I'm a nervous wreck.
Now that I've moved out of London I'm even worse because my journey to the airport is even longer. When I have an early morning flight I prefer to stay at a hotel near the airport to make sure I can get there on time. It makes the process much more relaxing and it means that I can start my holiday a little bit sooner. And if you've got the opportunity to make it a super luxury and indulgently relaxing hotel stay then who I am to argue?
Before my ski trip to Catalonia last week I stayed at the Felbridge Hotel and Spa, 15 minutes from Gatwick airport. This was organised through aph.com who provide airport hotels, parking and those lovely luxurious extras like lounges and transfers to help you really travel in style.
As you step inside the Felbridge Hotel you're soothed by a perfectly relaxing atmosphere. Peaceful music was tinkling in the background while the reception staff spoke in soft tones that suggested someone was napping or having a massage nearby.
My room was spacious and welcoming and had a view over the garden where the sun was just beginning to set.
The guy who showed me to my room didn't tell me how to use the air-con or the TV (seriously, why do they do that, who doesn't know how to work a TV?) he showed me straight to where a ridiculously fluffy dressing gown was hanging up and told me to put it on my for spa appointment.
Oh yes, I could see I was going to like it here.
I quickly scoffed a few sweets and biscuits and shuffled down to the spa where I was booked in to have a Gelish manicure. There was more of the relaxing music as the beautician and I chatted away while drinking an endless supply of tea.

I was then straight into the swimming pool followed by the Jacuzzi, the steam room and the sauna. I emerged an hour later feeling so relaxed I was almost like jelly.
I contemplated dining in one of the hotel's two restaurants, The Bay Tree Restaurant and Anise, but I eventually decided that my PJ's, an epic order from room service and a back-to-back session with Kevin McCloud (TV presenter and weird secret crush from Grand Designs) was a much better idea.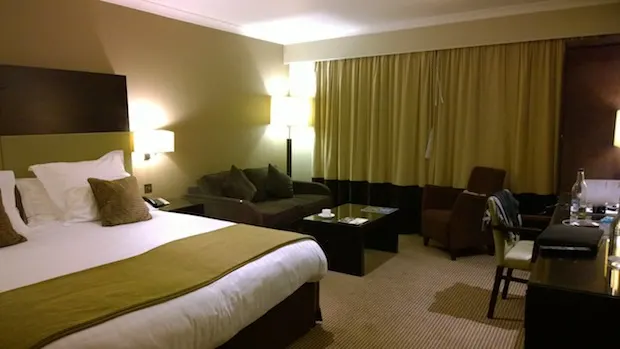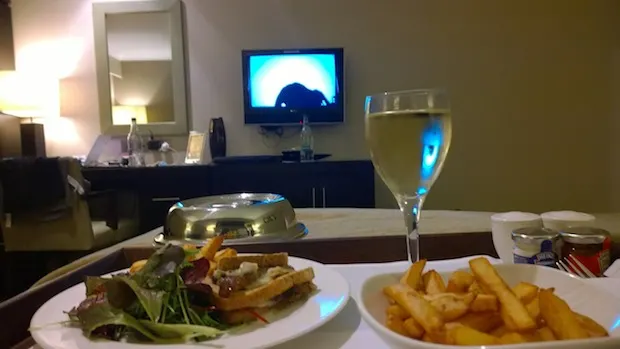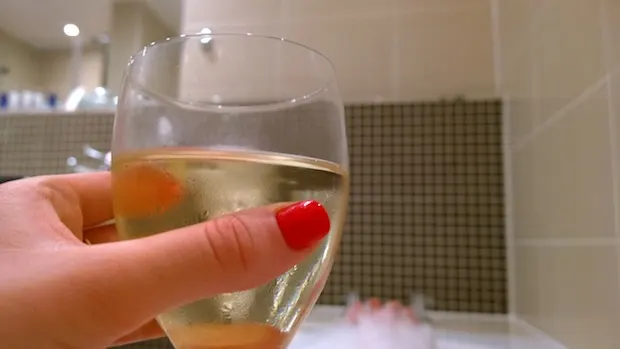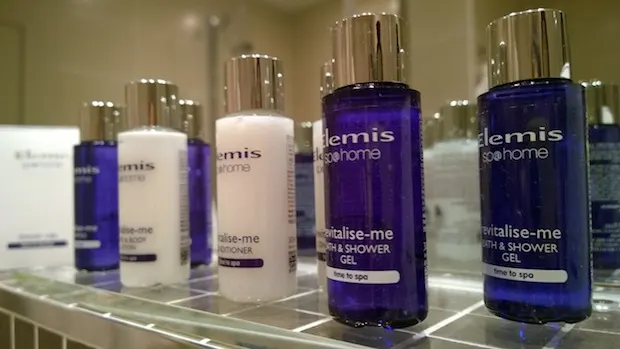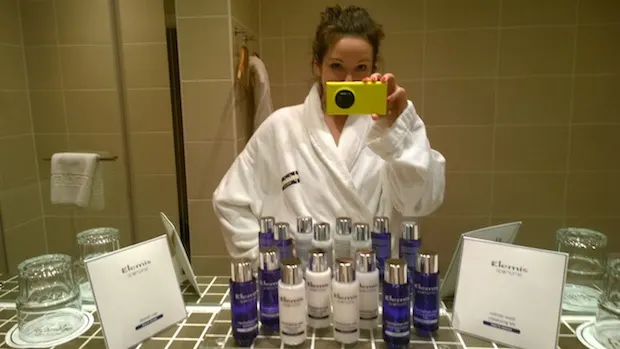 The following morning I was relieved that I didn't need to leave the hotel until just after 6am. It was still an early start but plenty of time for a breakfast and cup of tea while waiting for my taxi.
Thankfully, the luxury didn't end there as I went straight through to No.1 Traveller Lounge at Gatwick airport. I've only used an airport lounge once before and my first thought when I arrived was, 'Why don't I do this more often?'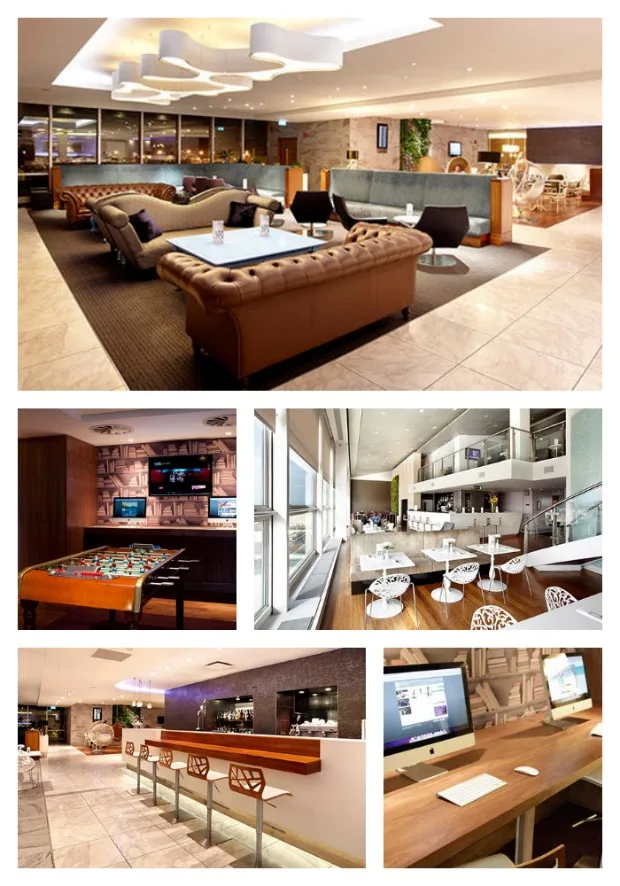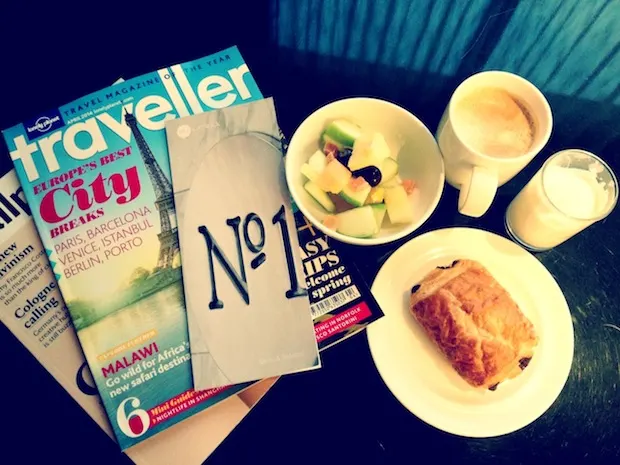 At just £22.50 to enter, you have the chance to escape the stress, the bustle, the crowds, the screaming children and all the suitcases that are waiting to knock you flying and run over your toes. That's amazing value in my eyes, especially when you add up how much you'd usually spend on coffee, breakfast, magazines and possibly internet connections while you're in the airport.
This is a tranquil oasis in the midst of an airport and a wonderfully unexpected surprise.
There was more of the relaxing music and hushed whispers as I entered the lounge. I chose a Chesterfield sofa and helped myself to a latte and a selection of magazines.
I felt more like I was in a stylish café bar than an airport as I enjoyed a healthy breakfast of fresh fruit salad, porridge and yoghurt and a not so healthy side of pain au chocolat.
I was disappointed that there wasn't wifi available in the lounge but there were Macs available for anyone who needed a quick internet fix. There is also a movie lounge which is perfect for anyone who has a long wait for their flight.
There are flight screens inside the lounge so you don't need to worry about getting too relaxed and missing your flight, which is a definite possibility with such a relaxed vibe in the lounge.
The lounge was full by 8am but it didn't feel busy or crowded. I would recommend booking the lounge in advance, as people without bookings weren't able to enter as I left at 8.30am.
I strolled up to my gate just before it closed feeling well and truly in 'holiday mode'. I was relaxed, happy, well-fed and I had a bag full of my favourite magazines ready for the flight.
If that isn't starting a holiday in style I don't know what is!
[styled_box title="More Info" class=""]I'd like to say a massive thank you to aph.com, Airport Parking & Hotels, for providing me with a stay at the Felbridge and access to the No.1 Traveller Lounge. This was a complimentary stay so I could experience some of the services they offer but, as always, all views and miniature toiletry obsessions are my own.
A one night stay at the Felbridge Hotel with 7 days parking, a transfer to Gatwick Airport and 10% off in the spa starts from £93. I don't like to get too salesy but I think that's a bargain considering how much you'd normally pay for airport parking alone.
Access to the No.1 Traveller Lounge is £22.50.[/styled_box]
Top tips for starting your holiday in stress-free style
[icon_check] Pack light to make sure you can breeze to the airport without all that heavy luggage to weigh you down.
[icon_check] If you're taking public transport, give yourself an extra hour for 'just in case' emergencies. If you're early you can chill out with a coffee or beer when you arrive.
[icon_check] If you're driving then you should also give yourself plenty of time to account for traffic or accidents. I'd also recommend booking your airport parking well in advance to make sure you get a great deal.
[icon_check] If you have an early morning flight and don't live near the airport, consider an airport hotel + parking package to avoid that 4am journey.
[icon_check] Dress comfortably to help you feel relaxed. Dressing like a WAG will only double the stress when you're trying to run through the airport in 4 inch heels.
[icon_check] Keep all your documents in a folder in a separate compartment of your carry-on luggage. There's nothing worse than a last minute panic when you think you've lost something important.
[icon_check] Consider booking yourself into an airport lounge. They're not as expensive as you may think and you'll be sure to get into holiday mode in minutes.
[icon_check] Always travel with a warm jumper or scarf. There's nothing worse than a cold plane journey!
Do you have any other tips to help start a holiday in stress-free style? Please share your tips in the comments below!