Before I get started on this post I want to highlight that my trip to India was a holiday and not a blog trip or a sponsored trip. I'm not trying to sell tours here but I've had so many people ask me how I found it and if I would recommend it so I wanted to share my experience and my honest opinion.
"An organized tour?" I heard the skepticism in my friend's voice. "With old people…and a coach…and a guide waving a flag?"
I sighed as I had to explain for what felt like the millionth time that it wasn't THAT KIND of tour. While I did see a couple of massive tour groups like this, thankfully, it wasn't the kind of tour I took and definitely isn't the type I would recommend to anyone.
My tour in India
I travelled with Intrepid to Northern India and the tour I took couldn't have been better. We were a small group of six people plus our leader which is lucky because there can be up to 12 people in a group. We were all mixed ages ranging from about 22-55 and we got on brilliantly. I've heard people say before that the older people in the group are often the most fun and this was so true with my group. Anyone who has travelled the world and is still exploring in their 50's will always have some great stories to share. We also shared a passion for adventure and an eternal quest to find a cold beer after a busy day (something which can be very challenging in India!) We didn't stick together 24/7 and would often split up to do different things.
Our leader, Pancham, said that 75% of the people taking tours in India are female, presumably for the safety issues for women. Pancham was great because he was there when we needed him without being the type of tour guide that organizes everything for you. He was a typical Indian food-pusher and would insist on ordering piles of food for us to try. I found that India people love their food but love nothing more than sharing it and urging you to eat more and more.
Pancham was great from a safety point of view too. I found it hard to tell who was genuinely being friendly in India and who was out to scam me and Pancham soon sorted out the scammers.
Why did I take a tour?
I decided to take a tour because I had just two weeks in India. Two weeks is such a short amount of time to see even a fraction of this huge county so I knew I needed to be efficient and organized with my time. The only problem is, efficient and organised isn't something I do very well and India isn't exactly well know for this either!
I knew that trains, buses, day trips and accommodation should be booked in advance to ensure there weren't any wasted days but attempting this from the UK turned out to be a nightmare. Some trains had to be booked months in advance due to Holi Festival and some hotels don't have websites to get anything booked at all. Yes, India isn't always the easiest place to travel.
After a few evenings spent pawing over my Lonely Planet and swearing at my computer, I gave up and decided that a tour was my best option.
If I had a few months in India, I would have been more than happy to go with the flow but you can't do that when time is precious.
Of course, there are some safety concerns too. At the time I travelled to India there seemed to be a report of a new rape on the news every day. I was travelling with my boyfriend so felt perfectly safe with him but I would have been extremely nervous travelling alone.
Pros of a tour
You can see as much as possible in a short amount of time.
You don't have any stress when organising and don't have to spend hours researching and booking (I know some people love this part of their travels and I still did heaps of research, it just wasn't compulsory!)
If you're travelling solo you're not alone and you'll meet some awesome people.
You have a local guide to help make restaurant suggestions and give insider tips on what to do. They can also tell you how much things should cost so you don't get ripped off.
If any planes or trains are delayed or cancelled you don't have to deal with it.
You get to interact with the local people more because tours often include homestays or visits to local families.
You get to find out about things that regular tourists don't know about.
Cons of a tour
It's pricey!
You could potentially hate everyone in your group. You don't have to stick with your group all the time but long journeys with annoying people feel so much longer.
You don't have as much freedom. If you love a place and want to stay longer or if you hate a place and want to get out of there ASAP, you don't have the option and have to stick to the group itinerary.
It can be tiring. Seeing something new everyday is awesome but it can be exhausting. Expect to need a holiday after your holiday!
Choosing your tour
There are hundreds of tour companies out there so do your research on the company as much as the actual tour. I've only ever travelled with G Adventures and Intrepid before and can recommend them both. Their trips and prices are very similar and both companies focus on ethical, sustainable travel that gives back to the local community. Try to use a company that has local guides because it helps to put money back into the local economy and they know the area better than anyone else.
I've also taken short tours with local companies that I've booked while I've been away. The local companies have always been as good as G or Intrepid but keep it in mind that sometimes the person that sells you the tour will speak perfect English but your actual tour guide won't. If you love charades, it isn't a problem.
Would I recommend a tour?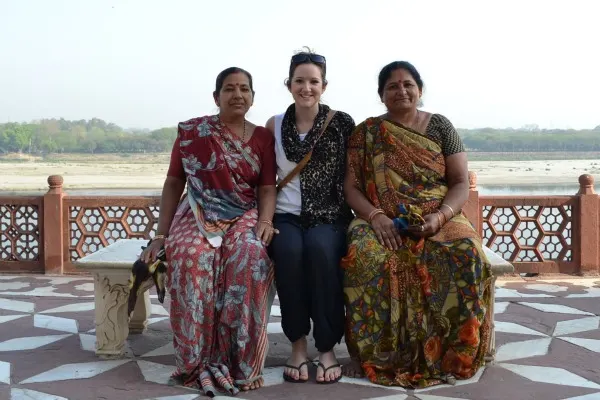 If you're short on time but want to see as much as you can then I 100% recommend taking a tour.
If you've got plenty of time and want to explore at a slower and more relaxing pace then I 100% don't recommend a tour. Day trips are still available if you fancy a few action packed days but I feel like you get more out of it if you do everything for yourself.
So what about you? Have you ever taken a tour or would you consider taking one in the future?
If you have any other questions, pop them in the comments below and I'll get back to you.