If you're travelling with toiletries in your hand luggage there are a few things you need to know.
Remember, these rules are all enforced and if you don't follow the rules you'll have your toiletries taken away and you'll probably be delayed. Sometimes the delay at security will be a few minutes but sometimes it can be over an hour.
It's not worth the hassle so stick to these rules when you're travelling from the UK with toiletries in your hand luggage.
1. Your liquids must be in 100ml bottles and containers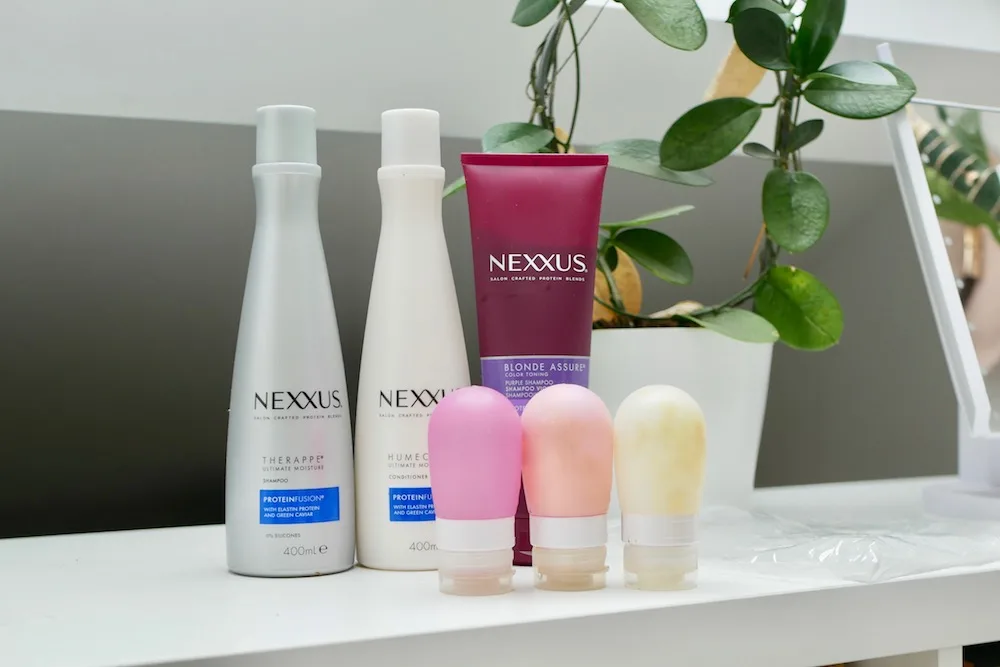 I'll repeat that for the people at the back. Your containers cannot be over 100ml.
It doesn't matter if the container isn't full, it still can't be over 100ml.
You can buy travel sized miniatures but I prefer to use refillable silicone bottles and tiny refillable pots. My favourites are linked below.
There is no real restriction on the number of 100ml containers you can take with you, but they must fit inside the clear plastic bag (mentioned below).
2. If you can pour, spray or spread it, it's a liquid
You may be thinking that a liquid is something you can pour, like water or juice.
No, no, no.
When you're going through airport security, a liquid is anything you can 'pour, spray or spread'.
So that's things like shampoo, gels, balms, shower gel, perfume, shaving foam, hairspray, contact lens solution, lipsticks, mascara, foams, etc. And also foods which often catch people out. Any food items which are liquid or semi-liquid need to go into your clear bag. So this is any sauce, jam, oil, liquor, wine, jelly etc.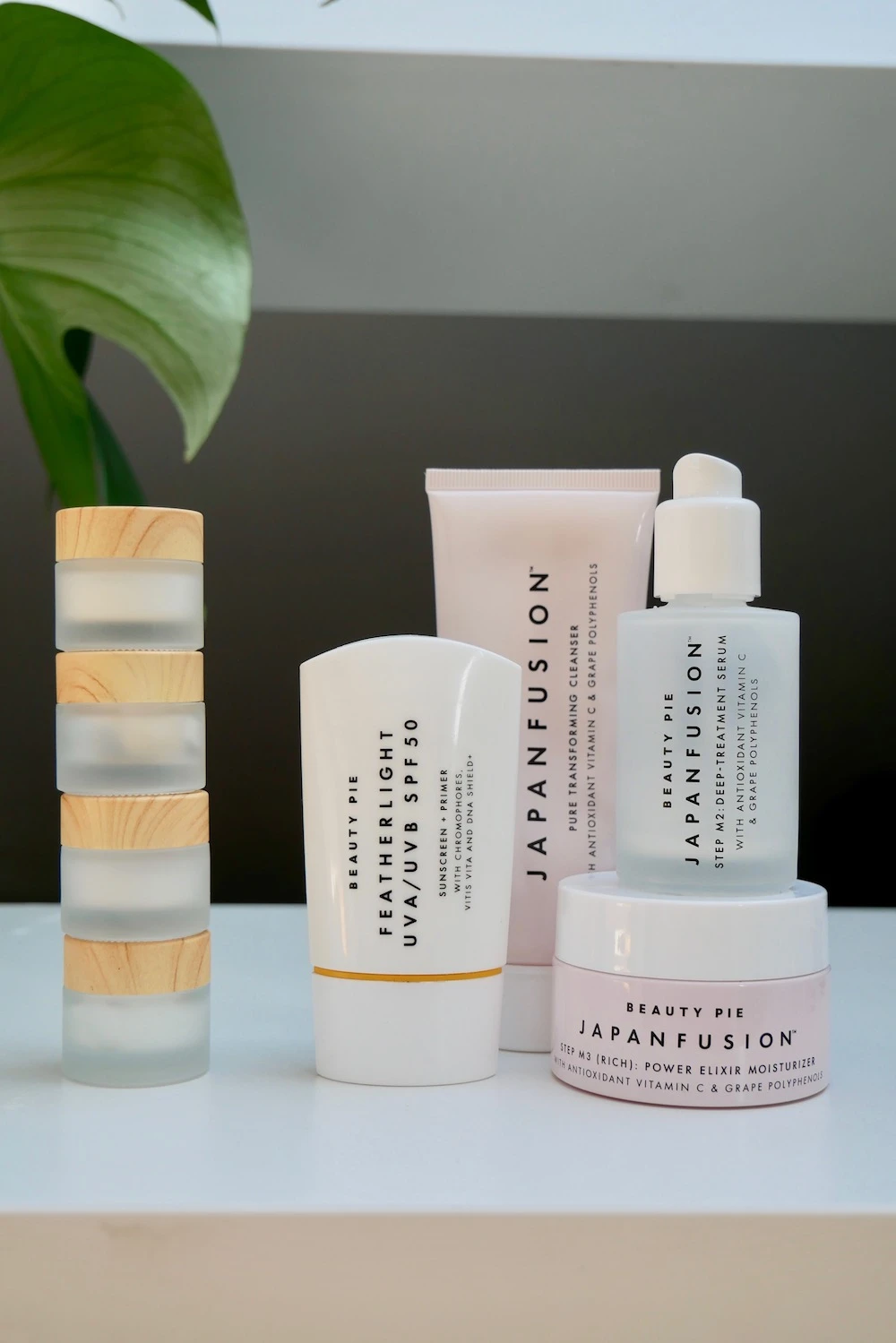 3. All liquids must be in a clear, plastic, resealable bag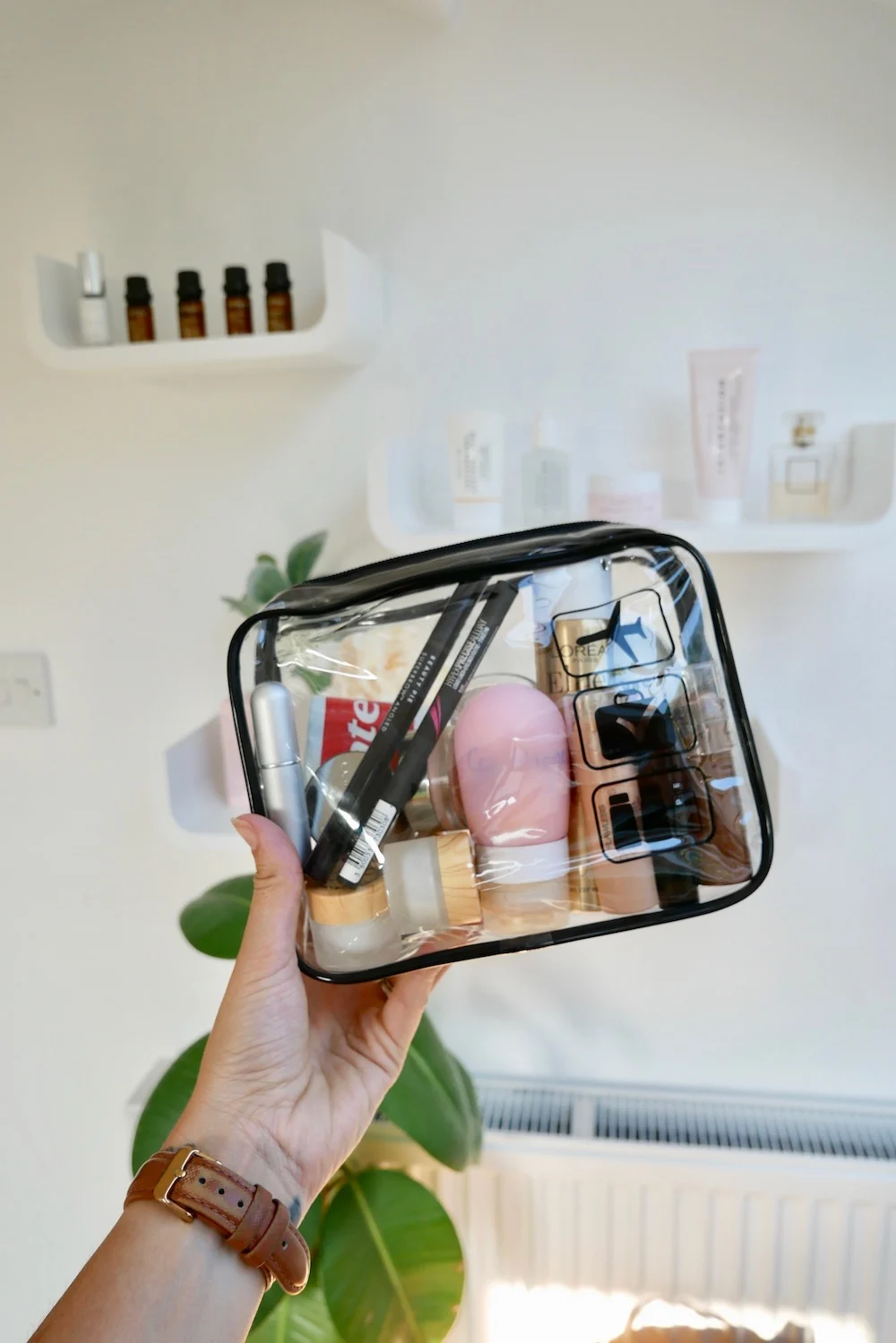 They do hand these bags out at most airports when you're in the security queue. In some airports you have to pay for them (they're £1 at Liverpool Airport). It's usually fine to take a resealable sandwich bag like the ones you've probably got at home.
I prefer to use my own zipable airport security bag to avoid using single-use plastic and so I can have it organised before I arrive.
4. The bag must not be over 20cm x 20cm
Yes, I have seen them measure the bags before.
If you can't fit all your toiletries into this one small bag then you'll need to decant your products into smaller pots. I really like these ones.
5. Each passenger gets just 1 clear plastic bag
That's right. You get one bag and one bag only for your hand luggage toiletries. Don't try and take two, they won't let you.
6. Even if your container isn't full, it can't be over 100ml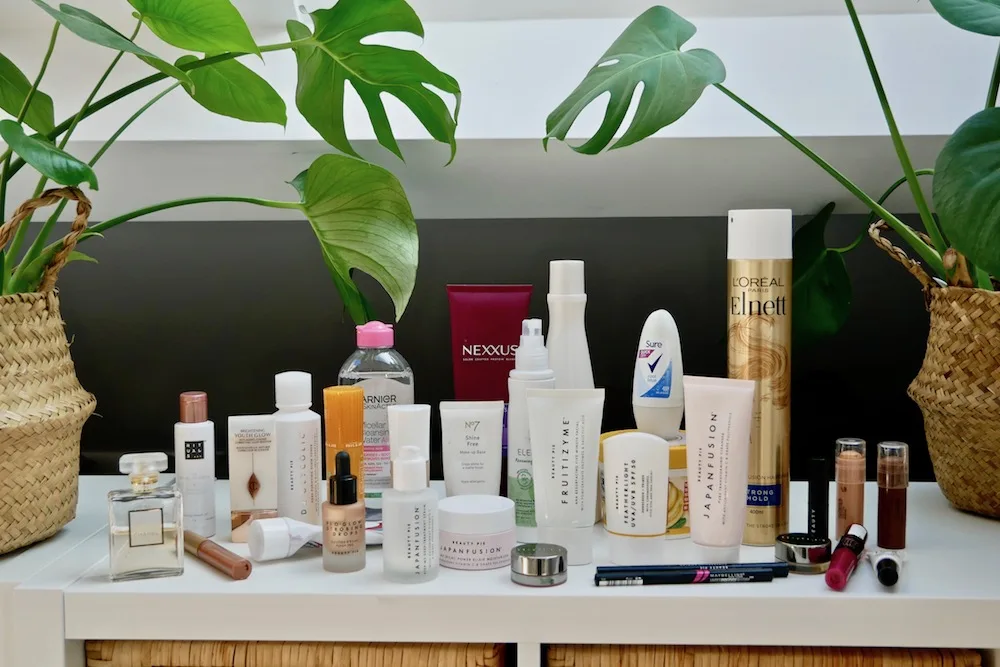 If you have a large 150ml tube of toothpaste with just a tiny blob of toothpaste remaining in it, you cannot take this through security because the container is too big.
No container can be bigger than 100ml, no matter how full it is.
7. Save money and single use plastic by using refillable bottles
I recommend choosing silicone refillable bottles for your travel toiletries. The silicone ones last longer as the plastic ones do split after a while. You can also squeeze and roll the silicone ones so you can squeeze all of your product out when you've only got a few drops left.
The only things you can't really use refillable bottles for are aerosols and roll-on deodorant.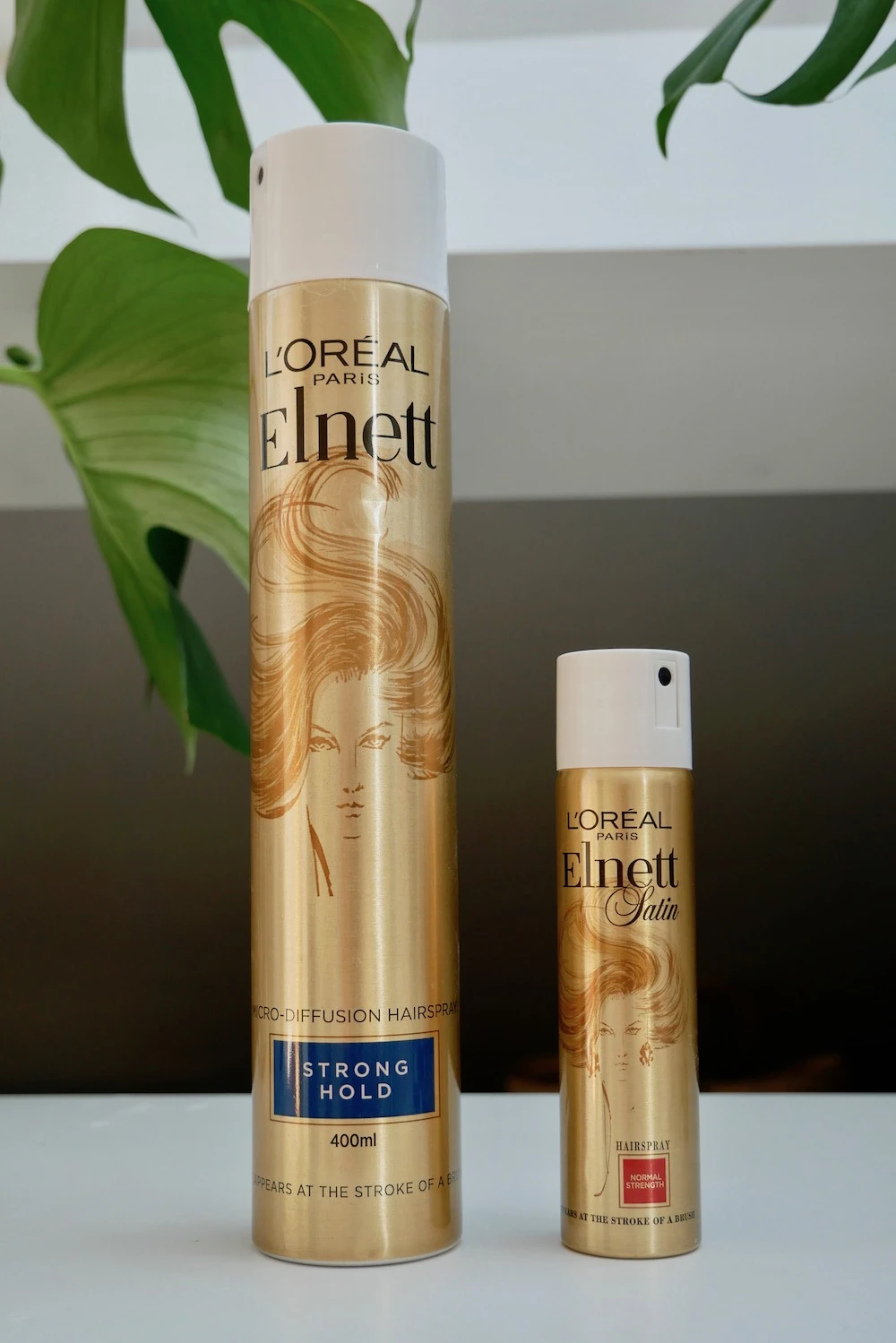 8. Powders are fine
Powders are not liquids and don't need to go into your liquids bag at airport security. So if you can switch your liquid makeups for powders then you're going to make life easier for yourself.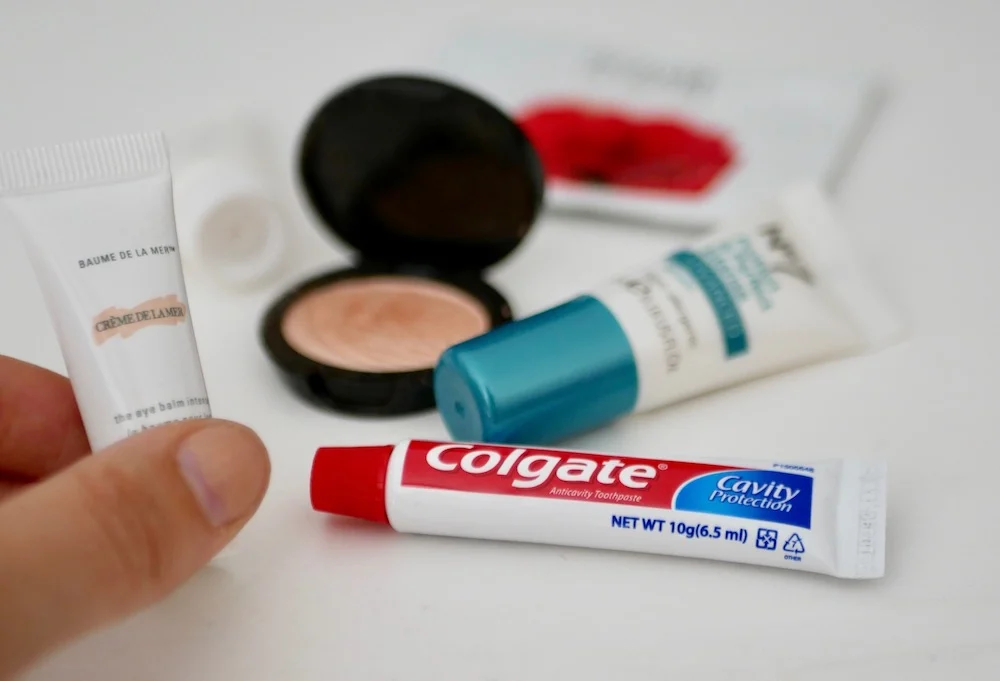 9. Small scissors, tweezers and most razors are fine in your hand luggage
I still find it surprising that you can take a small pair of scissors in your hand luggage but you can't take a 110ml bottle of shampoo. But those are the rules!
10. Travelling with solid toiletries is much easier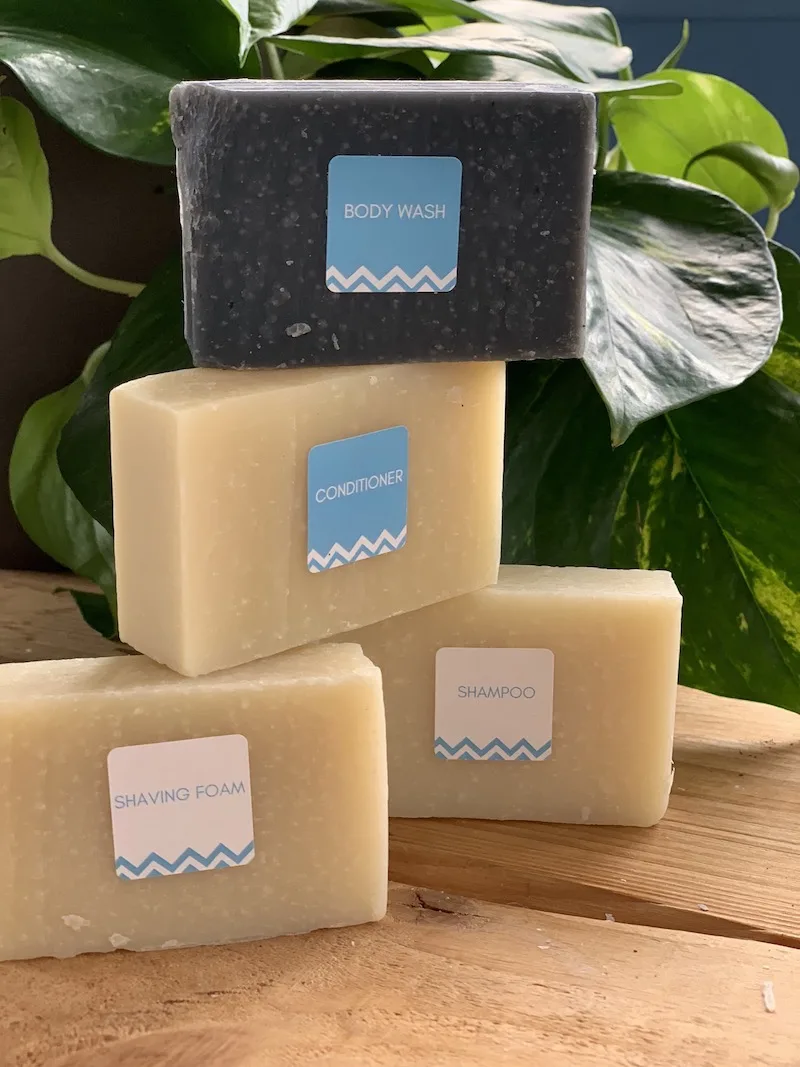 If you can, it's so much easier to travel with solid toiletries. They're better for the environment too as there's no plastic packaging. There are so many solid toiletries available these days.
I like to use a solid shampoo, solid soap and solid shaving cream.
I haven't found a great solid conditioner and solid toothpaste is disgusting so avoid that!
FAQS for travelling with liquid toiletries in your hand luggage
Can I take deodorant in my hand luggage?
Yes, you can but it must be under 100ml.
You can take a 100ml aerosol or a 100ml roll on.
The easiest option is to use solid deodorant so you don't need to put it in your liquids bag.
How many 100ml bottles can I carry on?
You can take as many as you like, as long as they all fit inside your plastic bag. You can usually fit around 4-6 100ml bottles in your plastic bag.
What liquids can you take through security when you're flying with a baby?
You can take your baby's milk through security, they will just take the bottles away to be tested. You can take up to 100 litres of milk (whether breast milk, cow's milk or formula.)
Security also normally allows you to take water through for babies and young children.
You can also take pureed baby foods.
Can you take frozen breast milk in your hand luggage?
Now this seems like a dodgy one and after doing lots of research I can't find a solid answer. So I'm going to say 'probably not'.
If you don't mind potentially wasting the frozen breast milk then it's worth a try but be aware that it may be taken from you, so it's worth having a back-up plan.
Baby products at Boots after security
Did you know you can pre-order your baby products from Boots online and pick them up once you've gone through security (provided the airport you're flying from has a Boots after security as it will be open at the time of your flight)?
You can order formula and pouches of baby food.
I wouldn't say this is a necessity because taking baby liquids through security really isn't too much of a hassle. But it's an option!
What happens if you buy liquids at duty free?
Any liquids you buy at duty free can be taken on the plane, no matter how big the bottles or containers are.
For some airlines you may need to put your duty free products inside your hand luggage bag. But for most airlines you can take it on board in the carrier bag you're given at the duty free shop.
If you're buying alcohol at duty free then you probably won't be allowed to drink it.
How do you take contact lens solution in your hand luggage?
It needs to be in a 100ml bottle or smaller and needs to go inside your clear, resealable plastic bag.
Can I take medication in my hand luggage?
Yes, you can. But if it's a liquid or cream or gel then it needs to be in a 100ml bottle or smaller.
If it's bigger than 100ml then it needs to go in your checked luggage. If you hadn't planned to take check luggage then you're going to have to I'm afraid.
Are these liquids restrictions the same all over the world?
No, they're not! And they even differ in their strictness between airports in the UK. If you're flying from the UK then stick to these rules but check what the rules are for other countries.