Transylvania is an incredible area to visit and it's home to so many beautiful castle hotels.
I fell in love with the area during a 4-day Transylvania holiday that took me to Brasov, Bucharest, Bran Castle and an Ice Hotel. It was amazing!
I've put together a list of the best castle hotels in Transylvania, or amazing hotels near to a famous castle so you can see the castle from the hotel windows.
Not only are these castle hotels beautiful, but they also tend to be on the outskirts of charming cobblestone villages or dramatic snow-capped mountain ranges. Plus, with Transylvania's connections to Dracula and other legends, the region has a fairytale and mystical atmosphere.
You may even find that the Transylvanian castle hotels are more affordable and offer more perks than other castle hotels in mainland Europe. Here are some of the best options if staying overnight in a castle is on your bucket list!
Here are 8 incredible castle hotels in Transylvania…
1. Castel Haller in Ogra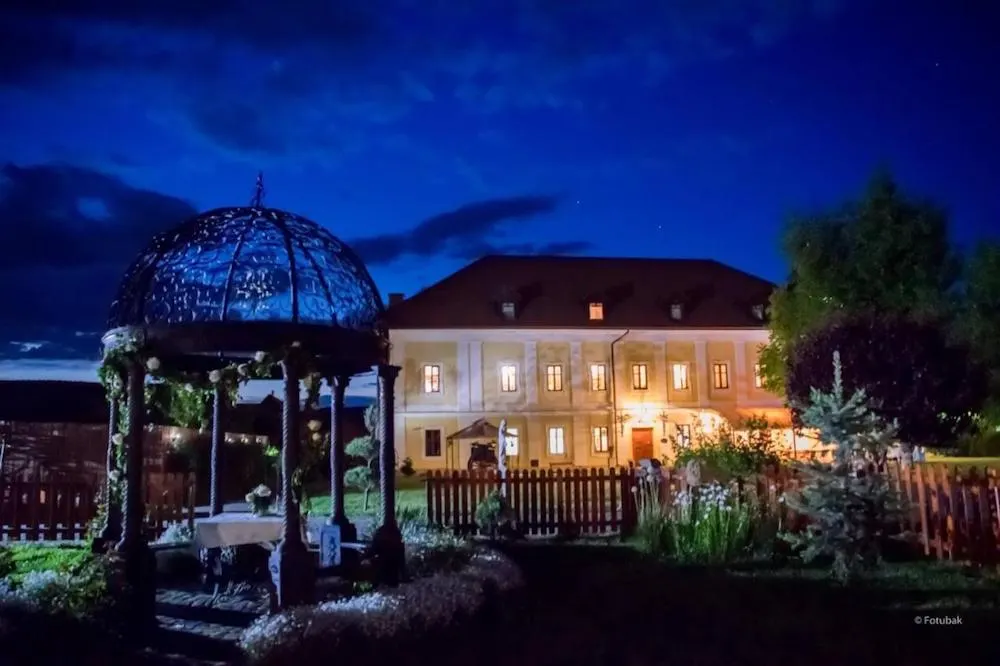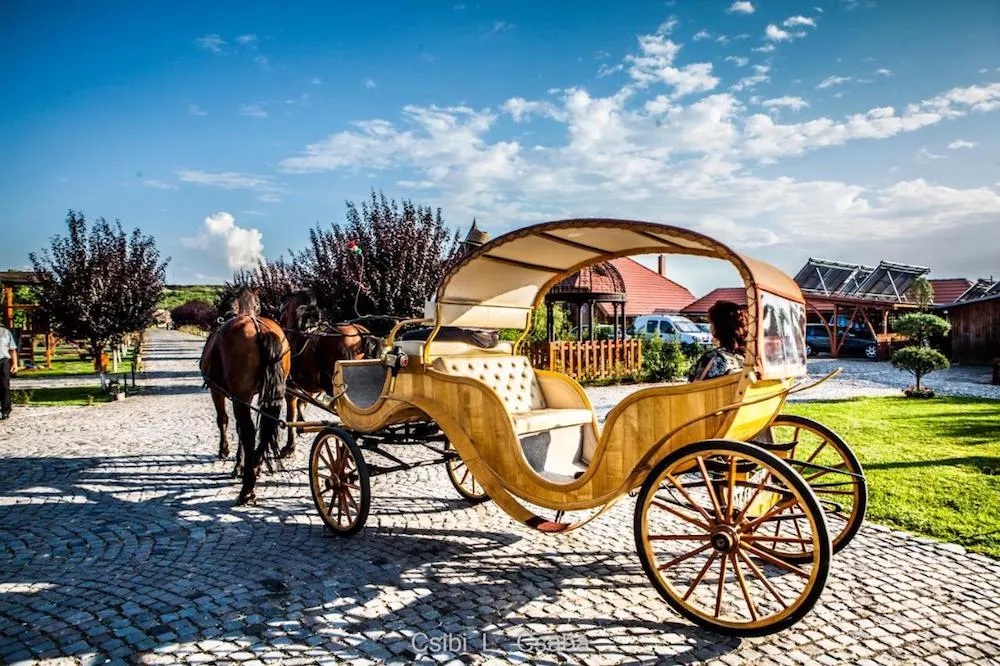 Only a few steps from the peaceful banks of the River Mures, Castel Haller is a four-star, elegant former Baroque castle dating back to the 17th century. It is only 90 km southeast of the city of Cluj-Napoca en route to Brasov, so it's an ideal stopover destination in northern Transylvania.
It was the first out of all the castle hotels in Transylvania to be renovated and it has thrived as a hotel, restaurant and winery since 2012.
With 13 rooms and one apartment, every suite is spacious and comfortable. The decor is in keeping with the castle's original style with heavy and ornate wooden furniture, rugs, and period paintings.
Don't be surprised if you spot an antique typewriter or sewing machine in your suite either! Not exactly relics from the Baroque period but they still add a sophisticated touch.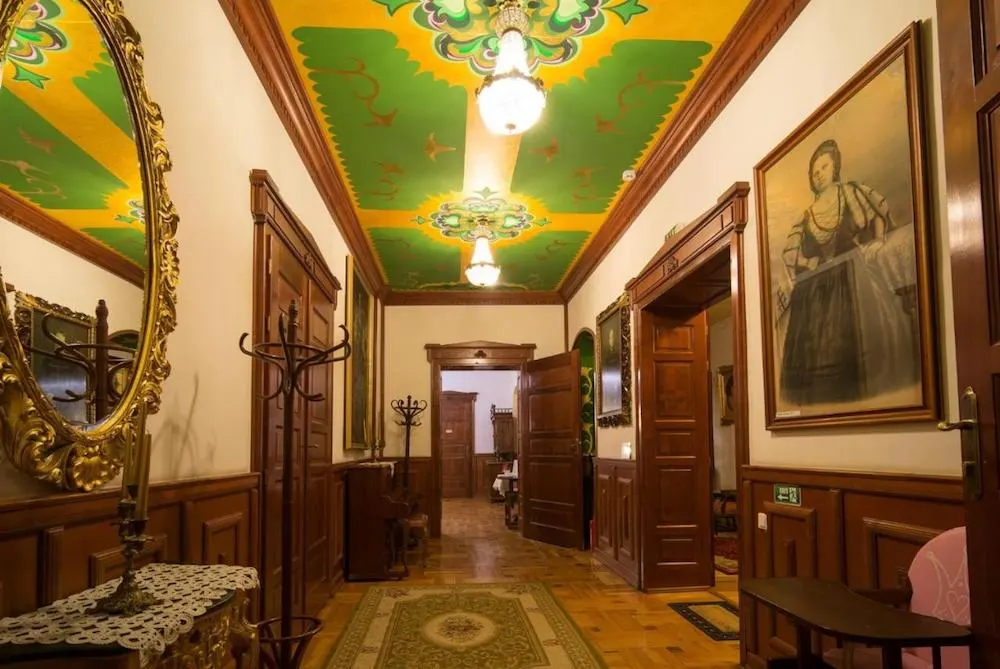 Their onsite restaurant sits up to 60 people and if you're able to do some simple mental maths with the number of rooms at Castel Haller, you won't have to fight for a table! They serve both local Transylvanian cuisine and international dishes.
As well as a restaurant, Castel Haller has an ancient wine cellar, beautiful gardens with a furnished terrace, two swimming pools (with local thermal salt water) and a sauna.
All bookings include free parking and breakfast included and room rates start from a reasonable £61 per night.
You can book, check prices and availability for Castel Haller here.
2. Vila Economat in Sinaia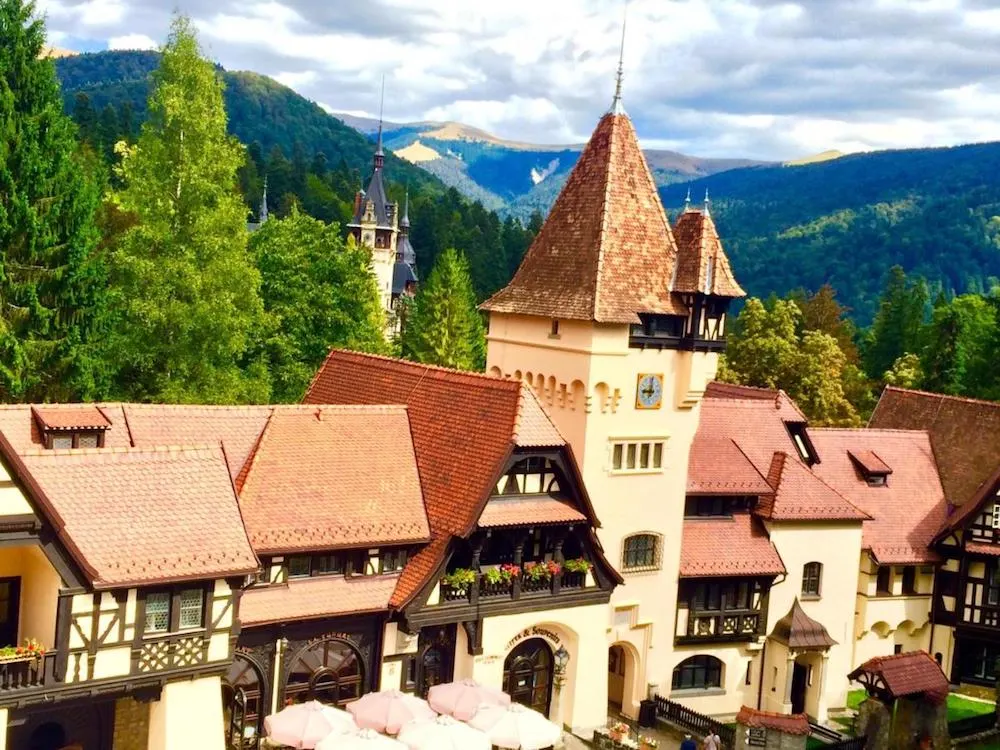 Pele Castle is a neo-renaissance castle in the Carpathian Mountains and one of the top attractions in Transylvania. It receives almost half a million tourists every year! Unfortunately, it's not a hotel.
But, Vila Economat is a hotel and it's in the same complex as Pele Castle (known as Complex La Tunuri). It's the former Royal Guard Office for the castle a mere 100 yards away and has the same architectural style. Plus, you get to enjoy views of the castle which I think is even better than sleeping in the castle itself.
Vila Economat's building dates back to the late 1800s and it looks like a medieval country mansion with turrets, dark wooden panelling on the facade and balconies lined with blooming red flowers. But it's only been operating as a hotel since 2012 so most of the furnishings and fixtures are relatively new.
The decor is simple yet cosy and timeless. Room rates start from £69 with free parking and breakfast so it won't break the bank either. There's a Romanian restaurant La Tunuri, across the street in the same complex and a new hotel, Vila Sipot, is currently being renovated next door in the house where the castle's architects lived.
Besides Peles Castle, there are lots of other things to do in Sinaia like hiking and dining at the other restaurants in town. Plus, it's only 46 km south of Brasov which takes around an hour to drive.
Check out availability and prices for Vila Economat here.
3. Zabola Estate in Zabala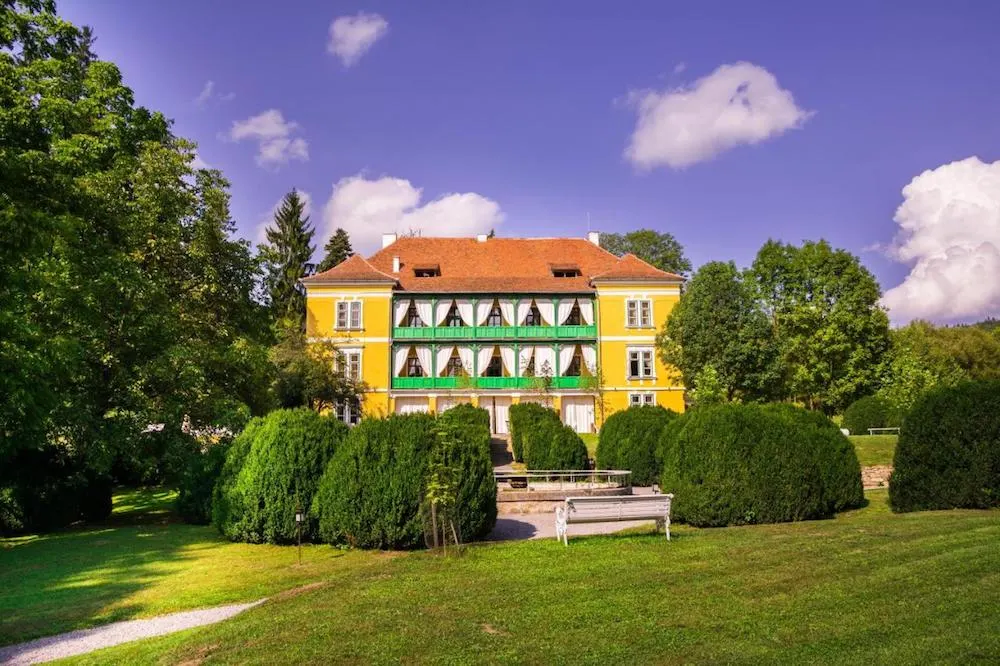 Most of the other castle hotels in Transylvania are fantastic mid-range accommodation options and great for families. But the Zabola Estate is ideal for couples and those seeking a little luxury.
Zabala is a small town 65 km northeast of Brasov on the edge of the Carpathian Mountains which takes just over 60 minutes to drive. It's an ideal hotel for a stop off on a Transylvanian road trip or as a short secluded getaway from the city.
There are seven historic buildings on this 50-hectare property, including a 17th-century castle and a 20th-century castle. The oldest castle was actually a 'psychiatric institute' during the communist years! But you'll be pleased to learn that both of the castles and the other centuries-old buildings on the estate are now completely renovated guesthouses and events venues.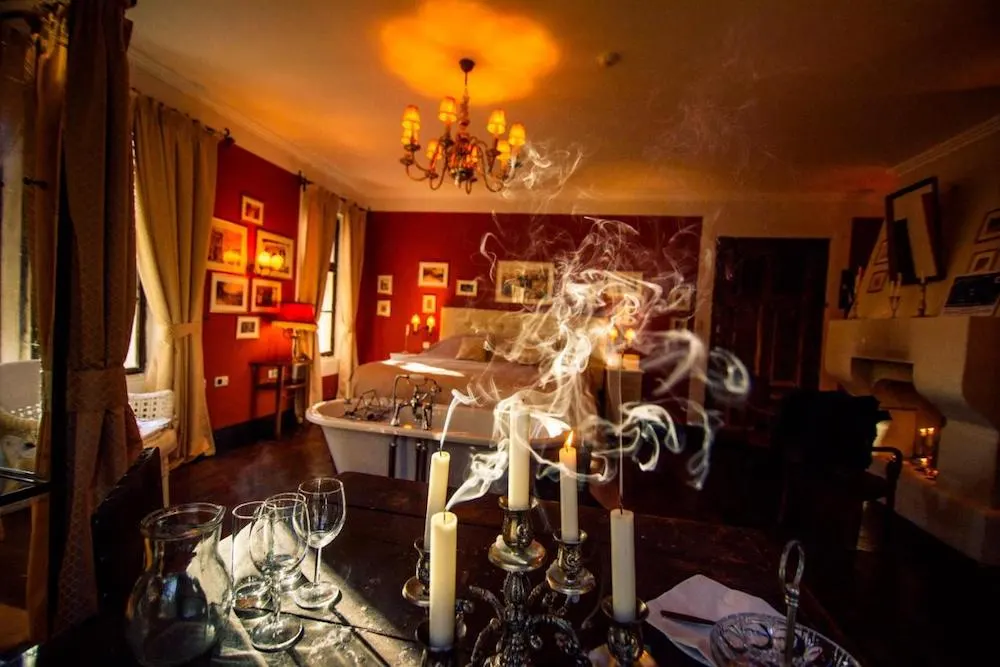 All of the suites have everything you could possibly want in a country retreat. Clawfoot bathtubs in bedrooms with king-sized beds, armchairs positioned by a real fireplace, chandeliers, and heavy soft furnishings.
But don't for one second think the Zabola Estate is dated! Everything from the side tables to the wooden floors looks like they were installed yesterday.
And there's absolutely no need to leave the estate once you're there. They have onsite restaurants and spas, and they host wildlife and hiking tours through their wildlife conservation area. You can also hire bikes or ride horses around their lakes. Yes, that's plural.
Free parking is included and room rates start from £108 per night.
Check prices and availability for Zabola Estate here.
4. Bratescu Mansion (Conacul Bratescu) near Bran Castle
Bran Castle was the inspiration for Castle Dracula in the classic Dracula novel by Bram Stoker. It's located in the town of Bran which is only 30 km (a 30-minute drive) southwest of Brasov.
This 14th-century former Royal fortress is the most visited castle in the country (which is saying something, given how many medieval castles are in Romania) with almost one million annual visitors. Unfortunately, it's not also a hotel and you can't stay there overnight.
But Bratescu Mansion is the next best thing! This four-star hotel has unobstructed views of the storied mountainside castle and is just a stone's throw away.
And you'd be forgiven for assuming Bratescu Mansion is a historic building as it has all the architectural features of an authentic Transylvanian estate. It is also perched on a hillside surrounded by countryside with dark wooden panels and a dark red roof.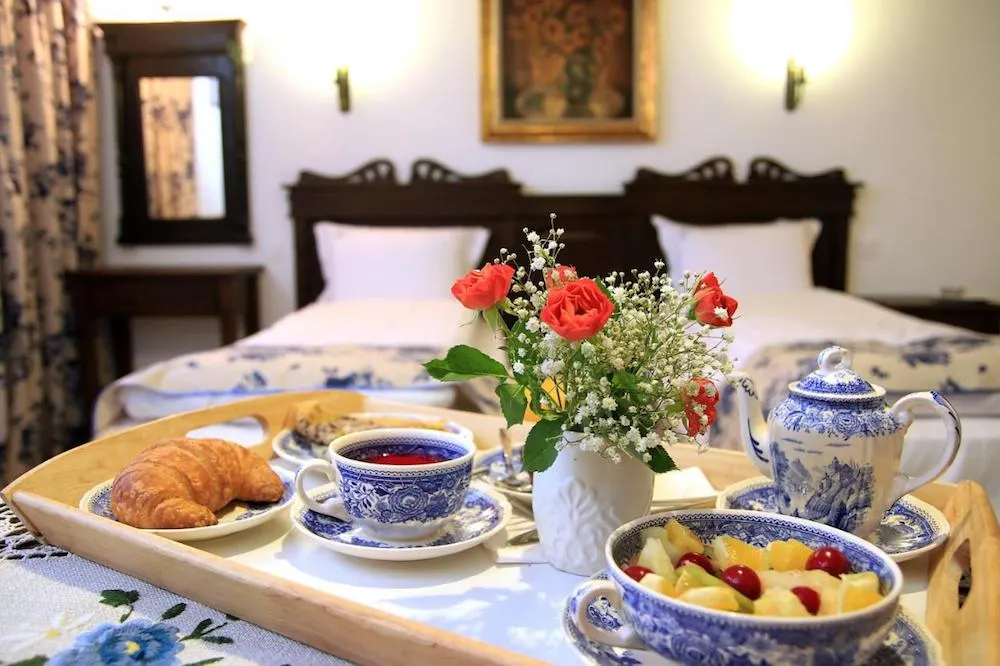 Most of the seven rooms and two suites in Bratescu Mansion have either a balcony or a Juliet window so you can soak up the fresh countryside air and enjoy panoramic views from the comfort of your room. Each room has typical country house decor with floral soft furnishings and heavy wood furniture,
Though it is an intimate guesthouse with few rooms, there is still an onsite restaurant serving traditional Romanian dishes and local wines. But you can easily sample the other restaurants in Bran as the town centre is less than a 10-minute walk away from the guesthouse.
Take a look at room rates and availability at Conacul Bratescu here.
5. Werk Hotel & Spa near Corvin Castle in Hunedoara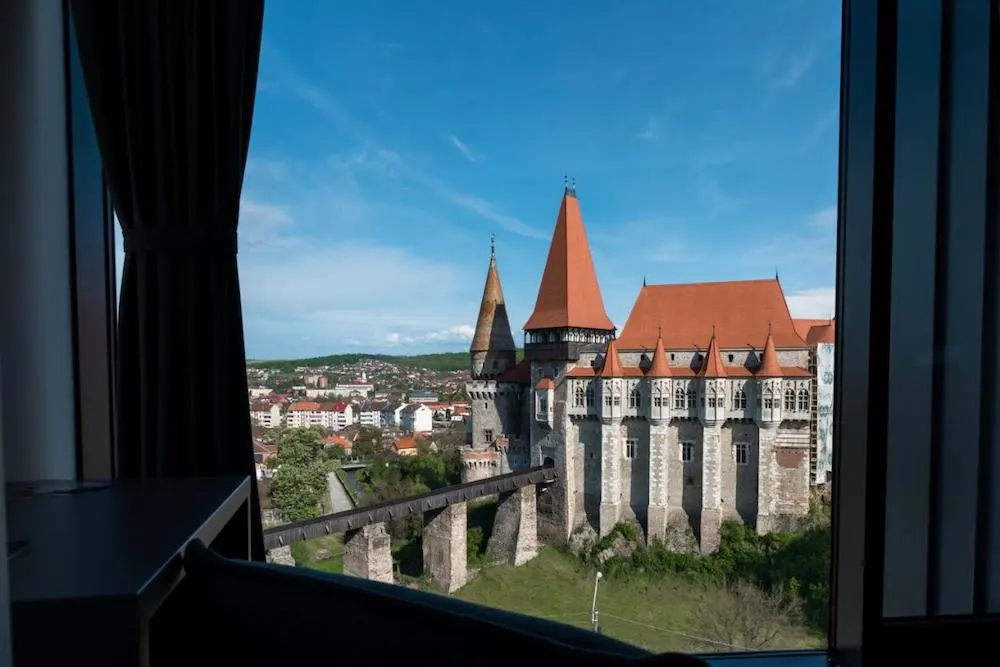 Known as one of the 'Seven Wonders of Romania', Corvin Castle is a 19th-century fortress (though parts of the complex date back to the 15th) with striking orange turrets and an impressive elevated bridge.
Despite being a bit of a trek to reach from the Transylvanian cities of Brasov, Cluj-Napoca and Sibiu, it still welcomes hundreds of thousands of visitors every year.
While Corvin Castle isn't a hotel, Werk Hotel & Spa is a modern, four-star hotel literally right across the road. In fact, the huge ceiling-to-floor windows, balconies, and strategic architectural design of this hotel allow almost every single guest to have gorgeous views of Corvin Castle. It's less than five minutes walk away from the hotel.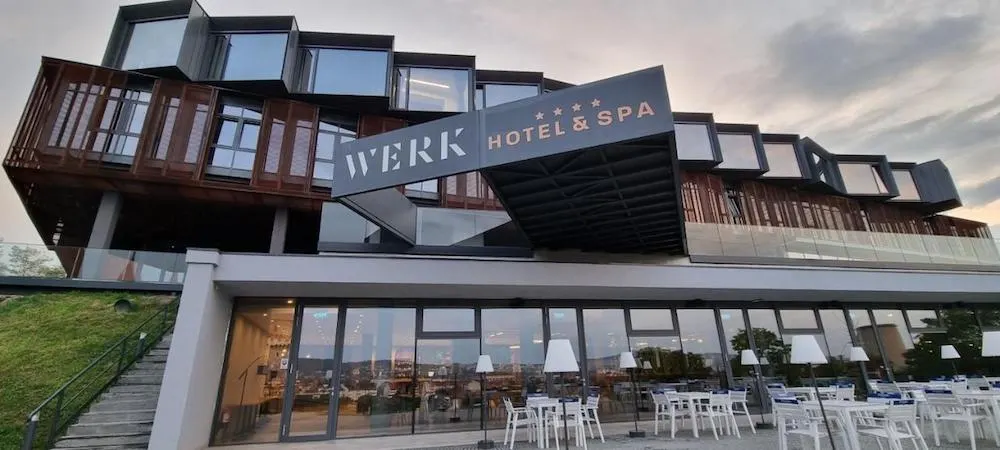 Every room is spacious with minimalist, monochrome Scandinavian-style decor. There's even a huge indoor pool along with a spa that also has beautiful big windows so you can gaze at the surrounding town, castle, and countryside as you swim and relax.
Werk Hotel has a restaurant that caters to a range of dietary requirements and offers breakfast in the mornings as well as a bar. This is a fantastic option if you prefer modern hotels over country-style guesthouses.
Check out prices for Werk Hotel here.
6. Radsor Hotel near Râsnov Citadel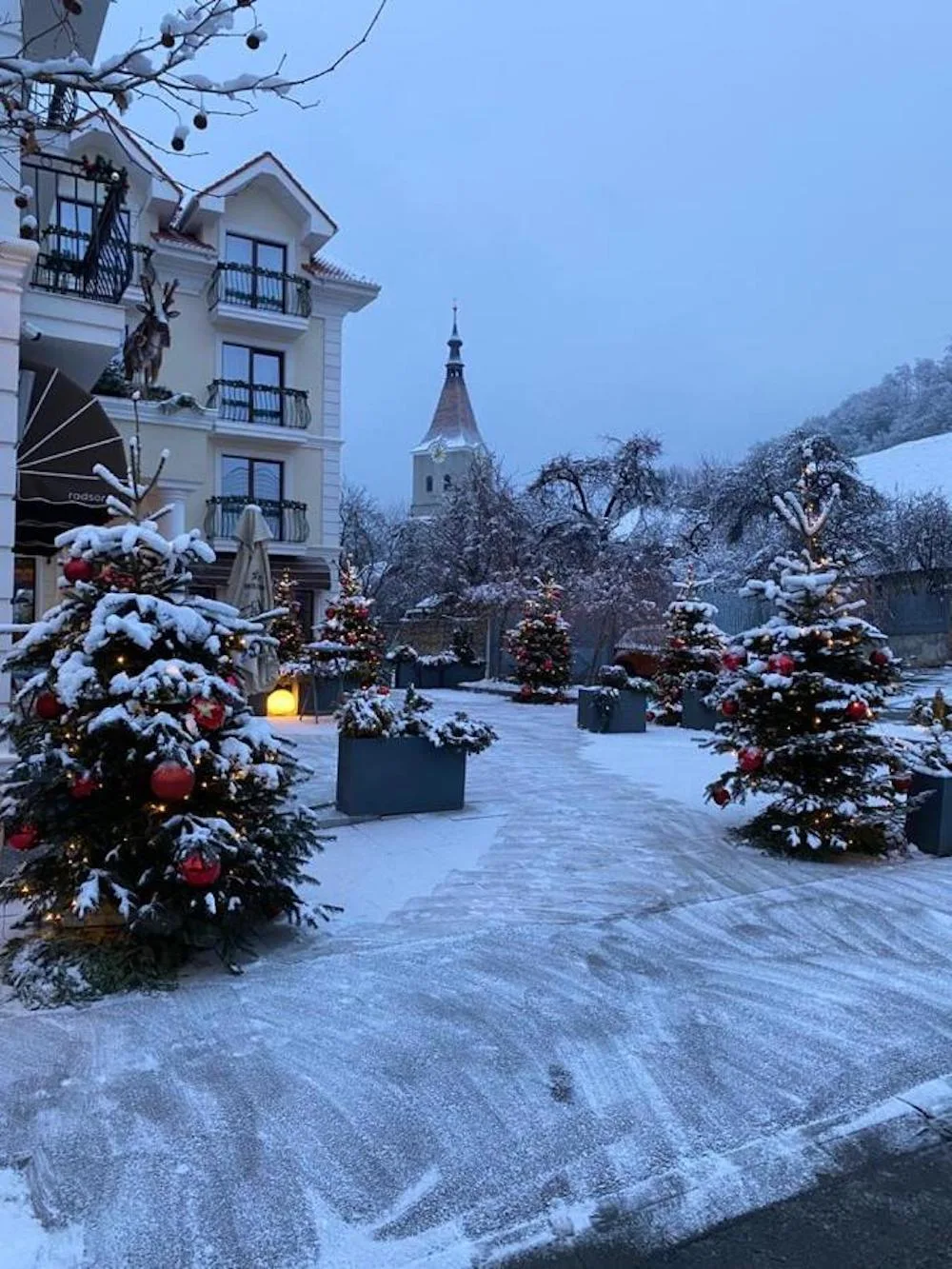 Dating all the way back to the 13th century, Râsnov Citadel is a sprawling fortress that was built as a refuge for local villagers in the event of an invasion. It's huge and the views from this castle of the surrounding mountains and small medieval towns are just beautiful.
Despite there being so many castles worth visiting in Transylvania, Râsnov Citadel is also an essential stop on any good Romanian itinerary. It helps that the castle is in a convenient location only 30 minutes outside Brasov too.
But if you'd rather stay somewhere that allows you to wake up to views of this historic citadel, you couldn't choose anywhere better than Radsor Hotel. This four-star hotel is directly across the main road from the castle and most of the rooms have beautiful views overlooking the castle and the mountains.
Radsor's rooms are spacious, bright and simply decorated with timeless, neutral interior style. But the pièce de résistance is that most of the rooms have their own balcony.
They also have a restaurant which serves a range of crowd-pleasing Mediterranean dishes and breakfasts for all guests every morning. There's also a bar and a bright, large terrace where you can enjoy a drink watching the sunset over the castle.
Radsor Hotel has free parking for guests and you can find room rates and availability here.
7. Hunter Prince Castle & Dracula Hotel in Turda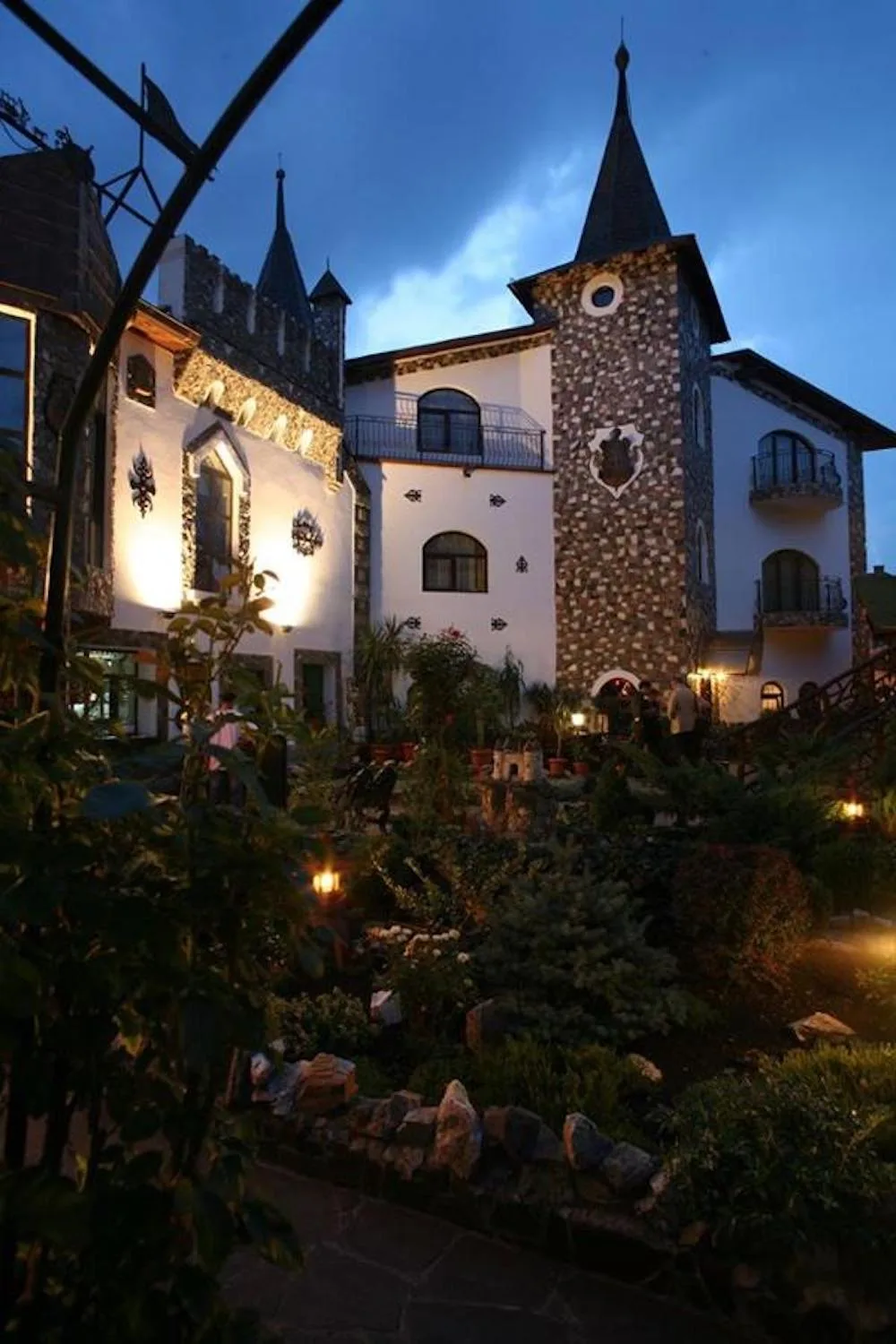 Would you prefer to stay in the centre of a bustling city than out in the countryside? Hunter Prince Castle is a great choice. Turda is only 32 km (roughly a 40-minute drive) south of Cluj-Napoca in northern Transylvania right off the main highway.
Hunter Prince Castle looks like it sprung straight from the pages of a fairytale. Unfortunately, this four-star fortress isn't an 'authentic' castle but it is a unique boutique hotel that will transport you into a fantasy world of knights, dragons, and princesses.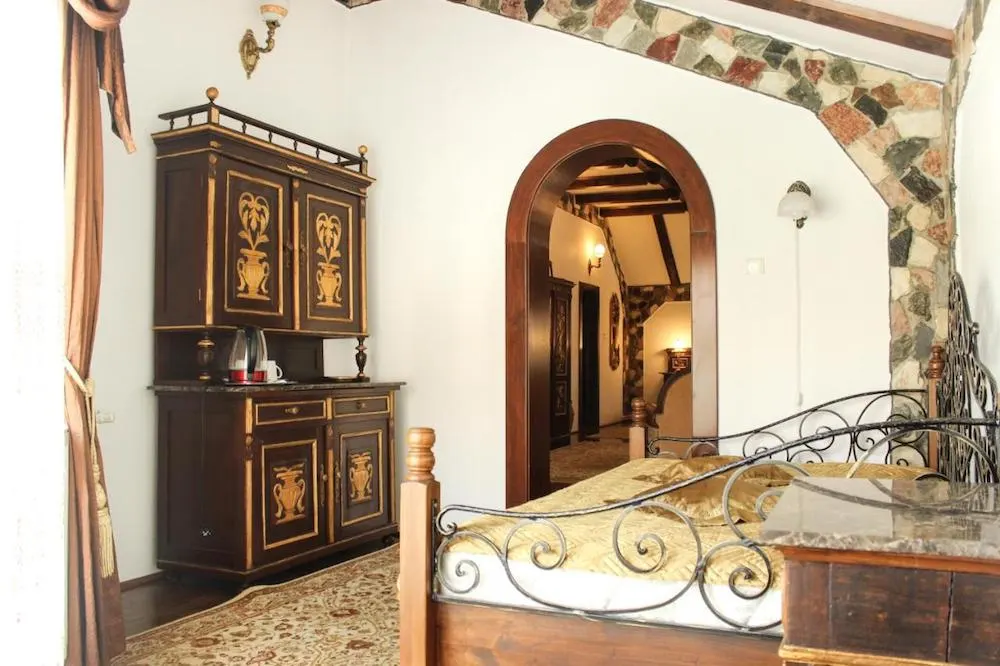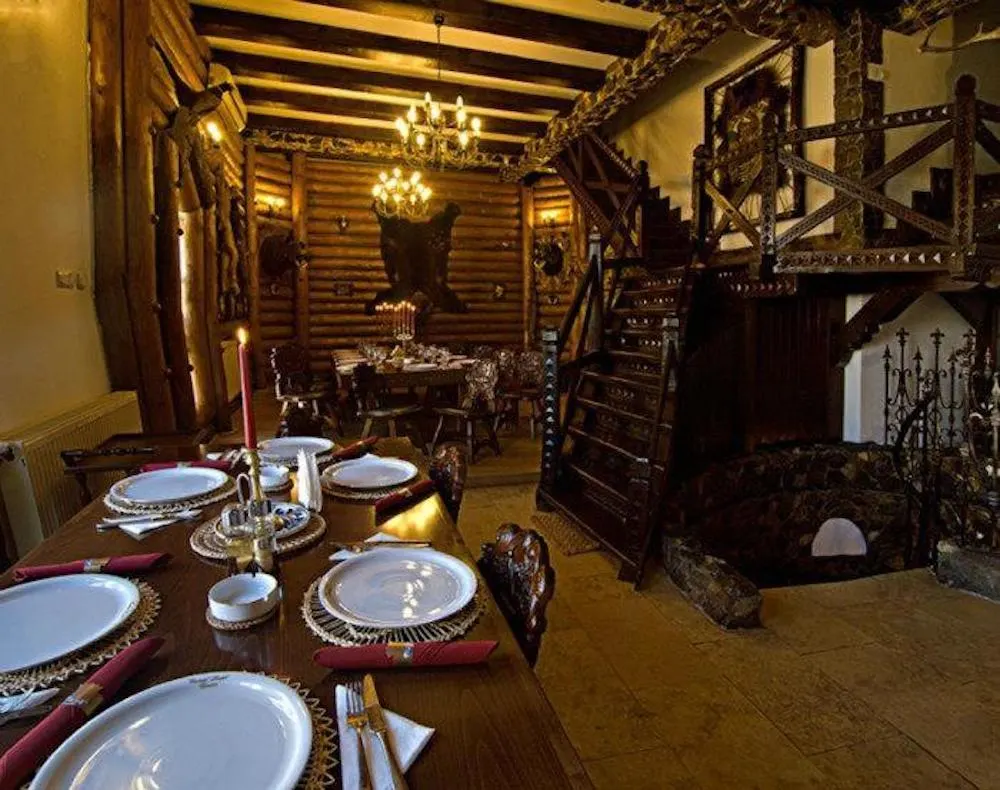 This pristine white and stone castle has turrets and iron-wrought embellishments and wooden signs informing you that you're staying in Dracula's hotel. In all of the rooms, you'll find ceilings with wooden beams, period furniture and fun touches like bear skin rugs or suits of armour.
Hunter Prince Castle's main restaurant looks like a large castle dining hall but they also have a terrace where they serve international and local dishes.
I'm sure you've realised that, while anyone would enjoy staying at this quirky hotel, it's a particularly great place to stay with older kids! And it's even pet-friendly.
Hunter Prince Castle & Dracula Hotel is only a 10-minute drive from the Salina Turba salt mines, which is one of the top things to do in Transylvania. Plus, there are lots of other restaurants and bars in Turda.
Bookings include free parking and breakfast and room rates start from as little as £39 per night.
8. Castel Templul Cavalerilor in Valisoara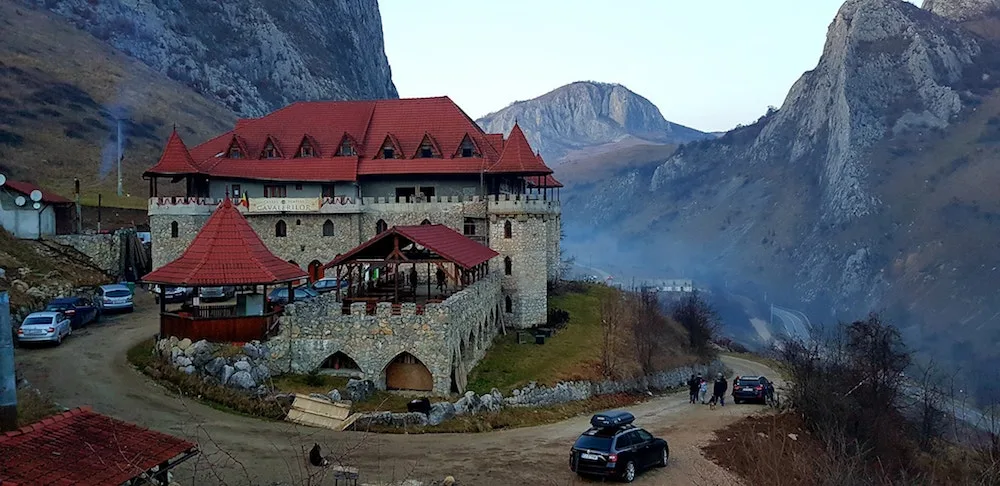 Translating to 'the Castle Temple of the Knights', Castel Templul Cavalerilor is exactly what you would expect a Transylvanian castle to look like. It's perched on top of a mountain on the western edge of the region in a remote location.
It's around 128 km (around a 90-minute drive) north of the city of Sibiu but this castle hotel is worth the effort it takes to get here.
Built during the 14th century, this dark stone castle with a burgundy roof was used for defensive purposes before it was abandoned for centuries. In the early 2000s, a doctor from Brasov renovated the old castle and turned it into a basic yet cosy guesthouse.
There is a lot to love about Castel Templul Cavalerilor including the four-poster wooden beds, guest library and lots of medieval weaponry dotted around the estate.
If you're expecting four-star luxury then you might be disappointed. But if you book a stay expecting a warm welcome from an independently owned hotel in a historic castle then you'll have a fantastic time!
They offer free parking, breakfasts on the terrace, and an onsite restaurant (which definitely looks more like the Winterfell dining hall in Game of Thrones than a hotel!).
Read more of my travel blogs from Romania