Today I'm sharing my First Luggage Review. First Luggage is a global luggage delivery service. They will collect your luggage from your home and deliver it to your accommodation anywhere in the world. I used them from a trip to the USA.
My suitcases were collected from my home in Chester and delivered to my hotel in Miami three days later!
Here's some more info and my First Luggage Review…
As a serial over-packer, travelling without luggage is a completely new concept for me. Even when I go to the gym I seem to be weighed down with a heavy bag packed with clothes and accessories for every possible occasion!
When First Luggage invited me to try their luggage delivery service I really couldn't say no.
No more navigating the London Underground with a heavy suitcase. No more tutts and angry muttering as people fall over my bag (this is London, no one will actually say anything, they just angrily roll their eyes.)
No more long queues to check-in my bag at the airport. No more waiting around at the baggage carousel and then navigating another public transport system in a foreign city with a heavy bag.
This was going to be a breeze!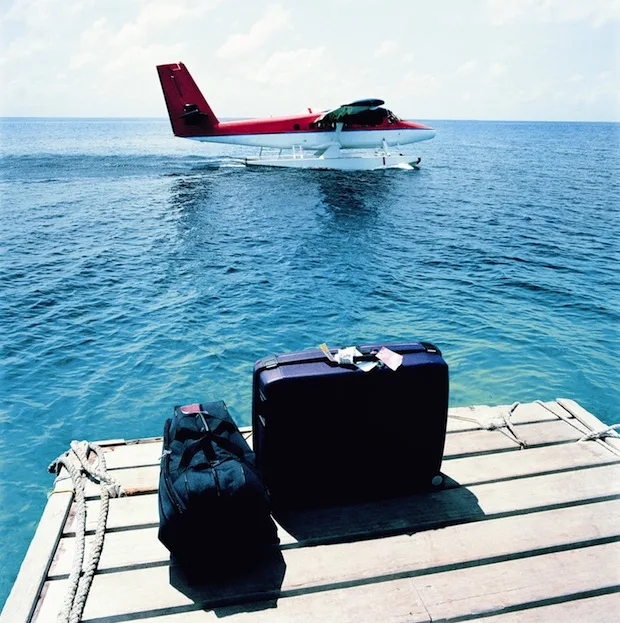 First Luggage Review: My trip
I used the First Luggage service during my recent trip to the USA. I was camping for the majority of the trip and needed to pack for lots of different occasions and climates. Despite my best attempts to pack light, I ended up with a very heavy case so this was the perfect trip to be luggage-free.
Our suitcases were collected from our house four days before we were due to leave.
First Luggage usually collect in the afternoon but I knew I wouldn't be home so they happily arranged a pick-up at 8am. There was a large tag to place on the front of the bags and an envelope to give to the driver and that was it. It really was that easy.
I received an email three days later saying that my bag had been delivered successfully.
When I arrived at the Metropolitan by COMO the bags were waiting in the room wrapped in protective film.
It was just as easy on the way home as I placed a new tag on the front of my bag and left it with the hotel concierge.
There was nothing of any real value in my bag other than three-weeks worth of laundry so I wasn't nervous about leaving it and travelling without a heavy case was well worth it. My suitcase followed me home quickly and was at my front door within two days.
As always, I came home with extra clothes, souvenirs and duty free bargains so using First Luggage for my return journey was particularly useful. It would have been impossible to navigate the London Underground with all the bags I ended up with!
Pros and cons of using First Luggage
Pros
You don't need to carry your bag!
You don't need to wait in line to check it in
You can arrive at the airport a little later
No waiting for it to be unloaded from the plane
No public transport with a heavy bag
Great if you have excess luggage and need to fly out an extra case
It's ideal for people who struggle with heavy baggage
It would also be good for young families who seem to travel with everything but the kitchen sink
You know you're in great hands and can trust First Luggage to pick-up and deliver your case on time. I've scoured for reviews and almost all of them are from happy customers who give a positive, 5* review.
Cons
You need to pack your bags a few days earlier because they'll be collected from your home about 4 days before you'll arrive in your destination. This might not be a big deal for most people but there are a few everyday items that I had to take in my hand luggage. Things like hair straighteners, makeup and power cords that I'd usually put in my main luggage.
The price. As you'd expect, having your luggage collected from your home to your hotel and back again doesn't come cheap but this is a more affordable option than many other alternatives.
Conclusion
When I told my boyfriend we'd be using First Luggage he was confused. "Why would someone collect my bag when I can just carry it?" he asked.
For a strong, young guy he has a point. He never has a problem with his bags because he packs light and he's strong enough to throw it on his back like it's filled with nothing but cotton wool and fairy dust.
For me though, it's a completely different story.
It was impossible to pack light for a 3-week camping trip so my bag was pretty heavy. I'll happily accept that I'm a weakling but I'm not the kind of girl that wants a guy carrying her bags for her so First Luggage was a luxury solution.
First Luggage were a breeze to work with. Everything was made really simple and all instructions were easy to follow. They were happy to pick-up my bags at a time that suited me and everything was collected and delivered without a glitch. The customer service staff were great too, giving me a quick call or email to update me on the process of my bags and to confirm I'd be home when they were collected.
Now the only problem is that I'll ever want to carry my own bags again…
First Luggage provided me with a free trial but, as always, all thoughts and opinions and my inability to pack-light are all mine.