Packing for a skiing trip can be difficult because you pretty much want to take every single warm item of clothing you own. You'll want to be rugged up during the day but stylish in the evening and still warm enough to walk around in the snow.
I've been skiing a few times now and I've made every packing mistake in the book. I've packed the wrong type of clothes, too many clothes and not enough clothes. One year I really did pack almost everything I owned and then a wheel broke off my suitcase on the way to Heathrow and I was stuck with a suitcase that weighed approximately 25 stone that I had to drag behind me on one wheel. Who said travel was glamorous?
In March I'm going skiing to Tignes and I'm hoping I will have finally figured out what to pack for a ski trip.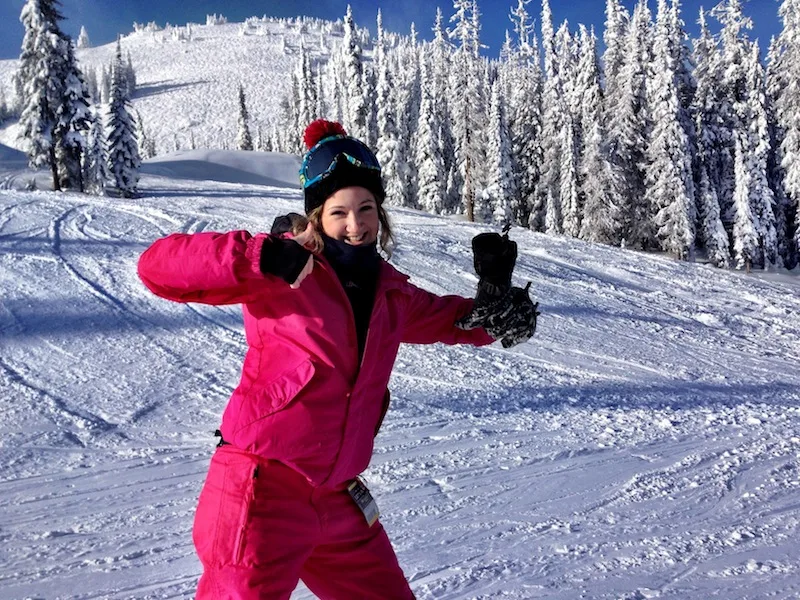 Here are my skiing packing tips/how to choose the right ski gear and what will be in my case
Choose a bright and bold suitcase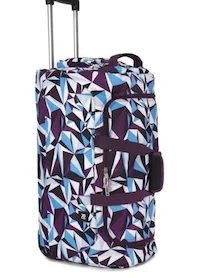 The coolest skiers and snowboarders have super cool, bright and bold suitcases. It needs to be big as you will be packing more than you would for an average holiday. It also needs to be lightweight so you can squeeze as much in there as possible and stay within the airline's weight allowances. It's also handy if it's easy to carry in case you need to lug it across the snow once you arrive.
This year I'm travelling with the Rita Large Trolley Bag from Revelation. It's reduced to just £19.50 right now so it's a bargain!
Your skiing or snowboarding gear
Ski Pants
Ski pants are bulky and expensive so just take one pair. Go for bright and bold designs to fit in with the cool crew, especially if you're snowboarding. I'd avoid salopettes as they're a nightmare when you need a wee.
Ski Jacket
Again, ski jackets are expensive so just take one.
Things to look out for with a skiing jacket:
It has to be waterproof
It doesn't necessarily need to be super thick and padded and warm. I find thick coats to be annoying and you actually get pretty hot while you're skiing. I prefer a thinner jacket and I'll wear layers underneath. This gives you extra freedom and flexibility to move.
A pocket in the sleeve for your lift pass – it makes it much easier when you're getting on and off lifts
A secure inside pocket for your phone – your phone will turn off when it gets too cold so keep it close to your body
Your pants might be bright and bold but it's best to keep your jacket simple and stylish. Like I said, ski jackets are expensive so pick a style you're likely to wear at home or to go out in the evening.
I like a ski jacket with a waist as you can end up feeling like a big, round dumpling with all those layers on so it's nice to have something fitted. This is especially true with ladies with short hair. I went skiing when I was 15 and had short hair and when I look at the photos now I looked like a boy!
If your looking for budget ski gear, check out TK Maxx, they have some good options at this time of year.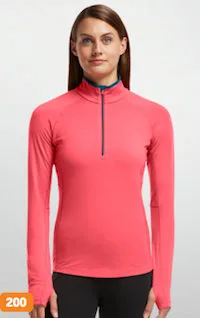 Thermals
Good quality thermals can mean the difference between feeling toasty and warm or miserably cold.
It might be tempting to pick up some cheap leggings and t-shirts from Primark but I really recommend getting some good quality thermals. I really like Icebreaker base layers but check out M&S if you're on a budget.
Gloves
Having cold hands while I'm skiing makes me so miserable. I prefer gloves over mittens so you can pick things up with ease. Make sure they're waterproof and come quite high up your wrist so you don't get snow up your sleeves or inside your gloves. It's even better if they have poppers so you can attach them to the sleeves of your jacket. Yea, you'll feel like a toddler but it's better than losing a glove!
Backpack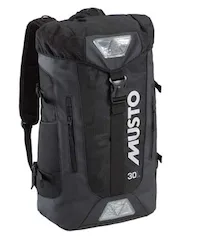 If you're planning to be out on the slopes all day then you'll need a backpack to keep things like extra layers, drinks and snacks. Try to keep all your 'day stuff' to a minimum so you're not lugging too much up the mountain but you're bound to need a few things. Choose a comfortable backpack that won't slip off your shoulders and annoy you.
I like the Evolution Expedition 30L Backpack from MUSTO. It's designed for extreme weather conditions so it's perfect for skiing and snowboarding. It has toggles and cords on the outside too so you can strap boards or skis to your bag when you're walking to or from the slopes. It also has lots of pockets so it's good to use as your hand luggage when you're flying out to your destination.
Goggles
Goggles are really important in case you're skiing when it's snowing heavily or if it's really sunny. Make sure they fit you properly and don't fog up or you'll be stopping all the time to clear your goggles.
Top Tip: If you've got a small head/face, try kid's googles. For years I couldn't find goggles to fit properly and then I tried kid's ones and they're perfect.
Sun cream in factor 50+
You can burn so quickly on the slopes so make sure you're wearing SPF 50+ on your face. Lip balm or chapstick with SPF in it is a good idea too. You can usually buy sun cream in a little tube with a clip on it to make it easier to keep in your pocket and reapply. Something like this is good.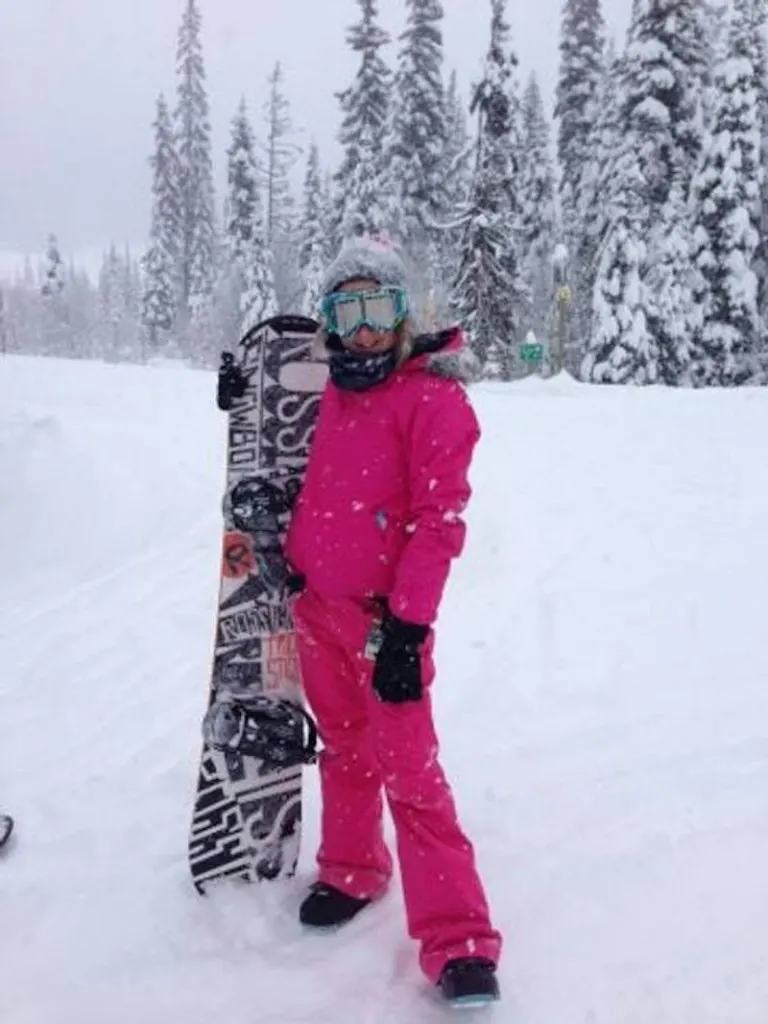 Socks
If you're ever going to splash out on fancy socks, now is the time to do it! You want thick, warm socks that won't roll down but provide plenty of cushioning inside your boots. You don't want to be wearing two pairs of socks as you're more likely to get blisters and generally be uncomfortable.
Helmet
Gone are the days when ski helmets were for geeks, all the cool kids wear them now. You can hire a helmet when you arrive but if you're buying your own, make sure it fits perfectly and is really good quality.
Hat
You can't beat a super cozy, fleece-lined hat.
What to pack for the evenings when you're skiing
So you've got the things you'll need for the slopes, what about for the evenings?
This really depends on the kind of resort you're going to. Some resorts are really fancy and you'll want to dress up for dinner. Some are much more casual and you'll get away with jeans and a jumper.
Whatever your style and the style of the resort, there are a few things to keep in mind.
Never wear heels
There will probably be snow on the ground around the resort so don't bother packing your heels. Heels might look nice but they're not worth breaking your neck over and it's very unlikely you'll see anyone else in heels. Black ankle boots are the perfect option as they're warm and sturdy and go with any outfit.
It will be hot inside
You'll need to walk outside in the snow to get to all the bars and restaurants, but once you're inside it's usually boiling hot. Avoid taking lots of thin layers and just wear one big, warm coat (possibly your ski jacket). This way you can whip it off as soon as you get inside and not have that horrible, hot and sweaty feeling as you tear off your layers.
final tips for packing for a ski trip
#1 – Bring plenty of socks and undies
#2 – Don't forget a swimming cossie as lots of hotels and chalets have hot tubs
#3 – Remember a small bag for nights out
#4 – Bring a cozy pair of PJs
#5 – Pack a flask if you're skiing on a budget but still want a hot drink while on the slopes
#6 – And a hip flask for a tipple while you're skiing
#7 – Bring a great night cream moisturizer as your skin can dry out with the combination of indoor heating and cold outdoor winds
#8 – If it's likely to be REALLY cold, pack a balaclava style hat or a scarf to wrap around your face while you're skiing. Icy face is a real thing!
#9 – Take hangover cure medication for the evenings when 'apres ski' gets a bit out of hand.
#10 – Take a GoPro to capture your moves on the slopes
Do you have any more tips for packing for a ski trip?
Disclaimer: This article was sponsored by Musto