Packing your carry on for long haul flights doesn't need to be difficult. Here are my top tips to pack the perfect carry on for your long haul flight.
This post has been created with SOCKSHOP – because you can't fly long haul without a pair of cosy socks!
I like to keep my carry on luggage really simple, travel light and breeze through the airport with no stress or worries.
Travelling long haul can be stressful enough, the last thing you need is an oversized handbag weighing you down…and slowing you down!
I think it's especially important to keep things simple when you have connections during your journey. If you have any delays, you may end up running across an unfamiliar airport and you don't want to be doing this with an enormous, heavy bag!
Here are 10 absolute necessities to pack in your carry on for long haul flights. I haven't included your passport, phone, travel documents or your wallet as I'm sure they're a given!
1. A document pocket
Now this isn't really something you need to pack, but more a dedicated space in your luggage for your phone and passport and any printed travel documents. A small pocket at the back of your bag is ideal!
There is nothing more stressful than getting to the security desk and you can't find your passport or boarding pass! Make sure you have a small pocket where you keep important documents and you keep putting them back into this same pocket so you don't lose them.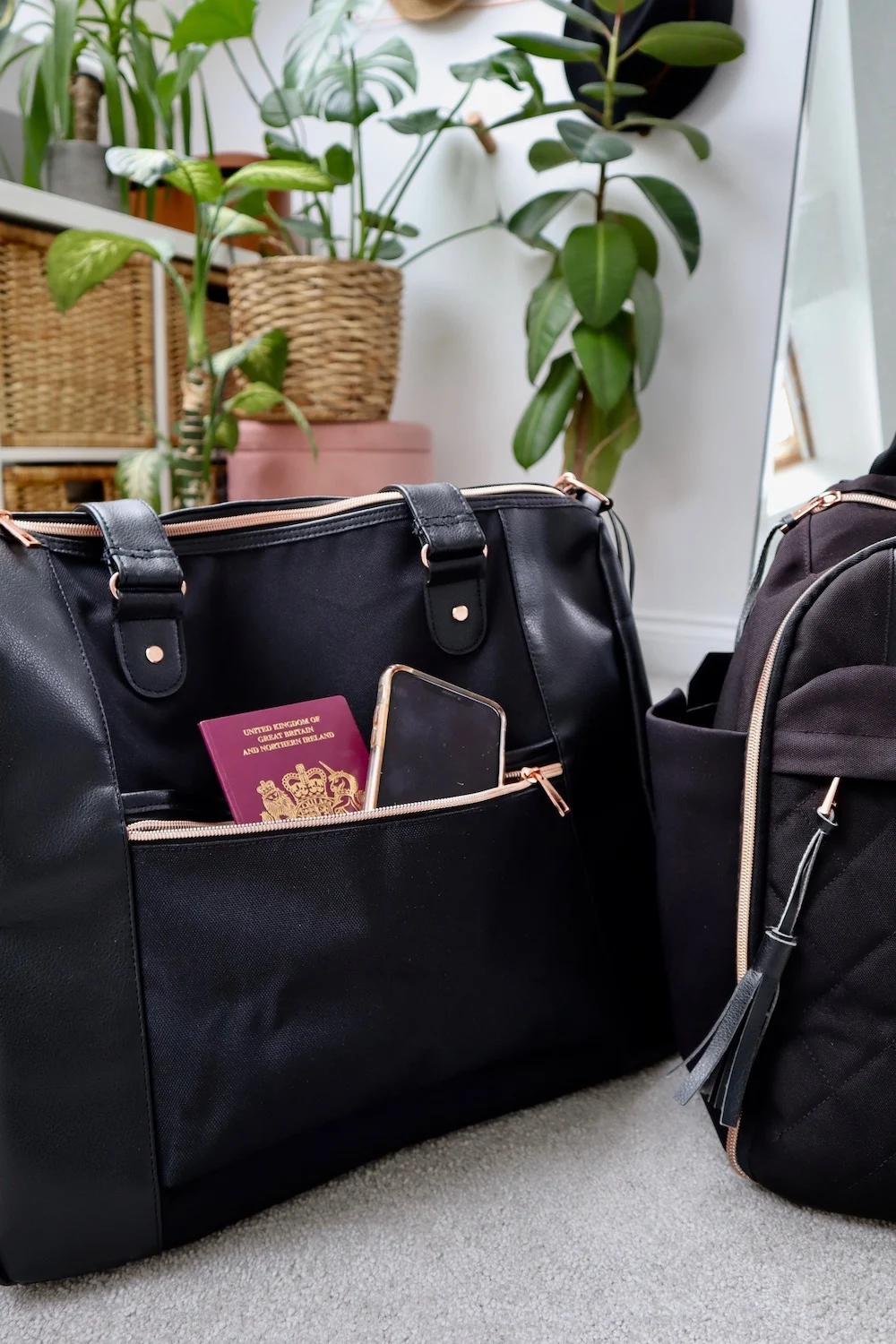 2. Cosy slipper socks
I always remove my shoes during long haul flights, both for comfort and because my feet swell with the air pressure. Make sure you've got some cosy slipper socks to keep your feet warm, especially because some flights can be chilly! You may even wish to fly in shoes you can easily slip on and off to make it easier when you go to the bathroom or get up to stretch your legs.
3. A giant water bottle
Hydration is key during long haul flights and a huge water bottle is especially important if you're flying economy or with a budget airline because you can't guarantee they'll continually give you bottles of water. I've had so many flights where they give out tiny bottles every few hours and it's just not enough! Not only that but it's so much single use plastic and it's so easy to avoid it.
Most airports have tap water fountains and if you can't find one you can always ask a cafe or restaurant to fill it up for you before you board your flight.
If you're travelling in a destination where you don't feel comfortable drinking the tap water then you can always fill up from the filtered water bottles at restaurants in the airport. To be honest, I drink the tap water everywhere I go and I'm always fine!
Travel Hack Tip: You will need to ensure your bottle is empty as you go through security but I see this as a good thing. It forces you to drink all of your water so you're as hydrated as possible before boarding the plane.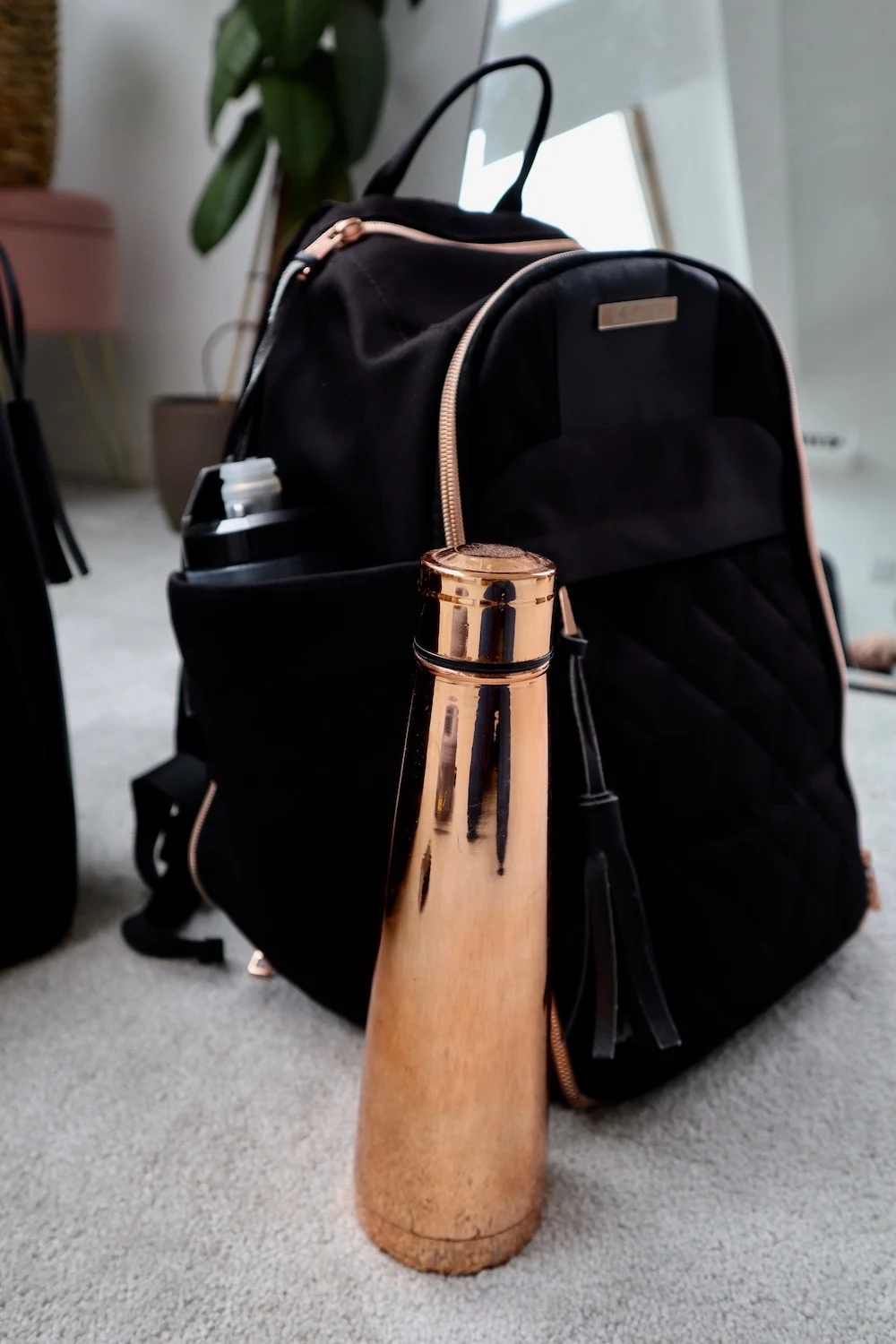 4. A tablet
Do you remember long haul flights before tablets were invented!? I had to carry so much stuff such as magazines, games, books, puzzles and notepads. Now I have it all on my iPad and so much more. A tablet is a great way to save space in your carry on luggage and gives you so many entertainment options.
Travel Hack Tip: Download as much as your tablet will hold before you leave home. You can't rely on airport or plane wifi and you'll be so disappointed when you realise only half of your Netflix series is available!
Also don't forget that many things, especially on Netflix, are only available to download in your home country so download as much as you can if you'd like to watch things on your return journey too.
I'll always download:
1 x book
2 x podcasts
1 x movie
3-4 x episodes of a show I'm watching
1-2 magazines
I have an apple pen to journal
Photo editing apps to edit my travel photos when I arrive
I wouldn't normally recommend buying expensive gadgets but I really do think an iPad is the best gadget for travelling. I know you can do all of these things on your phone but it's a much nicer experience with a bigger screen.
5. Noise cancelling headphones
Noise cancelling headphones are dreamy for long haul flights. They block out the noisy plane and any noisy passengers but they're also great for watching movies as you feel really immersed into the film.
I really like these JBL earbuds. I switched from over-ear headphones a few years ago and I find the earbuds much easier to travel with. They take up less space in my bag and I don't need to worry about bending or breaking them. It's also easier to fall asleep with them in and they can be used like ear plugs to block out any sound.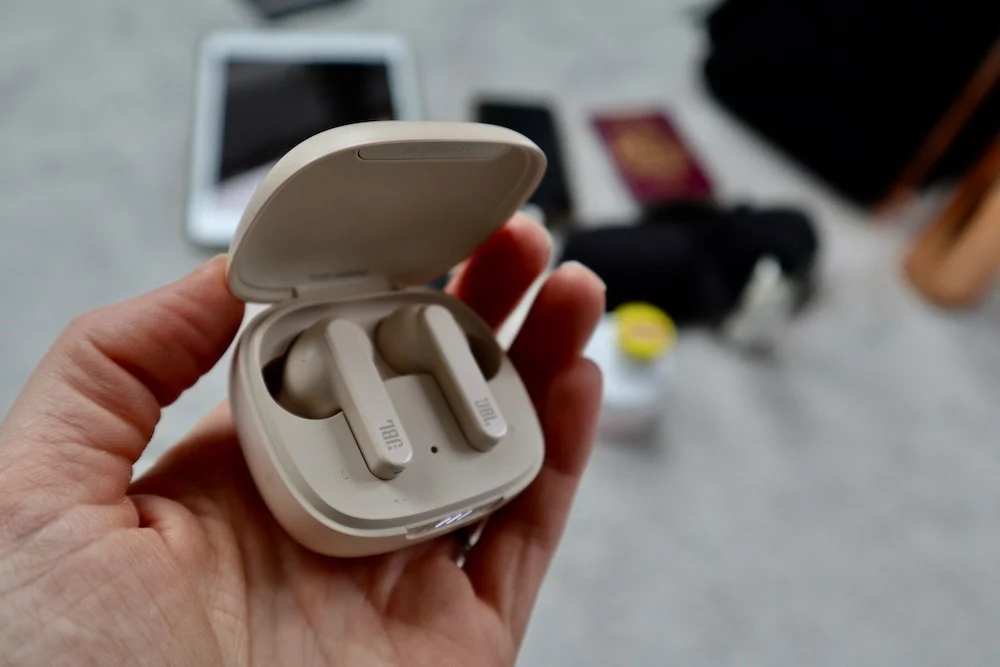 6. A travel pillow
Now this is a personal one as I'm sure everyone likes a different type of travel pillow. Some people like to take a full sized pillow and most long haul airlines are absolutely fine with this. Maybe you'd prefer a smaller version of a normal pillow. You could get an inflatable pillow to make it easier to carry or even something like a trtl pillow that takes up very little space.
Personally, I like a good old fashioned U-shaped travel pillow that you'll find at every airport and train station. I find them really comfortable and also like that they have a popper to attach it to your bag, making it much easier to carry.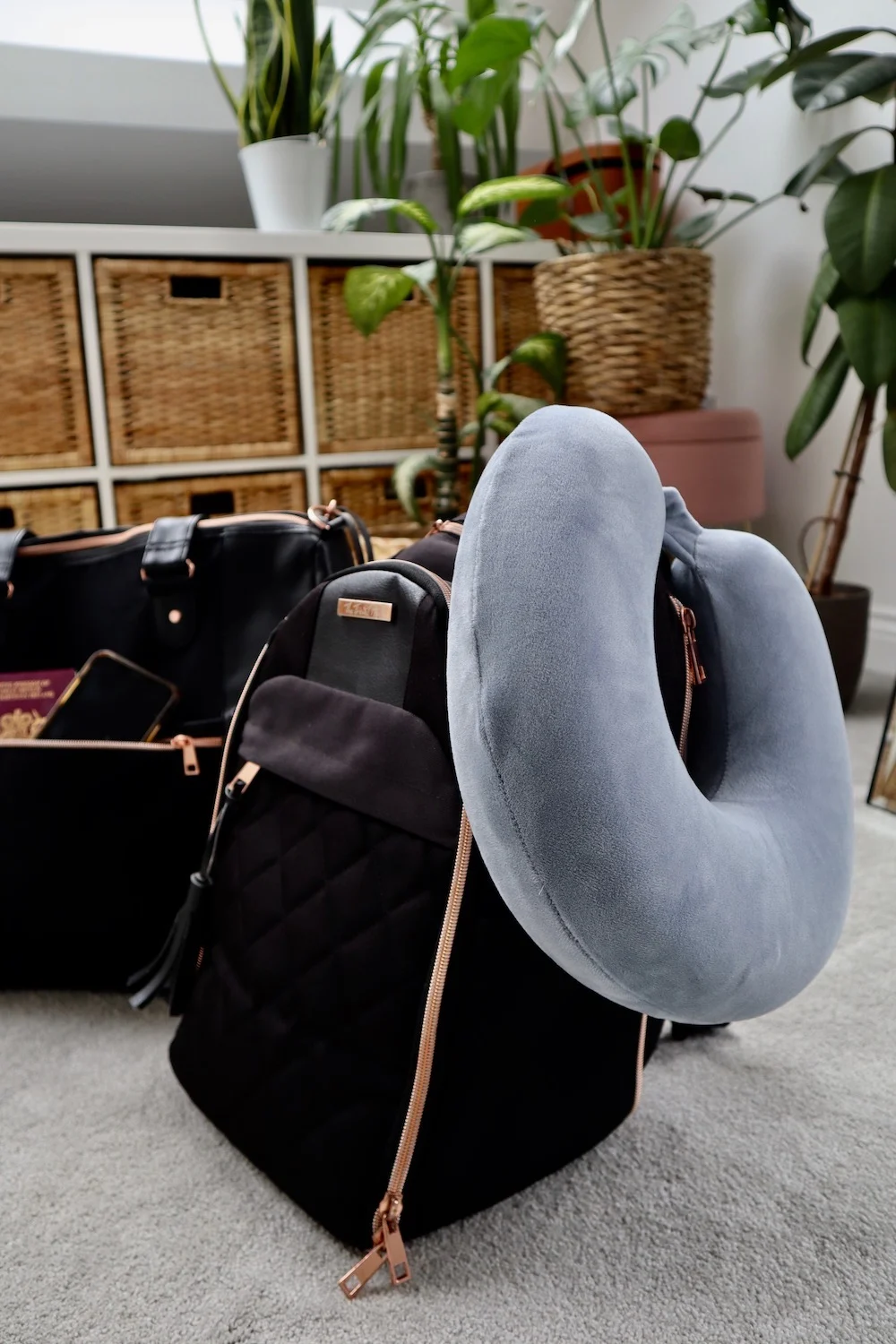 7. Contoured eye mask
It took me a while to get used to eye masks as they made me feel claustrophobic! That is until I discovered contoured eye masks. They're slightly raised over the eyes (a bit like egg boxes!) so the material isn't flat against your eyes and your eyelids don't feel like they've been glued down. These are also a better option if you'll be wearing eye makeup as it's not going to smudge it all!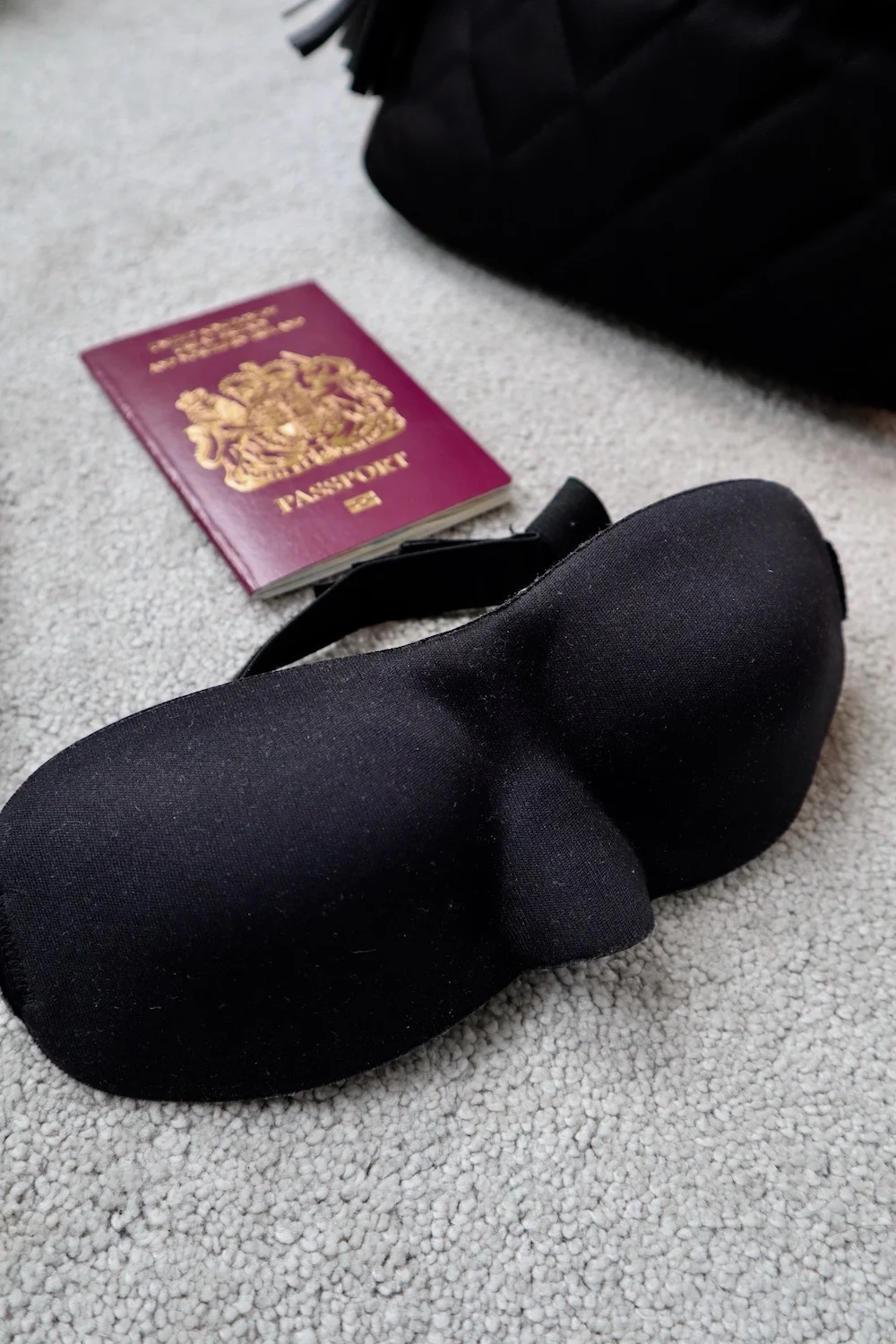 8. Super moisturising face cream + lip balm
Long haul flights can really dry out your skin so I recommend packing a mini face cream and lip balm. Don't forget you can't take more than 100ml on the plane or it will be confiscated at security.
I always decant my face cream into a portable travel tub to save on space and weight in my bag.
My favourite face cream at the moment is Japanfusion Moisture Elixir from Beauty Pie. I keep it simple with lip balm and use Carmex.
Don't forget to put them into a plastic bag to get your liquids through security.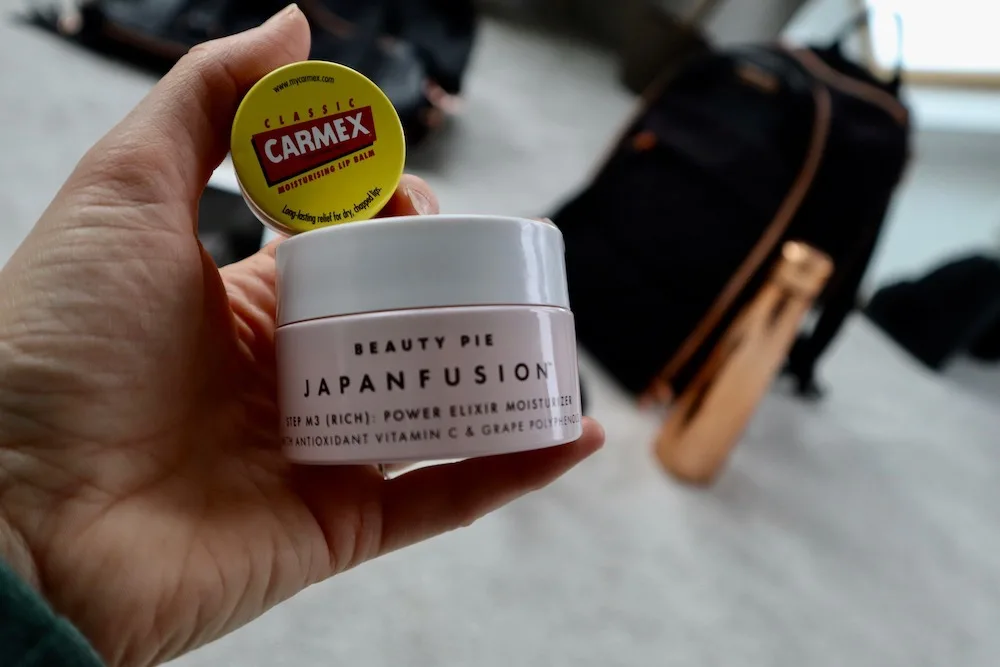 9. A long, cosy cardigan or jumper
Even if you're flying somewhere warm, take a cosy jumper or cardigan to drape over yourself like a blanket.
Many long haul flights provide you with a blanket but it's always a good idea to have an extra one!
10. External portable battery
Lots of long haul planes now have USB plugs in the seats to charge your devices, they don't all. I've also had a few experiences where they don't work.
Don't risk your phone or tablet running out of battery, especially if you'll be relying on your phone for important documents when you arrive. A portable battery is a life saver during long flights and you might even need it to keep your tablet or headphones topped up too.
Don't forget your cables too and the cable you need to charge the charger!
When choosing a portable battery, look for the biggest one you're comfortable carrying. Make sure it has a minimum of two USB ports so you can charge at least two devices at once.
Portable batteries can also come in handy if your hotel room doesn't have many plug sockets. Charge your external battery during the day while you're out then use it to charge your phone at night time. This will save you and your travel companion fighting over plug sockets!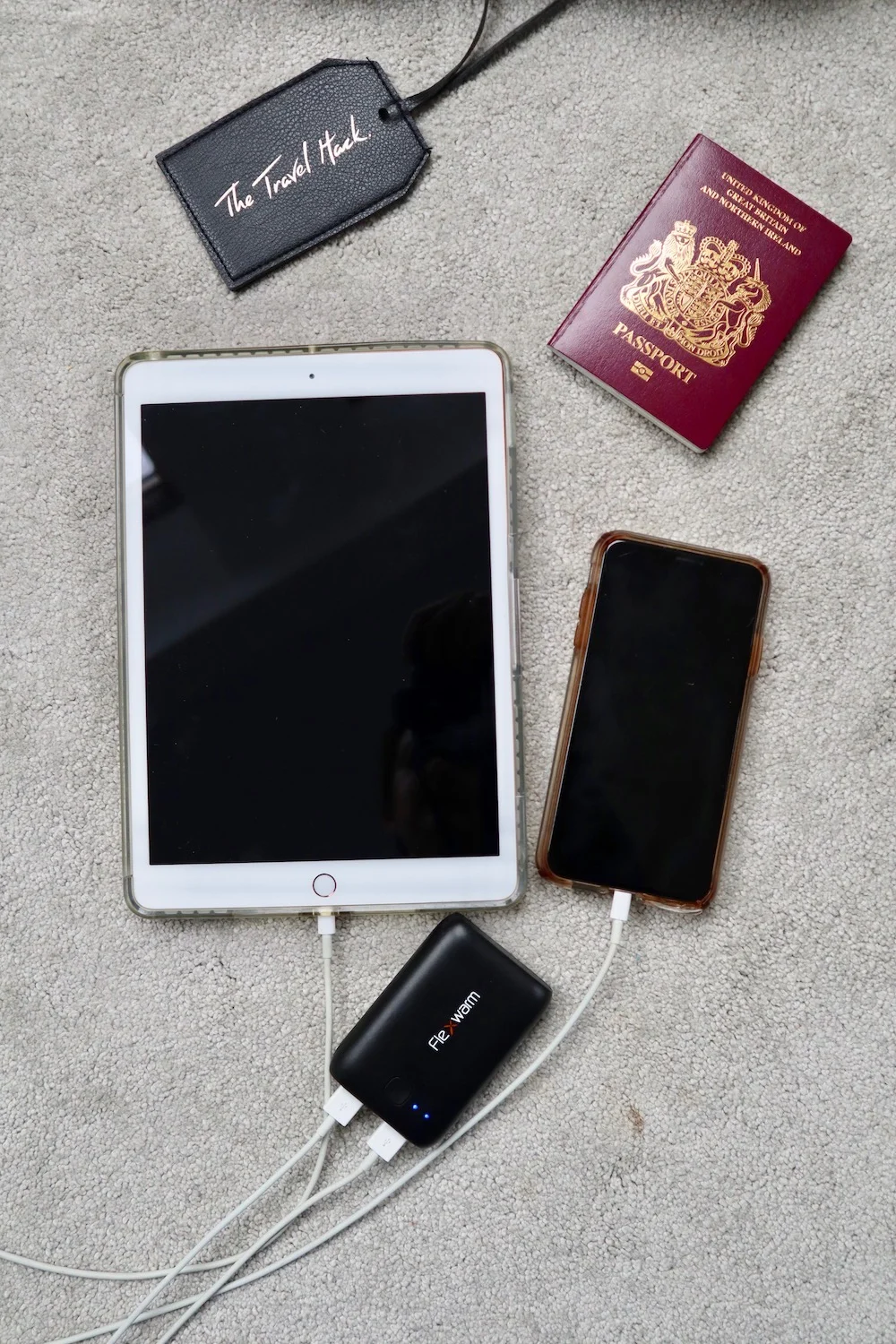 I use a portable battery pack that came with a heated jacket.
11. A pen
When travelling long haul there are often forms to fill out so don't forget a pen!
12. Medication
It's always best to pack important medication in your hand luggage in case your checked bag is delayed. If this includes liquids larger than 100ml then you may have a delay at security when they check it out, so just be sure to factor this is when arriving at the airport.
FAQs about packing a carry on for long haul flights
Should you pack something to change into when you arrive?
I recommend packing an outfit and some toiletries in the top of your checked luggage so you can easily access it when you arrive.
Unless you're flying First Class, you're going to have to get your suitcase from the luggage carousel when you arrive. So save yourself the hassle of carrying clean clothes on the plane and just get changed once you arrive.
Is it OK to have a wash and brush my teeth in the airport?
Yes! Absolutely!
I always brush my teeth, wash my face and reapply my makeup when I arrive.
You might get a couple of funny looks, but if you look you'll actually see loads of people doing it.
It'll make you feel so much fresher and wide awake after a groggy, long haul flight!
So make sure you have your toiletries at the top of the your checked luggage to easily access them when you arrive.
What can you NOT pack in your carry on bag?
There's all the dangerous things like knives and guns and lighters etc but I'm going to assume you can use your common sense there!
There are a few less-obvious things you can't pack in your carry on bag.
These are:
Liquids in bottles, tubs or tubes over 100ml – unless it's medical or for a baby
Remember that liquids aren't just drinks, they can be creams, pastes and gels and any semi-solid foods like jelly or even peanut butter. It's basically all of your toiletries, most of your makeup and lots of food.
Aerosols like hairspray and deodorant
Anything dangerous such as scissors, razors or tweezers so make sure they're all in your checked luggage
How should you organise your carry on bag?
Again, this is personal preference but something you really do need to remember when packing your hand luggage is that you may need to remove lots of items at security so pack them in a way so they're easy to remove.
You will/may need to remove:
Liquids and they need to be in a small, clear plastic bag
Large cameras
Laptops
Tablets
Battery packs
Hair straighteners and curling irons
Food
Every airport is different. Some airports don't require you to remove anything while others force you to take almost everything out of your bag.
I regularly fly from Liverpool and Manchester airports. Liverpool is a lovely, friendly airport where you just remove your liquids and laptops.
Manchester Airport is a horrible place where the staff are frantic and aggressive, the queues are long, everyone is harassed and you have to take virtually everything out of your bag!
If you're running a little late then this can be a really stressful experience so it's best to have your carry on bag arranged in a way that makes this simple.
You may then wish to rearranged your cabin bag once you've got through security to make sure you can access all the things you'll want while you're on the plane.
What's the best carry on luggage?
You have three main choices for your carry on luggage:
A shoulder carry on bag
A carry on backpack
A very small carry on suitcase
Personally, I like to take a shoulder bag if I'm travelling without my kids. I find it easy to access everything and reach into my bag for my passport, phone or purse whenever I might need it.
A backpack is great when I'm travelling with my kids as it gives me both hands free to look after them. I often use a backpack when I arrive in my destination too so it makes sense to use the same bag.
I'll take a very small suitcase if my carry on luggage is getting a little heavy. If I'm travelling with my laptop and camera gear then the weight creeps up and I find it difficult to carry a heavy bag.
Of course, you can check out The Travel Hack luggage collection as I have one of each!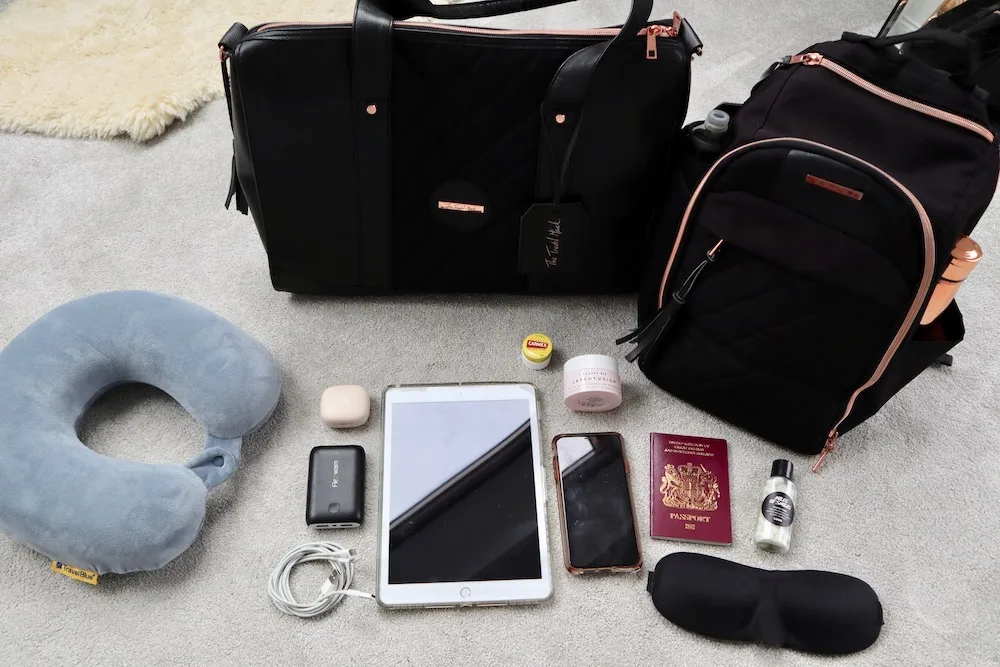 Should you worry about lost luggage?
I know lots of people pack their essentials in their carry on luggage, such as their toiletries and a few changes of clean clothes in case their checked luggage is lost during the journey.
Personally, I don't worry about this possibility.
While I know lots of people have lost luggage during long haul flights, especially when connections are involved! But it's very, very unlikely to happen and, despite taking hundreds of flights, I've never lost my checked luggage.
I know it's a risk but I'd rather travel light than pack my carry on luggage for the possibility of lost luggage. Travelling with a few sets of clean clothes will bulk up your bag and make your airport experience just a little more stressful than it needs to be!
The only time I'd worry about lost luggage is if you have any prescription meds and, in that case, I recommend you pack them into your carry on bag.
Should you pack snacks in your carry on luggage?
When flying long haul you'll usually get a pretty good selection of food so packing snacks isn't a necessity. But if you're particular about your food or you like to have some sweets, crisps or chocolates during the flight then stock up!
I know some people like to pack sweets for take off and landing to help ease the pressure in their ears so pack some hard boiled sweets if this is you.
I pick up my plane snacks at the airport rather than buying them beforehand. I know they're a little more expensive but it's part of my pre-flight routine and it saves any hassle with getting things through security. It also reminds me of being a kid and being allowed to pick whatever sweets I wanted for the flight and it was so exciting!
Solid alternatives to liquid toiletries
If you want to take toiletries onto the plane but would also like to avoid the hassle of liquid toiletries and removing them for security then consider solid alternatives.
Lush have a great selection of eco-friendly solid toiletries such as their toothy tabs of toothpaste, solid deodorants and solid perfumes as well as all the solid shower toiletries you could ever need.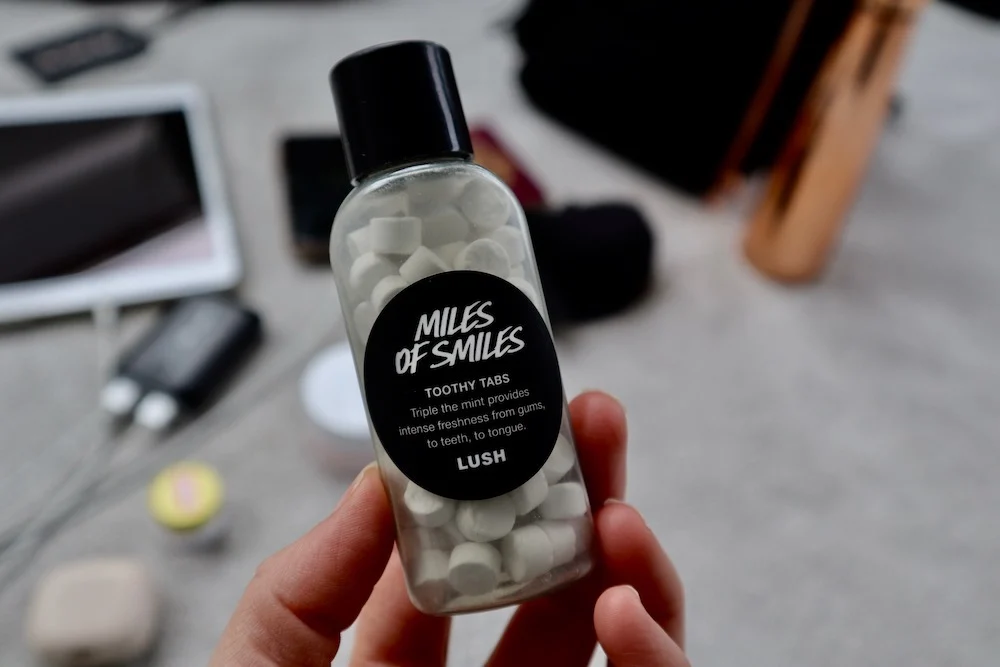 Those are my tips about what to pack in a carry on for long haul flights. Do you have anything else to add to the list?