I knew Dubai was going to be great for kids but I had no idea just how child-friendly Dubai would be. There's so much for kids to do in Dubai but everything is aimed at kids AND their parents. Yes, that's right – child-friendly activities that adults can actually enjoy too. It was seriously a revelation! Anyone else who regularly spends their mornings at soft play centres with a billion screaming children running around an overpriced, windowless warehouse will know what I'm talking about here!
I didn't expect to say this but Dubai is a fantastic destination for families – especially if you live in the UK and you're looking for winter sun. Before visiting I thought Dubai was all about shopping, luxury hotels, slick bars and fancy restaurants – and it is, but there's a whole other child-friendly side we discovered.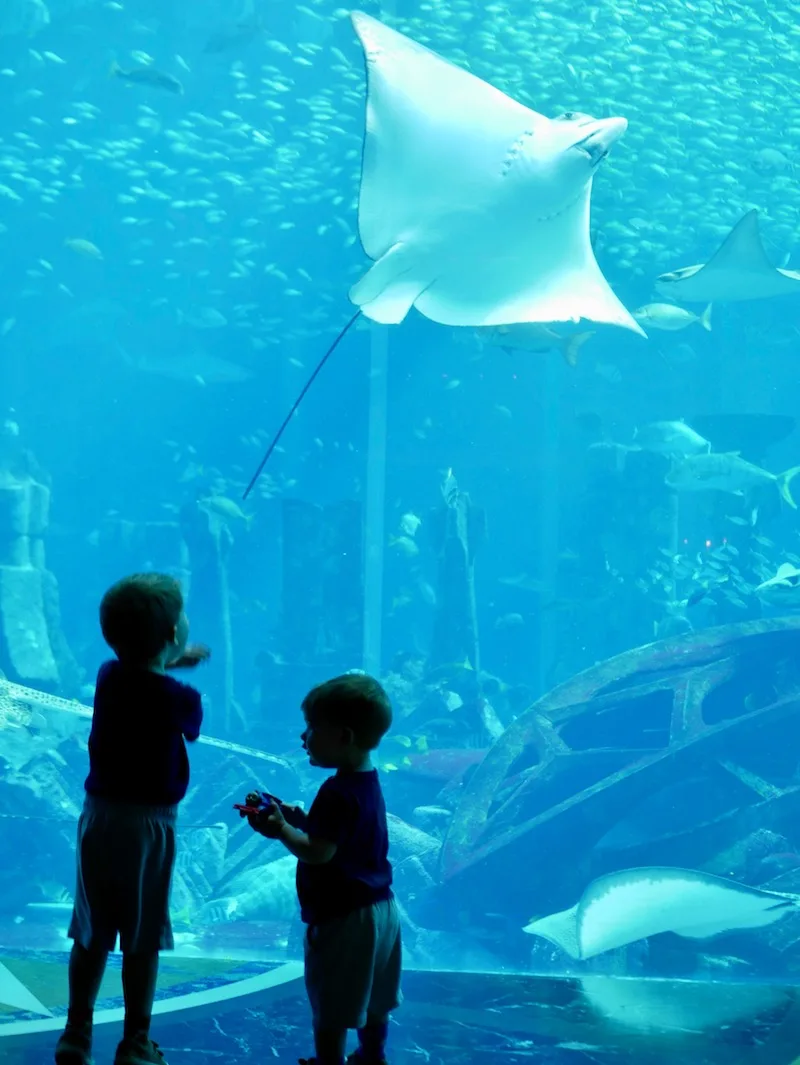 You can read my 8 day Dubai itinerary for a family here!
Here's why Dubai is great for a family holiday and why you should take your kids to Dubai
#1. The People
The main reason Dubai is great for kids is simple, it's the people. The attitude towards children is completely different to the UK and everyone was so friendly, welcoming and helpful. It wasn't just the airline staff, waiters and hotel staff who were so nice, it was everyone.
If you've got kids, you'll probably notice there are certain people who will always interact with your kids. Grannies are a great example. Most women over 60 (sorry, massive generalisation here) are lovely with kids and will coo over them, tell you they're cute and offer words of encouragement. But in Dubai everyone was like that – even blokes who often don't even acknowledge children. Everywhere we went people would give the boys high-fives and generally make us feel really welcome. And when you've got a 3-year-old and an 18-month-old (who likes the sound of his own voice!), this definitely isn't always the case!
#2. LEGOLAND Dubai
LEGOLAND Dubai is a theme park for kids ages 2-12. It's part of Dubai Parks and Resorts which was where we stayed for our first few days so it was ideal for young families as we could pop back to our room when we needed to. It was such a fun day out for us all with over 40 themed rides, shows and attractions and six themed lands that are both indoor and outdoor. Technically, Joseph is a bit young for it and George was too short for many of the rides but they both had a great time.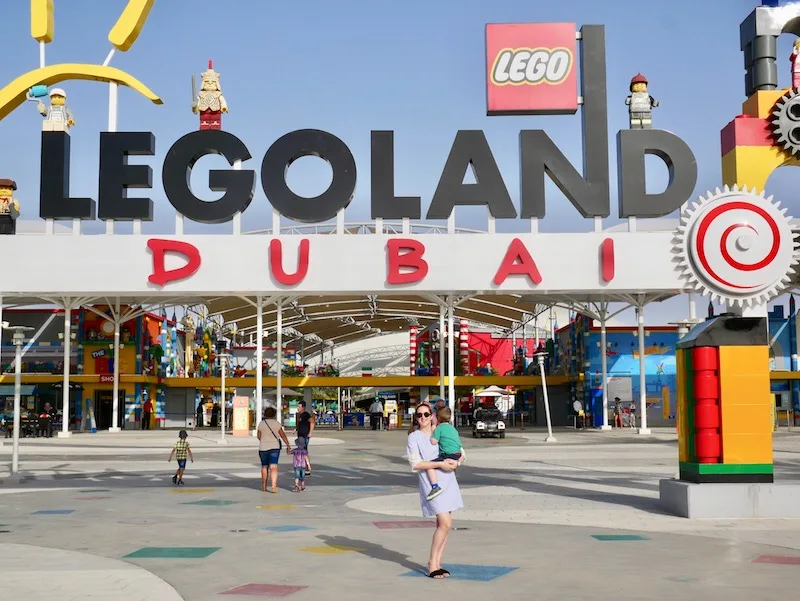 #3. LEGOLAND Water Park
Next door to LEGOLAND is the waterpark which is the only waterpark in the UAE for little kids aged 2-12. There are over 20 waterslides and splash pools and an epic lazy river and I loved the way everything was geared around younger kids so it wasn't too scary for little ones.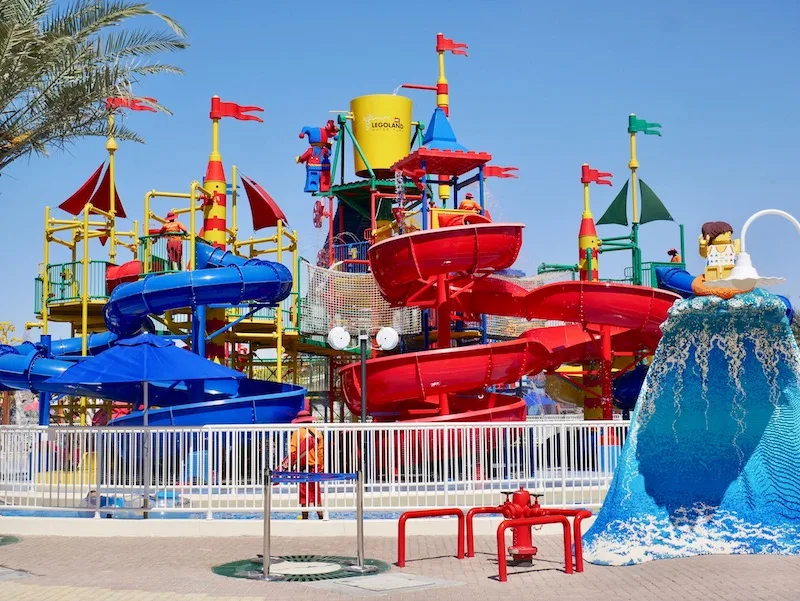 #4. KidZania
You'll find KidZania within Dubai Mall (the largest mall in the world!) and it's an indoor 'edutainment centre'. It's basically a mini city for mini people where kids get jobs like a doctor or a police officer. They then get paid and can buy things with the KidZos they earn.
Our boys were a bit young for this but it would be so much fun for older children.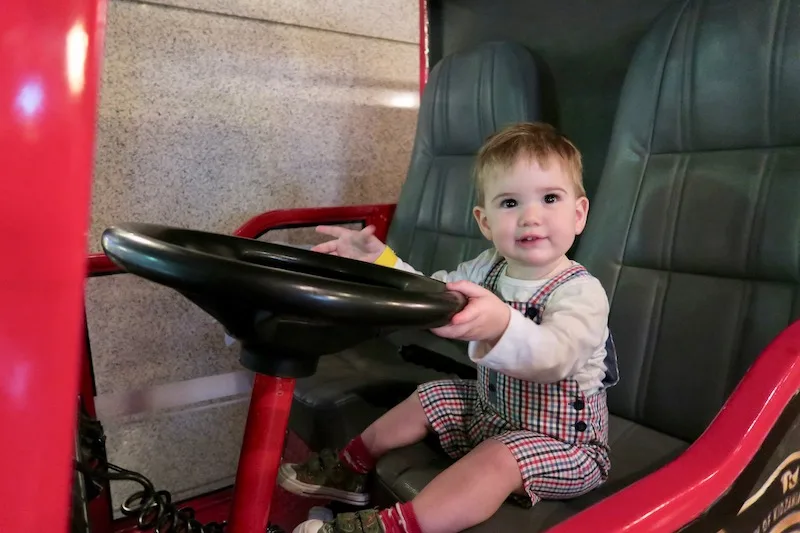 #5. Burj Khalifa
Who wouldn't want to visit the world's tallest building and travel 125 stories up! Even little Joseph was awed by this view and was so excited with the lifts and all the excitement at the top.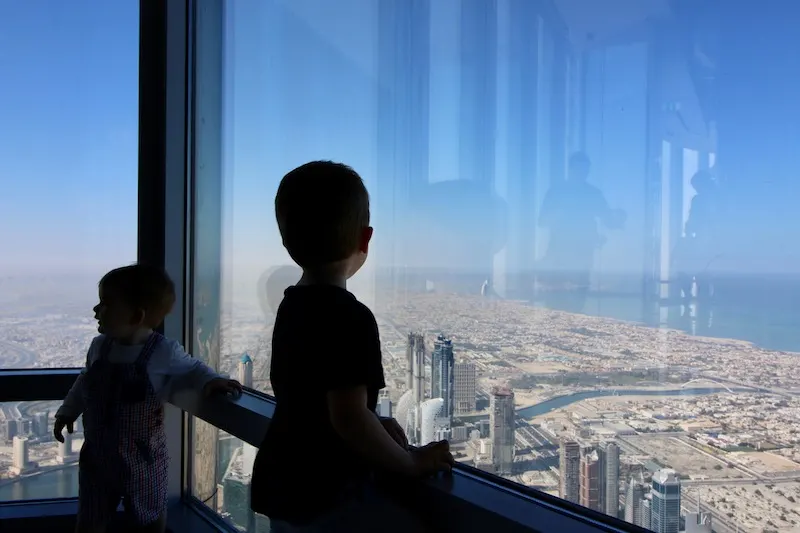 #6. Swimming
When anyone asks George what he did on holiday he tells them he went swimming and went 'splash' and makes dramatic and excited actions to show his adventures. Swimming was definitely a highlight for this three-year-old!
Obviously, the waterparks were incredible but both of our hotels had amazing swimming pools too. Even if you have a chilled day with no activities, you'll still have a lot of fun around the hotel. The pool at Lapita Hotel was as warm as a bath with a huge lazy river leading to a great kid's pool. When we first arrived we'd assumed the kid's pool was the main pool it was so big!
There were a few pools at the Atlantis with a kid's pool in the middle which was about 40cm deep. George can't swim yet so he loved having such a shallow, safe pool and it was nice for me and Sam to have a splash without having a child clinging on to us! We also liked the way the kid's pool is in the middle, rather than being stuck in the corner away from everyone else. It felt very inclusive and didn't separate young families from everyone else.
Another thing I should add here is the number of life guards there are. I counted eight life guards around the kid's pool one afternoon!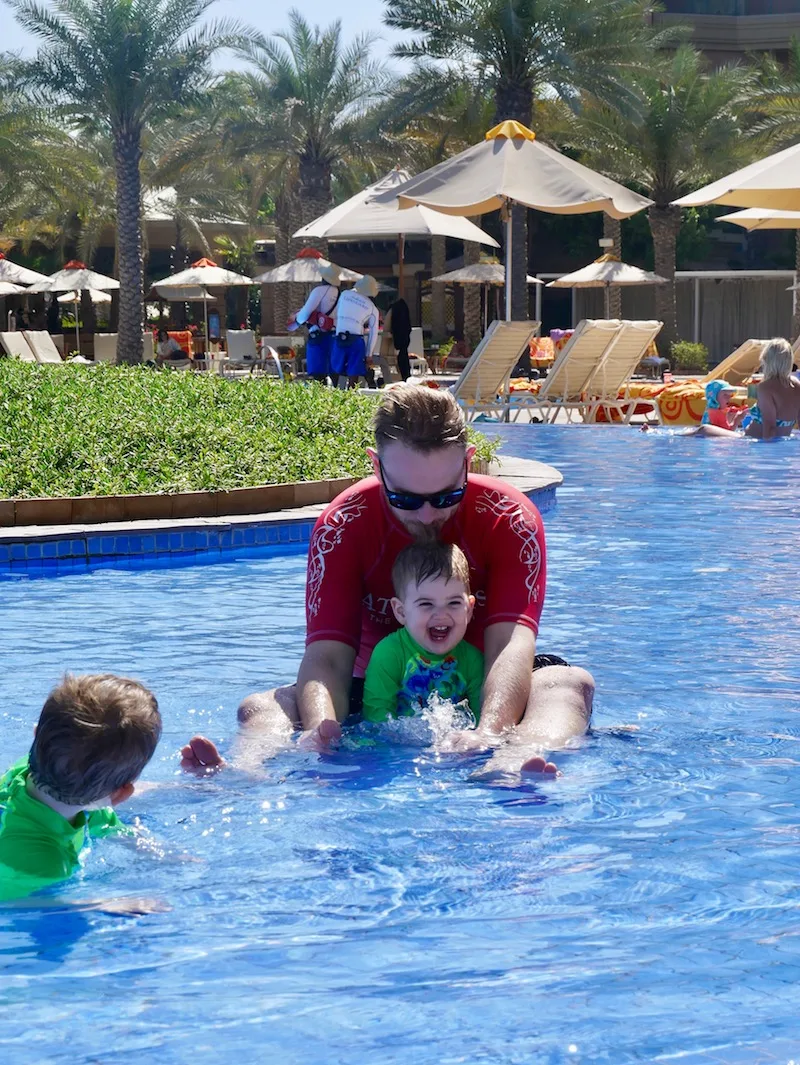 #7. Safe, clean beaches
I know manmade beaches might not be for everyone but you have to admit they're pretty perfect! Soft, white sand with plenty of umbrellas and the water is calm, shallow and clean. There were loads of loungers, towels and lifeguards and we were lucky enough to be able to use the Imperial Club Beach which was super swanky! We had access to this because we had a two-bedroom suite in the hotel.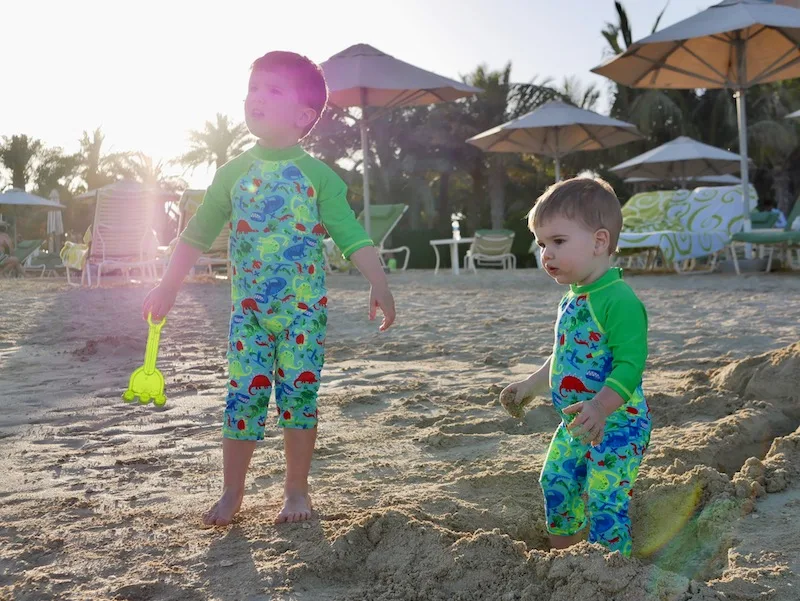 #8. Incredible Kid's Clubs
This is no exaggeration – the kid's club at the Atlantis was the best kid's club I've ever seen. EVER. It has a computer lounge with iMacs, a huge aquarium, soft play, a painting room and lots more rooms I didn't even have the chance to see!
The kid's club at Lapita was also amazing. It was much smaller but our boys actually preferred it and all children staying at the hotel get 3 hours free every day.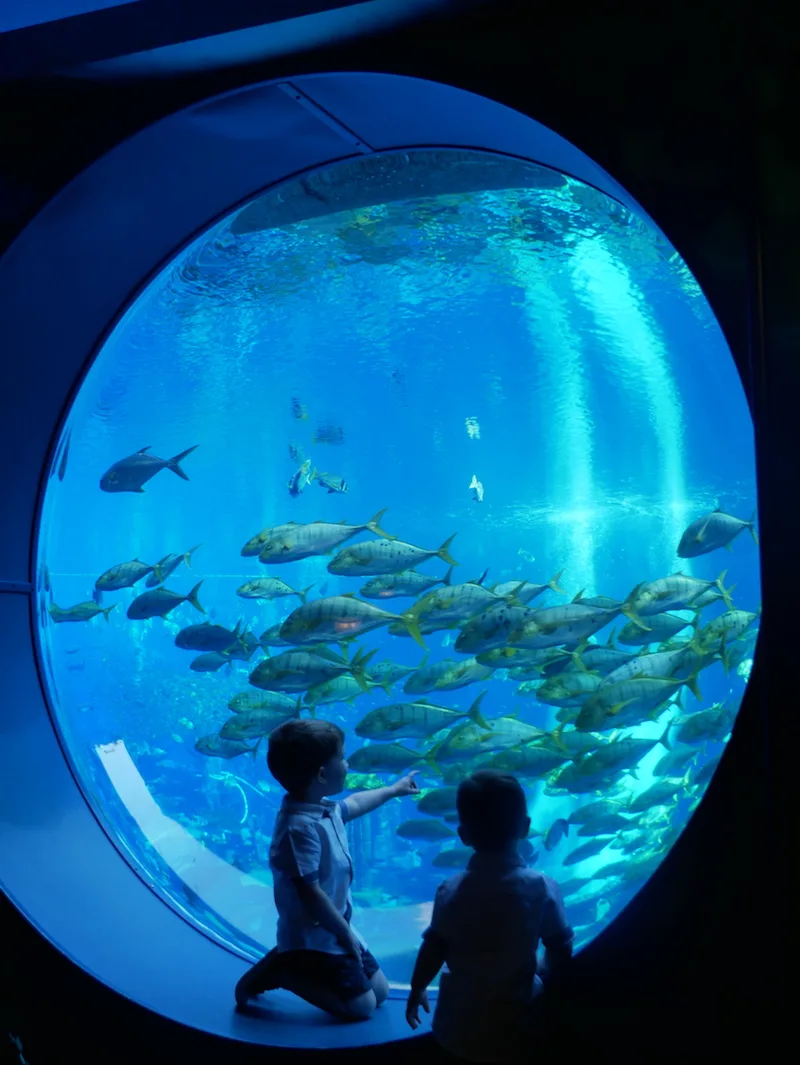 #9. Aquaventure
Aquaventure Waterpark is the number one waterpark in the Middle East and Europe and it's absolutely incredible – especially if you have slightly older kids. It's part of the Atlantis so hotel guests are free to come and go as they please which we also found to be great as there was no pressure to stay all day. Whether you want adrenaline fuelled rides, to relax on the beach or get up close to the marine life, Aquaventure is an incredible waterpark!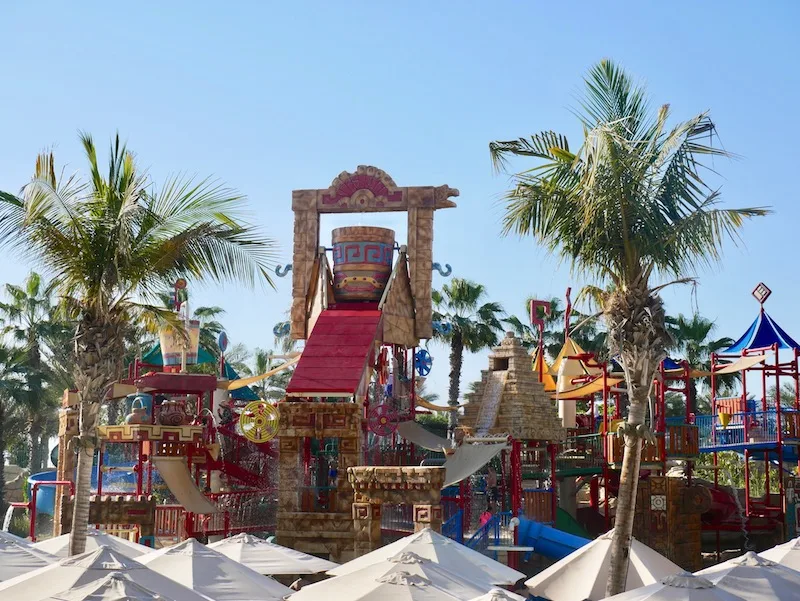 #10. A manageable flight time
Something that stops a lot of families going on holiday is the thought of the flight. It stops me too. I'd LOVE to go to New Zealand with my boys but there's no way I'd endure that flight with them until they're a lot older!
But Dubai is just a 7 hour flight and we found that to be really manageable – even with an 18 month old and that's got to be the worst age for flying. I wouldn't want to go much longer than 7 hours with them at the moment but we found the flights absolutely fine.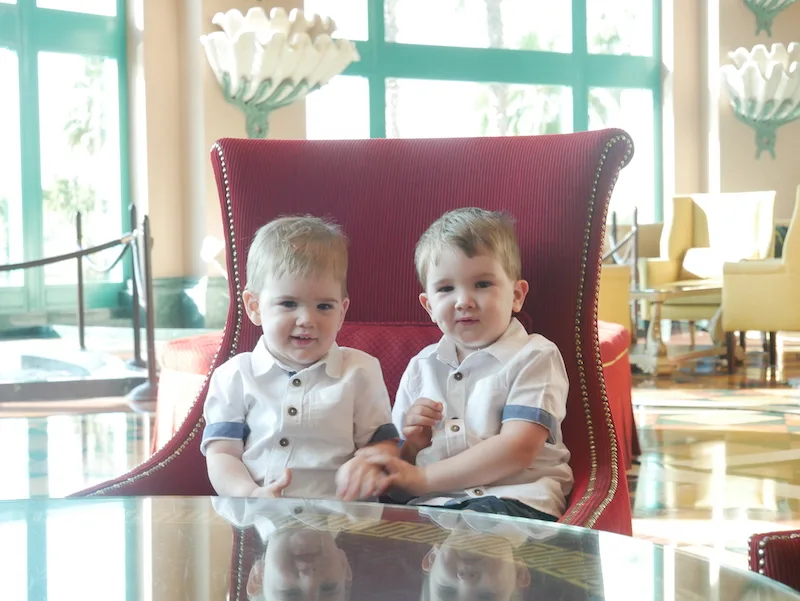 Here's my video from our family holiday to Dubai
Other things that kids would enjoy in Dubai include:
Dubai Miracle Garden – Note that there's no shade here so best to visit early or late
Motiongate Dubai – Part of Dubai Parks and Resorts so it's perfect if you stay at Lapita
See the fountains at Dubai Mall
The Lost Chambers Aquarium at the Atlantis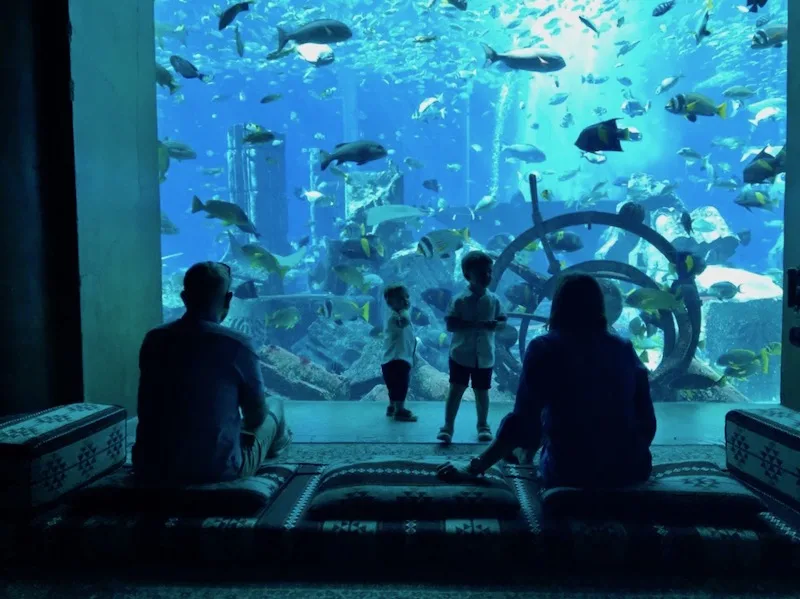 Are you thinking about taking your kids to Dubai? If you have any questions, do let me know and I'll be happy to answer as best I can.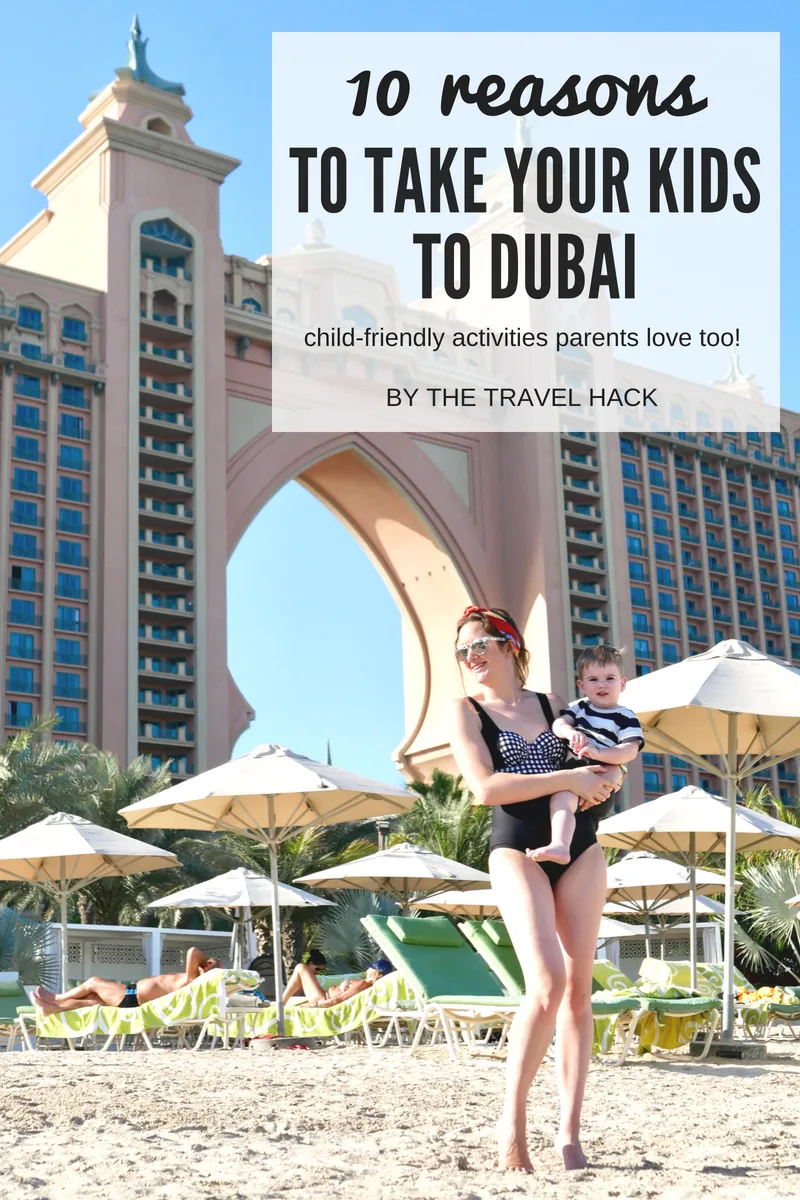 Read more: What women should pack for Dubai