Here are the best Edinburgh Instagram spots and the most photographed street in Edinburgh for anyone looking for the perfect photo opportunity to add to their grid. Edinburgh is a beautiful city and there's an Instagrammable location around every corner but here are 10 of the best!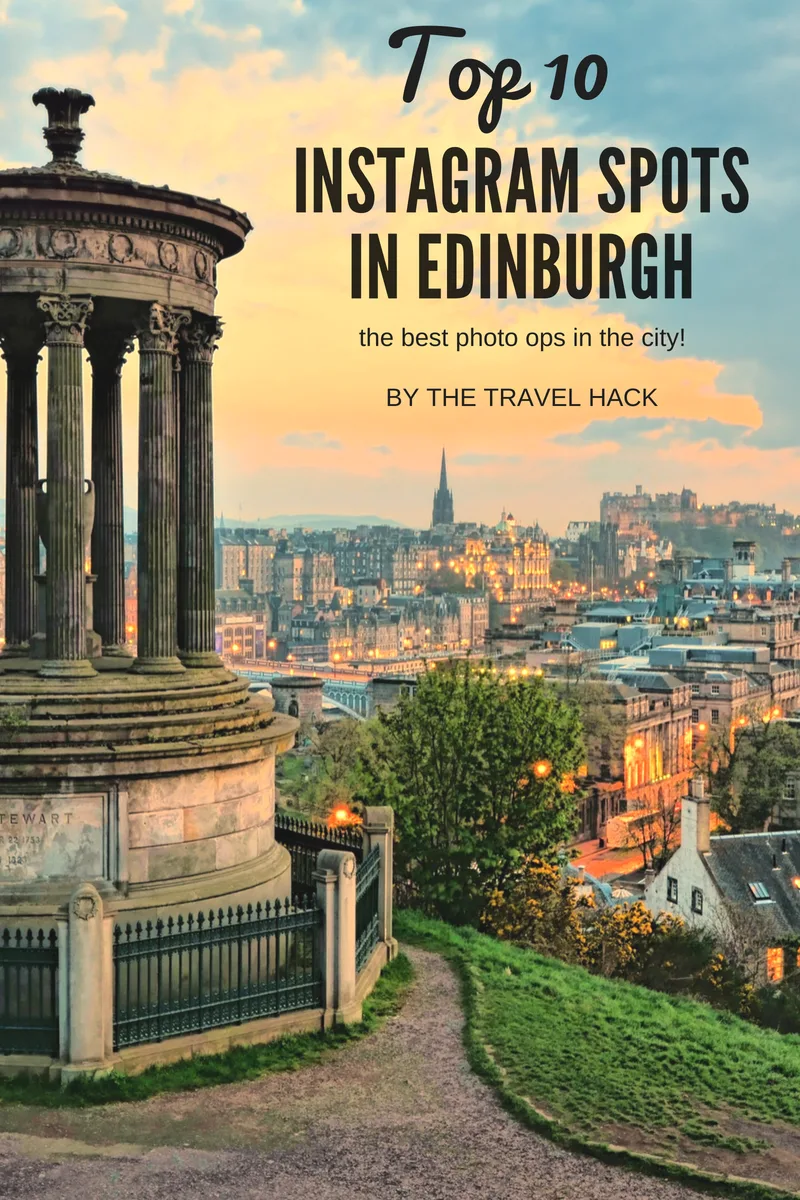 From the medieval streets of the old town to the elegant houses and gorgeous gardens of the new town, Edinburgh is one seriously photogenic city. But if you're looking for the perfect Instagram spot in Edinburgh, where do you start?
Grab your camera and join us for a tour around 10 of Edinburgh's most Instagrammable locations, from hilltop views to hidden alleyways, historic highlights to quirky new discoveries.
If you're spending more time in Scotland, check out our epic 9-day Scotland itinerary!
1. Calton Hill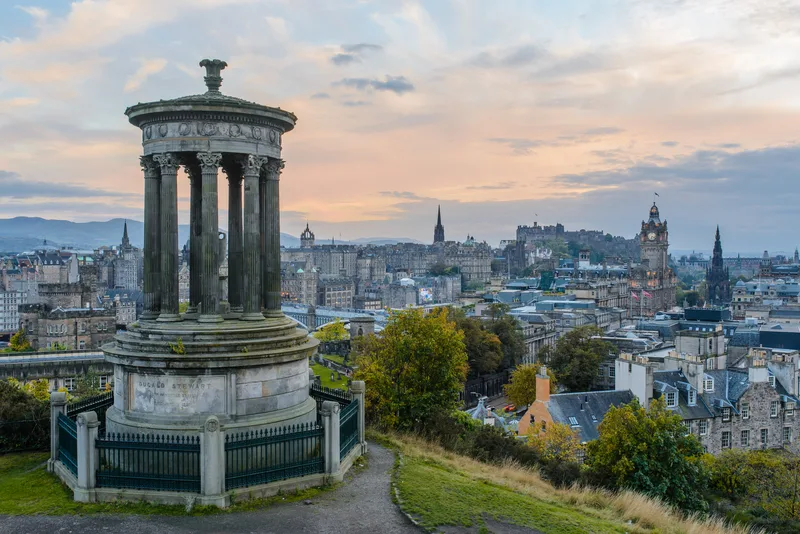 Edinburgh's got no shortage of hills (as your leg muscles will know after a few days), but Calton Hill has some of the city's best views – across the old town, Arthur's Seat and out to the Firth of Forth. There's a real mix of monuments up there too, including a mini version of the Parthenon. But for the classic Edinburgh skyline Instagram shot, get there for sunset and find a spot on the hill behind the Dugald Stewart Monument so it's silhouetted as the sun dips down behind the castle.
Find it: Calton Hill, Edinburgh EH1 3BJ
2. Victoria Street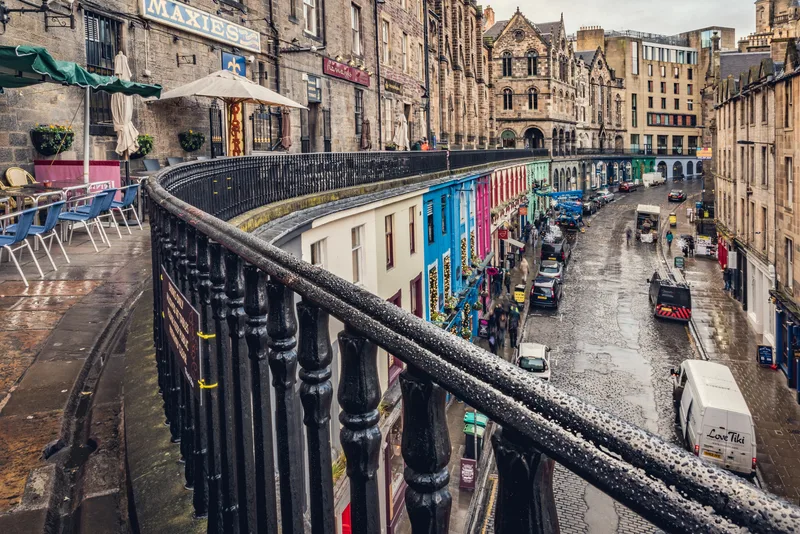 Right in the heart of Edinburgh's old town, Victoria Street is one of the city's most colourful (and Instagrammable!) streets. It curves its way up from the Grassmarket to the Royal Mile, with a mix of pink, blue, green and white shopfronts adding a pop of colour to your photos in among all the classic old town grey stone. It's almost like two streets stacked one on top of each other, with a walkway halfway up, so climb up and look down on the street for a twist on the usual shots.
This is one of the most photographed streets in Edinburgh and I recommend arriving early to get a quiet shot – but not too early or it's just filled with delivery vans!
I've got a blog post over here about how to edit objects from your photos if you've got a big, white van in your otherwise perfect photo!
Find it: Victoria Street, Edinburgh EH1 2JW
3. The Vennel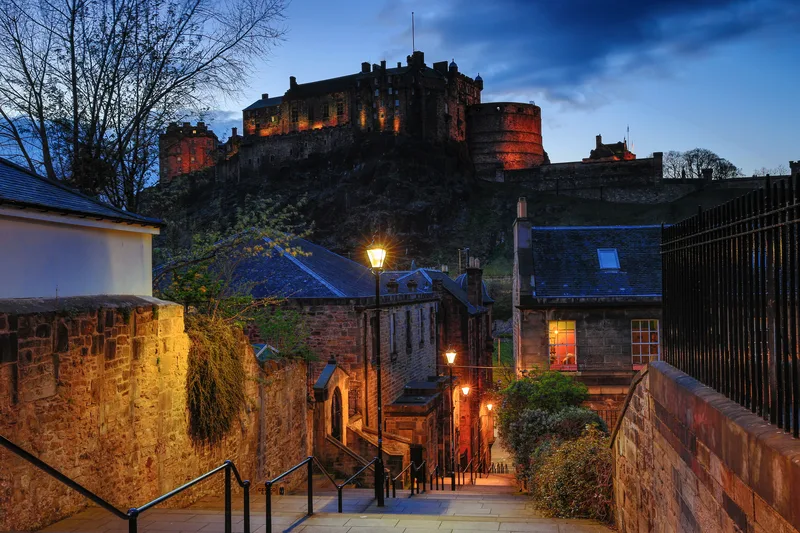 The strangely named Vennel is one of those tiny, narrow streets that Edinburgh does so well – where you feel like it hasn't changed for centuries. It links Lauriston Place and the Grassmarket, and if you climb up to the top of the steps and look back there's a great view of Edinburgh Castle, towering over the city from Castle Rock. It's a good one to visit at night, when the street lights make an already Instagrammable spot look extra moody and atmospheric.
Find it: Vennel, Edinburgh EH1 2HU
4. The National Museum of Scotland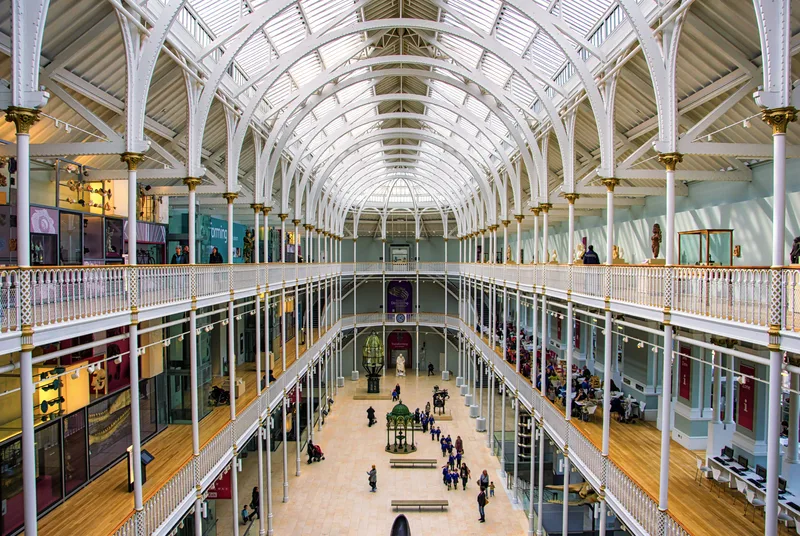 The National Museum of Scotland is one of Edinburgh's most popular spots for visitors, with exhibits from all eras of Scottish history. The central atrium is a beautiful, light-filled space with a glass roof and intricate Victorian metalwork details to photograph. There's also a roof garden with panoramic views across the old town – take the terrace lift up to the seventh floor from the Kingdom of Scots gallery to find it.
Find it: Chambers St, Edinburgh EH1 1JF
5. St Cuthbert's Cemetery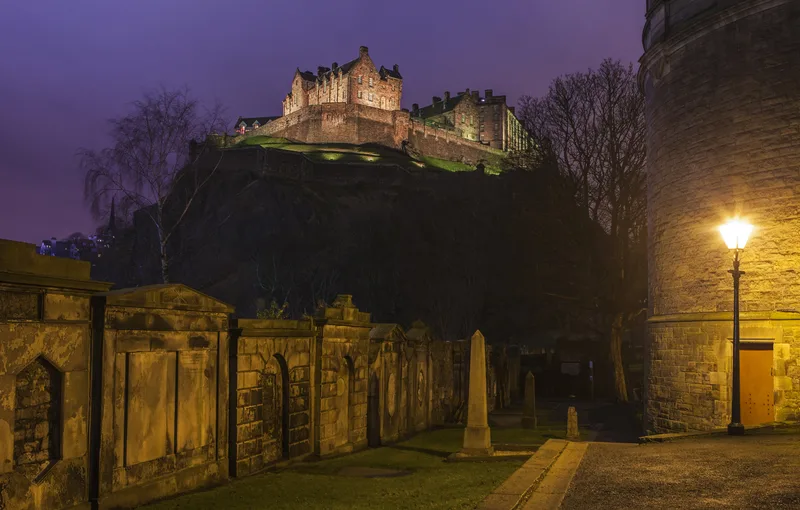 Edinburgh has some beautiful historic churchyards, but for location you can't beat St Cuthbert's. You'll find it at the end of Prince's Street, right underneath Castle Rock. It's the perfect vantage point to get some of Edinburgh's best Instagram shots of the castle from below. There are also lots of ornately carved gravestones, bent and cracked over the years, that make an interesting backdrop, especially if it's misty or snowy.
Find it: 5 Lothian Rd, Edinburgh EH1 2EP
6. The Camera Obscura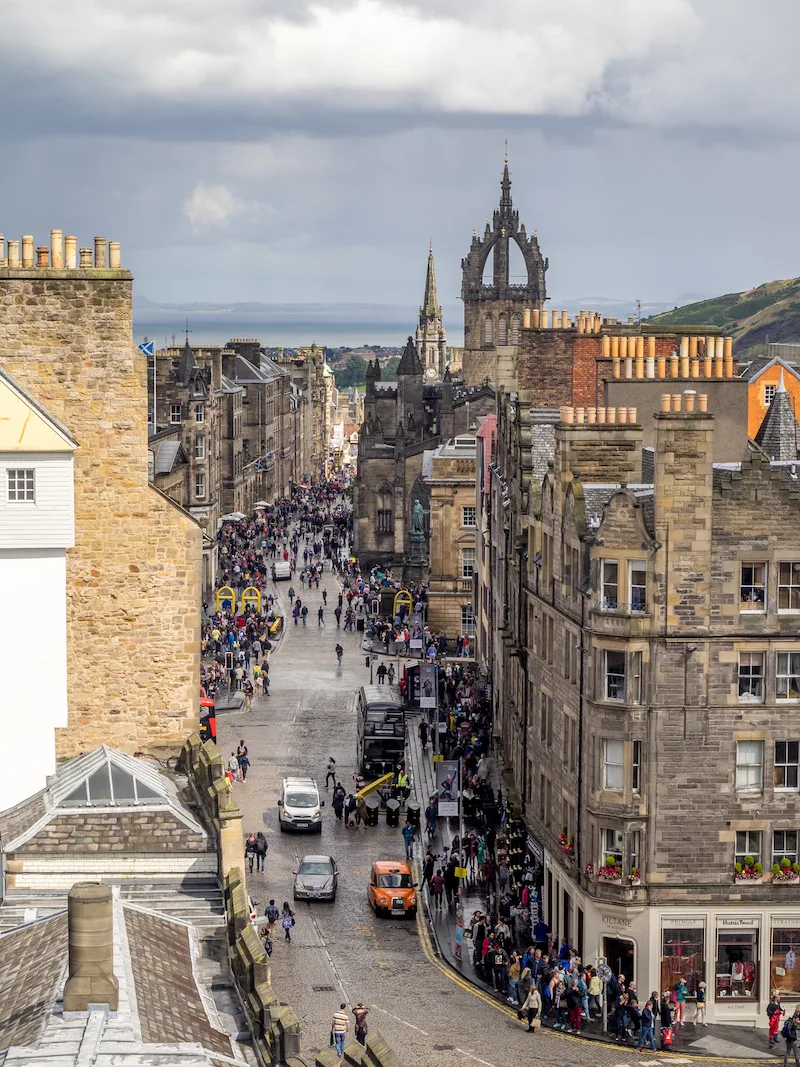 The quirky Camera Obscura and World of Illusions has a whole host of weird and wonderful Instagrammable spots in Edinburgh. Right on top of the building there's a terrace with a great vantage point over the city rooftops and down to the castle. Then inside there's everything from a mirror maze and a spiralling tunnel of lights that's guaranteed to make you dizzy, to clever optical illusions that make you look like a giant or like your head's being served up on a silver plate!
Find it: 549 Castlehill, Edinburgh EH1 2ND
7. Circus Lane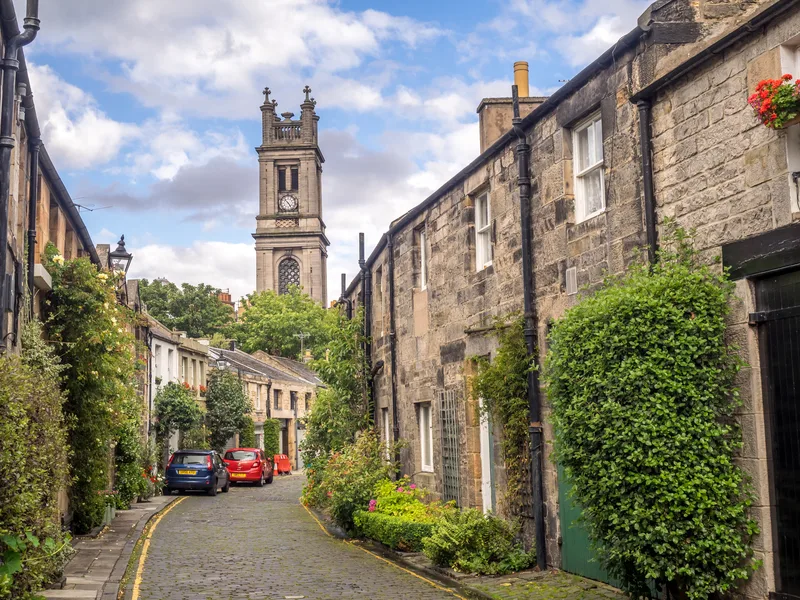 Tucked away outside the city centre in the 'village' of Stockbridge, Circus Lane is a definite contender for Edinburgh's most Instagrammable street – and there's some stiff competition. This cobbled street with its cute mews houses is pure #housegoals, especially in summer when it's draped with flowers. And because it's about a mile out of town, you won't have to dodge the crowds. Start at the Circus Place end for the perfect shot with St Stephens Church in the background.
Find it: Circus Lane, Edinburgh EH3 6SU
8. Dean Village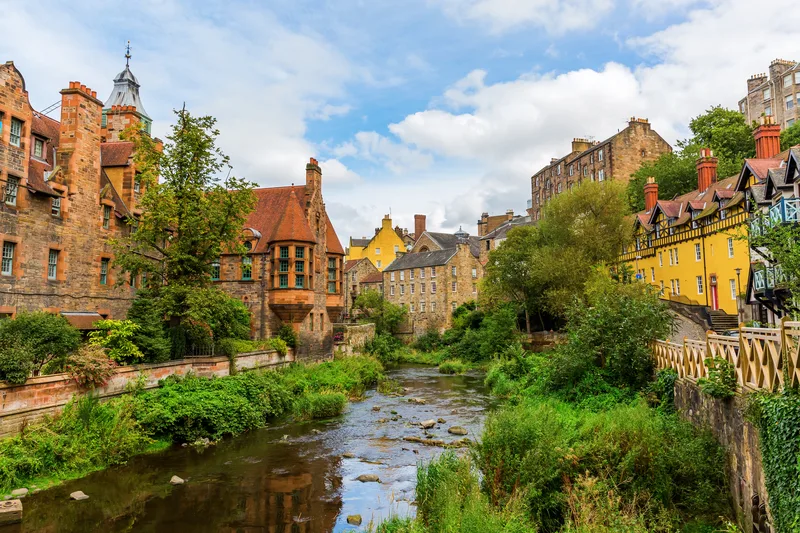 The Water of Leith is a 12-mile walkway from Balerno at the foot of the Pentland Hills to Leith docks. Surrounded by greenery with the river trickling by feels like you've been transported into the Scottish countryside without leaving Edinburgh. One of the prettiest stretches is not far from Stockbridge in another of Edinburgh's mini villages – Dean Village. Stand on the bridge over the water for the classic shot of its historic mill buildings, with pink stone and fairytale turrets.
Find it: 10/3 Damside, Edinburgh EH4 3BB
9. The Botanic Gardens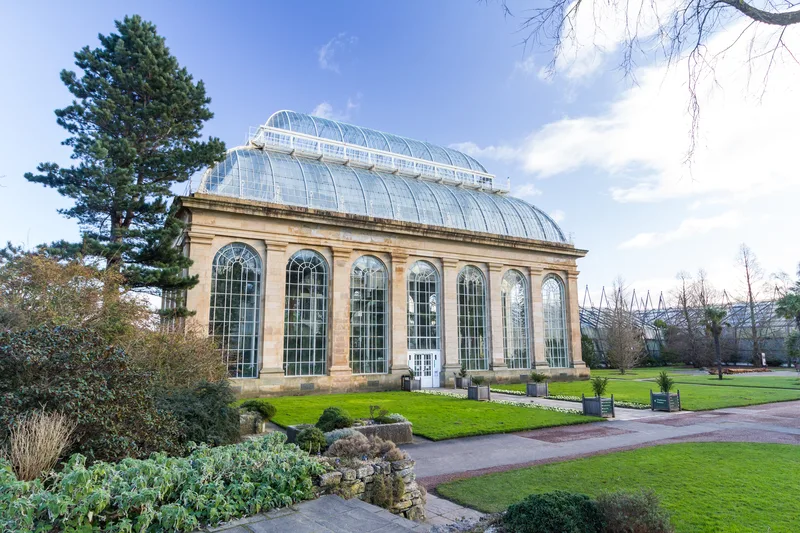 Edinburgh's Botanic Gardens are a real green oasis, packed with Instagrammable photo ops. There's not really a bad time to visit – in the spring the gardens are filled with delicate blossom, in the summer they're lush and green, in the autumn the leaves turn red and gold, and in the winter there's a vintage glasshouse which makes a great backdrop for portrait shots. Look out for special events through the year too when the gardens are lit up at night.
Find it: Arboretum Place, Edinburgh EH3 5NZ
10. Wild West Street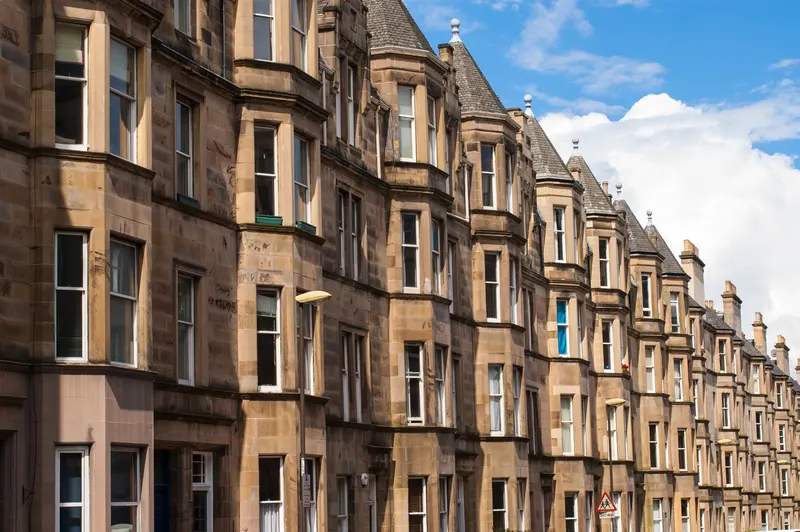 If you're looking for something a bit different, head back in time and halfway across the world to the Wild West in Edinburgh's Morningside. This hidden street has stables, a saloon, cantina and jail – well the front of them anyway. It was built in the 90s to advertise a southwest US-style furniture shop by a couple of staff members who'd worked for Disney. The shop's long gone but the street's still there – and a big favourite with photographers and film students.
Find it: Off Springvalley Gardens, Edinburgh EH10 4QG
---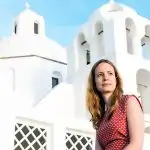 Lucy is a travel blogger On the Luce, exploring the UK, Europe and beyond from her home base in the Cotswolds. Her blog combines inspirational stories and beautiful photos with all the useful details you need to make the trip a reality – from weekend break ideas to rail adventures, reviews of quirky accommodation to unusual angles on your favourite destinations. Lucy's never far from her camera, loves a good glass of prosecco, devours a book a week and is always on the hunt for luxury on budget.
---
Read more Edinburgh travel guides from The Travel Hack:
11 unmissable things to do on your first trip to Edinburgh
Edinburgh's Underground Secrets
Itinerary for a weekend in Edinburgh
Edinburgh's Hogmanany: An epic New Year's Eve
The Travel Hack's Guide to Edinburgh
---