A bare bottom, a wink and a wolf whistle – that sums up Bristol for me!
Call me sensationalist, but I think the Bristol of today is the city equivalent of sticking two fingers up at the world, flashing a bare bottom, and wolf whistling at a local builder.
It's not a description I would've thought of attributing to the port city before – I'd only ever visited on shopping trips or with work, so my view was only ever two-dimensional and, ashamedly, stereotypical.
But my recent weekend in Bristol, where I followed the Banksy trail into the city's gritty core and saw its defiant streak, spun my head, opened my eyes, and – much to my surprise – left 'I heart Bristol' firmly spray-painted onto my heart.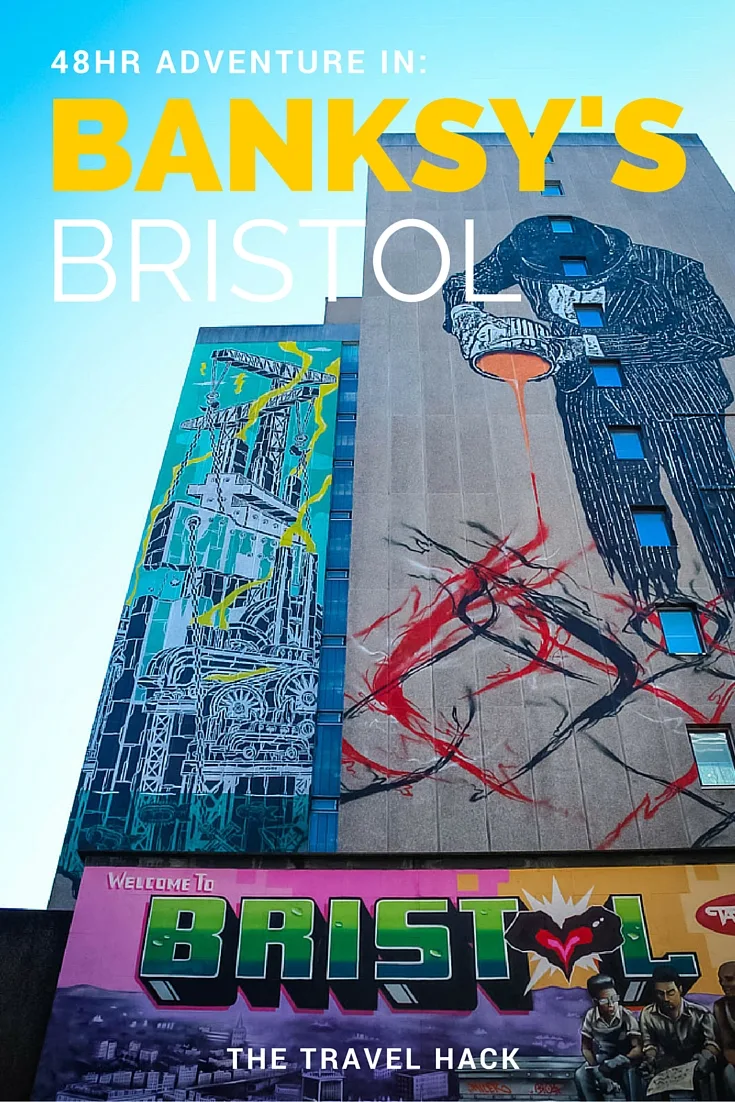 WHY BRISTOL MAKES AN EPIC CITY BREAK
Bristol is a city that is mischievously distinct from others. Far removed from Bath, its genteel neighbour, and geographically isolated from the rest of the West Country, Bristol is an urban patchwork: a mesh, if you like, of thumping 'villages' interwoven with beguiling mercantile and industrial roots.
Added to that is the city's fiercely independent music scene, an uncompromising passion for the environment, a fast-growing foodie reputation – and, of course, a colourful coat of rebellious street art.
It's a city alive with possibility, which makes it a dizzyingly exciting destination for a weekend break. And, for me, the idea of seeing the city through the eyes of ones of its most subversive exports – Banksy – was too thrilling an invitation to turn down.
Follow my Bristol weekend itinerary and I'm convinced this city, which is small enough to explore on foot, will leave you equally captivated.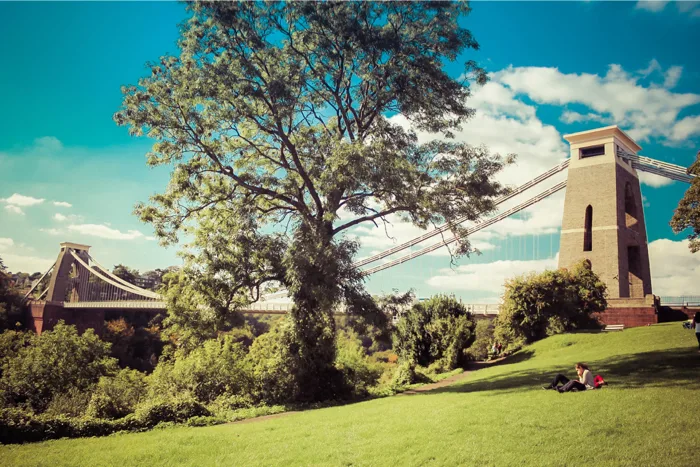 YOUR WEEKEND IN BRISTOL ITINERARY
SATURDAY | MORNING
TAKE A TOUR: Dive deep into Banksy's Bristol heartland with a Where the Wall street art tour. Forget ordinary. This captivating tour is led by Bristol's street art godfather – John Nation.
In the 1980s, John started the Barton Hill graffiti project at the local youth club. At this time, the Barton Hill district of Bristol was a scary part of town. John's initiative provided young graffiti artists, who were painting illegally in the city, with a safe space to practise and hone their urban art.
One of them was Banksy.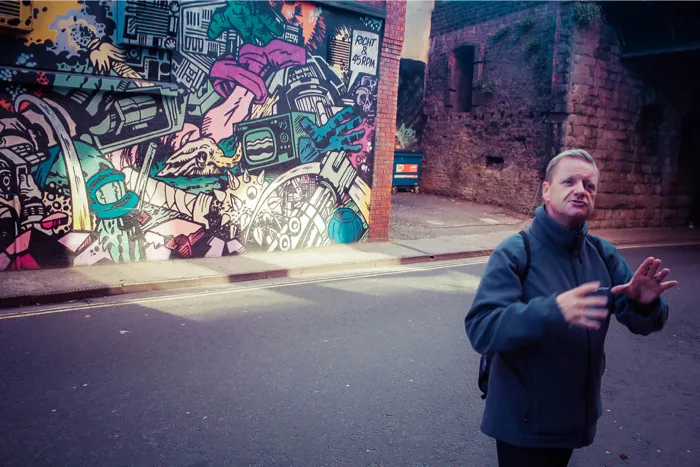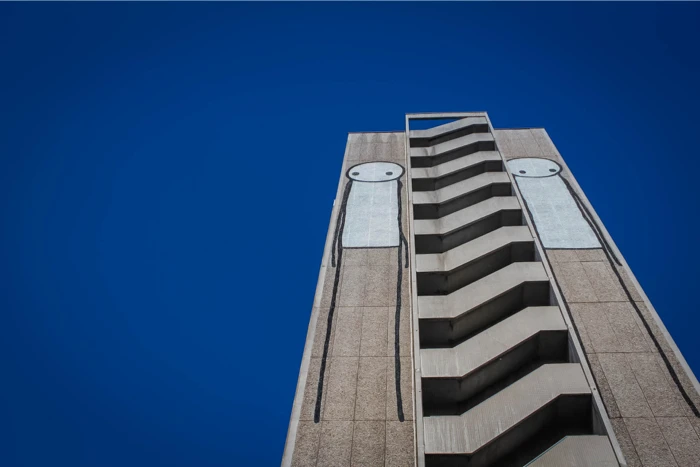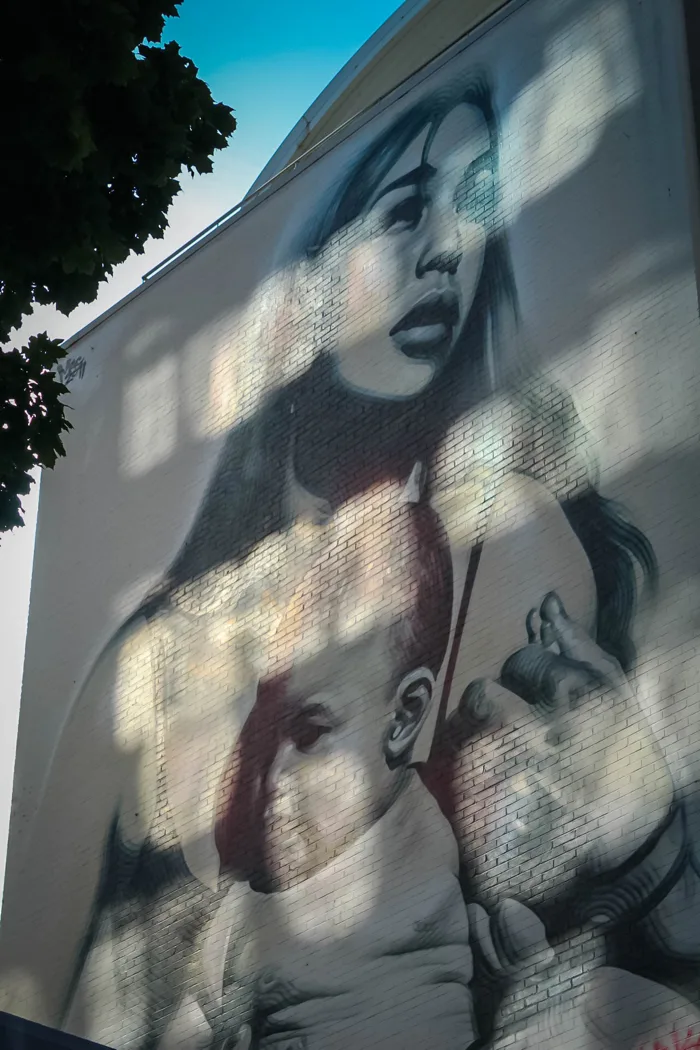 John still calls Banksy by his alleged Christian name, Robin, and is remarkably modest about his influence on the artist.
Banksy, on the other hand, is not; he's been quoted as saying, "It might sound a little crazy but I think John Nation, that shouty red-faced little social worker who made it all happen, has had more impact on the shape of British culture over the past 20 years than anyone else to come from the city."
John's street art tour was 2 hours of spirited brilliance.
Starting at Park Street, John cut a dash through Bristol centre, stopping at the now-famous Nelson Street with its towering artworks (created during the 2011 See No Evil street art festival), and finishing at the city's fizzing bohemia cultural quarter, Stokes Croft.
On the way, we were glued to John's tales; gobbling up every juicy detail behind Bristol's most salient street art gems – he knows every hidden graffiti inch of this city and explains each artwork with the same gusto and passion that, I'm convinced, would've set a teenage Banksy's heart racing.
Banksy must-see: The Well Hung Lover, on Park Street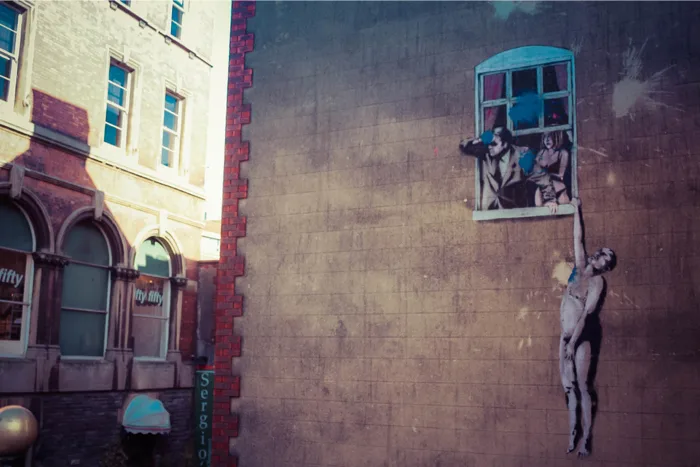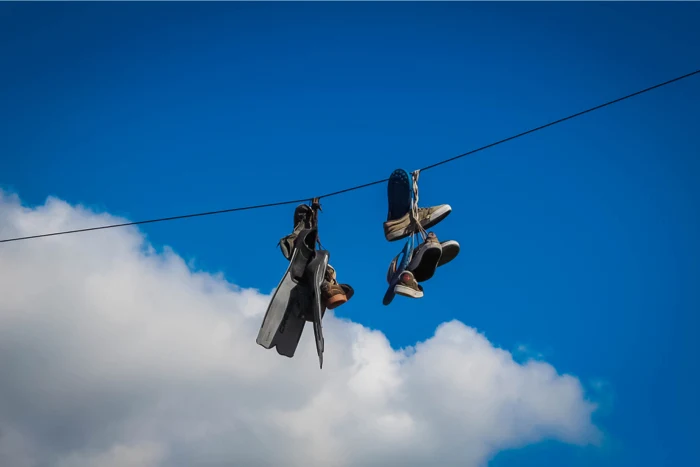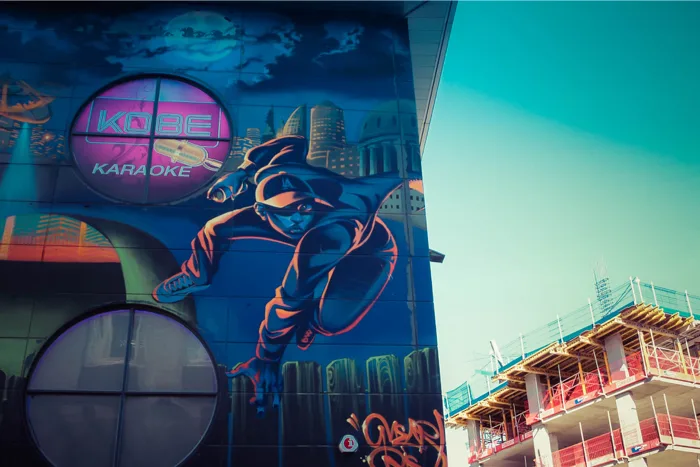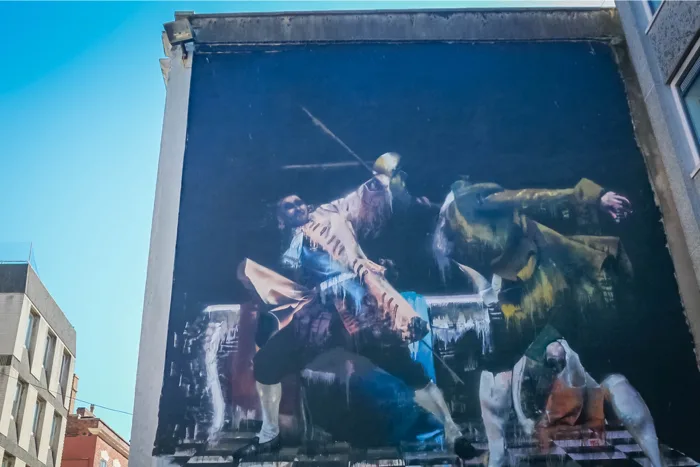 SATURDAY | AFTERNOON
SOAK UP THE VIBE: Since it opened its doors in 2009, the Canteen café in Stocks Croft has become one of the city's most-loved dining spots thanks to its ethical, all-inclusive ethos and menu of 'slow food' – in other words, good, clean and fair.
The Saturday I visited it was overflowing with chat, music, harmony and palpable goodwill. On its terrace, under the golden gaze of Cosmo Sarson's Breakingdancing Jesus, a vibrant hub-bub of creative souls ate and chatted in the unusually clement September sunshine. Whilst a band tuned-up to play.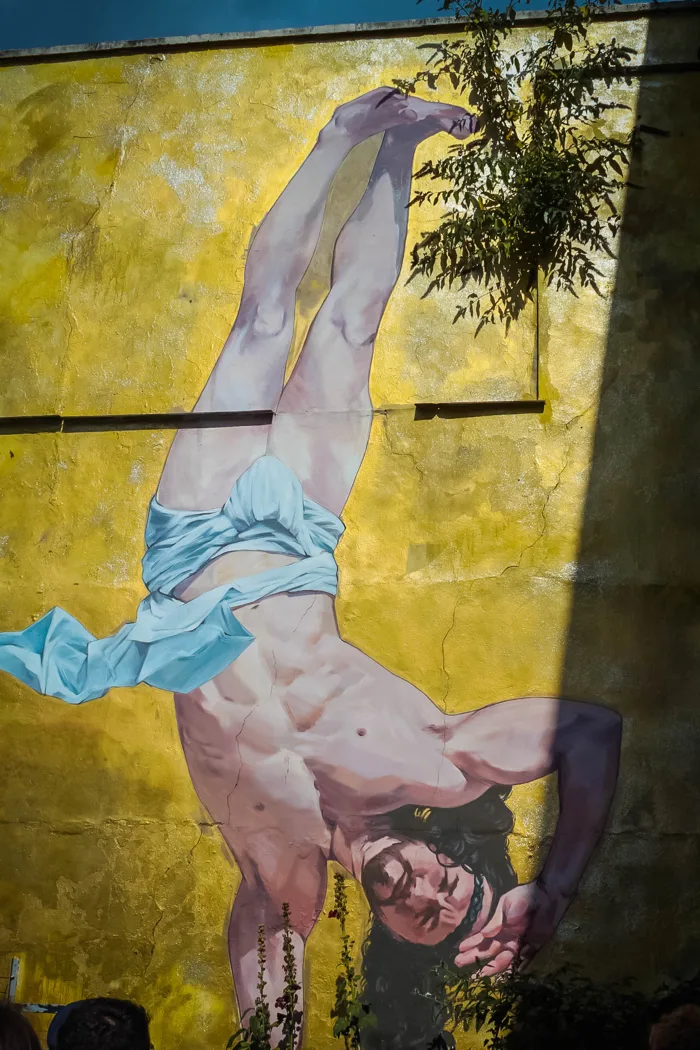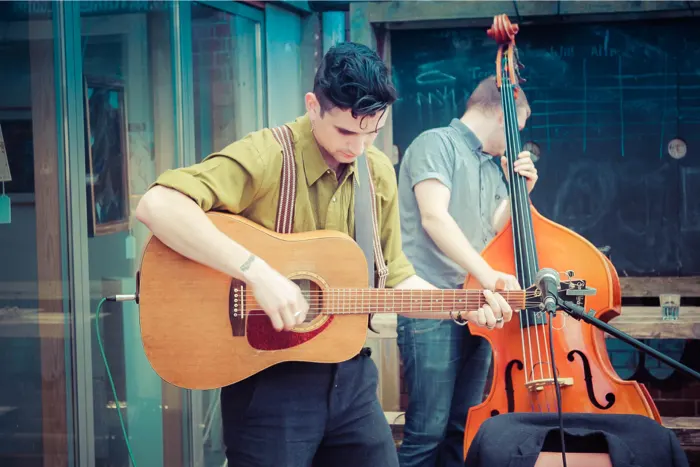 Conveniently, the Where the Wall street art tour finished here – there's one of Banksy's most famous pieces (The Mild, Mild West) on building next door – and had I time, I would've stuck around for the entire afternoon contemplating the distinct Bristolian wit of the piece, whilst drinking quality, fair-trade coffee.
Eat at The Canteen or head further down the road to another Stokes Croft favourite: Pieminister.
Afterwards, immerse yourself in the bohemian charm of this exciting part of Bristol, where every wall seems alive with jaw-dropping street art.
What: The Canteen | 80 Stokes Croft, BS1 3QY | Frid, Sat and Sun 10am – 12am
Banksy must-see: The Mild, Mild West, Stokes Croft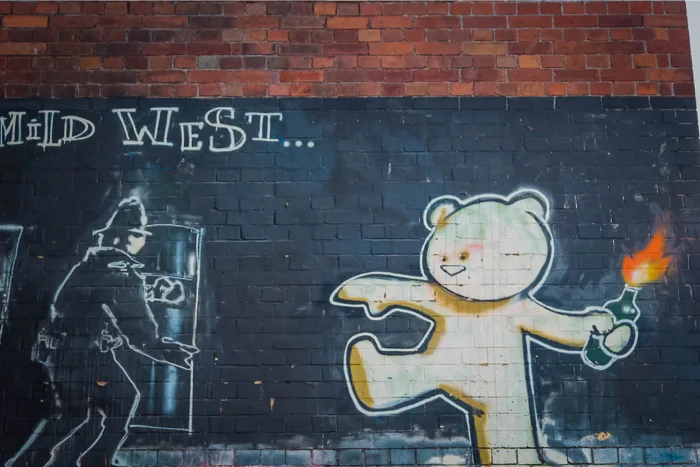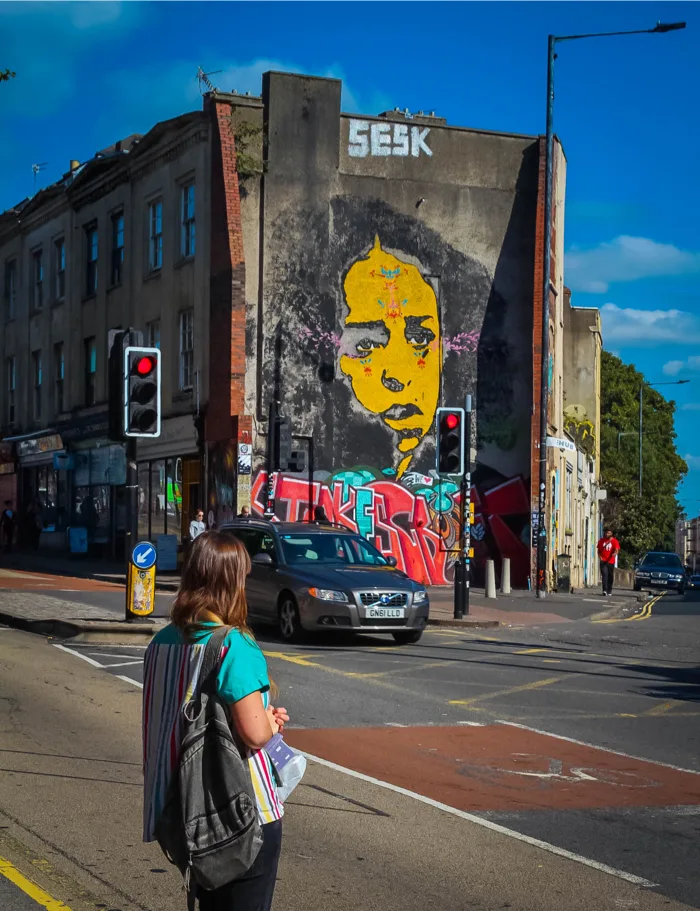 SATURDAY | EVENING
SINK A PINT: Famously idiosyncratic, The Bell pub on Hillgrove Street, just off the main thrum of Stokes Croft, has always been a Bristol institution.
It's where Banksy used to come to drink, before the fame, and it's where the guys from Massive Attack jammed together, before the fame.
The clientele today is equally as unique: local artists, musicians, DJs, students and real ale buffs make The Bell a pub for all tastes and seasons.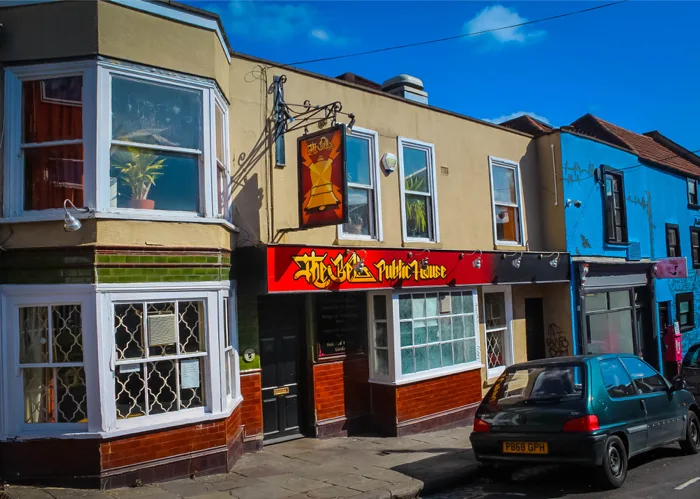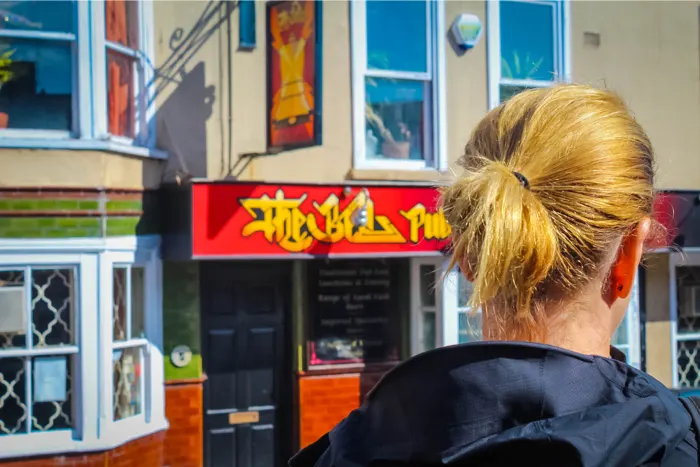 Outside, it's an unremarkable squat building with only a flash of street art fascia marking out its famous heritage. Inside, it retains its alehouse roots, despite a recent refurbishment: low ceilings, thick wood floors, brick fireplace, and a homely menu.
I hear the graffiti in the loos is quiet something.
BEFORE YOU LEAVE: check out the mural on the side of The Bell, on the intersection with Dalton Street, created by Bristol street-artist, SEPR.
That, too, is quite something.
What: The Bell | 18 Hillgrove Street, BS2 8JT | Sat, 4:30pm – 1am Sun 1pm – 12am
Banksy connection: Banksy used to drink at The Bell along with other graffiti artists from Stokes Croft.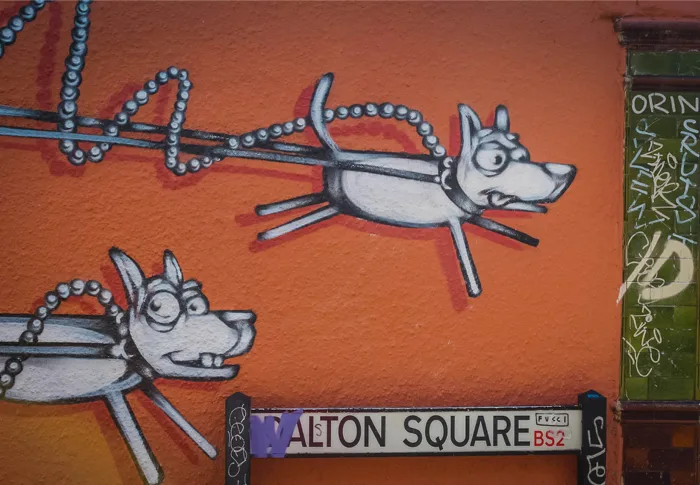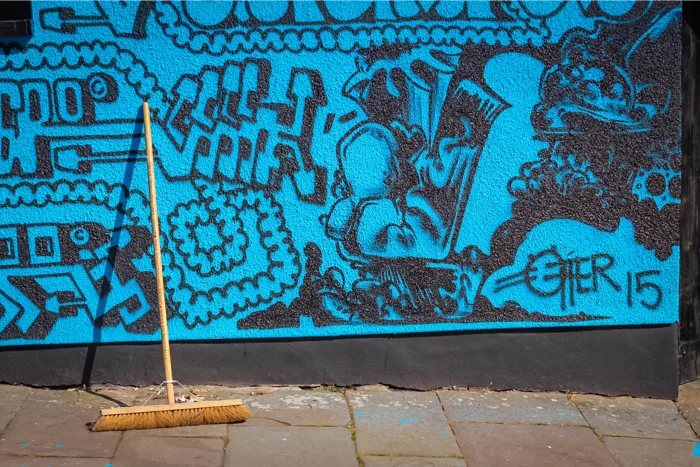 SUNDAY | MORNING
HEAD HARBOURSIDE: Catch up on Bristol's backstory with a visit to Bristol's historic waterfront and, in particular, the M Shed.
The harbour, known locally as Harbourside, was once a busy dock where the city traded with new-found colonies.
The Harbourside today is not only pleasing to the eye, especially on a sunny Sunday, but it's another great place to soak up Bristol's laid-back and entrepreneurial vibe.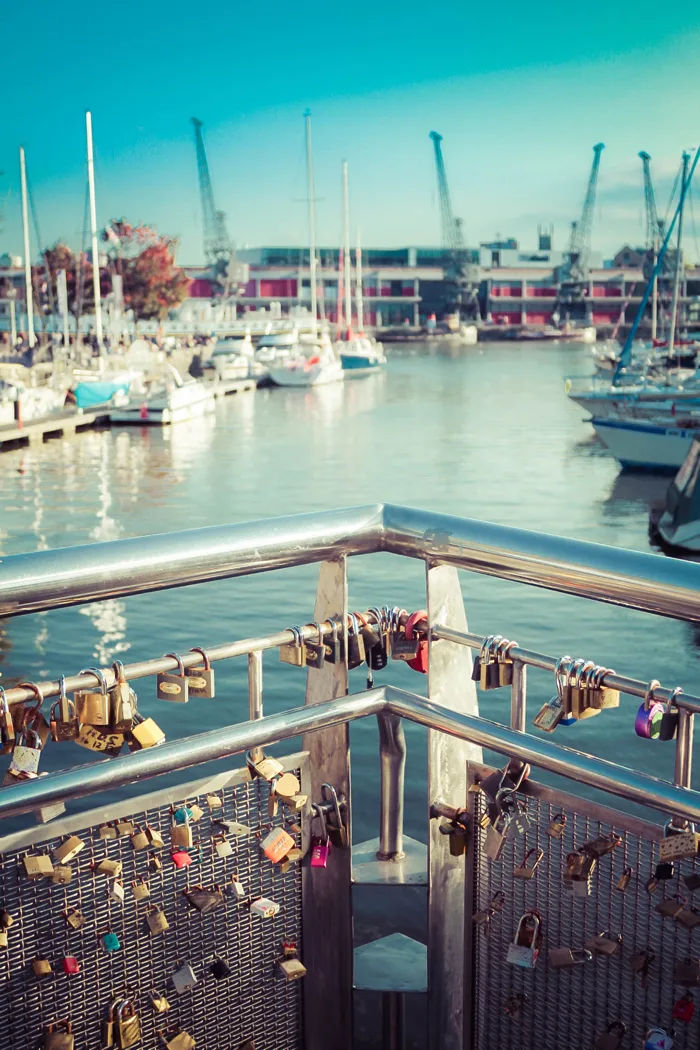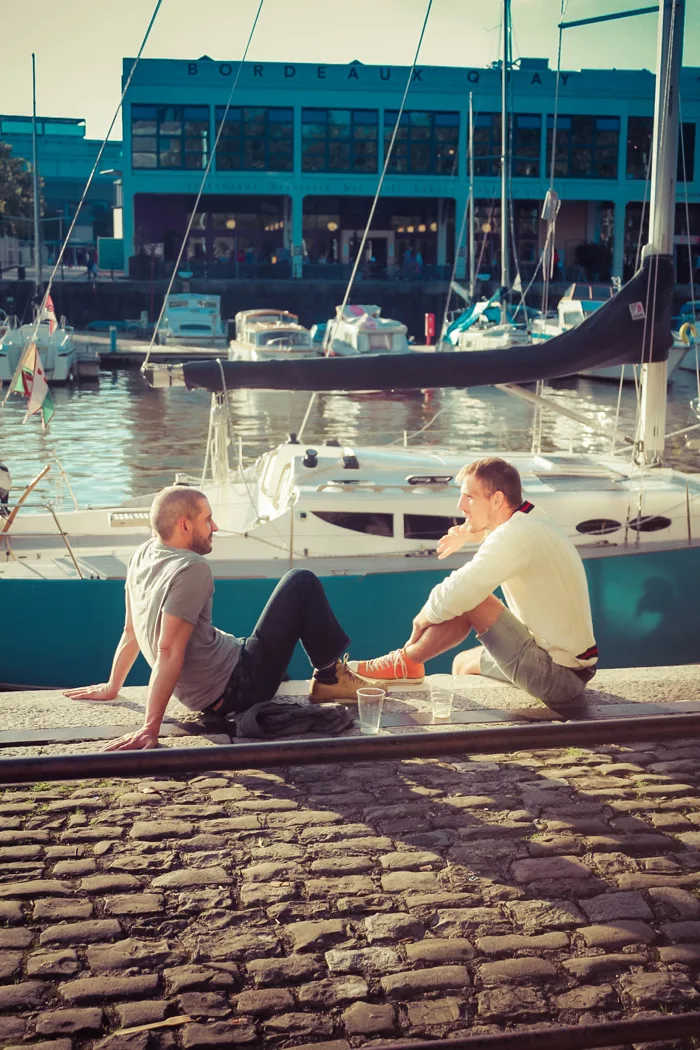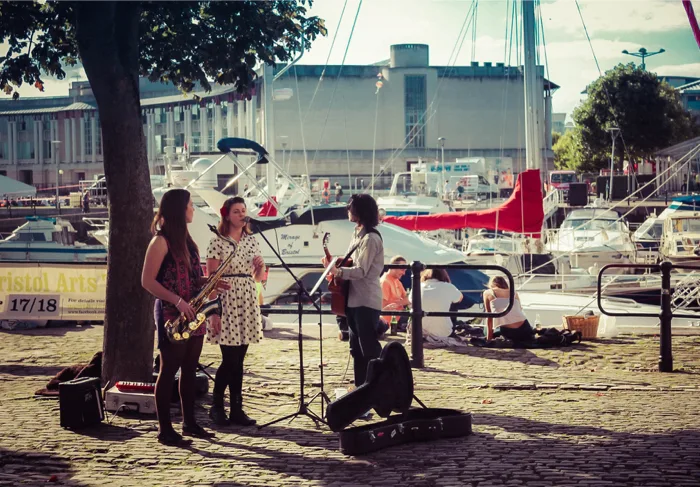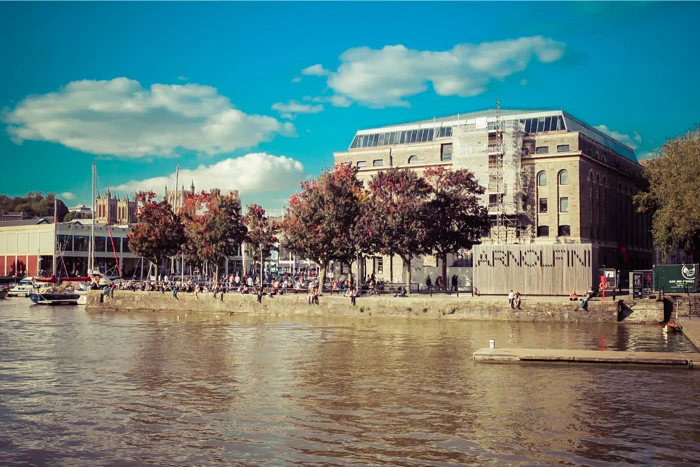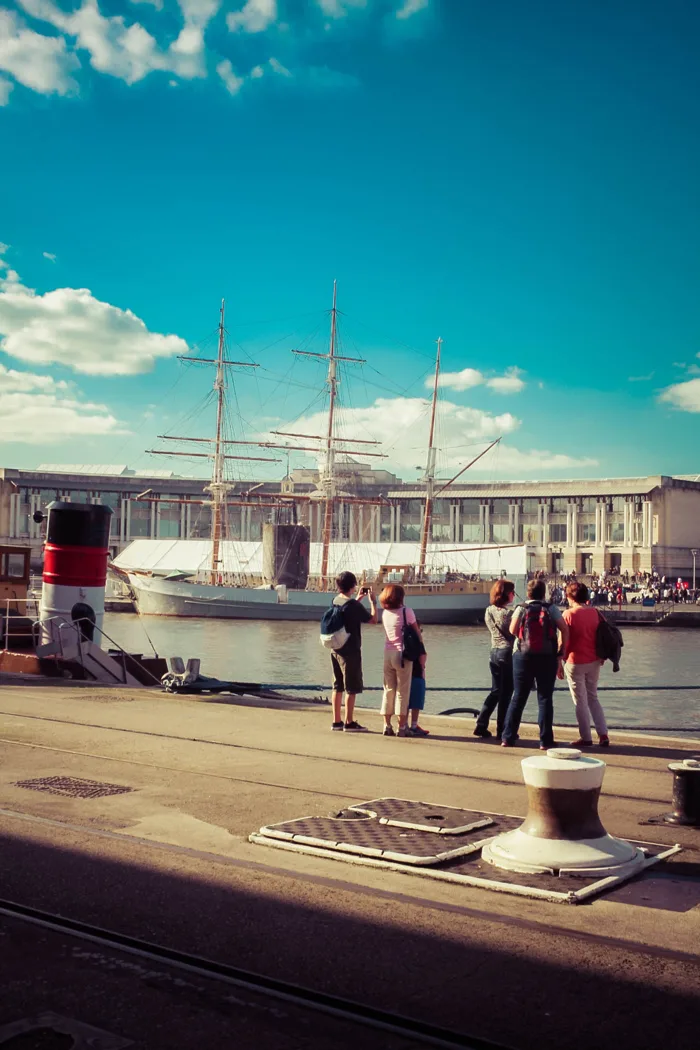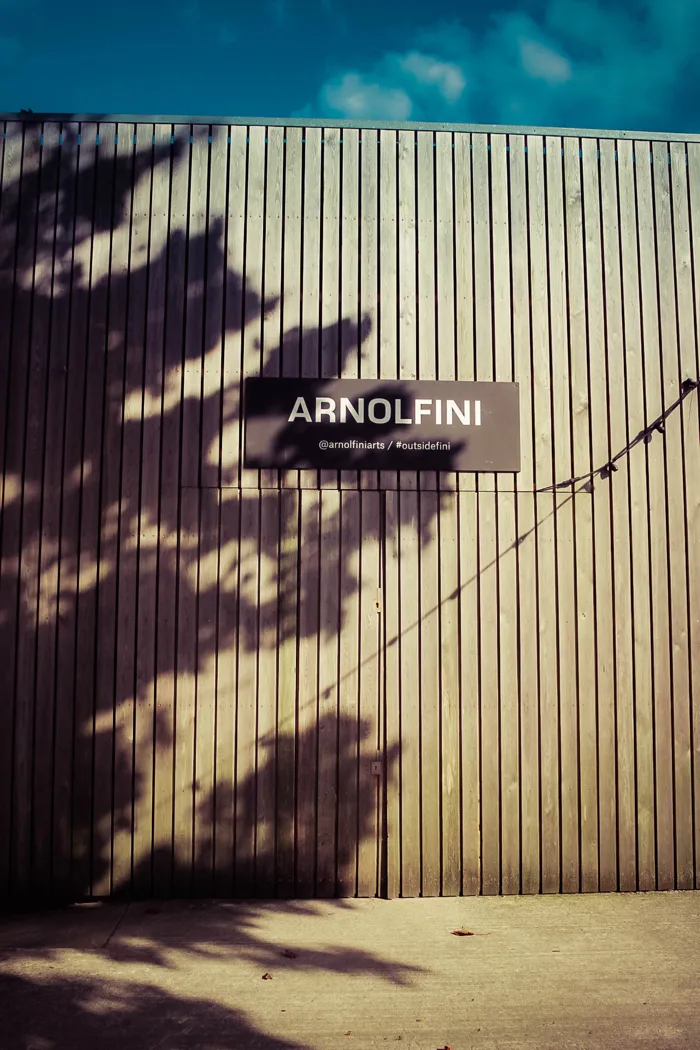 Much like Parisians do in the spring, Bristolians take to Harbourside when the sun's thick to picnic and ponder by the water.
Stroll alongside their clinking glasses, humming tunes, stopping every now and again to ogle the goods at the Sunday market. Next, head along the historic cobbles, stopping by the Arnolfini art gallery for another cultural high, before crossing the water to Bristol's dockside where the iconic cranes tower like iron giraffe's nosing the sky.
MAKE TRACKS FOR Bristol's M Shed – an innovative museum arranged in three distinct sections: Bristol People, Bristol Places and Bristol Life. Filled with historic treasures and interactive displays, it offers a real sense of Bristol's past and a moving exhibition of the city's role in the slave trade.
Naturally, I sought out the M Shed's Banksy – the infamous Grim Reaper. It originally appeared on the side of Thekla Social boat moored in Bristol harbour 10 years ago, but was removed to prevent it deteriorating and dying. Irony, noted.
What: M Shed | Princes Warf, BS1 4RN | Sat and Sun 10am – 6pm
Banksy must-see: The Grim Reaper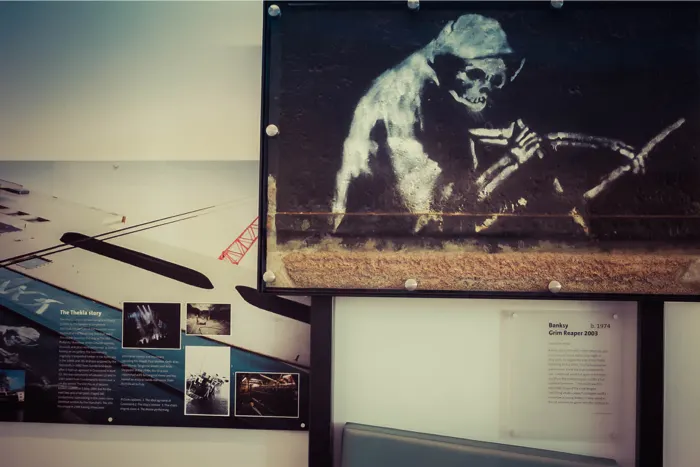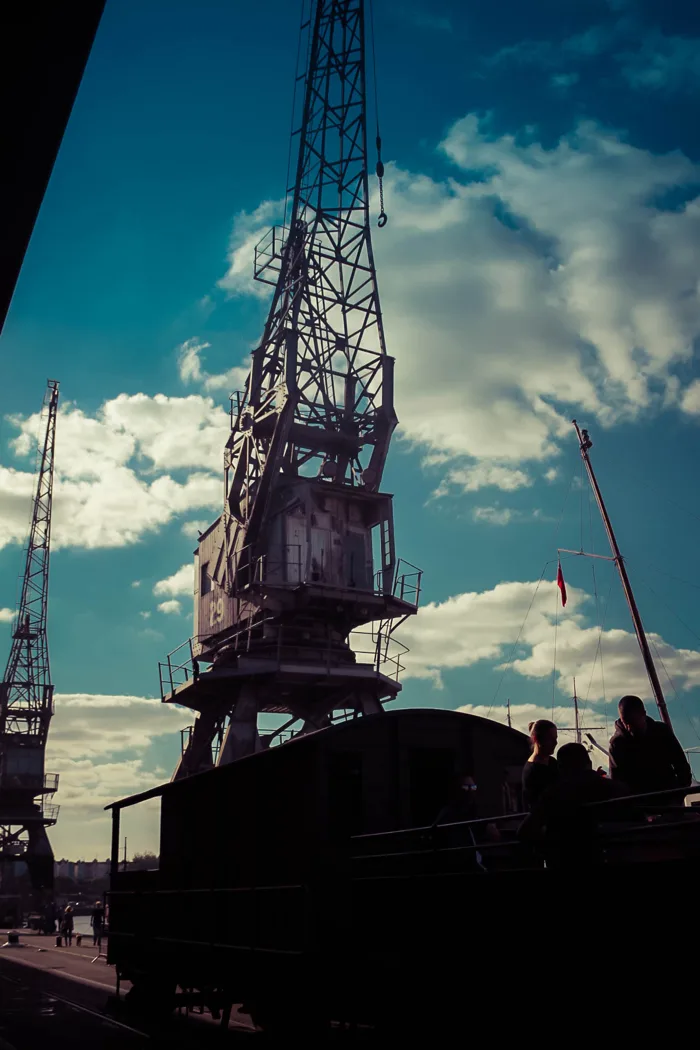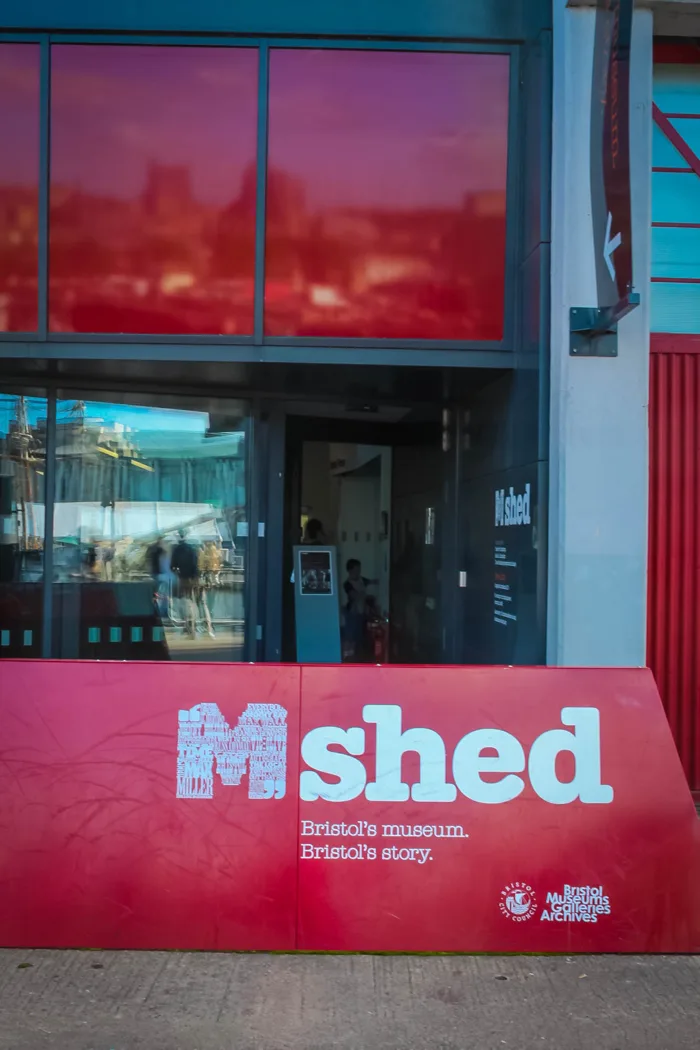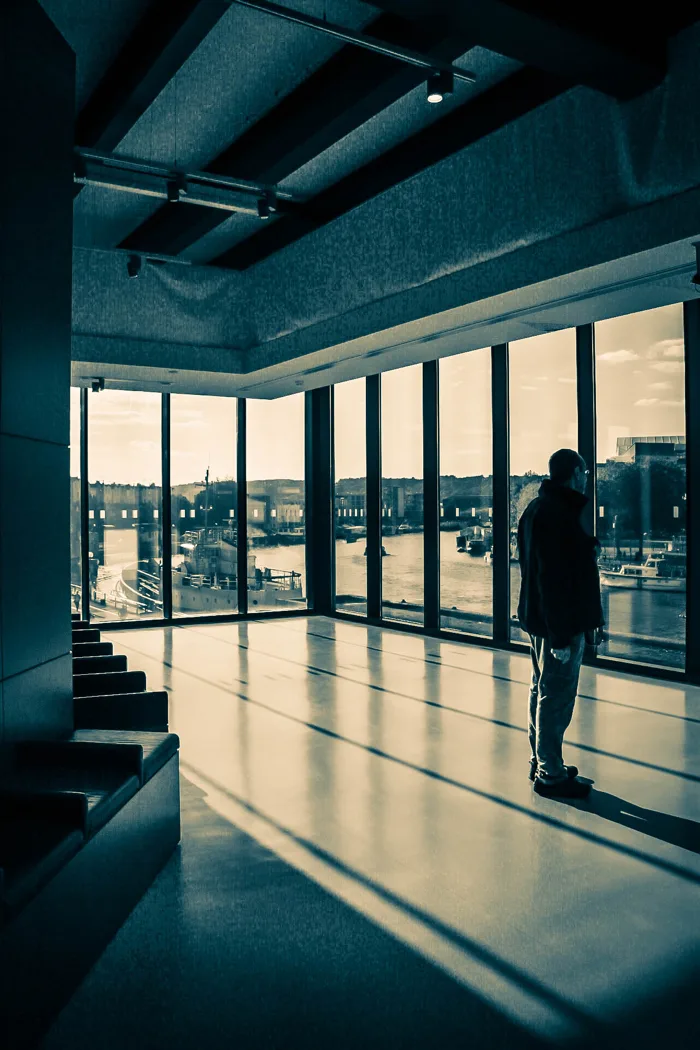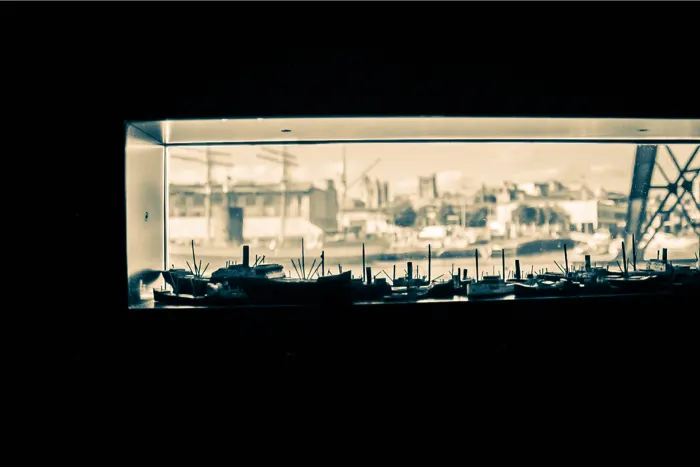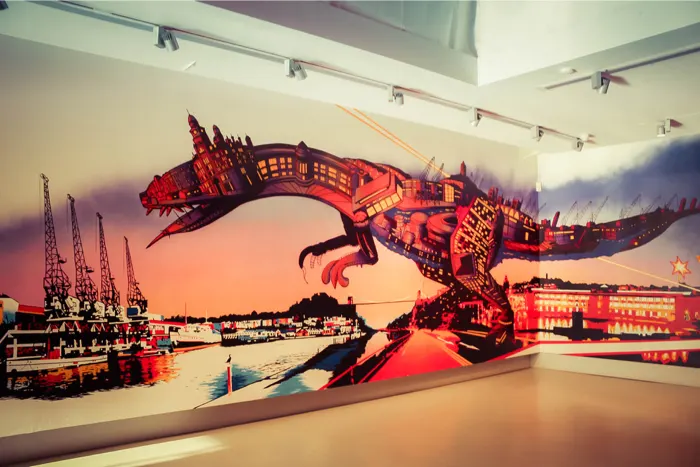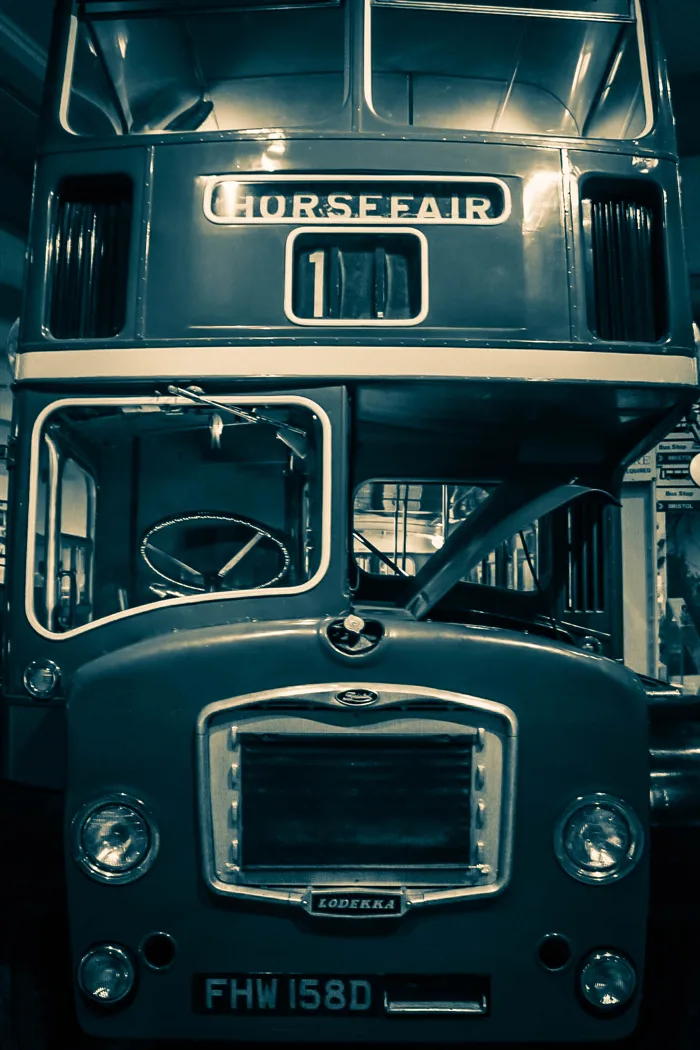 SUNDAY | AFTERNOON
SCHMOOZE IN CLIFTON: Exchange maritime Bristol for Georgian Bristol by making your way to Clifton, one of the city's most exclusive suburbs and home to Brunel's famous Clifton Suspension Bridge.
Like a set in a costume drama, Clifton is an immaculate collection of biscuit-coloured townhouses, boutiques, galleries and cafes.
A world away from the unfettered rawness of Stokes Croft, Clifton offers an restful and elegant alternative to the rest of the city.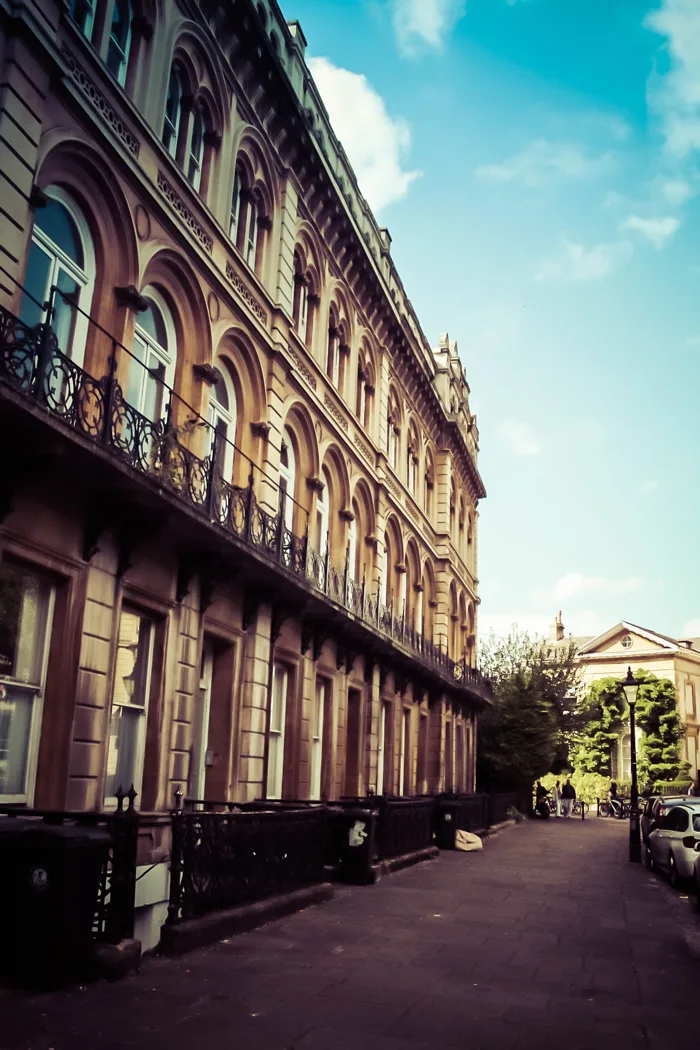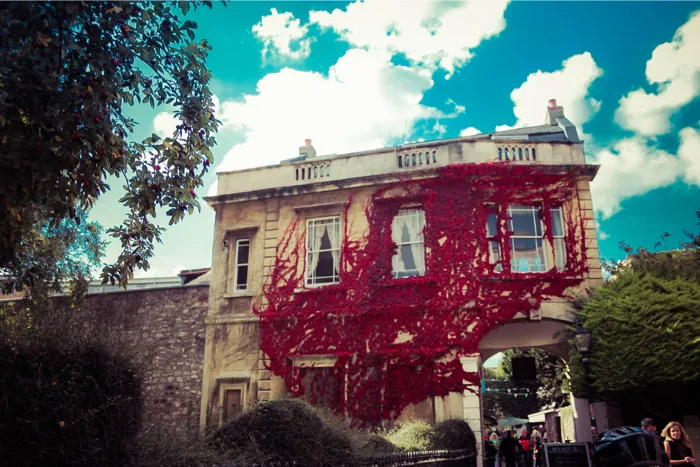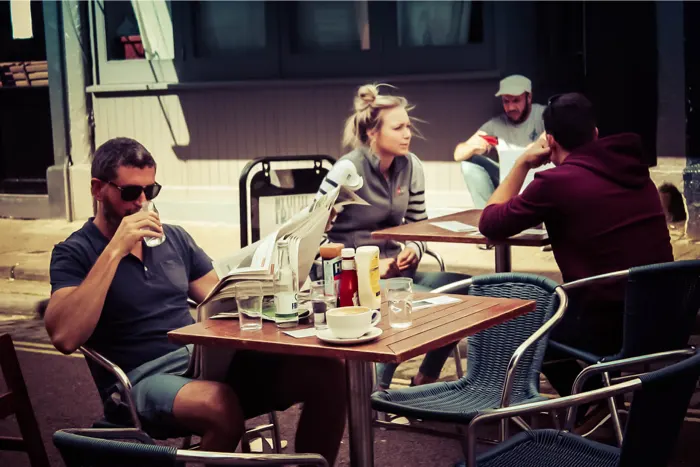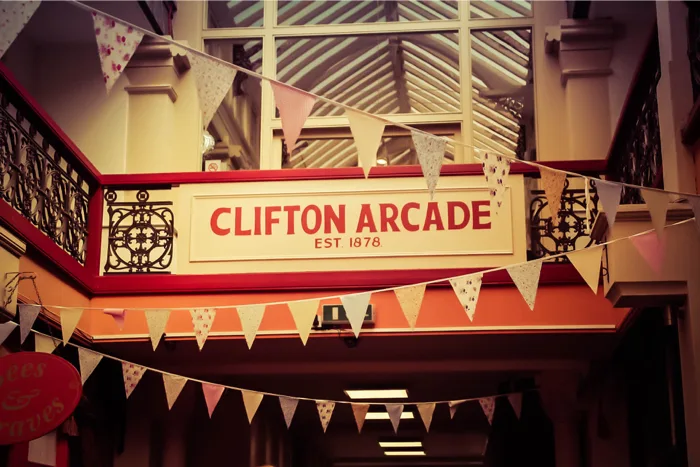 If you want to feel beautiful and successful, Clifton is where you raise your wine glass or unfold your Sunday broadsheet.
It's a 'see and be seen' kind of village, which, apparently, had a lot of Banksy's work at one point. Although, there are none – as far as I know, today.
POP INTO: the Bristol Art Gallery and Museum, your nearest Banksy hotspot. Unfolding over 3 floors, the first-class collections tell a world-class story through ancient exhibits, curated artefacts and incredible art work.
Banksy's Paint Pot Angel is one of the first art works you'll see and featured in his explosive take-over exhibition of the museum in 2009, Banksy Versus Bristol Museum.
Banksy must-see: Paint Pot Angel.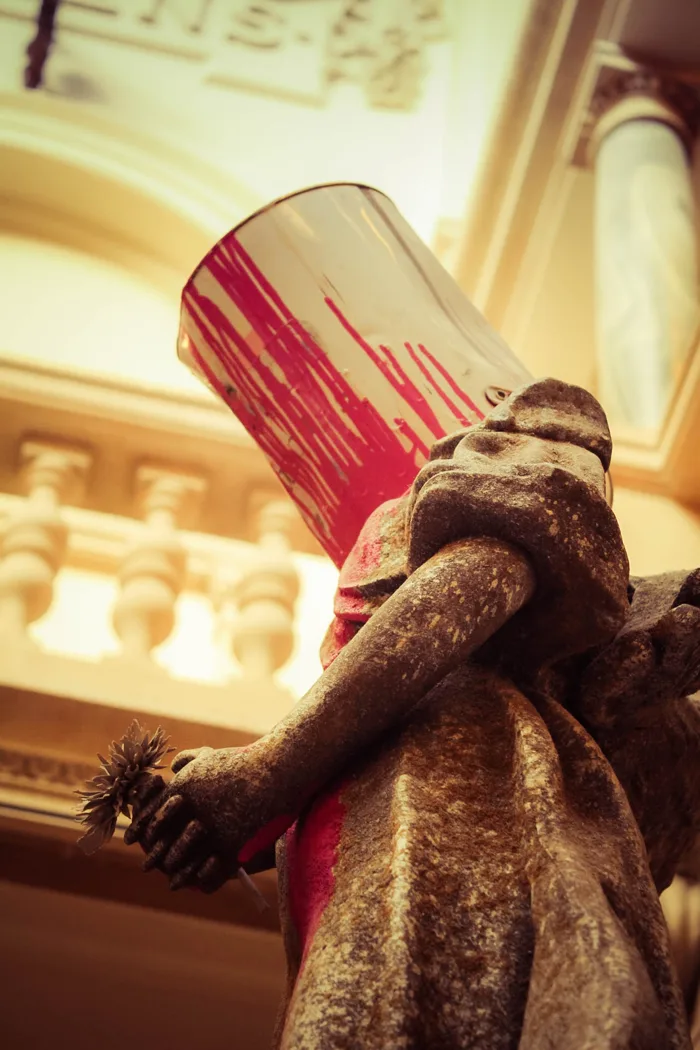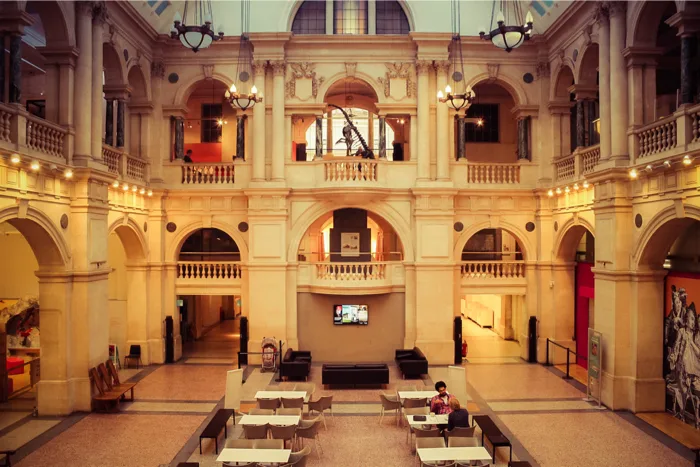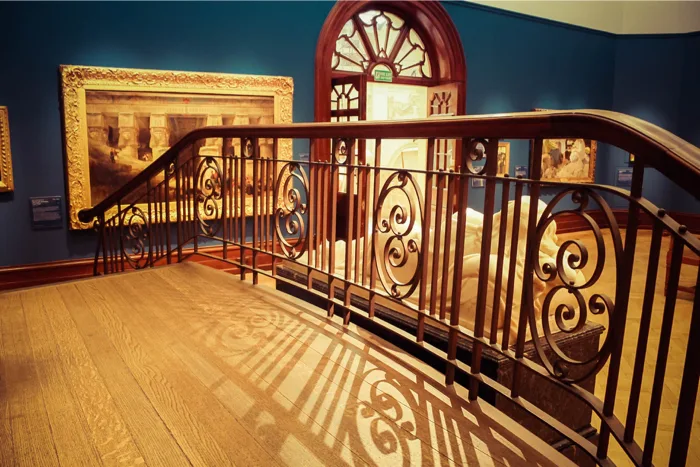 SUNDAY | EVENING
CROSS THE BRIDGE: Whilst in Clifton, hop on a brilliant free tour of Brunel's grade-1-listed Clifton Suspension Bridge, which starts at 3pm by the toll ticket booth.
The characterful guide tells the story of the bridge's build with wit and good humour making, what I was expecting to be a somewhat black and white hour, coast by in fascinating Technicolor.
The panorama from the bridge is, as you'd expect, epic.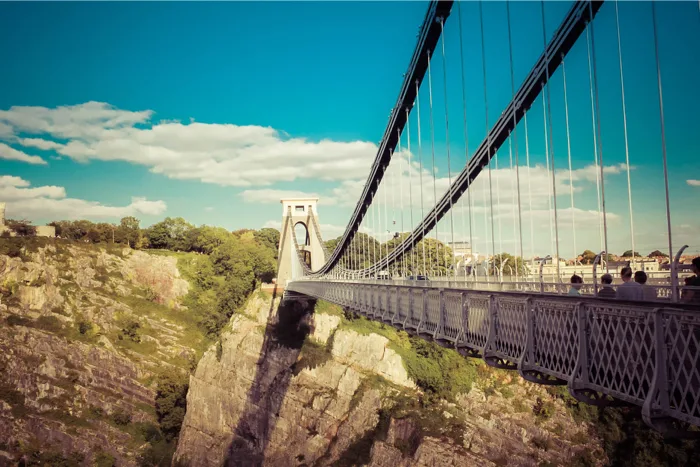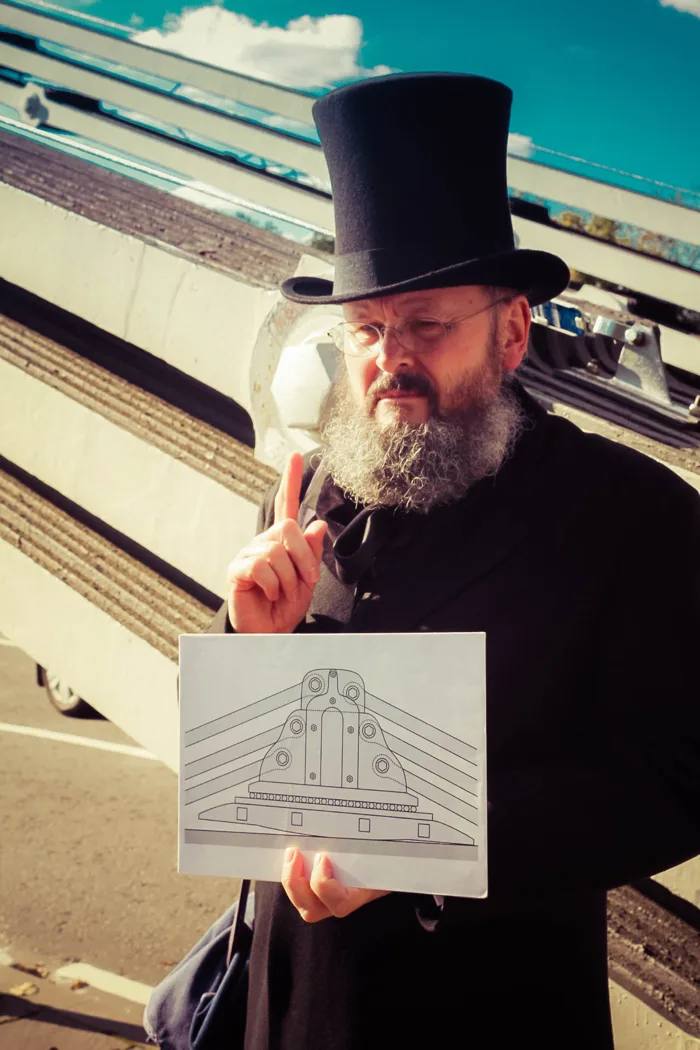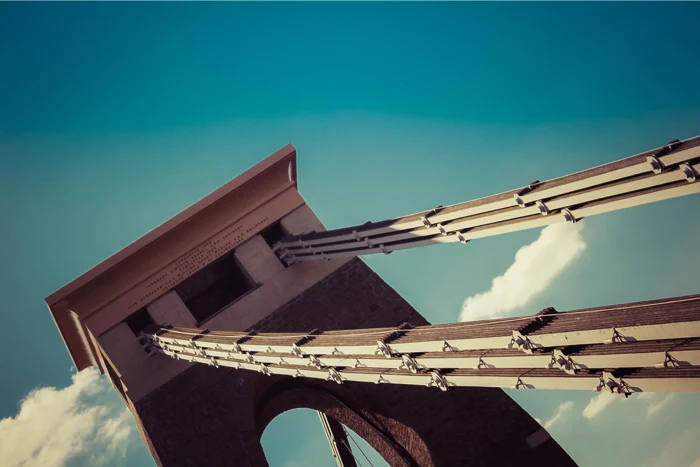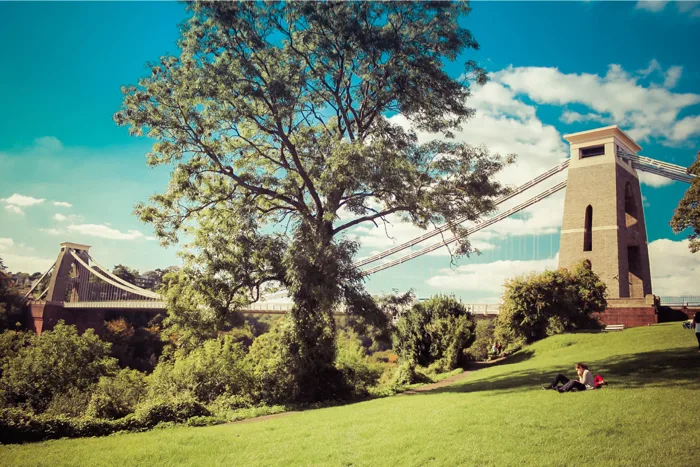 Once you've devoured every last sweet sight of the stupendous Avon Gorge, turn heel towards the Avon Gorge Hotel for a sun downer rush before braving the journey home.
TAKE AFTERNOON TEA: Indulge in fat scones and sinful cream on the well-mannered hotel terrace, which faces south-west into the eyeballs of the Clifton Suspension Bridge.
As you can imagine, the good-looking views make the Avon Gorge a popular spot to spend a clement evening, yet despite its numbers the menu remains affordable: Traditional Cream costs just £6.50 per person.
And is, to quote the locals, 'gurt lush'.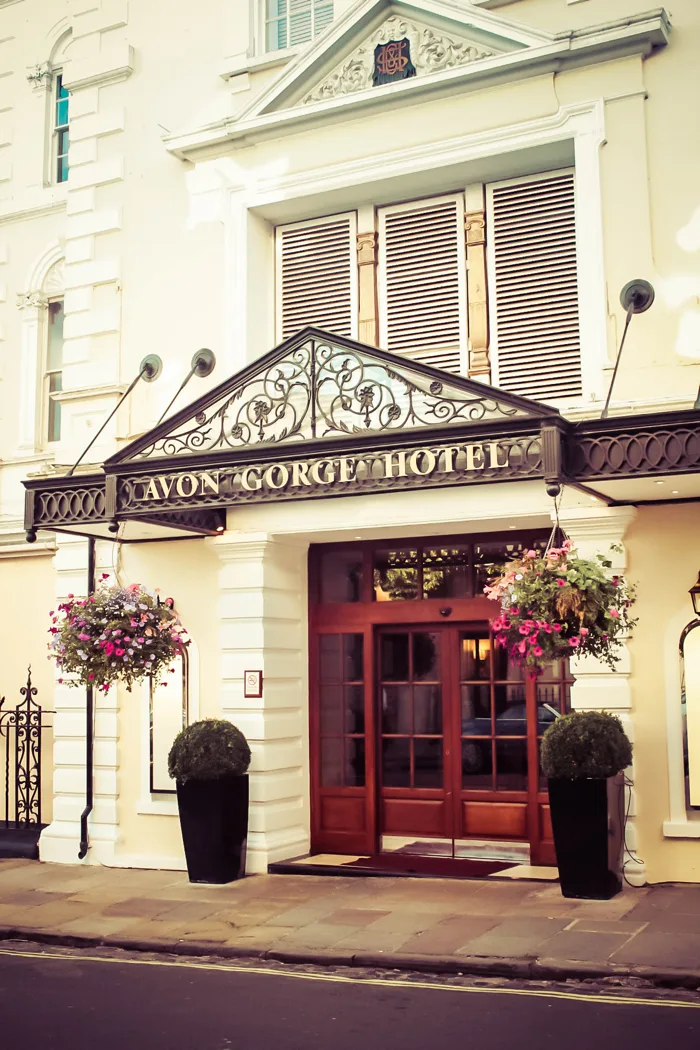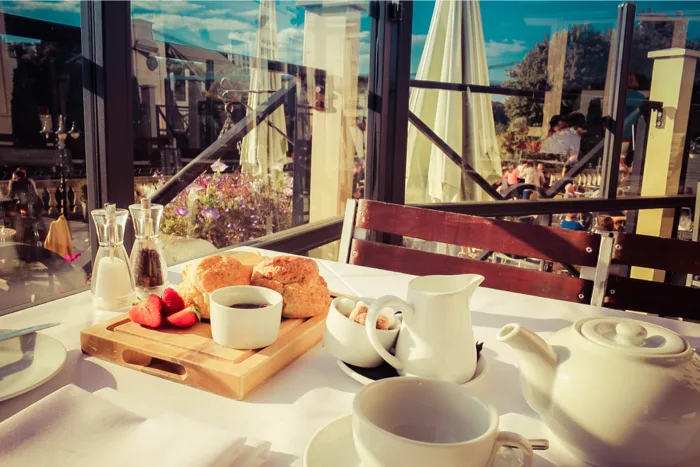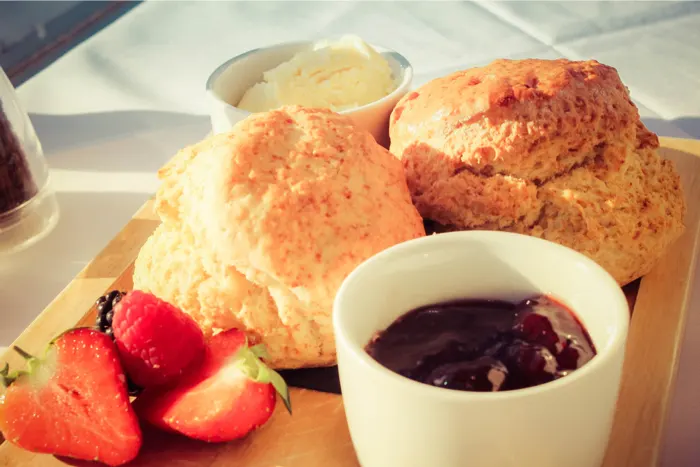 ---
Located just outside of Bristol in Fishponds, this unique Victorian semi certainly lives up to its magical name. The whole place is charmed with tenderness; step inside and it's as if time stops. Your soul is soothed, your spirit uplifted, your heart refreshed – the rooms are authentically vintage, and the thoughtful touches that the owner, Sadie, has added to make you feel welcome (a slice of homemade cake, for instance), are out of this world. COST: Rooms start from £89 with breakfast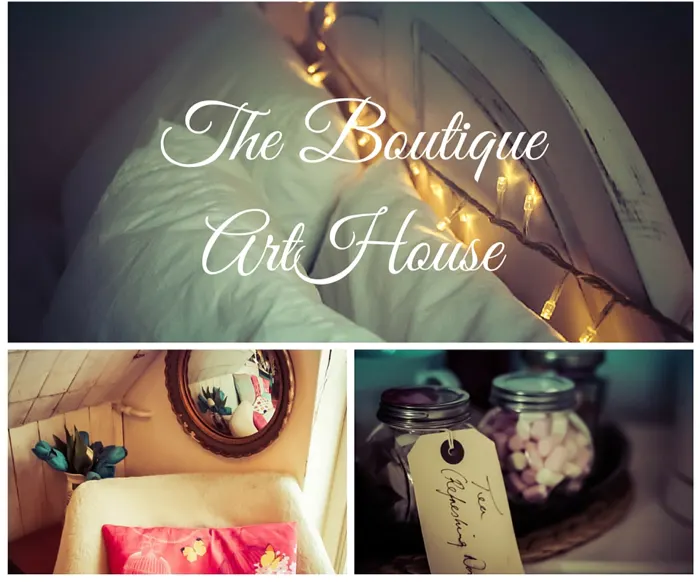 Overlooking the water on Harbourside, this stylish and slick eco-friendly eatery, housed in a former warehouse, offers a relaxing place to enjoy some regionally-sourced food and drink. Upstairs is the main restaurant, elegant and busy. Downstairs is the brassiere, deli, wine bar and bakery. Although my table wasn't in an ideal spot (I could've shopped the deli I was virtually sat in it), the food was tasty and fresh and the service impeccable. Cost: Mains start from £11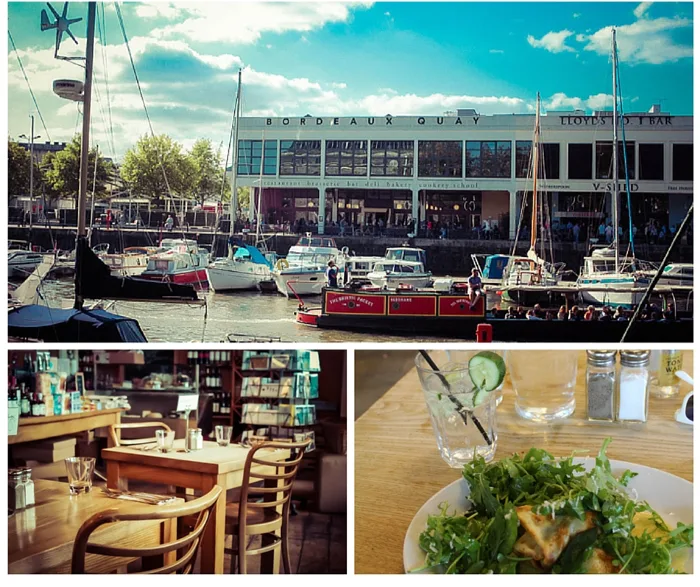 DISCLAIMER: I enjoyed a 2-day weekend in Bristol thanks to Visit Bristol – as you can see, I bloody LOVED Bristol and this is bonafide reflection of my time in the city.