Birmingham is arguably one of the most underrated cities in the UK. I visited for the first time this summer to stay at the brand new AC Hotel Birmingham with Marriott Rewards (more about that further down!).
My first reaction to the city was, 'Why haven't I been here before!?' Birmingham is really cool and not at all how I imagined.
For too long Birmingham has been weighed down by it's industrial past and rather unfortunate 1960s architectural choices. But beyond spaghetti junction and concrete monstrosities is an emerging city full of culture, amazing food, great shopping, and a surprisingly amount of greenery and parks.
If you have yet to sample the delights of the second largest city in the UK, I've pulled together the perfect mini guide to get you started. I thought I'd be able to write this mini guide to Birmingham after spending a couple of days in the city but I soon realised there's far too much to see and do for one person to become an 'expert'! So I enlisted the help of our Travel Hack, Elizabeth, who lives in Birmingham and also some insights from local bloggers in the area. We've got a great list of things to see and do in Birmingham to make your perfect itinerary for a fab city break.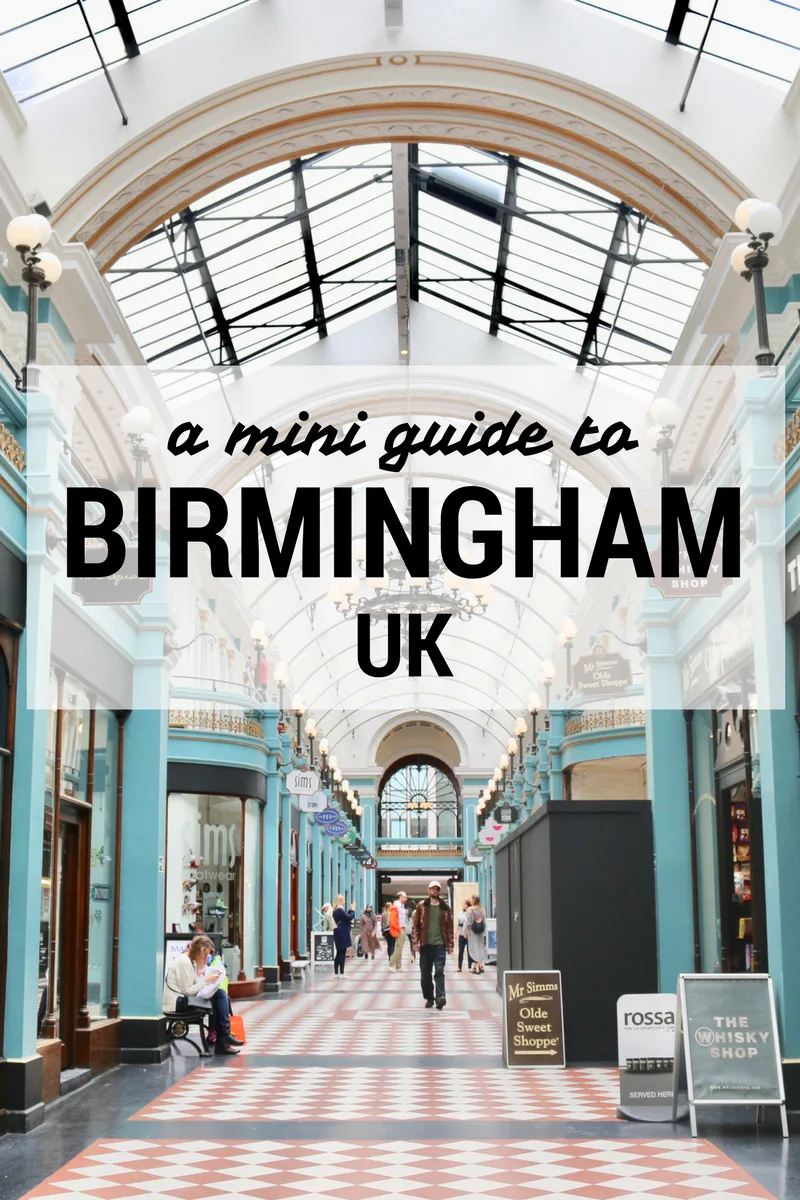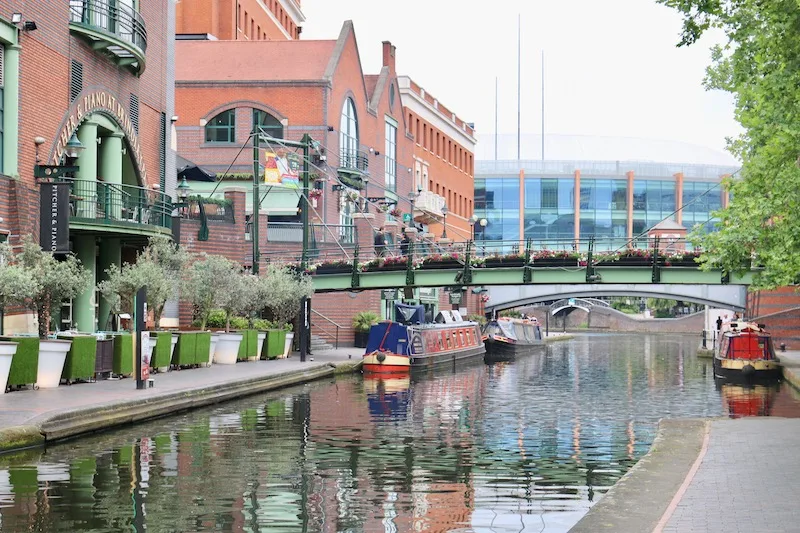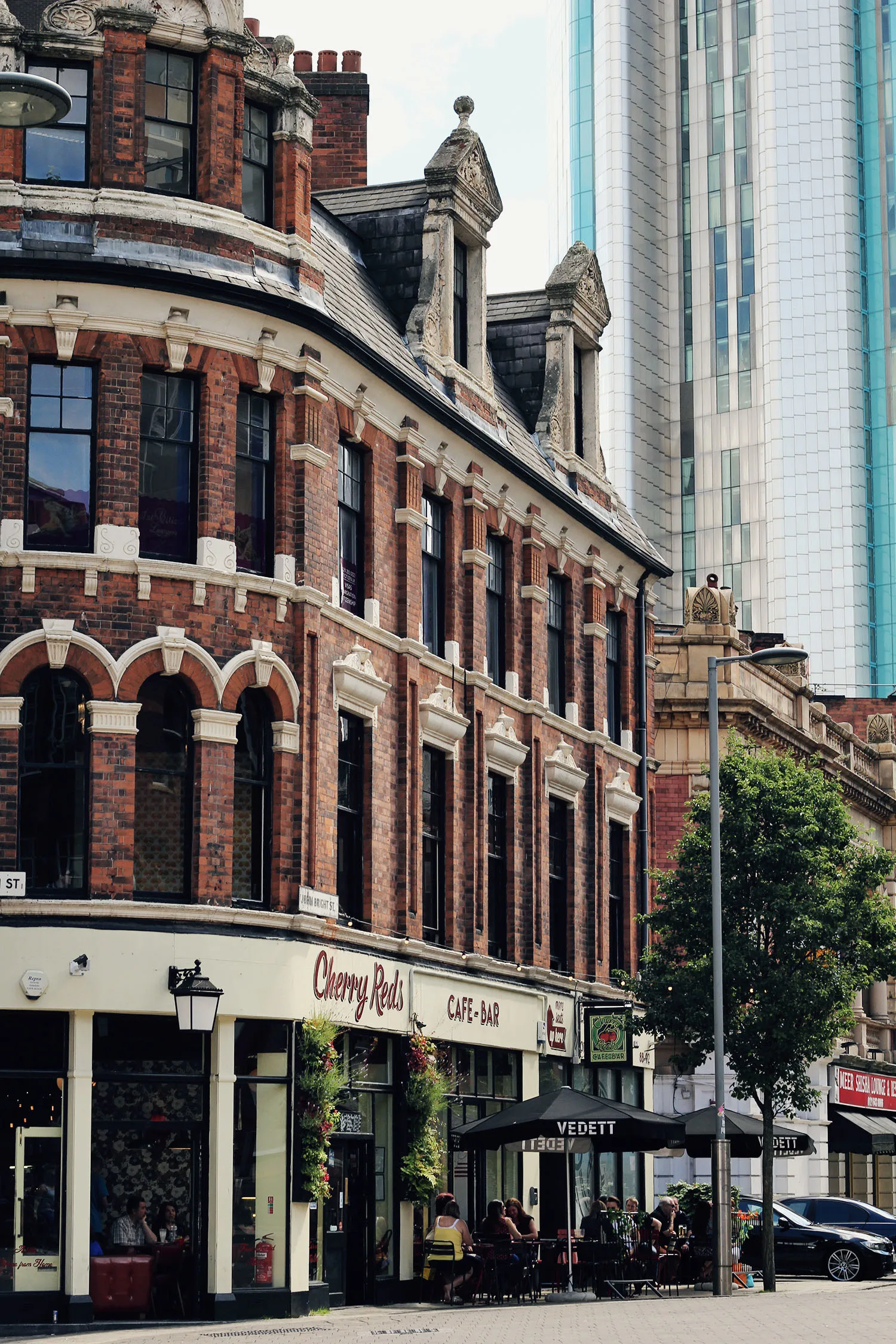 How to get to Birmingham
As Birmingham is centrally located in the UK it's really easy to get there from pretty much everywhere. I recommend taking the train Birmingham as tickets are usually really affordable and the main train station is centrally located. You won't need to worry about parking and the city is small enough to get around on foot or via public transport.
Where to stay in Birmingham
During my trip to Birmingham I stayed at the AC Hotel Birmingham and I can't recommend it enough. This is affordable luxury and it's finest and is exactly what we love here at The Travel Hack. It's in the perfect location as it's walking distance from the train station and next to the Mailbox, Birmingham's upmarket shopping development next to the waterfront. There are loads of restaurants, bars and cafes around here too and, if you're lucky, you'll get a lovely view over the canal below.
I'm also a Marriott Rewards member (FYI – free to join and well worth it for extra hotel perks!) so I had a free upgrade to a superior room which was huge and had a living room/sitting area, wifi, a lovely view of the water below and that all-important late check out!
[one_half]
Best places to eat in Birmingham
"As a food and drinks blogger, the thing I've noticed over the last few years is a growing, but quiet pride in the city's drinking and dining scene; it's not arrogant or boastful, it's very Birmingham and it's everything from Michelin starred dining through to award-winning street food and great curry. I think watching guys like Original Patty Men and Two Cats go from street food and pop-ups to permanent and well respected venues shows that the city is supporting home-grown talent."
– Laura Creaven, Full to the Brum
Fine dining in Birmingham
Birmingham has the most Michelin-starred restaurants of any UK city outside of London. With five incredible restaurants to choose from, you can sample the best of British cuisine in the city. Check out Adam's, Purnell's, Simpson's, Turner's and Carter's of Moseley for stylish haute cuisine. I recommend the lunch menu at Adams for some affordable luxury!
Street food in Birmingham
The street food scene in Birmingham is booming. Head down to the arty Custard Factory area for Digbeth Dining Club every Friday evening. Each week they spotlight different pop-up and food cart offerings, from Thai, Indian and Middle Eastern to pancakes, toasties and waffles.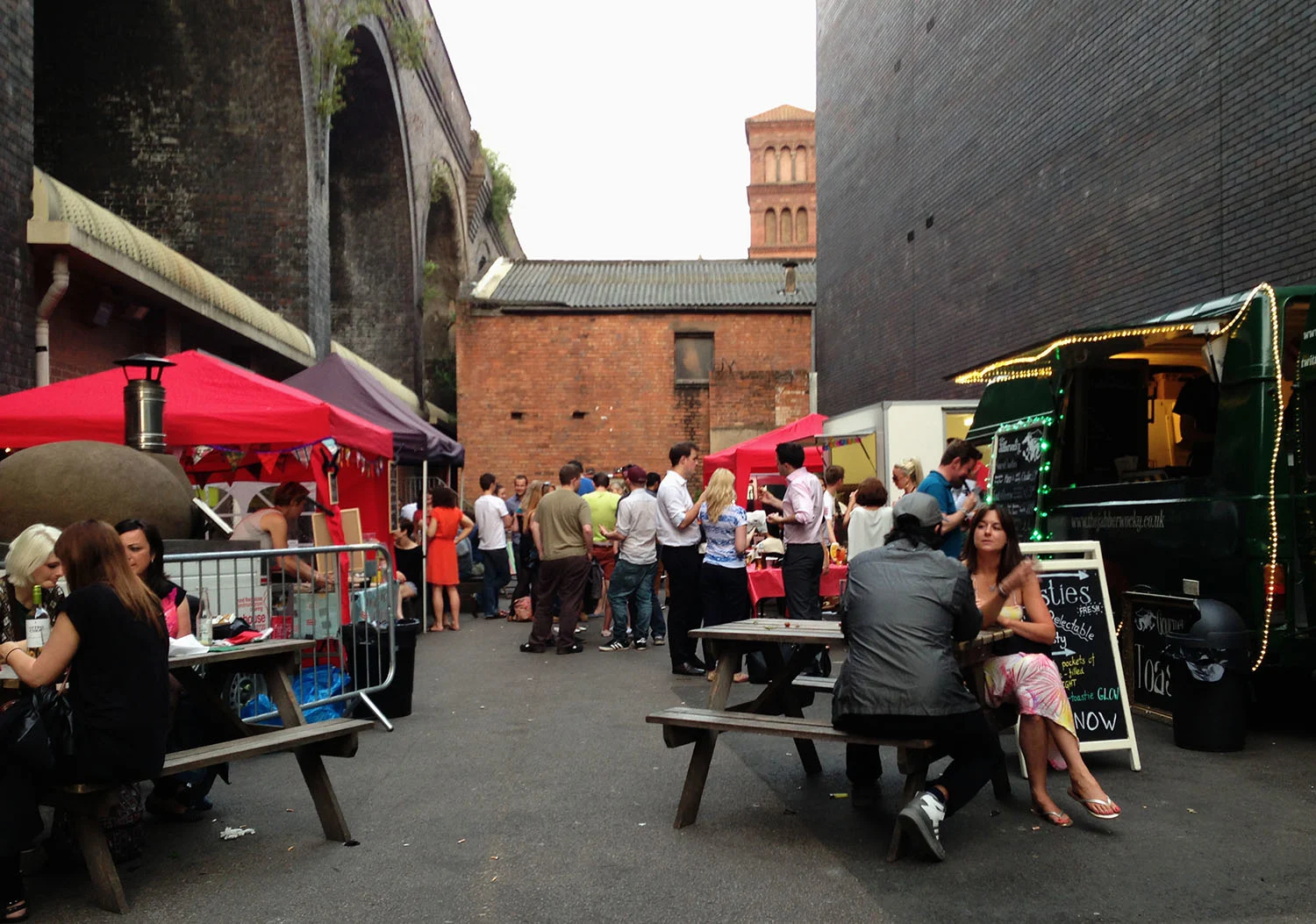 Curry King
As the birthplace of the balti and home to a large South Asian community, Birmingham has become synonymous with curry. There is a huge range of spicy establishments to choose from including old school no-frills restaurants such as Sheereen Kadah in Moseley, to fine dining spots such as Itihaas in the Jewellery Quarter.
For authentic vegetarian Indian food try Jyotis, and for street food style curry delights try Raja Monkey.
"Ever been to an Indian pub? No? Get yourself to one immediately. I love the Hen & Chickens on Constitution Hill for beer and some of the best tandoori chicken you've ever had. We like to order the large mixed grill and always go there with an empty stomach. This is great value, amazing flavoured food."
– Elizabeth Sellers, Rosalilium.
Other cool places to eat in Birmingham
It seems there is a bit of a food renaissance happening in Birmingham with new restaurants opening up every month!
Other recommendations include:
"Fiesta Del Asado in Edgbaston! I can hand on heart say its the best steak restaurant I've ever been to. The meat is incredible, service is top class and the chef behind it, Aktar Islam is one of Birmingham's best."
– Chloe Gorman, The Gastronomic Gorman
Best places to drink in Birmingham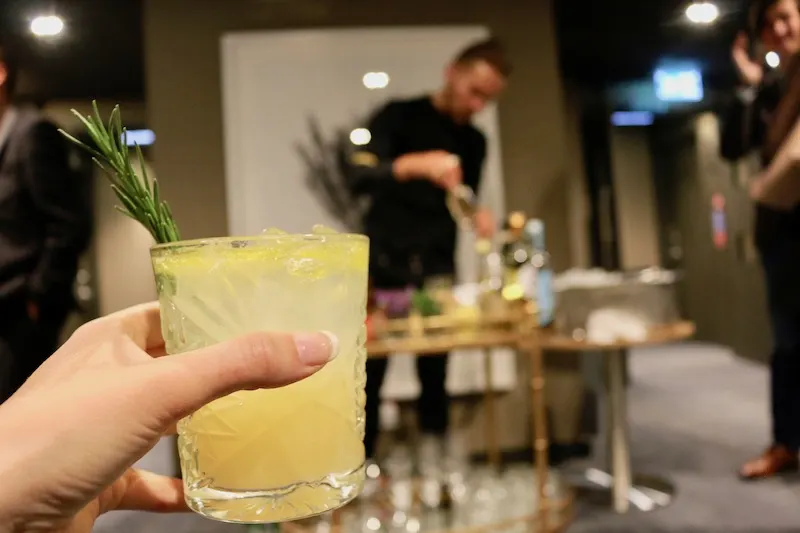 Along with it's burgeoning foodie scene there are a selection of fab drinking spots in the city.
"Imagine a place where you can top up a card with money, then spend it on copious amounts of tasters sizes of wine. Loki Wine offers just that! Tucked away in the Great Western Arcade, Loki Wine provides a cosy atmosphere for informal wine tastings, cheese and Charcuterie platters to share and wine to take home. My idea of heaven."
– Elizabeth Ireti, The Travel Girl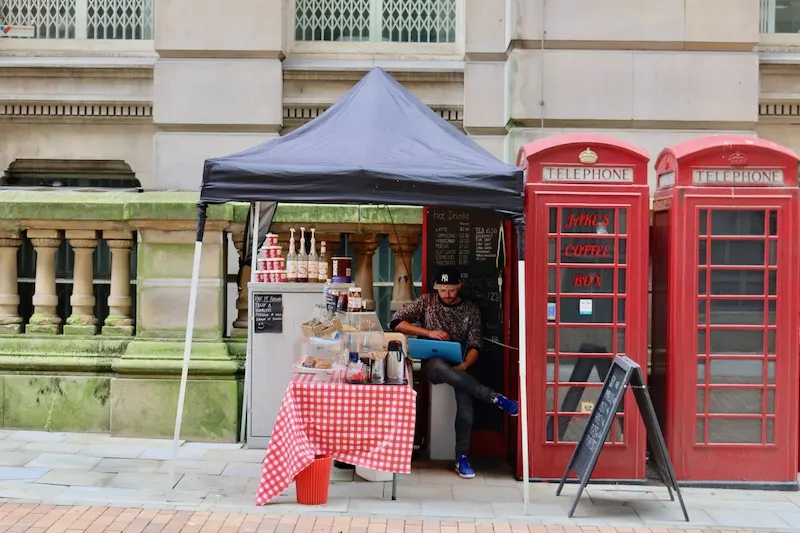 Quirky fun places to visit in Birmingham
Birmingham has loads of weird and wonderful activities and places to visit to make your trip a fun one. From a world famous chocolate factory to the largest Christmas Market outside of Germany, this city has plenty to keep you occupied.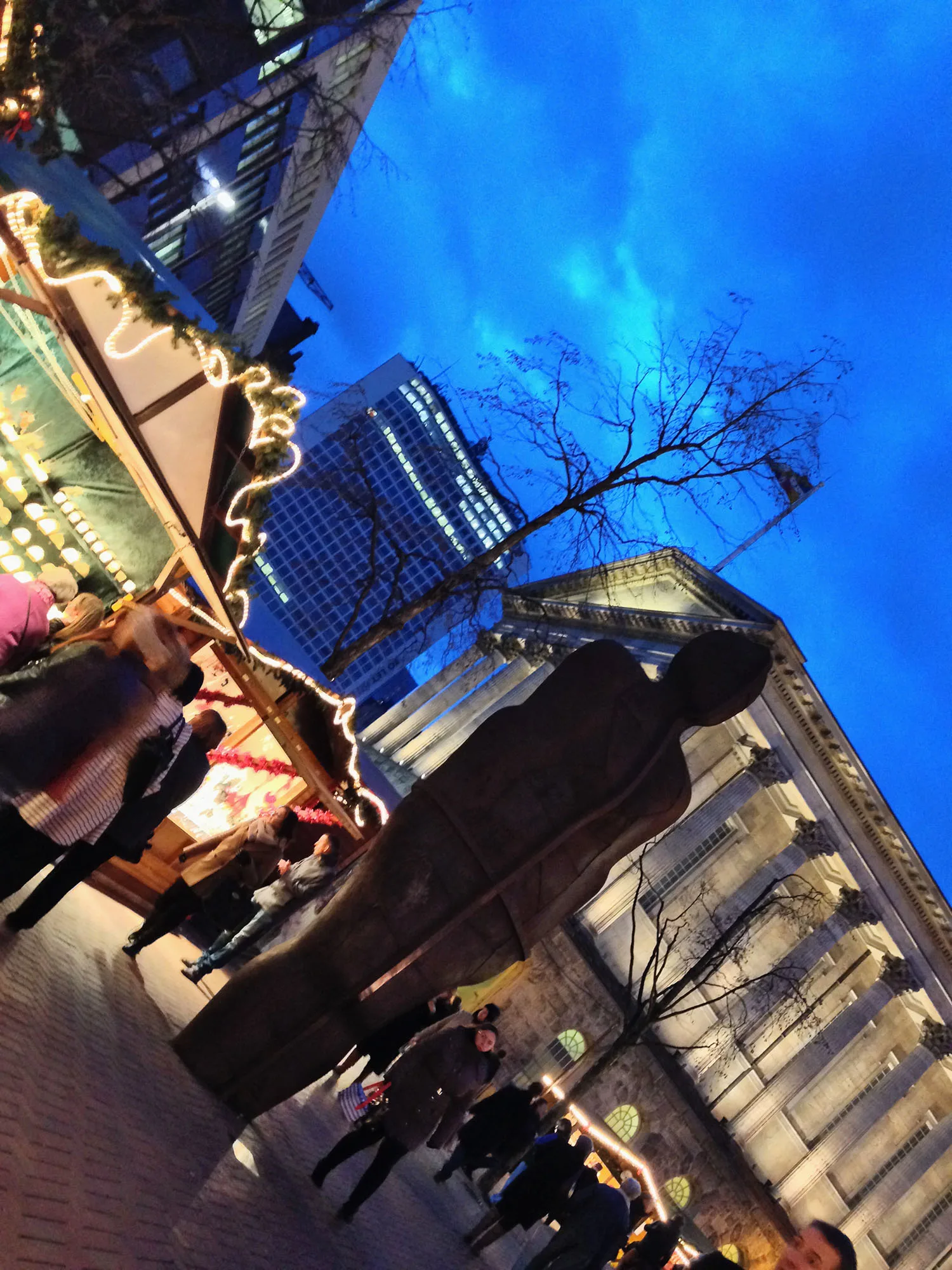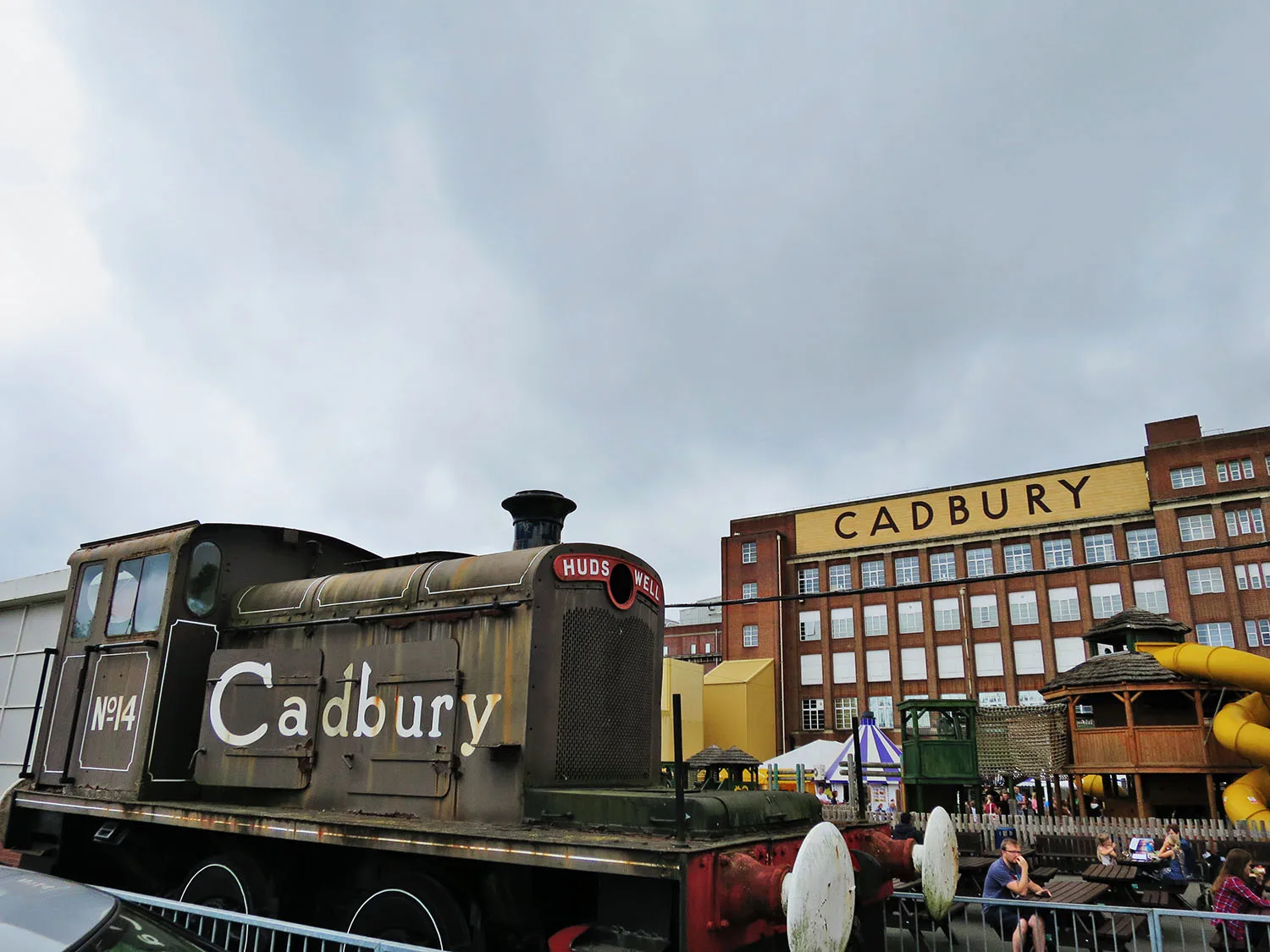 Cadbury World is a chocoholics dream. Located in Bournville at the Victorian chocolate factory you will be loaded up with a handful of chocolate bars as you make your way around exhibits, games and even a mini ride. We are big fans of the 4D film experience. Book your slot early to avoid the crowds and don't forget to try the Cadbury Afternoon Tea in the cafe afterwards. That's if you can handle any more chocolate!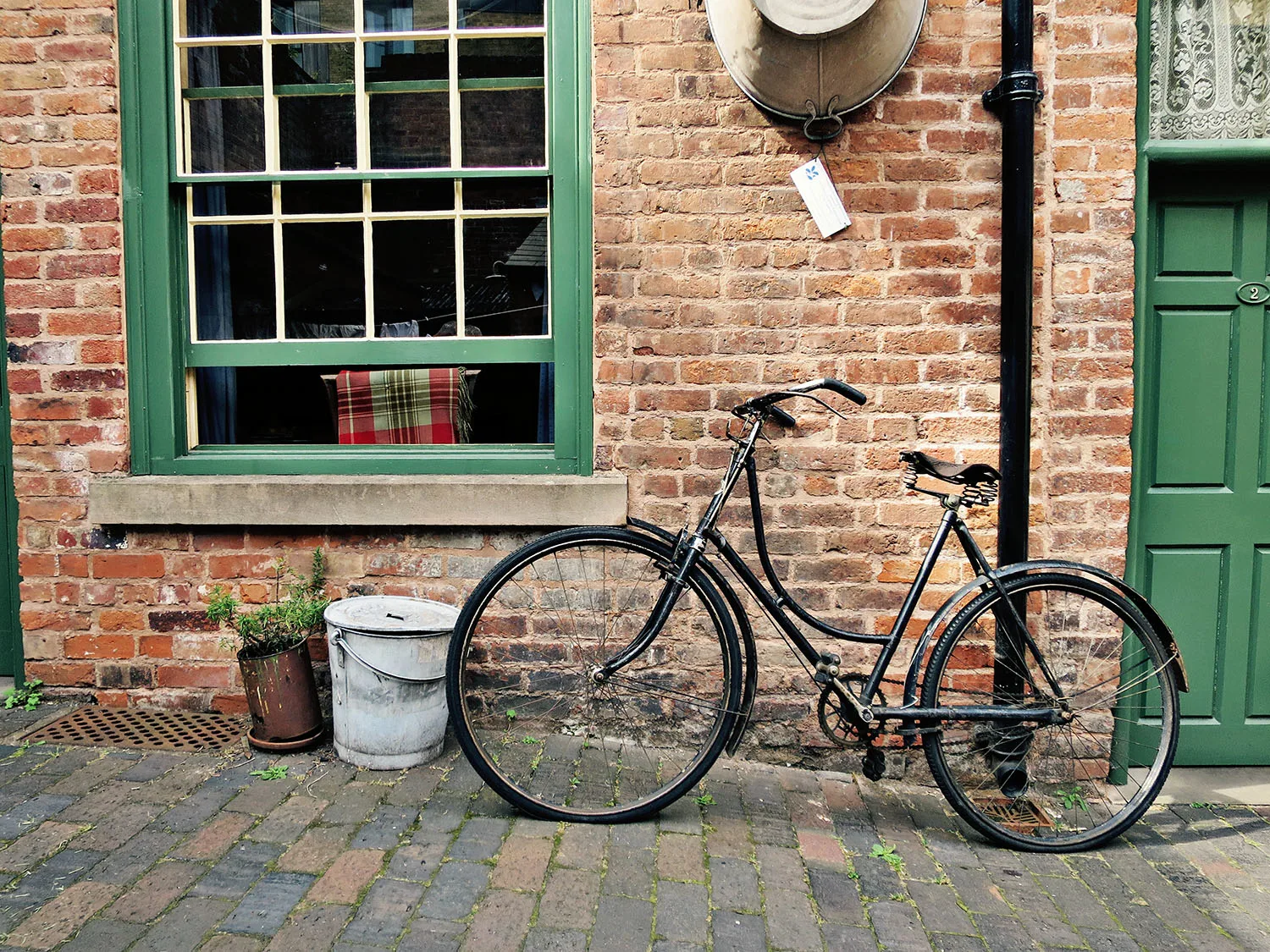 For a spot of culture and social history head to the Back to Backs, a National Trust site featuring the last Victorian 'back-to-back' houses in Birmingham. You will be taken on a guided tour from 1870 to 1940 learning how people lived in these tiny communal courtyard houses.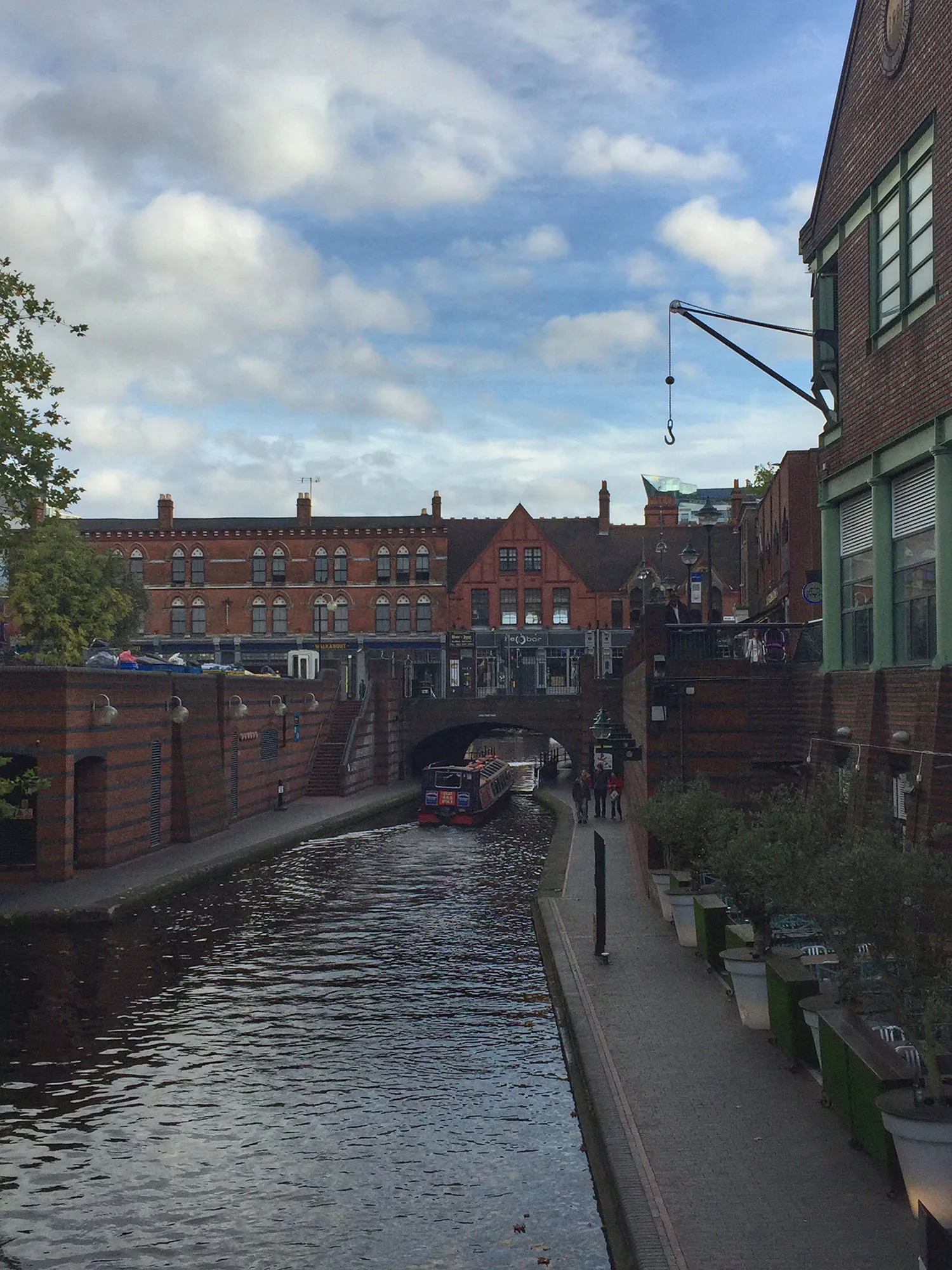 Did you know that Birmingham has more canals than Venice? Of course, not quite so pretty but they're working on it. You can catch a slow boat ride from Brindleyplace leaving throughout the day. Or take a leisurely walk along the canal to the Jewellery Quarter.
The Jewellery Quarter is Europe's largest concentration of jewellery businesses. It produces around 40% of the UK's jewellery and is home to the world's largest Assay Office hallmarking 12 million items a year. The Jewellery Quarter has also shed a little of it's industrial past to become quite the hipster spot of recent times. Head down for tasty coffee, cool bars and maybe, if you're feeling fancy check out the Pen Museum! Or not, just stick to the cocktails on St Paul's Square instead (try the swanky St. Paul's House bar).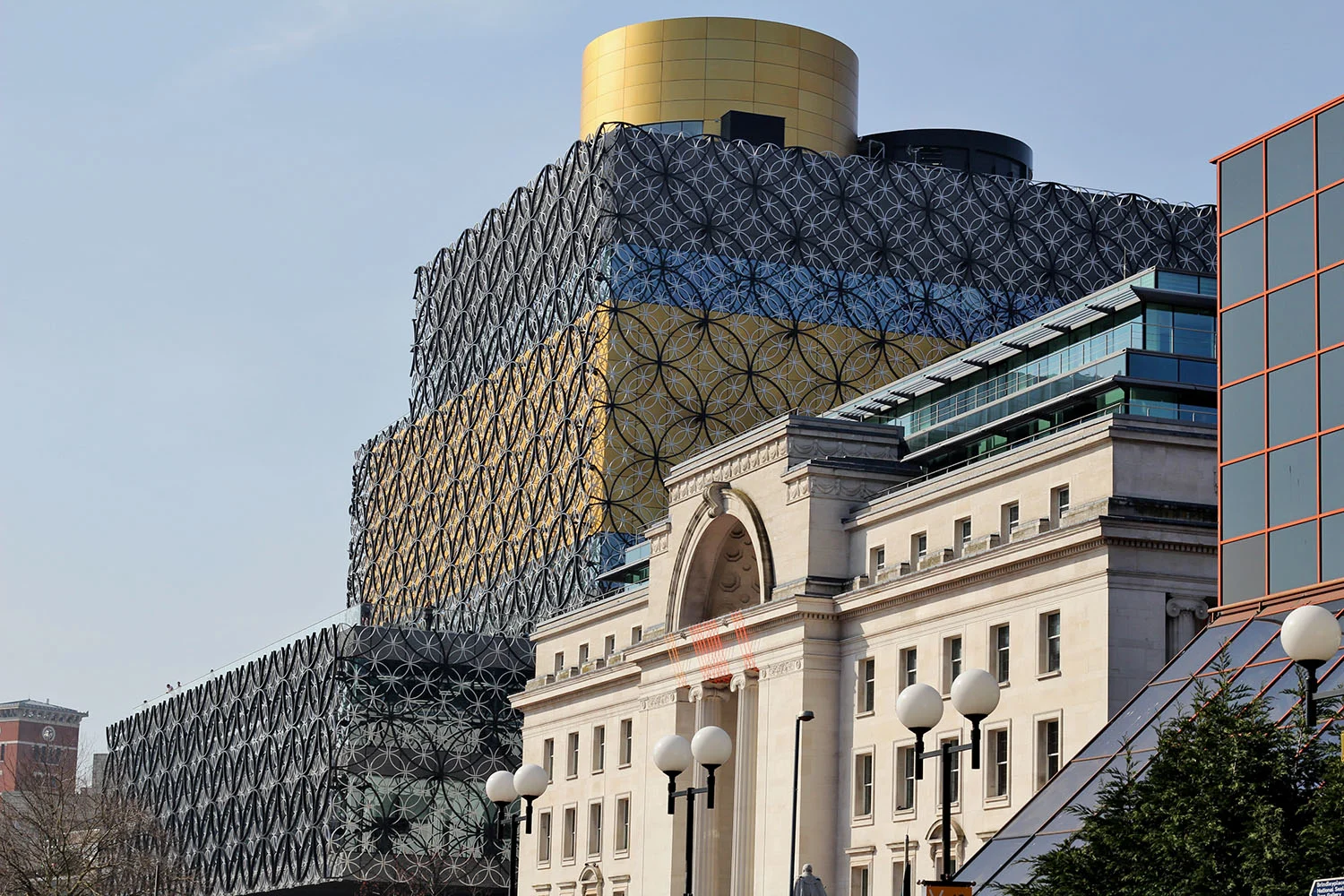 Arts and Culture in Birmingham
Library of Birmingham is the largest public library in Europe. As a rather controversial piece of architecture it's worth checking out at least for the Instagram pics. Take the lift up to the top floor to enjoy the outdoor terrace and views over Birmingham.
For more culture and entertainment you could try one of the city's theatres such as the Hippodrome, Rep or Alexandra. For film buffs check out boutique Everyman Cinema or The Electric – the UK's oldest working cinema.
Green Birmingham
I love how (almost surprisingly) green the city is, once you look past the first impressions you get in the city centre. Nearly 600 parks, and over 8000 acres of park land! That's more land dedicated to parks and open spaces than any other European city.
– Zoe Corkhill, Mama Geek
For some greenery head over to Canon Hill Park, home to the MAC (Midlands Arts Centre), or the Edgbaston Reservoir.
Shopping in Birmingham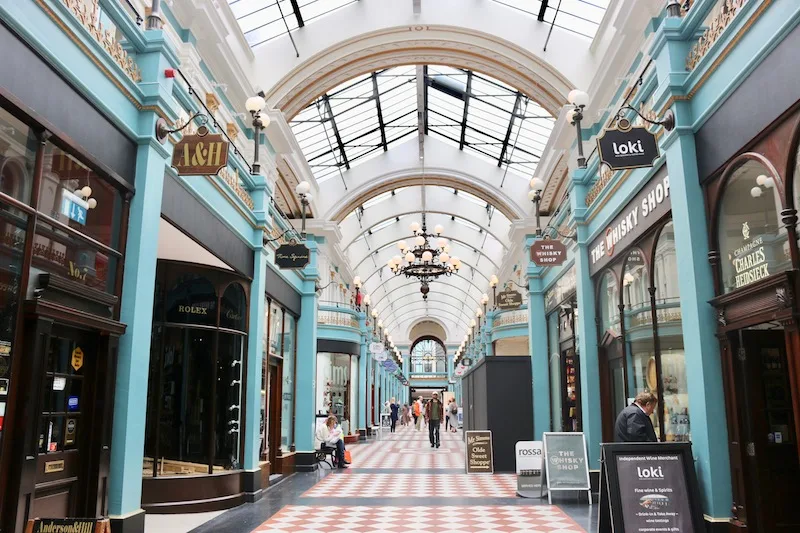 I love that Birmingham has such a compact city centre (compared to similar sized cities) that it's easy to walk around and has all the good city centre places within easy reach.
– Erica Price, A Little Luxury for Me
Shopping in Birmingham is awesome thanks to the walkability of the city. You can get around the main shopping 'areas' easily. Hit up the Bullring for all of your mainstream shops and the award-winning Selfridges. Head over to the Great Western Arcade for indie stores. And check out the Mailbox for luxury retail therapy – this is also where the AC Birmingham Hotel is.
And for something a bit different…
"I love what a treasure trove the city centre is for geocaching! Bit geeky but I love it. Helps you find new places too and explore the city in a unique way. I've made myself look like a bit of a prat sometimes, especially at the Floozie in the Jacuzzi, but such fun!"
– Holly Hancocks, Little Pickle's Mum
Birmingham has something for everyone, with a growing foodie scene, cool bars and shopping galore. We can't wait to visit again.
I teamed up with Marriott Rewards to create this post.