The gorgeous city of York is a must-visit for a weekend break in the UK and today Annie from Tales of Annie Bean is sharing her travel guide to York.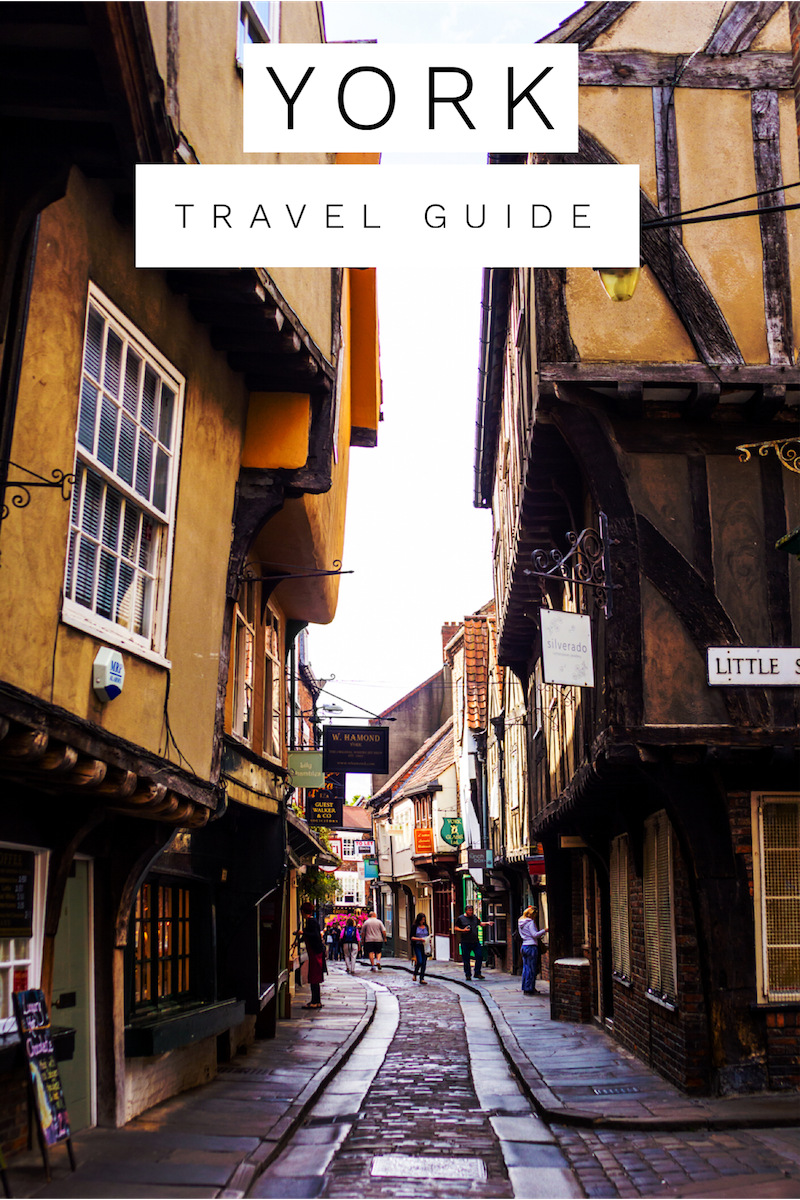 I'd visited York when I was a little girl, explored during my teens for school, had a few nights out during university, but finally had a chance to spend a long weekend there last year, at an age where I could really appreciate it. After being mildly obsessed with the Horrible History book series as a young girl, I have always been fascinated by British history and the various traditions, the ghost stories and the scandals that would go on. York seems to ooze all of the above, including great shopping and good food, so it is no wonder it attracts people globally.
Here's my guide to York…
Things to do in York
Explore the remains of the iconic York Castle. A tourist hotspot situated on top of a hill makes for a great visit, especially on a clear day when you can climb to the top and take in the view.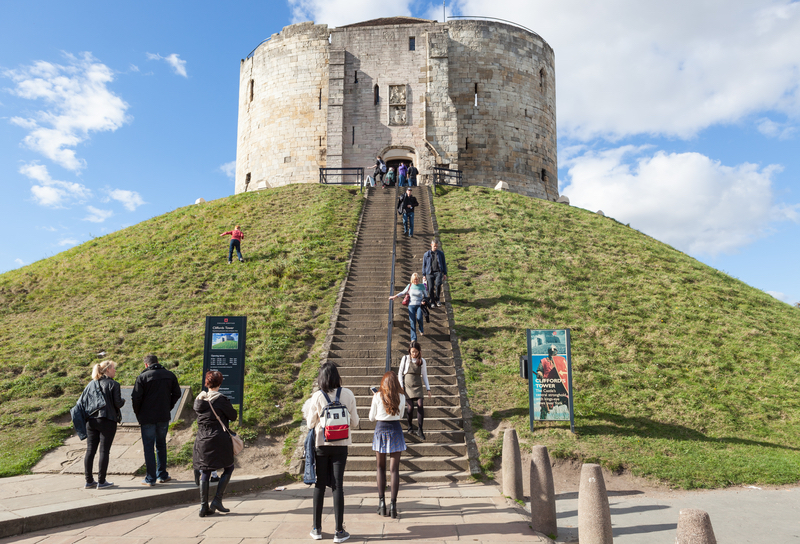 Bursting with artefacts from the age of the Viking, the once-flooded Jorkrvik Viking Centre really is a trip for a combination of historical facts and family fun! Get your history fix, and the chance to dress up in Viking attire – which even as an adult makes for a giggle!
An obvious choice for a trip to such a big city like York is The Dungeons. A guided quirky and Horrible History style tour through the ages of iconic events in York. A visual delight as you get to interact with history through the fantastic actor led experience.
If you're a fan of beer this is an awesome option. Established back in 1996 amongst the Micklegate Bar Walls, The York Brewery is an independent traditional brewery. Why not take the tour to learn how they make their tasty beers and even sample some!
This was one of my favourite experiences from my last trip to York. There are numerous ghost walks every evening across the city, each taking you on a walking experience of the historical locations. Terror Trail is one of the many and the one we decided to go on. It sets the scene perfectly for your evening as it starts off at the Golden Fleece, the oldest and most haunted pub in York.
Go for a drink in the pub which has more ghost stories than any in the area. It's dark and spooky but full of quirky character. When we went before the ghost walk, our booking ticket for the Terror Trail that evening moved without us touching it! So it is the ideal spot if you love a good spooking!
Get those legs stretched by venturing along the 3.4k of York's city walls. A great option for a clear day to take in the incredible views of the city, and stroll along the long-standing part of its history.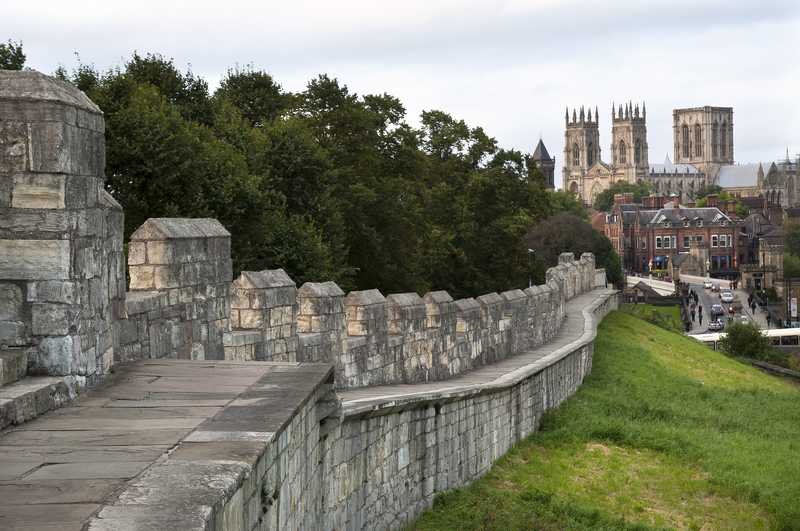 Henry VII Micklegate or Richard III at Monk Bar
Much like the Jorvik Viking Centre, the Henry VII Experience Micklegate and the Richard III Experience at Monk Bar, are both places where adults and children can interact with parts of history. Henry VII was the first in the line of Tudor Kings after defeating Richard III, and this experience centre gives you the chance to explore that part of history.
Unlike some historical locations, even if you don't go inside you cannot miss this incredible piece of architecture, mainly because of its grand towering over York. York Minster is so vast and with so much detail, that even if you decide not to pay to enter, you will find lots of interesting designs as you walk around it.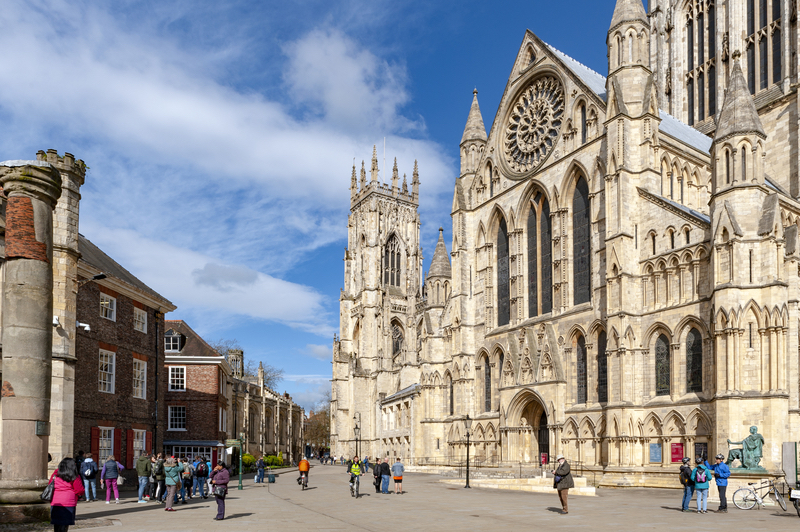 No guide to York would be complete without mentioning the Shambles!
The Shambles is like something out of Harry Potter resembling the alikeness of Diagon Alley. These cobbled streets are some of the oldest in Great Britain, so you really will be walking through pure York history. If you take a look around where the new modern shops are, you'll still see outlines of where there were hatches from the market stalls in the old days.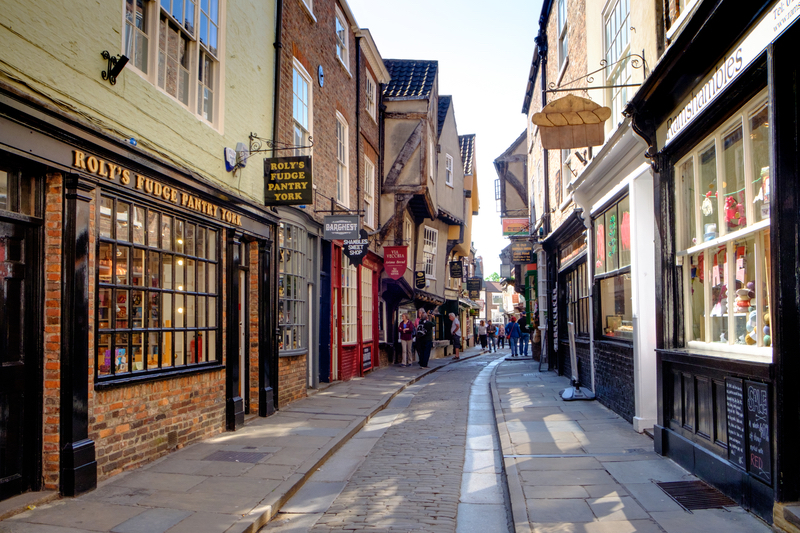 Favourite places to eat in York
The York Roast Co– Get your classic Yorkshire Pudding with your roast dinner lashings in a wrap! Does it get any better?!
The Shamble Kitchen– Known for its delicious sandwiches and salads. This cute place, perfect for lunch, is a fabulous little discovery when in The Shambles. You can get a healthy selection of food fast, but a firm favourite is the pulled pork sandwich.
Cote Brasserie– I know it's a little boring to include a chain, but when there is so much on offer around the city, it can be a little overwhelming when you're trying to get your bearings. It was super tasty, very reasonable, and a great place to watch the shoppers bustle by!
Favourite places to drink in York
The Nook– This adorable little cafe was a bit of a gem for us, we actually came back twice! The quirky decor and laid back atmosphere were really relaxing, we had a lazy brunch one day, then the following evening enjoyed live music from local artists and fantastic cocktails.
The Hop– Live music is always a bit of a fave, and this lovely venue on Fossgate was the pick of the bunch. A long, beautifully crafted bar from the street leads into a cavernous dining room, serving homemade pizzas from a woodfired oven, all to the sound of the flavour of the night on the main stage. The beer was pretty good too!
The Guy Fawkes Inn– If you like history, or fancy a change of pace, The Guy Fawkes, right opposite the Minster, is particularly intriguing. Grab a drink, wander into the garden and find the still-standing birthplace of the plotter himself. Yes, really!
Eagle & Child– This stoically British, real ale pub is just inside the city gates, surrounded by bookshops and high-end emporiums. On the ground floor is a busy, locally stocked bar and restaurant, however, as with most things in York, there's always more to it! Take the winding, creaky staircase up to the third floor and feel like you've gone back in time. Oak beams and vaulted ceilings lead to comfy bay window seats looking out far over the city. Be brought crashing back to the 21st century when you noticed the scrawled signatures of the Rolling Stones (in lipstick!) on the wall.
Where to stay in York
Hedley House– If you're looking for a place to stay that mirrors the city itself, look no further. Hedley House is warm, friendly, beautifully appointed and steeped in history. Just a short (and we mean short, 5 mins with a direct view of the spires the whole way), down to High Petergate and the cobbled streets of the old town, this gem of a boutique hotel gives you the best of both worlds, a relaxing and peaceful stay (yoga studio and hot tub, anyone?), parking, which is no easy task around the ancient city streets, and the soaring Minster a stones throw away.
The Principal York– With stunning views of the city wall and the Minster, plus DIRECT access from the train station platform, this has to be the best-located hotel in the city. After an extensive makeover a few years ago, The Principal is a stunning place to lay your head. The Orangery style restaurant is light and airy, whilst the wood panelled bar is dark and intimate, with a great range of local ales. The lower level Wellness area includes the original Victorian tiles too.
Top Instagram hot spots in York
The Shambles – This ridiculously cute cobbled street is the ideal location for an Instagram worthy snap. But get there early though as by 9 am this place will be filled with people, and that epic photo won't happen!
Clifford Tower – Standing on the top floor of the Clifford Tower looking out to the York City Centre. You could really look like the King or Queen of the castle – what is not to love about that?!
York Minster – With the beautiful architecture of this grand building, it can't be dismissed for an Instagram photo. Either standing on the stairs or positioned below, you'll capture a shot that gets all that fine detail in making it instagram impressive.
Where to shop in York
One of the best things about York is whilst there is history it still offers the modern desirables, particularly where shopping is concerned. As mentioned you have The Shambles, which is endearing, quaint and is bursting with boutique shops, or you can go for a bit of the commercial side of shopping in The Coppergate Centre. Whichever you decide to go for you'll certainly be in a shoppers delight!
Bonus Tip!
If you want to spend your time in York exploring these historical sites, I'd strongly suggest two things. Go everywhere early, especially places like The Shambles where it will be busy because of people wanting to shop and those wanting to explore its history. The second is to get yourself a York Pass from the Tourist Office, this will give you huge discounts on entrance fees to places and discounts on merchandise. Find out more about the York Pass here.
---
Annie is a travel, fitness and lifestyle blogger of award-winning blog, Tales of Annie Bean . Starting her blog in 2011 after living in France, she began to travel the world and writing about her experiences. Travelling a lot as a child with parents in the travel industry, Annie has a keen eye for the best in travel. She works in video production but freelances and blogs her passion on the side. Alongside travel she does a lot of fitness coverage, whilst training to become a personal trainer. Due to her active nature, she always tries to incorporate the adventurous side of travel.