It's been more than a year now since Sam finished my blogging office, a small cabin in the garden just for me and my work.
When you live in a fairly small house with two children it can be difficult to find any space just for you. The boys come in to my office from time to time, usually to show me things they've found in the garden and I have to call upon my acting to skills to feign amazement at yet another leaf or twig or stone, but it's quite a boring space for a one year old! For a 30 year old blogger, however, it's anything but boring.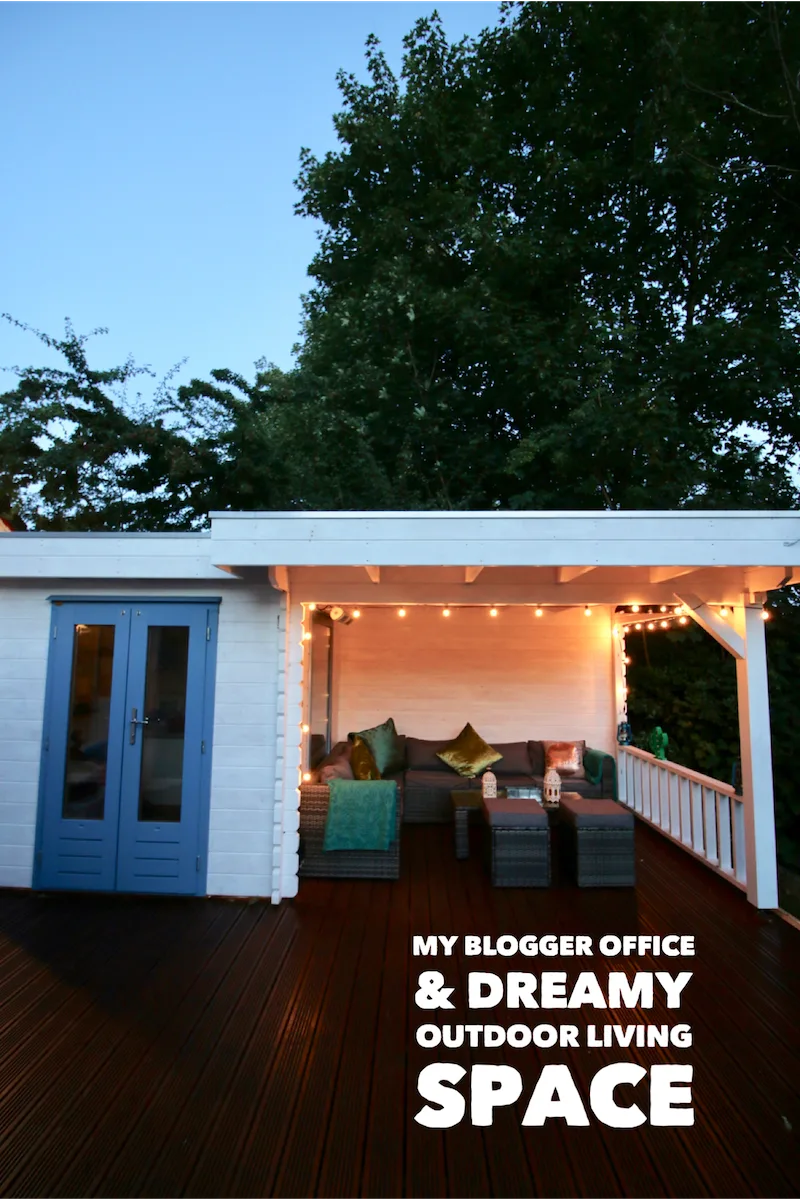 I feel so lucky to love my work as much as I do and it's because of this that I love being in my office. When I'm at home and not travelling, I spend two mornings a week in here.
At 7am I go in and turn the heaters on and return at 7.45am after I've dropped the boys off at nursery. At this point it's stiflingly hot and smells exactly like a Swedish sauna.
Here's a weird fact about me: I love it when it's stiflingly hot and stuffy and warm and cosy. I love the fresh air when I'm outside but when I'm inside I like it hot. I think it comes from my dad who is the complete opposite and will open the doors and windows and turn off the heating at the tiniest glimpse of sunshine, no matter what the temperature is outside. It doesn't surprise me that my dad usually takes him jumper off before he even walks through my front door!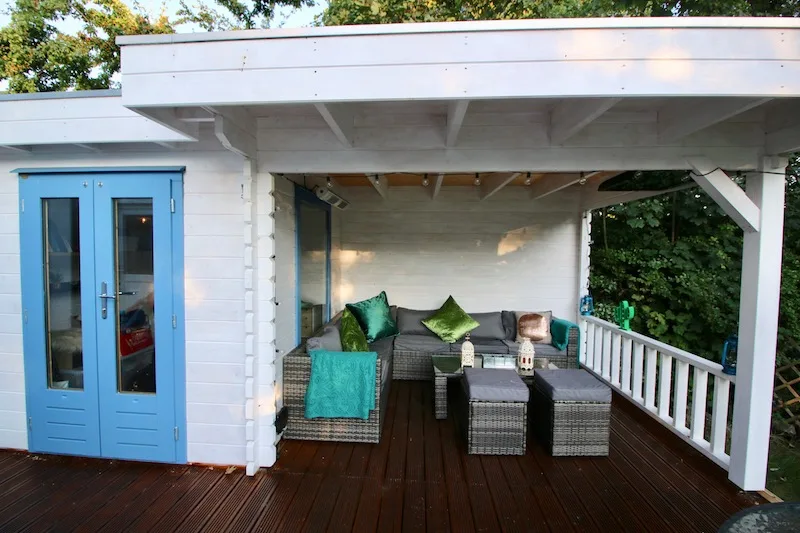 So I go to my office at 7.45 with a strong cup of tea in an enormous mug, which I know will keep me going for at least 10 minutes!
Despite tightly shutting the doors behind me I can still hear the birds outside and I love this. It with thanks to our next door neighbour there are so many birds in our garden. We live next to a river and there are lots of trees, but our neighbour has more variety of bird feeders than I ever knew were available. I'm sure birds come from miles around for the buffet she provides.
Sometimes their chirping is so loud it doesn't feel real and I expect to look over my fence and see a Disney princess combing her hair while she sings to the birds and they bring her flowers. I usually just see two enormous wood pigeons humping and I awkwardly look away like I've spied a private moment.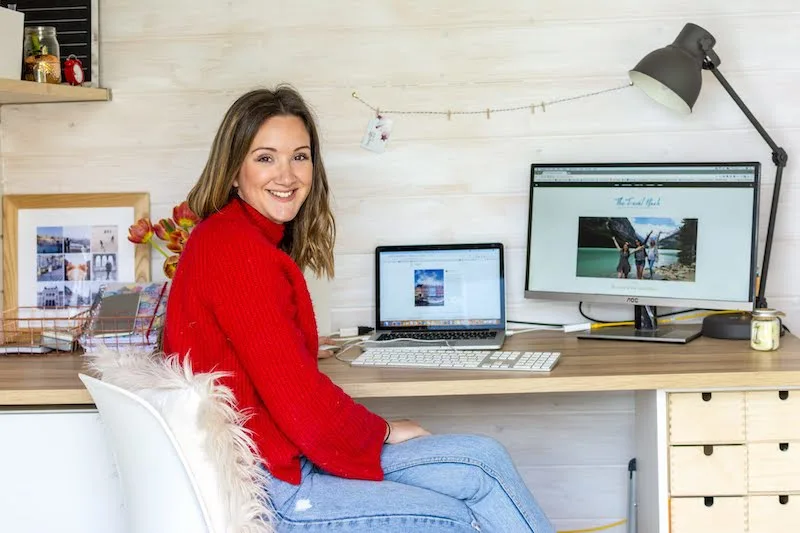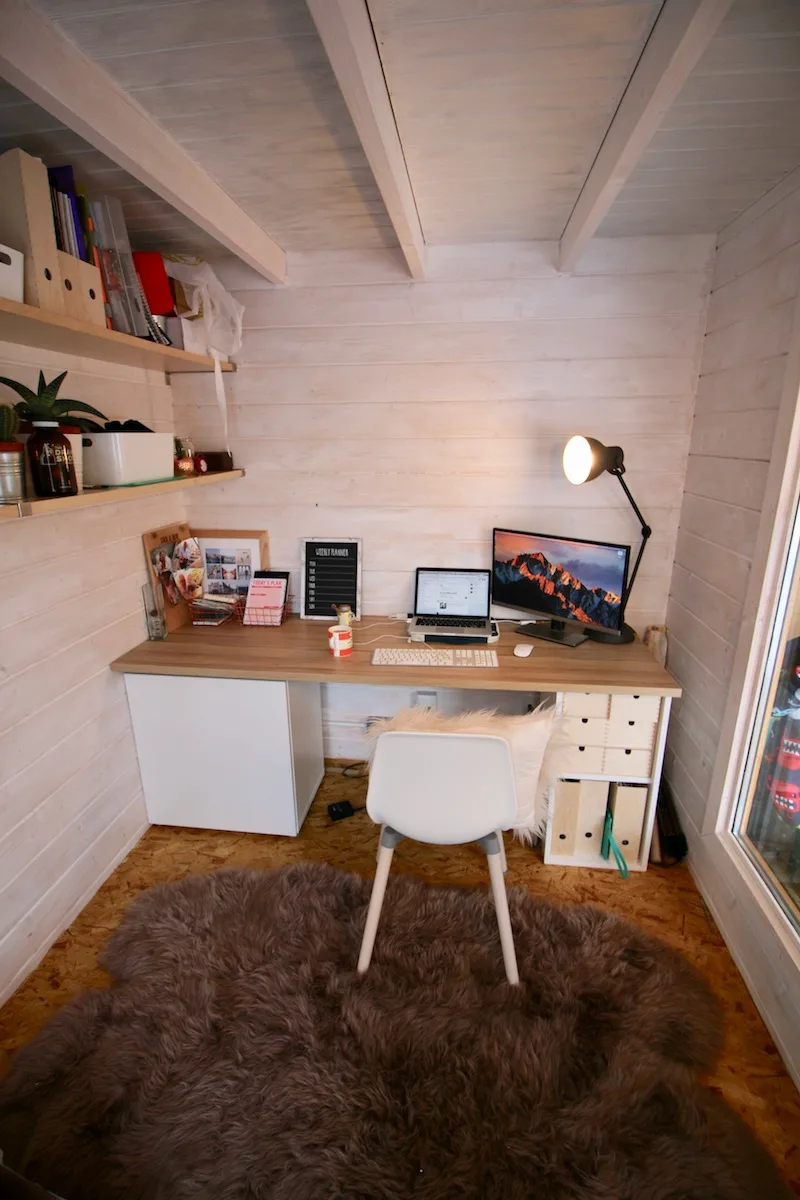 So I'm in my office, birds chirping (and humping) with my giant mug of tea and I turn on my computer and I just feel so relaxed.
This is my happy place.
This is where the magic happens.
This is where I get shit done.
I love my mornings in my office. All I do is type up notes, edit photos, edit videos and write about my travels, but this is where I relive every holiday moment. It's also where I spend a lot of time chatting to Elle Croft about blogging!
Sometimes I enjoy writing about my holidays as much as I enjoy the actual holiday. Sometimes, when you're away, there's so much going on that you don't really appreciate the moment properly. It isn't until later when you think about it and relive it and you realise how special it was. And that's what I do when I'm in my office.
Louie, my dog, always comes with me. He sits on the sheep skin rug as close to the heater as he can possibly get and he snores loudly while I work. His snores are so distracting and I regularly give him a nudge to get him to stop but I don't have the heart to turf him outside. Occasionally I do and he goes to the large window to my right and sits and stares at me with the biggest, saddest eyes. He doesn't move or even blink for minutes on end and I realise his eyes boring into me are more distracting than his snores so I reluctantly let him back in.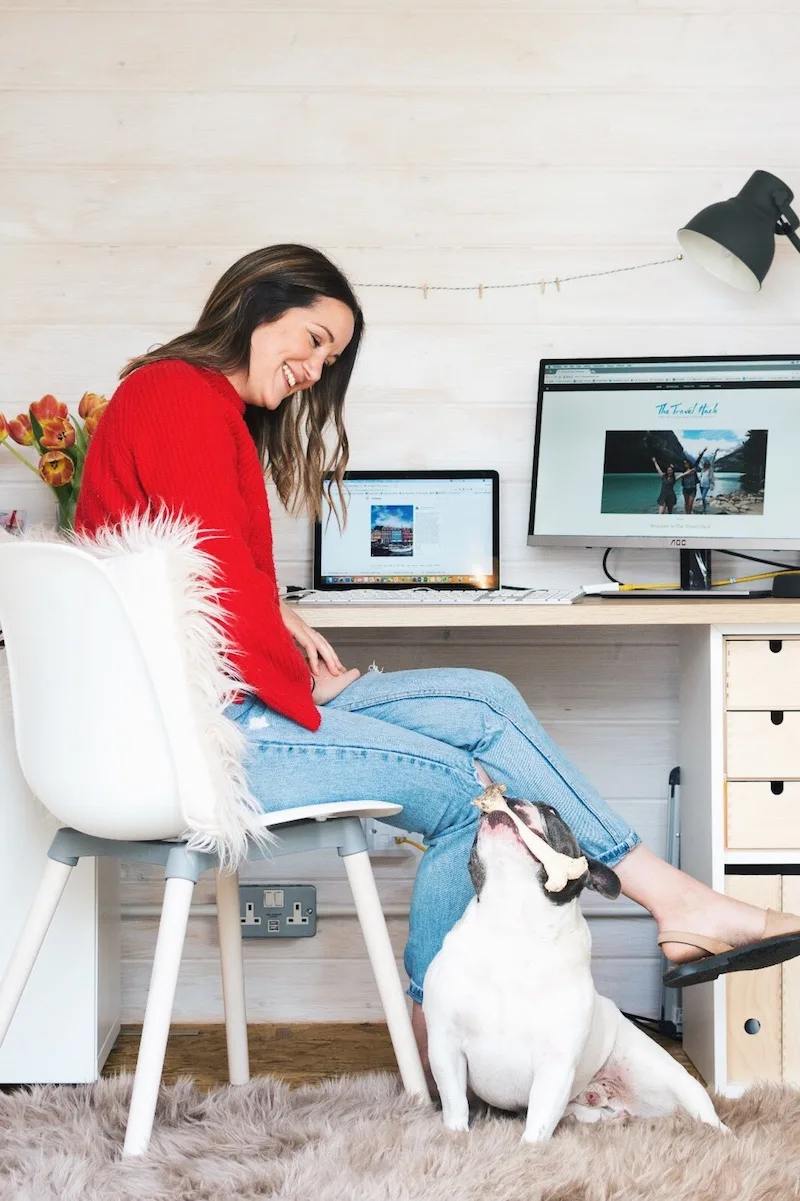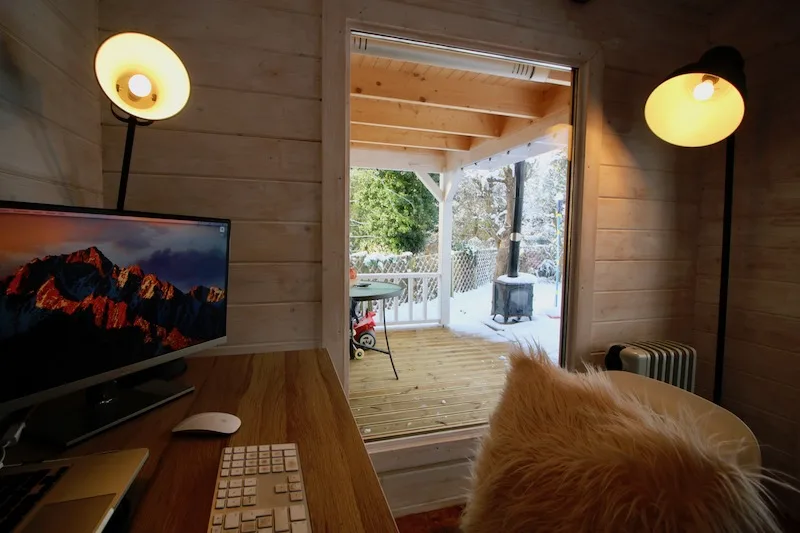 I don't actually do a lot of writing in my office.
I write late at night, the only time when my mind feels still enough to string words together and I'm not distracted by emails and social media. I write the old fashioned way, with a notepad and pen but I type them up at my office desk and I love the way my late night thoughts become real on the screen. And then even more real when I see real people reading them, then real people from around the world emailing me to tell me about their lives an their thoughts and their stories too.
I know that from this blog post people will email me and tell me about their little office spaces and share how much they love theirs too. I can't wait to see these emails.
My blogger office – The details
We bought my office from Keops Log Cabins. It's from the Lugarde range and you'll see they're very flexible and you can basically do whatever you'd like with them. Sam designed the whole thing and we saved money because Sam built it all (it arrived like flatpack furniture) and he treated the wood and painted it.
A big expense was the decking Sam built it on. Our decking is huge and admittedly didn't need to be this big but it's the most incredible outdoor space and makes the cabin feel like a whole extra room.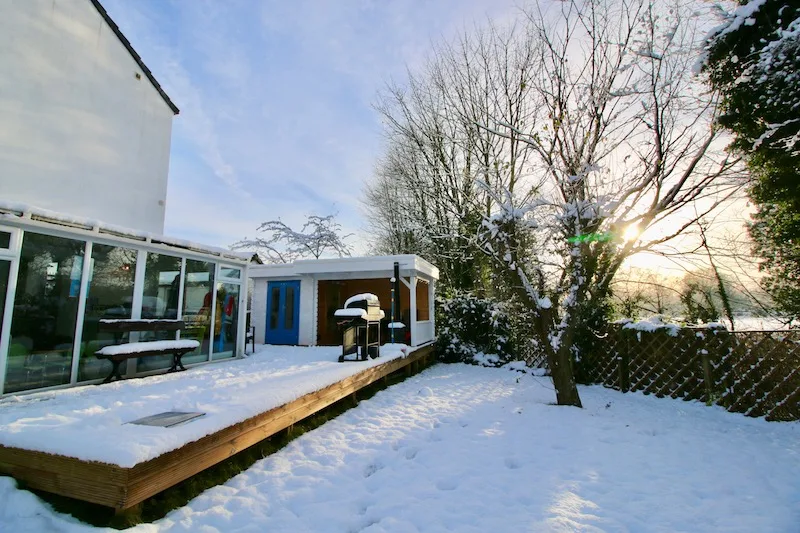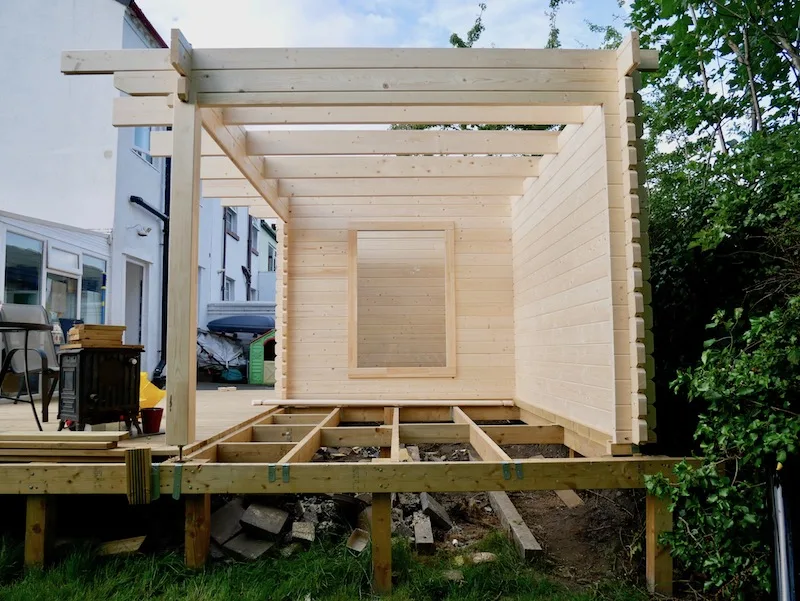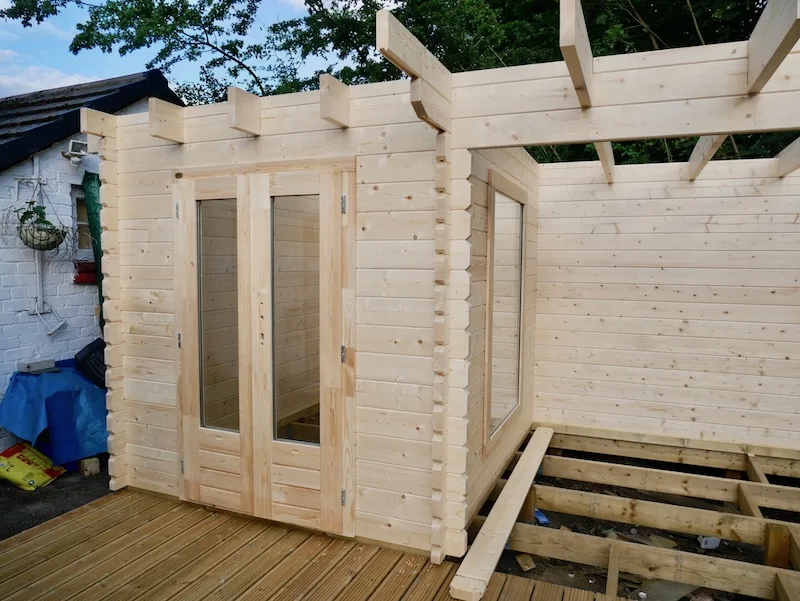 In hindsight, we wished we'd paid for the cabin to be preserved and painted before it was delivered. We had many summer's evenings (and many summer arguments!) spent painting it and it still isn't properly finished.
The sheltered outdoor area is my favourite part. It's heated and we also have an outdoor log burner, the BBQ nearby and a TV in there. It's an old TV so we use a FireStick in it to watch Netflix and use Amazon Music. It's lit with magical little fairly lights and lots of pretty candles.
We don't have much choice with the candles. As we're next to a river we get lots of mozzies and bugs and Sam is like a bug fighting ninja with his array of products to repel them. It sometimes feels like a church with the amount of bug repelling candles we have, but it's a nice excuse to light them all every evening and they smell incredible!
This outdoor sofa was a 30th birthday present from my mum and dad (is that not the most grown up birthday present ever!) and the heater you can see to the left in this picture below was from Amazon for £90. It's just an outdoor heater like you'd find in a pub and it gets SO hot. The lights are also from Amazon. We also have these lights around the trees in the garden and they look really pretty.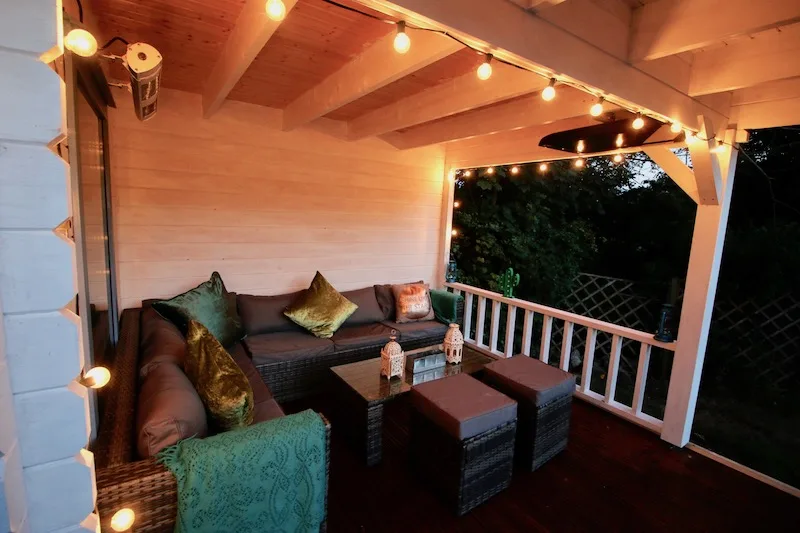 So there you have it. My blogger office! What do you think? Do you have a similar space or would you like something like this?