Today's blog is a Forest Holidays Review from my gorgeous stay with Forest Holidays at their Sherwood Forest location.
We have had two family holidays with Forest holidays, the first being to Sherwood Forest in the summer and the second was to Forest Holidays Ardgartan Argyll in Scotland in the winter. They were both very different but equally wonderful experiences so make sure you check out the Scotland post too to see the differences!
Here's my experience of staying at Forest Holidays Sherwood Forest…
---
"The NHS should prescribe this for stress," I thought as I sat back in the steaming hot tub, took a sip of champagne and looked up at the stars.
If you're feeling stressed or like you need to get away from it all, get yourself to a log cabin in the depths of a forest, pop a bottle of bubbly and sink into a hot tub and feel your stress slip away into the bubbles. After a long weekend you'll feel like a new person, I promise.
A few weeks ago, Sam, George and I headed down to Sherwood Forest in Nottinghamshire (yes, the home of Robin Hood!) to spend a long weekend with Forest Holidays. We were joined by some friends who were recently married (hence the bubbly) and had one of those gorgeous, relaxing weekends filled with hikes, pub lunches, lazy mornings and lots of laughter.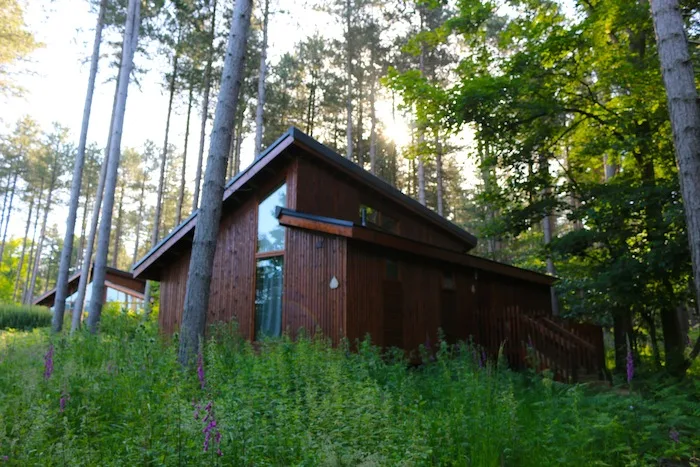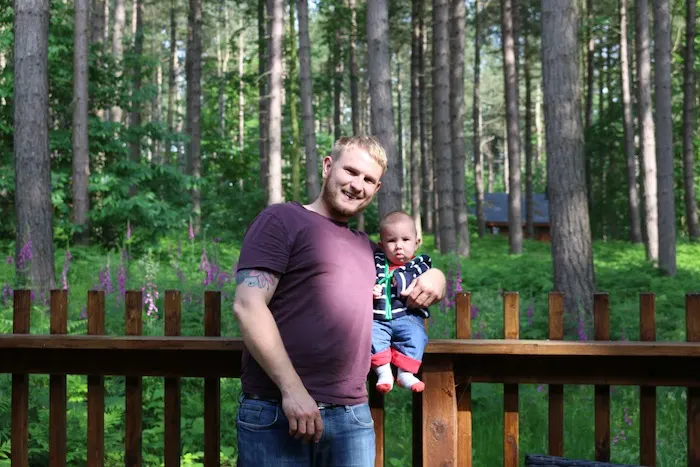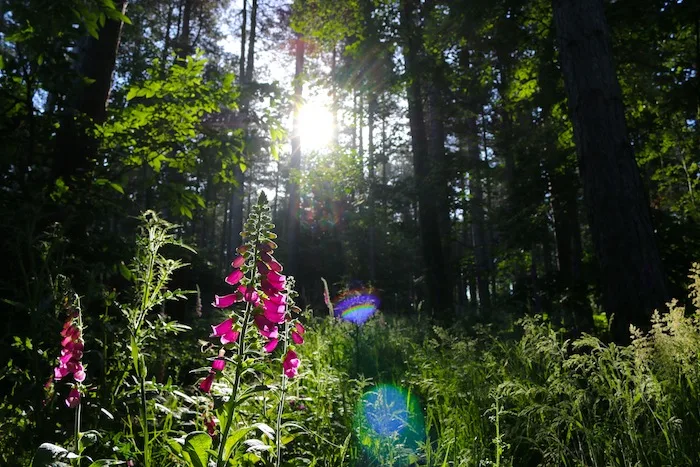 Forest Holidays have luxurious cabins in nine woodland locations around the UK. They focus on 'simple luxury' – my kind of luxury holiday.
The 'luxurious' side includes things like a gorgeous, fully equipped cabin with underfloor heating, private hot tubs and a great multimedia centre (that you can use to order stone baked pizzas btw).
And the 'simple' side comes from the fact that when you're in such a stunning location, what more do you need than enormous floor to ceiling windows to enjoy the views?
It's the kind of place where you want to turn off your phone, forget about every worry that normally occupies your busy mind and just relax.
Forest Holidays Sherwood Forest Review – A typical day with Forest Holidays
We didn't close our curtains at night – there was no need as we weren't overlooked – so every morning we were awoken by the sun streaming through the trees. This wake-up routine was quickly followed by the babbles of a baby, eager to get up and explore.
We'd enjoy breakfast in the sunshine on our veranda while surrounded by impossibly tall trees and the sounds of the forest and sunbeams streamy through the leafy canopy.
Next up we'd take a hike through the forest. Forest Holidays cabins are in Sherwood Pines Forest and the 'official' Sherwood Forest is just a short drive away. We mostly stuck to Sherwood Pines Forest as it's so big and there are so many walking trails. For us, one of the best things about the walking trails are the fact they're pushchair friendly. I thought we might struggle for 'baby-friendly things to do' as it's all very outdoorsy but we were totally fine.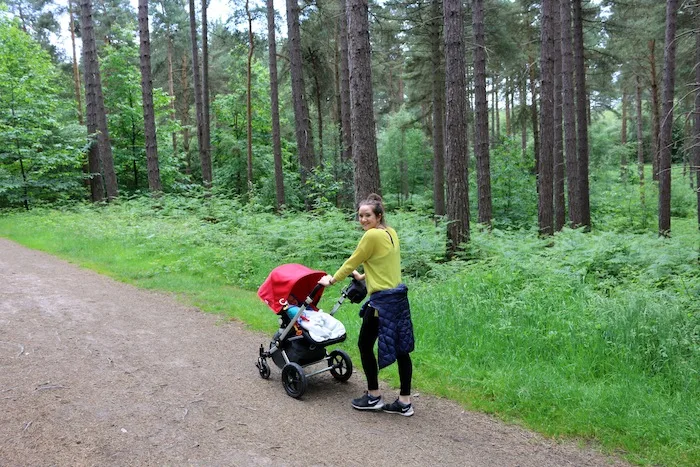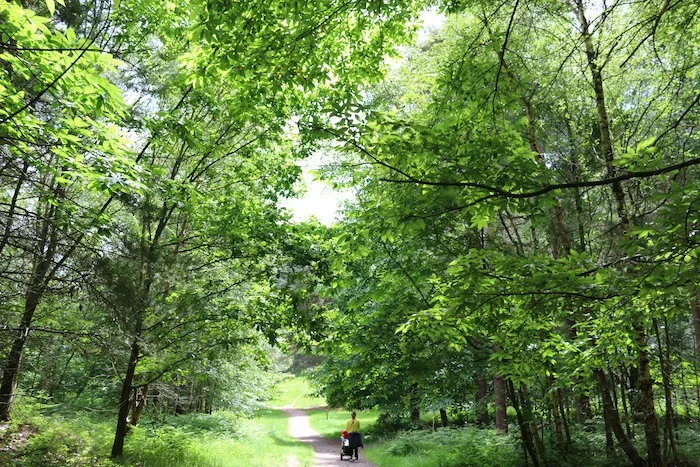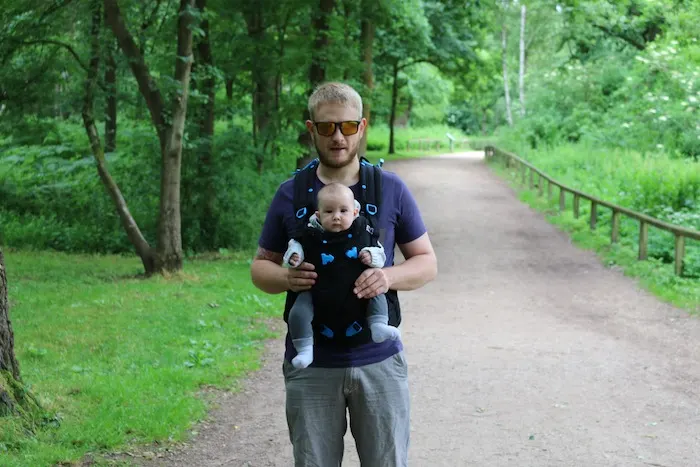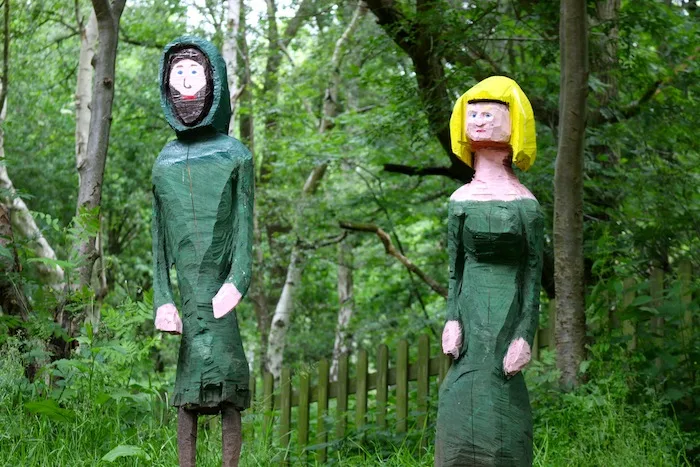 Robin Hood and Maid Marian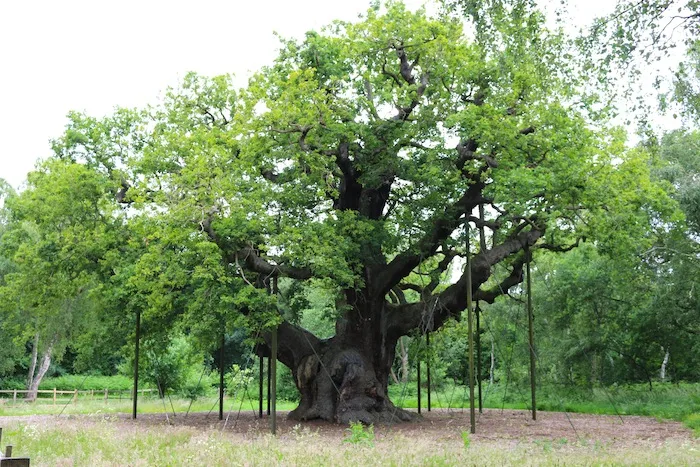 Major Oak in Sherwood Forest – This is where Robin Hood used to meet up with all of his merry men.
I'll be honest, we spent a lot of time at the Forest Holidays reception/shop/bar/café. They served beer, wine, cheese toasties and local ice creams (four of my favourite things!) and it was a lovely, sunny location in the forest. We were very happy to while away the afternoon here before heading back to the hot tub. We'd have a quick pre-dinner dip before putting George to bed and lighting the BBQ.
Once the sun sets, the forest changes completely. It becomes mystical and eerie but still in a beautiful way. We could see cozy golden glows from other cabins hidden away in the forest but, other than that, the forest was illuminated by nothing but the stars and the moon.
Gazing up at the Milky Way and floating in the hot tub was when I had my epiphany about this being the ultimate stress buster! Just thinking about it now and I'm longing to go back and do it all over again.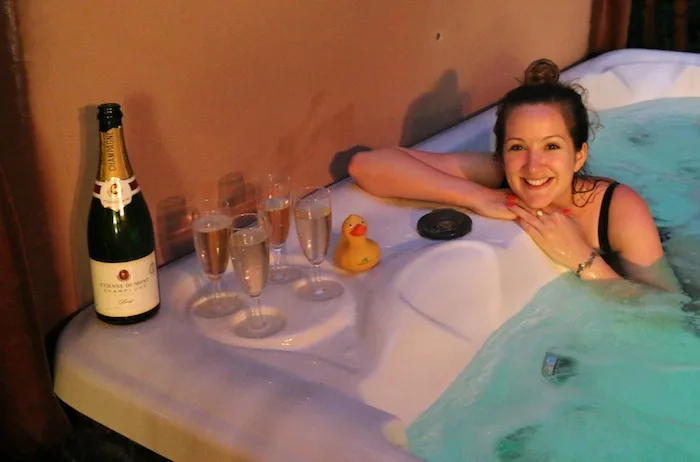 Forest Holidays Cabin Review
We stayed in a Silver Birch cabin which is described as 'affordable quality'. Forest Holidays have Copper Cabins that are more basic and Golden Oak which are the luxury cabins.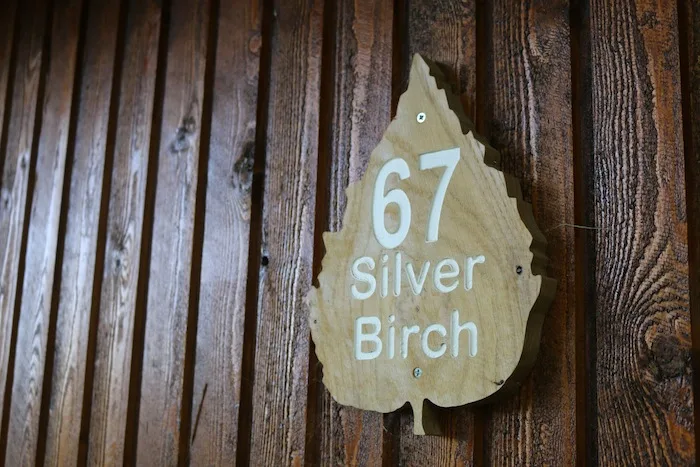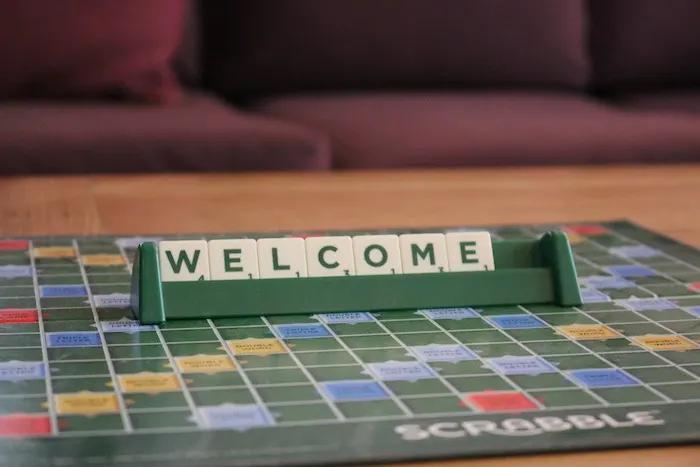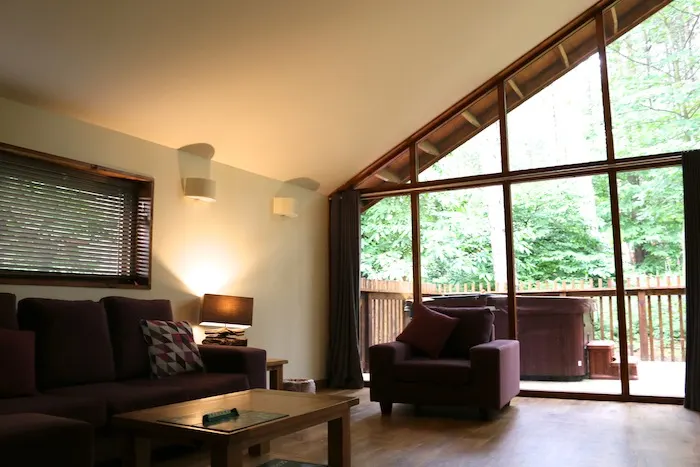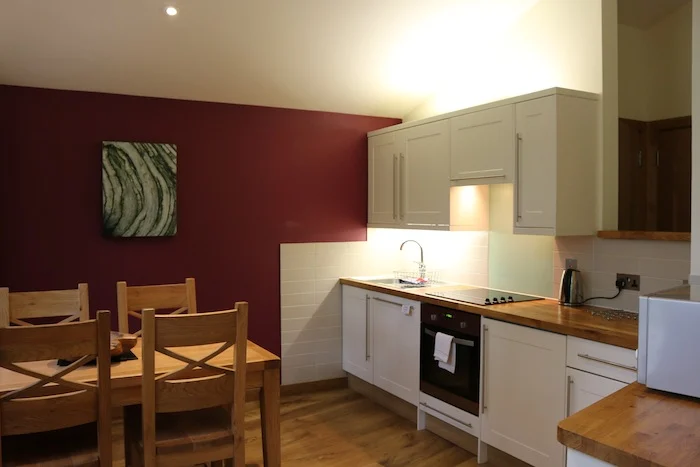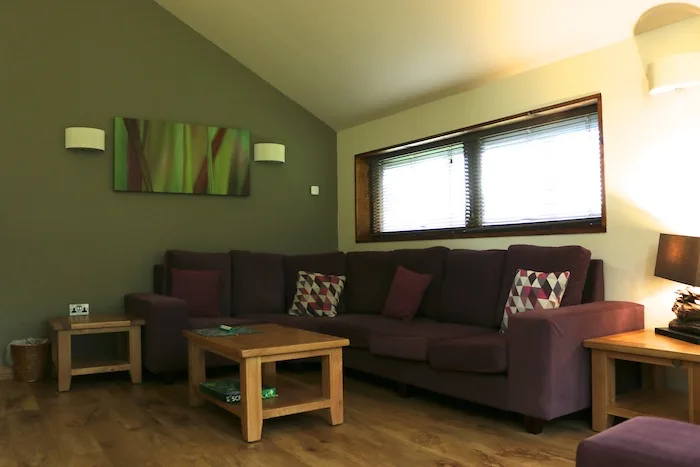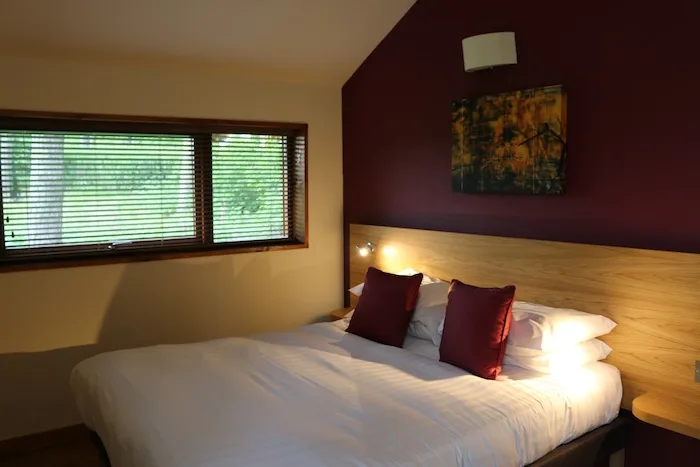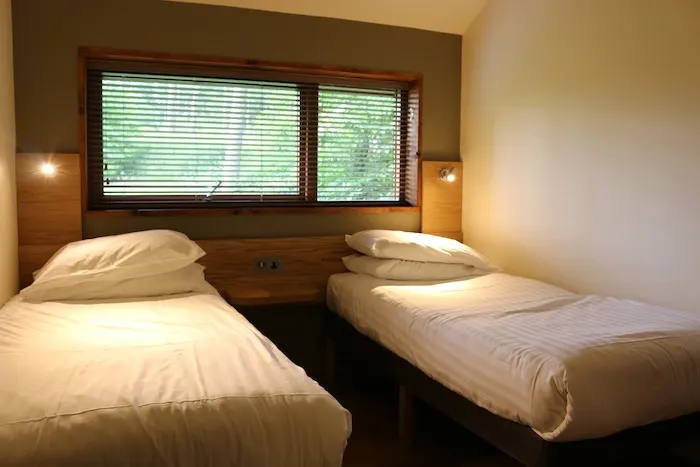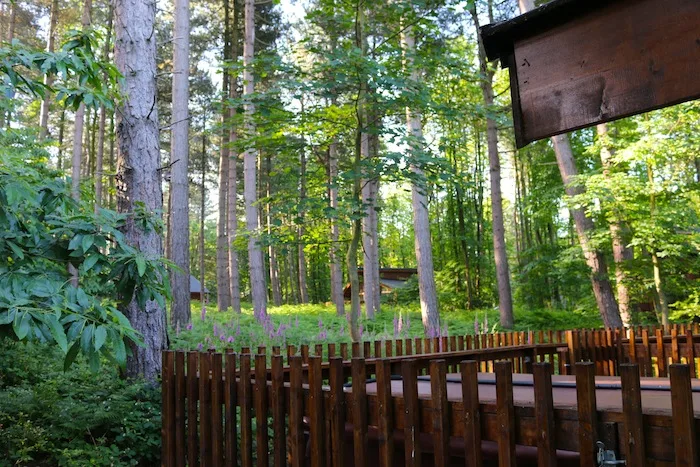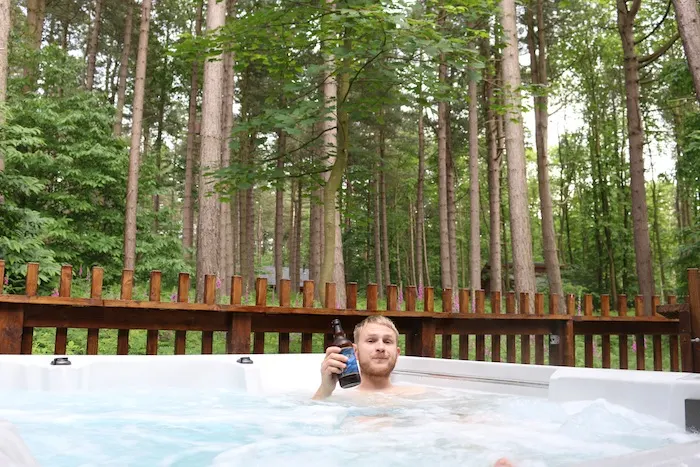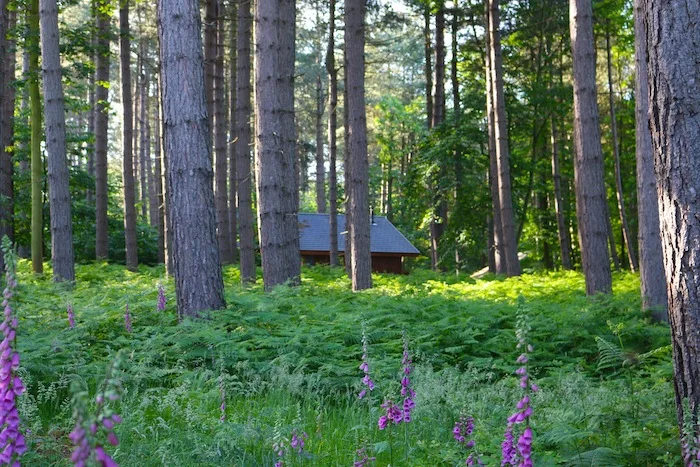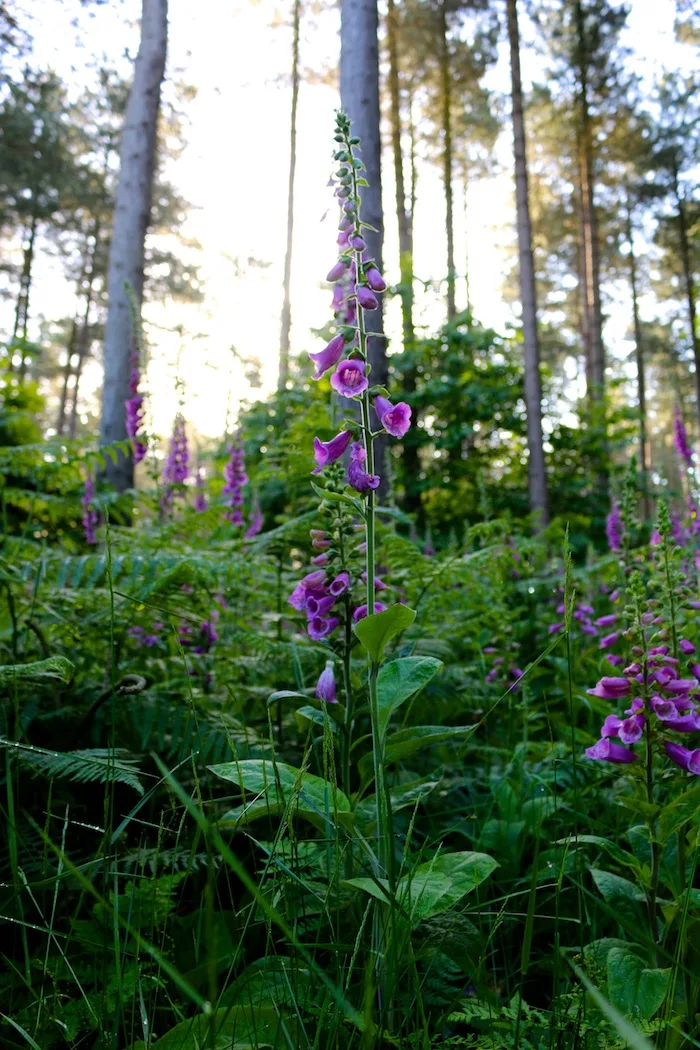 The Silver Birch ticked the affordable quality boxes perfectly. I absolutely cannot fault the cabin at all.
The booking system was also great and I received regular updates via email once I'd booked. I received things like a packing list, directions and ideas for things to do. I also had updates about the Forestry Commission Festival which was taking place while we were there. These emails were very much appreciated for a busy new mum who barely has time to brush her hair, never mind research holiday destinations.
When we checked in, the staff were super friendly and helpful and we had a guy who came and checked our hot tub each morning. We had a baby cot at no extra cost but it didn't come with any bedding (which I later found out is pretty standard and most accommodation providers don't give baby bedding for hygiene reasons).
My only issue with the cabin is that they didn't provide towels. I was well aware we needed to bring our own towels thanks to the helpful emails, so it wasn't like it was a surprise and we were towel-less for the weekend, but even the Silver Birch cabins are fairly pricey so I do think towels should be included.
Forest Holidays Hot Tubs
Having a hot tub was really what made this holiday so special and, if you're torn between Forest Holidays and another accommodation provider, I would 100% go for one with a hot tub. It was a lovely and relaxing way to enjoy the forest and also gives you something to do outside, even when it rains.
A hot tub is also a nice activity that brings together the whole family, even grumpy teenagers who are usually glued to their devices! And if you're an early bird, there is nothing better than an early morning dip in the hot tub before everyone else wakes up. You'll hear the forest come to life and if you're alone you can sit quietly and watch all the forest creatures busily go about their morning routines!
Forest Live with Forest Holidays Sherwood Forest
The weekend we were in Sherwood Forest was the weekend of Forest Live, a festival in the forest run by the Forestry Commission. There were three acts across three nights and they tour the country playing in different forests.
On the Friday night it was Tom Odell, on the Saturday it was The Vamps and on the Sunday it was Paloma Faith. We got tickets to watch Tom Odell and Paloma Faith and it was amazing and such a great location for a mini festival. They played in a big opening in the forest but it was magical to be surrounded by trees.
It was also great to be at a 'festival' but without the grossness of festivals. The toilets were all clean and you could get served at the bar in under a minute. Maybe I'm getting old but that's my kind of festival!
We didn't get tickets to watch The Vamps but we could hear everything from our cabin so we had our own mini festival from the hot tub.
We loved being able to hear the music and it wasn't loud enough to keep George awake – but it is worth noting when the Forest Live concerts will be on if it's something you'd rather avoid.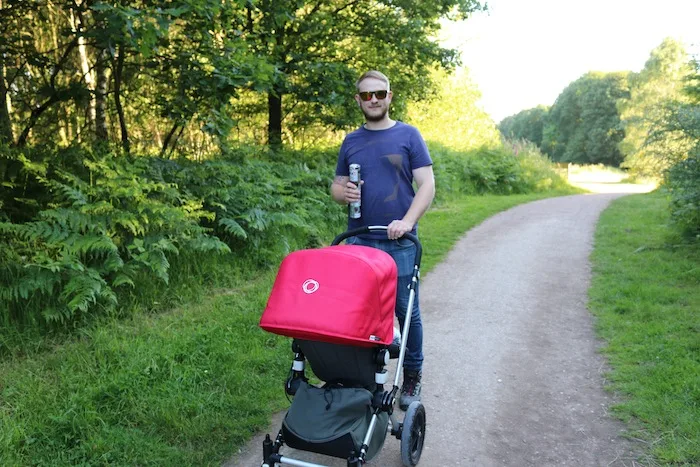 Walking down to the concert to watch Paloma Faith. I wasn't allowed my camera inside 🙁
What to pack for babies during a Forest Holiday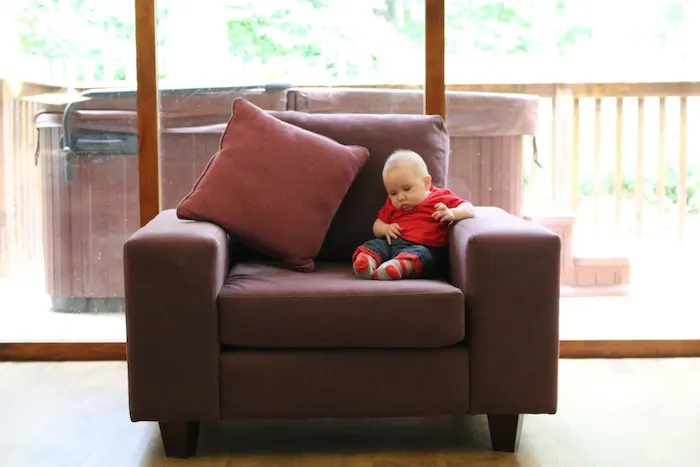 A pushchair with great suspension – Provided you have good suspension, you'll be able to take your little one along most of the walking trails in Sherwood Pines. We have the Bugaboo Chameleon and it's perfect.
A baby carrier – If you do want to go off and explore then a baby carrier will make it much easier. I'm a big fan of the Pao Papoose by We Made Me.
A cool bag – This is perfect picnic territory so fill your cool bag with tasty treats (and milk).
Swim nappies – If you want to take your little one in the hot tub. The tubs are emptied and refilled with each new guest and didn't feel as though they had too many harsh chemicals in them.
Baby bath – These weren't available at Sherwood Forest (although a kitchen sink is perfectly fine!)
Baby bouncer – If you can fit it in the car, take it! There's plenty of space and it keeps them entertained while you relax. I always find it hard to travel with babies before the can crawl because there isn't much they can do without being constantly held.
Sun hat and sun cream – I'm always the optimist!
And there you have it. My Forest Holidays review. Massive thanks to Forest Holidays for inviting me to Sherwood Forest.
Are Forest Holidays pet friendly?
Yes, you'll be pleased to know that you can take your dog to Forest Holidays cabins, including Sherwood Forest. You have to pay an additional £15 per pet per night, which I think is a bit steep but I suppose they have to account for the pet owners who leave a mess and leave dog hairs all over the sofa!
You can take up to four pets per cabin, which sounds like a lot but the cabins are really spacious so I don't think it would feel too crowded even with four dogs.
You do need to book a dog-friendly cabin (half of their cabins are pet friendly) so it might be worth booking a little earlier to ensure you get that pet friendly accommodation.
Sherwood Forest is the perfect pet friendly location as it's all about the outdoors and going for long walks. Having your own self-contained accommodation also makes it really easy to make it pet friendly. The outdoor decking area is also safely enclosed so it's fine to let your dog wander about on your decking.
My dog loves staying in holiday accommodations where we're all one one floor too. He's not allowed upstairs at home so it loves being in a bungalow where he can follow us into our bedrooms (and usually to the bathroom too!)
Golden Oak Treehouse
If I were to visit Forest Holidays Sherwood Forest again I would 100% stay in the Golden Oak Treehouse. It looks incredible and would be such an adventure for children. This would be a magical family weekend break destination and I'm very tempted to book for a cosy winter adventure. I loved visiting Sherwood Forest during the summer but I think it would be equally wonderful in the winter – plus we're always looking for exciting weekend breaks during the long, dark winter months!