If you're looking for an affordable and unique weekend away then glamping in a yurt might be the perfect option….
I remember a time when camping holidays in the UK were something to be dreaded. Cold, wet nights were spent eating burnt BBQ food while huddling under a canopy to stay dry. I always ended up sharing a tent with our Labrador who stank in a way that only wet dogs can.
These days, camping has had a luxury makeover and suddenly, camping is cool. When did this happen? When did we trade in our basic equipment for high-tech gadgets and tents that actually keep you dry? And if you're feeling particularly glamorous you can switch your tent for a yurt or a tree house or a teepee!
Welcome to the wonderful world of glamping – or glamorous camping – and what a wonderful place it is to be.
I spent the weekend glamping in a yurt near Hay-on-Wye, a border town between England and Wales in Hereford. Hereford has more than its fair share of glamping options and I'd chosen a yurt in Brilley.
We drove there through country lanes, putting all of our trust into Google Maps as we quickly lost our bearings with all those winding roads and rolling hills.
"This can't be right,' we muttered as we turned down yet another narrow lane where sheep grazed peacefully and there didn't appear to be another soul in the world.
We arrived in Hay-on-Wye just in time for lunch and a stroll around the beautiful little village. Hay (as it's often shortened to) is best known for being the 'town of books' and is the National Book Town of Wales.
Each one of the crooked streets is filled with secondhand bookstores.
I could have spent hours in Booth Books, Europe's largest second hand bookstore. It's a place with creaking floorboards and wonky shelves, leather bound books piled high and worn sofas you could sink in to for an afternoon as you get lost in all those stories.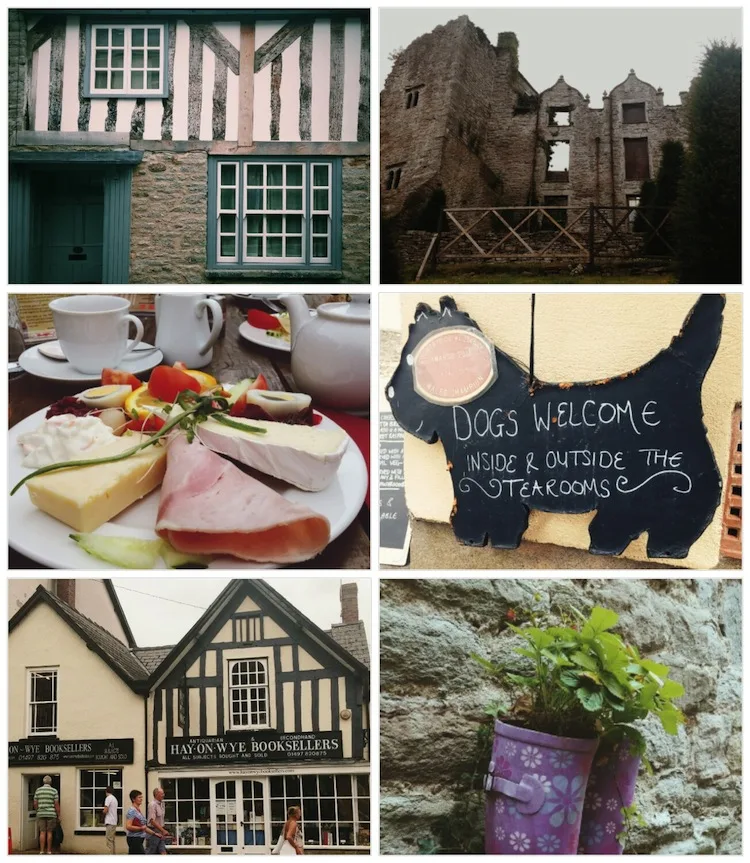 Loaded with books, we finally dragged ourselves away from Hay and drove the short distance to New Inn Brilley.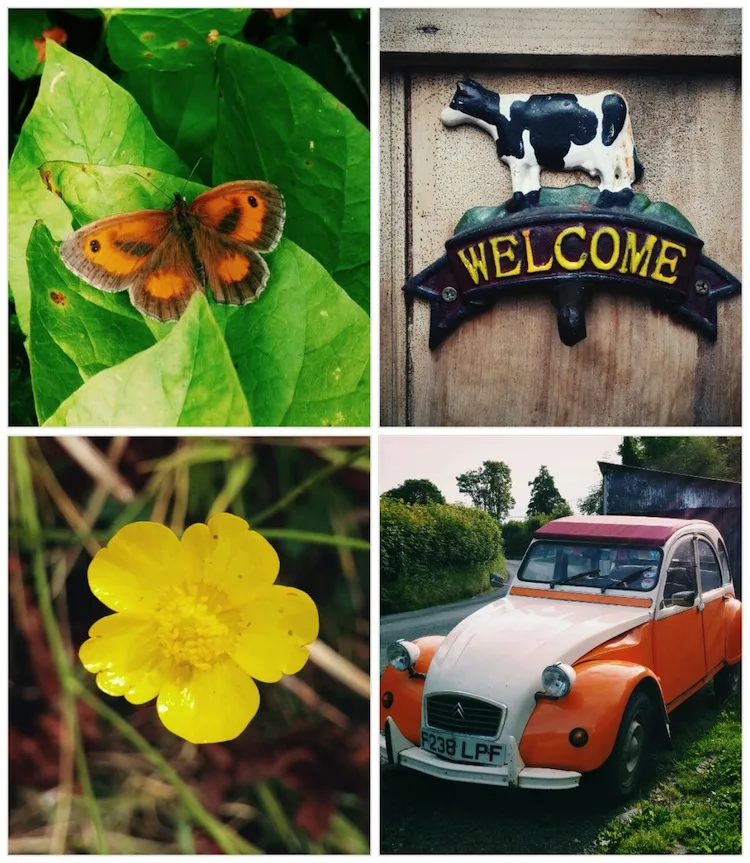 Glamping in a yurt
We were greeted by prayer flags and flowers as they spilled out in a colourful welcome from the main house of the B&B. Daphne, the owner, came out to meet us and we instantly fell in love with her. She's the kind of person you'd want to sit and chat with for hours. She's warm and welcoming and has created a peaceful, spiritual and homely atmosphere.
This is a place where you can't quite tell what was created my nature and what was created by man.
Trees seem to have fallen in the perfect spot to create a bench and little stools around a table. Branches sneak through windows to provide the perfect canopy from the sun. Flowers bloom bright and beautiful and lead you through the garden to the stream or the prayer flags and meditation area.
The fields feel half wild and half groomed as little paths lead you to the different styles of accommodation.
There's the B&B in the main house, a gypsy wagon, a gorgeous rustic cabin, a building inspired by a Victorian tin tabernacle, a 70's caravan and another option called Mother Earth which looks a lot like a Hobbit's house but for full sized people. We'd opted to stay in the yurt.
Our yurt was warm and cozy with a higgledy piggledy mismatch of furniture that somehow worked perfectly together.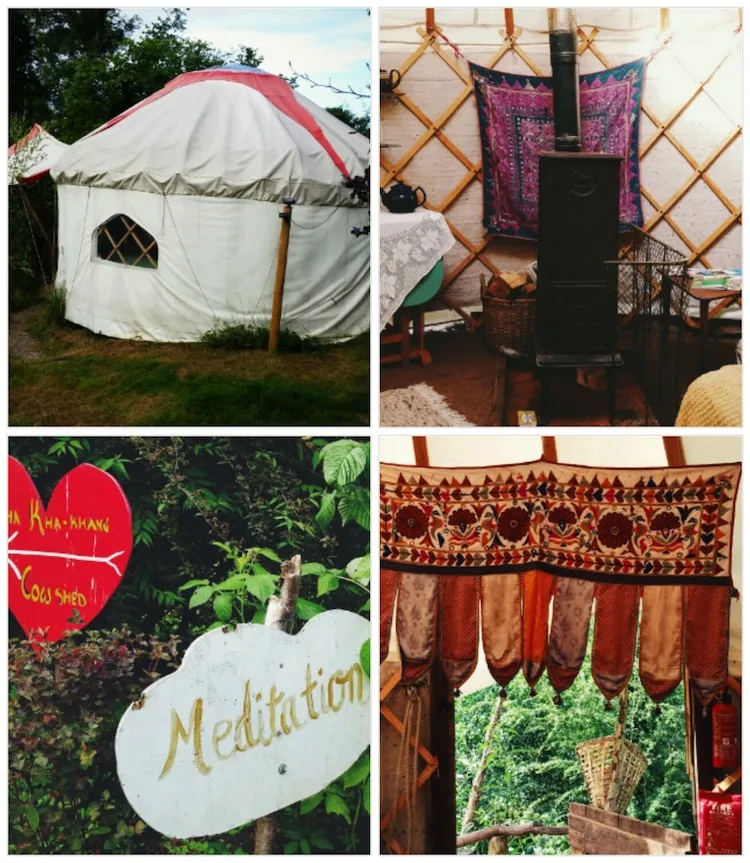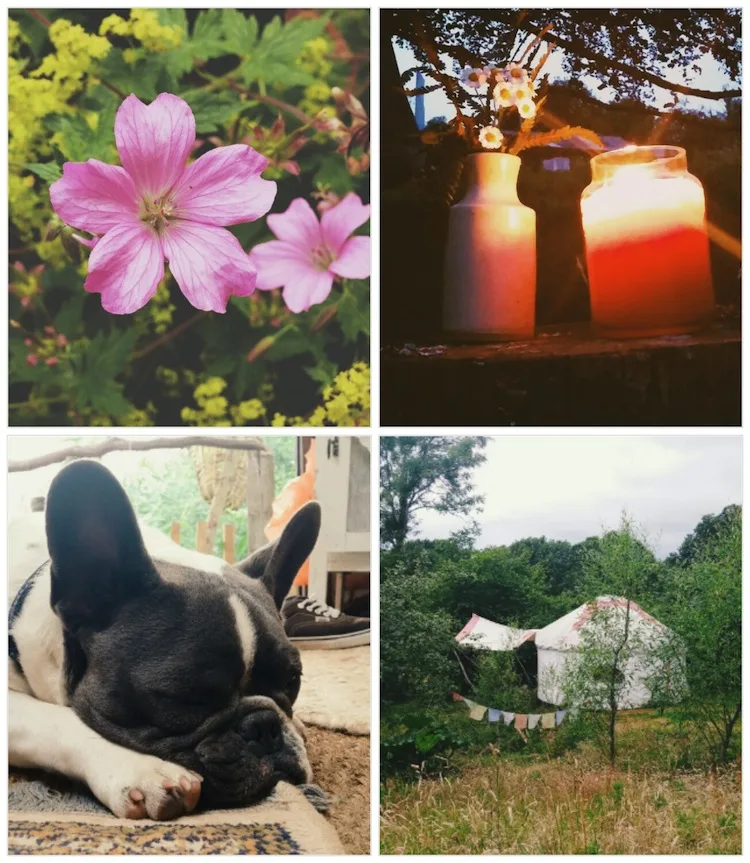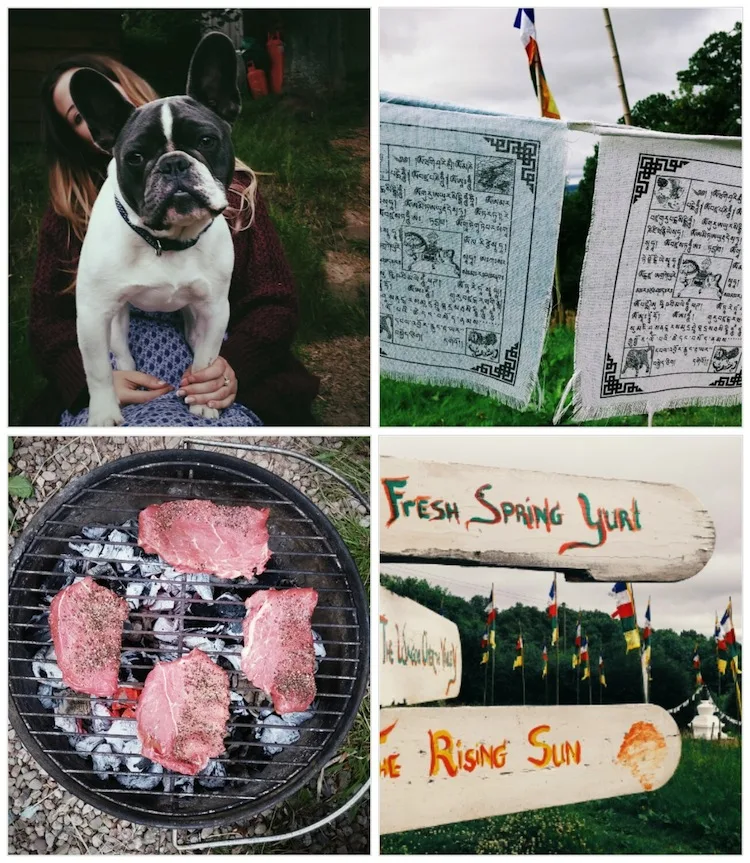 We spent the afternoon lazing around and reading the stack of new books we'd picked up in Hay. I explored the gardens and took hundreds of photos while Louie chased the feisty chickens who quickly told him who was boss around these parts. Hint – it wasn't Louie and I think he'll have a lifetime phobia of chickens.
As evening set in it was time to light the BBQ and open a bottle of red as we cooked steaks over the smoldering flames.
We sat outside admiring the stars until Sam's caveman instinct kicked in and he felt the strong urge to build a fire. There was a log burner inside the yurt and he's a man and men make fires, even in the middle of summer…apparently…
Within 10 minutes the yurt was cosy and warm. Louie instantly lay in front of the log burner and began snoring as the iron kettle on top of it began to whistle. Half an hour after that and the yurt was a sauna. I had no idea a yurt could get so hot without bursting into flame! We had to retreat into the cool night air with Louie panting after us until the heat subsided.
Thankfully, we've tried and tested the warmth of the fire and I can safely say that even if you visit in the winter you'd be warm enough!
The following morning we awoke to the sounds of birdsong and sunshine streaming in through the yurt. We drank cups of tea next to the log burner before relighting the BBQ to cook our bacon and sausages.
The yurt offered the perfect combination of outdoorsy, back-to-nature adventure but with comfort, warmth and style. It was quirky and unique and unlike anything we'd ever stayed in before. This was such a simple weekender but it was due to the simplicity that we left feeling refreshed and relaxed. We'd done nothing but eat and drink and stroll and read and generally enjoy being close to nature and spending time together.
If you're looking for a budget weekender, I can't recommend glamping in a yurt enough!
More Info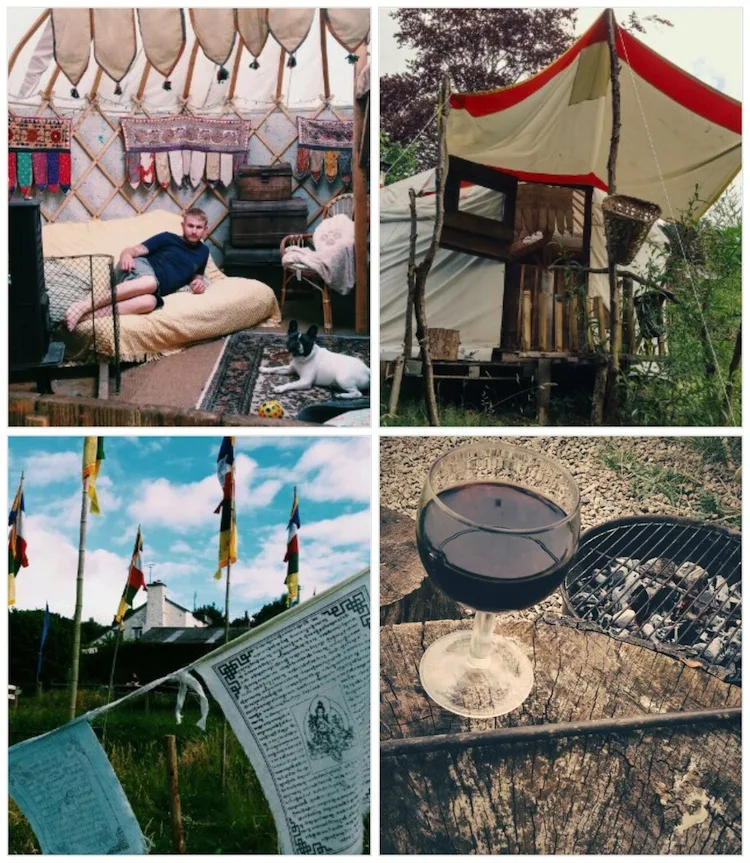 We stayed at the Fresh Spring Yurt with Canopy and Stars. The yurt costs £70 per night and is an extra £20 for pets.
At just £70 a night, this was one of the most affordable but also most interesting Weekenders I've ever taken.
Update: Unfortunately, it looks like the New Inn Brilley no longer have the yurt on the property. Canopy and Stars do still have a great selection of affordable yurts so check them out here.
All photos were taken with the LG G3 and edited using VSCO cam. This trip was sponsored by LG.