What's so special about Hadrian's Wall? After all, it's just a lump of stones cobbled together, to create a physical barrier.
You call that a tourist destination? I mean, I know the Great Wall of China is a tourist attraction, but crikey that's visible from space, and it's 13,170 miles long.
Hadrian's Wall on the other hand, is just 73 mile long so what's the big deal? Is it really worth making the trip north, along with 250,000 others each year?
Admittedly, it was built to 'separate the Romans from the barbarians,'[1] so that does make it infinitely more cool, but I must confess that as excited as I am to be going on my first trip for The Travel Hack, I'm a little haunted by memories of being lulled to sleep by monotonous history teachers.
Even with my relentless quest for discovery and learning, will I enjoy a weekend immersion in Roman Britain?
Impressive Stats
Now I'm a sucker for a stat and Hadrian's Wall is colossal. It's a UNESCO World Heritage Site, covering an area of 150 miles, two national parks, a museum and a million residents. Pretty impressive hey?
Commissioned by Emperor Hadrian in AD122, it took an army of soldiers over six years to build. Measuring six metres in height, it stretches from the River Tyne in the East to Cumbria in the West.
The northern most border of the Roman Empire was more than just a wall however. Straddled by a series of forts, it was home to thousands of soldiers who were a magnet to local traders. Whole villages were founded to cater to their needs, providing entertainment, food and goods to entice the wealthy soldiers. With their higher wages, soldiers were perhaps the Roman equivalent of modern day footballers.
For almost 300 years, this goliath Wall was manned by troops, a Roman day equivalent of the Berlin Wall, but went to ruin following the collapse of Roman rule in Britain.
24 Hours on the Wall
Now don't be under any illusion, people can camp along the wall, but I'm a sucker for a comfortable, dry bed, flushing toilets and a neighbourhood wine bar.
The wall is sufficiently close to Newcastle to satisfy those wishing to combine bright lights and battle stories. We stayed at the Sleeperz Hotel in Newcastle, and enjoyed pleasant drives, through sleepy valleys and villages, to the three sites we visited.
I would recommend allowing two whole days to visit so you can take in its entire length.
So without further ado, I'll take you on a journey into my Roman adventure.
Chesters Roman Fort
Rolling countryside, and golden haystacks dot the landscape as we drive down winding country lanes, through tiny quaint stone villages to Chesters Roman Fort.
The Fort incorporates a charming museum, visitor centre and picnic area, as well as the ruins of barracks, the commanding officer's houses, fort headquarters and bathhouses.
Frances, our guide, leads us on a fascinating tour around some of the key sites, explaining the layout of the fort, how the under floor heating worked, and providing a glimpse into what life as a Roman Solider would have been like.
There's a highly entertaining and humorous demonstration of Roman combat moves by men in costumes that look remarkably like an adult nappy! I'm more worried that something inappropriate might pop out, than that they might actually cause one another harm!
A marching troop of soldiers proves a big attraction, and a compere is on hand to explain the different outfits, swords and weaponry. If history had been like this when I was at school, I swear I would have been a star pupil!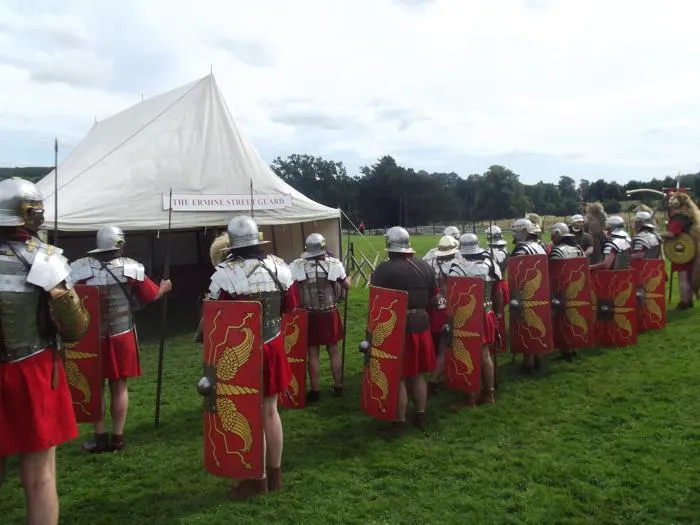 The combination of visual attractions, and Frances's passionate storytelling has me totally enthralled. I even manage to sneak a picture in a makeshift Roman outfit, but I'm not sure I would have been top of their recruitment list!
Corbridge Roman Town
A short drive away, Corbridge Roman Town is the least impressive in stature of the sites we visit, but perhaps the most intriguing.
It's like a giant jigsaw puzzle that archaeologists are still trying to figure out! It boggles my mind how research almost 2,000 years after the fact, can shed light on the lives of those living at that time!
Miraculously though, it does. The Corbridge Hoard, uncovered in 1964, provided important evidence of the military armour of the time. Don't miss the Roman Time Capsule, on display in the museum here, where you can see some of the finds!
Frances's passionate recounting of tales of Roman soldier life is intoxicating, and before long my imagination is running wild. Unlike my teachers of old, she doesn't bore you with endless facts, but instead focusses on the people and their stories.
Like a modern day reality TV programme, I feel like a voyeur who has wandered back in time. I can almost hear the clatter of marching footsteps echoing down the Stanegate.
Instead of foundations and ruins, I see the bustling settlement, thriving with activity; soldiers stealing into the village for some evening entertainment, a drink or romantic engagement perhaps?
If you fancy a break from driving, Frances recommends taking the train from Newcastle to Corbridge, a beautiful 40-minute train ride along the Tyne Valley. The lovely village is inhabited to this day, and has a wealth of nice pubs, shops and cafes, to keep you fed and watered, before you head up to the Roman Fort.
Housesteads Roman Fort
The following morning, we head to Housesteads Roman Fort. Now if ever a location was fit for a movie dedicated to Roman times this is it!
The fort clings to a hillside on desolate moorland, with little sign of surrounding habitation, and far reaching views over moody, Northumberland countryside topped with glowering clouds.
From the visitor centre, it's a short walk to the museum, which houses a cozy cinema room. A brief film recreates the layout of the site, and provides a fascinating window into the past.
Up in the fort, the scene is reminiscent of Wuthering Heights. Glorious craggy moorland and blustery winds create a dramatic backdrop, from which the wall extends into the distance, like a pathway to the past.
We are cheerfully informed that the latrines were a meeting place for people to chat whilst doing their business, but I'm not inclined to recreate that vision!
Wandering the walls on a cloudy summers day evokes compassion for those who served here. High on the ridge, winter must have been bleary and dismal, with little protection from the gusting winds battering the hillsides.
Yet it's beautifully evocative, and a stark reminder that life as a Roman soldier was not always a glamorous affair.
History Hangover
So is all the fuss about the wall merited?
Hell yes! I head back to Sheffield, not with an alcoholic hangover, but with my head buzzing with excitement from the historical insight I've gained. Who would have thought history could be so much fun?
The way in which English Heritage brings to life Roman history, from battle re-enactments to costumed actors, creates an fascinating spectacle for visitors.
So if you feel sufficiently enthused to plan a visit, head there over the weekend of 5th and 6th September to witness 80 legionnaires battle against 50 unruly barbarians during Hadrian's Wall Live.
There's a wide range of events planned including comedy, combat skills demonstrations, a living history camp, a torch lit nighttime patrol, and much more to keep adults and children alike amused.
I would love to hear your stories if you make it….
Thanks go to English Heritage and NewcastleGateshead Initiative who hosted our weekend. All views are unedited, and my own.
[1] Hadrian's Wall Guidebook, English Heritage, p.73, 2006, London