If you're looking for a perfectly located and budget friendly hotel in London then you can't go wrong with Mercure London Bridge.
It's stylish, friendly, clean and comfortable and most of the rooms have been recently refurbished so they're modern and sleek.
This isn't a 'blow your socks off' boutique hotel, but it's the kind of place you'd use as a crash pad while exploring London. It's definitely one of the better London crash pads I've stayed in too!
I stay in A LOT of mid-range hotels in London because I visit so often for work and Mercure London Bridge is one of the best I've come across. Prices seem to average just under £100 a night and you really don't get a lot in central London for that kind of budget.
Location
The location is the main selling point for Mercure London Bridge. It's a 12 minute walk to London Bridge Underground station and even closer to Southwark or Borough. It's less than 20 minutes to Waterloo station too.
Once you're at the hotel you're walking distance to the city, Borough Food Market, the London Eye, Big Ben. Actually, pretty much everything located in central London.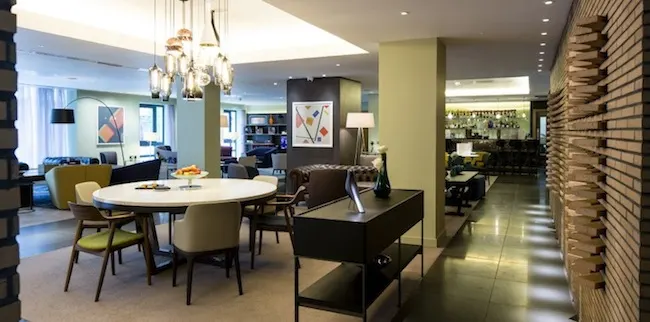 Check-in and Check-out
The staff are super friendly and welcoming. There's a lot of staff so when you enter the hotel or want to check out there's no waiting around. I loved the fact that they're friendly and chatty but also quick and efficient. When I arrive in a hotel I usually want to get to my room as quickly as I can and they made this happen without making me feel rushed.
Reception
The reception area is a big selling point for the hotel. It's modern and stylish with a homey feel. There are plenty of comfy sofas and seating areas. The modern décor sets it apart from most mid-range chain hotels.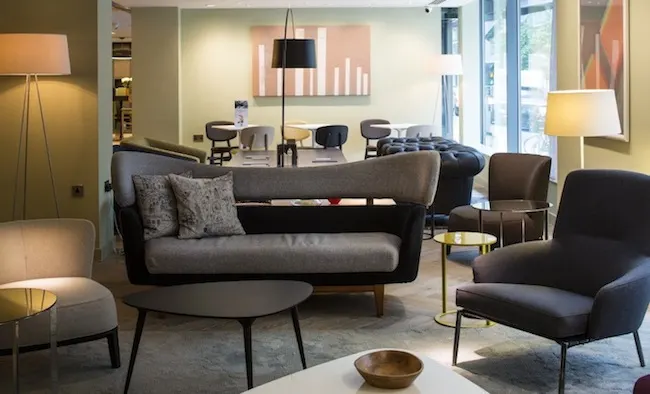 The room
My room was on the 6th floor and was small but perfect. It was stylishly decorated and the bathroom was brand new. The towels were fluffy and I also had a kettle, bottled water and a hairdryer. The bed was really comfortable and the room was very quiet. I didn't have much of a view from my room but when you're in London you rarely do.
WiFi
The wifi was absolutely perfect. It's free and the connection was strong at all times.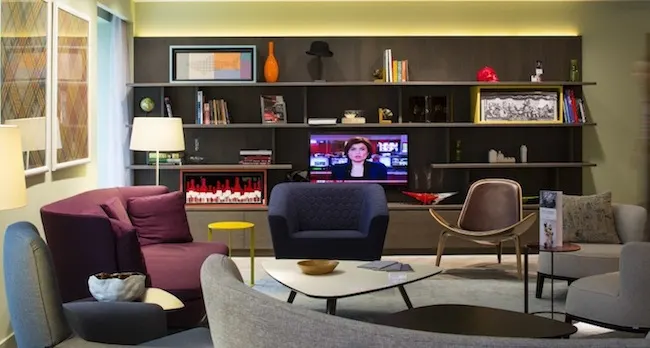 Breakfast
The breakfast was delicious with a cold, healthy buffet and a hot buffet with the normal things like eggs, beans, sausages and bacon. There's also a menu to choose from. Within minutes of sitting down I was brought a pot of tea and a rack of hot toast. Breakfast is my favourite meal of the day and I wasn't disappointed.
Would I recommend the Mercure London Bridge to my BFF?
I always think this is the most important question when reviewing anything. Would I recommend it to a good friend?
Yes, I really would. If my BFF was visiting London for an action packed trip with lots of shopping, sight-seeing, eating out or working, I would 100% recommend this hotel. It isn't the kind of hotel where you'd want to spend much time chilling out but it's the perfect base if you're looking for a good night's sleep. It's clean, comfortable and perfectly located.
When you're in London, what more do you need? You don't stay in central London to laze around in a hotel room, you stay in central London to get out and about and explore this gorgeous city.
Disclaimer: My stay at Mercure London Bridge was complimentary while I was in town to find out about Mercure's latest #6FriendsTheory competition. You should check it out if you're interested in winning a 3-day round the world trip!
If you've stayed at the Mercure London Bridge, feel free to add your rating to the review box below.