I'm wandering along a sandy, white beach backed with heather covered cliffsides, with rolling green countryside in the distance. There's barely a soul to be seen, and the crash of waves on the beach is hypnotising.
Sounds amazing doesn't it? Well it is, but there's just one problem. It is bucketing it down, and I am getting wet. Yet I feel blissfully happy and alive, surrounded by this incredible scenery, the wild water venting its fury on the Irish coastline, and the sand whipping at my feet.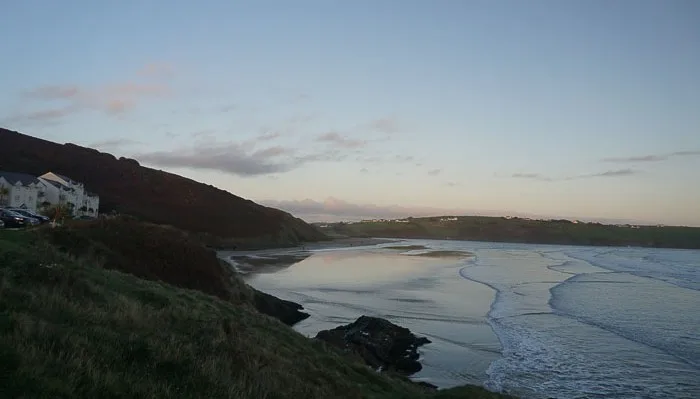 Wet and Wild in Inchydoney
It is most certainly wet and wild in West Cork today. At times, I can barely walk, such is the strength of the blustery winds. I guess it is a good thing our surfing lesson was cancelled. I can barely walk on the beach, much less push myself up into a standing position, on a plank of wood in water reminiscent of a washing machine.
Sand flits across the ground, creating hypnotic, supernatural patterns enticing you to follow. Sand swirls whistle and wane with each new gust, finding solace in a narrow channel of water, which meanders into the inlet at the end of the beach.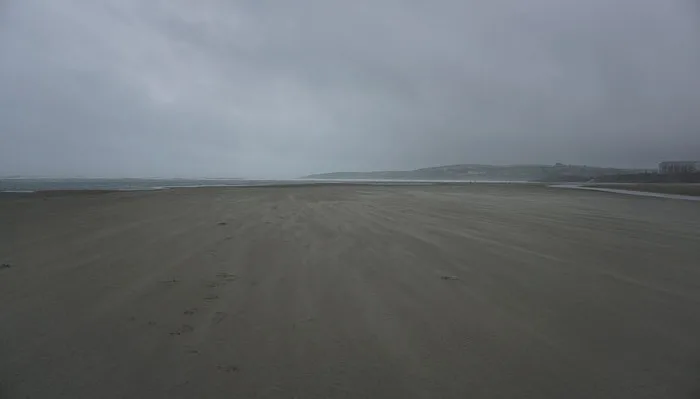 Hidden away around the corner, behind a lump of moss strewn rocks, is another gloriously empty beach. I feel the need to explore, fancying myself an intrepid far from home, but a channel marked as 'Dangerous Water' skirts the rocks. I'm not going to be deterred however, such is the draw of the glorious views up Ahidelake and to the hills beyond.
I clamber awkwardly over the rocks (this is dicing with death with Mrs Calamity here!), and jump sprightly onto the beach feeling a certain sense of achievement. I am no spring chicken after all.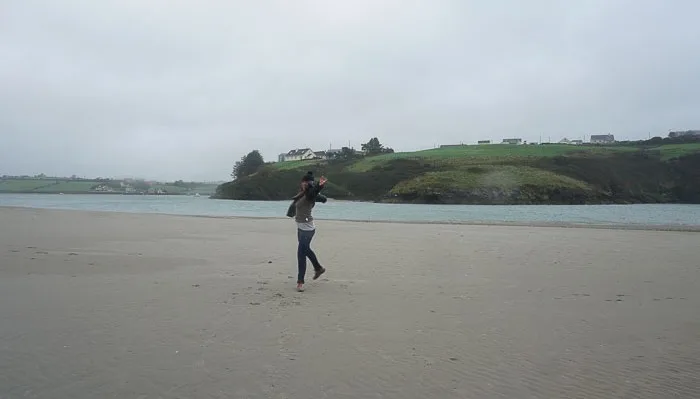 The rain has even stopped for a while, so I enjoy the shelter of the inlet where it feels almost tropical. It is not to last however. I've already been warned of Ireland's four seasons in a day, and they sure weren't kidding.
Wet and Wild Weather
With no warning, all hell breaks loose and the calm turns into a torrential downpour. I can barely see the beach as I clamber back over the rocks praying I don't slip and break something. I feel a frisson of concern turning the corner, and realising the tide has crept sneakily up the beach while my back was turned, and is now threatening to soak me even further.
I have to jog back down the beach, running through a shallow channel (love the wet trainer look!) and safely back into the sanctuary of my room, where I can admire the roaring waves from above.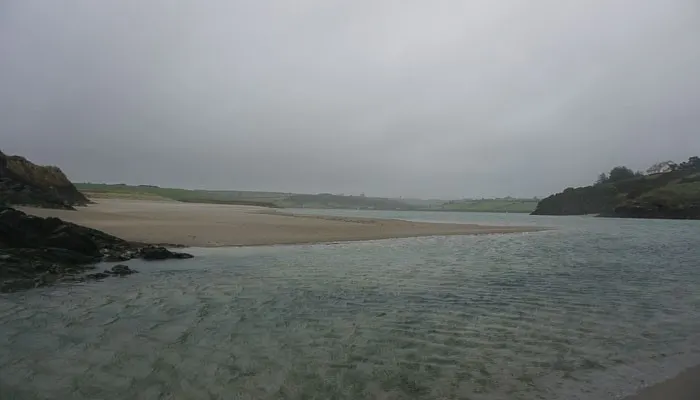 Now if a beach isn't your thing, but you still fancy wet and wild activities in West Cork, there are other options.
Wet and Wild Activities to try in West Cork
Surfing
Try a surfing lesson with Inchydoney Surf School. In just 2 hours, you will learn the basic moves and head into the water to attempt to surf those waves.
A lesson costs €40, and it is just a few minutes walk from the Indychoney Lodge & Spa. All equipment is provided just take your swimming cossie and a towel!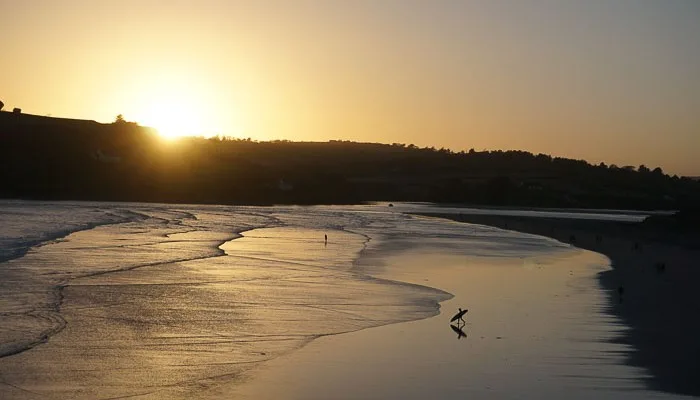 Sea Kayaking
Alternatively hire a kayak and paddle off into the lochs for a moonlit paddle with Atlantic Sea Kayaking. This experience has been voted one of the world's top ten alternative adventures, has been featured in National Geographic and is a short drive south of Inchydoney.
You will head out an hour before dark to see raging red sunsets, seabirds and astonishing bio-luminescence. The lights emitted by the marine life will light up the water around your paddle, creating an intoxicating display of nature.
On clear nights, you may also get to enjoy bright, starry skies on your gentle meanderings.
Sessions cost €50 per person for 2.5 hours.
Thalassotherapy
Once you have tired of getting soaked in the sea and lochs, head indoors to the Inchdoney Island Lodge & Spa, and the Thalassotherapy pool.
Wow! This place is fabulous. Think super, relaxing day spa ambience with the added bonus of views out to sea from the pool, and crashing waves as your background music.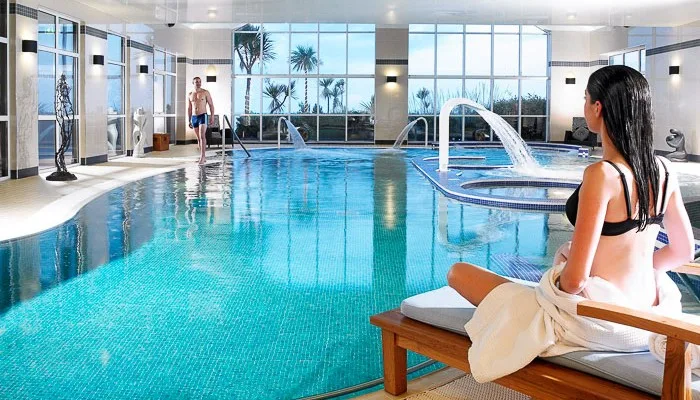 The sea-salt pool leaves your skin feeling smooth and refreshed, whilst the jets around the pool kneed tired muscles into catatonic relaxation.
It's a truly beautiful pool and for just €12, anyone can pay a visit. Of course, I would urge you to stay overnight. For a superior sea view room on 15th November 2015, the cost is €188 including breakfast.
Wet and Wild Winter
I am here in autumn so cannot comment on the summer, but personally I think this is a great place to visit in winter. The wild coastline, mother nature exerting her authority on the beach and the quiet location really give you a great chance to escape from it all.
The hotel has luxurious rooms, great balconies with views over the coastline and warming fireplaces for those cold winter days.
It maybe a mere 40 minutes drive from Cork airport, but it really is a world away from it all.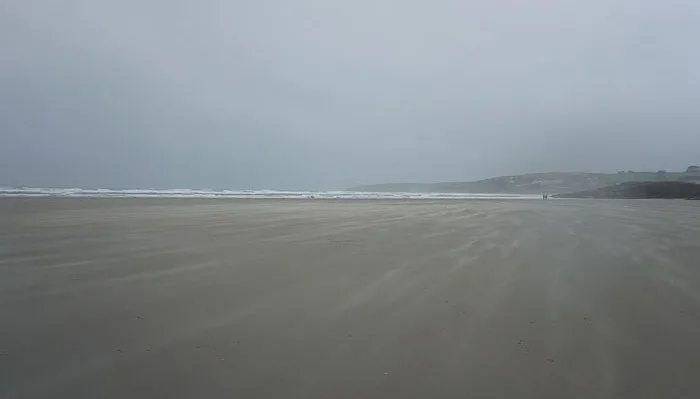 Want to Visit?
Fly to Cork from London City with Cityjet or select from a variety of airlines from regional airports.
Have Your Say
Maybe you have visited Inchydoney and would like to share your experiences. I'd love to hear from you so feel free to pop your thoughts below.
We stayed courtesy of Inchdoney Island Lodge & Spa but all views are my own and unedited.