When writing about Lake Vyrnwy Hotel I could tell you all about the history of the hotel, the tasty menu, the great selection of wine, the friendly staff and the beautiful old building. But, let's be honest, when you're staying at Lake Vyrnwy Hotel it's all about the view.
And what a view it is.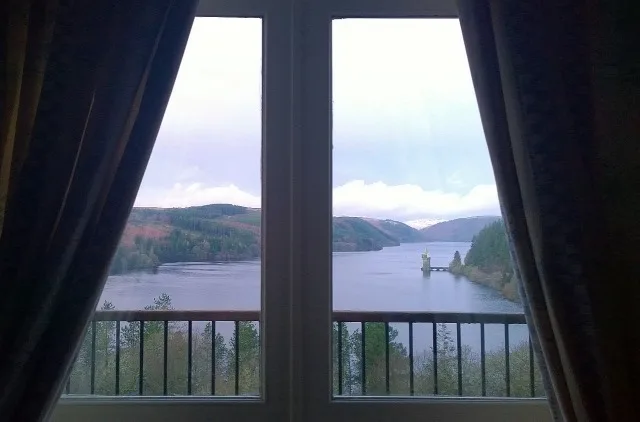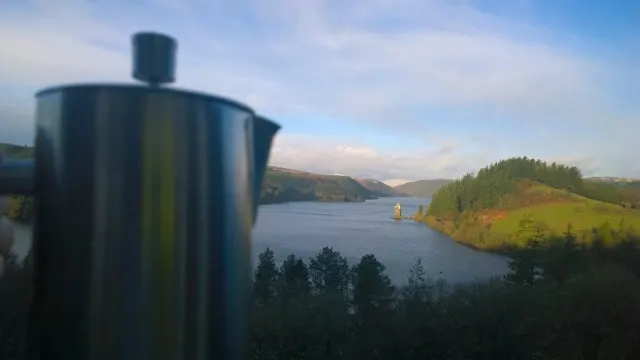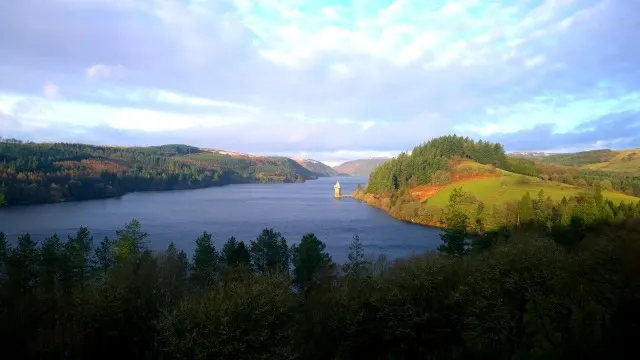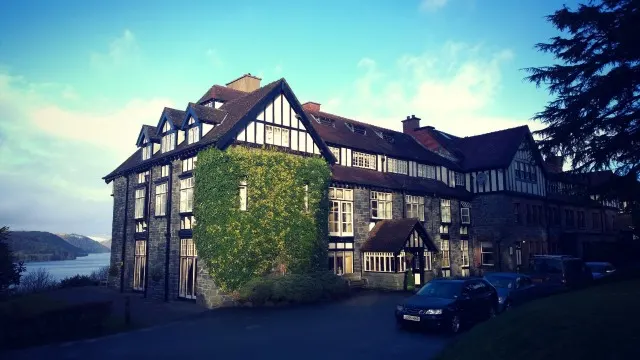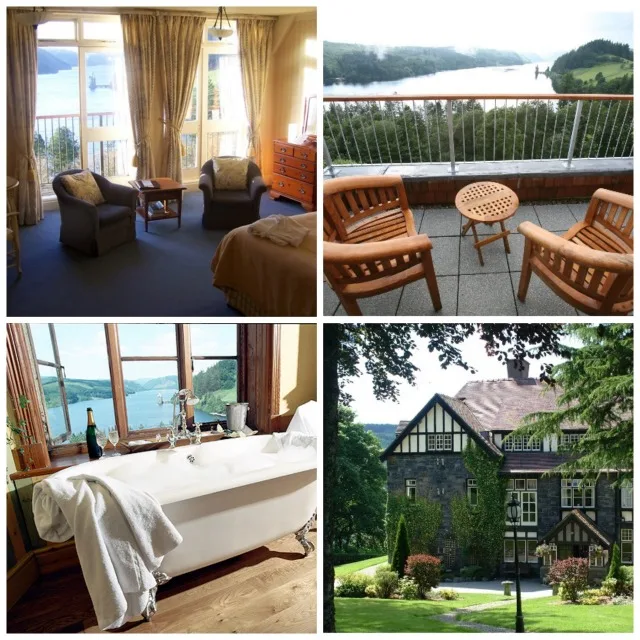 Imagine waking up in your king sized bed to a dim, blue light streaming through the windows. It was dark when you'd arrived the previous night and in a slightly tipsy haze you hadn't closed the curtains before bed so the view is on full display. There are four glass doors leading out onto your balcony and through them is a scene that is so perfect it could be a painting.
You wake up your partner with a gentle nudge and a nod towards the window. You watch as his sleepy face registers the view and breaks into a huge smile. 'Wow' you both mutter in quiet awe while you gape at the view.
You prop up your pillows and sit up to stare out the windows in the same way you might with the morning news on TV. You watch as the sky warms up through a range of pastel colours. It begins with a soft grey which slowly turns to light blue, to a warm pink and finally a bright and cheerful blue that magically makes the surrounding countryside appear even more beautiful.
Lake Vyrnwy Hotel in mid Wales is a local gem and claims to be one of the best kept secrets in mid-Wales. It is the only hotel overlooking Lake Vyrnwy and one of just a handful of buildings surrounding the lake. The lake and the stone built dam were created in the 1880's to supply Liverpool with water. The Victorian reservoir is now a nature reserve and attracts hikers and bird-watchers and those looking for a relaxing retreat.
Unlike other beautiful spots in the UK, the surrounding area is relatively untouched. You won't find any huge chain hotels, roadside cafes or tourist villages around here. This is all about nature, enjoying the countryside and, of course, that view.
I'd chosen one of Travelzoo's Valentine's Experiences from their gift selection. There are loads of great hotels and pampering experiences to chose from but I was looking for something really special and memorable that both my guy and I would love.
I chose a package for two people to spend one night at Lake Vyrnwy Hotel with a 5-course evening meal and a Welsh breakfast.
A gorgeous hotel + great food + great views + beautiful Welsh countryside = perfect Valentine's treat.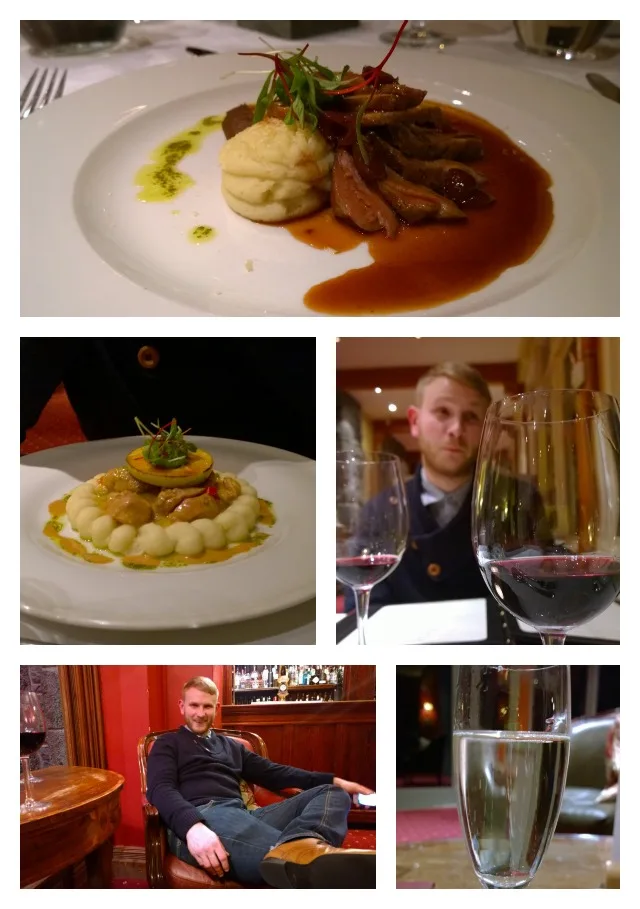 Lake Vyrnwy is an hour and a half from our new home in Chester and we drove through the dark country lanes in excited anticipation. We went on a Friday evening after a long week in work and were delighted to be greeted with a glass of Presecco and chocolate truffles. If only all weekends could begin like this! The grand hotel was warm, cosy and inviting with log fires, leather sofas and grand furnishings that made us feel like we'd stepped into a fabulous old manor house.
The staff were friendly and welcoming and we were even allowed to bring our new puppy along for his first holiday.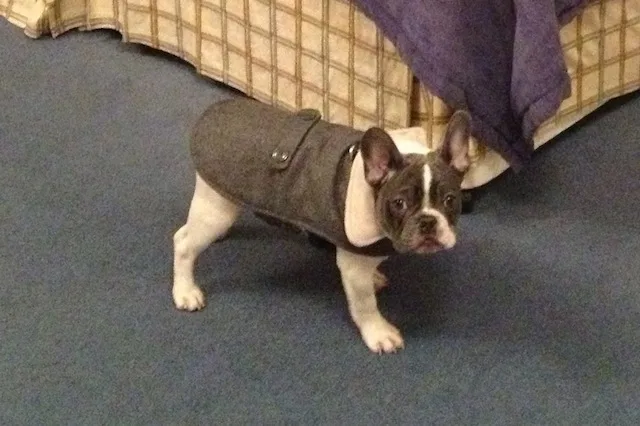 We sipped Prosecco by the fire before we were called into the dining room. We were booked in for a 5-course meal so I was expecting a small menu or a set menu but we had a full list of tempting specialties to choose from and each course was more delicious than the last.
After dinner we retired to the lounge and reclaimed our spot in front of the fire for more wine, coffee and chocolates. I can't imagine a more content and relaxed atmosphere and people chatted and laughed until late into the night.
The following morning we enjoyed a huge Welsh breakfast overlooking the lake and then took a drive around it. We'd planned on walking but the cold and wet weather kept us in the car where we tucked into tea and Welsh cakes.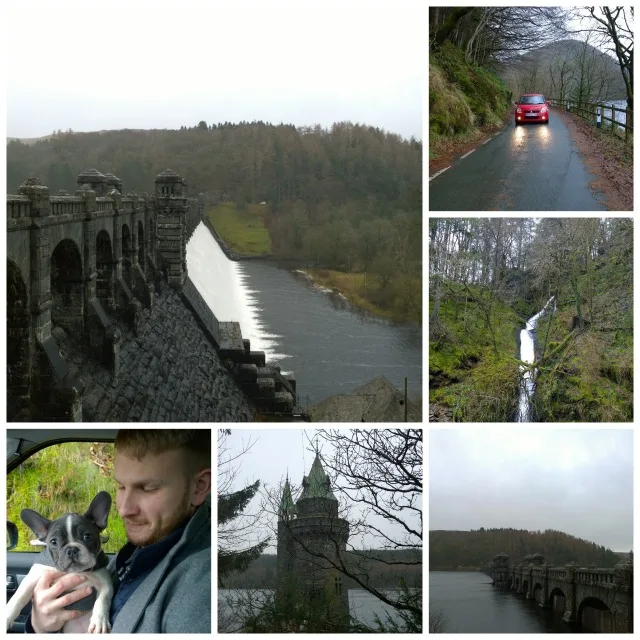 My evening at Lake Vyrnwy Hotel was courtesy of Travelzoo. This package costs £129 for two people and it was an extra £10 for the pooch. Heated dog kennels are also available free of charge. There are 52 rooms at the hotel and 34 of them have lake views which I would highly recommend requesting.