Sea-Escape Fountain Court, Falmouth
We arrived in Falmouth in Cornwall just before midnight on a Friday. It had been a five-hour drive from London which included a frustrating crawl along the M25, stale sandwiches and lukewarm coffee bought at an overpriced garage and a radio that wouldn't tune in so we were left with one Elbow CD for the entire duration. To say we were tired and irritable would be an understatement.
The drive got a little more exciting as we neared our holiday cottage in central Falmouth. Narrow roads lit by dim street lamps wound their way around quaint houses which were a mixture of tall and colourful seaside houses and cute little cottages.
A few curtains began to twitch as we pulled into our designated parking spot and punched in the secret door code to our apartment. There's something very mysterious about arriving in a place in the dead of night and it added a bit of magic to the experience. It was pitch black so we didn't really know where we were or what we were going to do in Falmouth so it was all exciting and new.
Tiredness swept over us as we lugged our heavy luggage up the stairs to our apartment. I'm usually good at packing light but when visiting the British coast you have to pack virtually everything you own including chunky knits, raincoats, shorts and summer dresses. Maybe packing a bikini was a little optimistic though.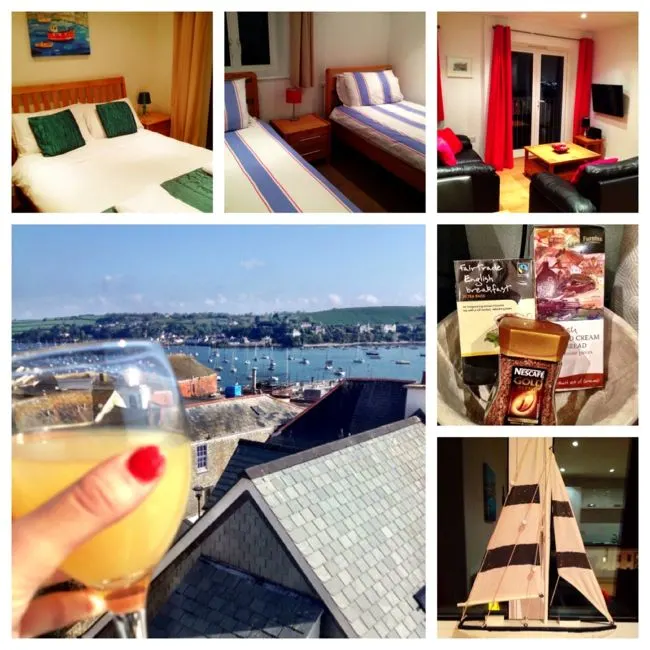 We were greeted by a clean and modern apartment but in our sleepy state it was the basket of tea and Cornish cookies that were the best welcome.
We were too tired to fully appreciate the apartment and after a quick cuppa we dropped straight into a comfortable bed without so much as drawing the curtains.
Fast forward eight hours and I woke up to the gentle caw of seagulls and bright sunshine streaming through the windows. Yes, you read that right, sunshine! (For anyone who isn't in the UK, we haven't had much in the way of sunshine for about a year so it's a strange and unfamiliar thing for us that we treasure.)
This was the perfect day to enjoy breakfast on our balcony overlooking the boats bobbing in the harbour. A fresh sea breeze was blowing gently as we sipped our coffee and munched on buttery crumpets. One of my favourite things about staying in a self-catered apartment is the informalities and freedom to do what you like when you like. Staying in a hotel is nice, but there's nothing like making your own breakfast and eating it on your balcony while still wearing your PJ's.
Other reviewey info
The rest of the apartment was clean, bright, spacious and comfortable. There is one double room and one twin room with an open plan kitchen/living/eating area. The kitchen is large and modern (perfect for families who want to cook) and the bathroom has a powerful, hot shower (something which is high on my priority list!) It's less than a 10-minute walk down to the harbour and a narrow alleyway next to the apartment takes you to the main high street in Falmouth. There is parking right out the front and the key is placed in a key box and you're mailed the code so you can arrive at any time of the day or night.
This was a great place for us to stay as we wanted a relaxing weekend by the sea. We weren't looking for fancy hotel meals or manic nights out (although Saturday night in Falmouth proved to be hard to resist). Falmouth is a place to chill out, enjoy the fresh air, have a beer by the sea, take a boat to somewhere even more chilled out and relaxing, have another beer and then fill up on some of the best fish and chips in the country!
Massive thanks to Aspects Holiday for hosting me for two nights in the lovely Sea-Escape Fountain Court.