London may be one of the most expensive cities in the world, but that doesn't mean that you can't find free things to do in London! In fact, some of the best things to do in London are actually free so whether you're a local looking for some inspiration or you're a visitor on a budget, here's how you can spend a day in London for free!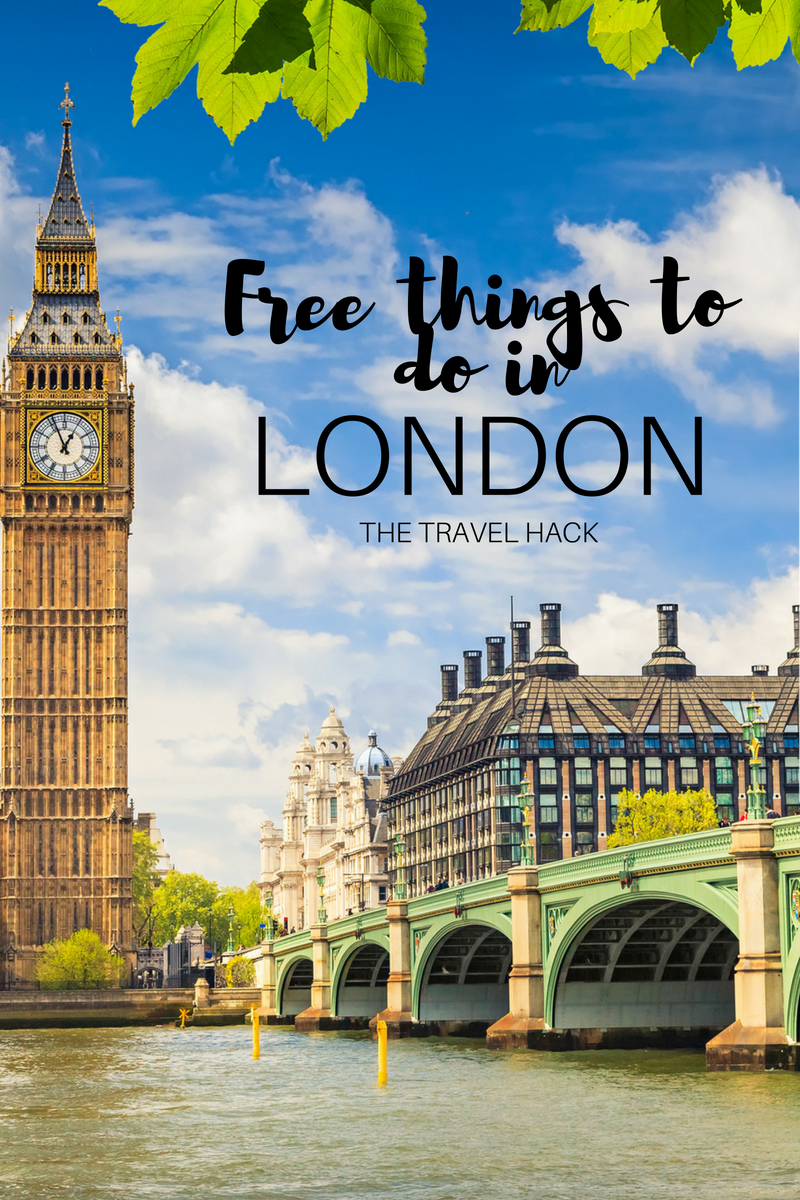 Once you've got to London and booked your accommodation, the main costs are food, transport, and entertainment. Luckily none of those things have to cost much at all. The tube is super cheap, you can cook your own meals and we have a post coming soon about cheap places to stay in London. And to prove just how easy it is to have an (almost) free trip to London, I've created an itinerary that only includes London's free activities.
How much you spend on food and those tempting souvenirs is completely up to you…!
Visit London's iconic sights for free on foot
Start your free London trip with a buzzy visit to the South Bank, a stretch of pedestrian-only path that follows the Thames. Depending which direction you're coming from, you could start at either end of the path, but the main part you'll want to see stretches roughly from Tower Bridge in the east to the London Eye in the west.
It's a 2.4 mile walk, so you might not be able to (or even want to) do the whole lot, but whichever section you choose will be vibrant, iconic and beautiful. There are plenty of places to stop and rest along the way, including street food stalls, bars, pubs and restaurants (try Wahaca for delicious and inexpensive Mexican food inside colourful shipping containers), and benches designed to let you stop and take in the views!
Along the way, look out for iconic sights (listed from west to east) like the London Eye, Southbank Skatepark, Tate Modern (pop in if you want to see some great modern art for free. Also, make sure you head to the top for some great views over the river), Millennium Bridge, Shakespeare's Globe, The Shard and Tower Bridge.
That's not an exhaustive list though, so keep your eyes peeled for some incredible photo opportunities and unforgettable sights.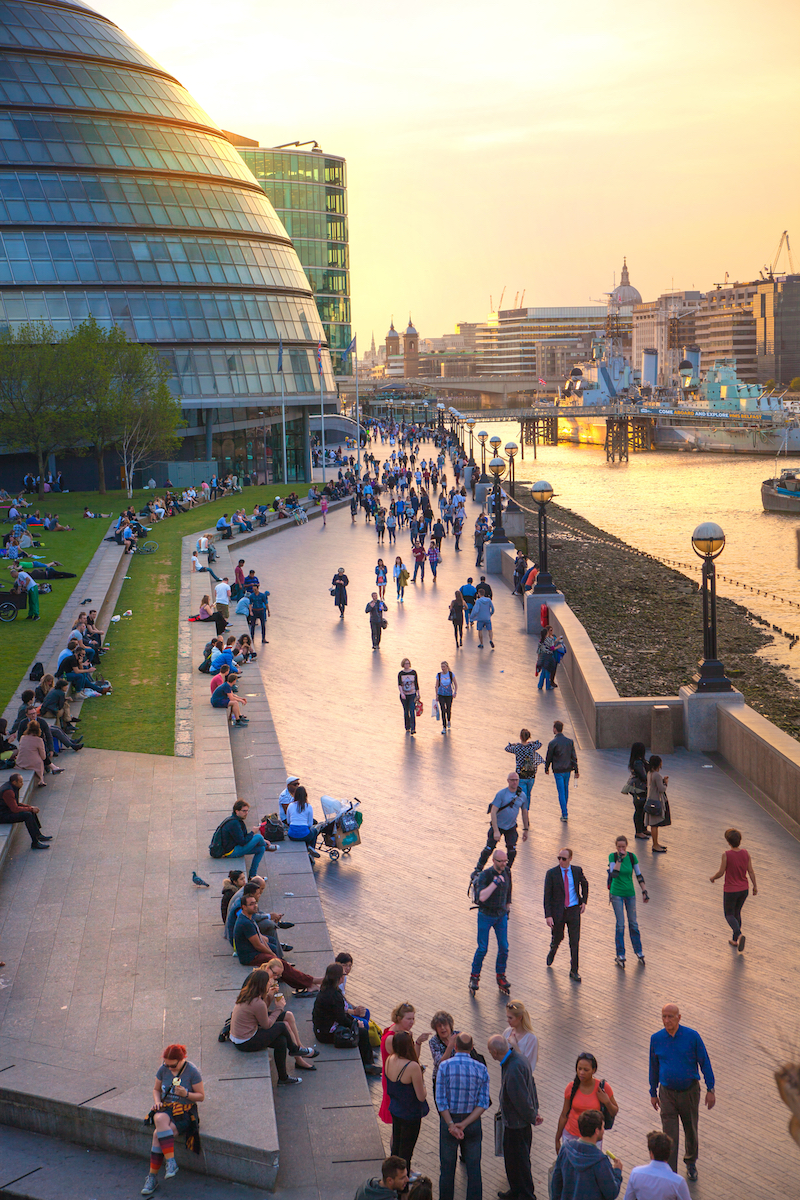 Book to visit London's SkyGarden
A simple way to save money in London is to eat breakfast at your hotel if it's included in the rate, or to make your own if you're staying in self-catered accommodation. Once you're fuelled for the day, make your way to 20 Fenchurch Street (the closest tube station is Monument) to visit the incredible and lush SkyGarden.
You'll need to book in advance, but it's completely free to visit this garden in the sky. There are cafes and restaurants inside, but what you really come here for is the free view over London and the lush setting. Stroll around among the greenery and step outside for uninterrupted panoramas over the Thames.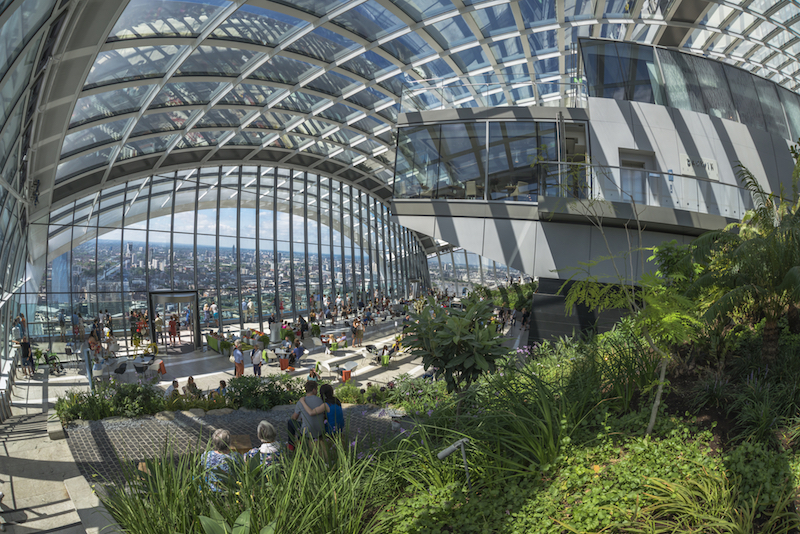 Leadenhall Market
Once you've had your fill of stunning views, head back down and walk just a few blocks over to Leadenhall Market, a Victorian covered market that's breathtakingly beautiful. It's now filled with modern shops and restaurants, but you don't come here for that – the jaw-dropping architecture is the real drawcard. Well, that and the fact that it appeared in the first Harry Potter film as Diagon Alley!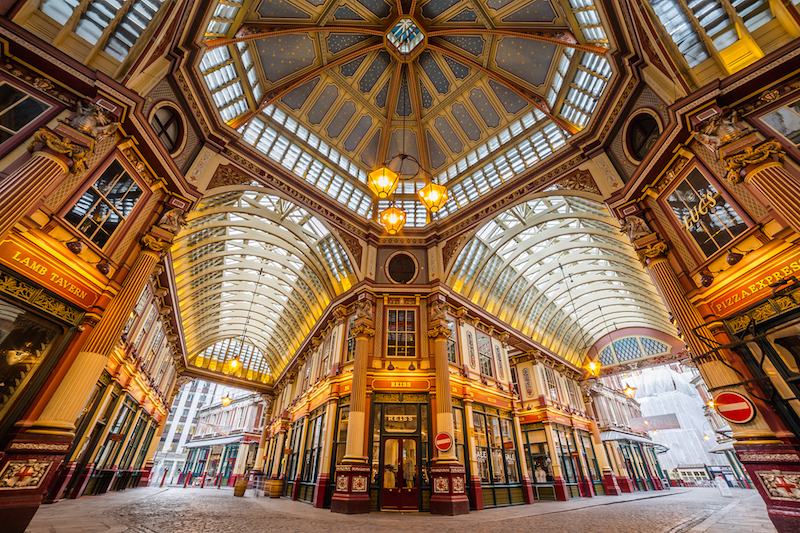 Monument
From here, walk down to Monument to take in some incredible London history. It's here that the Great Fire of London started in 1666. The Monument itself costs £4 to walk up but you'll have had a better view from the SkyGarden anyway, so there's no need to spend the money and you can continue enjoying London for free by admiring it from its base. Fun fact about the Monument: it's 61 metres high (202 feet) – the exact distance between where it now stands and the site in Pudding Lane where the fire began.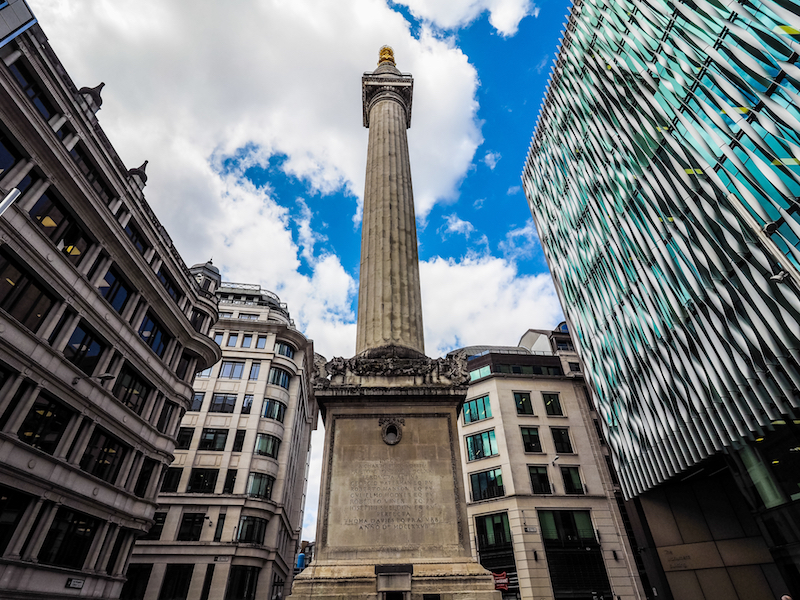 St Paul's Cathedral
Take a walk from here towards St Paul's Cathedral for another memorable view. Opposite the stunning cathedral's dome is One New Change, a shopping centre with a secret hidden on its sixth floor. There's a fancy bar and restaurant, but there's also an open-air terrace that's free for the public to visit, and which offers gorgeous views over to St. Paul's, the church designed by Sir Christopher Wren.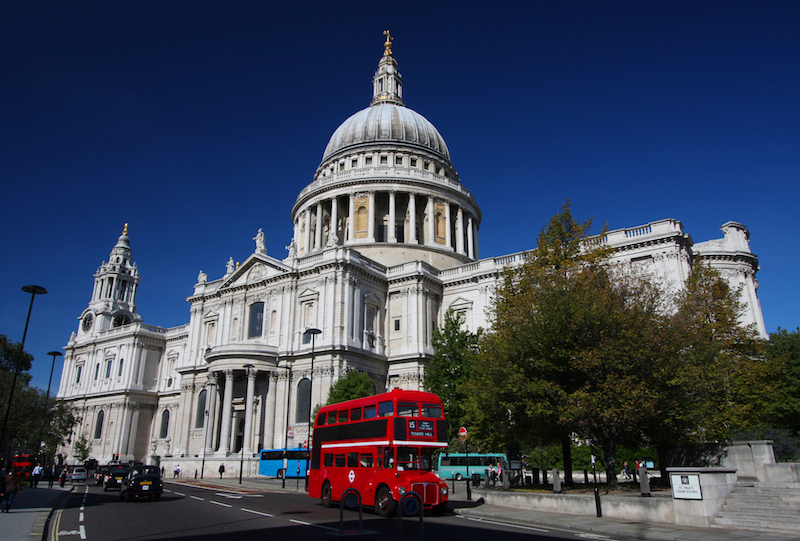 Free London Museums
Catch a District Line tube (the closest station is Mansion House) to South Kensington, the home of some of the world's best museums. Grab a bite to eat at a cafe or restaurant near the station (there are some good casual options like Pret, Wasabi and Carluccio's, or plenty of more exciting, albeit more pricey, restaurants).
Once you're sufficiently fuelled, it's time to get cultured up. As far as free things to do in London goes, visiting one of the many museums that the city plays host to is top of the list for many visitors. Take your pick from the Victoria & Albert (V&A) Museum, the Science Museum, and the Natural History Museum, or pick all three and soak up all of the incredible displays and exhibitions. Entry is free to all three, and whether you're interested in science or design or nature or none of the above, the museums are well worth a visit. Highlights include Hope the blue whale, who floats above the jaw-dropping Hintze Hall in the Natural History Museum and the incredible collection of fashion throughout the ages at the V&A.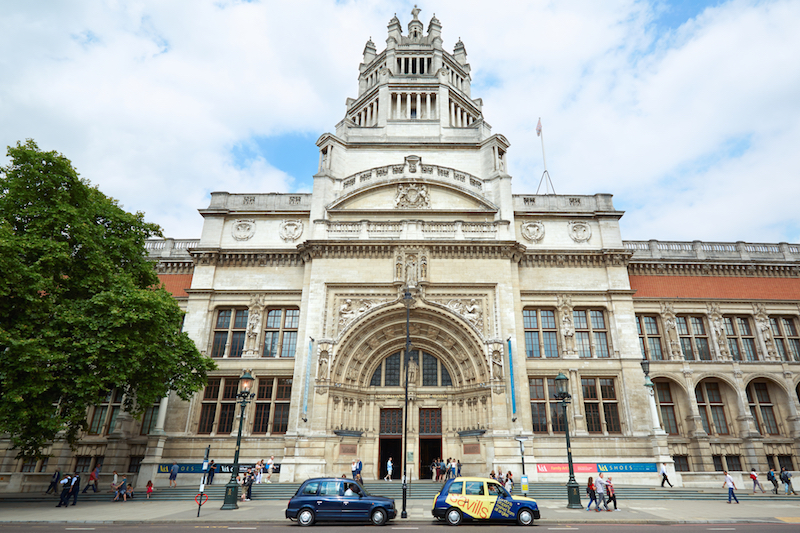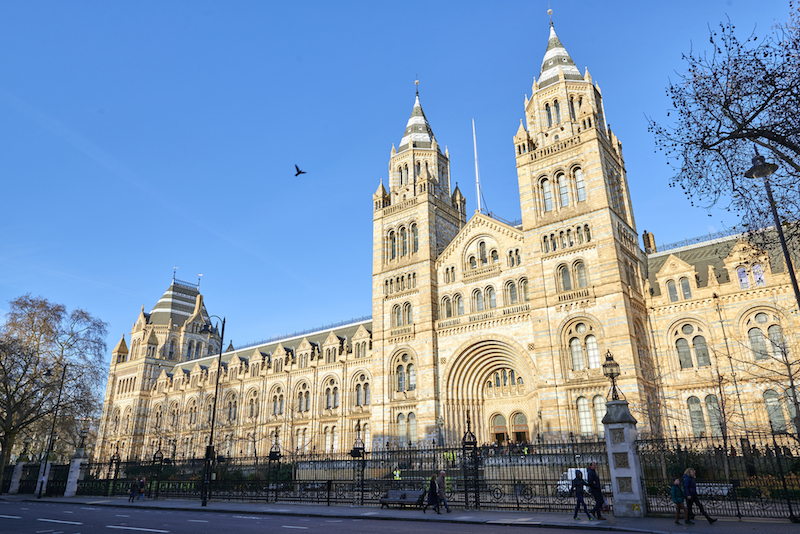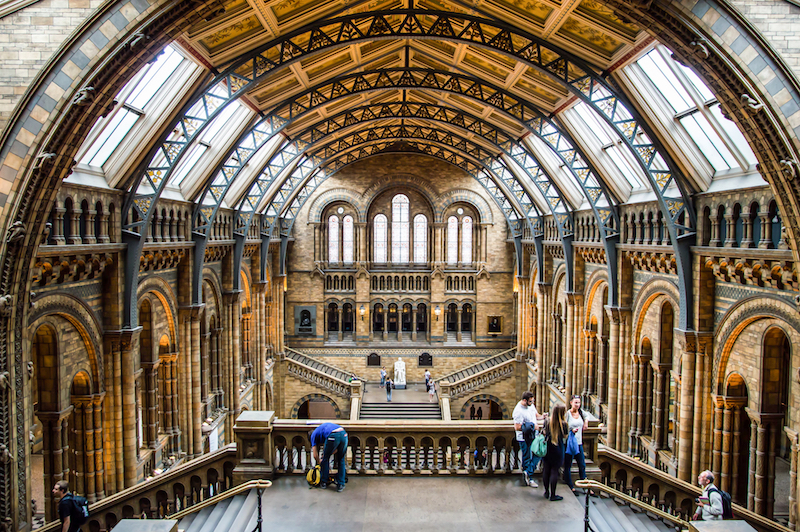 What to do in London for free in the evening
The day's not over yet! Head back into central for an evening of hilarious entertainment at a free comedy show. You may need to plan this part of your day ahead of time, as many of the free comedy nights are ticketed events. Take a look at Top Secret Comedy Club or The Angel Comedy Club for free events that'll help you to laugh the night away!
Columbia Road Flower Market
If you're visiting over a weekend then one of the best ways to spend a Sunday morning in London for free is by checking out the famous Columbia Road Flower Market. It starts at around 8am, so come early to see the best of the bunch (quite literally). Not only is it an Instagram-lover's dream, but it's also a great spot to peruse independent shops for clothing, jewellery, antique furniture and knick-knacks. And of course, all of the flowers!
Here at Columbia Road Flower Market, you're in the heart of hipster East London where vintage shopping rubs noses with street art and trendy boutiques, and where global street food is served right next to overpriced fad dining (like Cereal Killer Cafe, where you can spend up to £10 on a bowl of cereal).
The best way to get to know this popular London neighbourhood is to book yourself onto a free walking tour, like this one by Strawberry Tours, which takes you to see some of the best street art and historical hotspots in the area.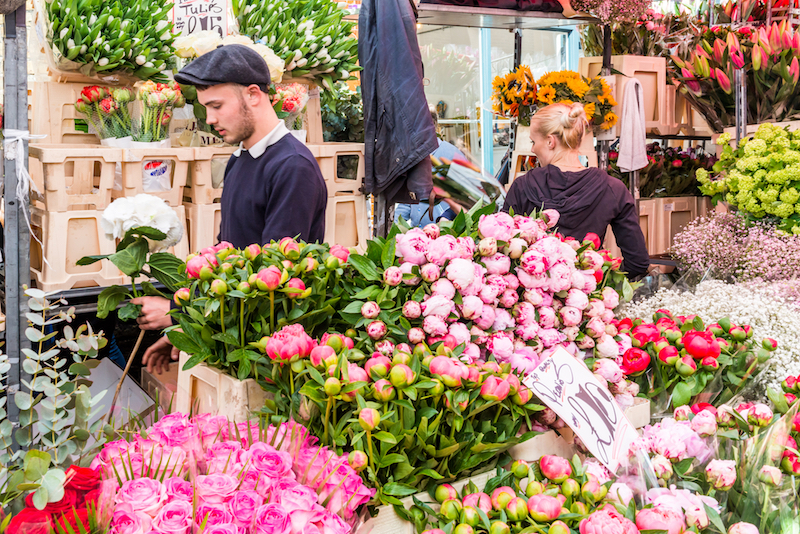 Platform 9 ¾
If you're a Harry Potter fan then a great way to pass some time in London for free is by visiting the well-known Platform 9 ¾. Hop onto the Hammersmith & City Line from Whitechapel Tube station and travel to King's Cross station. Here, it's impossible to resist stopping by Platform 9 ¾ for a photo opportunity. If you want one of the professional pics, you'll need to pay, but you're allowed to take your own photos with the famous trolley for free, so join the queue and get ready to pose!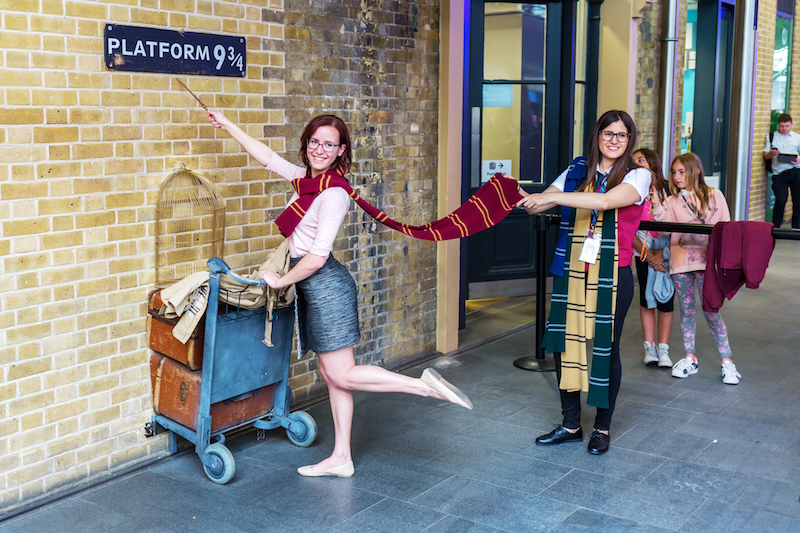 The Regent's Park
Walk from here to The Regent's Park to explore one of London's highlights. For such a huge, bustling city, it boasts an incredible amount of green space, and The Regent's Park is one of the biggest and best examples of this. You could spend all day here (especially in good weather), but some of the highlights you won't want to miss include Queen Mary's Gardens, which is bursting with roses, and the boating lake.
Primrose Hill
For a view that'll end your trip to London on a high, climb up nearby Primrose Hill and admire the panorama. It might be one of the most expensive cities in the world, but London for free is still pretty darned spectacular!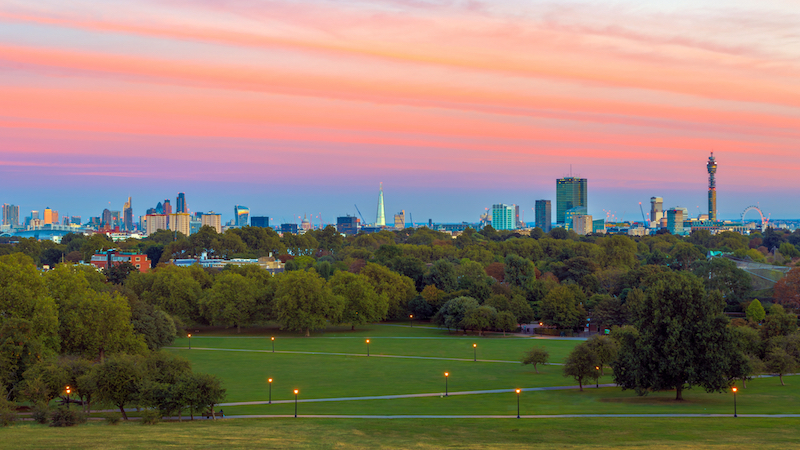 There you have it. Our favourite free things to do in London. Do you have any more ideas about how to experience the best sights in London for free?