Here are 12 Abersoch beaches you'll want to visit on your next visit to Abersoch.
The most popular thing to do in Abersoch is visit the beach. And rightly so! The beaches in and around Abersoch are stunning and, thanks to that famous Llyn Peninsula microclimate, you often get sunshine when the rest of the UK is in the rain!
Today I'm sharing the three main beaches in Abersoch and three nearby beaches you also have to visit!
I've been visiting Abersoch since I was a child and I'm now lucky enough to own a static caravan here so I spend most of my weekends and summer holidays on the beach in Abersoch so here's my Abersoch beach guide!
1. Abersoch Main Beach
How to get there: Head to Abersoch Golf Club but turn left into the car park just before you reach the golf club.
Abersoch Main Beach is the biggest and is the one you've probably seen in photographs with the colourful beach huts. The sand here is the nicest, it's really sheltered and it's the easiest area of the beach to visit – especially if you've got young children and you're carrying a lot of beach stuff!
There's a large Pay & Display car park located near Abersoch Golf Club, which means it's just a 2 minute walk from the car park to the beach.
You'll find basic toilets and outdoor showers as well as a great little cafe and small shop on the beach.
To the left of the slip is a dog-free area during the busy summer months. Dogs are allowed to the right of the slip all year round. I try to avoid the area around the slip because people drive down here to launch their boats and jetskis and it can get busy with cars and boats.
If you don't have a dog and you've got young children, I'd head to the left of the slip. I think this is the nicest beach area in Abersoch but it does get busy during the peak season.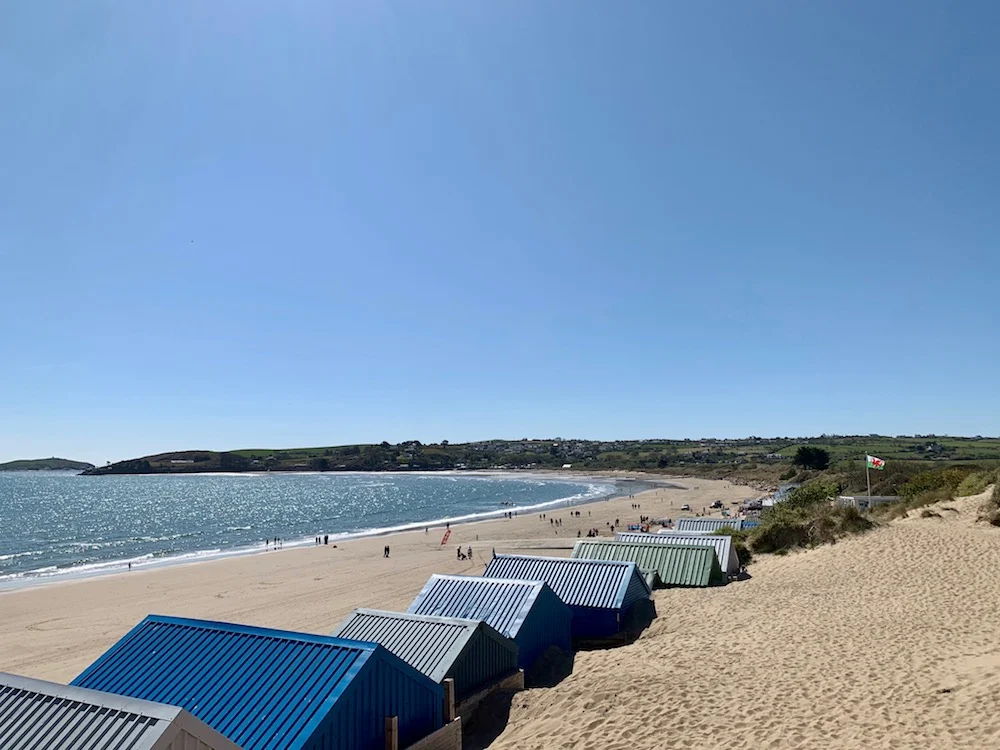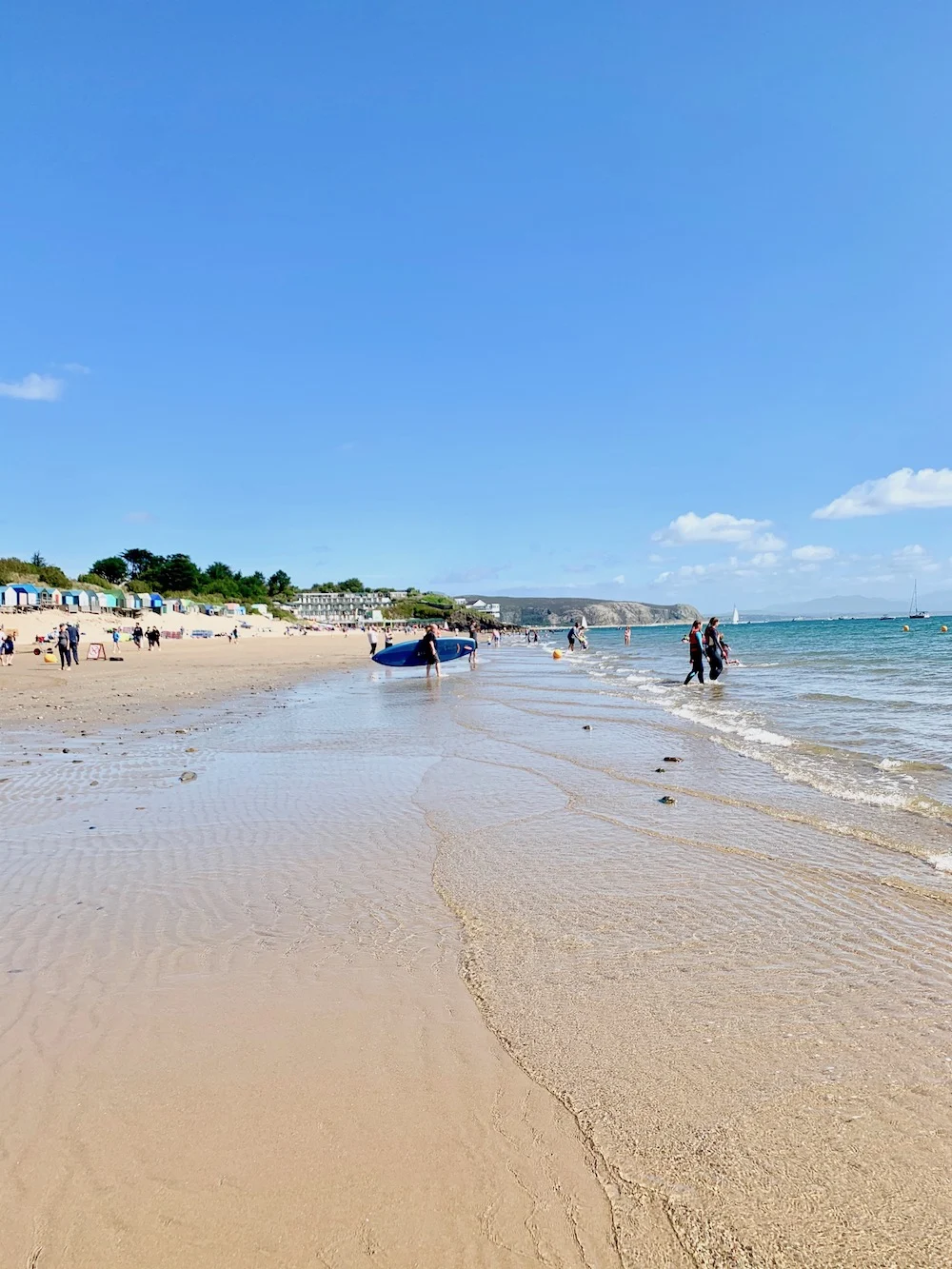 2. Machroes Beach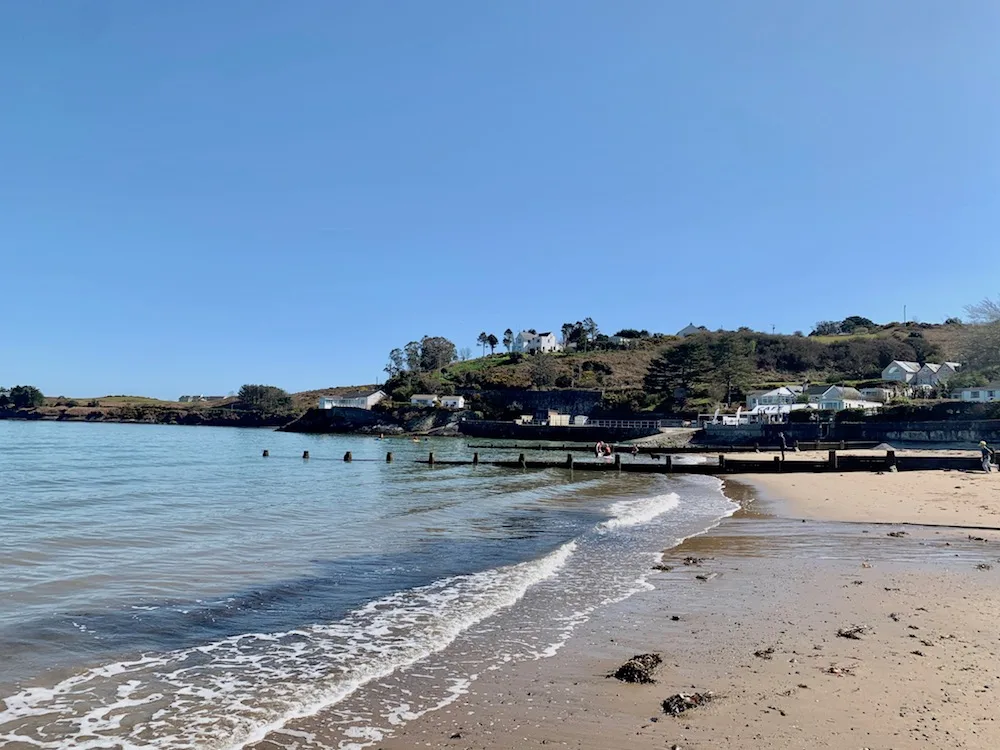 How to get there: There's a small car park near Mickey's Boatyard or you can walk from Abersoch Main Beach
For many people Machroes Beach is the same as Abersoch Main Beach. If you keep walking right from Abersoch Main Beach it eventually becomes Machroes Beach.
While this is the same, long stretch of sand as Abersoch Main Beach, Machroes Beach has a very different vibe. Dogs are allowed on this area of the beach all year round and it tends to be quieter and more relaxed.
The far end of Machroes Beach isn't as pretty as Abersoch Main Beach but this is where I usually come with my family. It's much quieter, there are public toilets, a great cafe and picnic benches on a grassy area (which is very handy if you don't want to be eating in the sand!) An ice cream van is usually parked here during the summer months too.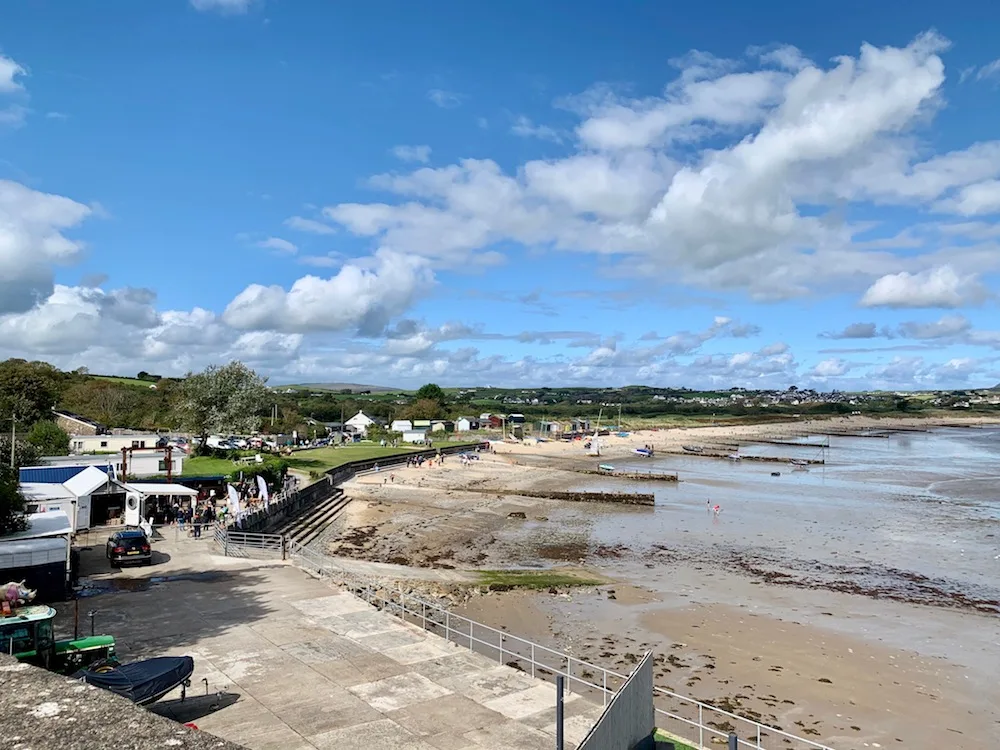 At Machroes Beach you'll find Mickey's Boat Yard and The Little Tea Rooms cafe. (The cafe used to be called Mickey's so if you hear people referring to Mickey's Cafe this is what they mean.) The cafe is lovely and they serve great coffee and ice cream too.
The car park here is small so I highly recommend arriving early if you plan to drive.
When the tide is out there are lots of rock pools here and lots of sea life for kids to explore. At the far end there's also a sort of waterfall which I think is actually just a pipe of water coming off the mountains. It's icy cold but a lot of fun to dunk your head in on a hot day!
The beach is popular for fishing, with mackerel and bass being some of the most commonly caught species. It is also a great place for rock pooling and exploring the local wildlife, including sea birds and marine life.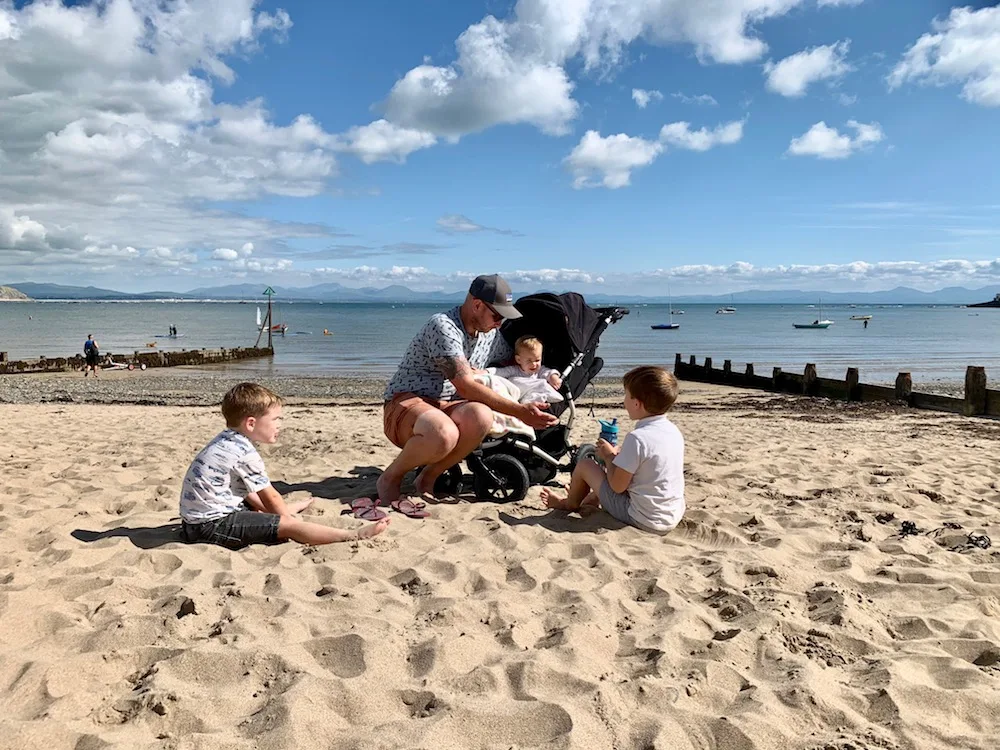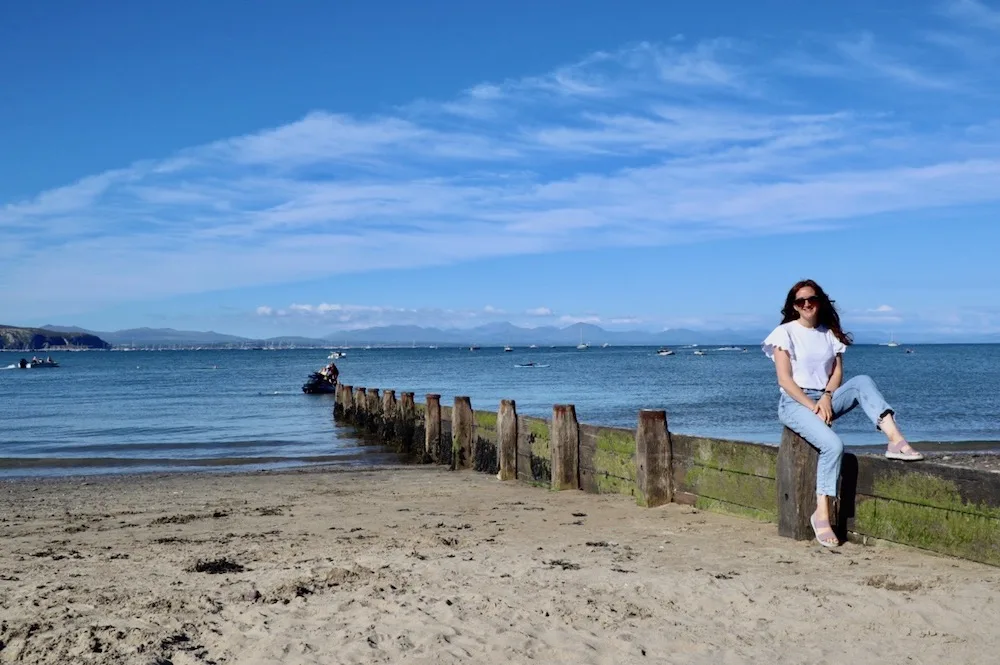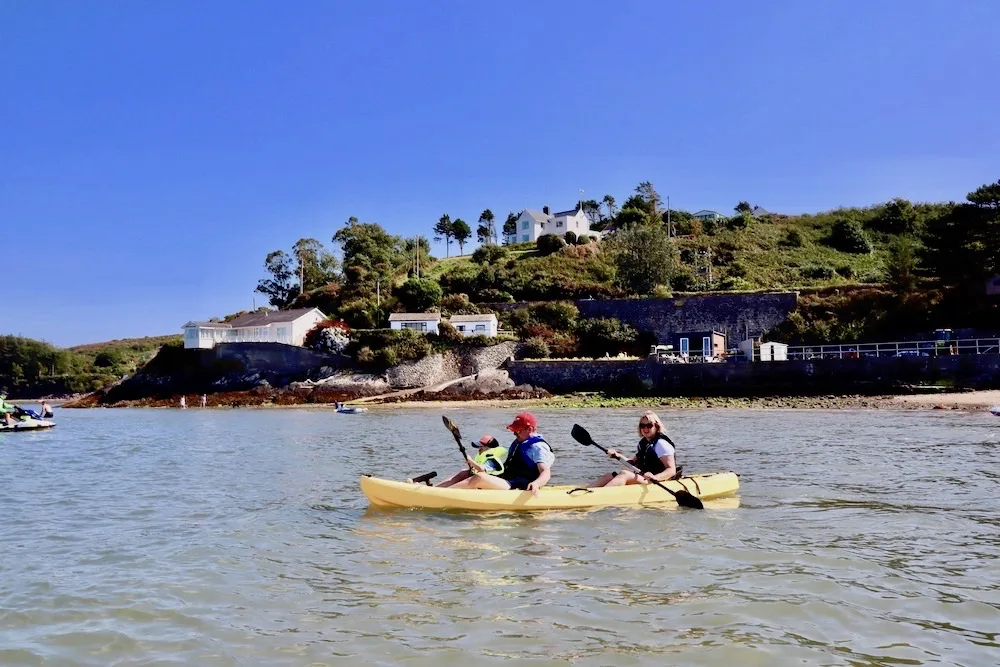 3. Abersoch Harbour Beach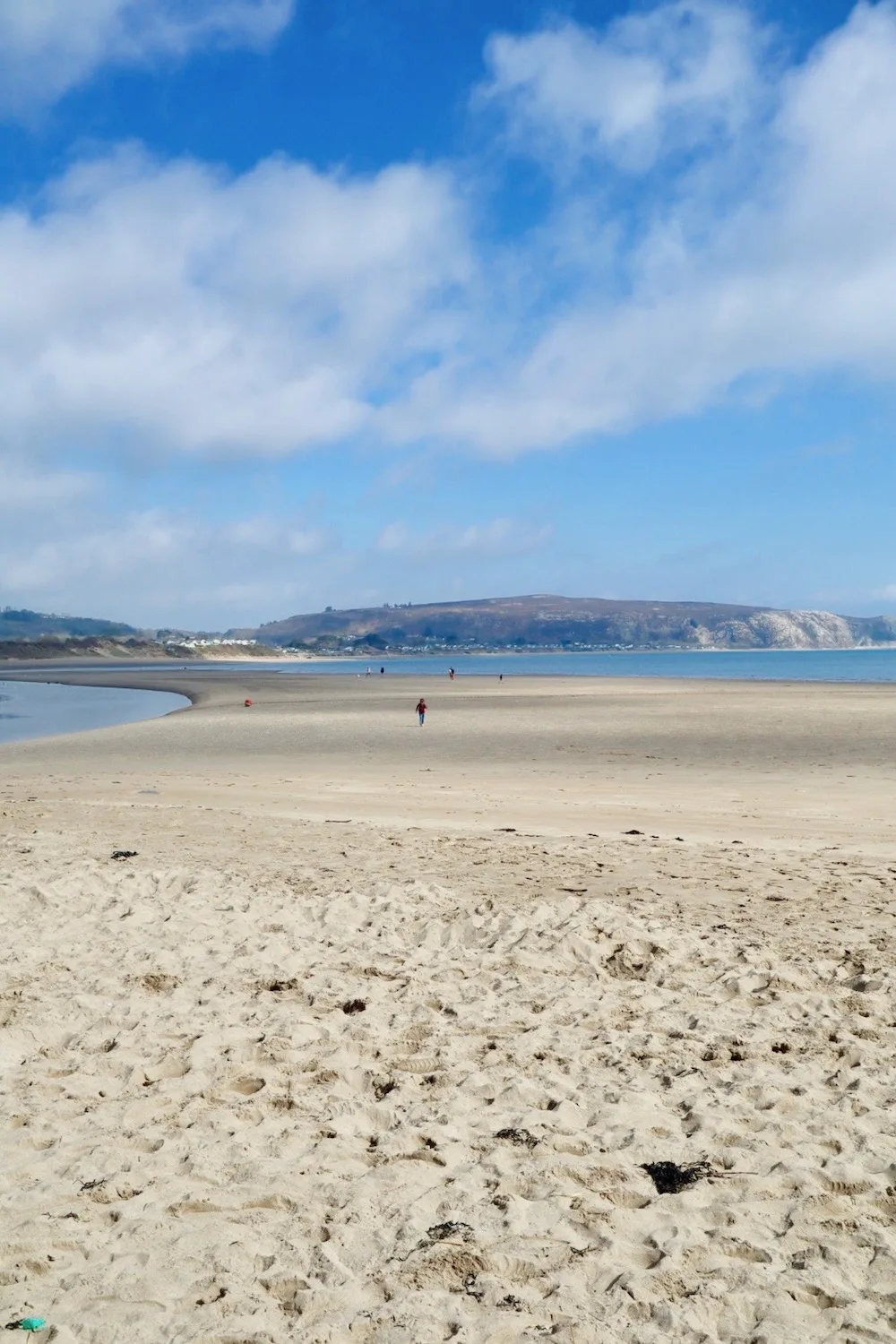 How to get there: Park around the centre of Abersoch and walk
The third beach is Abersoch Harbour Beach where you can watch the tractors pulling the boats in and out of the sea.
A lot of people think they're visiting Abersoch Main Beach when they end up on Abersoch Harbour Beach.
It's a bit more exposed and windy here so this is more the kind of beach for walking rather than sitting and sunbathing.
We like to grab coffees, cakes and ice creams from Two Islands cafe and walk down to the benches overlooking Harbour Beach. If the tide is out, the kids can run wild and this is also a great place for crabbing!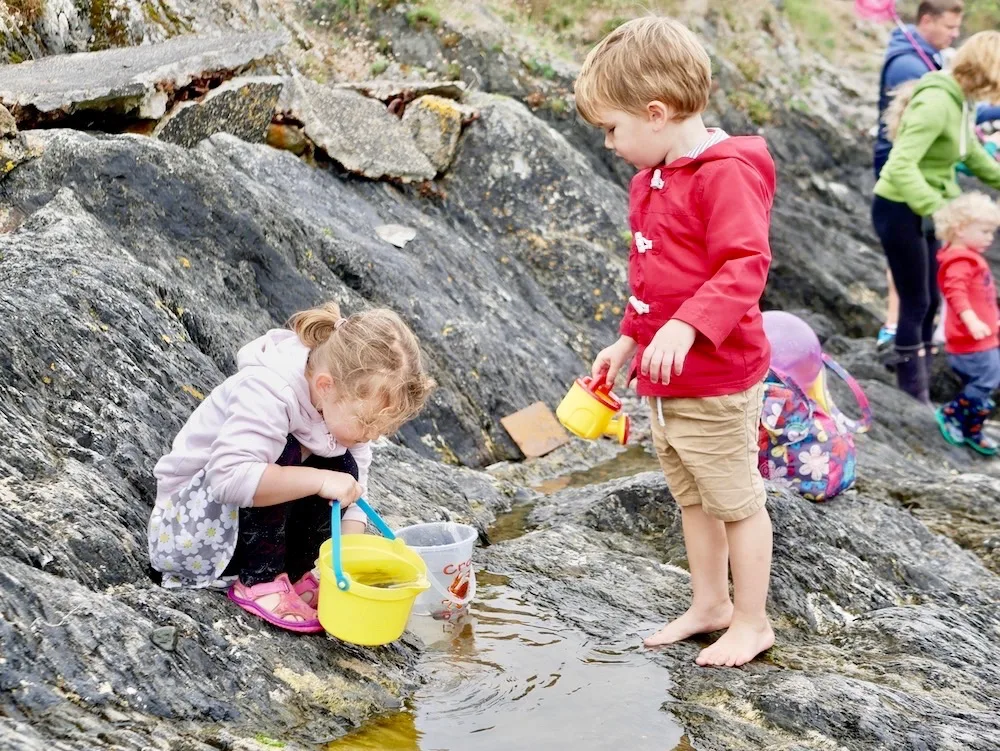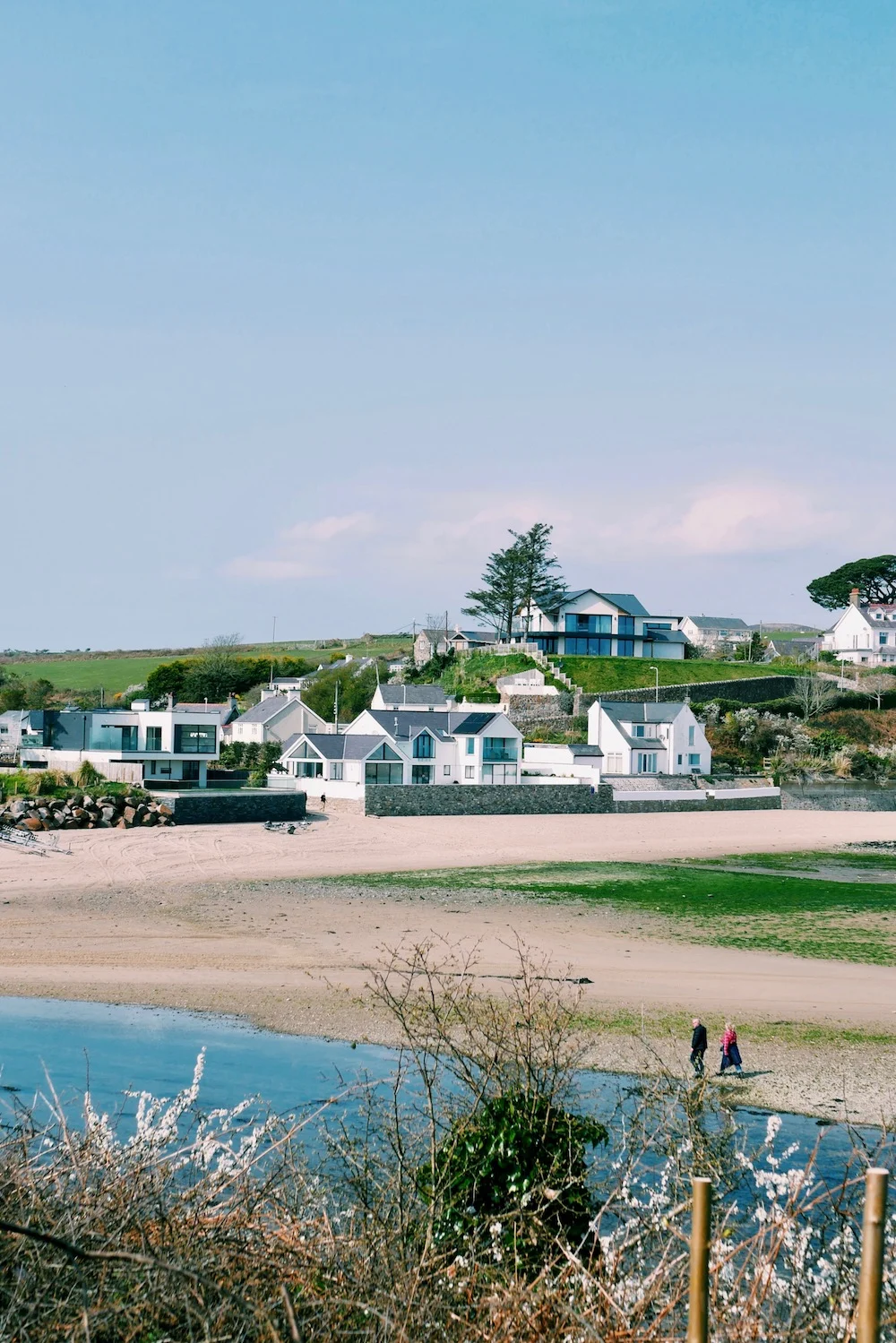 Other beaches near Abersoch
4. Porth Ceiriad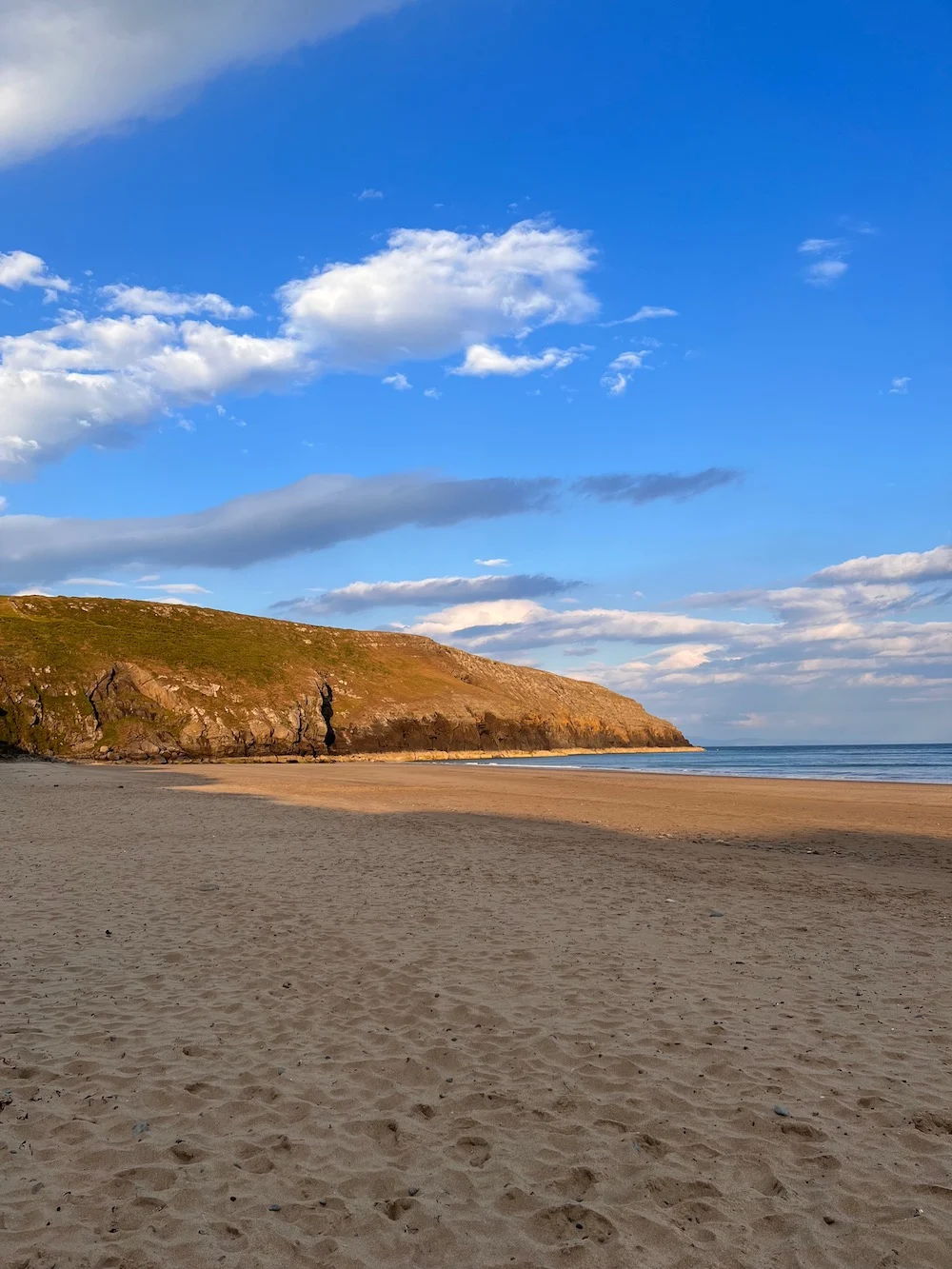 Porth Ceiriad is nearby and it's a gorgeous, unspoilt beach and it's usually much quieter than the busy beaches in Abersoch.
There's a car park at the top of the beach which requires pound coins to pay.
Porth Ceiriad is accessed via a steep path and a bit of a walk from the car park. It's a bit more effort but it's well worth it because the views are incredible and it's this extra effort that ensures it's quieter!
The beach itself is sheltered by cliffs on either side, making it feel like a private, secluded little cove. There are also caves to explore within the cliffs and lots of rocks to climb over which provide hours of entertainment for little ones!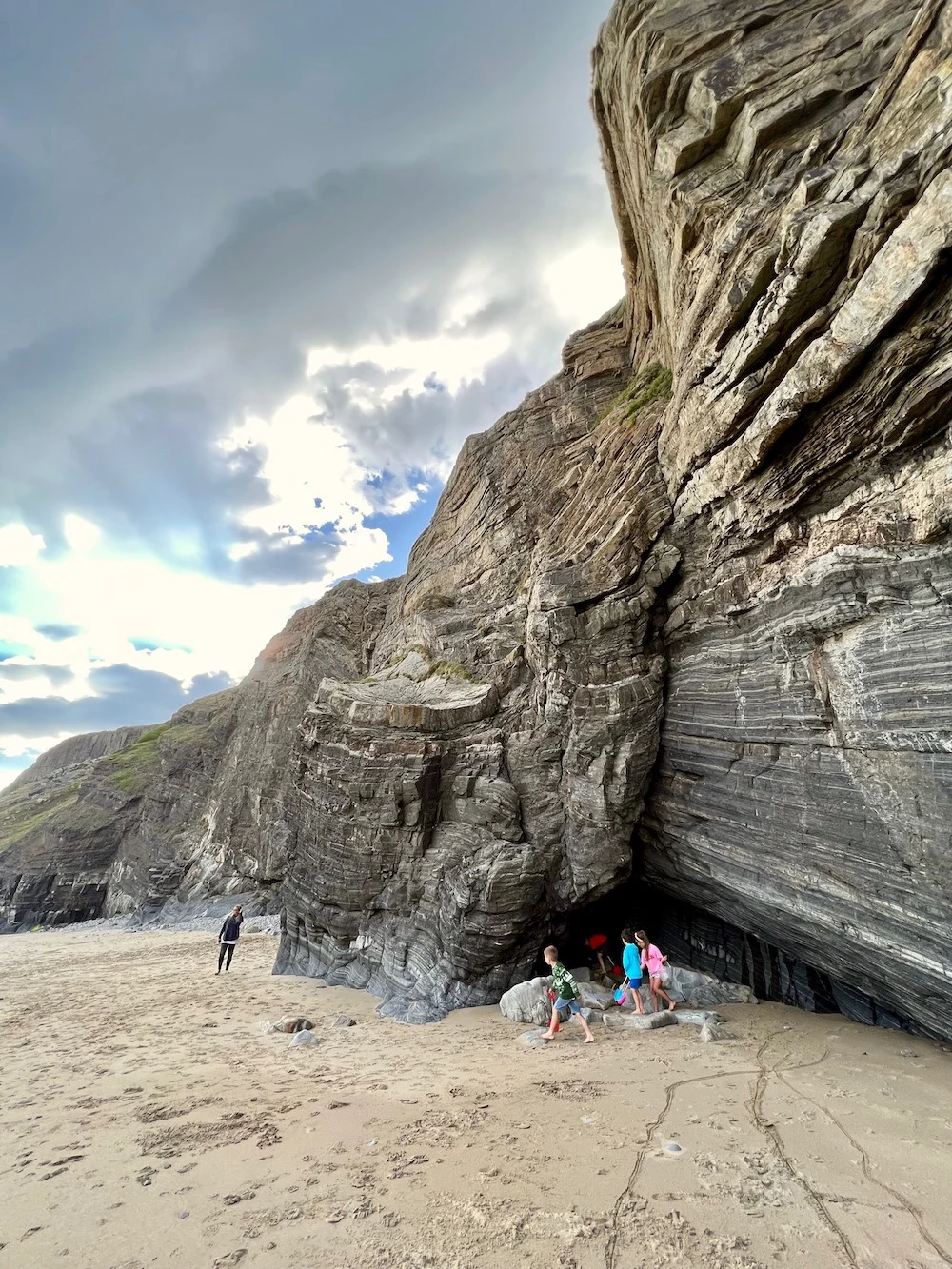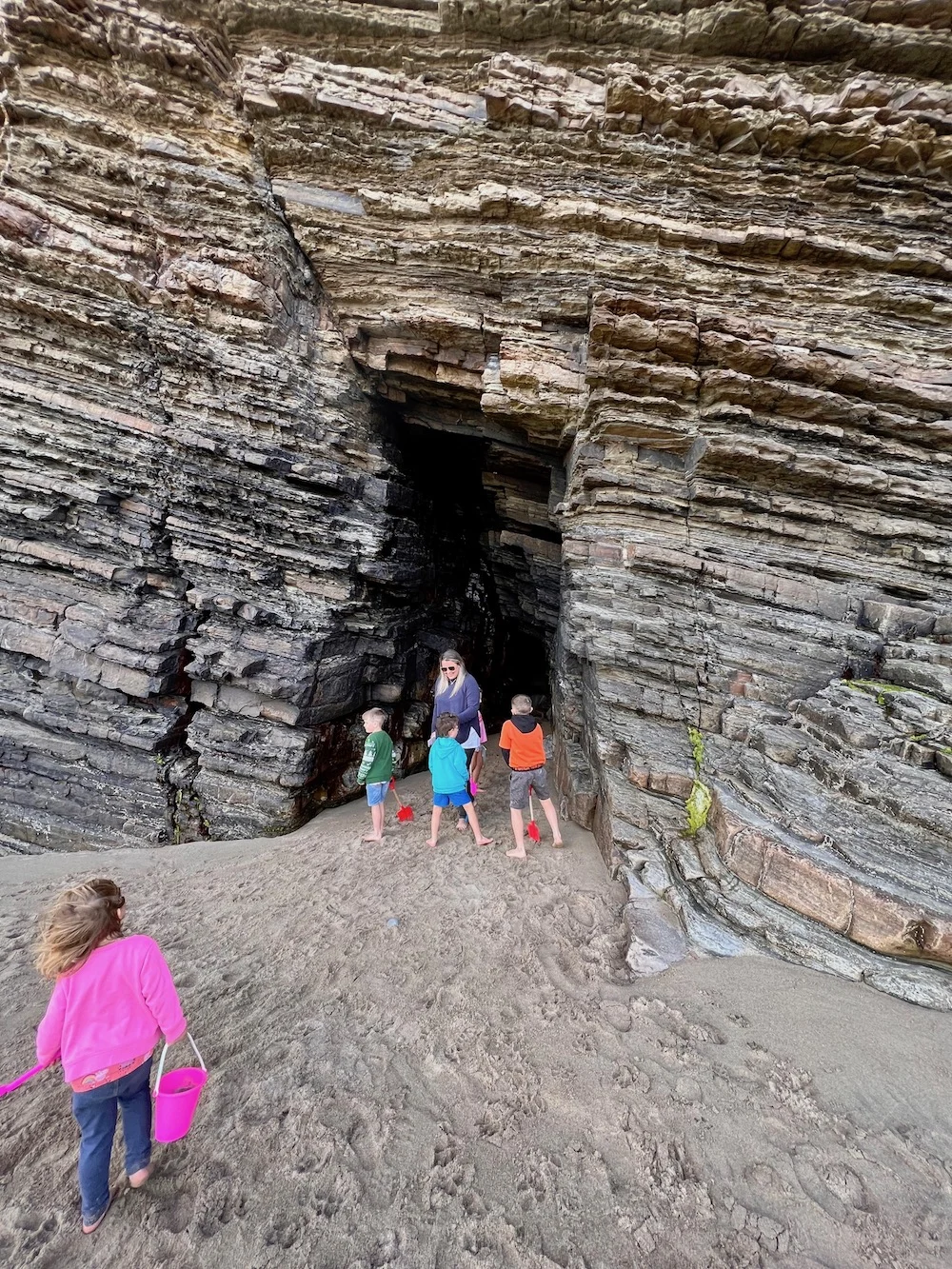 Porth Ceiriad is a popular spot for surfers, with the rolling waves providing ideal conditions for those looking to catch a wave. Depending on the conditions, it's usually a good place for beginner surfers, bodyboarders and kids.
The beach is also great for swimming and sunbathing, and there are plenty of rock pools to explore at low tide.
There are no facilities at Porth Ceiriad with no toilets or cafe.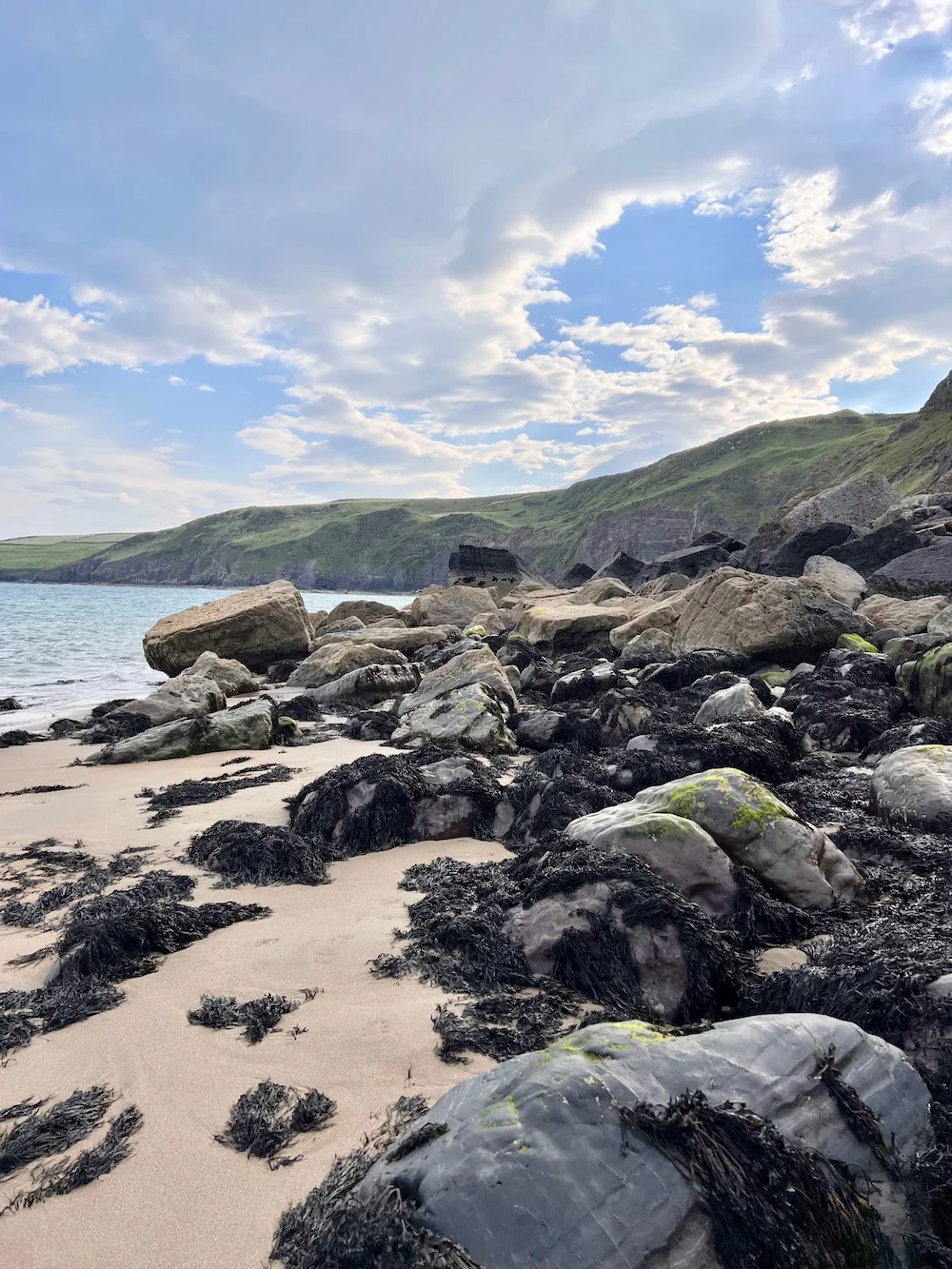 5. Porth Oer /Whistling Sands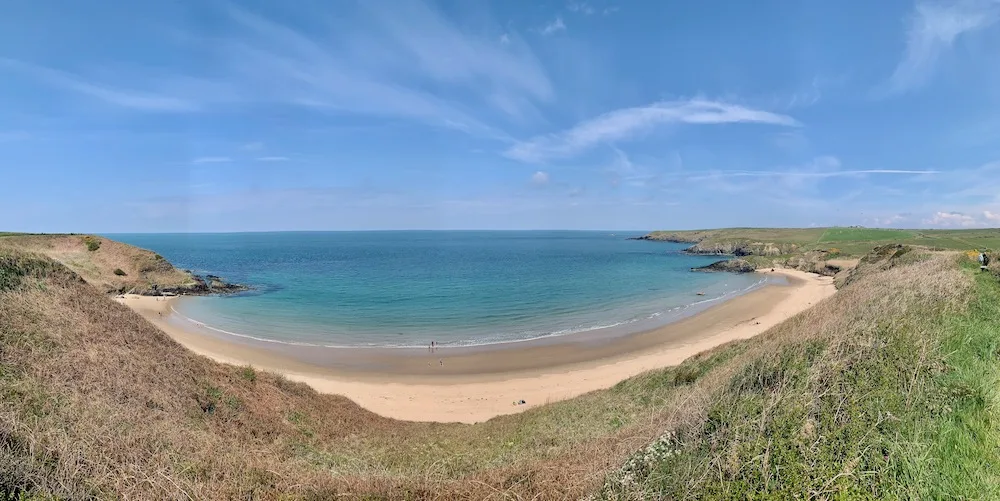 Whistling Sands is BEAUTIFUL! The kind of white sand beach you could easily mistake for somewhere much more tropical than Wales!
This is a National Trust beach near Abersoch, so if you're a National Trust member you can park in the large car park for free.
Whistling Sands is a beautiful, horseshoe-shaped beach known for its unique sand that, when walked on, produces a high-pitched whistling sound, hence its name. The sound actually goes through me but it is pretty cool!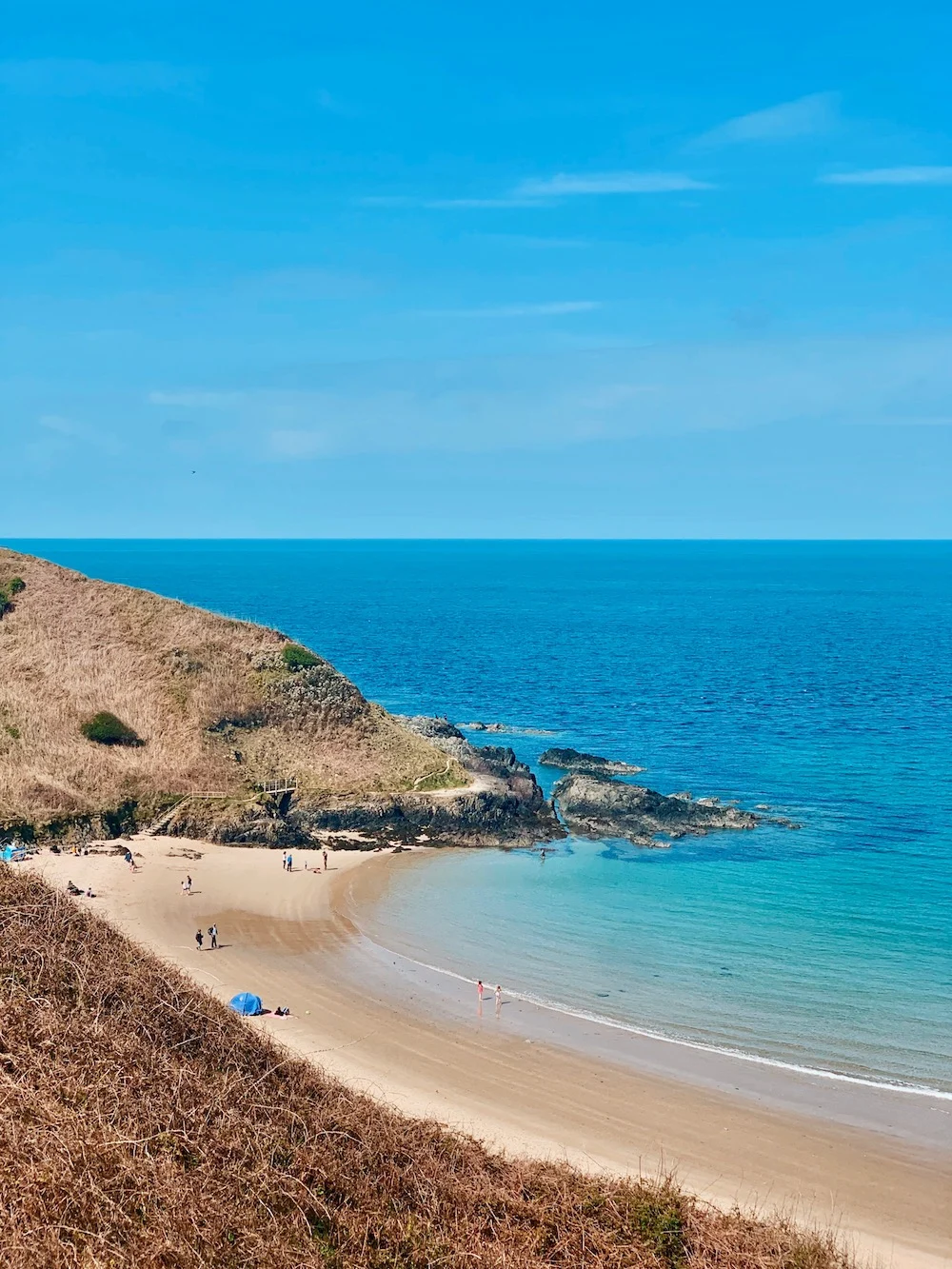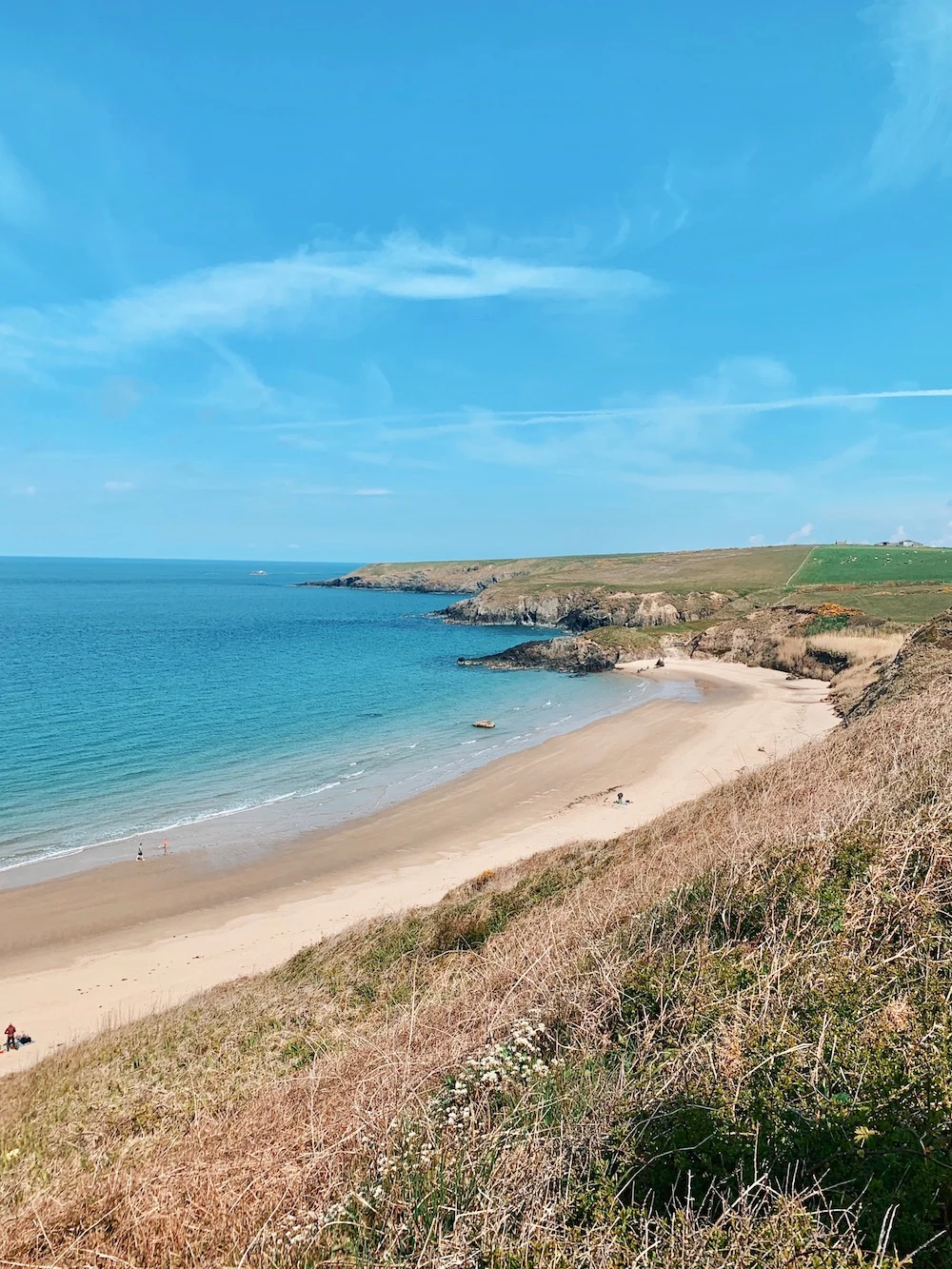 The beach is surrounded by towering cliffs and is accessed via a steep path from the car park. There are a few disabled spots at the bottom but they're limited.
The sand is a mixture of fine and coarse grains, making it perfect for building sandcastles and sunbathing. The clear blue waters are gorgeous and make this beach popular with swimmers, snorkelers and paddle boarders.
There's a seasonal cafe on the beach and there are toilets (nice toilets!) in the car park.
Whistling Sands is a popular spot for walkers, with the Wales Coast Path passing through the beach. There are plenty of scenic walks in the area, including a walk up to the top of Mynydd Tir-y-Cwmwd, which offers stunning views of the surrounding landscape.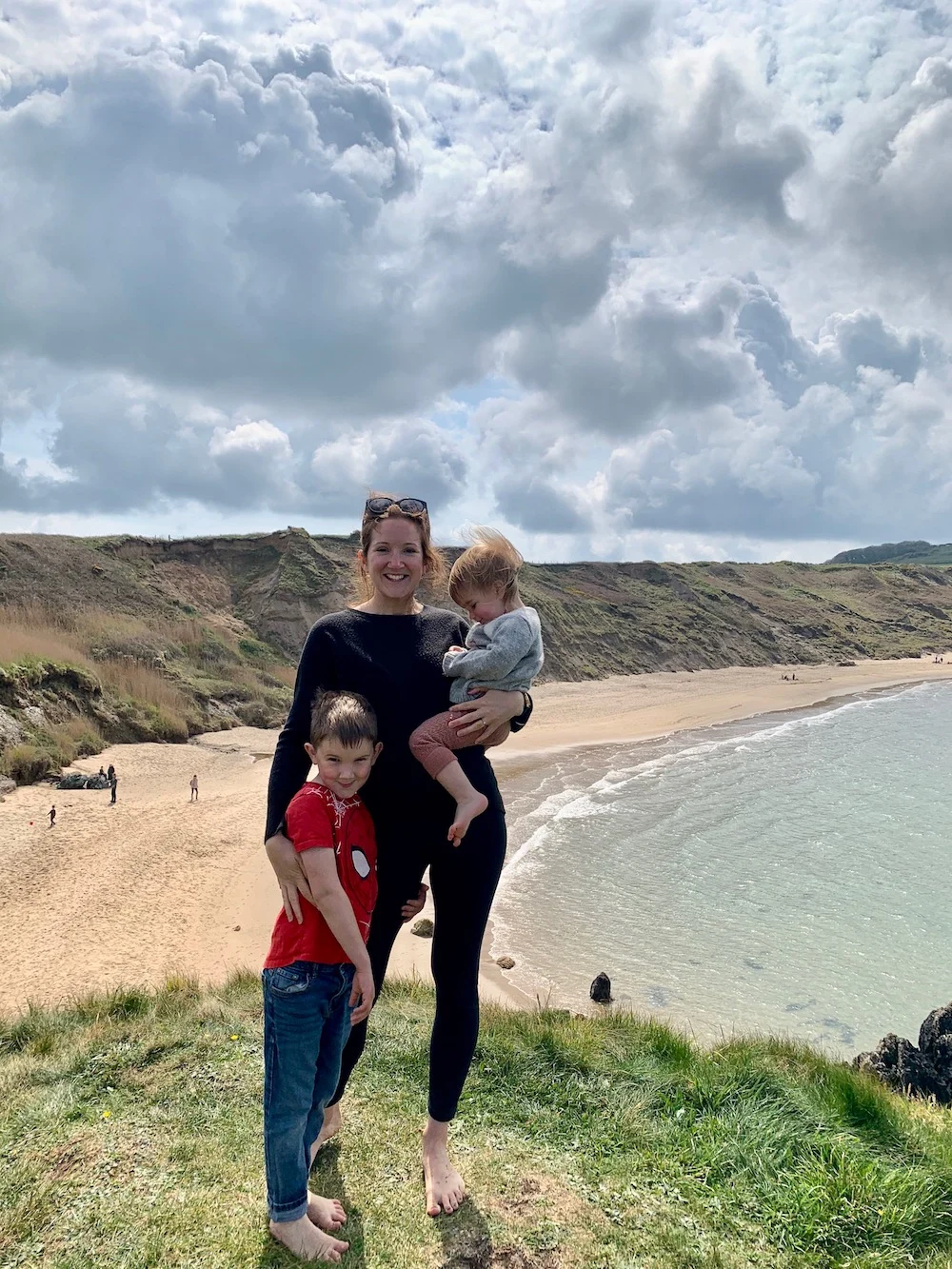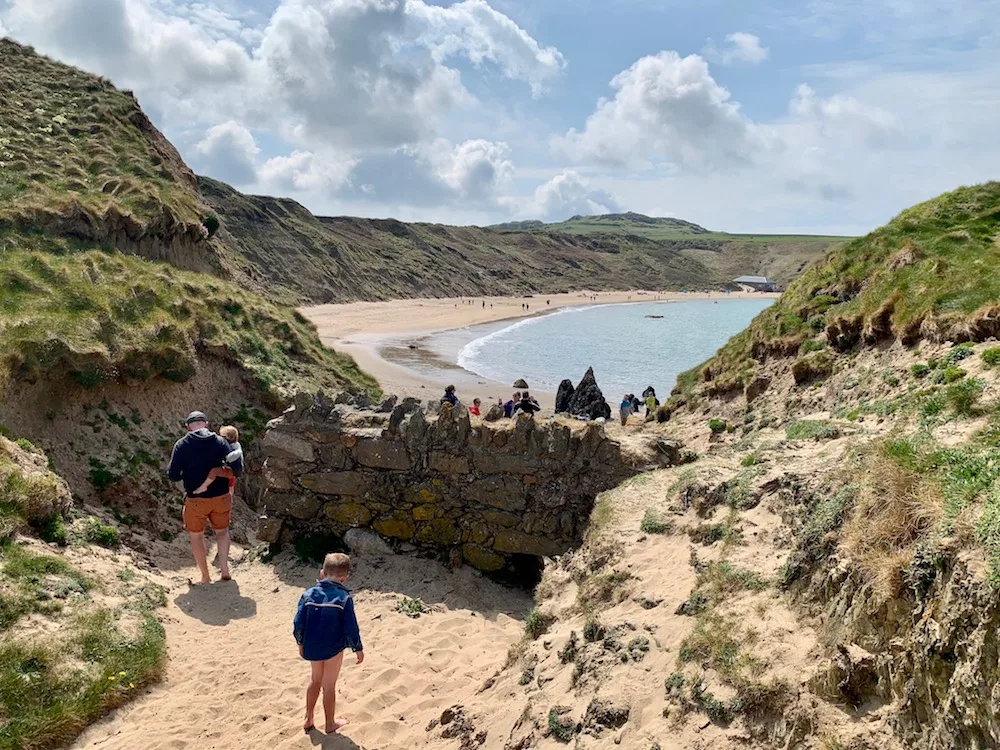 6. Llanbedrog Beach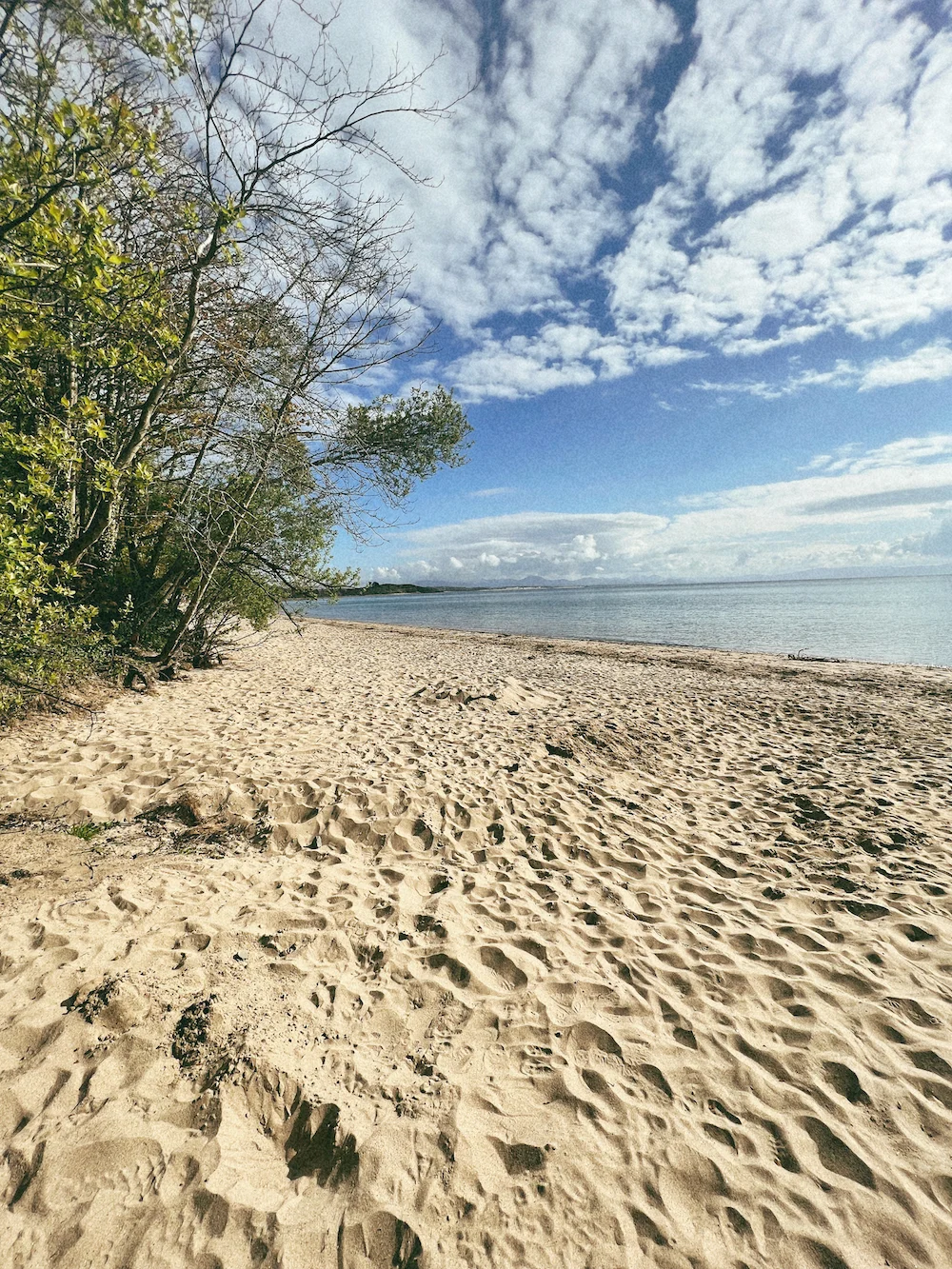 Llanbedrog Beach is probably my favourite beach near Abersoch. It's beautiful, sheltered and calm, but it's also really easy to access (which is really handy if you're normally on your own with three kids and LOADS of beach stuff!)
Llanbedrog Beach is another National Trust beach so if you're a member you can park for free. The car park is just a 3-4 minute walk down the beach but (unless you walk all the way around) there are steps down to the road leading to the beach.
There's a great cafe on Llanbedrog Beach and pretty good beach toilets near the car park. There's also a National Trust warden in the car park during peak season and they usually have National Trust adventure packs for kids to borrow.
The sea at Llanbedrog Beach is really calm so it's great for swimming, snorkelling and paddle boarding.
If you're feeling active, you can walk up to the Tin Man from Llanbedrog Beach. It's a steep 10-15 minute walk up to the top where the Tin Man awaits and you'll have great views over the beach and the colourful beach huts below.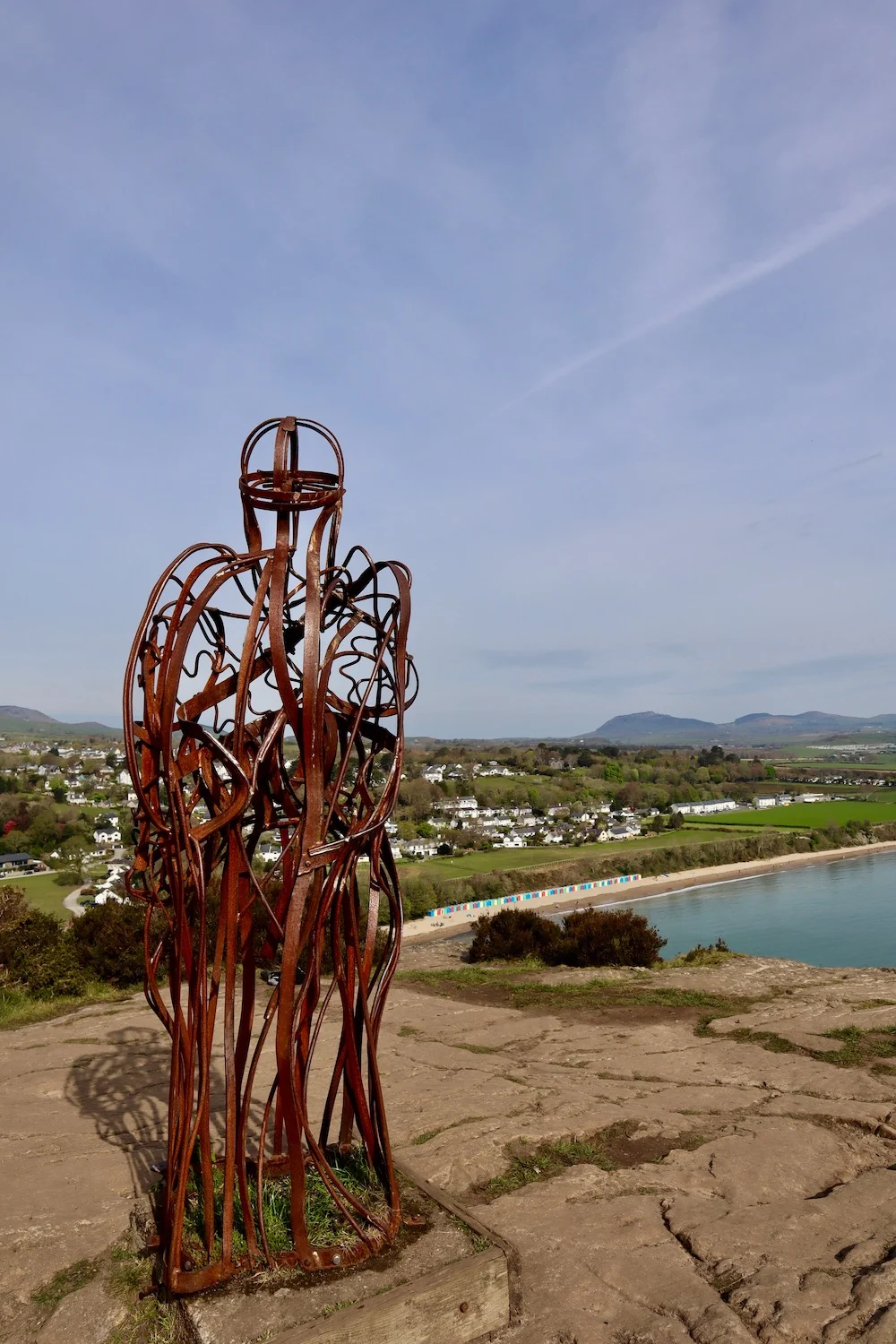 The Tin Man is a large metal sculpture, standing at over 30 feet tall. He was first erected in 2007 as part of the Ll?n Peninsula Arts Festival and has since become a popular landmark and tourist attraction.
From the Tin Man you can keep walking along the headland and do a beautiful, circular walk that will bring you back to The Ship Inn, a lovely pub that serves a great Sunday roast!
You've also got Plas Glyn y Weddw Gallery next to Llanbedrog Beach. It's a stunning building and is one of the oldest art galleries in Wales. Head inside to see what's on display, admire the gardens or get some lunch at the cafe inside.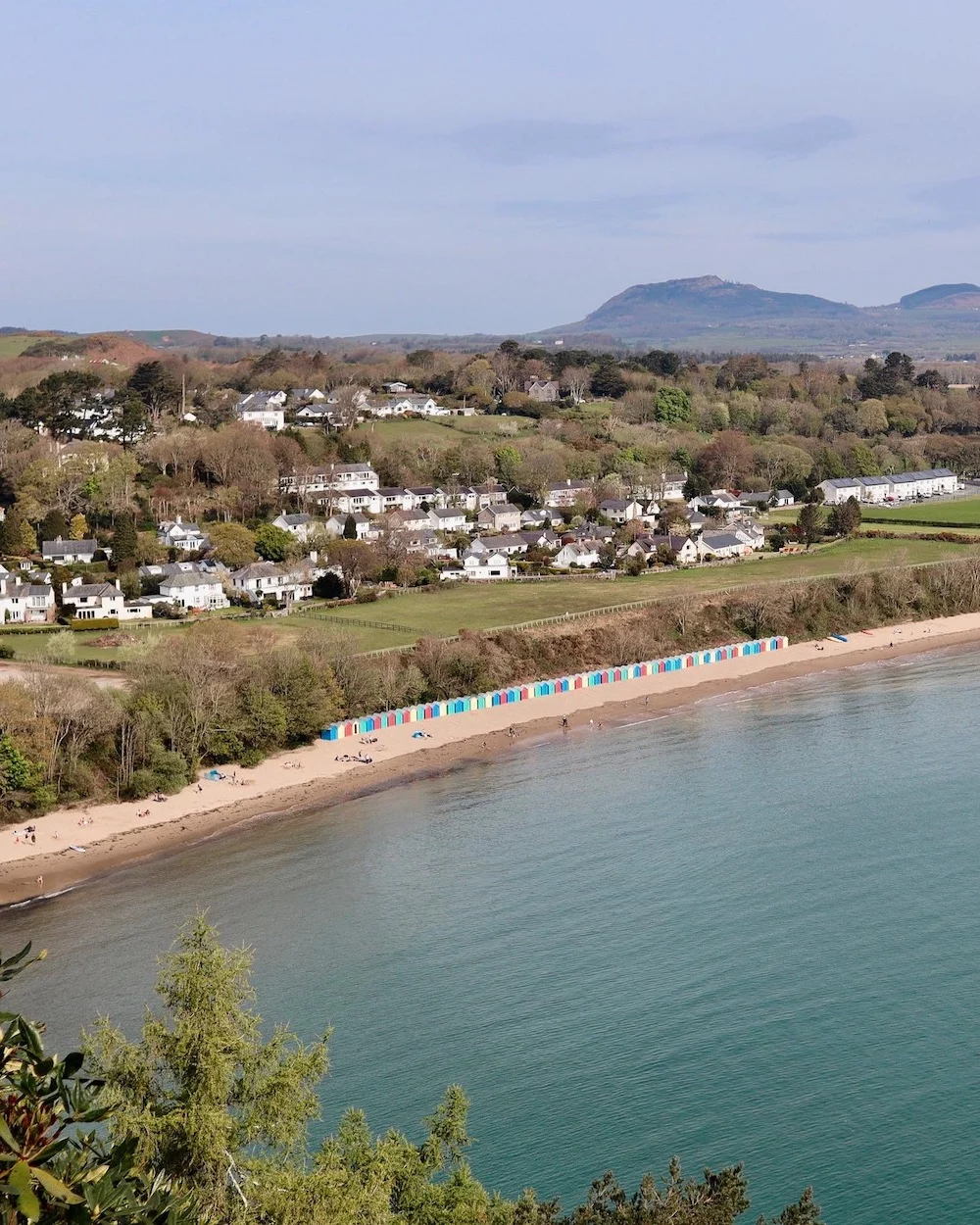 Tips for visiting Abersoch's beaches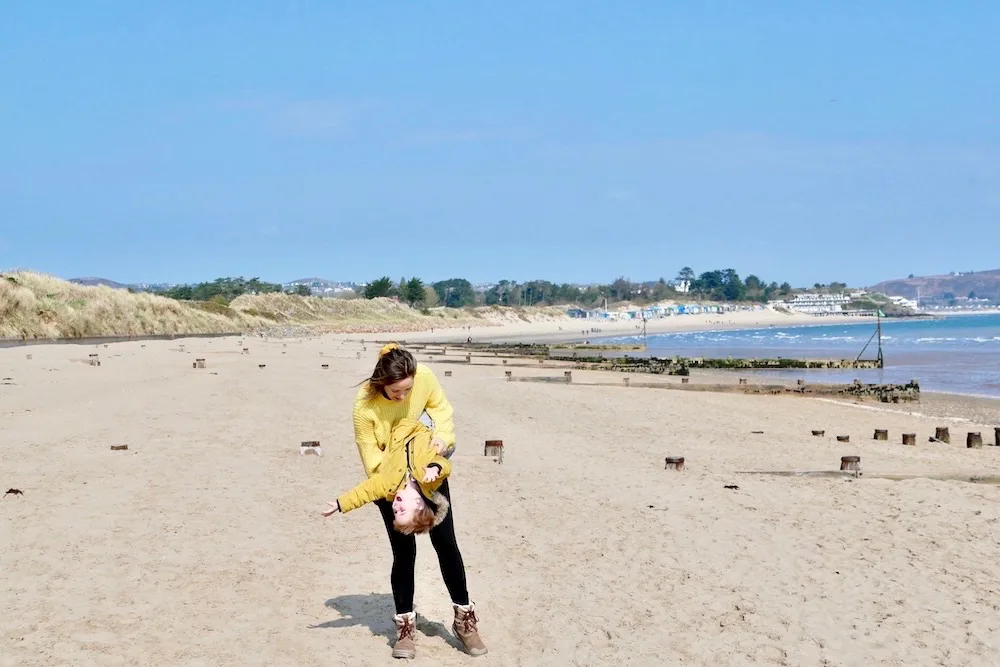 If you're visiting Abersoch beaches during the busy summer months, GET THERE EARLY!
If it's a sunny weekend you'll often find the car parks are full by 11am and you might even struggle to find a nice spot on the beach.
It's also worth having some cash (preferably pound coins) because some car parks only take cash or a local farmer may open a field as an overflow car park which will be cash only.
Take some toilet roll. The toilets are normally fairly clean (for beach toilets) but they sometimes run out of toilet roll.
The best beaches for children and families around Abersoch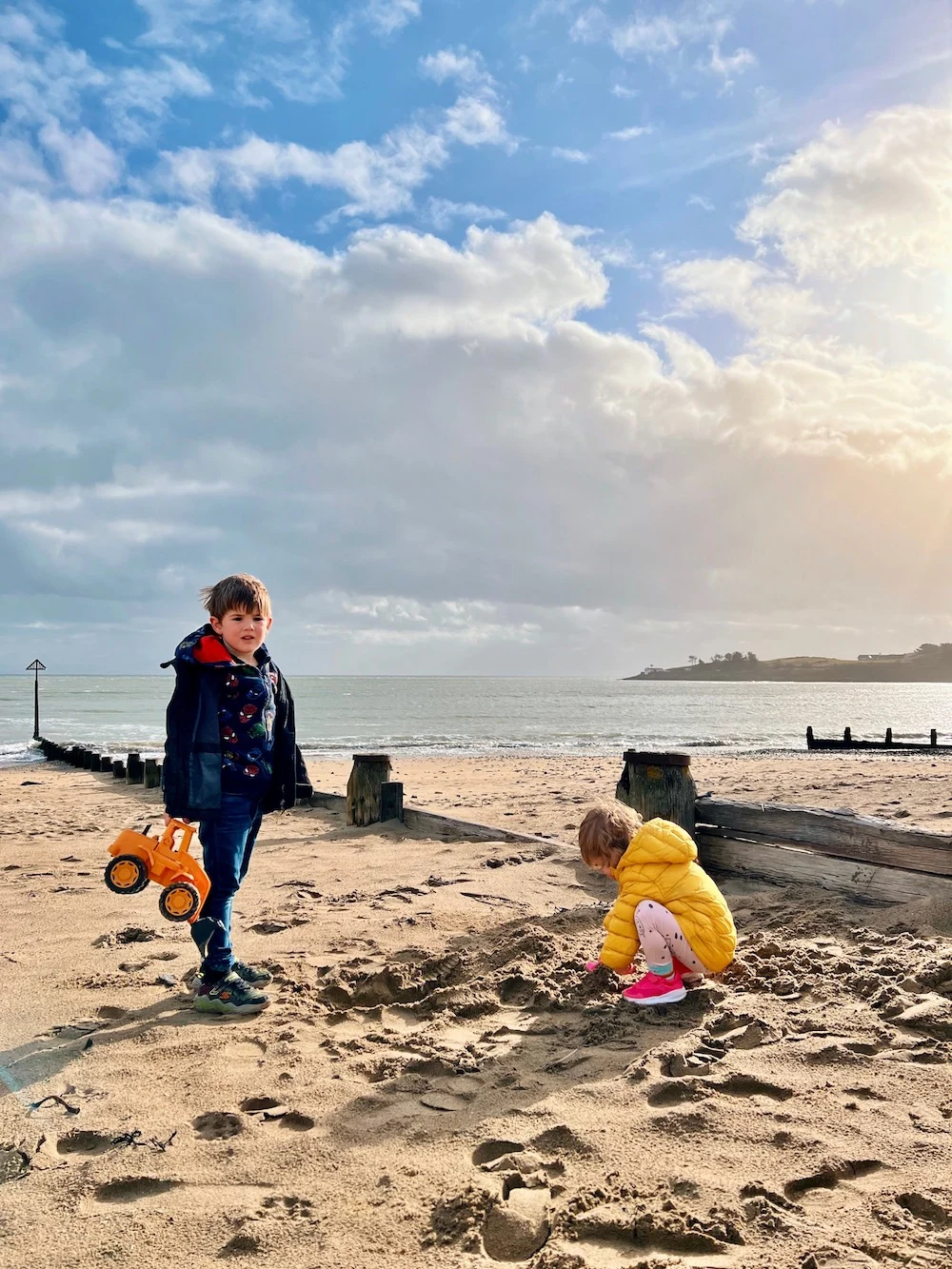 All of the Abersoch beaches I've listed are great for children and families but my two favourites would be:
Llanbedrog Beach – because it's easy to park close to the beach and there are nice toilets, a cafe and the beach is sheltered and calm.
Abersoch Main Beach to the left of the slip – Again, you can park nearby, there are toilets and a cafe and it's an easy walk into the village.
Dog friendly beach in Abersoch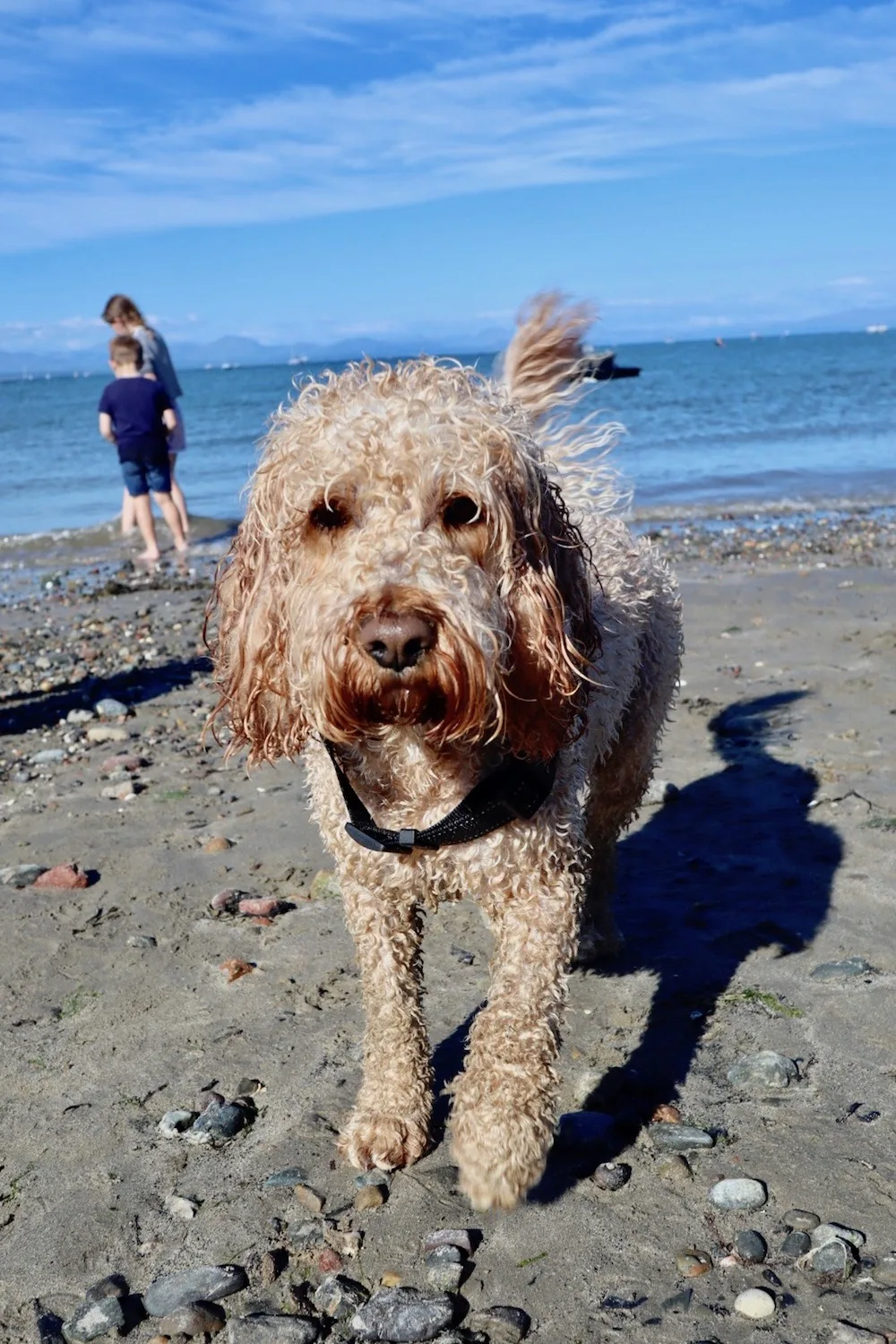 My favourite beach for a good dog walk in Abersoch is if you start at Abersoch Main Beach, turn right at the slip and walk all the way along to Mickey's Boatyard. Dogs are allowed along this stretch of beach throughout the year.
What's the sea like in Abersoch?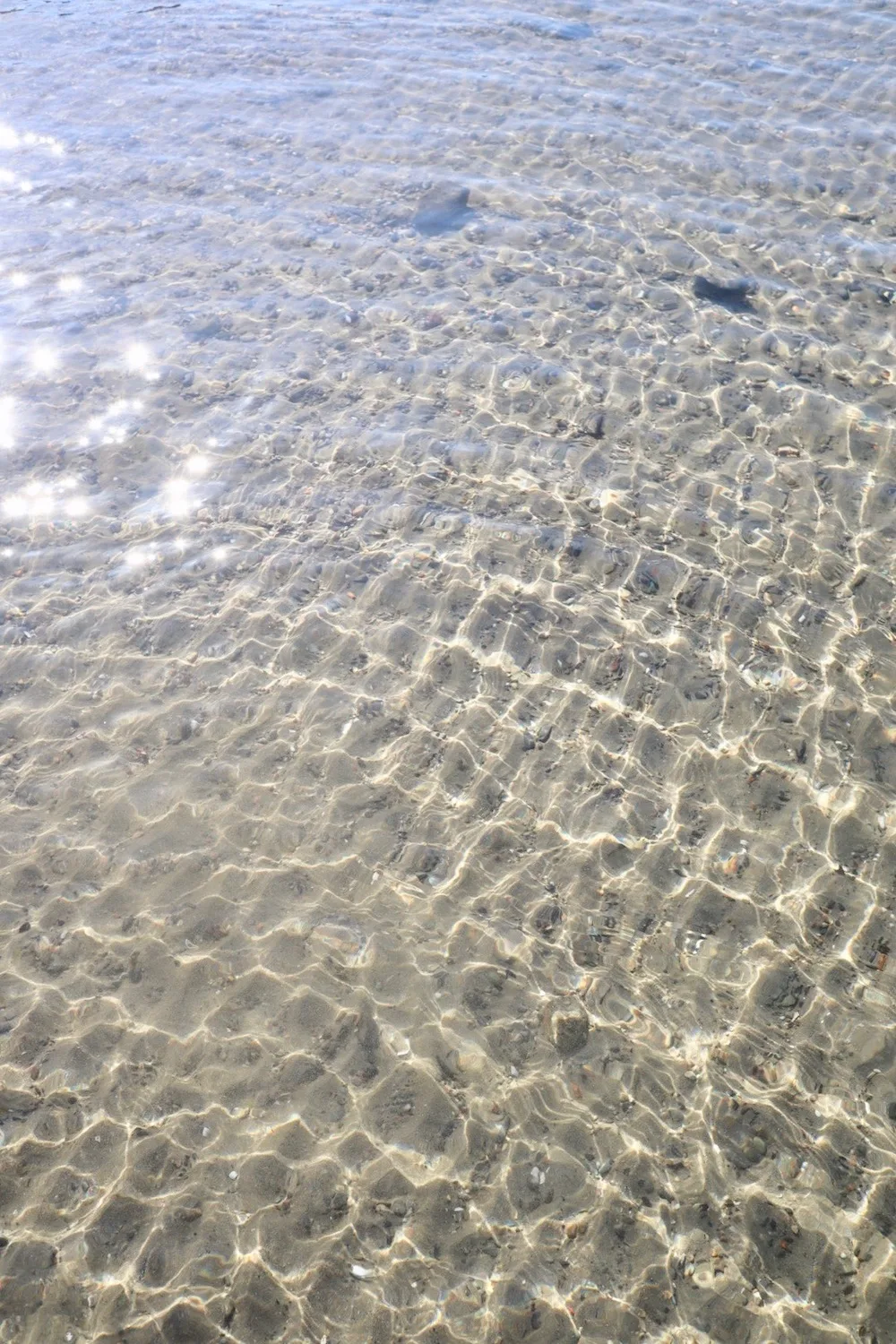 The sea is gorgeous around Abersoch. Of course, this is the UK so it is chilly but on a warm summers day you'll find lots of people swimming and splashing about in the sea. The clarity of the water can often depend on the weather but when it's calm and still the sea is beautifully clear.
If you want to see the sea when it's still and glassy, you're best heading to the beach early in the morning.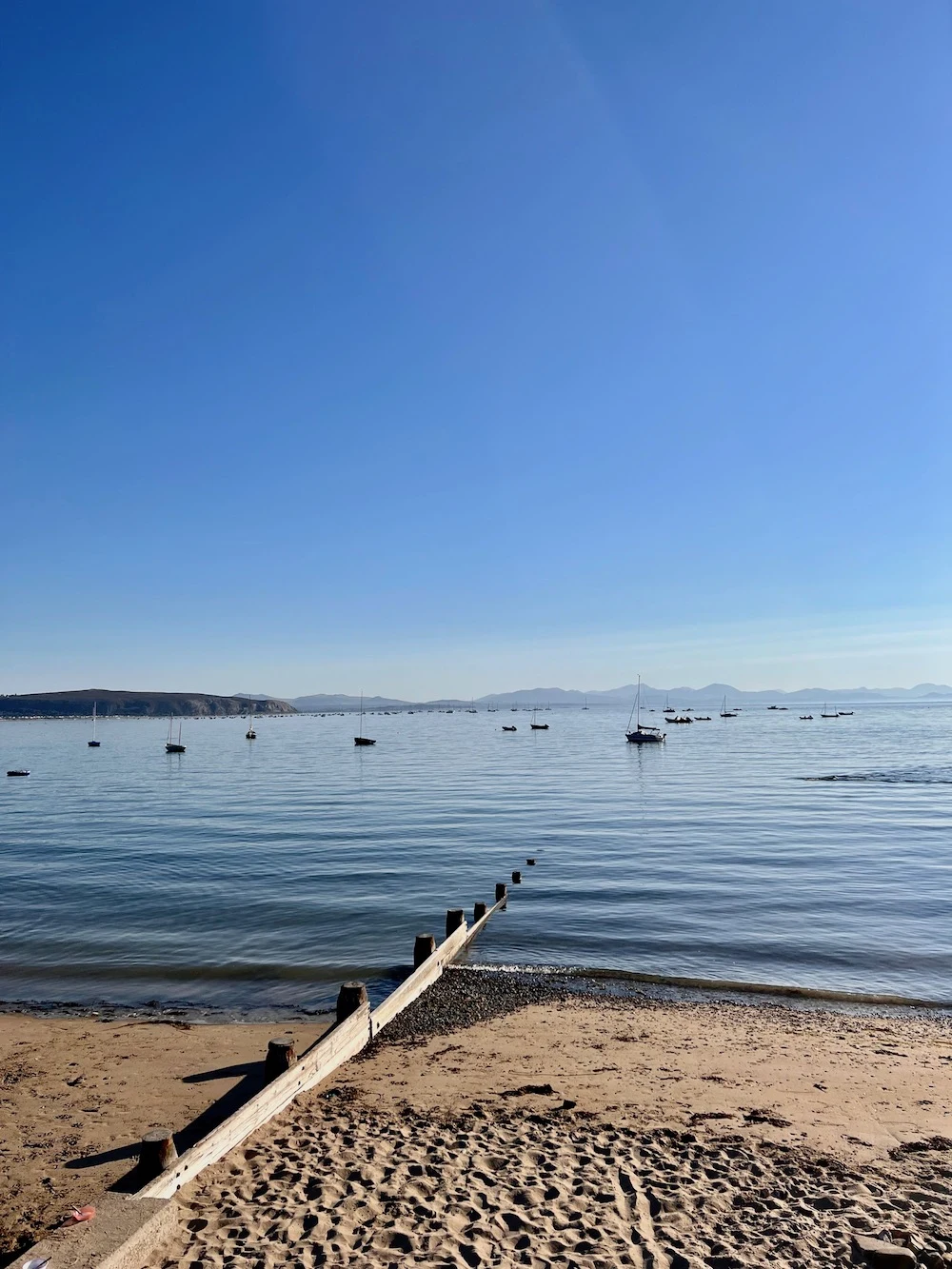 Can I visit the Warren Beach?
7. The Warren Beach
The Warren Beach stretches along The Warren, an exclusive holiday park on the outskirts of Abersoch, but the beach can be accessed by the public.
You can get to The Warren Beach by a footpath from the main road just outside of Abersoch. As you drive into Abersoch you'll see roadside parking spaces off the road and the footpath is on the other side.
During very low tide you can also walk to the Warren Beach from Llanbedrog Beach or Abersoch Harbour Beach. Don't worry too much about getting caught out by the tide as you can walk back via the road.
Other beaches near Abersoch
Of course, there are more beaches near Abersoch.
8. Hell's Mouth
Best for surfing.
9. Aberdaron Beach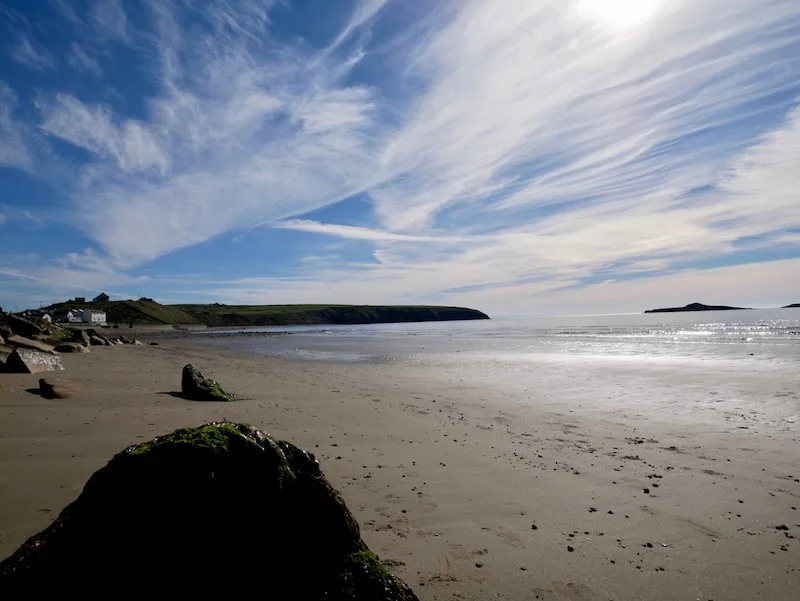 Get lunch in the pretty village of Aberdaron.
10. Morfa Nefyn Beach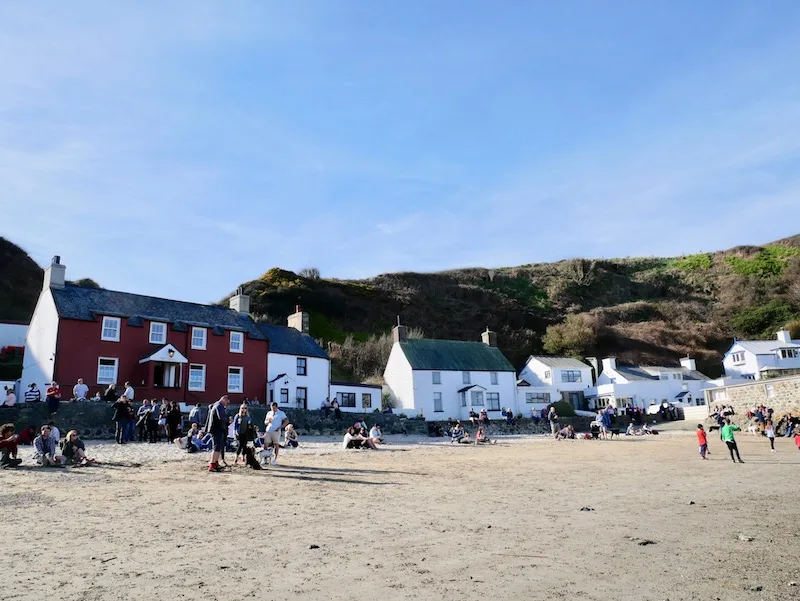 Best for a pint at the famous Ty Coch Inn.
11. Porth Iago Beach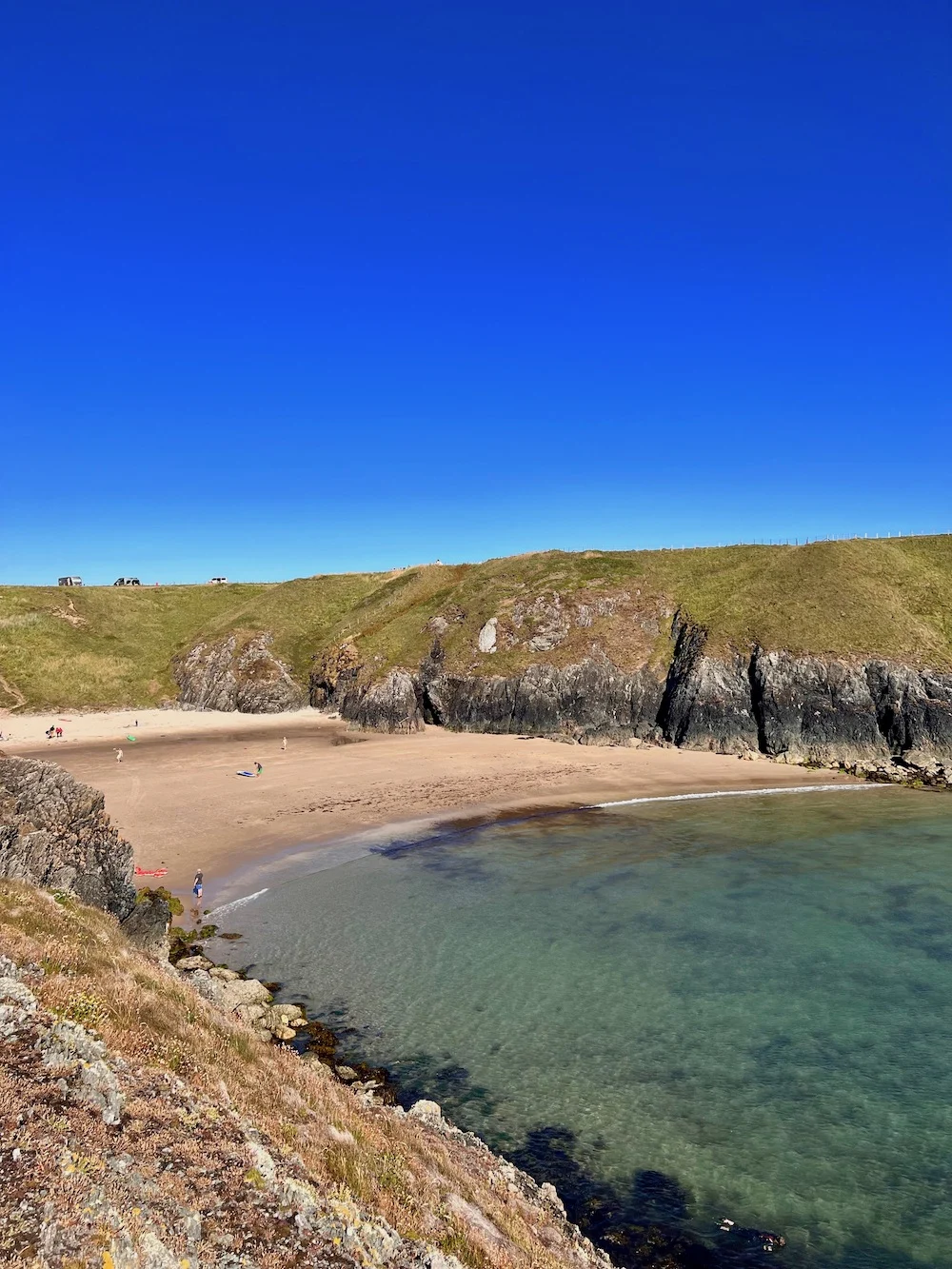 A hidden gem! Read my guide to Porth Iago here.
12. Porth Colmon
A secluded, quiet and peaceful beach.
Read more of my posts about Abersoch's best beaches…
Which of Abersoch's beaches are best for paddle boarding?
You can paddleboard from all the of the beaches I've mentioned above, although Hell's Mouth would be the most difficult unless it's a VERY calm day.
My favourite beach near Abersoch for paddle boarding is Abersoch Main Beach or Llanbedrog.
Both of these beaches are best for an early morning paddle when the water is still and calm. They're also good beaches because you can park just a short drive from the shore so you won't need to carry your board too far.
You can read about my women's paddle boarding kit and clothing here.