Here's my review of The East London Hotel in London. Affordable luxury at its best at the new east London hotel.
This is different.
Walking through the slick doors into The East London Hotel and it just felt different. Good different.
It's more like walking into a stylish little café bar than a hotel reception. Stylish locals sat at the wooden benches while drinking flat whites and tapping away at their macs. Bare bulbs and exposed brick walls give it that classic east London hipster vibe but it's that cosy glow that invites you inside to make yourself at home.
I made my way to the self-service check-in machines but I was a little early and someone came over immediately, bringing me a pot of tea and welcoming me to sit down.
I told you this was different!
Now this is much nicer than the corporate vibe of most hotel lobbies.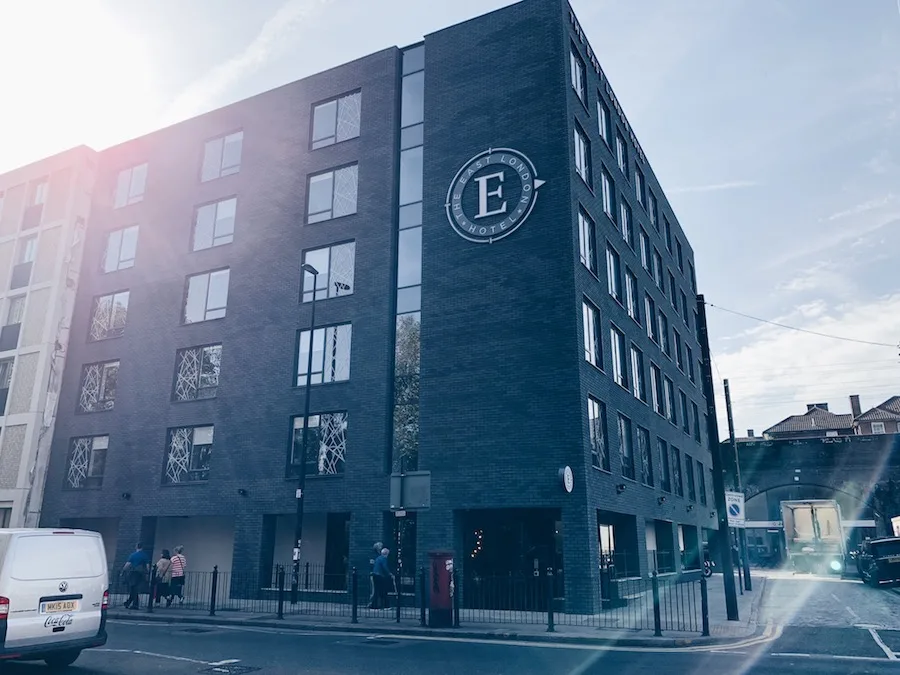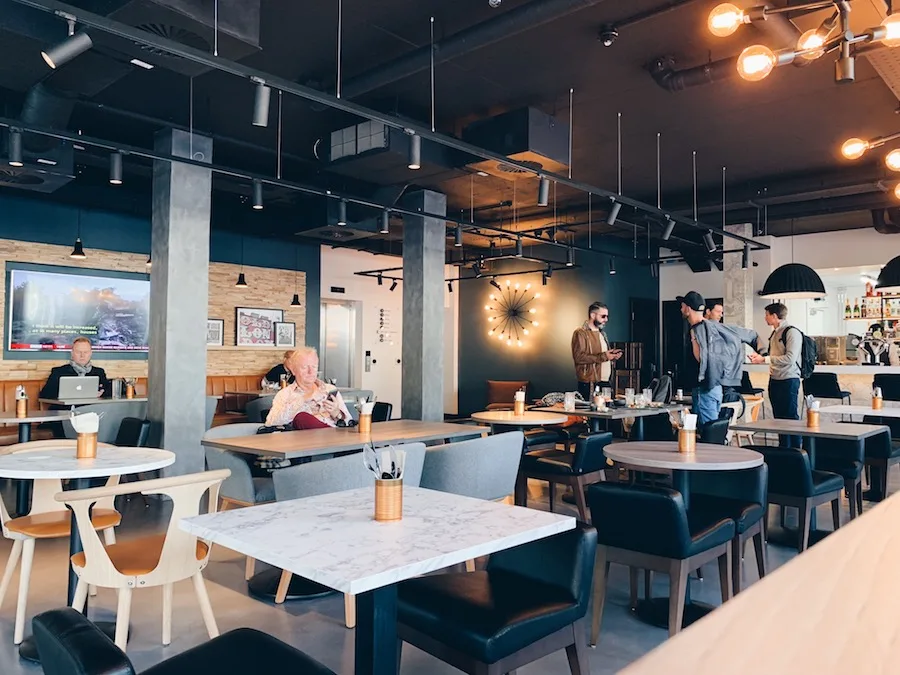 The hotel officially opened on October 1st and there was still a feeling of 'learning on the job' (during my visit on October 4th). That's not a criticism there. I've worked in hospitality myself and I know you can't learn to run a hotel or restaurants until you have real guests.
It was busy when I arrived and the guy on reception proudly told me how busy they were, and it was lovely to see he was genuinely pleased to see the new hotel doing so well. He showed me up to my room, carrying my bags and telling me all about the East London Hotel on the way up. Once in my room he left quickly (there's nothing more awkward than when they linger for 10 minutes to show you how to work the blinds and the aircon and the TV – like you've never turned a TV on before!) and another guy quickly arrived to ensure I had enough Nespresso pods and snacks.
Again, that's different.
It's so nice to have someone help you to your room and carry your luggage and even nicer when they're not stingy on the coffee pods!
My room was small but stylishly designed with a huge window so it was light and airy. The room, especially the bathroom, had a high-end feel and the bed was super comfy and the bedding and towels were so soft and fluffy. As in, so fluffy I'd like to ask the housekeeping team how they manage that!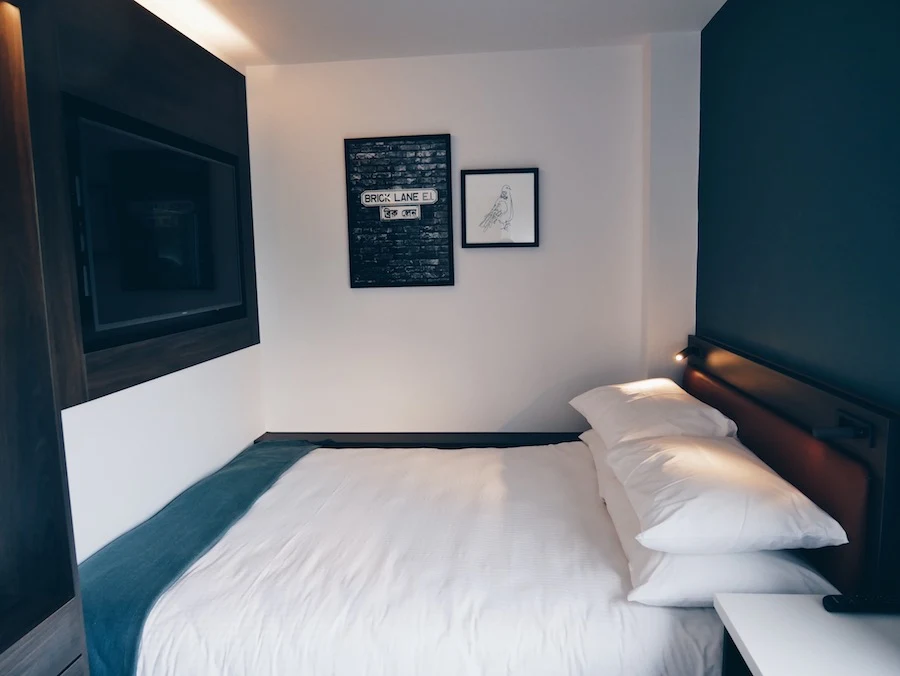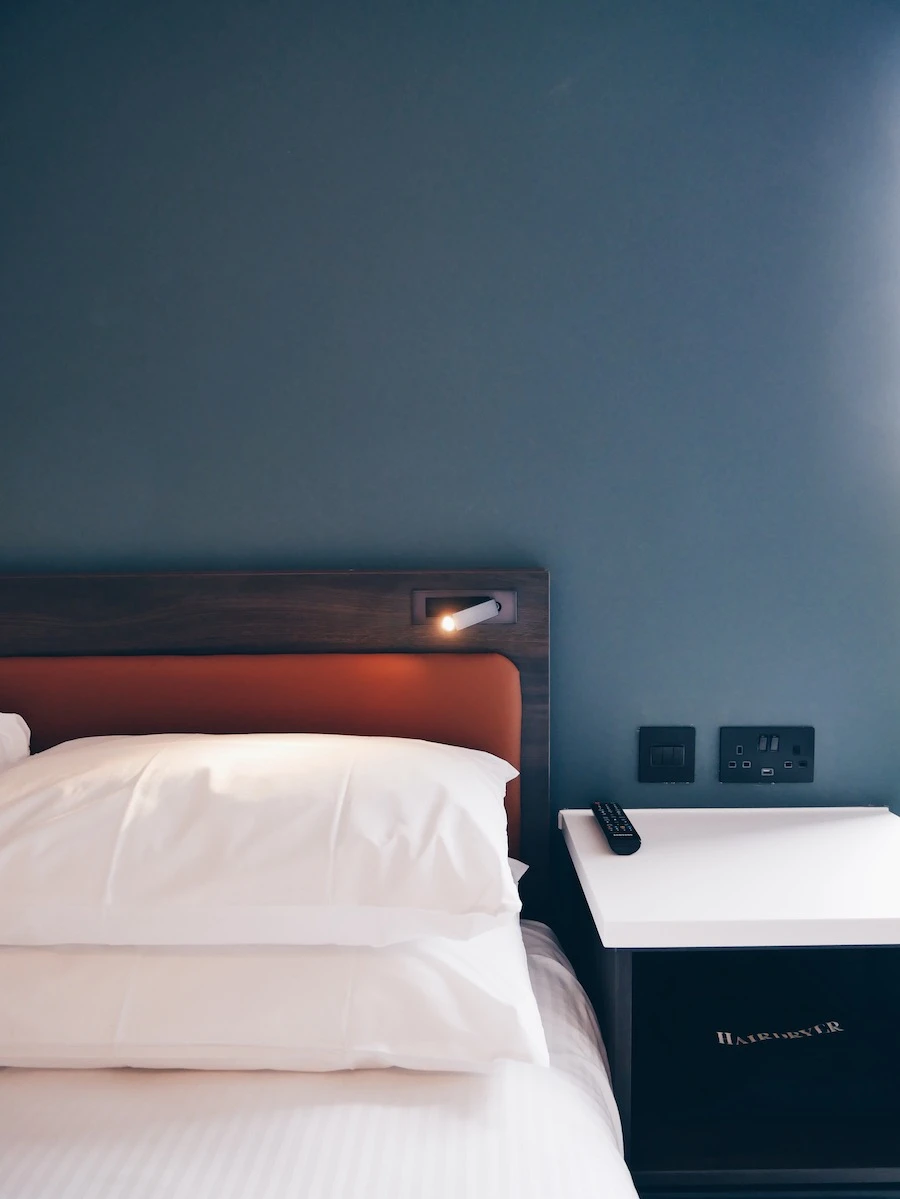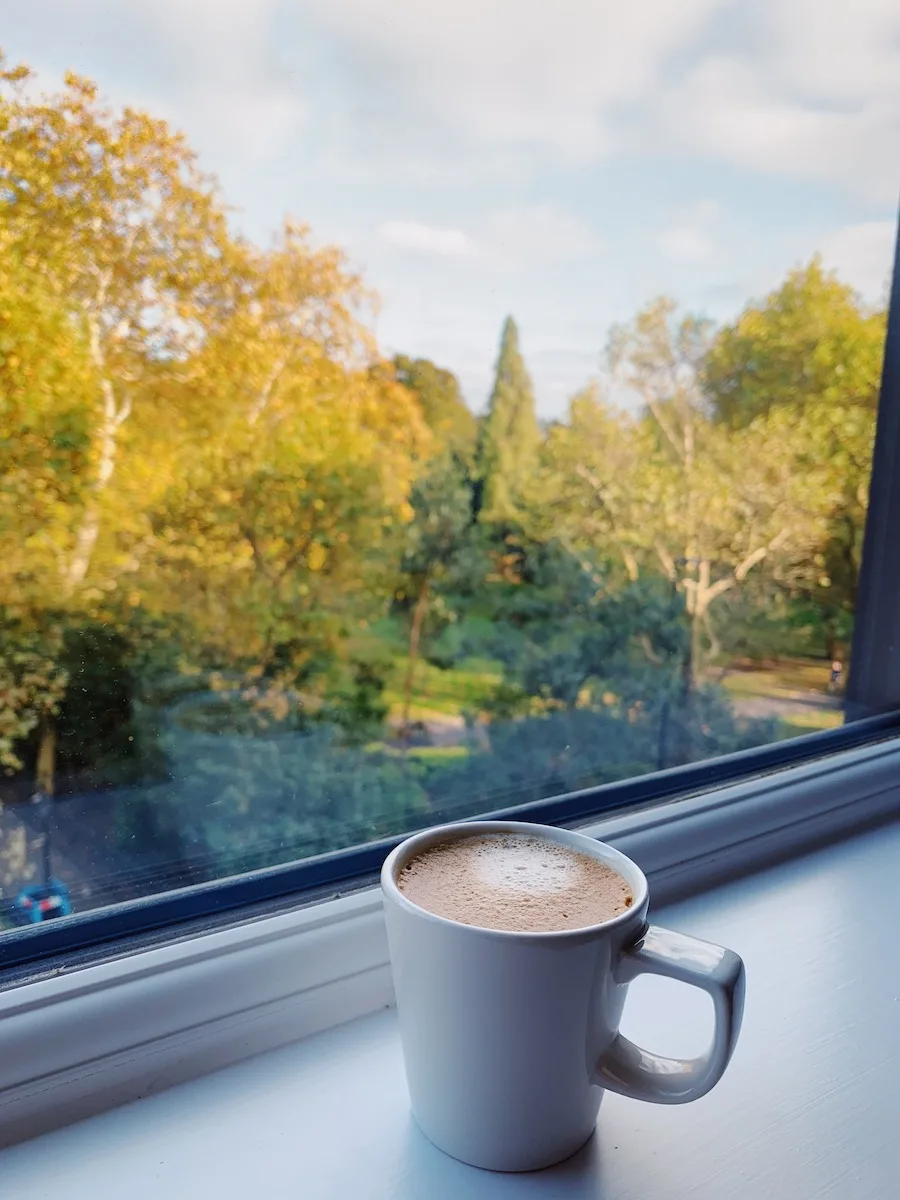 My room looked out over the park where colourful autumn leaves danced onto the busy street below, so I enjoyed a coffee before heading out for the night.
I'm not going to lie, my casual work event turned into a bit of a boozy night and I woke up feeling rough. Thankfully, the East London Hotel give you the option to Whatsapp reception if you need to contact them. From the safety of my duvet, I sent them a message asking if a late check out was possible. I felt like such a millennial.
'Of course,' they replied. 'Is 1pm OK?'
I could not have been happier.
I snuggled back under the duvet for a few hours, watching TV on the enormous screen at the end of my bed and enjoying the amazing rain shower and delicious toiletries.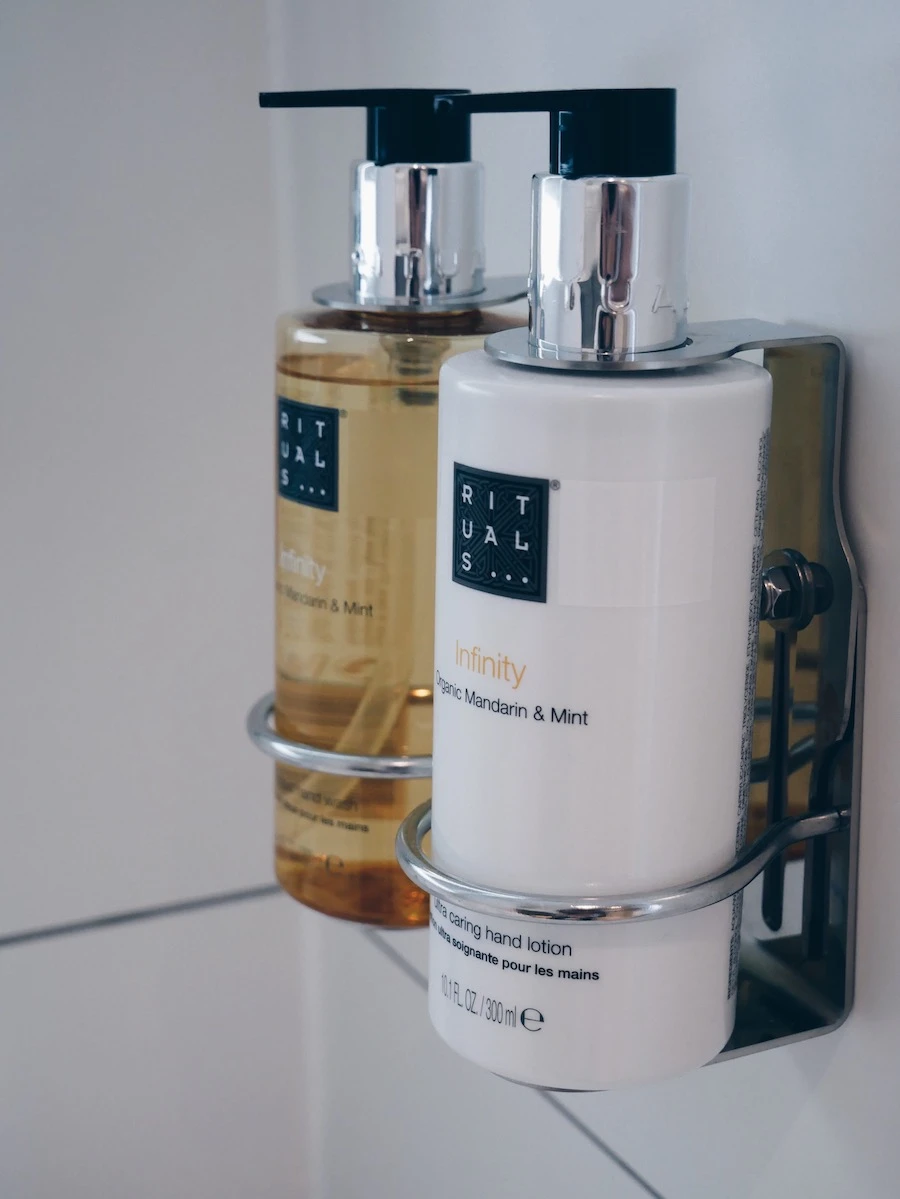 Elle came and met me for some coffee and breakfast as we were well overdue a catch up. It was really nice to be able to invite her to the hotel, knowing it was the kind of place we'd normally go for a coffee and nothing like the normal hotel restaurants. Elle was equally impressed by the gorgeous décor and I was welcomed to stay for as long as I pleased.
I was in no rush to go home so I stayed for a few hours, drinking tea and catching up on my work before heading out onto those busy London streets.
As you can see, I really enjoyed my stay at The East London Hotel! Here are some of my favourite things about my stay there.
Best things about The East London Hotel
The location
By far, the very best thing about The East London Hotel is the perfect location. It's a 2 minute walk to Bethnal Green tube station which is on the Central Line, a super easy stop to get to. The hotel is next to loads of cool bars and restaurants and is easily walking distance to the really trendy areas like Brick Lane.
I was in London for an event at Old Spitalfields Market so I walked there and back with no worries.
The cosy vibe in the café/bar
I've never stayed at a moderately priced hotel with such a nice café/bar area. Yes, the super posh hotels have lovely bars but the lower priced hotels usually don't have one at all, and if they do, they're nothing like this!
The price
Which leads me nicely to a very important point…the price.
They say prices start from £75 a night but, realistically, when I've looked they're around £120. It still sounds like a lot but remember this is London and London is SO expensive.
In 2016, the average hotel price in London was £172.57 (source) so £120 is a bargain, especially when you get such a nice room in such a perfect location.
Discounts for frequent stays
The price can get even better if you plan to visit The East London Hotel regularly. There was a flyer in my room and an email address for anyone who plans to stay here a lot. If you regularly visit London then this could definitely become you're little home from home.
The staff
Oh the staff. They were just so lovely!
As I said earlier, during my stay (which was just 4 days after they officially opened) the staff were all still learning but they were so nice.
I once met a hotelier who said something very wise about employing staff. He said he's not bothered about their work experience, he's just bothered about whether or not they're nice people. You can teach someone the skills they need to work in a hotel, but you can't teach someone to be nice. There's a similar feel at the East London Hotel.
The beds
Oh so comfy!
The mattresses are specially made by Millbrook Beds and they created a special one just for The East London Hotel! It has 1,000 hand-nested pocket springs and it's amazing.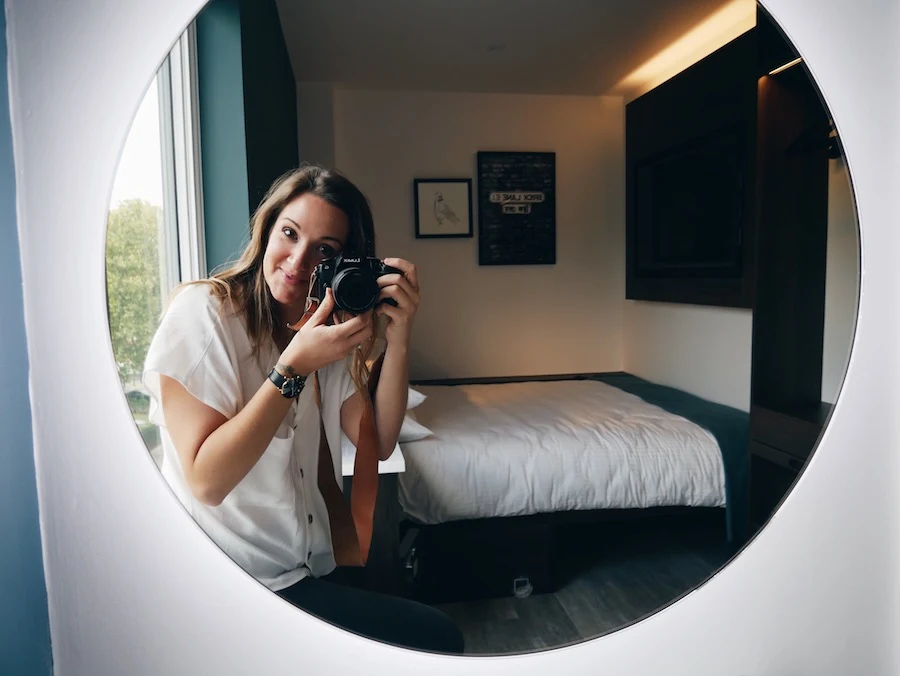 The showers and fluffy towels
Nothing can ruin my morning as quickly as a bad shower.
Sam is a plumber by trade so wherever we've lived, he's always installed the best shower money can buy so I'm always really disappointed by bad showers in hotels. Thankfully, the shower at The East London Hotel did not disappoint. There were also really nice toiletries so there's a little Travel Hack Tip – if you're staying here, you don't need to bring your own shampoo and shower gel!
Nespresso machines
Who doesn't love a hotel room with Nespresso machines.
I have one at home but it still feels like a luxury to use one in a hotel!
Fast, free wifi
You know sometimes hotels have 'fast, free wifi' and it's actually shockingly slow and you have to tell them your life story and every email address and password you have to access it? Yea, it's not like that here. Just click and connect and it's really good.
There are always lots of people working in the café so you can tell it's good!
The welcoming 'stay and relax' vibe
I was offered a drink as I checked in and checked out and I really appreciated this. I didn't feel like I needed to rush up to my room and rush out as soon as I'd checked out the next day. It was relaxing and welcoming and I didn't feel like I was in the way or like they wanted to get rid of me for the next guest!
Final thoughts on The East London Hotel
If you're looking for an affordable and stylish hotel in east London then The East London Hotel is the perfect place. If you appreciate a nice café/bar and friendly, informal staff then you'll love it here. You're not going to get a huge room but the small rooms are reflected in the small prices. But you will get somewhere comfortable, cosy and welcoming that you'll want to return to again and again.
So there you have it, my review of The East London Hotel. Have you ever stayed there? What did you think?