You'll find plenty of Michelin-star restaurants on the Amalfi Coast for that special blowout meal but which ones are best?
Here are some of the best Michelin-star restaurants on the Amalfi Coast, brought to you by travel writer Jessica Baldwin.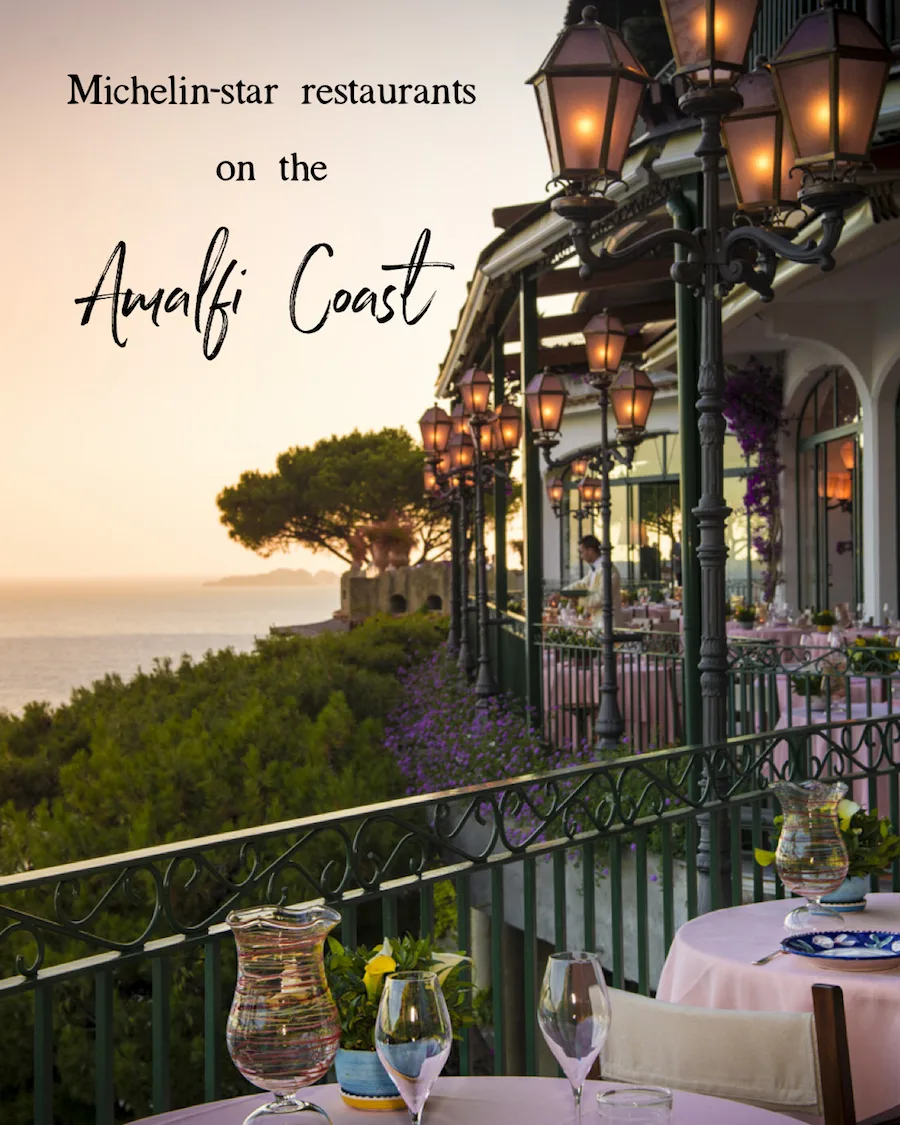 The Amalfi coast's Michelin-starred restaurants perch on steep cliffs – but if you think the cliffs are steep, wait until you see the prices! So, which of the Michelin star restaurants on the Amalfi Coast are worth re-mortgaging for? Here are my top fine dining experiences around the Amalfi Coast for every occasion; from family-friendly fine dining with views of Mount Vesuvius, to the most romantic restaurant for popping the question…

The total blowout:
Don Alfonso 1890
Set in a nineteenth century Neapolitan palace on the dramatic headland which divides the gulfs of Salerno and Naples, this family-run two-Michelin-starred restaurant is the hottest table on the Amalfi Coast for a total blowout.
The petal pink interior of Don Alfonso makes full use of its impressive clifftop gardens to create modern culinary interpretations of the Sorrentine Peninsula's heritage. Expect some quirky flavour combinations – eel ice cream, anyone? Make sure you ask for a sneaky peek of the cavernous wine cellar – it is reached via old escape tunnels and dates back to the 6th-Century B.C.
Sant'Agata 11/13, 80061 Sant'Agata sui Due Golfi
+39 081 8780026
www.donalfonso.com

The one for wine lovers: Il Buco
Away from the designer shops, in the cobbled 'drains' of Sorrento, Michelin-starred Il Buco sees Joseph Aversa serve up artily-presented Campanian cuisine in atmospheric monastic surrounds.
Located within a former monastery, dining tables are set within the vaults – which have been given a striking fuchsia makeover. The menu is complimented by a seriously robust wine list, featuring over 1000 labels.
Travel Hack Tip: Tables 14 and 11 are the most romantic!
Rampa Marina Piccola 5, Piazza S.Antonino, 80067 Sorrento
+39 081 8782354
www.ilbucoristorante.it
The clifftop retreat: Zass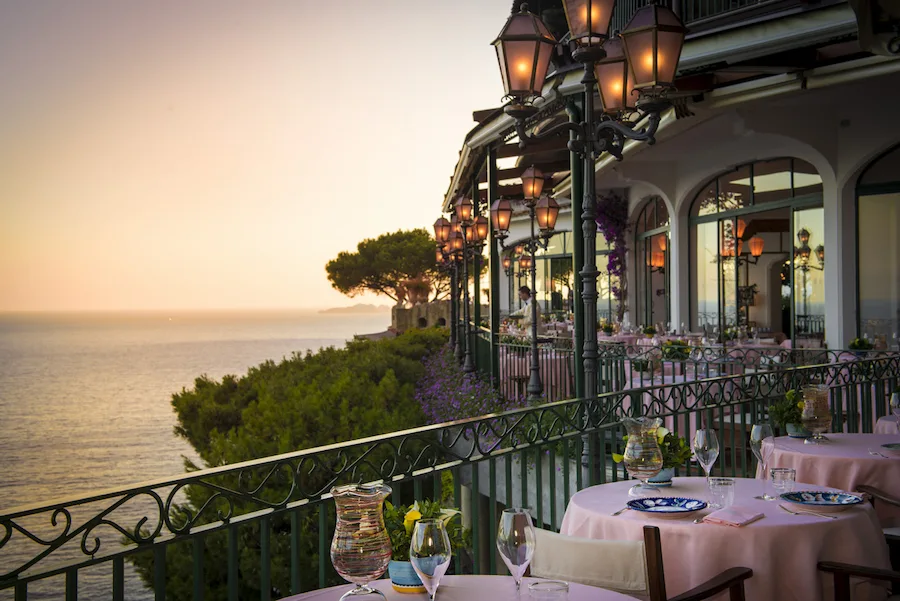 Before I talk about the Michelin-starred food, let's talk about the Amalfi Coast's most famous terrace. Protruding from one of the coast's famous panoramic bluffs, Il San Pietro di Positano hotel's famed terrace, Zass, is ornately fringed in colourful majolica tiles, overlooking bustling Positano from a civilised distance.

For a romantic dinner, request a front row table on the bougainvillea-fringed terrace and enjoy Michelin veteran, Alois Vanlangenaeker's, seasonal Campanian cuisine with a spectacular sea view.

His signature lemon tagliatelle with clams was the standout dish from my recent two-week Amalfi foray. He used the hotel's own lemons' juice and zest and threw in a surprise lemongrass for a real kick. A knowledgeable sommelier is also on hand to help you navigate the 500-label wine list.
Via Laurito 2, c/o Il San Pietro di Positano – 84017 Positano
+39 089 812080
www.ilsanpietro.it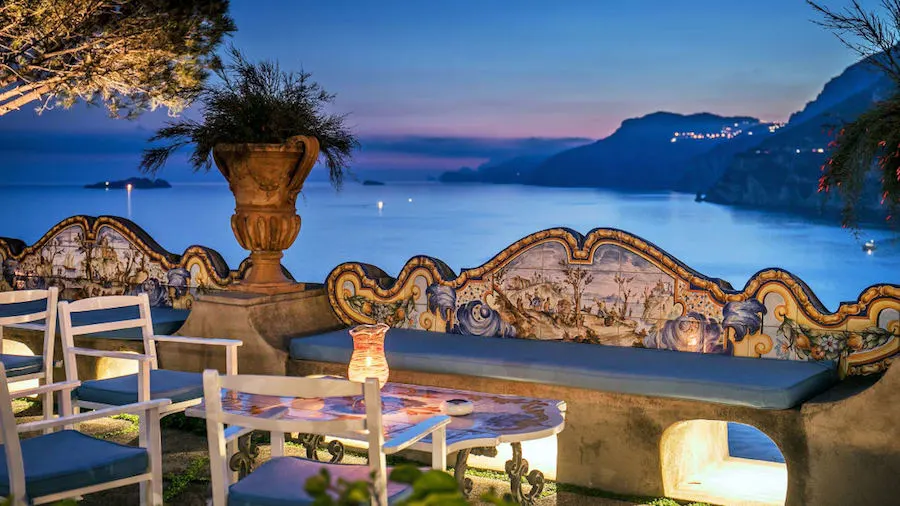 Fine dining for the whole family: Terazza Bosquet
This Michelin-starred restaurant, set within Sorrento's family-friendly Grand Hotel Excelsior Vittoria, has a romantic terrace with uninterrupted views of Mount Vesuvius. I dined here with my toddler and took advantage of the offset private dining area – perfect for a relaxed dinner away from the honeymooners. The friendly waiters also provide high chairs and colouring books for smaller diners.
Chef Antonino Montefusco is particularly passionate about using locally-sourced ingredients and is well-known for his work with seafood (they even have a 7-course fish tasting menu). If you only order one dish, make it Montefusco's signature dish; Tribute to Pollock. Inspired by Jackson Pollock, it features a selection of fresh handmade pasta with smoked potatoes, chives and caviar and its rich smokiness is incredibly moreish.
Travel Hack Tip: Arrive early and enjoy a drink on the hotel's iconic Vittoria Terrace – it has the best view in Sorrento, staring Mount Vesuvius head on across the Bay of Naples.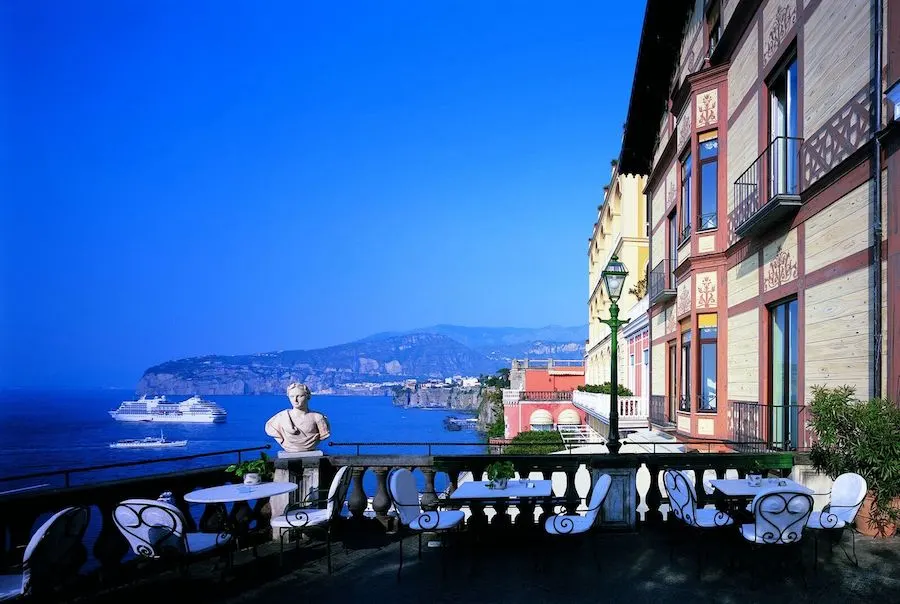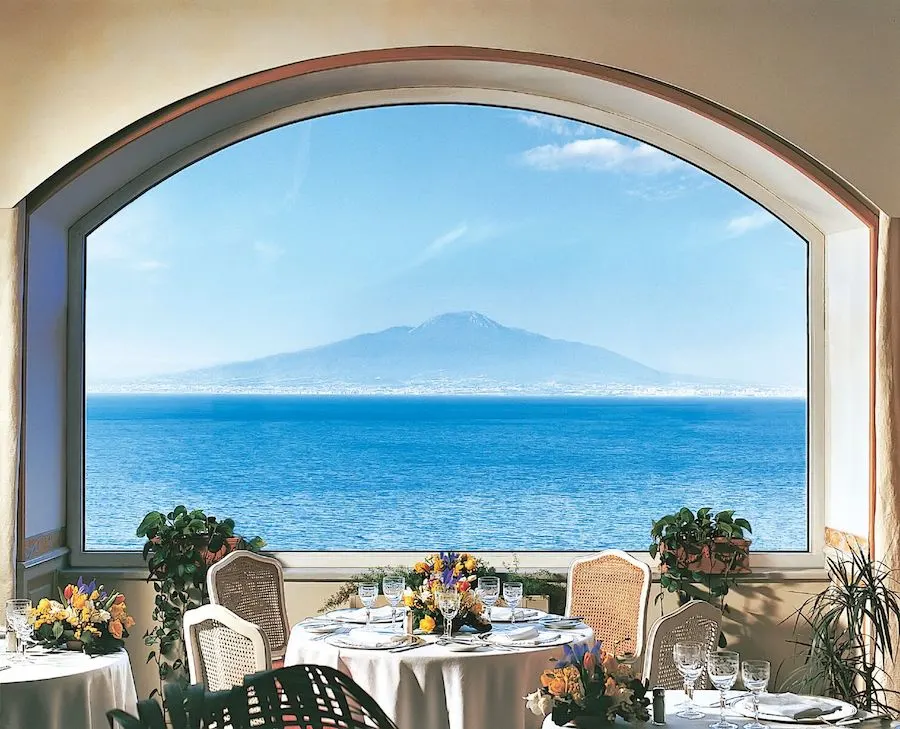 The laidback one: Quattro Passi
Around the corner from the ritzy Amalfi Coast, on the beautiful Sorrentine Peninsula, Quattro Passi is my top spot for world-class Campanian dining without the pretence.
Despite having not one, but two Michelin stars hanging off his apron strings, three-decades of service has ensured a family-style warm welcome from Argentinian born chef Antonio Mellino and his team.
The restaurant is light, bright and modern with a lovely sea-facing terrace taking in the bay beyond. The dishes here are rooted in the Med, but are regularly influenced by the chef's enviable globetrotting. Book Quattro Passi for perfectly glossy homemade pastas and deceptively simple seafood with views of the Bay of Nerano. If the restaurant's name sounds familiar, it is because they now have a sister restaurant in London's Dover Street. If you are feeling brave, order the Anchovis Amalfi Coast – a vodka martini with local anchovy and lemon extract.
Via Amerigo Vespucci, 13/N, Nerano, Penisola Sorrentina
+39 081 808 28 00
www.ristorantequattropassi.it
The healthy one: La Terrazza di Lucullo
OK, this one might not technically be one of the Michelin-star restaurants on the Amalfi Coast but it's so good it had to make the list!
This place is ideal for those that appreciate zero-metre gastronomy. Located in sophisticated Anacapri, La Terrazza di Lucullo sees Chef Eduado Vuolo take his lead from the land, cooking seasonal, flavourful creations with ingredients grown in the kitchen's own garden.
This style of cooking may be a frequent find along the Amalfi Coast, but given Capri's limited space and unforgiving cliffs this is particularly impressive. As the name suggests, there is a great terrace which is ideal for summertime romantic dinners. Go for the tasting menu – dishes here have a healthy undertone, so you can tuck-in guilt free.
Contact Via G.Orlandi 4, 80071 Anacapri
+39 081 8373395
www.laterrazzadilucullo.com