Last month I was SO excited to be sent the new GoPro HERO 6 by Currys PC World and put it through its paces during an adventure day in North Wales.
Currys PC World has created an Extreme Sports Map of the UK with loads of ideas for extreme sports and adventure days out. Take a look at the map because there are so many activities on it with lots of things I had no idea you could do in the UK.
Like most travel bloggers, I'm a big GoPro fan. I've been using these nifty little cameras for years and I've always found them to be so simple. Thanks to their tiny size you can take them anywhere and film virtually any situation without the scary intrusion of a massive camera. And for such a tiny camera the quality is amazing!
Sam and I set out into the depths of Snowdonia, curving and winding our way through the isolated country roads. It's times like this that I feel so lucky to have this on my doorstep, North Wales is so beautiful!
We were heading to Zip World's Velocity zip line, the longest zip line in Europe and the fastest in the world!
But as we got closer I received a phone call saying it was too windy for Velocity and we'd need to reschedule or try a different Zip World activity.
We were both so excited and pumped for an adventure that rescheduling wasn't an option. Plus, we were child-free for the day so we needed to make the most of this rare luxury! We opted to go to Zip World Fforest in Conwy Valley, Zip World's woodland setting with five family-friendly adventure activities to choose from.
We went with the Zip Safari, which is similar to Go Ape – it's like an assault course through the trees that you navigate on wobbly legs, shaky arms and the quick rush of zip lines. We also tried the Fforest Coaster, the only Alpine Coaster in the UK and it's basically a winding, twisting rollercoaster through the trees. You can control the speed of your toboggan via a brake so it could be a relaxing ride through the pretty woodland setting….or it could be a hilarious, twisting, turning, stomach flipping experience as you plummet through the trees. As you can tell from the video, Sam and I opted for the second option!
It was such a fun day out and the perfect way to spend our rare child-free date day. This is a perfect day for anyone wanting an adrenaline fuelled activity day that isn't actually too scary. Plus, being in the depths of North Wales is beautiful and you have to follow your adventure with a hearty pub lunch!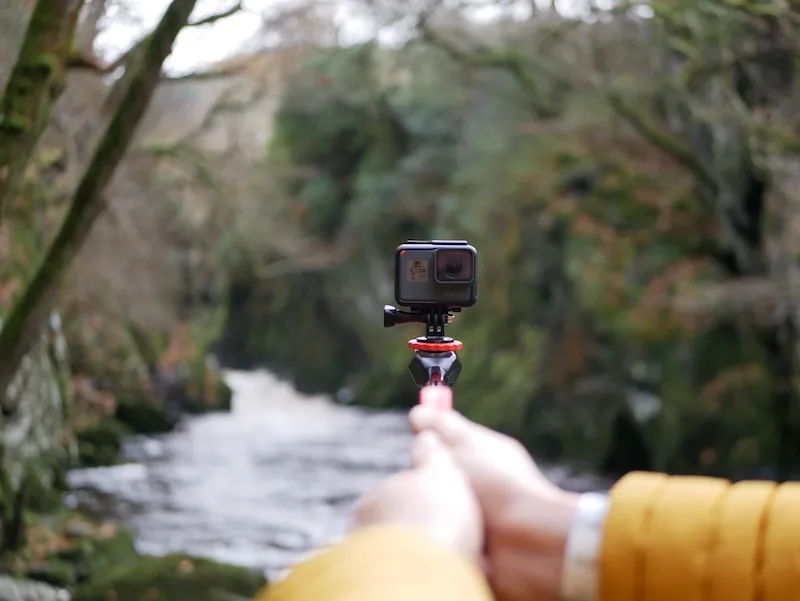 How did we get on with the GoPro?
I've previously had the GoPro 3 and 4 so I'm familiar with using them and was excited to see how the 6 compared to the previous models. I hate being too gushy in reviews like this but, wow, the 6 is on another level. It is SO SO SO much better than the previous models. I didn't notice much of a difference between the 3 and the 4 (which is why I didn't upgrade to the 5) but the 6 is incredible. The quality of the footage is amazing, to the point where we kept repeating, 'Wow, I just can't believe how good it is!'
With all GoPros, it's all about the mounts and accessories you use to capture your footage that really make the difference. You can hold it in your hand but it's all about capturing adventures so you really need your GoPro mounted to something so you're hands-free and free to enjoy the moment.
I was sent the chest mount and the 3-way tripod to review alongside the GoPro.
The 3-way GoPro tripod
The 3-way tripod is one of those accessories I recommend everyone gets as soon as they buy a GoPro. This was brilliant and has so many uses. You can stand it up and use it like a short tripod, extend it to be a long selfie stick or use it as a camera grip for handheld action. You can use it to capture selfies, POV shots or stable shots and it's also waterproof and small and light so I guarantee this will be one of the accessories you'll use a lot.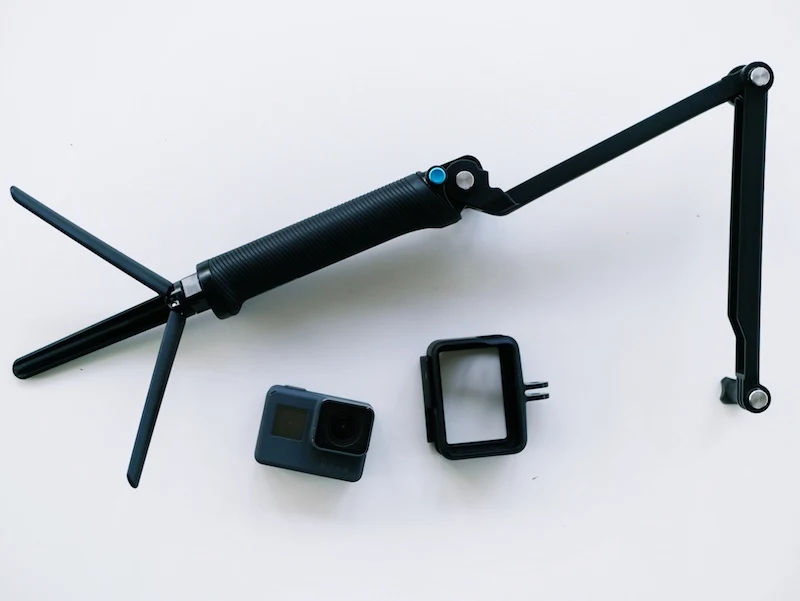 The GoPro chest mount
The chest mount is great for an activity like hiking but for the two activities I tried at Zip World I just found it was in an awkward place and a head strap would have worked better. While zip lining I found the ropes and safety attachments were always at chest level so the camera was usually covered by my hands, my arms or safety equipment. I had to make an effort to lean to the side to make sure the camera wasn't covered. I had the same problem on the Fforest Coaster too and the camera at chest level would have naturally been obscured by my knees and I had to go against the safety instructions and put my feet over the side of the toboggan (naughty, I know!) so the camera had a clear view. I've tried head mounts in the past and, although you do look like a bit of an idiot, capturing footage from eye level is usually better. There's nothing obscuring the camera and you can turn your head in a particular direction if there's something you want the camera to focus on.
QuikStories App
One of the best improvements to come from GoPro recently has been the QuikStories App. The QuikStories App is something I'm really excited about because it means you can create an actual mini-movie SO easily. No really, it is actually easy!
Hands up if you love the idea of making little videos from your travels so you film hours and hours worth of footage and then come home and never edit it into a video?
Yes, me too!
Editing is a tricky skill and takes years to master. Not only that but it takes a lot of time to turn hours of footage into a video – something most people find overwhelming and never get time to do (and by 'most people' I mean me).
But the QuikStories app takes all your footage and easily creates a video for you.
Now I'm going to let you into a little secret that I probably shouldn't be admitting to but I didn't actually make this video. Sam made it. I've been crazy busy and didn't have time to do it so Sam started playing around with the app and in less than 30 minutes he made this video. Sam has never made a video before in his life and he did this in 30 mins. And most of that time was probably figuring out how to use the app for the first time. I know I'm going to be biased but I'm really impressed!
And that's the beauty of QuikStories, you don't need to have any experience to create these quick and fun little moments from your travels. You don't need hours of time or loads of creativity, you really can film little snippets and let the app do all the hard work for you.
I've tried apps like this before and it's often buggy as you try to move your video clips from the camera to your phone and then the huge files end up crashing the app and it's all just a bit fiddly and annoying. But it wasn't like that at all. It was smooth and easy, simple to connect the phone to the app and generally just really easy and fun to do.
The only issue is that you're going to need quite a lot of storage on your phone to make sure you have space for all the video clips. I recommend using an external storage device for your phone. I use the Leef iBridge 3 (32G) and I love it. When my phone is full I can completely wipe all the photos and videos on it and move them over to the Leef iBridge and it'll transfer everything in about 10 minutes. I can then plug it into my computer via the USB side and I'll put all the files I transferred into folders so everything is neatly organised and I can find it when I need it.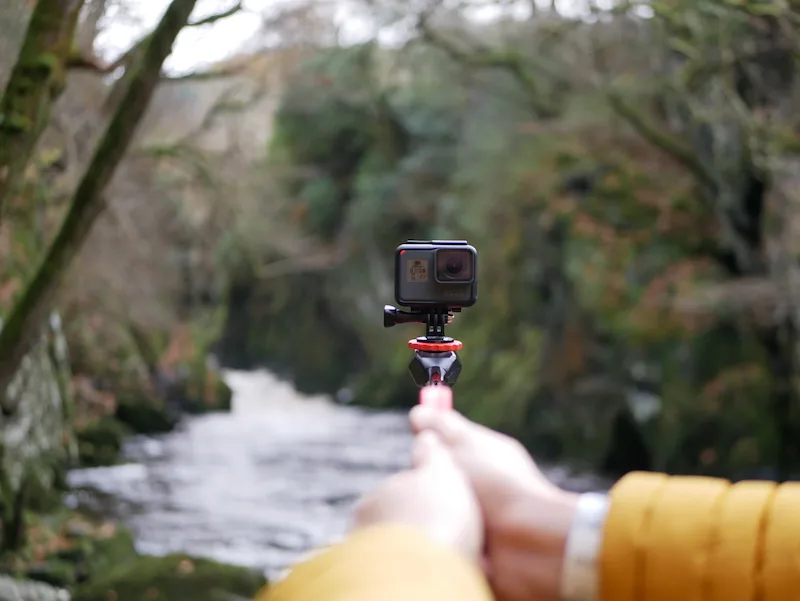 Yes, my GoPro is now a bit scuffed because I love it so much I also bought Karma Drone to go with it and had a little accident involving a crash landing!
Final thoughts
To quickly summarize:
Our day at Zip World Fforest was amazing! As I'm sure you can tell from the video, I loved the Fforest Coaster. You get three turns and I embarrassingly squealed like that each time (and it was very quiet at the time so I'm sure the entire forest heard me!)
The GoPro HERO 6 is a fantastic little camera and I particularly recommend it for anyone who isn't aiming to be a pro videographer. Use it alongside the QuikStories app to easily make short and fun videos that capture your special moments in a way that a photo never could.