Is it just me, or does skiing seem to be one of those things that everyone else can just do?
It was never that way for me. For some reason or another, I've never been on a skiing holiday, school trip or weekend at the slopes. Strap me into some skis and put me on the hill, and it's real life bambi on ice.
When I found out we were headed to Breckenridge, a notorious skier's wonderland in Colorado, as the next stop on our round the world trip, I was concerned at first. What would I do all day while everyone else headed for the mountains?
However, as it turns out, there's plenty to do in Colorado even if you're not a complete ski bunny, or if you just fancy a weekend off the slopes.
Explore the mountains by foot
The sheer size and beauty of the Colorado mountains provide ample opportunities for walking, hiking and snow shoeing. Our condo was in Baldy Mountain Townhomes, just minutes from the awe-inspiring Boreas Pass. The area is huge, so you can choose the duration of your hike depending on how energetic you're feeling! The route is fairly flat, so you can walk a good way without feeling completely exhausted (remember – the altitude makes everything just a little bit tougher on your lungs, so take it easy!) We walked for around three hours in all, and took in some incredible views of dramatic valleys and the jaw-dropping Ten Mile Range. The scenery changes throughout the seasons meaning you're always presented with a gorgeous view, and from what I could see it was pretty dog-friendly – perfect if you've brought your four-legged friend along for the trip.

The best thing about getting out into the outdoors and exploring the mountains on foot? It's free. Compare that to a $150/£100 day of skiing and it's a no brainer.
Run with the pack
If I'd have opted to just go skiing, I never would have tried dog sledding – which turned out to be one of the most amazing things I've ever experienced.
Good Times Adventures – just half an hour out of Breckenridge – offer dog sledding tours daily for $75. The drive out to the lodge is noteworthy in itself – the cute mountain town of Breck fades into pure, snow-drenched wilderness, with nothing but the occasional glowing cabin to break up the powdery landscape. You'll know you're in the right place when you hear the howl of huskies between the trees!
As soon as we pulled up, we spent a good 20 minutes petting the resting huskies – who were fluffy and friendly. Each had its own distinct personality which determined the position it took up in the pack. We helped ourselves to free hot chocolate and chilled out before the tour began. We wore basic skiing gear and snowboots – you don't need any specialist snowsuits, helmets or anything.
We were then met by our guide, who explained how to ride the sled, as well as a few safety bits and bobs – basically, hold on! Four people sit in a small carriage whisked along by a snow mobile, taking turns with the remaining two to drive/sit in the sled itself which is pulled along by the huskies.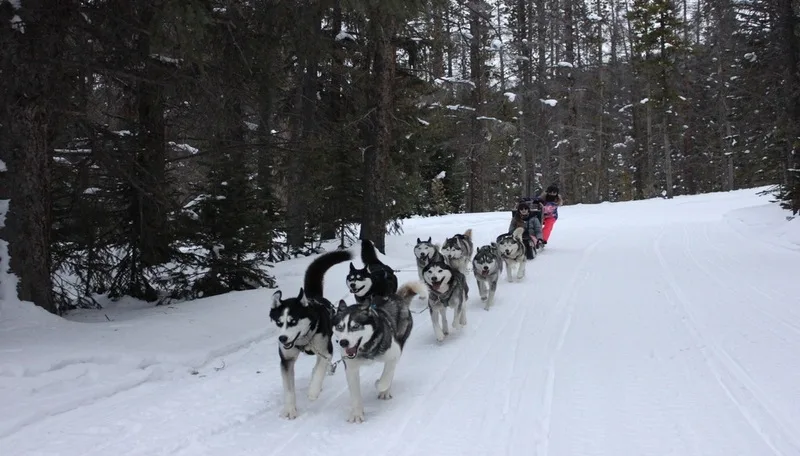 The tour lasted over two hours, and managed to be peaceful, inspiring and exhilarating all at the same time. Driving the sled was strenuous but so, so fun – I held on the sled until my knuckles were white as the beautiful dogs took us effortlessly sailing through the winter wilderness – we whipped around corners and whizzed down hills at speeds of up to 20mph. We even fell off the sled twice, collapsing into snow that reached my shoulders, hardly able to stand for laughing. Other times we glided peacefully over the ice, breathing in sharp mountain air and smelling fresh pine, the only sound a distant howl in the dark.
I would wholeheartedly recommend dog sledding to anyone – the dogs are happy and content. Running is their instinct, and they're treated really well. And for $75, around £50, it was amazing value.
Explore cute mountain towns
There was something about Breckenridge that felt so cute, so quaint, so eternally festive, and in my experience this is typical of the compact towns that thrive in the pockets of the mountains. The shops all look like tiny houses, selling souvenirs, ski gear and most importantly – hot chocolate!
There's plenty of places to grab a cup of coffee or hot cocoa and watch the world go by. We opted for Cabin Coffee, which was of all things, Texas themed. There's something really special about clutching a hot drink with freezing fingers as snow falls outside.
There's also some really lovely places to stay in the mountains. We stayed in Illinois Gulch, which is actually my friend's family's house, which is available to rent year-round. It's a short ten minute drive/free shuttle bus ride down to the gondola and centre of Breckenridge, and has an authentic, wood-cabin feel. The views out over the mountains are amazing. I could easily have spent a day just chilling out and relaxing in the cosy atmosphere.
Get that adrenaline pumping
Skiing isn't the only way to raise your heartrate. In Colorado, you can indulge in a whole host of other adventure-based activities; snow-tubing, ziplining and snow-mobiling to name just a few. I didn't have the time to squeeze any of these in, but it seemed like there were plenty of ways to get your adrenaline fix without skiing.
Even though I wasn't skiing, I loved my time in Colorado. I want to learn to ski, but have now got the courage to go to places I'd previously dismissed as skiing locations.
Have you ever been to Colorado? Did you ski or are you a complete novice like me, and opted to do other things?