Earlier this year I spent three weeks travelling in the USA. I began in Miami with a fabulously luxurious trip to Miami Beach and a stay at Metropolitan by COMO. I then flew to LA to join a two-week camping trip with Trek America.
As a blogger, it was absolutely vital for me to stay connected during my trip. I really enjoy going 'off the grid' for a couple of days at a time but two weeks or longer just isn't practical.
Not only that but I use my phone for everything and find it even more useful when I'm travelling. I use Google Maps to find my way around, TripAdvisor to find things to do, Twitter for local recommendations, Facebook to stay in touch with friends, Instagram to share my photos, the calendar to remind myself what I'm doing and the notepad to make notes for future blog posts.
Sometimes while I'm travelling I'll buy a local sim card to avoid the high roaming charges you encounter abroad. I didn't used to bother but after being stung by multiple £100+ phone bills I quickly learned my lesson.
If I don't have a local sim I try to avoid using 4G and stick to free wifi in hotels and cafes.
There was limited wifi in the Trek America van and in many campsites but it's so much easier to have your own access so you're not hogging it from everyone else.
During this trip I was given the chance to try Explora Phones.
Explora Phones
Explora Phones are a mobile phone rental service available in the USA. It costs from $8.00 per day and for that you have unlimited calls, texts and 4G usage.
They will post the phone to your hotel where it will be waiting for you when you arrive. You then post it back just before you leave using the pre-paid envelope they send with the phone.
The phone they currently send out is a Google Nexus 5. During my trip I was sent an LG phone.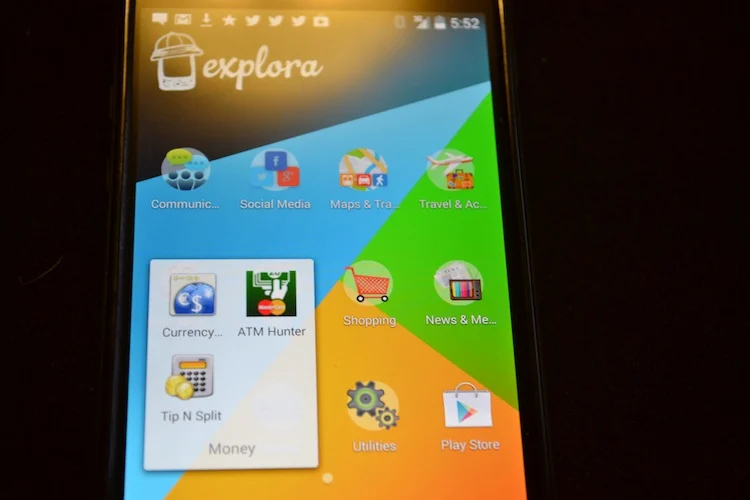 My experience with Explora Phones
I was really pleased to find the phone waiting for me at my hotel in Miami. It was fully charged and ready to go, I just needed to sign into a lot of the apps and I could start using it.
I was disappointed it was a basic LG phone. I've since used the LG G3 which I loved but this older model was slow and clunky and the camera was pretty bad. But it was easy to use and I quickly got the hang of it.
It came in really handy and I used it constantly for Google Maps and Twitter. I didn't have signal everywhere but I didn't really expect to have signal in Yosemite or the Grand Canyon.
Due to the camera being rubbish I found myself using my iPhone to take photos and then used the Trek America wifi to upload them to Instagram. Having two phones got pretty annoying so that wasn't ideal, especially because there were often limited plugs to charge devices.
When it came to returning the phone it was to be picked up by FedEx. I thought I'd pop it into a normal post box but the lady at my hotel said FedEx didn't stop there and I'd have to take it to a post box with a FedEx delivery. I'm still not 100% sure how true this was or if the lady didn't understand?
She told me to take it to LAX airport with me where there would definitely be a FedEx postbox. So I took it with me and after asking around I found there wasn't a suitable postbox and had to take the phone home with me. I then had to pay about £15 to post the phone from the UK back to the USA. I know it's not exactly a fortune but it's still annoying.
Pros to Explora Phones
The phone is ready and waiting for you at your hotel
It's set up with many useful travel apps
You're free to use unlimited 4G and not worry about the costs
I can imagine a parent may use this service if their child is travelling alone for the first time and they'd like to guarantee they can get in touch
I can also imagine my parents using this as they're completely baffled by the concept of getting their phone unlocked and buying a local sim card to use pay as you go.
Cons to Explora Phones
If you're away for a long time, $8.00 per day will quickly add up and it can be quick expensive.
You can't use your own phone. OK, this is an obvious one but I like my phone and didn't like having to learn how to use a new one. I also have lots of iOS apps I've paid for which I couldn't use.
Posting it back shouldn't be a problem but it was for me.
Conclusion
In theory, Explora Phones is a great idea. I was so excited to use it and wondered why this service was available all over the world.
I can see that worried parents would like to use Explora Phones for their teenager's first trips abroad (Trek America, Camp America etc).
I can also see people who aren't very good with technology using Explora Phones (such as my parents) who would be uncomfortable purchasing and using a local sim.
Personally, I'd rather avoid the extra faff and just use a local sim card in my own phone. This does mean you need to get your phone unlocked (usually available at a local market) and then purchase a pay as you go sim at the airport or at a convenience store.