Hanoi is an assault on the senses. Women sheltering from the sun in full length anoraks buzz around on mopeds in 40 degree heat, beeping to announce their presence. Freshly barbecued pork crisps and sizzles on food carts at every turn, and tropical birds hang in cages above shop windows, shrieking for their freedom.
There are plenty of ways to spend a perfect 24 hours in Hanoi, but having visited this pulsing city three times, I believe I've found the perfect cocktail of sightseeing, food and a twist of luxury.
06:00am – Discover the city alone
Wake with the sun to explore the city's treasured Old Town. Why so early? This is the time of day when the streets are empty, save for a few local stall owners setting up their wares. Early morning is also the absolute best time to get amazing photos of locals going about their daily business, and the smells of food cooking will drive you crazy.
08:00am – Breakfast with the locals
Once you've seen the Old Quarter at the coolest and quietest time of the day, you're sure to be hungry, and a steaming bowl of Pho (beef soup with noodles served with Thai basil and chillies) will be just what the doctor ordered.
Get yours from a street vendor who only specialises in pho, and you know you'll be getting the best quality. My favourite is Pho Gia Truyen.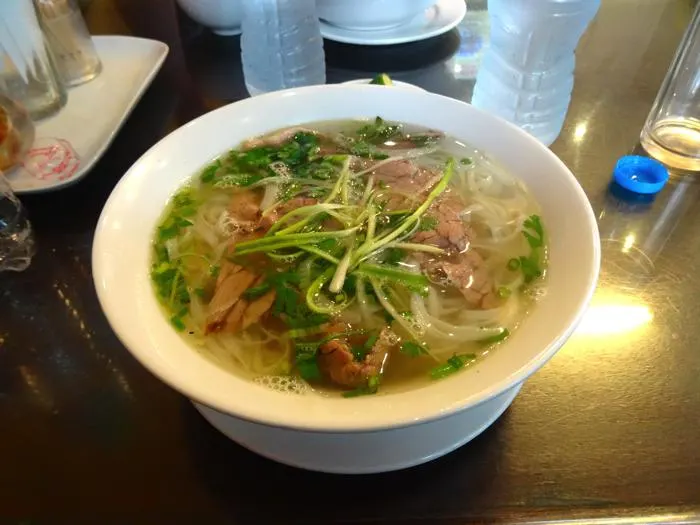 09:00am – Celebrate Ho Chi Minh
Suitably nourished, you'll be ready to crack on with your day of sightseeing. Start with the Ho Chi Minh Museum, before all the school kids get there as trust me, it's utter bedlam as soon as they arrive!
For just 10,000 VND (about 30p) you'll learn all about Ho Chi Minh's life of power and suppression, and why he's affectionately referred to by the Vietnamese as 'Uncle Ho'.
Tip: You'll need to take a cab from the Old Quarter to the museum, but watch out for taxi scams which are rife in Hanoi. Some meters are set to run way too fast, and a ride from the Old Quarter to the museum should cost around 20,000-30,000 VND (about £1). If you notice the price rising too fast, don't be afraid to threaten to get out. Taxi drivers will normally negotiate a fair rate when pushed. Try to find a Taxi Group or ABC cab which have a good reputation of charging fair prices in the first place.
Just outside the museum's front entrance is the One Pillar Pagoda, a Buddhist temple which is definitely worth looking at and paying your respects to. Buy an incense stick from a vendor and add it to the others, given in offering to Buddha.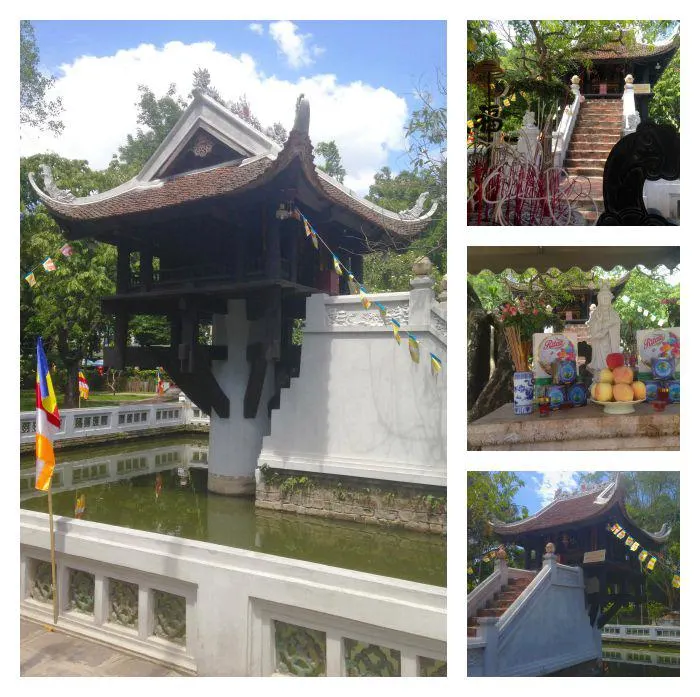 A few minutes' walk from the pagoda lies the Ho Chi Minh Mausoleum, which houses the late ruler's body. It's free to enter but it's very tightly policed: No cameras, no phones, no looking up, no looking down, no talking… I think you get my point, but it's worth it to get close to Uncle Ho himself. Make sure you stay afterwards to watch the famed changing of the guards which happens every 30 minutes.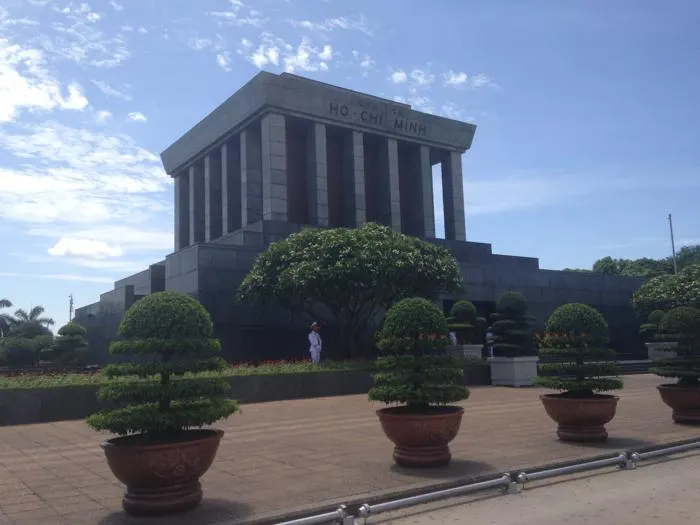 11:30am – Feel enlightened
It's around a 1km walk to the next stop, so depending on how you're feeling (and how hot it is!) you can either walk or take a taxi to the Temple of Literature (entrance fee 30,000 VND). Wander through the manicured gardens and admire the stone carvings which record the achievements of the nation's first scholars.
Visit the Well of Heavenly Clarity and then at the very end of the gardens you'll find an incredible pagoda where a statue of Confucius stands proudly among other well-respected thinkers and philosophers.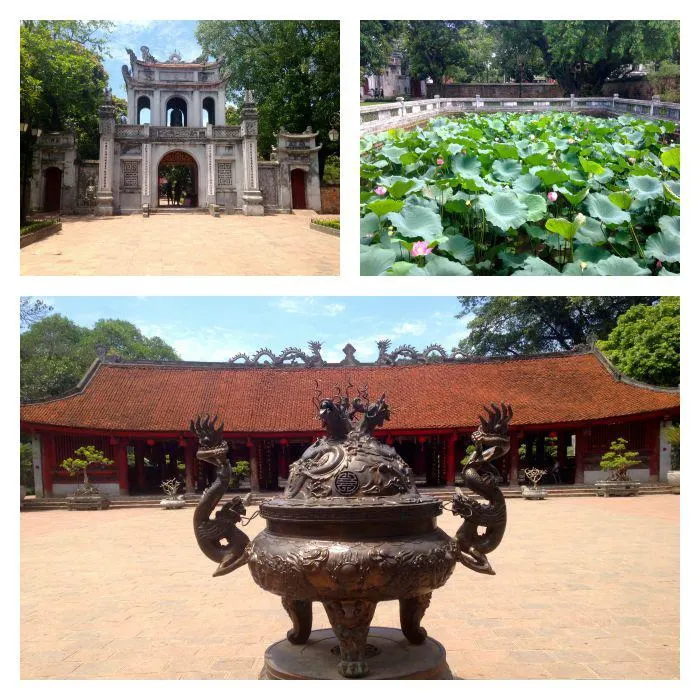 1:00p.m. – See a slice of more recent history
Grab another cab as it's time to visit one of Hanoi's grizzliest tourist attractions, the Hoa Lo Prison, which was also dubbed the 'Hanoi Hilton' by U.S prisoners of war in the 1970s. Most of the prison has since been destroyed and only the main entrance area remains.
Honestly, there's not much left to see here except for a couple of long rooms which housed the prisoners, a flight suit belonging to John McCain and a couple of old toilet blocks, but I still liked it for its historical value. 15,000 VND (about 50p) entrance fee.
2:00p.m. – Lunch time!
If you haven't tried Bahn Mi, then you haven't lived! Freshly baked, crusty French bread filled with sliced pork, eggs, home-made paté, coriander and a special chilli sauce makes the most delicious lunchtime treat. For the best in town, take a taxi to Bahn Mi 25 (36 Hàng Cá, in the Old Quarter).
3:30p.m. – Age old traditions
Wander down to the Thang Long Water Puppet Show to get your tickets ahead of the 16:10 showing of this weird but wonderful cultural spectacle. Dating back to the 11th century, the art of water puppetry depicts typical scenes in Vietnamese family life over the years, and is well worth the 100,000 VND (about £3) entrance fee.
5:00p.m. – Sunset drinks and dinner with a view
One of my favourite places in Hanoi to spend a long languorous evening sipping cocktails is The Gourmet Corner restaurant, which has a wonderful terrace with a view over Hoàn Ki?m lake to the city skyline beyond. Arrive for 5p.m. and you'll catch the happy hour cocktails!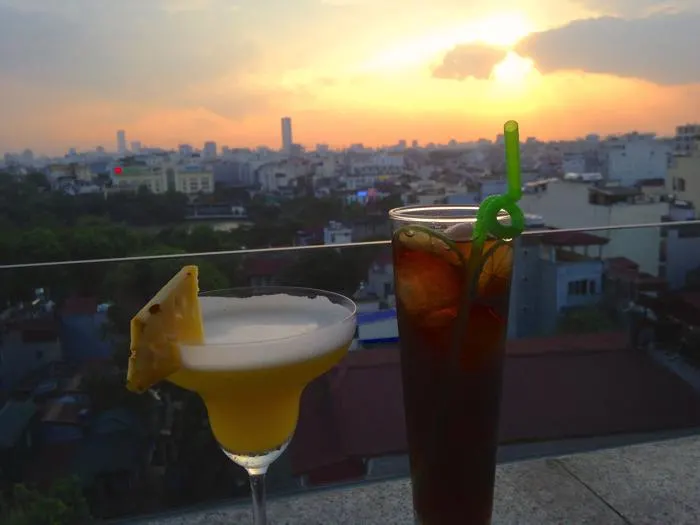 Make sure to stay for dinner. It's sumptuous and well-priced, with mains starting at around £4 apiece. Make sure you book ahead here as the space is tiny and they do keep it exclusive, so it's almost always booked up if you arrive ad hoc.
8:00p.m. – Bia Hoi and a night on the town
No trip to Hanoi (and indeed to Vietnam) would be complete without tasting some of the fresh local draft beer, also known as Bia Hoi. Locals and tourists alike sit out in the open on tiny plastic chairs all over the Old Quarter and sip on beers costing as little as 5,000 VND (about 15p). Head for Ma May or Ta Hien Road for some of the livelier bars in town.
Late – Somewhere to rest your head
After a night of seeing what the nightlife scene in Hanoi is all about, you'll need somewhere comfy to sleep off the inevitable. My absolute favourite hotel in Hanoi (and perhaps even the whole of Vietnam) is the Hanoi La Siesta.
Aside from the plush beds, the well-stocked and affordable mini bar and the huge rain shower, it's the service that really sets this hotel apart from the rest. Staff greet you by name and really go out of their way to make sure you have the best stay possible.
Rise as early as you dare to make the most of their incredible buffet breakfast with a la carte add ons (the eggs benedict is to die for), and to enjoy a stress-busting massage in the hotel's spa before you check out.
So that's it! Your action-packed day in Hanoi. If you have a little longer, don't miss Tran Quoc Pagoda and the Quan Thanh Temple, it broke my heart to miss them off the list, but there's only so much you can do in 24 hours! Enjoy my favourite city in Vietnam. I know you will.
If you're looking for a simpler way to see Hanoi then consider a half day tour. It's less than £40 and a local guide will pick you up and drop you off. Tours aren't for everyone but if you're short on time, want someone else to organise your itinerary or you'd like to travel with a knowledgable local who can give you lots of extra nuggets of information then I highly recommend this one!