Yesterday I had the pleasure of popping up to Leeds for a day of blogging and networking. Icelolly, the holiday price comparison site, invited a fabulous group of bloggers to their offices for a beach themed day. There were cocktails, palm trees, more cocktails, sun loungers and…yep…more cocktails. It was a lot of fun and I finally had the chance to meet so many bloggers I've been tweeting with for years.
I was very flattered that Icelolly asked me to give a talk about working with travel brands. I work with lots of different brands on a daily basis but it still feels weird to think of myself as an 'expert' on the topic. The were two other speakers; Robb Frost who gave a talk on SEO and Greg Brand who spoke about making travel videos. For those of you who couldn't make it to Leeds, here's a little low-down on what we all had to say…
My talk – Working with travel brands without losing your style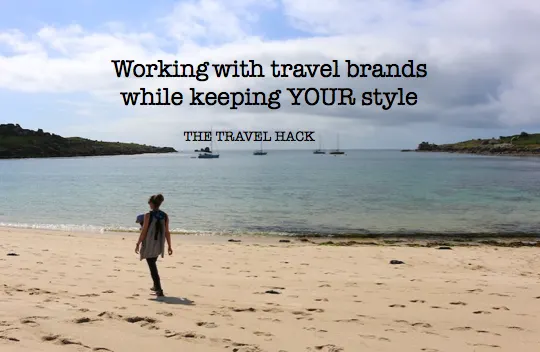 When bloggers work with brands we generally receive a product or service free of charge in return for blogging about it. When I say, 'without losing your style', I basically mean 'without selling out'. Working with brands can be brilliant but it's important to remain true to your blogging style and only work with brands that fit your niche.
It can be difficult to say no to some 'freebies' so I recommend only ever accepting things you would genuinely pay for yourself. Anything you blog about should also pass the 'Best Friend Test'. Would you wholeheartedly recommend a product, service, hotel or company to your best friend? If you would, blog about it! If you wouldn't then don't write a glowing review purely because you received it for free.
I used an example of a travel blogger I came across who wrote awesome travel content. And then one day wrote a washing machine review. WTF? Yes, we all need a washing machine but there's a time and a place for a review and a travel blog isn't it. That's called selling out in return for a free washing machine.
What brands want from bloggers
It's really important to know what brands want from you as a blogger before you begin working together. That way you can ensure you deliver the results they expect and set expectations before you begin working. You can make a rough plan of the work you plan to do beforehand so everyone is on the same page and no one can be disappointed with the results.
What brands look for in bloggers
Personality – never dilute your personality on your blog because that's what brands want! They already pay copywriters and SEO writers but what they really want are honest opinions and firsthand experiences.
Professionalism – Most bloggers are hobby bloggers and do it for the fun of creating something online. But that doesn't mean you shouldn't be professional, particularly when working with brands. Always stick to deadlines, produce great quality content and act professionally at events.
Multi-skilled bloggers – Brands want bloggers who can do it all; writing, photography, video and social media.
Stats – Let's not kid ourselves here, stats are important and the larger your following, the more people will want to work with you. By stats, I mean unique views to your blog and the amount of social media followers and subscribers you have. The guys at Icelolly emphasised that they always look for quality over quantity and engagement is also considered. There's no point faking a large audience by buying followers because brands do notice.
A niche – A specific niche will help you stand out from the crowd, attract traffic through Google and become an expert in a particular topic. Don't worry about putting yourself in a box when it comes to your niche, you may miss out on some opportunities but the right opportunities will find you eventually.
What to include in your pitch
If you want to work with a specific brand then you'll need to send them a pitch. Here are 10 things to include in your pitch:
Who are you?
About your blog
Do you have a specialist niche? No? Get one!
Stats
What do you want?
What will you provide in return?
Why your brands are a good match
Examples from your previous brand collaborations
Testimonials (or link to media pack)
Can you provide any extras such as videos, professional photos, coverage on larger blogs, websites or print publications? If you provide something of great value or you can prove you can increase their sales then you can work on paid collaborations too.
Robb Frost: Digital Marking in 2015: A blogger's basic guide
A lot of this was technical advice and here are some of my key takeaways:
Use WordPress (From my point of view, if you're using a different platform and you're thinking about switching to WordPress, do it sooner rather than later. You blog is only going to grow and you'll wish you switched over earlier.)
Robb emphasised that having your blog set up correctly is really important. If you're not receiving the Google traffic you think you deserve, it's worth checking with an expert to see if your blog is set up properly. Lots of bloggers don't set their blogs up right or their themes mess with the set up so Google can't actually find your blog.
Use Google Keywords to find the phrases people are actually searching for. Robb used the example that 'Bali holidays' is searched for more than 'holidays to Bali'. Don't start writing like a robot or start forcing Keywords into your sentences but it's worth knowing as a basic understanding of SEO can have a huge impact on your Google traffic.
Use WordPress plugins Yoast or WordPress SEO to optimise your posts for Google.
Only ever have one H1 tag in a blog post otherwise Google gets confused
Bing's webmaster tools is much better than Google's webmaster tools. Admittedly, no one uses Bing but their webmaster tools are worth checking out.
Use majestic.com and moz.com to track where you blog ranks.
Greg Brand – Travel Video Q&A
I've heard Greg talk a few times now and I'm always blown away by his passion for video making. He has so much energy and so much great advice.
Here are my key takeaways from Greg's talk:
Use lots of natural lighting whenever possible
The latest vlogging trend is natural video work. The footage doesn't look perfect but has a raw, unedited feel. It's time to get in front of the camera and just be yourself.
Viewers also want a lot of information in a short space of time when they're watching videos. People say that our attention spans are getting shorter but Greg believes we're just getting used to receiving lots of information really quickly and we get bored if we don't get it fast enough.
Greg recommends using Beme. A new video app where you record 4-seconds of video without seeing what you're filming. Read more about Beme here.
"With Beme, video recording is done via the rear camera in four-second bursts. However, instead of hitting a record button and watching the screen to see what you're filming, you capture video by covering your iPhone's proximity sensor, which is the little dot next to the front camera."
Greg recommends being an early adopter of apps like Beme in order to have a large following – particularly if you're new to video making and have 0 following on YouTube.
I kind of agree but I think it's tough to know which apps to spend time on. There's a new app everyday and we never know which ones will become popular so you could waste a lot of time on an app that never really takes off. I'd recommend sticking with the apps you enjoy using and at least you will have had fun with it.
Collaborate with other bloggers to share audiences and create something new.
Grow your YouTube following by creating regular content – think a video once a week
YouTube ranks videos by the amount of minutes watched rather than the amount of views. The more minutes you can encourage your viewers to watch, the better.
When creating videos, try to mimic the human eye. Our eyes don't zoom so don't zoom with your videos.
Use a stablizier or gimble to steady your shots
It doesn't matter what camera you use, it's all about how you use it. Greg showed us this video made on a iPhone 5s to prove you don't need anything fancy to create great content.
Where to find music for your videos:
YouTube – for free music
AudioJungle and Pond5 – for affordable music at about $30
TheMusicBed and AudioNetwork – for expensive but great music
Massive, massive thanks to the lovely guys and gals at Icelolly for organising such a brilliant day. It really was one of the best networking events I've been to and was a lot of fun.
If you have any more questions about working with brands or about the #BlogAtTheBeach event, just pop them in the comments below and I'll get back to you.