"Come on ladies, this is bootcamp, not Bollywood!"
The trainer's thick American accent echoed down my ear as he basically spat the words into my face.
My feeble little arms quivered as I tried to lower myself into yet another push up but they weren't co-operating. They wobbled before I crashed back down to my muddy mat – the mat I hadn't left for the past two hours as I did sit-up after crunch after plank, press-up, lunge, squat, bicep curl and the dreaded butterfly kick. And it wasn't even 8am yet…
When I first met our two American army officers I thought they seemed harmless; I think I might have even called them 'lovely' at one point. They were both built like brick shit houses but provided a nice bit of eye-candy, distraction and motivation for the five ladies that made up our group. It didn't take us long to realise that these guys were tough and the only candy they represented was the rock hard stuff. The type of candy you could use to batter people with and it wouldn't even crack and these guys would be our bootcamp trainers for the next four days.
As I heaved myself up for another push-up I wondered what the hell I'd let myself in for. Everyone had said I was crazy. Why would you want to go to bootcamp? Why would you put yourself through that torture? But something inside me couldn't wait for the challenge, to prove that I could do it and see how far I could push myself.
And here's a little secret, just between us, I am absolutely obsessed with The Biggest Looser. I don't watch any other reality TV shows but this is my guilty pleasure. I love watching them transform and seeing how exercise and weight loss can change their lives and make them happy, positive people. I love watching them complete their bootcamp challenges and I always wondered if I'd be able to do it. I'm not overweight so I know it would be a different experience but since watching the show I've been desperate to join in.
Arriving at Bootcamp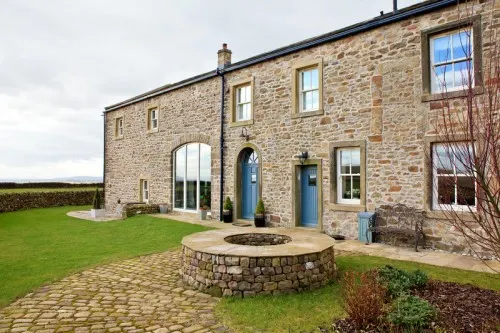 I arrived in Settle, Yorkshire, by train at 8.30 on a Thursday evening and although it was only 3 hours from London, it felt like I'd arrived on another planet. The village was in total darkness, the kind of darkness you never see in London, and it was eerily silent. I waited nervously outside the locked up train station, unsure what kind of place I'd arrived at. Then Yasmin, founder of Lifestyle 247, arrived and her perkiness quickly eliminated my doubts and any tiredness I felt after the long journey. She had the energy and enthusiasm of a teenager as she chatted about lifestyle 247.
Lifestyle 247
The concept for the company began after Yasmin attended bootcamps herself but couldn't find the perfect one. She was looking for something with intense training and exercise schedules but combined it with a bit of luxury like spa treatments, 5* accommodation, delicious healthy food and a perfect place to relax after all that hard work. She was also aware that a lot of people, women in particular, go to bootcamp when they're going through some kind of emotional crisis like a break-up, change of career or lack of confidence, so Yasmin decided that a well-being expert should be on hand to help with the emotional side effects.
Yasmin put all these thoughts together and before long, Lifestyle 247 was born.
A Typical Day at Bootcamp
5.30am – Wake up to music blaring through the house. Not the most relaxing way to wake up but it certainly did the job. After a quick shot of aloe vera juice (yes, it is as gross as it sounds) we headed out to the marque in the gardens to begin our warm up which consisted of stretching, sprint drills and old school exercises like push-ups, lunges and sit-ups.

7.00am – Breakfast which was usually something like porridge with fruit and nuts, scrambled eggs with smoked salmon or boiled eggs and rye toast; the kind of delicious breakfast I wish I could be bothered to get up in the morning to cook.
7.30am –The toughest part of the day – a solid 5 hours of pure exercise with the trainers. It was generally during this part of the day that I thought my life was over and I hated the trainers more than anyone else in the world. They pushed us to do some of the toughest exercise ever for that whole time, using techniques and training methods they did in the army.
1.00pm – Lunch which would usually be a selection of tasty salads.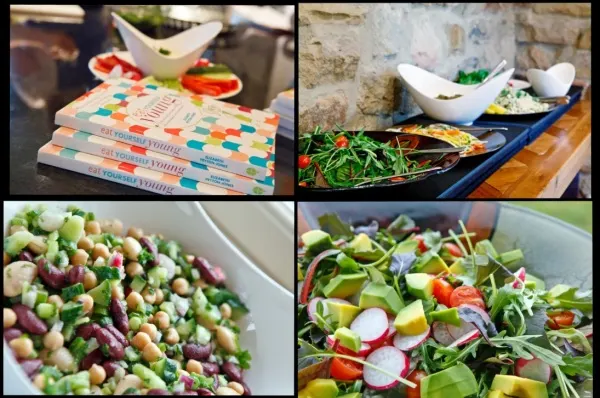 1.30pm – After lunch the exercise would be slightly less intense. One day it was a four mile hike and some days it was Bollywood dancing. I was really dreading Bollywood because the only dancing I ever do is the type where I drunkenly fling myself across a dance floor in the early hours of a Sunday morning. It isn't pretty and it isn't the kind of thing I'd like to recreate while sober. But, surprisingly, I actually quite enjoyed it. There were many cringworthy moments that I'd rather forget but it turned out to be fun, a nice rest from the military training and a great way for our group to bond over our lack of co-ordination.
There would then be a little more military exercise with the trainers but it would be so bad because we'd have dinner and an evening of relaxation to look forward to.
5.00pm – Talks from cool people including:
Elizabeth Peyton-Jones – Author of Eat Yourself Young.
Cookery Demonstration from Stephanie Moon (from The Great British Menu). This lady was amazing and showed us how to make healthy deserts. As a total cake addict I loved this part and will be sharing some of her healthy recipes soon!
Talks from Lesley who was a mind motivation therapist.
Cookery demonstration from Elizabeth and Miranda who is the amazing cook for Boutique Bootcamp.
6.00pm – Ice Bath – This really is as horrific as it sounds. By this time is would be pitch black and freezing cold so getting into a bath filled with ice and freezing water was one of the hardest things I had to do. The second hardest thing was staying in for a full 5 minutes.
6.05pm – Hot Tub – My favourite time of the day when there was a steamy hot tub waiting to warm us up and sooth our aching muscles.
7.00pm – Dinner
8.00pm – Massages – Sarah gave the best massages ever and I have never felt like I deserved one more than after all that exercise.
So what made it 'boutique'?
I'll let the photographs speak for themselves….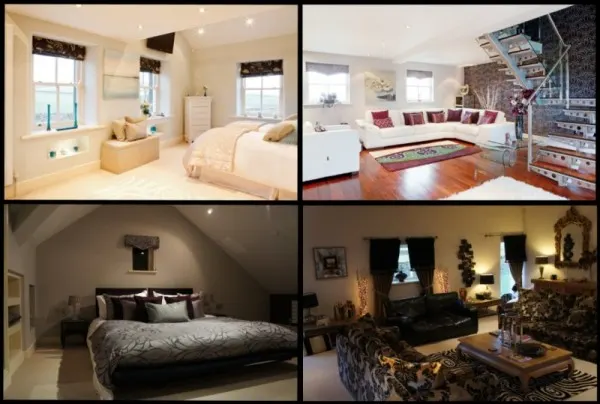 Without a little bit of luxury (OK, a lot of luxury in this case!) I don't think I would have been able to go through with bootcamp. There were times when I was tired, cold and completely drained of every single ounce of energy I had, but the thought of relaxing in a hot tub or sinking into plushest, most comfortable sofas I have ever sat on was enough to keep me going.
Juice Detox
As part of Boutique Bootcamp we were required to do a 3-day juice detox from Purifyne which I did when I got home after bootcamp. All I will say is that you should never judge a juice by its colour. Those juices on the right that look all nice and yellowy – urgh, gross. That one on the right with the thick clumps of green lurking at the bottom was delicious. Surprisingly, I was never hungry while I was on the juice detox but I did feel a little light headed and found myself dreaming about food at night time. I genuinely had a long and detailed dream about cheese on toast.
The fresh juices were delivered to my office every morning and not cooking for three days is definitely something I could get used to. Weight loss was not my main priority so I found it difficult to stick too (although I didn't give into the cheese on toast dreams), but I did lose weight after it.
Final thoughts…
Anyone who has spoken to be recently will know how much I loved bootcamp. They all think I'm absolutely crazy but it was one of the best four days I've had away in ages. Yes, it was ridiculously tough. Yes, we did eight hours of exercise every single day. Yes, my muscles ached like I'd be run over by a double decker bus, but after a few days I felt amazing.
I was full of energy, I felt refreshed, energised, focused and motivated. Since coming home I've been sleeping better, eating healthier, drinking less, exercising more, making better use of my time and generally being all smug and healthy.
Maybe it was just because I'd had a weekend away from the Big Smoke. Maybe it was because I had a weekend where I didn't think about work or blogging or family commitments or anything else that usually fills my head. Maybe it's because I didn't eat ANY SUGAR, CAFFINE or ALCOHOL. Yes, you read that right! Maybe it's because I had a weekend where I focused on me and only me. I'd previously thought that a 'me-weekend' was pretty selfish and self-centred but it turned out to be just what I needed.
Would I do it again?
Hell yes.
Photos from charlottegalephotography.com