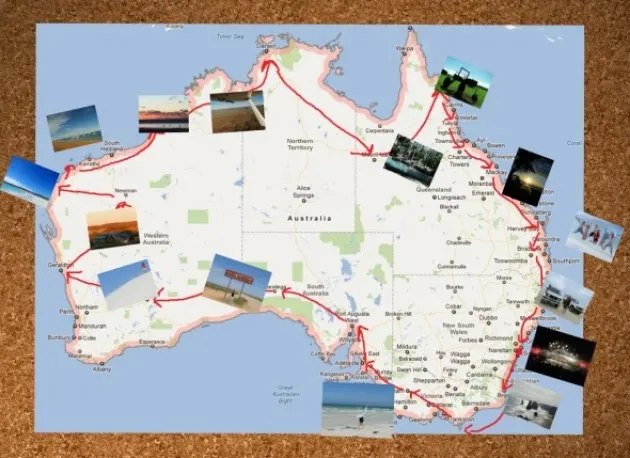 Driving around Australia in a campervan sounds like a romantic dream come true doesn't it? Well it pretty much was which is why I've finally got round to sharing my experience.
I spent nearly 18 months in Australia with my boyfriend, Sam. We worked for 8 of those months and travelled in a campervan for 10. We bought an old campervan from Gumtree and we were tense every time we drove the van, fully expecting it to give up and break down and leave us stranded in the middle of nowhere. Thankfully, the old thing never did give up and it got us all the way around Australia in just under a year.
After a very long time wracking my brains and studying the map I've managed to list the itinerary from our Australian road trip in a campervan. We didn't travel with a road trip itinerary, a time schedule or a budget. We stopped when we found a place we liked, we stayed for longer if we liked it a lot and we found jobs when we ran out of money. We caught fish for our dinner and camped on the beach. It was a really simple way to live but we loved it.
Here's where we went:
Sydney
Melbourne (if you're a night owl, there's tonnes to do in Melbourne at night)
The Great Ocean Road
Adelaide
Streaky Bay
Crossed the Nullarbor
Norseman
Coral Bay
Exmouth
Mackerel Island (where we worked for 5 months)
Cape Range National Park
80-Mile Beach
Broome
Kununurra
Bungle Bungle Range
Darwin
Dally Waters
Litchfield National Park
Cairns
Kurunda
Daintree Rainforest / Cape Tribulation
The Great Barrier Reef
Magnetic Island
The Whitsunday Islands
Airlie Beach
Agnes Water/ 1770
Hervey Bay
Rainbow Beach
Fraser Island
Noosa
Brisbane
Surfer's Paradise
Byron Bay
Sydney
I'm sure a few of you are wondering why we missed out so much of the south and didn't even go to the centre. It's now something I really regret but I guess it's just a good excuse to go back some day. We were offered jobs on the west coast which is which is why we cut across and missed out the south and although we wanted to go to Uluru, we were sure our campervan would break down and didn't want to risk driving all that way.
If anyone else is planning a similar trip or has taken a massive road trip, let me know!
Read more:
Travelling around Australia in a campervan – My FAQs
Monica's mini guide to buying a campervan in Australia