It may be a few years ago now but my favourite travel experience is from my time travelling around Australia in a campervan. Nothing beats the freedom of a campervan, especially in such a huge and beautiful country like Australia. Every time I think about that battered old, green campervan I get a little tingle of excitement and promise myself that I will do that again. One day I will reduce my belongs to nothing but the clothes on my back, buy an old campervan and drive wherever my curiosity takes me.
This experience is also the one that leads to lots of questions from readers who are struggling to find any honest answers online.
Everyone wants to know exactly how much it costs, where and how to buy a campervan and if they'll get away with parking beside beaches or on the side of the road.
Hopefully you'll find some of the answers to your questions in this post. If you have any more questions please just write them in the comments below and I'll do my best to answer them.
What's it like driving a campervan in Australia?
SO easy!
Australia's cities are small and most travellers in campervans will only briefly pass through cities. The rest of the time you'll be on the open road and these are straight, quiet and beautiful.
It's as though Australia has been perfectly set up for road trips. You won't need a satnav because everywhere is well signposted and the distances between each town is clearly marked.
The roads are smooth and there are plenty of places to pull over, fuel up, rest and enjoy the views.
In Australia they drive on the left. If you're used to driving on the right, I wouldn't worry about it because you quickly get used to it. Plus, there aren't many roundabouts in Australia and I find roundabouts are the only tricky things if you're driving on the 'wrong' side of the road.
Parking in cities can be difficult so sometimes you'll need to pay to park in car parks rather than squeezing in a space on the side of a road.
Driving in Melbourne and those tricky hook turns
Melbourne can be a tricky city to drive in due to the 'hook turns'. I think this is due to the tram lanes. Basically, if you're turning right you have to get in the left-hand lane. Wikipedia have a good guide to hook turns but you'll quickly pick it up when you arrive and most roads are well signposted.
What's it like living in a campervan?
A lot of fun! I wrote a whole post about it here: How to survive living in a campervan…for a year…with a boy.
Where did you go?
We started in Melbourne and basically followed the coast all the way around Australia. We drove along the west coast, into the Northern Territories and back down the east coast. We finished in Sydney one year later. You can read about all of your Australia road trip destinations here.
What kind of campervan did you buy and where did you buy it?
We bought a VW Transporter and we found it on Gumtree. We paid $5,500 for it. It was old and had done a lot of miles so we were very lucky we didn't have any problems.
We chose a VW because of their great reputation and the Transporter was more spacious then the other options in our budget. Many backpackers buy Toyotas but we'd been told they overheat, which is the last thing you need in a hot country!
We really liked and trusted the guy we bought our van from. We'd been to view some campervans being sold by fellow backpackers and found the owners knew nothing about the history of their vans and were cagey with our questions.
The guy we bought it from was Australian so could answer all our questions. He was friendly, knowledgeable and honest and I'm a firm believer in going with your gut instinct.
I've got more information here about buying a car or campervan in Australia.
One piece of advice would be to buy it, sell it and register it in the same state to make life easier for yourself.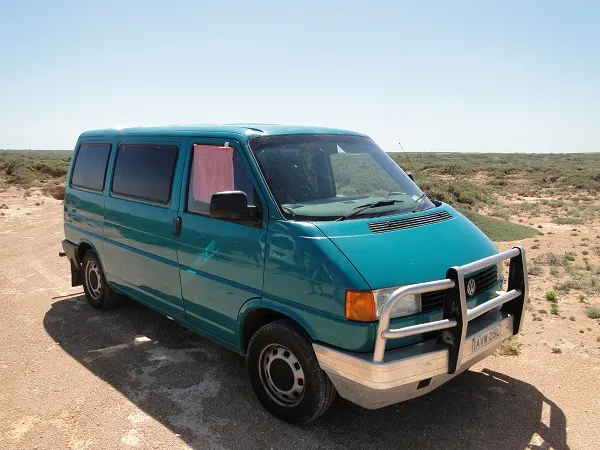 How much did you spend while driving around Australia?
It's hard to say exactly how much we spent because we stopped to work for a few months and then carried on and then stopped again. I'd say that during the road trip parts we spent about $2,000 a month between the two of us.
We didn't have a daily budget because it would vary so much depending on how far we drove, if we stayed in campsites, what kind of activities we did and how much we went out.
We didn't scrimp because this was a once in a lifetime opportunity and we just stopped to work when we ran out of money.
How much did you spend on fuel?
A lot. Again, I can't say how much because it depended on how far we drove and if we had the aircon on (that made a surprising difference). Remember that fuel is more expensive in rural locations.
You can find the average price of fuel in Australia here.
Do you have any tips for working and earning money in Australia?
I wrote all about the jobs I had and how I got them here: Working hard and playing hard in Australia.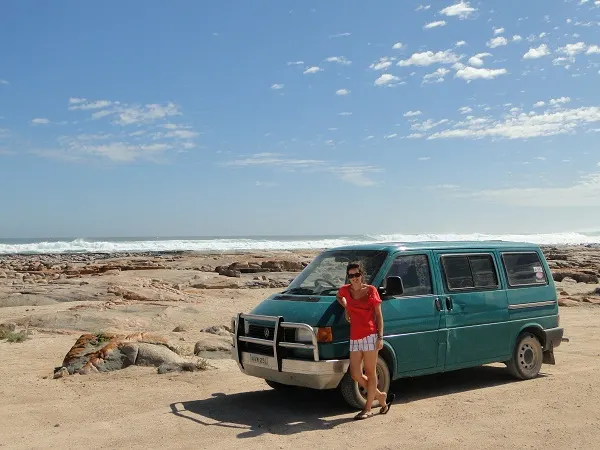 Do you have any tips for saving money while travelling around Australia in a car or camper?
Stock up on food at supermarkets rather than petrol stations. Petrol stations are expensive and it's easy to spend a fortune without realizing it. Sam and I are both suckers for proper coffee, meat and cheese pies and ice lollies – we spent way too much on these every time we filled up.
A gas hob will save you a lot of money so look for a van that already has one or put one in yourself. It makes it easier for simple things like coffee, bacon sandwiches, eggs and pasta.
The main expense is fuel so the slower you travel, the less you spend.
Try to avoid cities as you'll end up spending more money while you're there. A day at the beach is free but it's difficult to spend a day in Melbourne and not spend anything!
Look out for gas discounts at supermarkets. If you spend about $30 at a supermarket you'll often get a coupon for a discount on fuel. Just make sure you don't spend extra at the supermarket in order to get the discount because then you've actually just spent more money.
Don't buy a campervan with a toilet. You then have to pay to get rid of your 'waste' or pay for a powered site at a campsite. It's easier to use public loos or go for a bush wee.
Alternate between campsites and rest stops for a free night of camping and a paid night of camping.
Is there ever any risk of running out of fuel?
No, there are plenty of gas stations and the distance between each one is signposted. If you have a decent map, they'll also be on there.
If we were in a rural area, we filled up every time we came to a gas station just to be safe.
Can you camp by the side of the road/beaches/car parks?
It isn't as easy to camp by the side of the road as you may think. It's illegal to do this so if you're in a beautiful area where lots of backpackers try to camp for free, there's a high chance the police will turn up and move you on. If you're in a group with 2-3 campervans this will almost certainly happen.
Car parks are a little easier but camping in car parks gets boring VERY quickly.
This kind of lifestyle is fun and romantic and exciting for about 2-3 weeks but you get fed up after a while.
I will say that Australia has great public toilets so most car parks and beaches will have nice, clean loos. They're nothing like the public toilets in the UK!
Most of the time we stayed in campsites. Life is so much easier in a campsite because they have toilets and showers, swimming pools, kitchens with decent equipment, hot water to wash your pots and other backpackers to hang out with.
How much do campsites in Australia cost?
Back in 2010 we were paying an average of $20 per night for two people plus a van without electricity.
This will get you a really nice site, often with WiFi and clean, hot showers.
Hot showers aren't important to everyone but when I've spent the day on the beach and swimming in the sea, I'd pay any amount for a decent shower.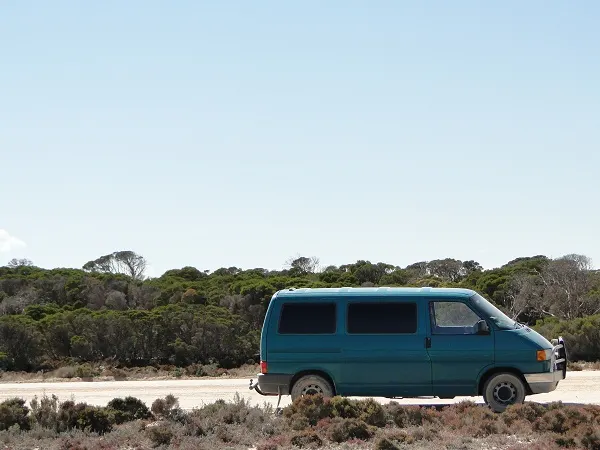 What did you do about food?
We very rarely ate out in Australia because it's expensive and we were on a budget. When we were in cities we snacked on a lot of sushi as (at the time) you could pick up delicious and large sushi rolls for $1.
We mostly cooked for ourselves on a twin burner gas stove in our van. We also had lots of BBQs. We bought our food fresh nearly every day because we didn't have a fridge and bread went stale very quickly in the hot van.
On most beaches around Australia you'll find great gas BBQs. They're clean and work really well too. We would get some meat or fish and salad from the supermarket and usually have a BBQ on the beach.
Keep your food in sealed containers to avoid attracting mice.
How did you sell your campervan?
We sold it on Gumtree. It sold within 1 week to a German backpacker.
We sold it with everything we didn't need like books and games, snorkeling gear, fishing equipment etc.
While we were selling it we stayed at Rooftop Traveller's Lodge in Glebe, Sydney. This is a really nice hostel that's close to the city center. It also has parking so it was a great location to be based while selling the van.
What did your campervan come with?
Our van had been converted into a camper by a backpacker so it was quite basic. It had curtains around the windows and carpet on the floor.
There was a 'sofa' which converted into a double bed with storage beneath. It had a foam mattress and was really comfortable. We had sleeping bags so we could pack them away during the day.
There were some cupboards along one side with sliding doors and a foldout table. A gas stove, a large cool box (called an Esky in Australia) pots and pans, large water containers and a fan. There was also a tarp which we used for shade and tied to the door when we were stopped. We had camping chairs and a small table and a map book too. It also came with a small tent but we didn't use it. There was no electricity so no fridge. We did have a cigarette socket to plug converter but we rarely used it.
I'm not sure if I should buy or rent a campervan in Australia, what would you recommend?
It depends how long you're planning to travel. We worked out that 12 weeks hiring a campervan would cost us about the same as buying one so buying was our best option. We sold it for $500 less than we bought it so it worked out well.
If you don't want to take the risk or you're only planning a short road trip, I'd recommend hiring.
Keep in mind that it could take a couple of weeks to sell your campervan once you're finished with it. We hear horror stories about backpackers who had flights booked to go home and had to practically give their campervan away.
What happens if I break down?
It's the same as it would be for you at home. If you break down in a city you could probably get it to a garage but if you break down elsewhere you're going to need breakdown cover.
Do you have any tips for driving in the outback?
Carry lots and lots and lots of water. Not just for you but for your vehicle too.
Don't let your vehicle get too low on fuel. Apparently the bottom of the fuel tank gets full of sand and dirt so when you're using the last few dregs in the tank all the dirt will go into your engine.
Watch out for kangaroos
Be careful at dusk because this is when the kangaroos are out. They're really stupid animals and will bounce right in front of your vehicle. During your roadtrip you will see hundreds of dead kangaroos on the side of the road.
'Roo bars' are a good idea and they're basically bars on the front of your vehicle to protect it from kangaroos. You're main concern is them rolling up your bonnet and smashing your windscreen.
Should I get a 4×4?
If you're planning to go off-roading in the outback then you will need a 4×4. There were some roads we were unable to access in our van because it just couldn't cope with the bumps.
We chose not to buy a 4×4 due to the extra cost to buy and run it.
I don't feel like we missed out by not having a 4×4 and there was only one road we got halfway down and realised we needed to turn back.
If we had unlimited funds we would have bought a 4×4 but I wouldn't worry if your budget doesn't stretch that far.
If there is anyone else out there who has campervanned around Australia and wouldn't mind sharing their experiences, please let me know. I'm looking for people to interview about their trip as I'm sure everyone else has more tips and a very different experience to my own.