So you're planning a family holiday to Cornwall! What a perfect choice for a UK family holiday. Today I'm sharing 25 of the best things to do in Cornwall with kids – but all of these things are equally amazing without kids too! This post has been sponsored by Classic Cottages and there are some gorgeous accommodation options included in this post!
Cornwall is famous for those quaint seaside villages, golden sands, turquoise water and rugged coastline. It's a popular spot for British holidaymakers and, if you're anything like me, planning a family holiday to Cornwall can be a little overwhelming. There are so many things to do in Cornwall, so many beaches to visit, restaurants to dine at
One of my favourite things about visiting Cornwall with kids is that everything revolves around the beach and being outdoors. My kids are so much happier when they're outdoors and it's generally so much easier. They can run wild and burn off all that energy while they explore and play and you don't need to worry about keeping them quiet!
It also makes your holiday much easier and safer during the Covid-19 pandemic and you can easily stay socially distant and spend very little time indoors.
Planning your family holiday to Cornwall
Here are some top tips for your holiday to Cornwall
It's best to visit Cornwall with a car. It is possible to get around using public transport but it's going to limit your options. Taxis are an option and there are plenty of local taxi services to choose from, but you'll have more freedom and flexibility in your own car.
Cornwall is best during the summer months but it's very busy.
It's particularly crowded during the school holidays. My advice? Just embrace it because the crowds are always going to be there! If you have young children who rise early then embrace that and get up and out before 9am. Honestly, there is such a huge difference between arriving at the beach at 9am and arriving at midday, so beat the crowds and go everywhere early!
Expect rain! Cornwall often has gloriously sunny weather, but if you plan for rain then you'll be super happy when you get the sun.
Get yourself an enormous beach bag and an insulated backpack picnic hamper. If you'll be visiting the beach with kids then you'll have so much stuff to carry so make beach time a little easier with an enormous bag and always have snacks in an insulated picnic backpack.
There are lots of National Trust places to visit and parking is often free for National Trust members. While it won't be worth joining The National Trust purely for the free parking, it could be worth joining now if you were thinking of joining anyway. Join in advance of your trip to Cornwall so you get your sticker in the post that will give you free parking.
Book your accommodation ASAP. Even if that means booking 12-18 months in advance. The best places get booked up quickly! Check out Cornish Holiday Cottages for a local holiday cottage agency based in Mawnan Smith and focused on the Falmouth and Helford River area of South Cornwall. They have some stunning sea view properties!
Where to stay in Cornwall
When staying in Cornwall with kids I would always opt for a self catered cottage as close to the sea as you can get! Classic Cottages have so many charming cottages filled with personality and they're all in fabulous locations too, here are four of my favourites…
Dreamcatcher Cottage in Marazion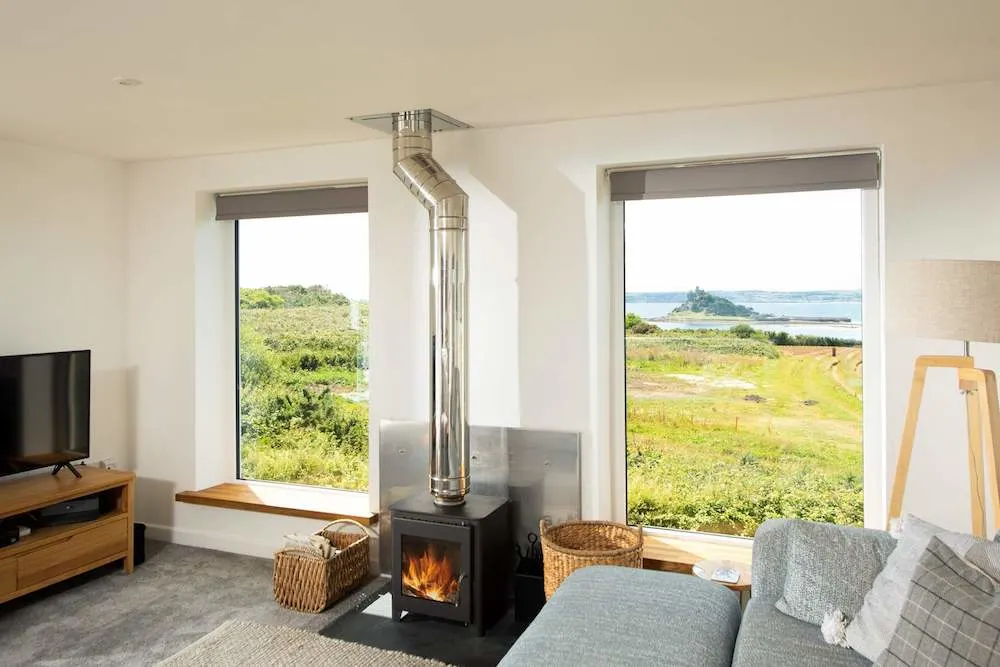 This modern, spacious and airy cottage sleeps 5 (plus a cot) and is located on the outskirts of Marazion. The highlight of this stunning space is the floor to ceiling windows and south-facing balcony which look out to St Michael's Mount. The iconic tidal island and the stunning coastline make the most incredible backdrop, whether you're sitting in the sunshine enjoying a crisp glass of wine or snuggled next to the log burner for a cosy night in.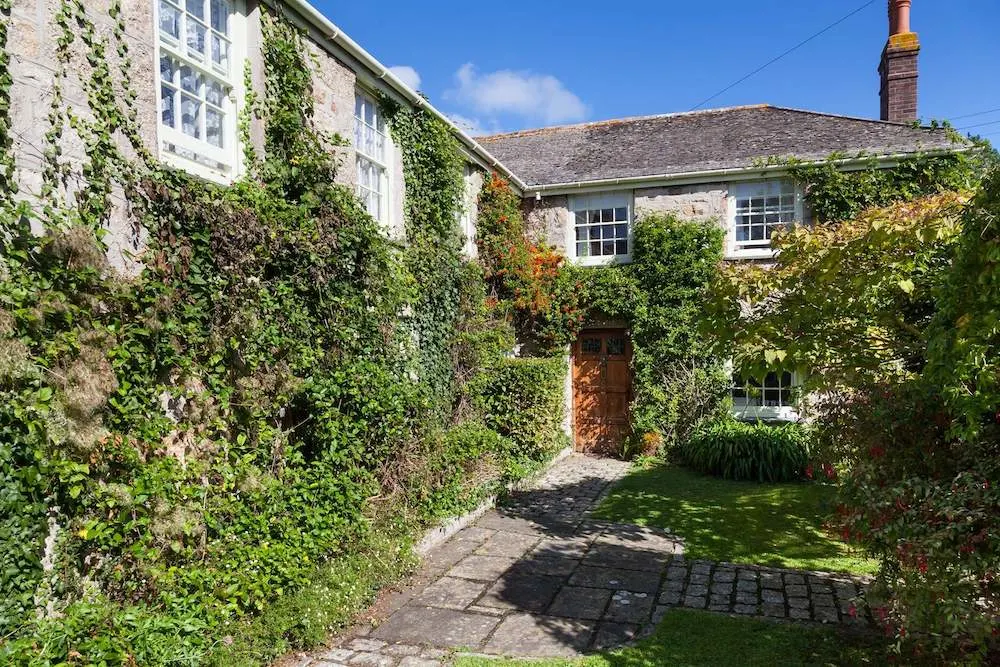 This large house is basically my house of dreams! It's such a fabulous cottage with traditional features and cosy charm but with modern elegance that would make it perfect for a family gathering. It sleeps 8 (plus 2 cots) and has a large, enclosed garden that would be perfect for summer BBQs and for kids to get lost in their own magical world.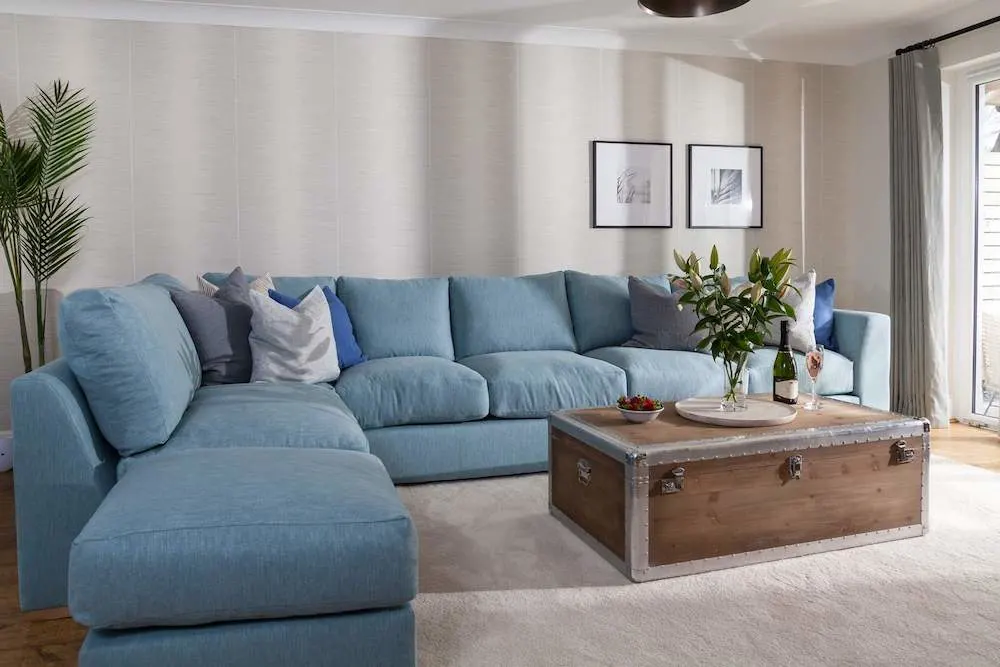 Another large home that would make a great space for a family gathering, The Newstead sleeps 8 (plus 2 cots) and would be great if you've got older kids. There's a cinema room and an outdoor sauna as well as all the mod-cons teenagers are looking for like superfast broadband and Sonos speakers!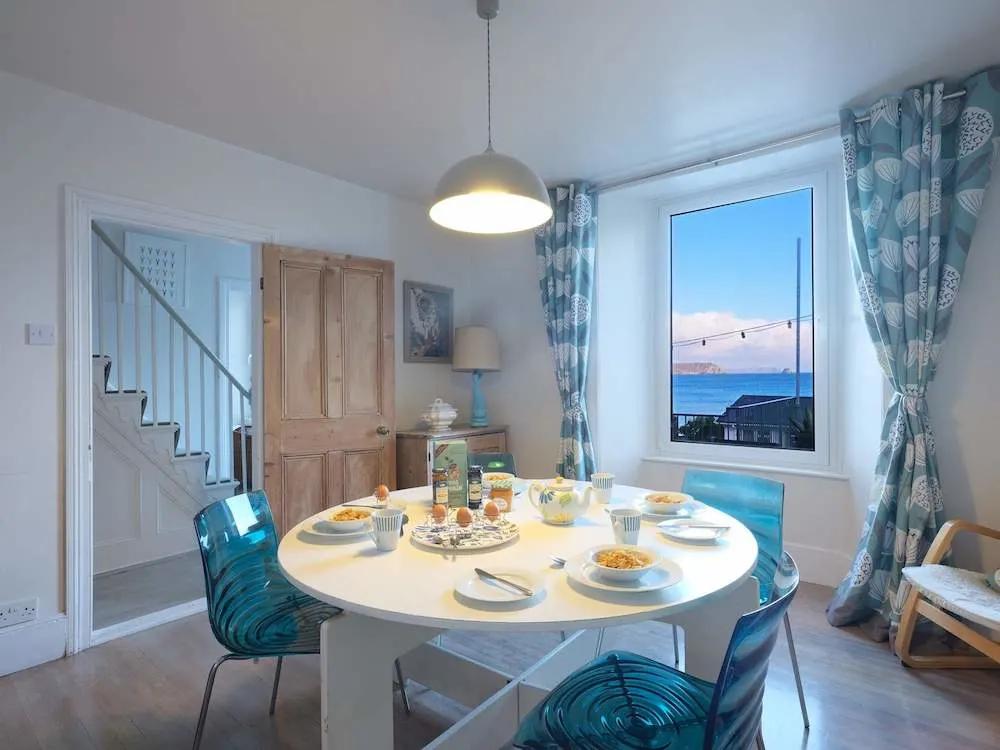 If you're looking for sea views then this is the cottage for you. Located in Porthscatho and looking out over Gerrans Bay, this stylish cottage sleeps 7 (plus a cot) and has a lovely patio and lawned area with swaying palms that would be perfect for a summer BBQ!
Best things to do in Cornwall with kids
On this list of things to do in Cornwall with kids I've tried to include activities that are enjoyable for children and adults. Kids might love a play barn…but do the parents really want to spend their morning there!? I've also chosen activities that are specific to Cornwall. Yes, there are petting zoos and waterparks in Cornwall, but there are petting zoos and water parks all over the world so save them for a time when you're not surrounded by such spectacular scenery! These are the best things to do in Cornwall with kids that really are specific to Cornwall.
Go to the beach! (Obviously!)
I know this is one of the most obvious things to do in Cornwall but I wanted it to be top of the list because please don't feel the need to plan a million and one activities for a family holiday in Cornwall!
The last time I was there with my kids we did very little but hunt out a different beach each day and we had THE BEST time. I've got an Instagram post with my top beach hacks for visiting the beach with young children.
Eden Project
You can't visit Cornwall without visiting the iconic Eden Project, a global movement to promote environmental harmony in the world. It all started here in Cornwall when an old China clay pit was transformed into 'a living theatre of plants and people'. The gardens are incredible and there are also live performances, art exhibitions, storytelling, theatre, parkour and carnival performances!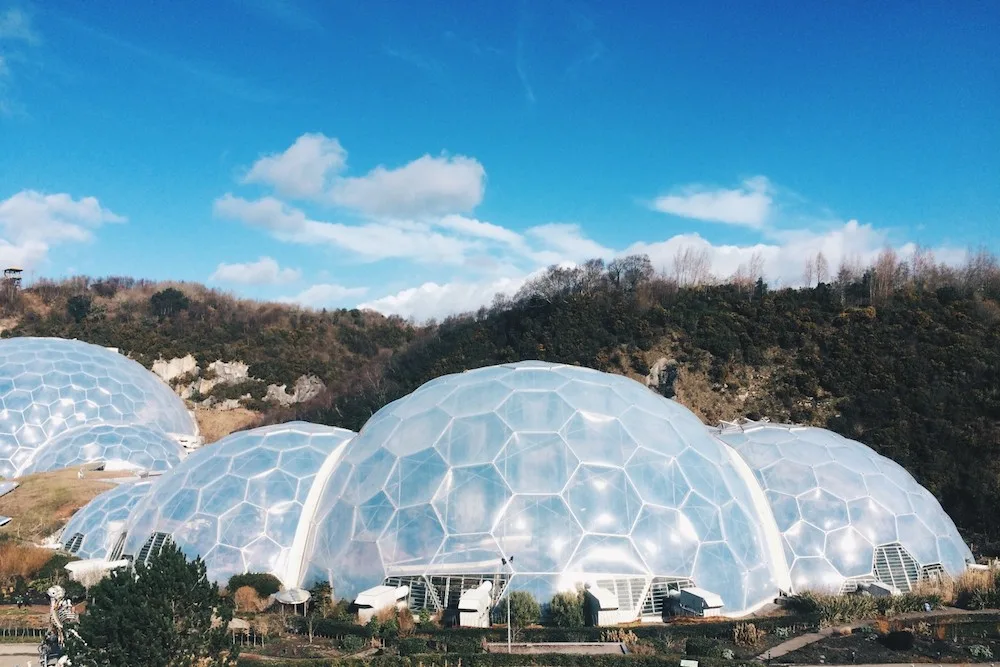 Hangloose Adventures
While you're visiting The Eden Project, be sure to check out Hangloose Adventures, an adrenaline activity company based at The Eden Project. This is a great one if you've got older children and teenagers and you can choose from activities like zip wiring over The Eden Project, aerial trekking, a giant swing, base jumping or jumping onto a giant airbag!
Explore St Michael's Mount
This tidal island is one of the most photographed places in Cornwall. An ancient castle with a rich historic past sits on this unique and tiny island. Visitors are welcome to explore the castle, the subtropical gardens, the church, the village and harbour too.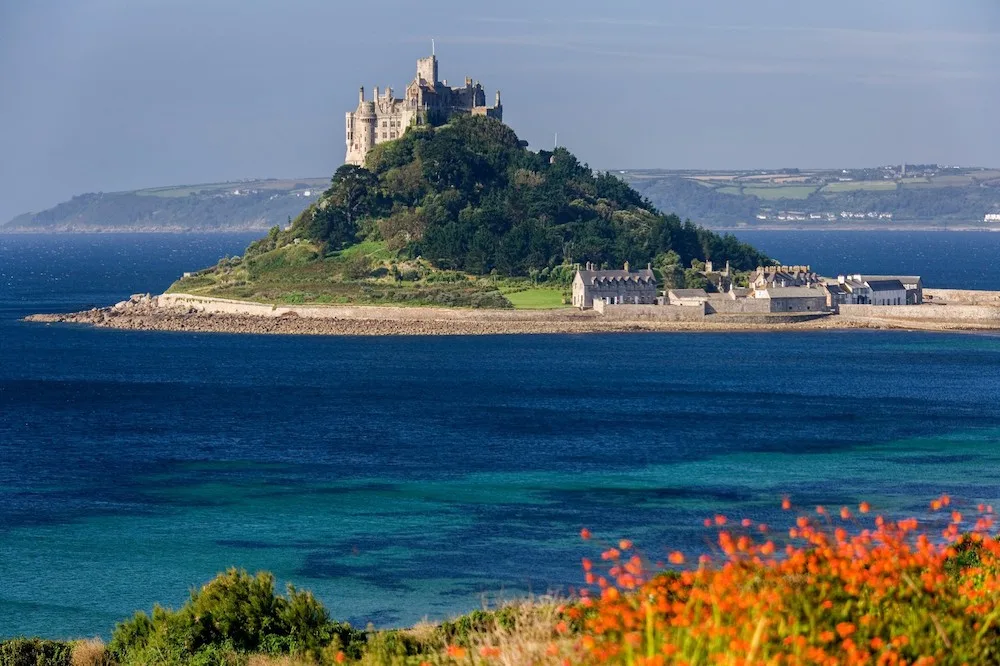 Pendennis Castle
Pendennis Castle, near Falmouth, is an incredible fortress built by Henry VIII. If the castle doesn't wow you, the views out to sea certainly will.
Walk part of the South West Coast Path
The South West Coast Path runs for 630 miles, making it the longest waymarked footpath in England! Of course, you may not want to walk the entire coastal path with children so check out the website to find a suitable walk for your family. You can find walks based on your location and walking abilities.
Have a Cornish Pasty
Have you even visited Cornwall if you haven't had a Cornish pasty? Pack a few pasties in your hiking bag as they're great fuel to keep little legs walking!
Eat fish and chips by the sea
If you're looking for a good fish and chip recommendation then I highly recommend Rick Stein's in Padstow. Padstow is such a beautiful fishing village and the iconic restaurant is a firm favourite. There are so many great fish and chip shops in Cornwall so check out this post on Classic Cottages about the best fish and chips in Cornwall.
Watch the sunset and toast marshmallows on the beach
There is nothing my kids love more than spending an evening on the beach when the day is cooling down and the beach is quiet. Watch the sunset and build a fire to toast marshmallows and watch the stars (don't forget to extinguish your fire safely using water and remove any fire debris from the beach).
If you're looking for a sunset spot recommendation then check out Treyarnon Bay!
Snorkel at Kynance Cove
If your kids are big enough for snorkelling then one of the best things to do in Cornwall with kids is take them to the incredible Kynance Cove where crystal clear, turquoise water awaits! It's a beautiful spot for snorkelling and there's so much to see!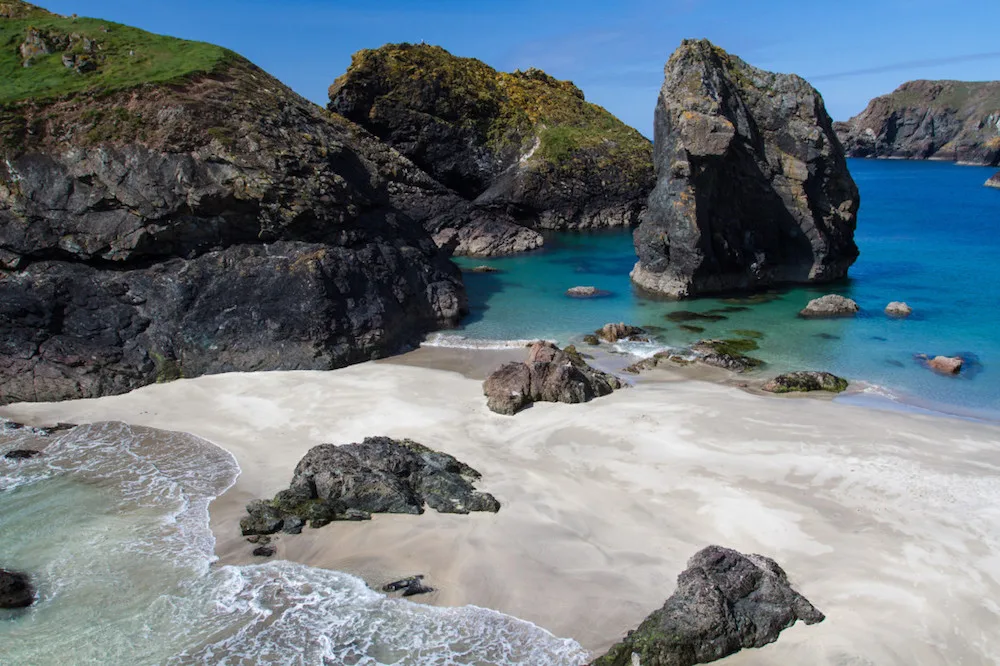 Visit Lizard Point
Lizard Point is the most southerly point of mainland Britain and it's a gorgeous peninsula with white sandy beaches and turquoise water. This is where Kynance Cove is so, while you're there, spend some time exploring the peninsula.
Visit The Roseland Peninsula
If you haven't had your fill of Peninsulas yet, make sure you visit The Roseland Peninsula. Located in south Cornwall, this is part of Cornwall's Area of Outstanding Beauty, and it's not hard to see why!
Have lunch at The Hidden Hut
If you're looking for a special lunch spot during your trip to The Roseland Peninsula then check out The Hidden Hut. You'll find this outdoor beach kitchen on coast path near Portscatho and they serve the best seafood in a beautiful, relaxed location.
Land's End – A Grand Experience
Land's End is one of the UK's most famous landmarks and you have to get a photo next to the famous sign! Note that you do need to pre-book your parking!
Make sure you check out the attractions at Land's End such as A Grand Experience which is a family-friendly interactive experience featuring much-loved characters such as Shaun the Sheep, Wallace and Gromit and Morph.
Visit St. Nectan's Glen
This is a beautiful woodland walk near Tintagel leading to a mesmerising waterfall. The ancient woodland is magical and little minds can run wild imagining fairies and piskies (local pixies!) hiding behind the mossy rocks and trees.
Visit Tintagel Castle
Tintagel Castle feels like a dramatic setting for a Lord of the Rings scene! Set on the rugged cliff tops in North Cornwall, an iconic footbridge leads the way across to the island where the medieval gateway awaits.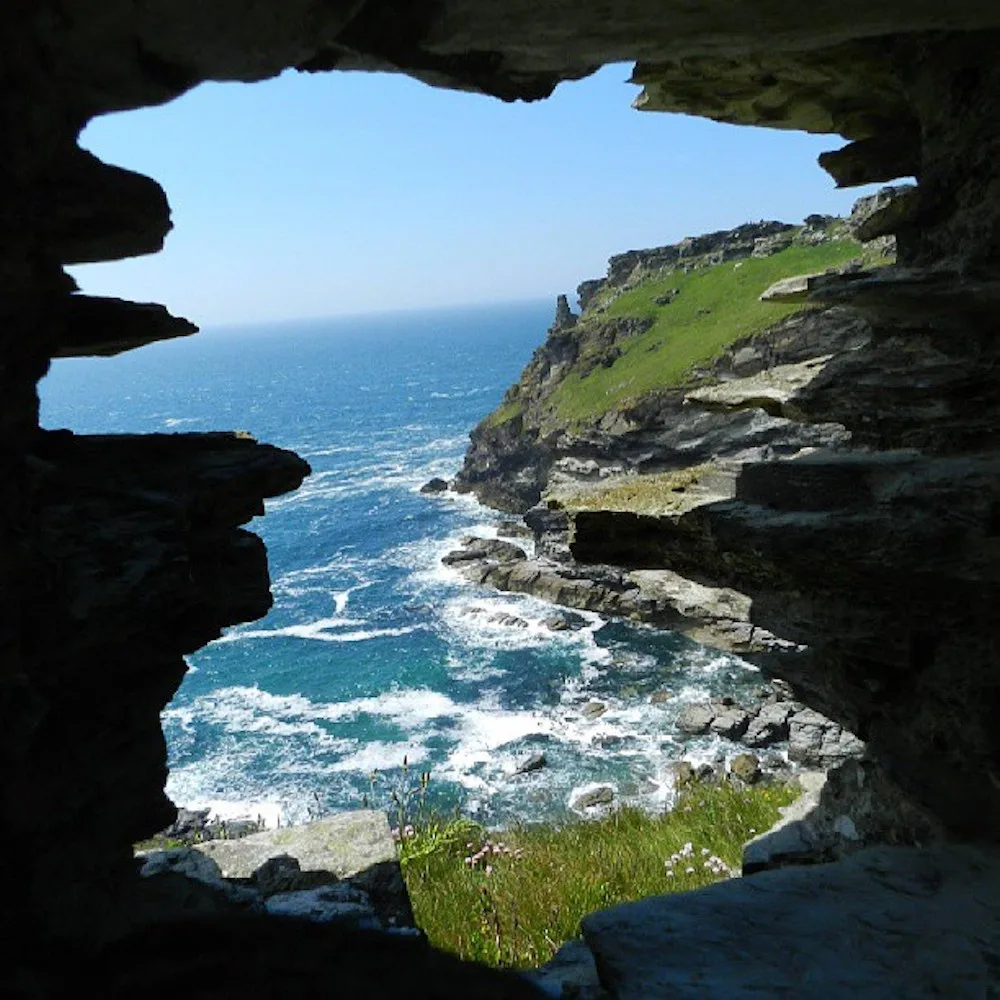 Visit Pedn Vounder Beach
Pedn Vounder beach is one of the most beautiful beaches in the area (and that's saying something!) It isn't the easiest beach to access so caution is required and you'll need to visit at low tide when more of the white sandy beach is accessible. I wouldn't recommend visiting with very young children as the path is steep and rocky and little ones would probably need to be carried. The beach also disappears at high tide so you wouldn't want to be caught out!
Lappa Valley Steam Railway
If you've got a train lover in your clan then you can't miss Lappa Valley Steam Railway. Take a nostalgic steam train into Lappa Valley where a 35 acre woodland site is filled with child-friendly activities like adventure play, soft play, a boating lake and mini golf.
This is definitely one of the iconic things to do in Cornwall with kids but I wouldn't recommend going with little ones as it is very much a child-friendly activity.
Try paddleboarding
Paddleboarding is my favourite family activity and there are so many places to give it a go in Cornwall. You can hire paddle boards and have a splash about in the water or join a guide for a more indepth experience. If you've got little ones, hire a bigger board (as well as life jackets and wetsuits) and they can sit on the front of your board. If you're new to paddleboarding and you're worried about falling in with kids on your board then I recommend just kneeling on your board. My 4 year old regularly sits on my board and I'll just straddle the board and paddle about slowly.
Visit St Ives (but go early!)
If you're staying in St Ives I'd definitely make the effort to visit this pretty town for a day. It's absolutely gorgeous! It does get very busy so I'd recommend getting there as early as you can to avoid the crowds. If you're spending a whole day in St Ives then book a boat trip over to Seal Island. The island is 3.5 miles off the coast so it's a nice little boat trip and an incredible wildlife experience in one!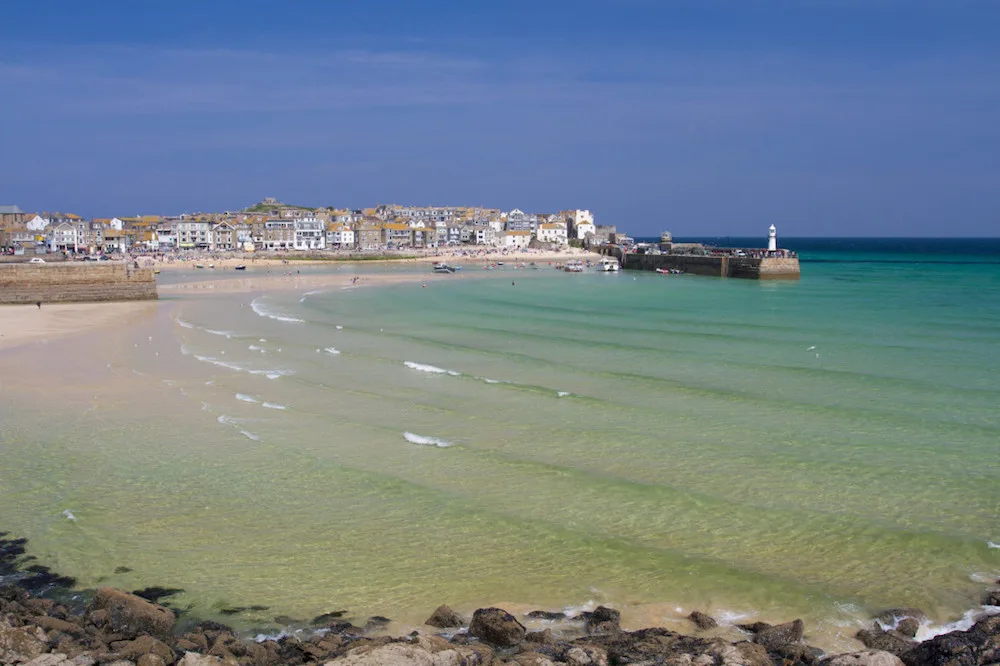 Watch a show at Minack Theatre
The famous outdoor theatre has to be the most spectacular setting for a show in all of the UK! The theatre is perched on the cliffs above the Atlantic Ocean with balconies and seating carved into the rocks. I love that there are performances for the whole family and kids are often invited to sit on the floor at the front so they get the best view!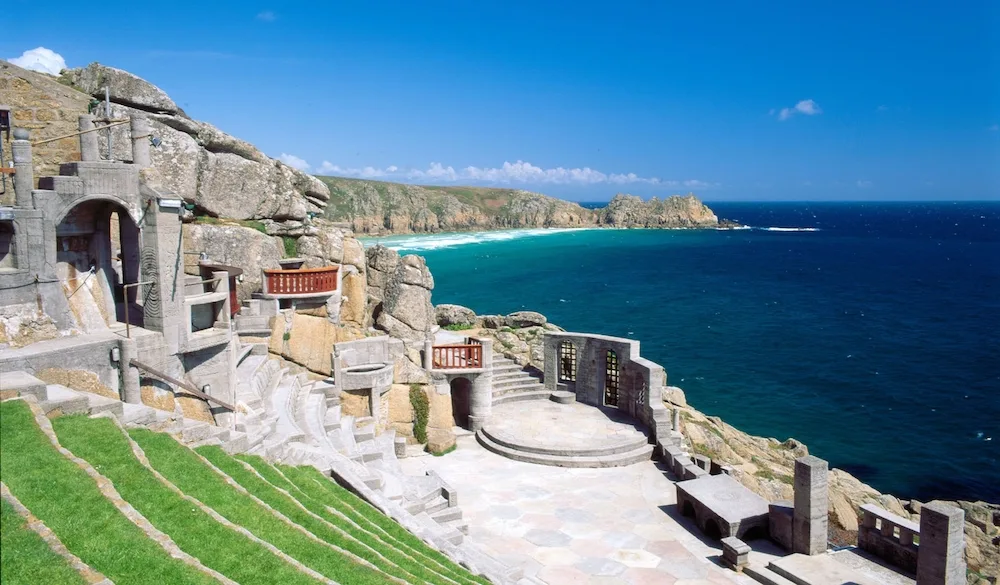 Take a day trip to the Isles of Scilly
The Isles of Scilly are incredible and while you're in Cornwall you can take a day trip there via ferry, helicopter or seaplane. The sub-tropical archipelago feels a million miles from mainland Britain. Most people will arrive on St Mary's Island and from there you can take fast boats to other islands.
Read more: My travel blog from the Isles of Scilly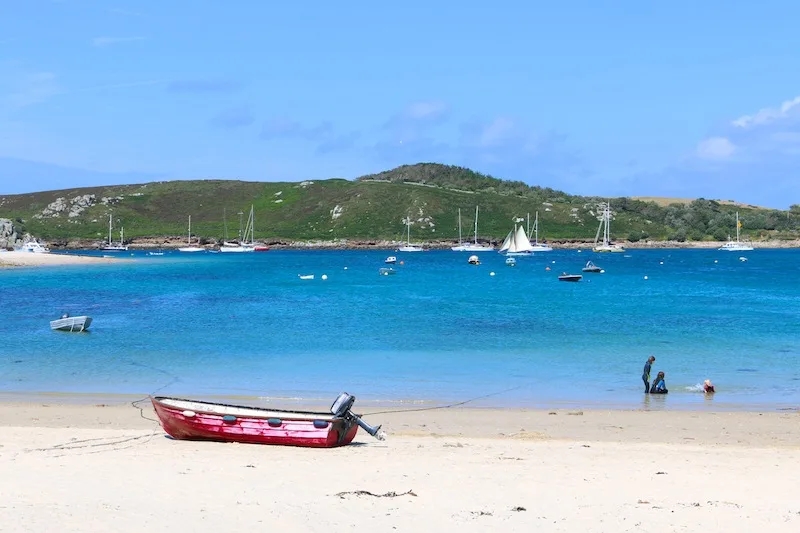 Lost Gardens of Heligan
This incredible 200 acre garden near Mevagissey genuinely was lost when it became overgrown during WWI. The gardens were rediscovered and brought back to their former glory and now they're a paradise for nature lovers, both big and small!
Go surfing in Newquay
Cornwall is the surf capital of the UK and Newquay is one of the most popular spots. The famous Fistral Beach is a hot spot but there are surf schools everywhere in Cornwall. You can hire boards or join a lesson. Many surf schools offer family lessons so you can all learn together.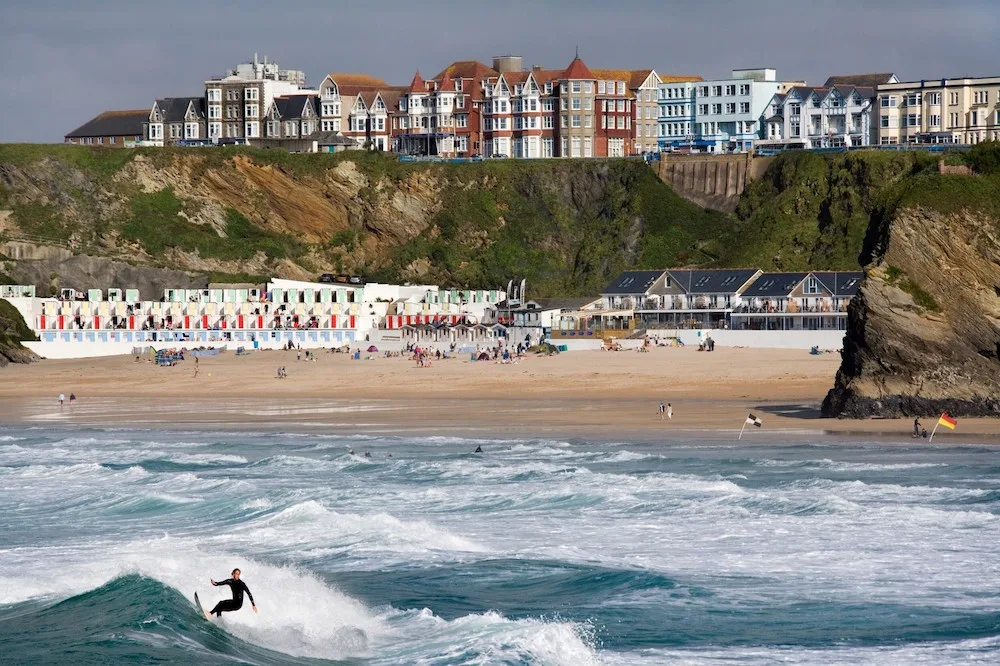 Take a boat trip and go fishing
Cornwall is a gorgeous place for a fishing trip and it's a lovely way to spend a morning as you sail out to sea and cast your rods to catch your supper! Boat trips are available in most towns and some can be more of a full day experience to include a picnic, fishing, wildlife spotting and a tour of the area. Your skipper will join you back on dry land and show you how to cook up your catch! Rick Stein has a Catch and Cook course and there's a 'Hook and Cook' experience in Penzance with great reviews and they have parent and child activities available.
There you have it, 25 of the best things to do in Cornwall with kids! If you have anything else to add to the list then please do leave any suggestions in the comments below!