I tried so hard to get into the festive sprit this year but I just wasn't feeling it. This really isn't like me because I usually start feeling excited just after my birthday in October!
This year is particularly exciting because George knows what's going on a bit more. I don't think he understands Santa but he loves the lights and the trees, decorations, music and sweet treats everywhere! I also have a tiny baby to dress up in ridiculous outfits and that's always fun! But up until Friday night I was feeling a bit 'meh' about it all.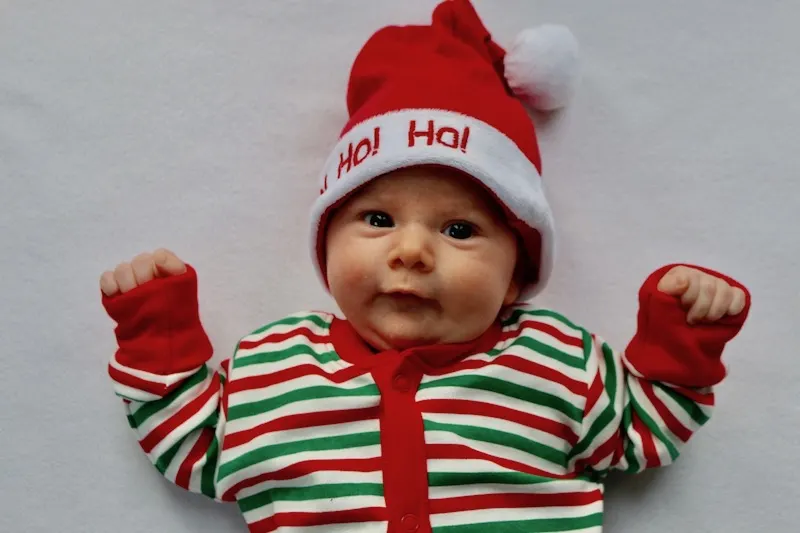 It all just felt like so much effort. Too much effort maybe…
With an ever-growing family and tribe of friends with kids, Christmas seems to get bigger and bigger every year. And with that it gets more expensive and more effort to shop for everything, cook everything and organise everything. There's a different event every evening and I just have so much to do!
Wow, I'm starting to sound very grown-up and boring here!
I want to really enjoy Christmas this year without worrying about the boring organisational stuff, the buying presents, sending cards and stocking up on things before the shops sell out. I want to enjoy making stockings, going to Christmas markets (without just whizzing around the market trying to find unique gifts), cooking festive treats and relaxing in the evening with mulled wine and festive films.
So on Friday I had a very exciting night in by myself. The two boys were tucked up in bed and I was sat on the sofa in my dressing gown with Louie snoring on my lap. Glamourous mum life, right? But in that three hours I was sat on the sofa I did everything I needed to do for Christmas….from my phone.
Yes, honestly. EVERYTHING.
And I can't tell you how amazing it feels.
All of a sudden I feel so festive and excited for Christmas because I know I have everything ready. Armed with just my phone, a glass of wine and half a box of mince pies (don't judge) I managed to get everything bought and ready.
So here's what I did and the apps I used to do it…
Order personalised Christmas cards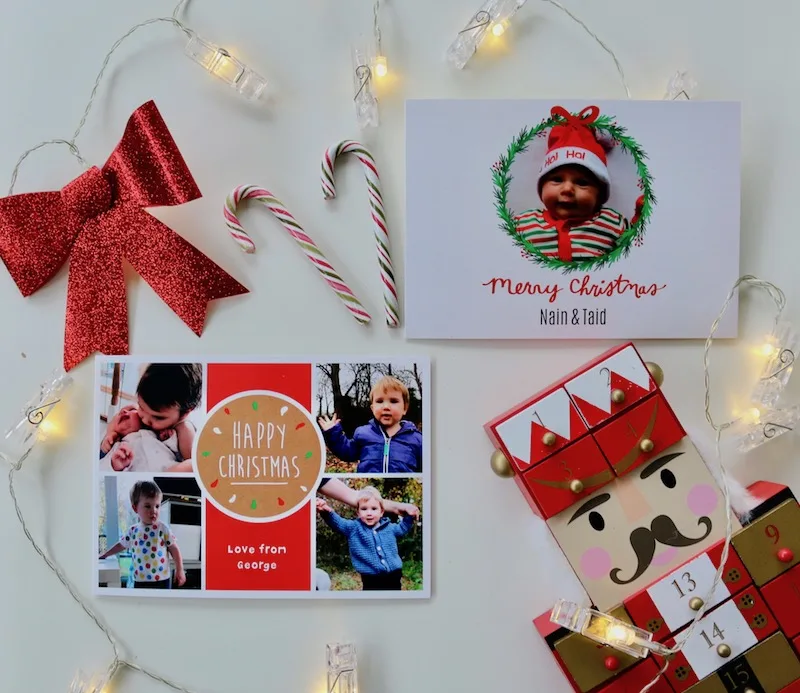 The first thing I did was order cute family Christmas cards. I used the Postsnap app (you guys remember how much I love this from my last post about reintroducing postcards).
Postsnap is a mobile app that allows you to create personalised cards like postcards, birthday cards, thank you cards and, of course, Christmas cards.
They have Christmas templates you can use to add your own text and upload your own photos either from your phone or from a social media account. I made cards for close family and friends. The ones I made for the boy's grandparents are my favourite!
I had them sent directly to the recipient's home so I don't need to faff with postage or dropping cards off. Does anyone else spend days writing their Christmas cards and then the cards sit in their handbag for weeks until it's either too late to hand them out of they've got so dirty and bent you can't possibly give them to anyone!?
So there's a big tick in the box for Christmas cards done and they're so cute and personalised that I get extra brownie points! These only take a few minutes to create on your phone and they've delivered within about 3 days so I'd do them this week!
Travel Hack Tip: Take some festive photos as early in the festive season as you can so you can include them on your cards. This means getting your Christmas jumpers and silly outfits early and going out for a festive photo shoot.
Get the Postsnap app here.
*** Readers of The Travel Hack get 20% off their first postcard using the code: TRAVELHACK ***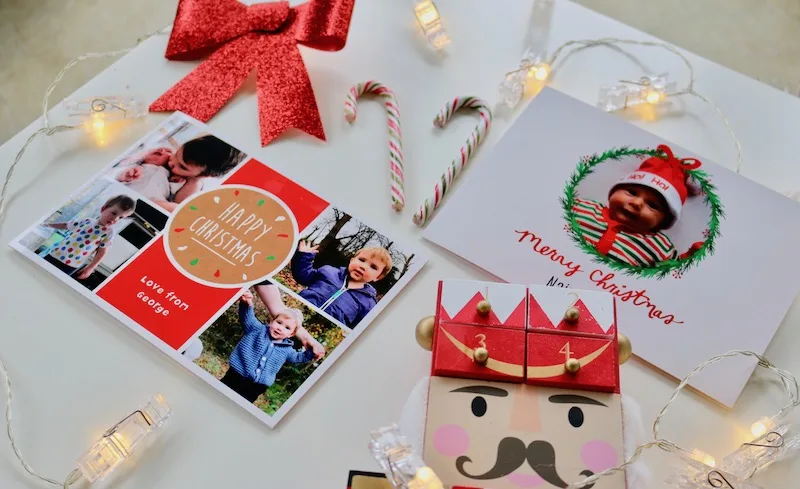 Buy the presents
I feel like I shouldn't just lump this one under one heading as 'buying presents' is a biggy! Usually I spend days, if not weeks, Christmas shopping. I pick up a few bits and bobs every time I go to the shops. But this means my shopping drags on and on, so this year I've bitten the bullet and did everything in one huge haul.
I used Amazon for almost everything and within an hour I'd bought every single person's present. #SmugFace 🙂
I actually used the ASOS Christmas gift guide and the Not on the High Street guide for inspiration but then found almost everything on Amazon for a lot less.
Travel Hack Tip: Sign up to Amazon Prime for the free trial and you'll be able to get most of your gifts with free delivery.
Buying for the people who have everything
For the people who have everything and I never know what to buy, I've bought experience gifts such as a spa day for a friend and a drive-in cinema experience for as a present for a family with kids.
Groupon is really good for these gifts and they're surprisingly cheap!
Travel Hack Tip: I'm surprising these people (who don't read my blog, thankfully!) by asking them to babysit on a particular day. When they turn up at my house to 'babysit' I'll whisk them off for their surprise! That way you can keep it a surprise without worrying about them making plans for that day.
Do the festive food shop
Last Christmas I made an epic mistake. I went to the supermarket on Christmas Eve to do my 'big Christmas shop'. But wait, it gets worse. I took George with me too. And George was at an age where he'd pull everything off the shelves and shout 'DADDY!' at every single man with a beard. Yea, that was an awkward phase.
The year before I offered to do the Christmas food shop for my mum (who was having EVERYONE over for Christmas dinner). Of course, I procrastinated and put it off and off until it was Christmas Eve and we ended up with a turkey that looked more like a sparrow and we had no cranberry sauce. Shock horror, it's not even Christmas without cranberry sauce!
But I've learned from my mistake and I will never do that again. So I've already done my Christmas food shop and made plenty of space in my freezer. Now all I'll need to do is buy fruit and veg nearer the time.
Get organised
I've got to admit, I am a fan of a good old fashioned calendar you can hang on the wall. This works perfectly…until I leave the house and I have no idea what I'm doing or when I'm doing it. If I bump into a friend who wants to make plans I can never remember what I'm doing so I've finally joined the 21st century and I'm using a calendar app.
If your social life is chocker this year then you need a good calendar or organisation app to make sure you don't double book yourself or forget anything. I really like the Google Calendar app to keep things organised. I use this on my mobile and laptop and it automatically syncs to keep things easy. You can also have joint calendars for families or team members so you all know what you're doing.
Add some Christmas magic
These apps are all very practical aren't they so it's time to get some festive magic into the mix. Download this app to get unlimited calls or text messages from Santa for an extra bit of festive cheer.
George doesn't 100% understand Father Christmas just yet but he loves to answer the phone (something I maybe shouldn't be encouraging but this is so cute I'm letting it slip!) and…well I'm a big kid and I want to speak to Santa!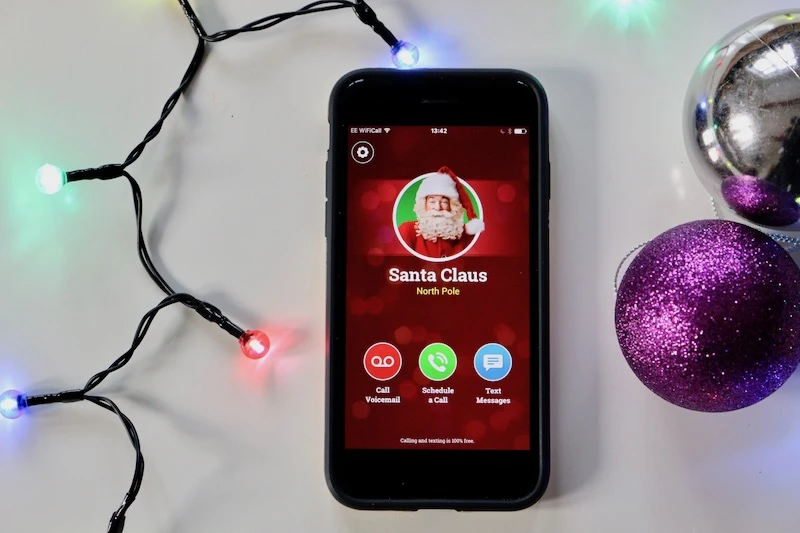 Is anyone else feeling a bit smug and organised about Christmas?