There's something wonderful about growing your own fruit and vegetables. It isn't just about putting food on the table, it's something else.
The magic comes from a collection of very simple things….
It's having your hands in the soil.
Planting a seed and watching it grow.
The magic of seeing a tiny seedling break through the soil.
Always having something to look forward to, whether that's a plant growing or a vegetable almost ready to harvest.
It's realising there's a whole community of growers who are just as passionate as you are.
It's realising you will fail again and again and again, but that's OK. You'll learn from each mistake.
It's getting a little bit better each year.
It's garden surprises in the way of wild flowers, plants you'd forgotten you were growing and things that turned out better than expected.
It's putting dinner on the table and knowing you grew 70% of it. It might only be one meal every few weeks but it's very satisfying!
It's cutting back on plastic waste.
It's feeling like you're doing something good for the planet.
It's learning new skills.
It's being outside.
It's fresh air in your lungs.
It's the feeling of an achy back after a day digging and lugging wheelbarrows.
It's reaching up high for the juiciest berry.
It's making soup with a glut of veggies.
It's freezing big batches and knowing you'll thank yourself in the winter.
It's geeking out over compost.
It's a steamy cup of tea on a chilly morning.
It's sitting quietly and watching the bees.
It's noticing more bees, butterflies and birds making a home in your garden.
It's the sweetest strawberry and the tastiest tomato you could imagine.
It's finding new ways to cook yet another courgette!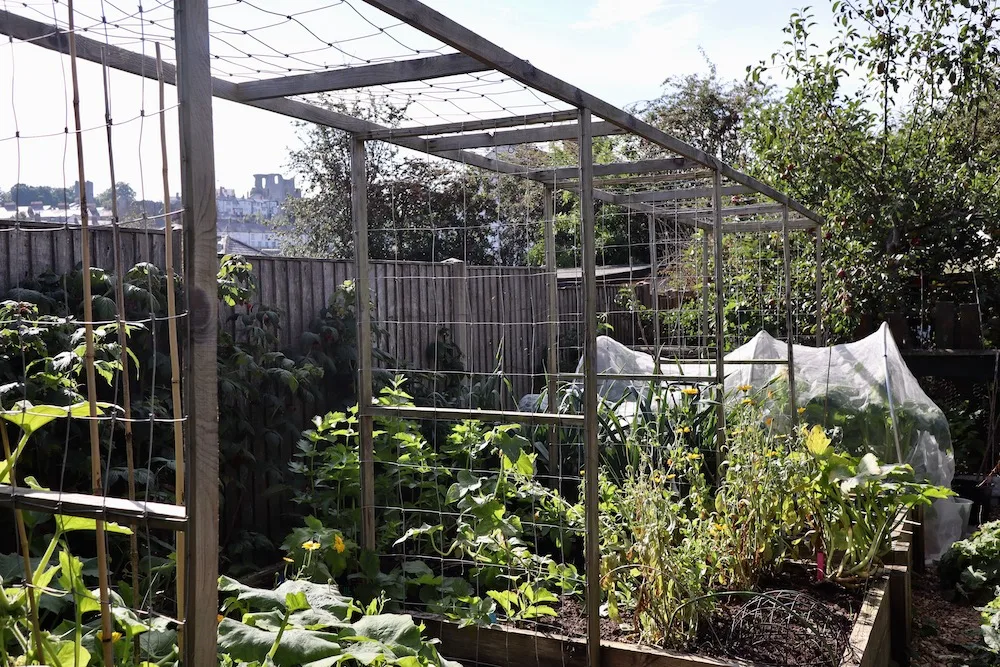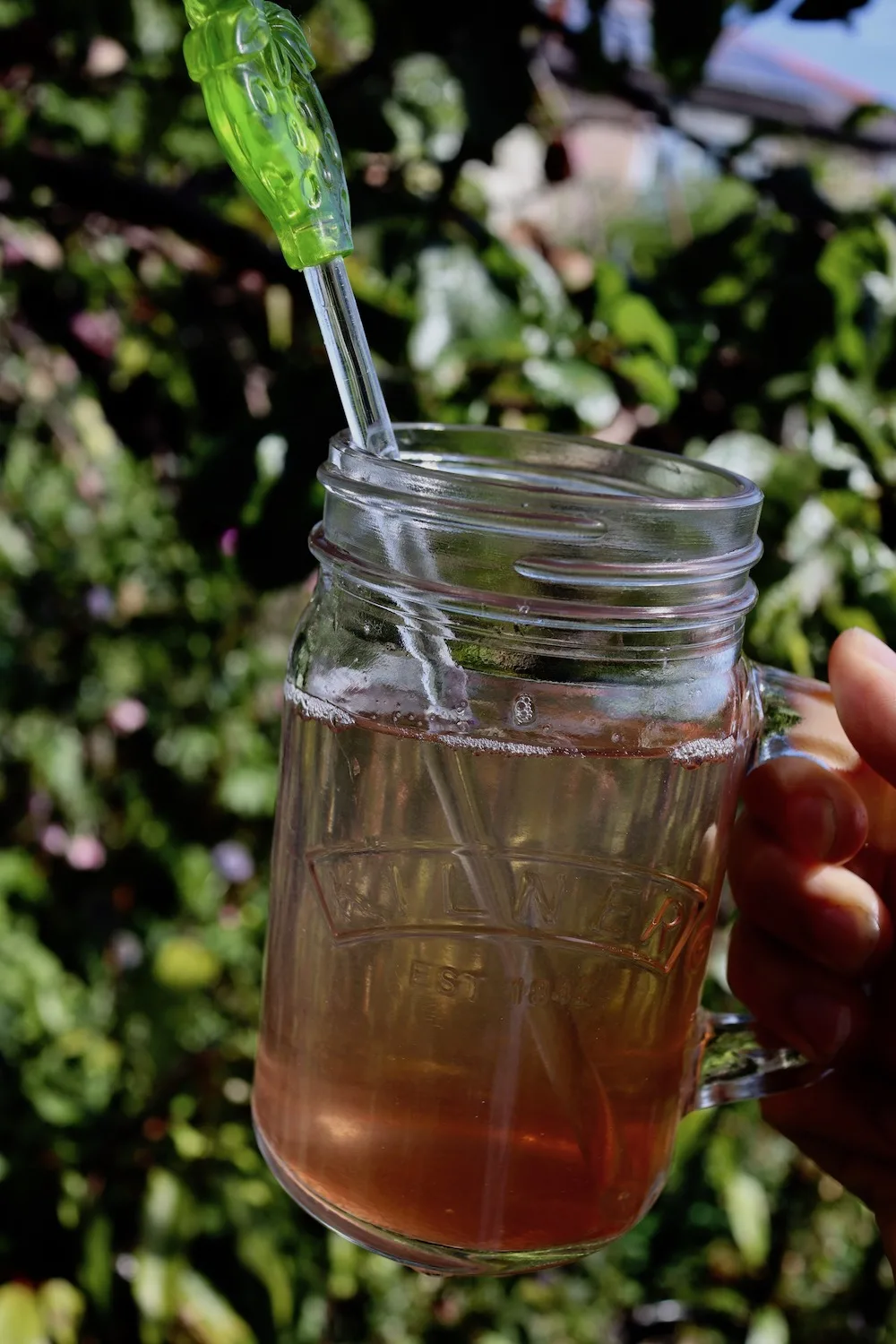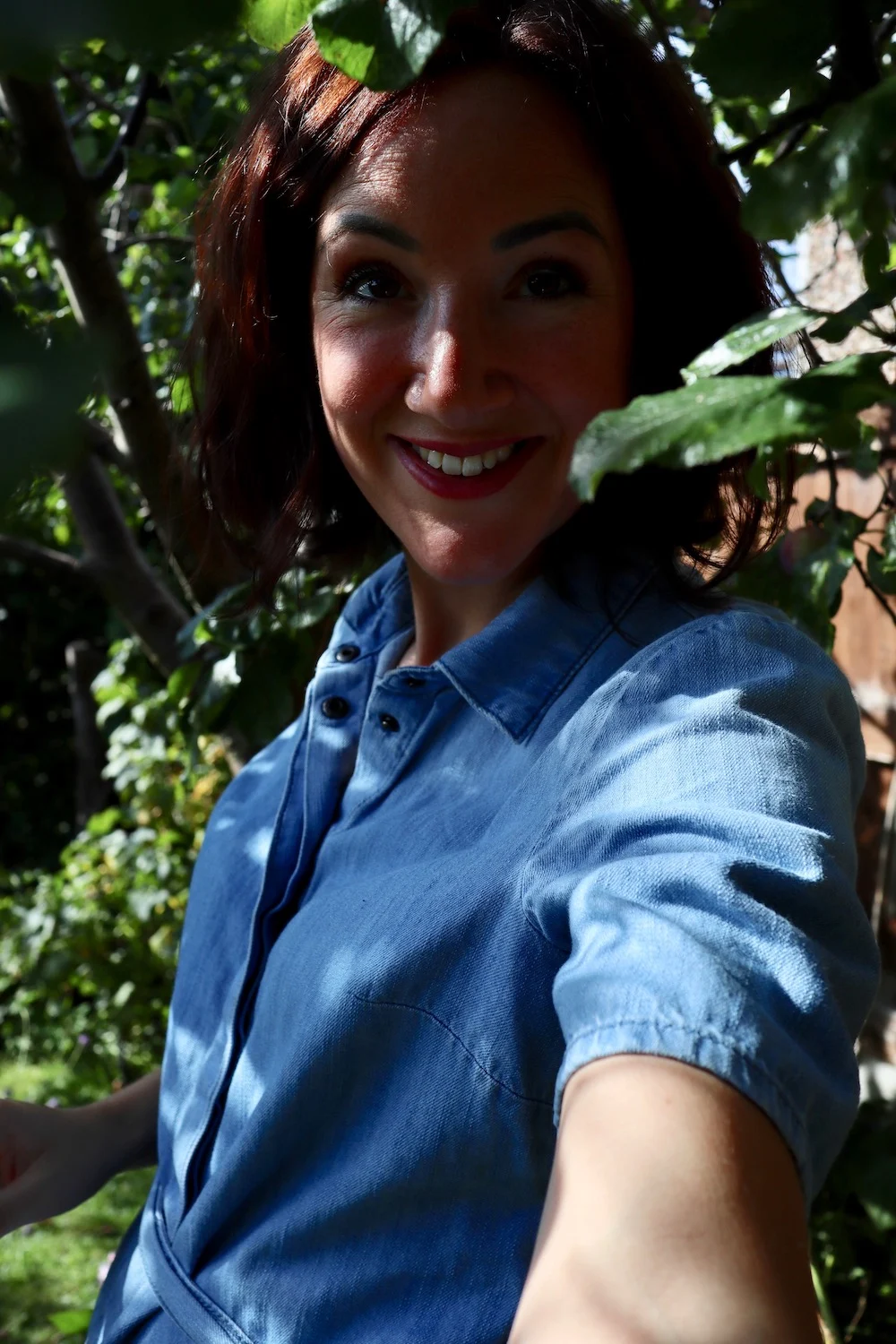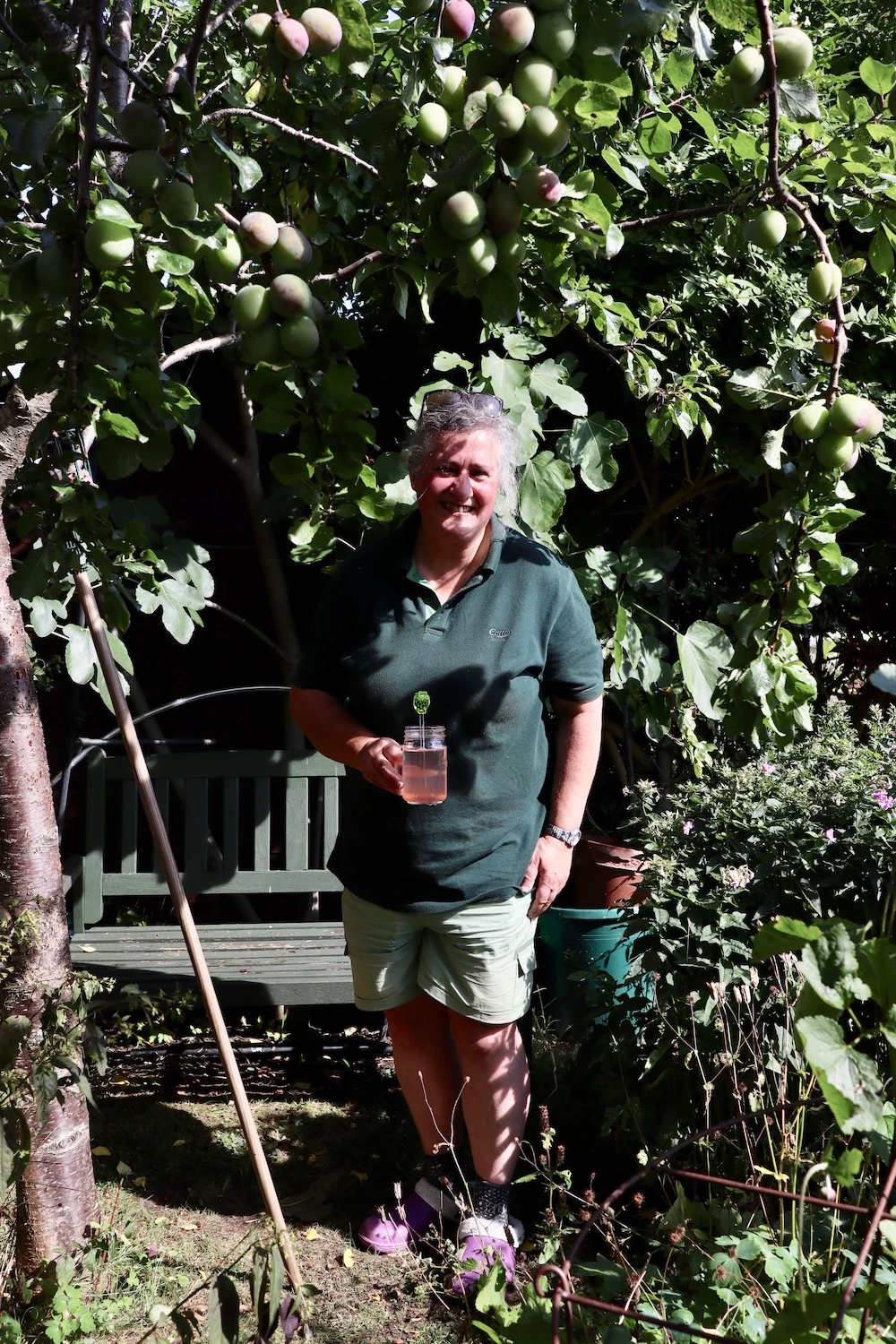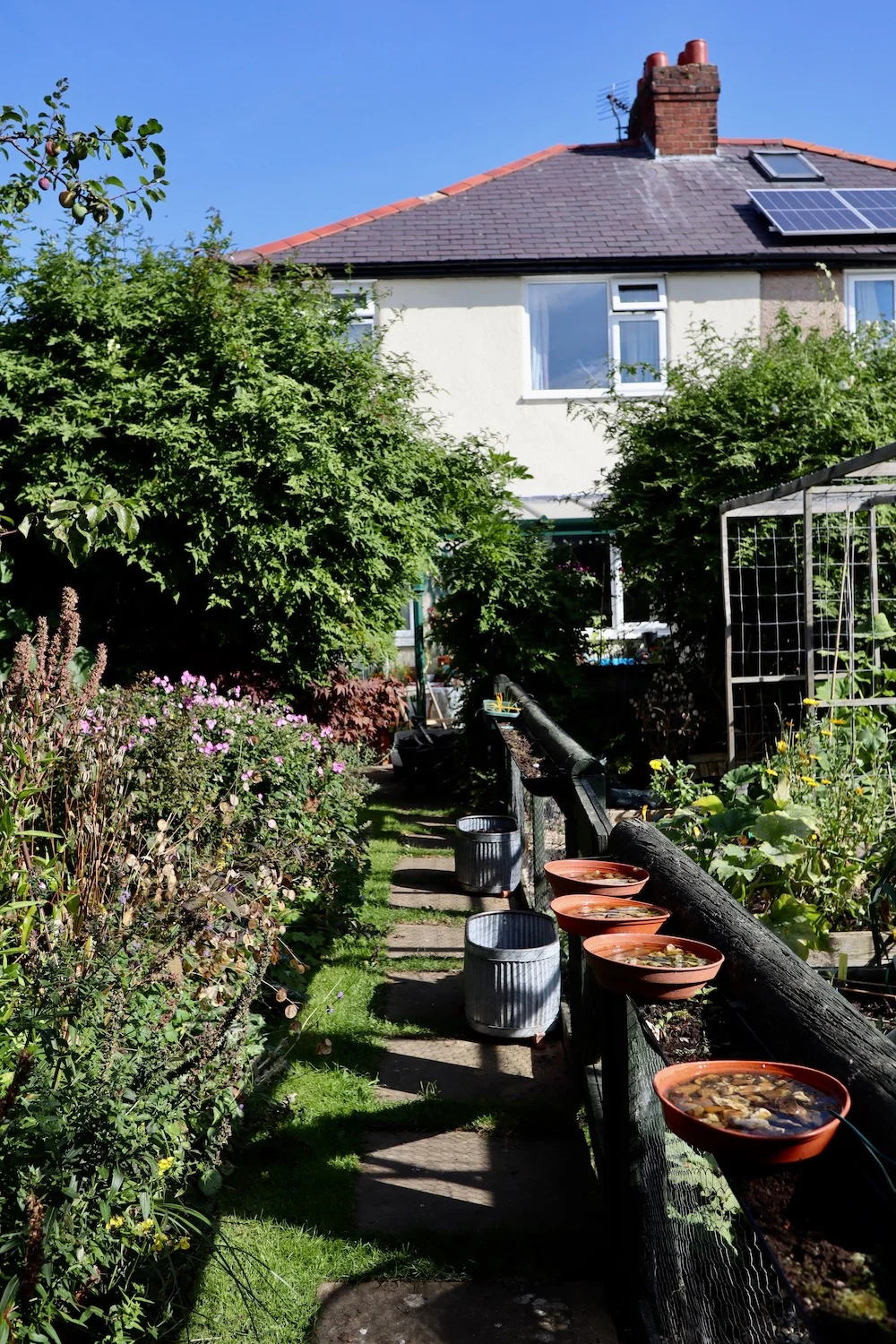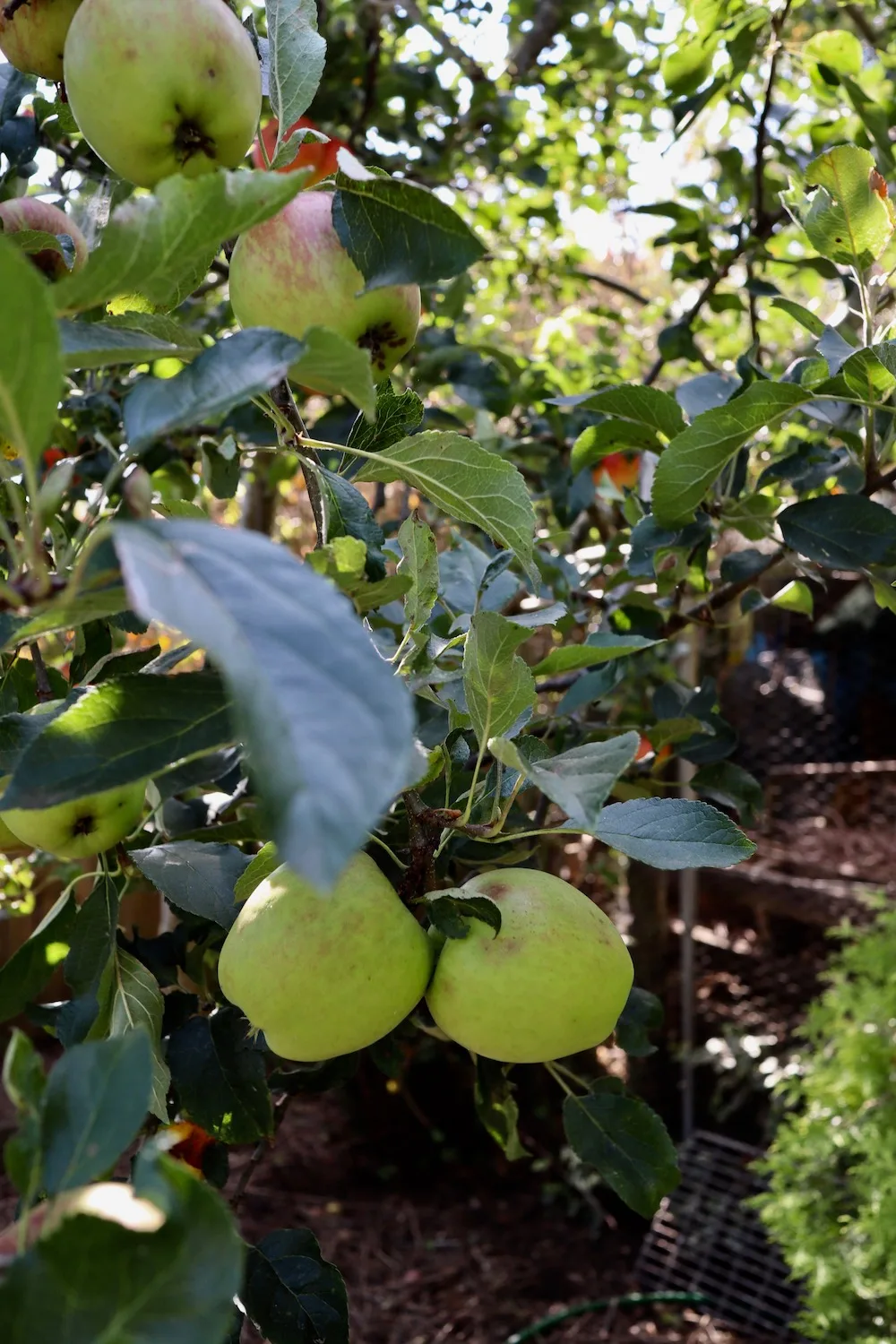 Groceries from the Garden with Isa Lamb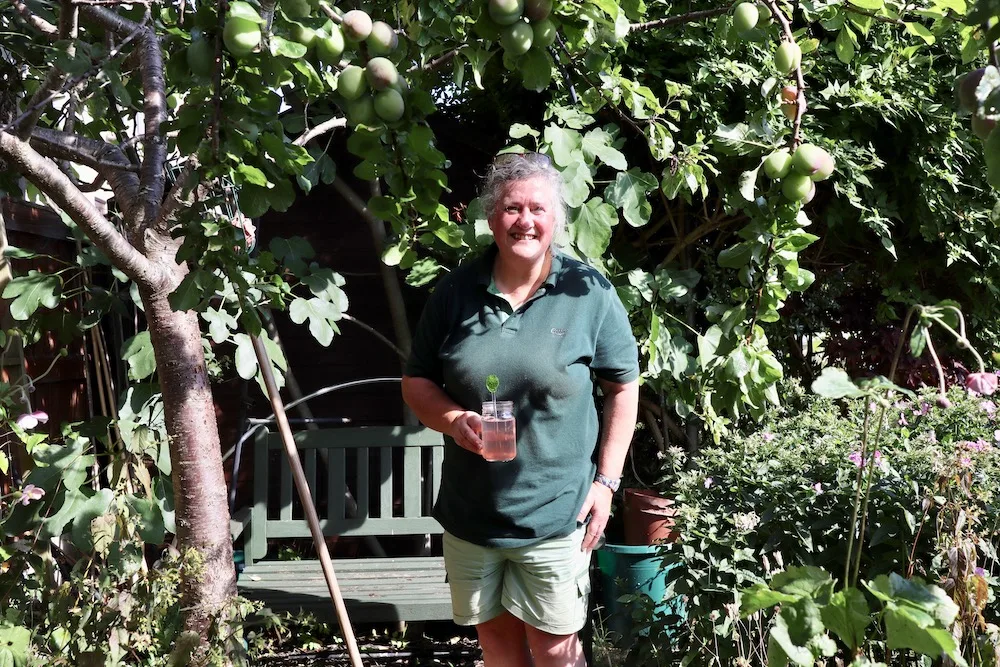 As part of my work with Curious Cymru I found myself at the home of Isa Lamb in Denbighshire, North Wales. I'm working on a project to highlight the best Airbnb Experiences in North Wales and I was here for a gardening experience!
Isa runs Groceries from the Garden, a two hour experience where she teaches people about self-sufficiency and the practicalities of growing your own fruit, vegetables and herbs. She also keeps hens and welcomes a huge variety of animals and insects into her edible garden.
Behind the unassuming home in the pretty market town of Denbigh lies the most incredible and inspiring garden you could imagine. In every nook and cranny there was something to see or something to eat! I walked up and down the footpath numerous times and each time I saw something new.
There were plum trees laden with juicy fruit that tumbled to the ground with a gentle shake of a branch. Tart berries climbing up a fence, bright flowers attracting bees and butterflies, carrots poking up through the soil, a frog hopping along a fence, wasps drinking from tiny bowls, butternut squash sprawling around raised beds and pots upon pots filled with tasty herbs.
I was in my element and I was here to learn more.
The experience began as all good experiences do, with a nice cup of tea and a slice of bara brith. Bara brith is a welsh tea bread, similar to a fruit loaf, and it's wonderfully rich and sticky and fruity.
We sat in the shade of Isa's garden while she told me the story of how she became such a brilliant gardener. Not only does Isa grow all of her own fruit and veggies but she also works on a very special project using gardening as a form of therapy. Isa takes the natural world into hospitals and care homes to help those with dementia or life-impacting conditions.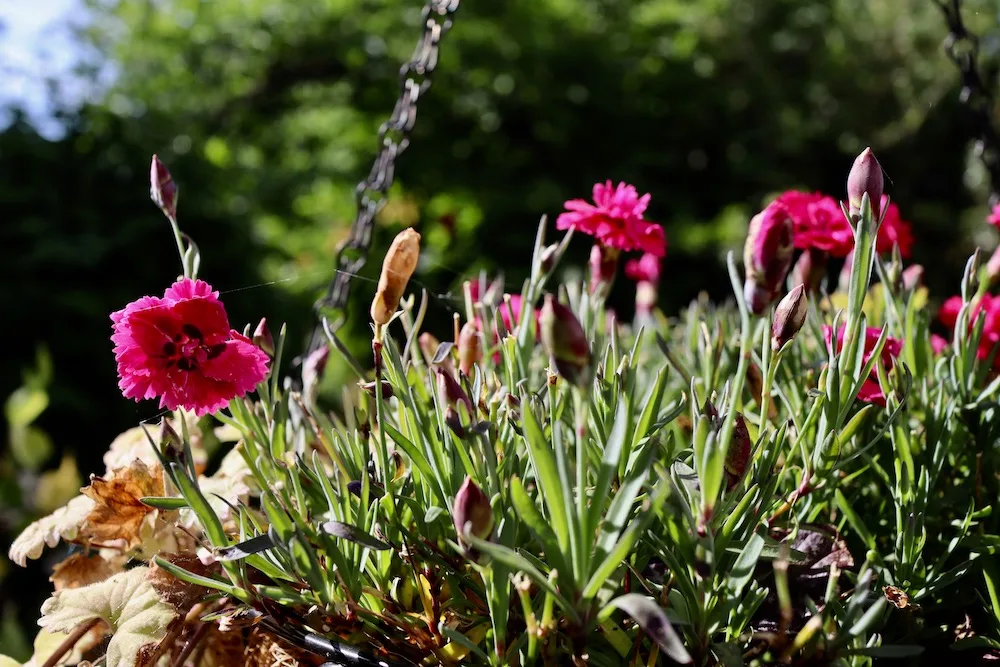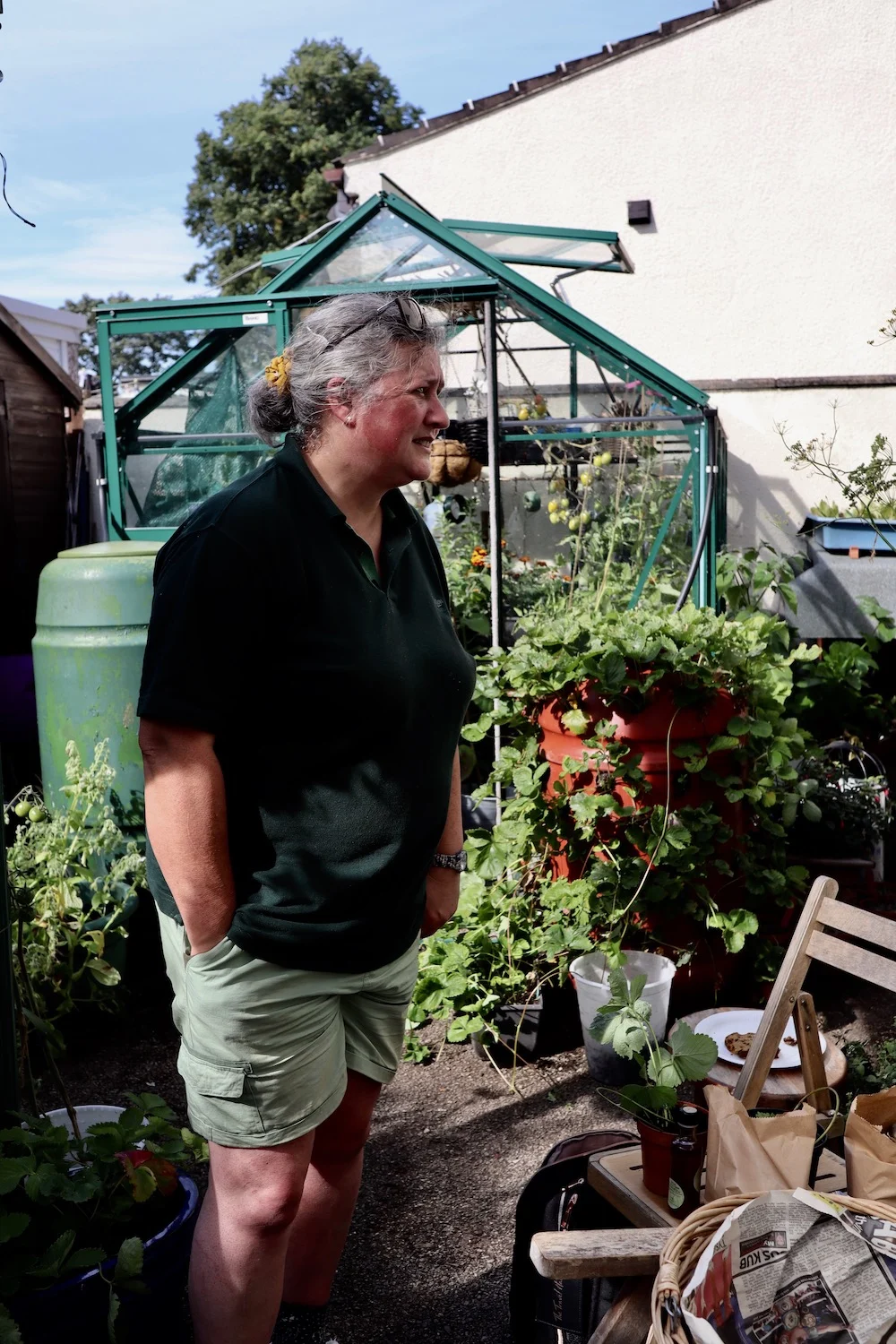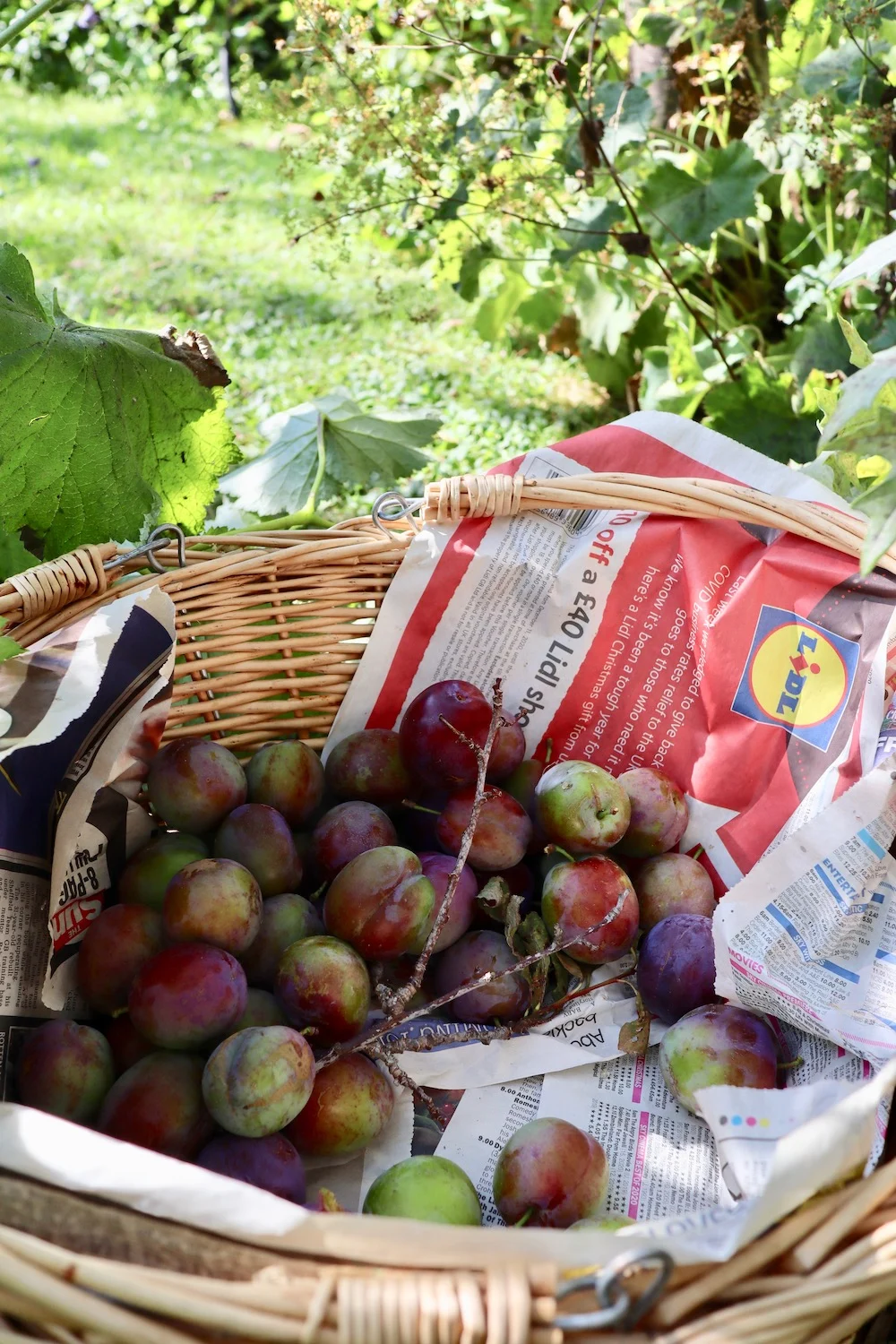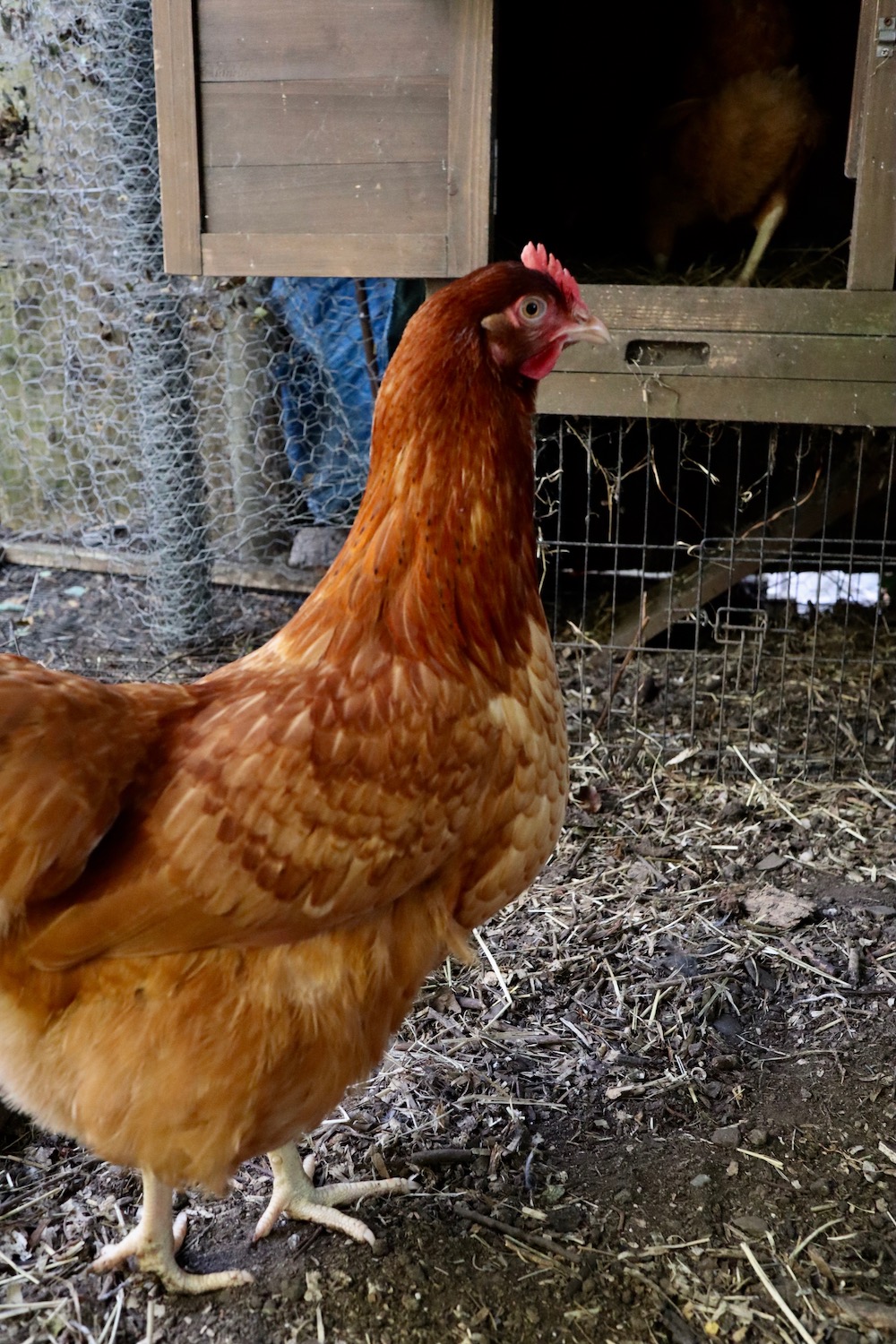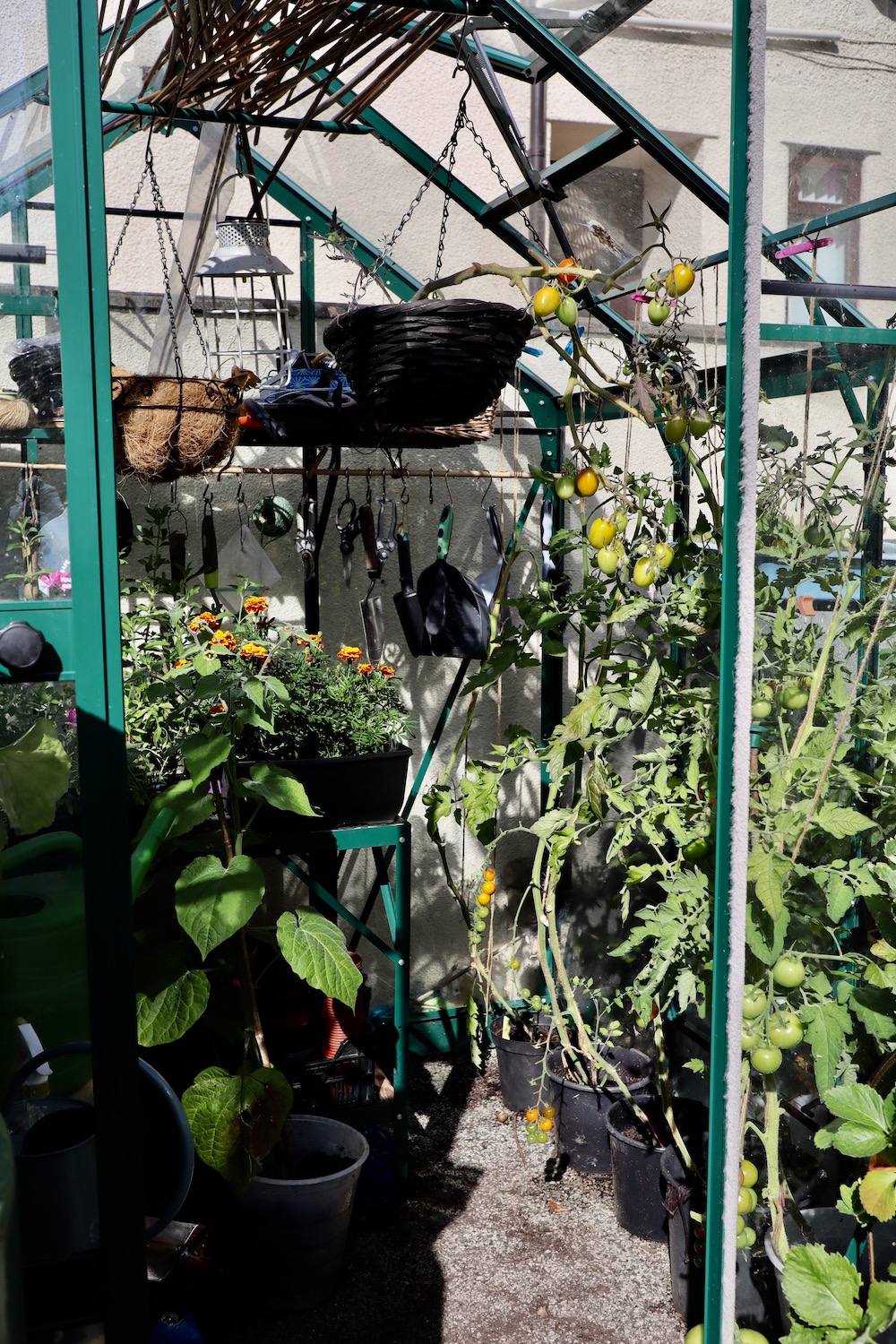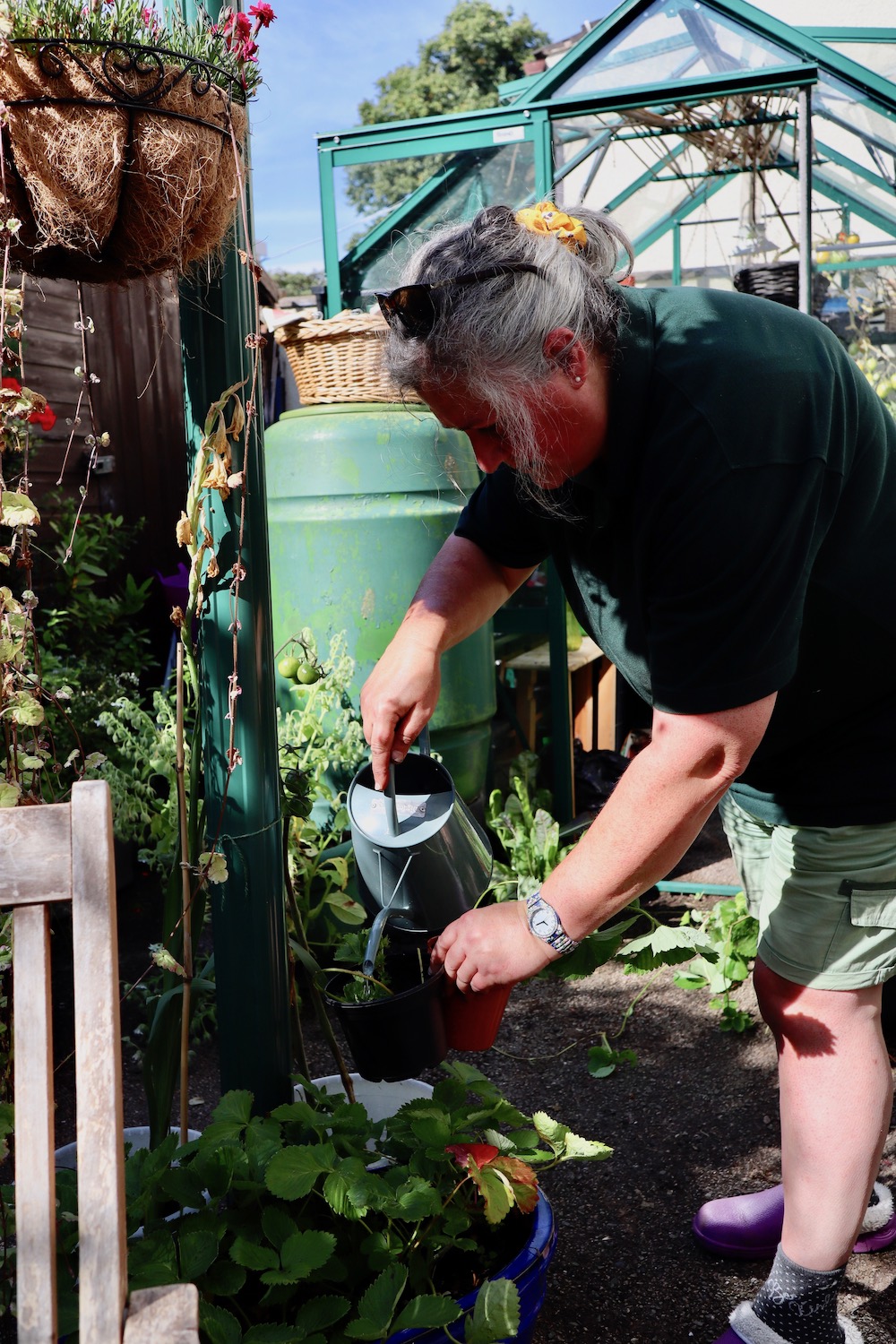 Lockdown and the increased interest in self-sufficiency
Groceries in the Garden came about during lockdown, partly due to the increased interest in gardening and partly because Isa was temporarily unable to visit hospitals and care homes. Lockdown and the many consequences of the Covid-19 pandemic saw many of us turning to nature to help us physically, mentally and emotionally. Spending more time at home, slowing down our lives and exercising outdoors helped many of us reconnect with nature in a way we may never have done before. There was also the element of feeling out of control and supermarket shelves being empty. It was a scary feeling for anyone with mouths to feed, so it's unsurprising that there's more interest in self-sufficiency.
Isa and I agreed that growing your own vegetables is a lost art; we're forgetting how to do it and it's seen as a complicated witch craft that demands oodles of time, money, energy, land and knowledge.
I for one have taken a huge interest in gardening since lockdown began, but I'm a real sucker for internet fads and scrolling through Insta-perfect gardens online.
When you read too much and watch too much it can be overwhelming, and much of the information out there comes from people with enormous gardens and dedicated allotments, making it seem like the ordinary backyard veg grower is a thing of the past.
But oh no, the backyard veg grower is having a comeback!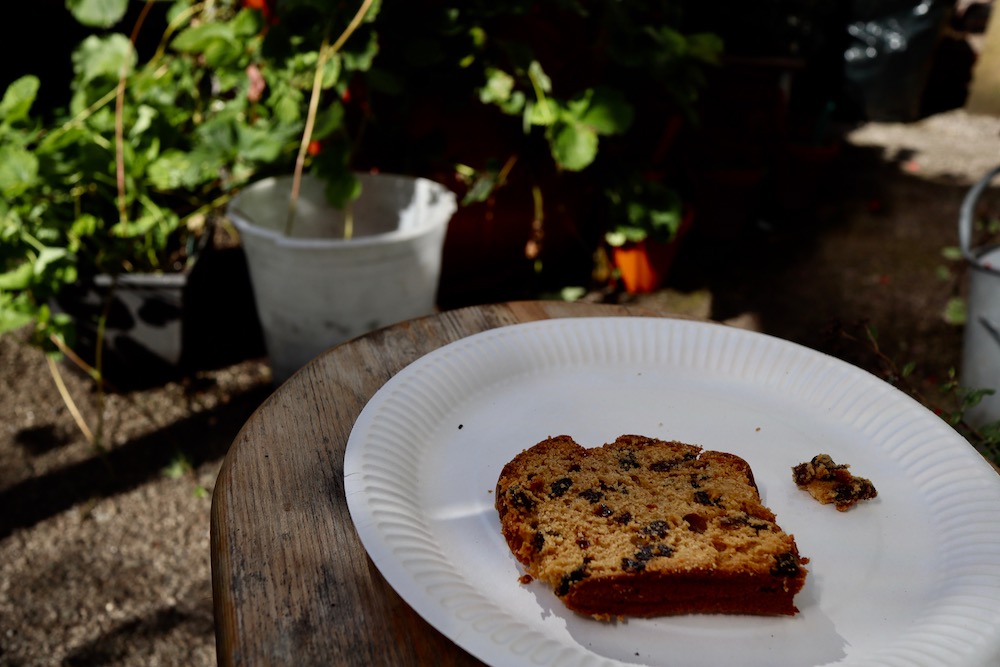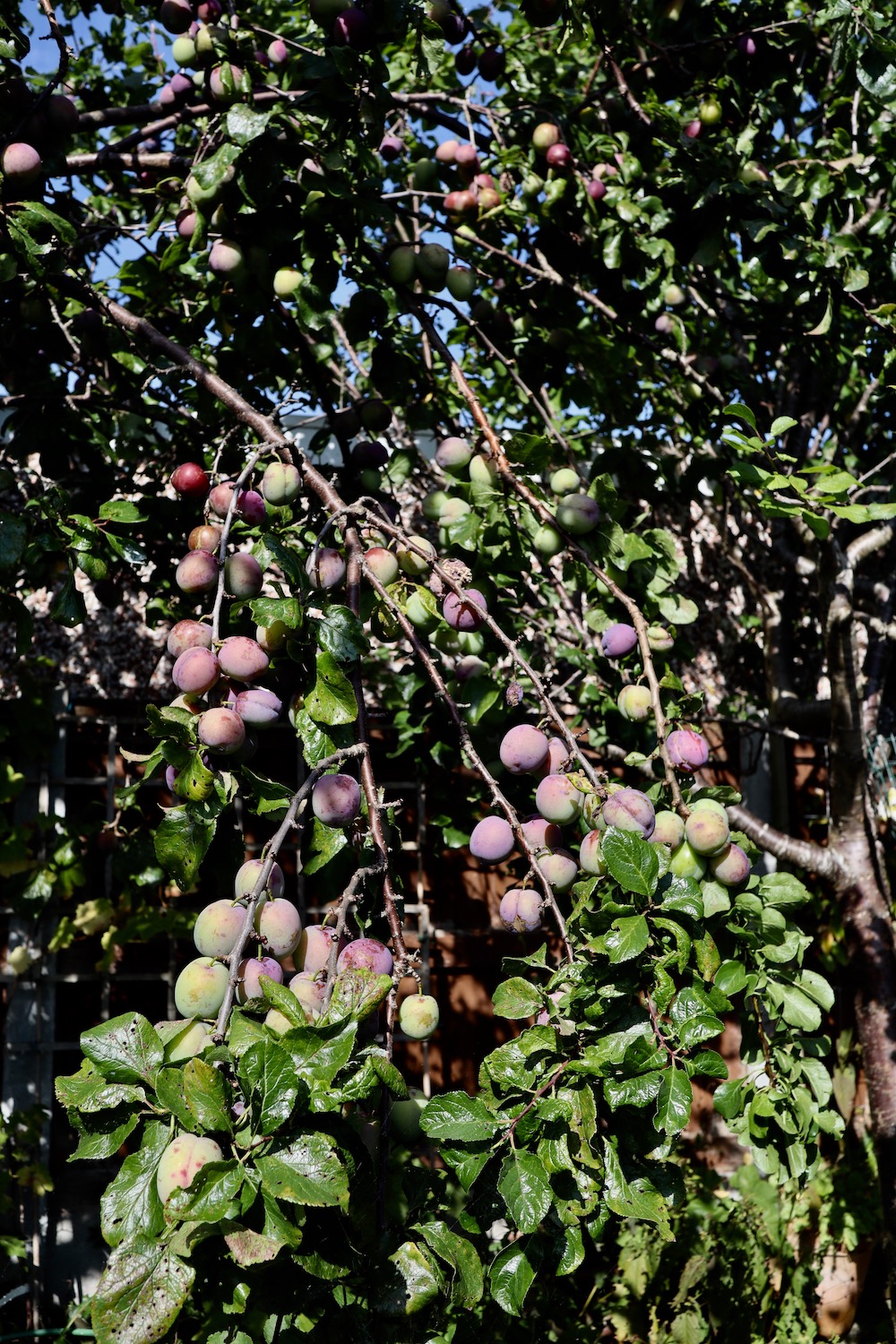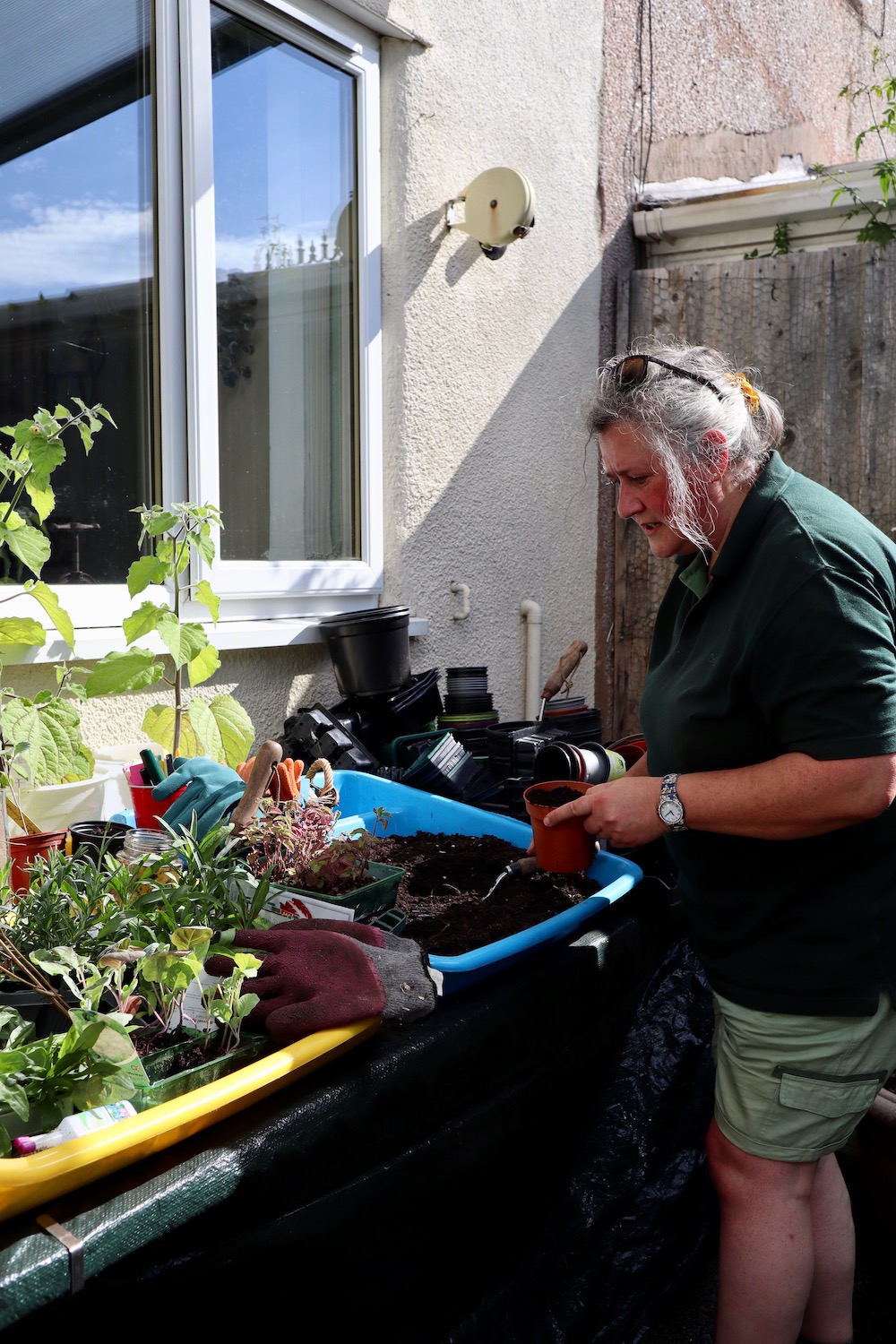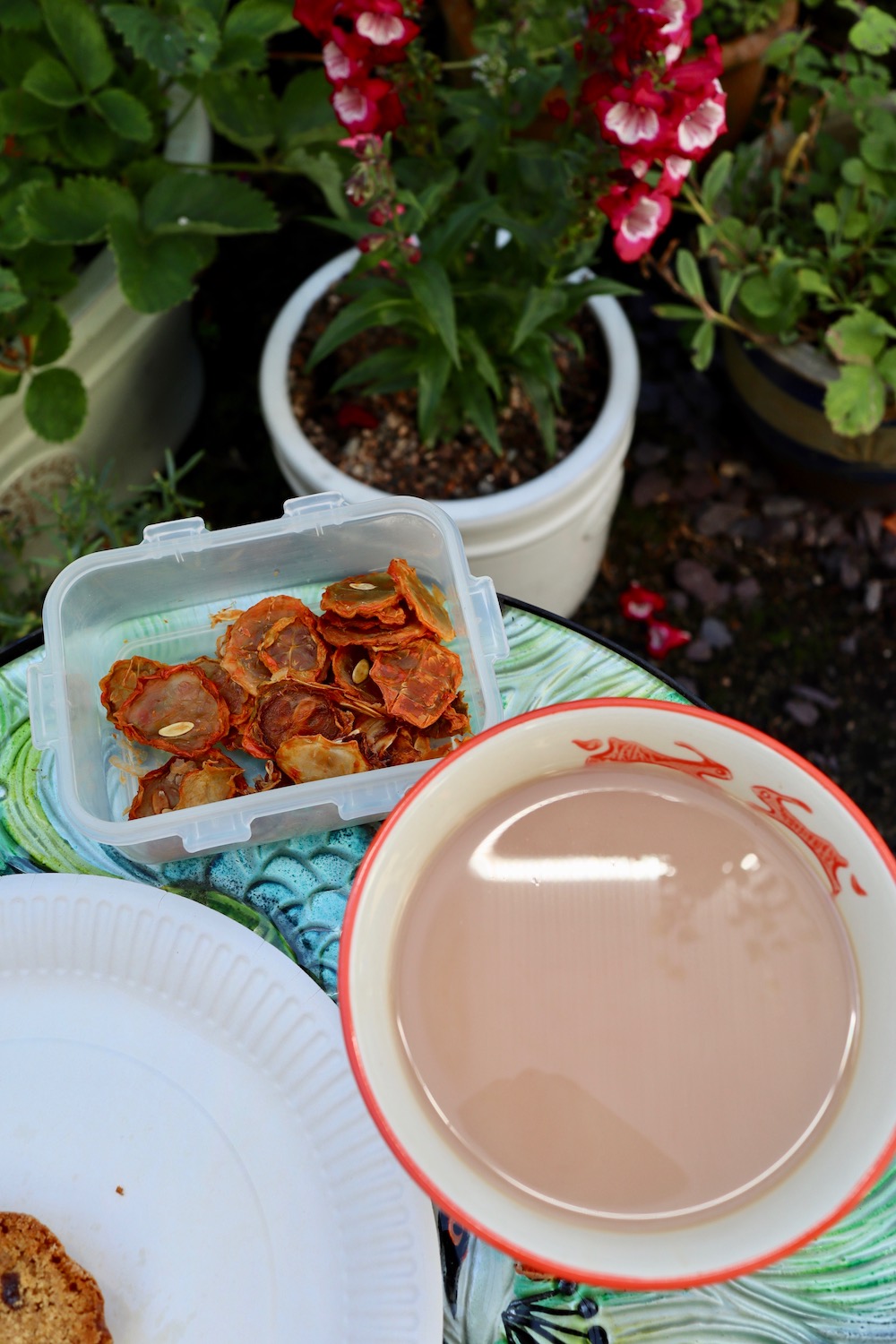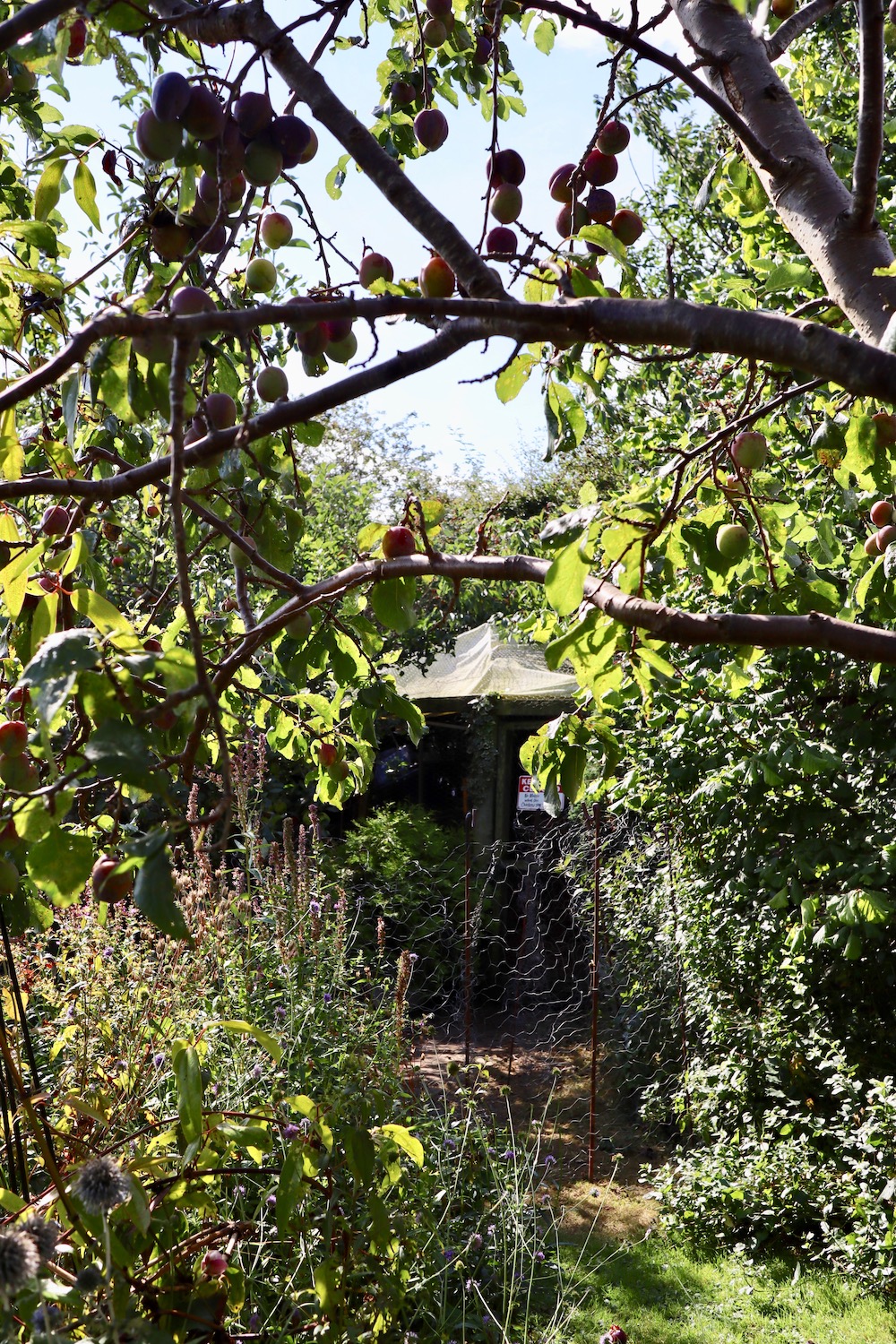 Breaking down the barriers to self-sufficiency
Isa is breaking down these barriers and proving that growing your own is actually quite simple, and it's possible to be self-sufficient with a very normal sized garden!
Isa's plot is pretty average for a UK garden and she loves to mix prettiness with productivity. Gorgeous blooms sit alongside a row of leeks and pots of flowers are mixed up with herbs and fruit bushes. The little greenhouse is spilling with tomatoes and melons while the raised vegetable beds are overflowing with edible delights.
The end of the garden is home to Isa's beautiful chickens and I was lucky enough to be introduced to the girls. We chatted about the benefits of keeping chickens as well as the practicalities and tips on preserving eggs.
Isa does what she calls 'Old Lady Gardening' and it's a style of gardening I can get on board with! She may be far from being an old lady herself but she proved you don't need to be incredibly fit or strong to grow your own. It is possible to have a garden like this while avoiding heavy lifting or breaking your back digging!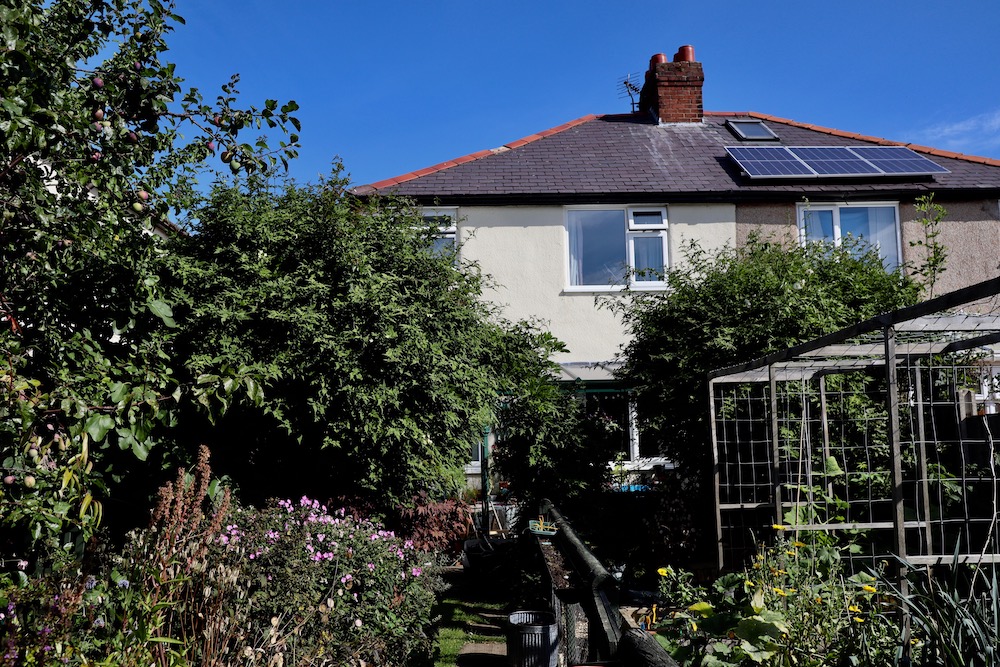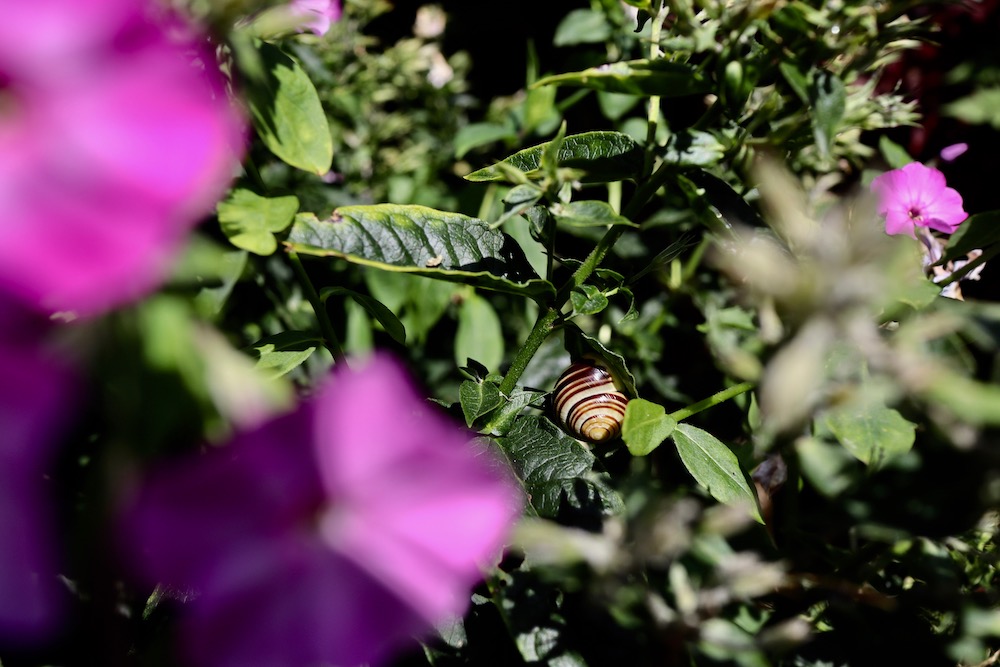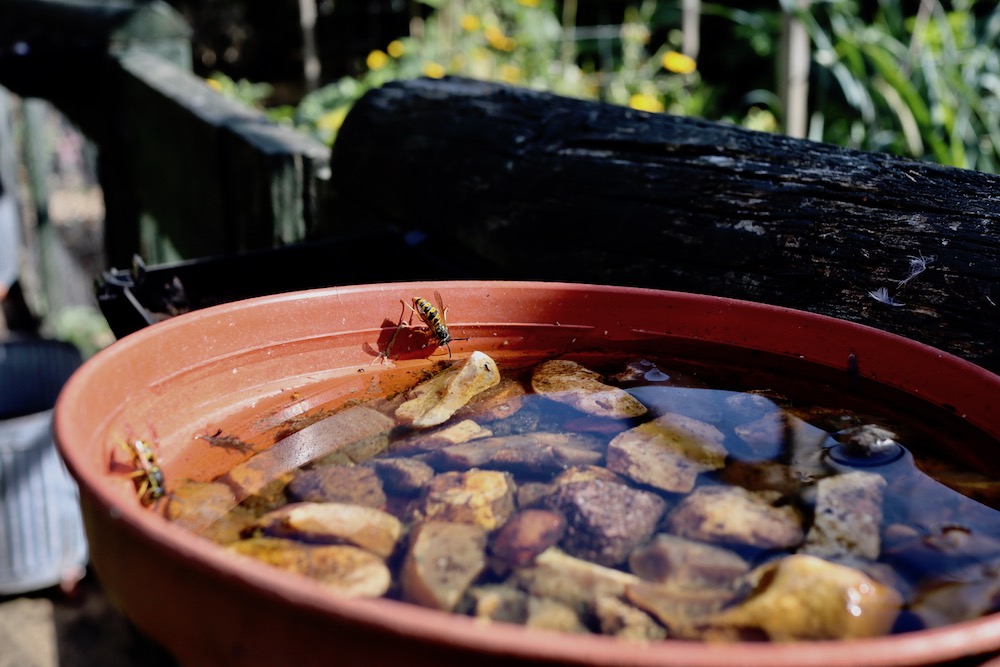 The main lessons learned
My main takeaway from Isa was the fact that most of her tips and advice were very simple. Isa didn't make anything seem complicated or intimidating.
In order to have healthy gardens we need a huge variety of animals, insects and plant life because nature keeps everything in order.
It can be as easy as having a shallow bowl of water where the insects can drink. Insects will pollinate our plants and lead to more crops!
It's allowing the chickens to wander freely so they can clean up all the mess as they peck about.
It's attracting the birds with berries and letting them stay to eat the slugs and snails. It's popping grass clippings in with potatoes to give them the nitrogen they need to grow.
Really, it's just about trying and failing and trying again next year!
Isa's final words as I left were more simple tips but they are honestly everything.
Grow what you eat and eat what you grow.
And that's really all there is to it!
I left Isa's with lots of goodies from the garden as well as lots of knowledge about how I can grow groceries in my own little garden too!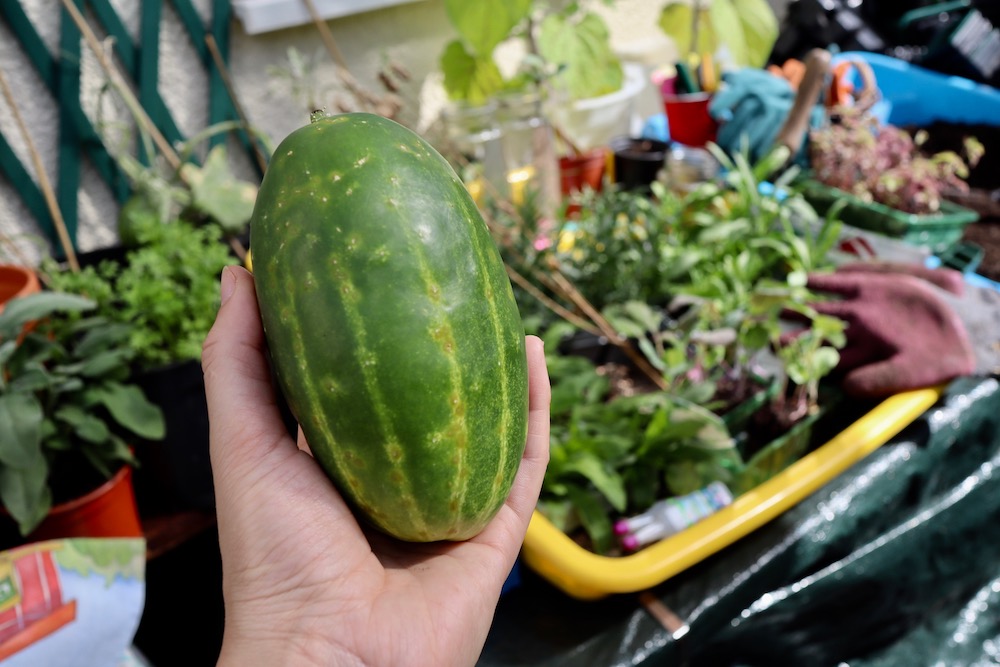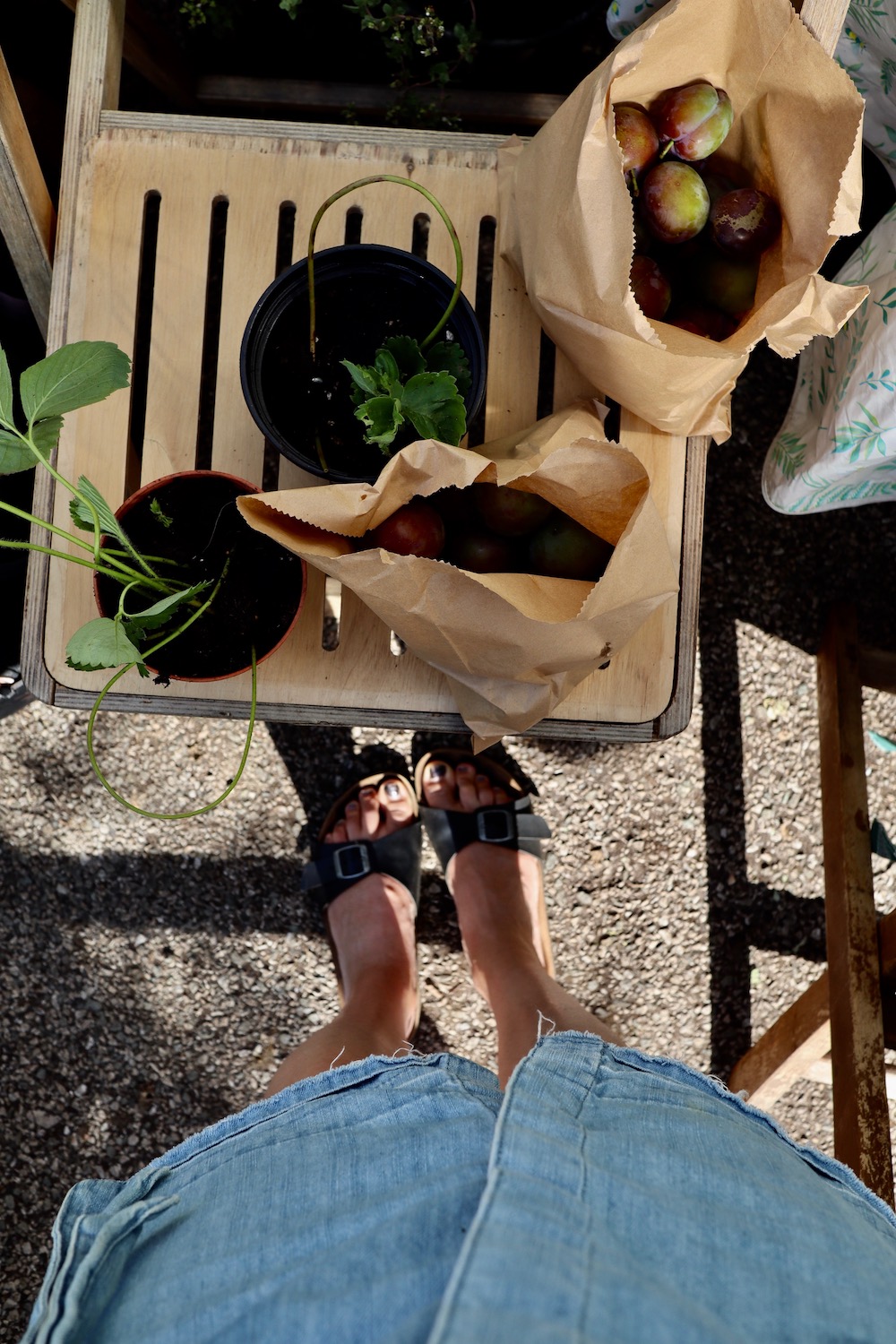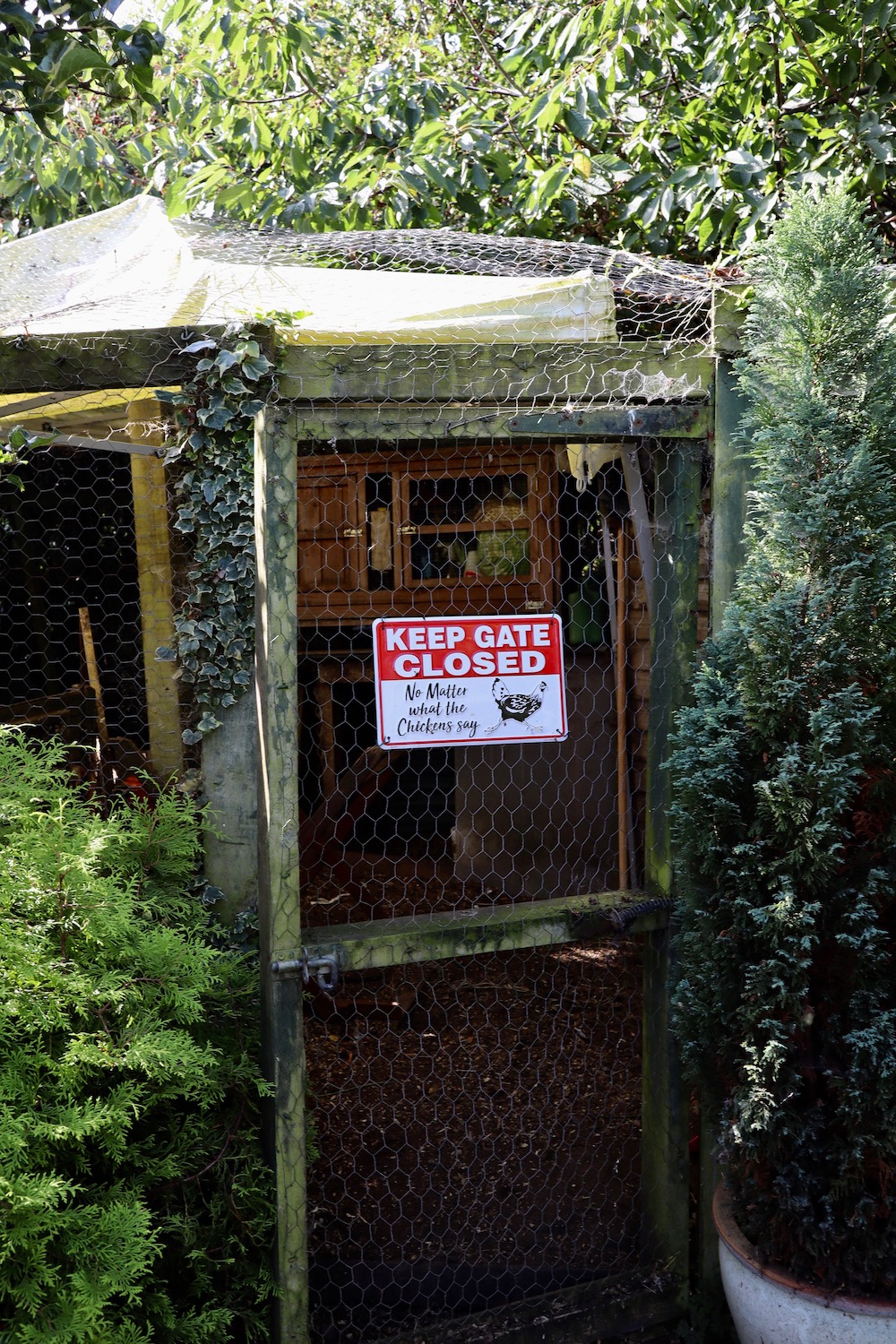 More info about Groceries from the Garden
To book your Groceries from the Garden experience you can do it online via Airbnb Experiences.
It currently costs £25 per person for a two hour experience.
Here's a link to Isa's Groceries from the Garden website where you can find lots more info and her 'Ponderings from the Polytunnel' which I highly recommend you read!
Curious Cymru
Curious Cymru is a Welsh Government tourism organisation, currently working to highlight all of the incredible, unique and exciting activities available in North Wales.
As you can imagine, it's a project I'm very excited to be working on. It fills me with so much joy to meet the local entrepreneurs who are creating amazing businesses from their passions and allowing both tourists and locals to learn more about their hobby.
More of my Airbnb Experiences:
Bikepacking in Beddgelert Forest
A historical bike tour on Anglesey with Green Lane Bike Tours