My Multimac car seat review: The ideal solution to fit 3-4 children into the back of a car!
If you've ever travelled with three or more children in a car you will have faced the difficulty of squeezing three car seats in! It's not like when I was a kid and you just squished everyone onto the back seat and hoped for the best!
In the UK children must now sit in a car seat until they're either 12 years old or 135cm tall.
This is, of course, a brilliant thing because it's so much safer. And let's not forget that it's also more comfortable and smaller children can see out of the window (anyone else remember the boredom of long journeys and not being able to see anything!?) Children also have a headrest when they fall asleep so no more head lolling from side to side!
But it does create problems for families with three or more children because the majority of cars are not wide enough to fit three car seats in the back.
I drive a Kia Sportage, which I could consider to be a wide car and it's a very popular option with families, but I couldn't fit three seats in the back! I even bought slim fit seats for my older boys but it wasn't possible to get the buckles between the seats to fasten the seatbelts.
Car journeys became a complicated game of musical chairs, with everybody switching seats depending on who was in the car. And if all five of us were in the car I would be relegated to the backseat (of my own car!!!) because my partner, Sam, could barely fit in the middle between two car seats. So Sam would be driving, our eldest would sit in the front in his car seat, our younger two would take the outer seats in the back and I would be squashed into the middle. It wasn't ideal, especially as we take a lot of road trips as a family and we're always travelling around Wales!
We had considered buying a new car. There are a handful of large 5-seater cars that will fit three car seats but there are surprisingly few to choose from. We could get a 7-seater car but I didn't really want something so big and you often end up losing a lot of boot space because the extra two seats are basically in the boot.
And let's not forget that I actually really like my car and I didn't want all the effort and huge costs involved in buying a new one!
So this is where Multimac came in!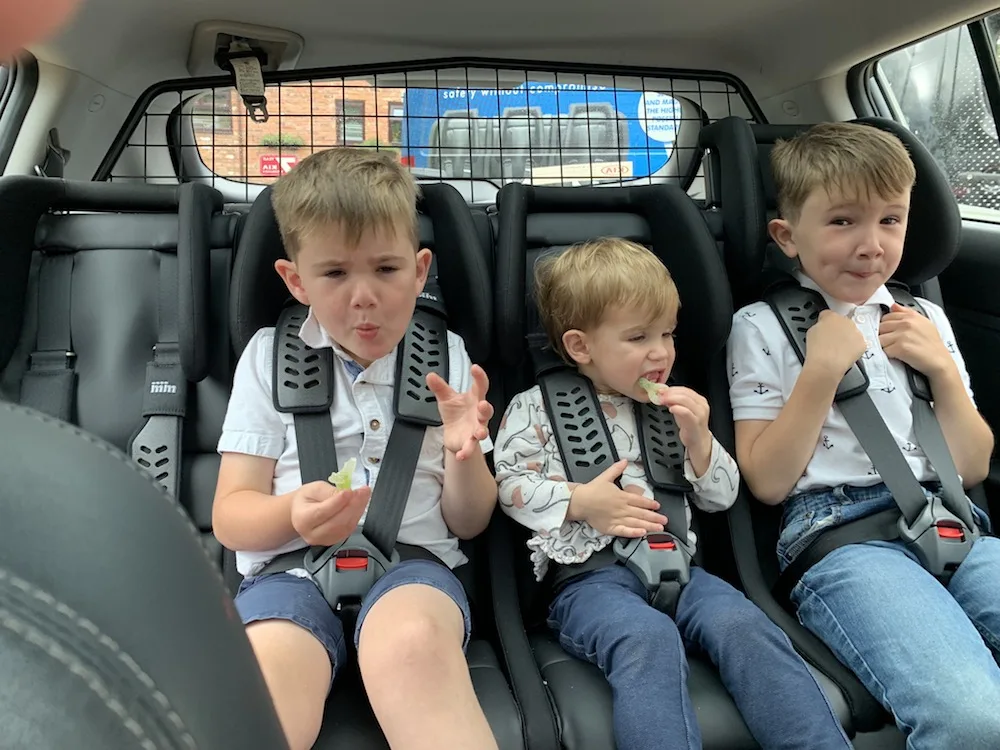 What is a Multimac car seat?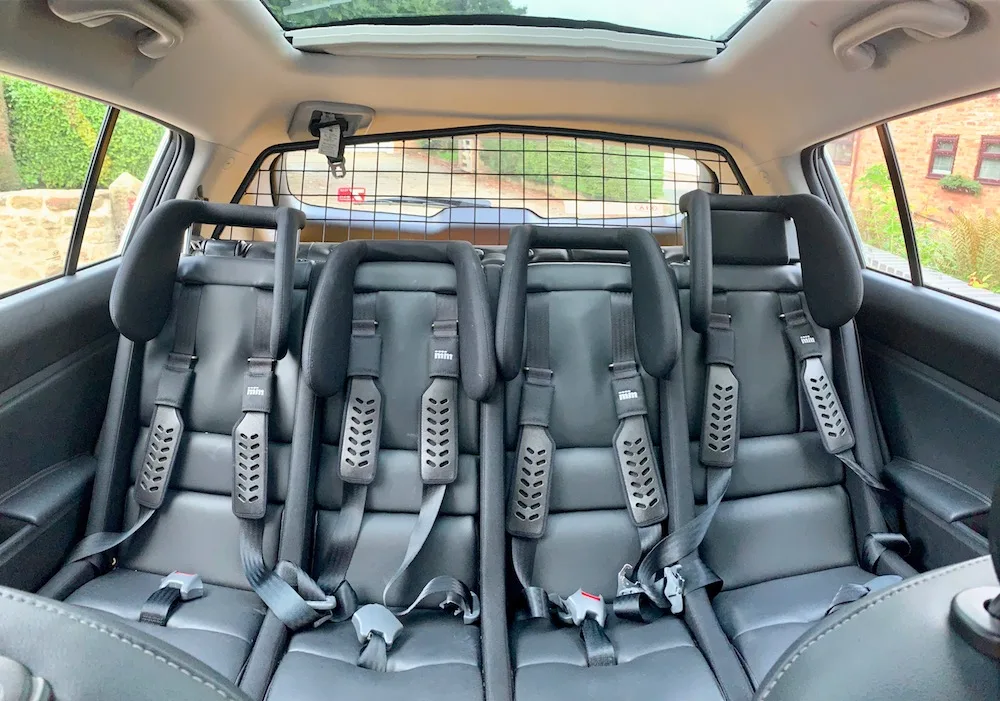 A Multimac car seat is a unique 3 or 4 child car seat that fits on the back seat of virtually any car. It means you can safely fit 3-4 children on the back seat of most cars and ensure they're in legal, safe and comfortable seats.
It's like a large bench seat that is safely fitted into the back of your car. There are a range of Multimacs for different cars and they're even available for tiny cars such as a Fiat 500 or a Ford KA!
It can be used from birth to 12 years. There's a rear-facing newborn seat called a Minimac which can be taken in and out like a normal baby seat. Note that the Minimac is the only baby seat to be used with a Multimac. You cannot fit any other baby seat. There is also an adult buckle in case you occasionally have a small adult in the back.
Is it safe and legal?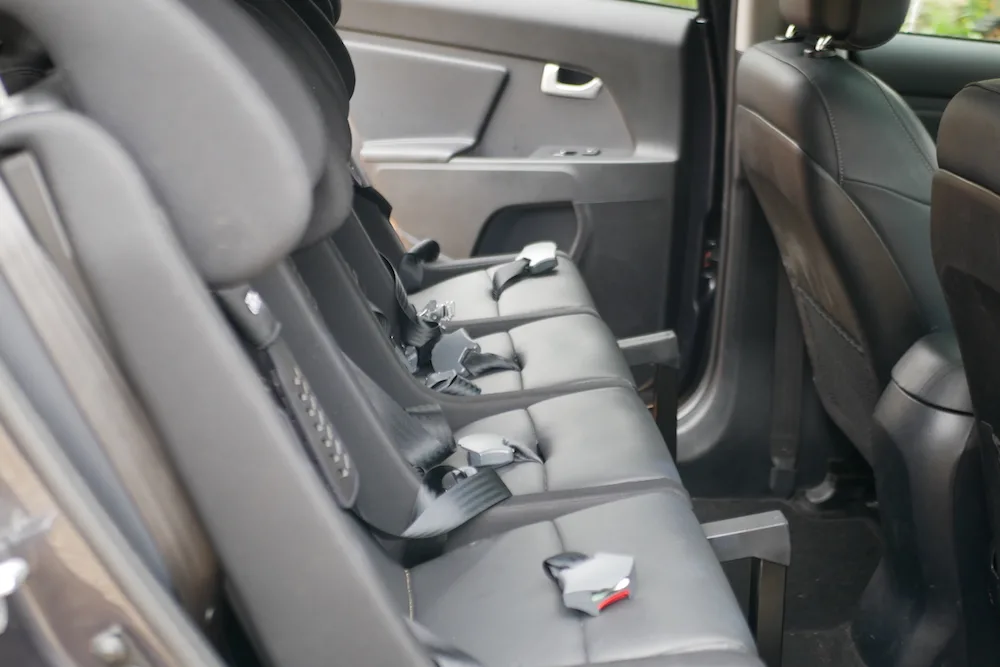 Yes, the Multimac has passed all of the necessary tests and has been approved to the European Safety Standard for child seats, ECE 44-04, and greatly exceeds all the crash test requirements. You can read more about the safety specs here.
My partner, Sam, is an ex-fireman so he's VERY safety conscious after rescuing people from car crashes. While I can't pretend to be a safety expert, the Multimac got a big thumbs up from Sam, who has previously sent a car seat back because he didn't feel it was safe.
Is the Multimac car seat comfortable?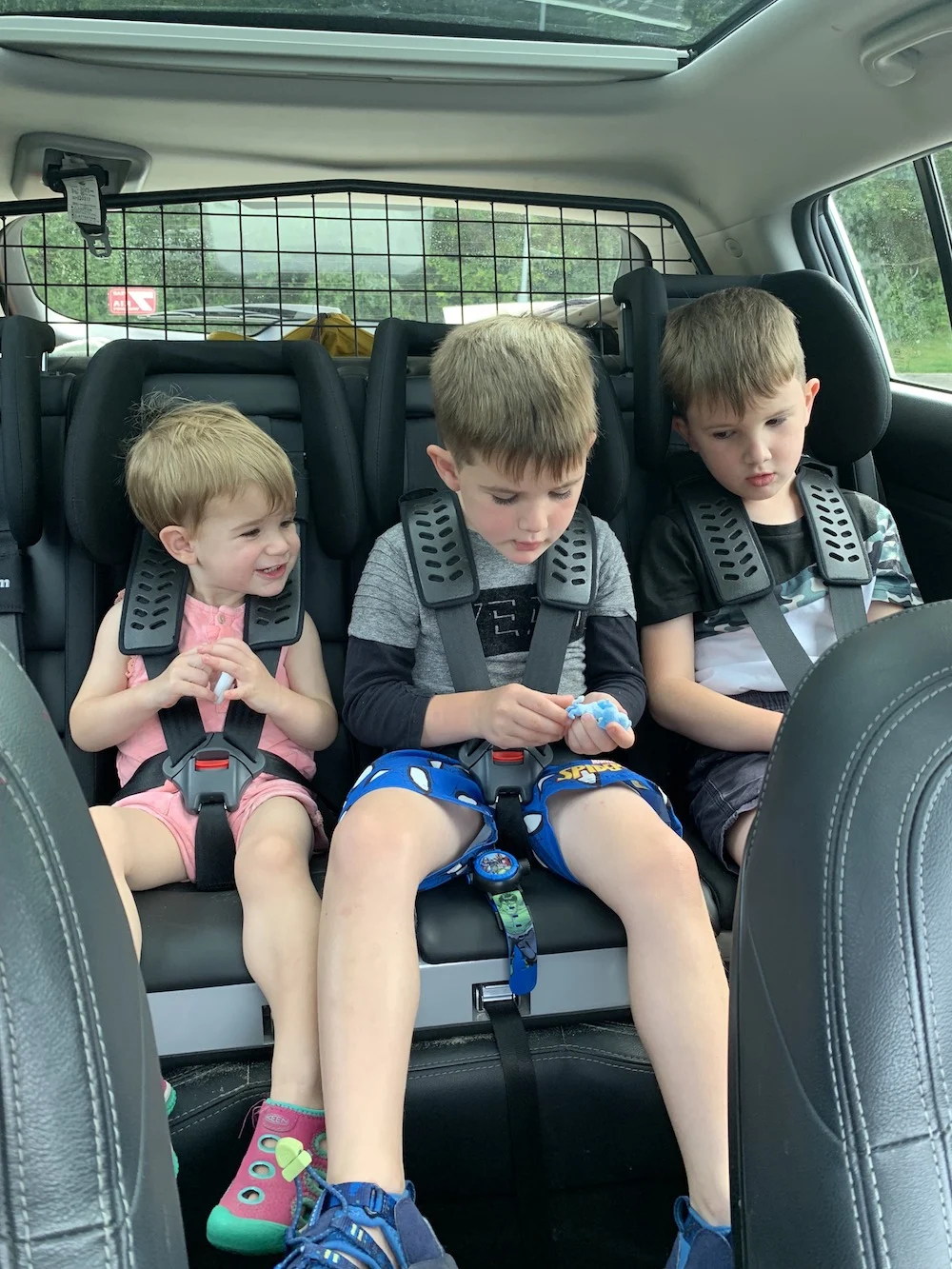 My kids love the Multimac. They say it's comfortable and we've had no complaints. They all fall asleep like they normally would so I think that's a sure sign they're comfy.
My eldest two don't seem to have a preference over the Multimac and their old car seats but my youngest child, Alba, definitely prefers the Multimac. She used to cry getting into her old car seat but we never have any complaints getting into the Multimac.
A few people have asked if the seats recline. They don't recline and I initially thought this could be a problem as we always recline Alba's seat when we know she'll fall asleep. But I think she actually prefers the upright position of the Multimac and it was the recline that used to make her cry!
What happens when your eldest child reaches 12?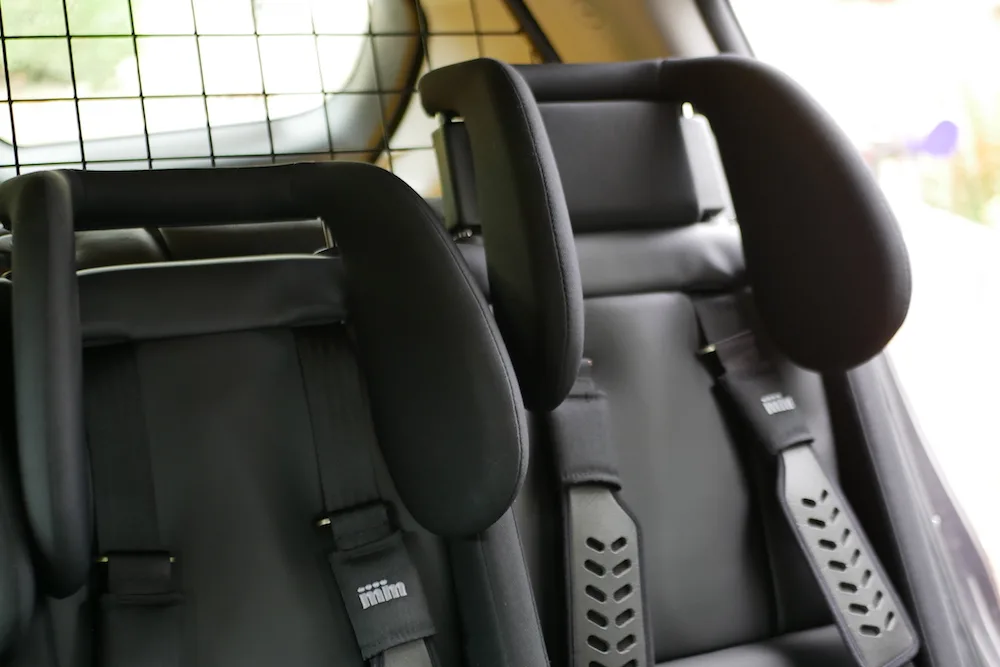 What do you do when your eldest child reaches 12 and doesn't need to be in a car seat, but your younger children still need to be in car seats?
You have three choices here.
Get the adult plug-in buckle which is available for £29 and allows you to use the normal car seat belt.
Take the Multimac out and use regular car seats for your younger children and squeeze your 12 year old into the middle/allow them to sit in the front.
If they still fit, just keep them in the Multimac (although I imagine most 12 year olds won't be happy with this and will view it as a child's seat)
What happens if you occasionally want to have adults in the back of the car?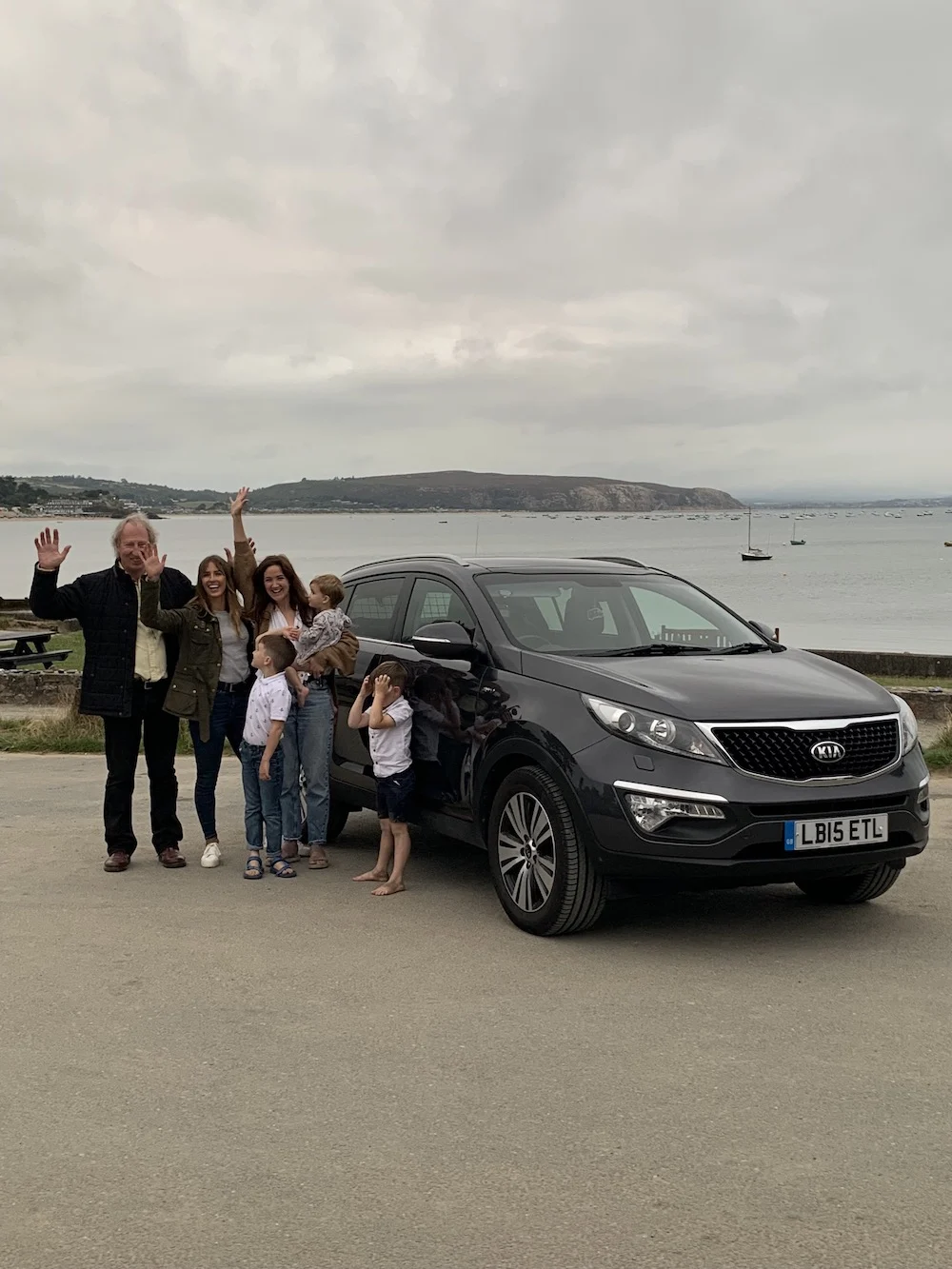 There are times when we need to give lifts to other adults. What do you do then?
This is a bit of an awkward one. You can buy the plug-in buckle so an adult can sit in the Multimac seat but use a normal buckle rather than the children's harnesses. But this is really only suitable for smaller adults and I personally wouldn't recommend it for long journeys. It's a good back-up option and it's fine if you need to make a quick trip with your friends in the back but bigger adults would struggle.
On the plus side, it does mean you'll rarely be the designated driver on a night out!
How do you fit a Multimac car seat?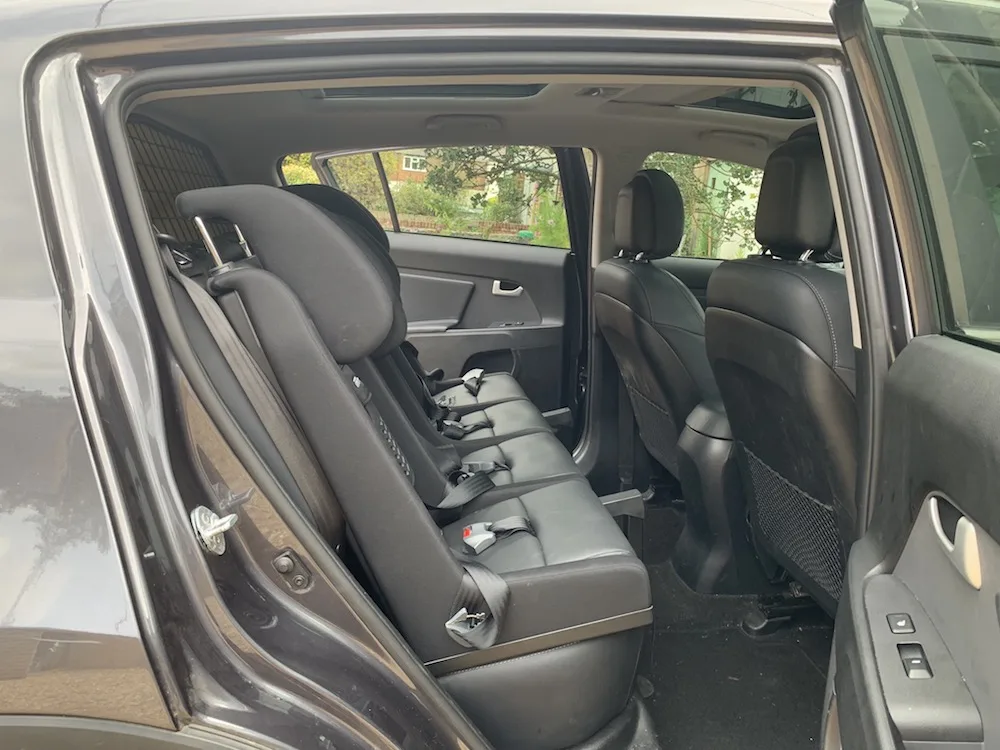 People will normally go to a specialist fitting agent to have their Multimac fitted. The fitters are dotted around the country (find them here) and they usually charge £120-£200. If you're having it professionally fitted, the Multimac can be sent directly to the fitter so it will be ready and waiting for you there.
There is a downloadable fitting guide and, for competent DIY'ers, it is possible to fit it yourself.
Do you need to let your insurance company know you have a Multimac?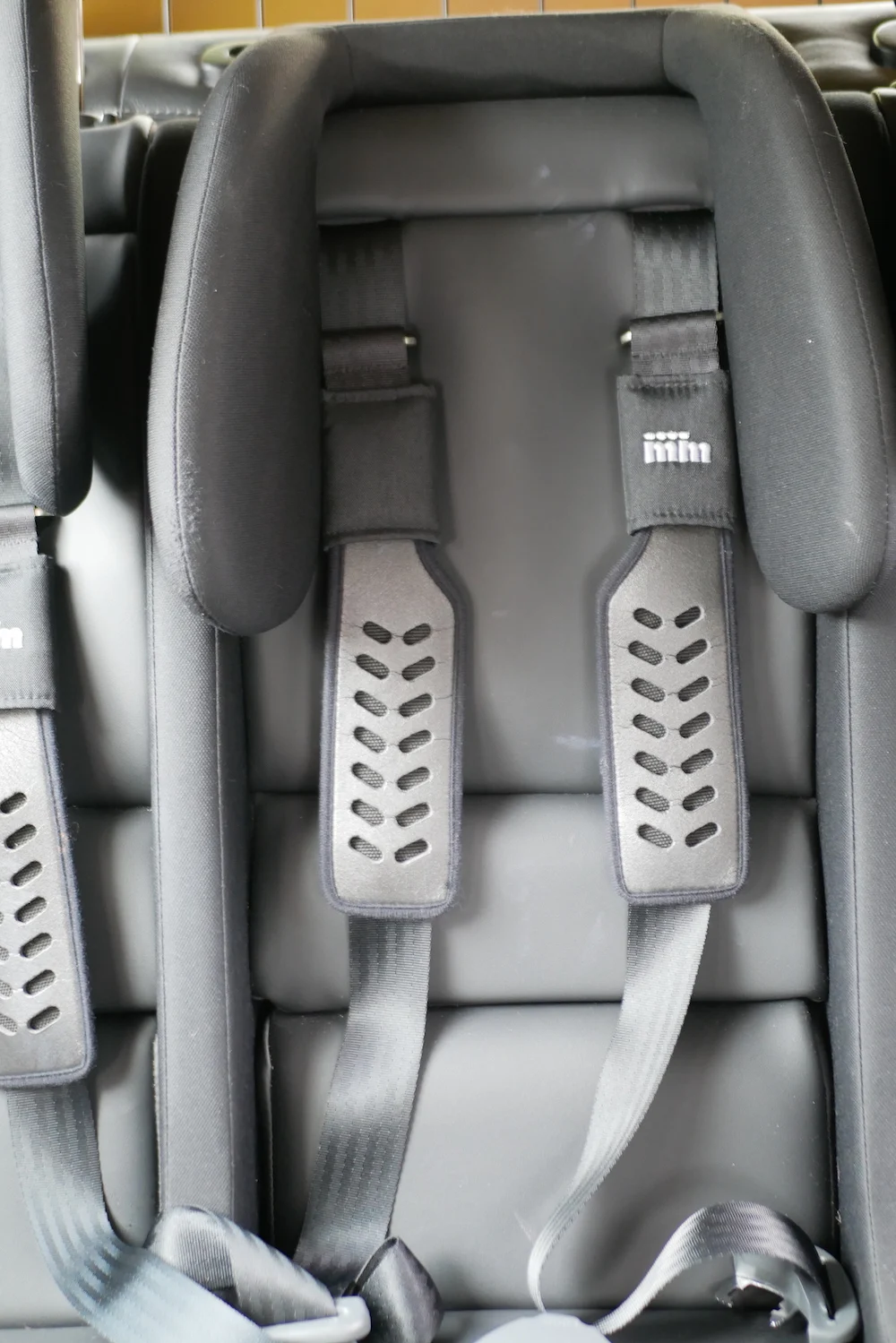 Yes, you should let your insurance company know. They should cover it at no extra cost.
Why have I never heard of these before!?
I know, I felt like this too.
I know so many families who reluctantly trade their car in for a Soccer Mom car when they're expecting a third child. It can be so expensive to get a new car (not to mention a whole load of admin and hassle!) and you often end up with a car you don't really want.
So if this is you and you're expecting a third or fourth child and you don't want to change your car, I highly recommend getting a Multimac!
Why do I have a four-seater Multimac?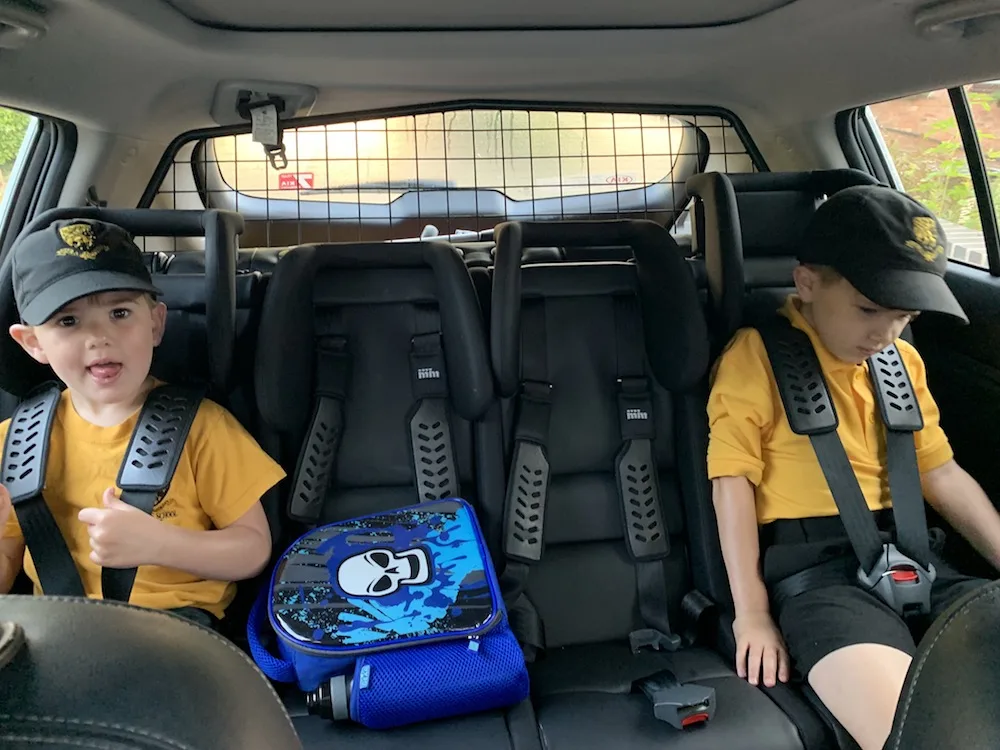 Sharing my four-seater Multimac isn't my way of saying we have another baby on the way!
I worked with Multimac to make a video. When they came to install it, they brought a four-seater so they could take some photos. I think they wanted to highlight that the four seater is actually really comfortable and there's plenty of space because people never believe it would fit! Anyway, once it was installed I really liked it and suggested just keeping the four seater in there.
I actually find having the extra seat is really handy. It means I can pick up my nieces and nephews or the kid's friends too! It also means we have an extra space for toys or snacks…or just to separate Alba and Jojo because they fight all the time!
Would I recommend the Multimac?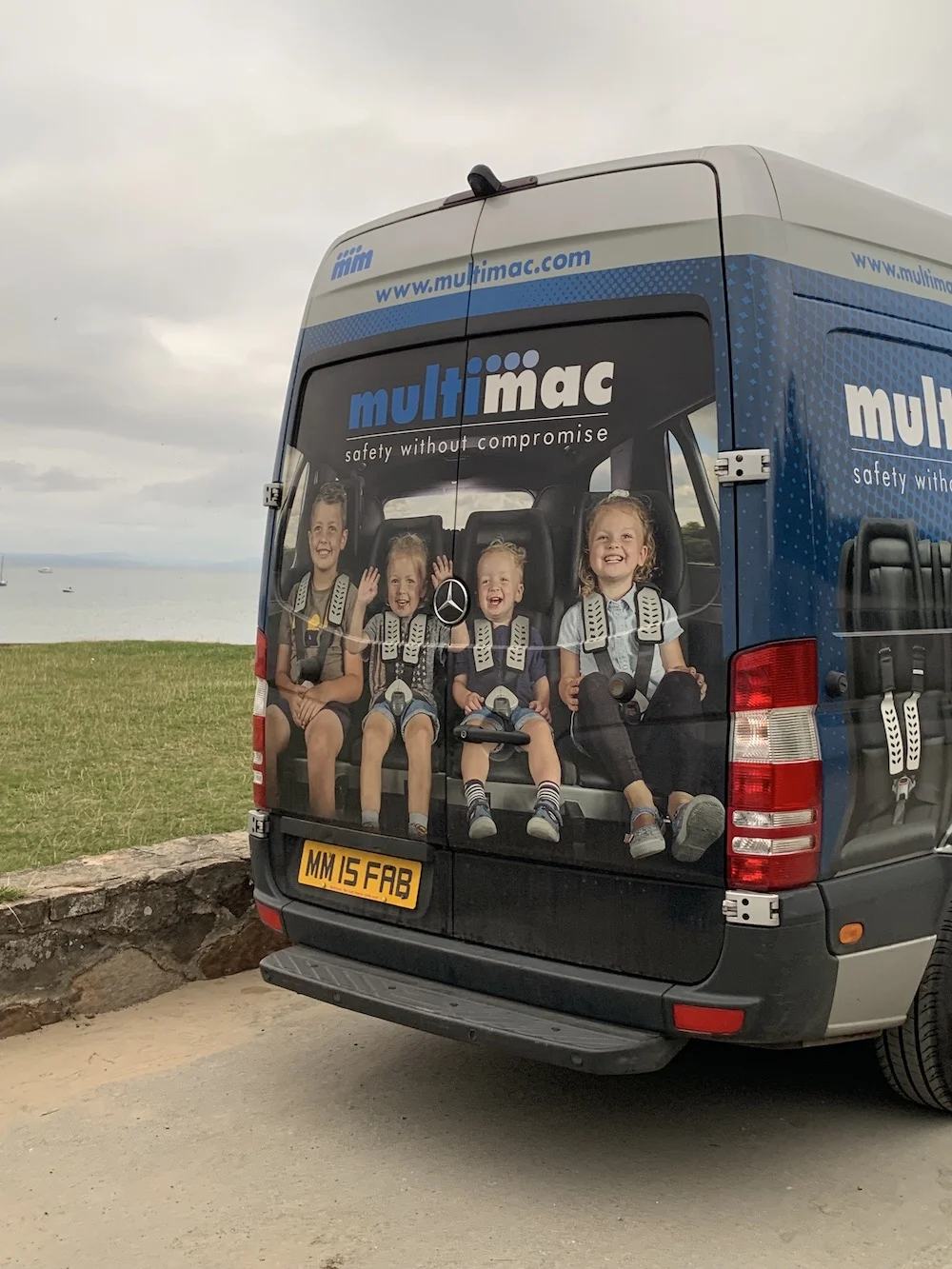 Absolutely 100% yes. Yes, yes and yes again.
I have no idea why they aren't more popular! Whenever people see it they're always amazed and can't believe they've never heard of it before.
If you've got three or more children and you don't want to change your car then you won't regret buying a Multimac. You don't need to buy an enormous people carrier or a minivan. You don't need a 7-seater car and you don't need to spend your life sat in the back with the kids while one of your children sits in the front!
For more information, take a look at Multimac.com