When it comes to packing for a weekend break, it's no secret that travelling with carry-on luggage (instead of – not as well as – a big suitcase that goes in the hold) has loads of advantages. It's usually cheaper, as many airlines charge a hefty fee for checked bags, it saves time at your destination because you don't have to wait at the carousel, and it makes getting around a lot less painful.
But finding carry-on luggage that fits within airlines' often restrictive rules, that's good quality, and that doesn't cost a fortune, can be an overwhelming task.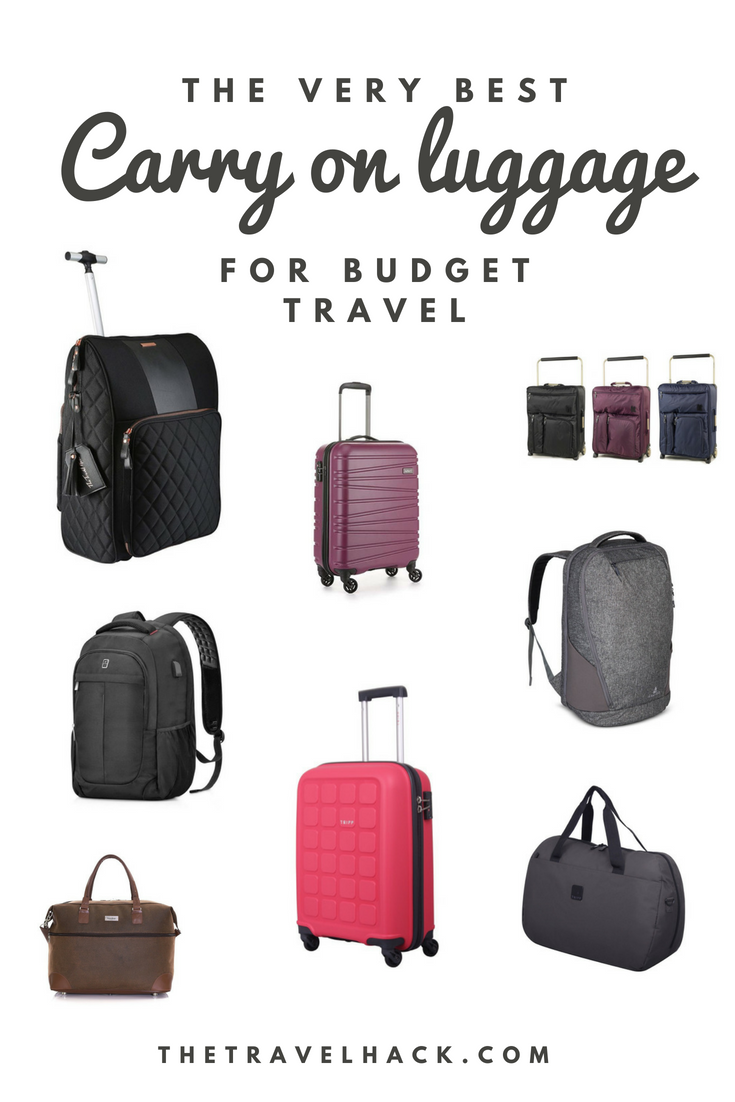 So to help you out, I've compiled the 10 best carry-on luggage options, which all fit in airline cabins, and into which you'll be able to fit everything you need for a weekend city break.
Need help packing? Here are some practical tips from a packing expert.
Before I dive right into my favourite carry-on luggage options though, let's talk quickly about airline restrictions, shall we? If you're travelling within Europe, your biggest struggle will be size, rather than weight. Although some airlines do have weight restrictions on their hand luggage, it's rare that they enforce it, as they're more interested in the dimensions of your baggage. So if you have a particularly heavy case just pull it along like you're not struggling at all and you should be fine – just make sure you can lift it into the overhead lockers yourself and it's unlikely anyone will notice.
For some of the most popular airlines for travel within Europe, these are the hand luggage size restrictions:
Ryanair: 55cm x 40cm x 20cm
EasyJet: 56cm x 45cm x 25cm
WizzAir: 55cm x 40cm x 23cm
British Airways: 56cm x 45cm x 25cm
So basically, if your suitcase is 55cm x 40cm x 20cm or less, you should be able to take it on all of the major airlines. That's the measurement I'm using for the carry-on luggage options I'm including here today, but if you're unsure about the airline you're flying, do check on their website directly (probably best to do that anyway, as some of the airlines I've mentioned above change their policies on occasion. Better to be safe than sorry!).
10 Best Carry-On Luggage Options
Best for: Style and ease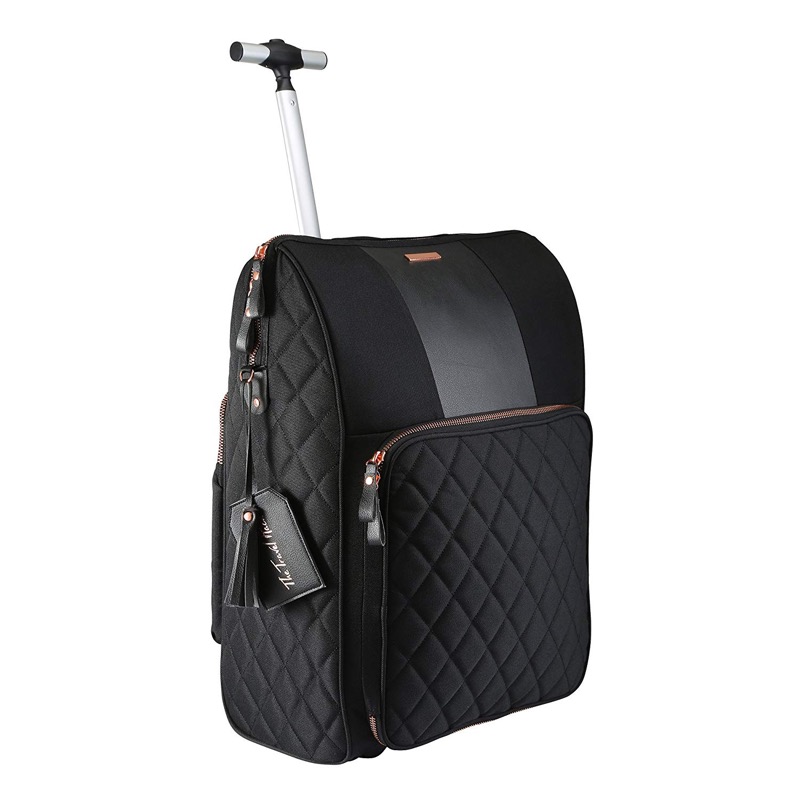 For years, I struggled to find a carry-on suitcase that was perfect for me. There were some that came close, but there were always features I wished they'd had, or design flaws that seemed obvious to me. So…I designed my very own cabin case, with a luggage company called Cabin Max!
It's everything I look for in a case: it fits within most airlines' size restrictions, it's pretty (I'm obsessed with that rose gold), it has a laptop sleeve, and it also has a handy top compartment where I can stash my handbag (for airlines like EasyJet who aggressively enforce their one bag policy) or for easy access to all that stuff you have to remove from your case when going through security!
I've written about it in more detail here, but basically, it's no secret that The Travel Hack suitcase is my very favourite carry-on luggage option!
Measurements: 55cm x 40cm x 20cm
Weight: 2kg
Capacity: 44 litres
Price: £49.95
Features: Padded laptop slot, handbag compartment, plenty of pockets.
Here's a video I made showing you around the new and improved Travel Hack Pro Cabin Case!
Best for: Simplicity and a hard shell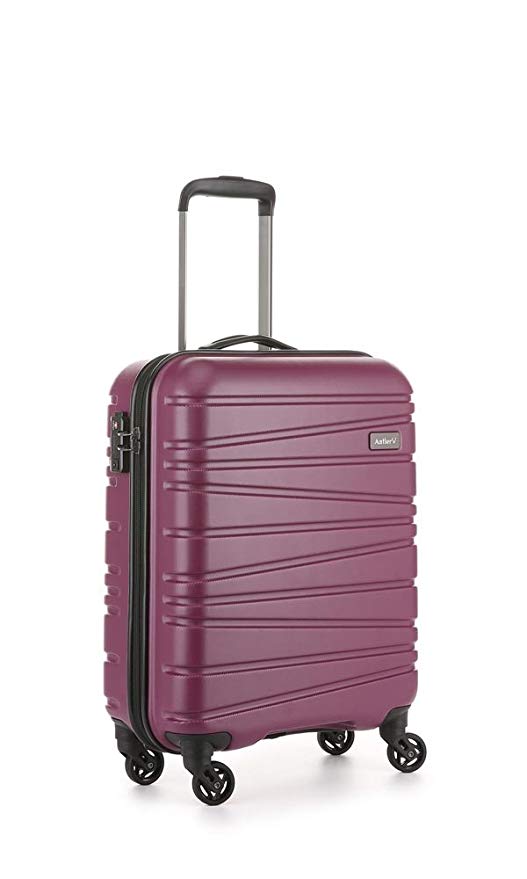 Sometimes it's nice to have the peace of mind of travelling with a hard-sided suitcase when you've got sensitive equipment with you, like cameras and laptops. This suitcase by Antler is large enough to fit everything you need inside it, but small enough to comply with airline restrictions.
The shell is scratch resistant, it comes with its own combination lock on the side, and the interior has packing straps so you can fit more in and keep all your belongings in the order you packed them in. It's a secure and practical little case, and it's pretty cute, too – which is always a bonus!
Measurements: 55cm x 40cm x 20cm
Weight: 2.4kg
Capacity: 35 litres
Price: £79
Features: Scratch-resistant hard shell, 360 degree rotating wheels, TSA combination lock.
Best for: Lightweight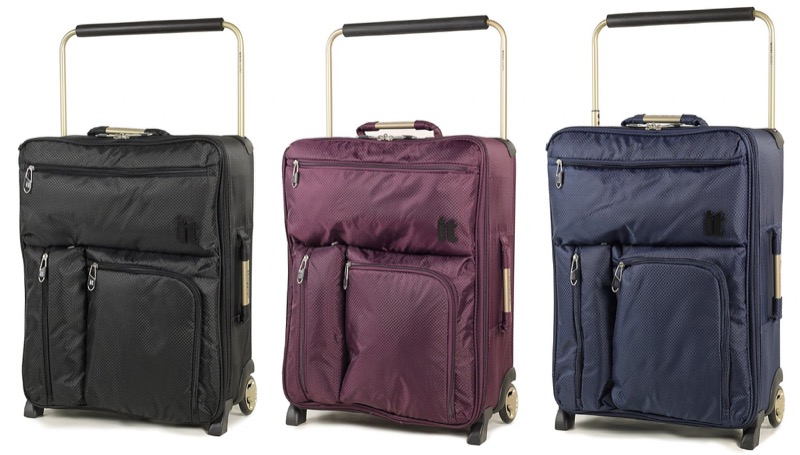 They're not kidding when they call this luggage the world's lightest – most carry-on suitcases come in at around the 2-2.5kg mark, but this one's just 1.6kg, meaning that if you do have weight restrictions on the airline you're travelling with, this suitcase by IT Luggage is a great option for you.
As well as being lightweight, the case is practical, with three zip-closure pockets on the outside for storing things like toiletries, or whatever you want easy access to once you're on the flight, plus silent wheels and packing straps inside. The price is light on your wallet, too!
Measurements: 55cm x 35cm x 20cm
Weight: 1.6kg
Capacity: 38 litres
Price: £49.95
Features: Packing straps, front pockets, silent wheels.
Best for: Fun colour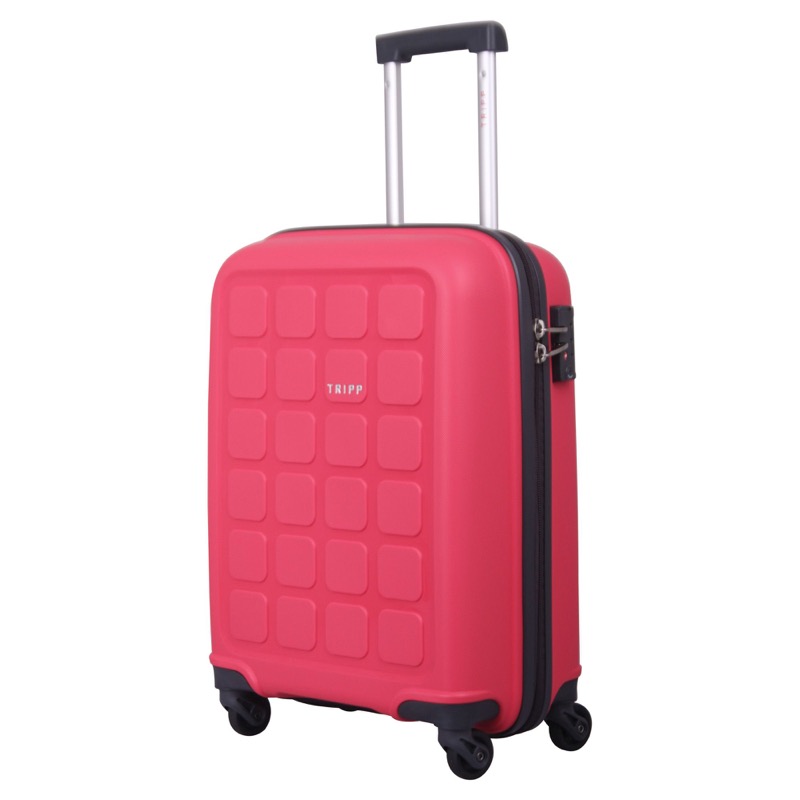 I'll admit it was the cheery, bright colour that initially drew me to this carry-on luggage option by Tripp, but it's a great suitcase that's just as practical as it is cute.
The first thing to note is that this suitcase comes with a five year guarantee, which means it should last many a trip to come. It's got a hard shell, four wheels for easy maneuverability, a combination lock and a mesh divider inside so the two sides are completely separate.
Measurements: 55cm x 40cm x 20cm
Weight: 2.7kg
Capacity: 37 litres
Price: £42
Features: Combination TSA lock, packing straps, mesh divider.
Best for: Practical, spacious backpack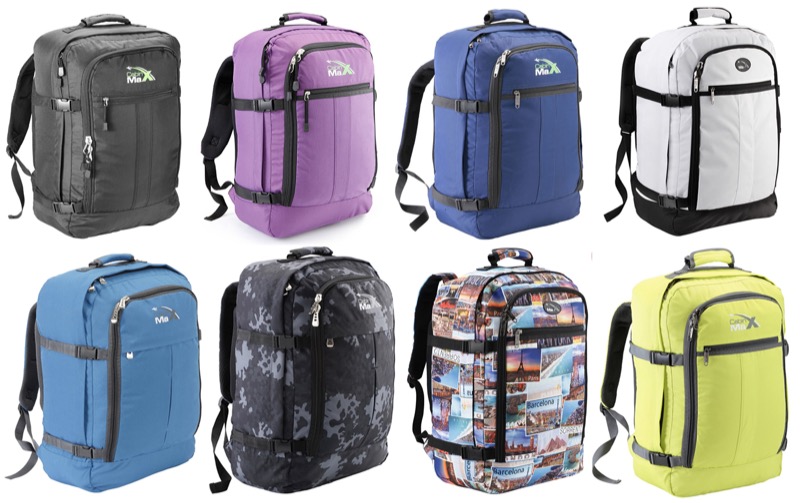 OK, let's talk about backpacks! The best carry-on luggage options aren't always suitcases – travelling with a backpack has some really great advantages over the traditional case.
Low-cost airlines like Ryanair will often take your suitcase from you at the gate (for no extra charge), but they tend to ignore backpacks and let you take them on with you. There's no guarantee, of course, but I think it's worth the risk if you really don't want to part with your gear. Plus, they're lighter than suitcases, and easier to carry around.
I often use a backpack like this when I'm travelling with my kids because it's leaves my hands free and means I can pull my own suitcase and carry their cabin baggage too.
This one by Cabin Max has a 4.5 star rating with a whopping 3,400+ reviews, so it's safe to say it's a brilliant choice. Plus, it comes in over 25 different colour options and it's a budget friendly hand luggage option at just £29.99.
Measurements: 55cm x 40cm x 20cm
Weight: 0.7kg
Capacity: 44 litres
Price: £39.99 (currently reduced to £29.99)
Features: Quick-access front pocket, compression straps, 3 year guarantee.
Best for: Stylish backpack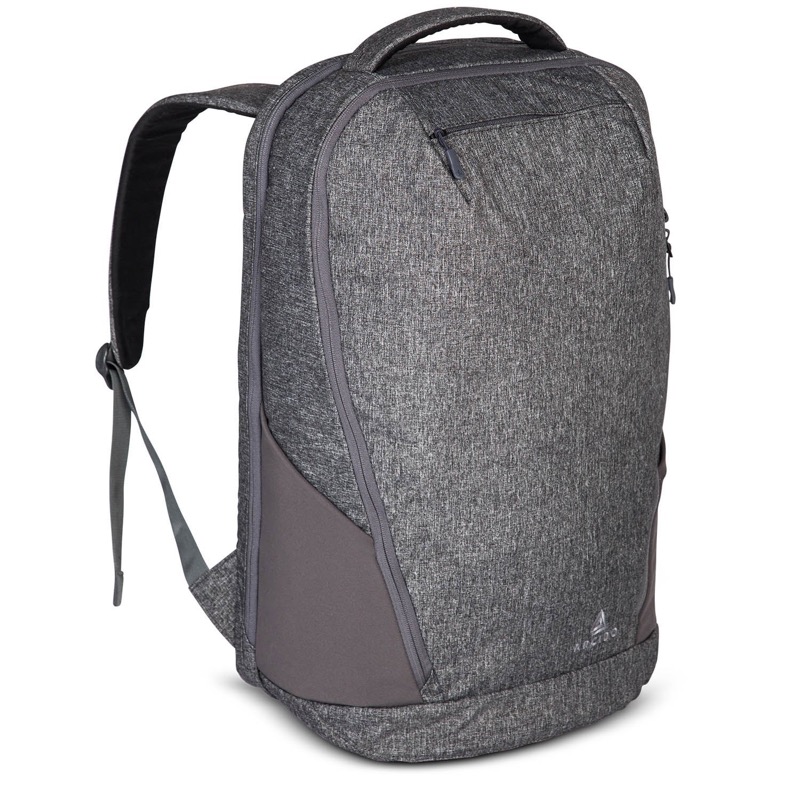 This one's for the minimalists and style-seekers out there. It's admittedly the priciest of the carry-on luggage options on this list, but the beautiful, Scandinavian design and clever features of this sleek backpack mean it's more than just a pretty piece of luggage.
The feature I love the most is the laptop harness, which you can resize to snugly fit your laptop inside. And once it's in, you simply pull a tab to slide the laptop out, which makes going through security a breeze. It's got bottle holders on the sides, a hidden passport pocket at the back, and is made from a durable, waterproof material.
Measurements: 55cm x 35cm x 20cm
Weight: 0.8kg
Capacity: Unknown
Price: £120 (Currently reduced to £99)
Features: Adaptable inner laptop harness, hidden passport pocket, bottle holder.
Best for: Tech travellers on a budget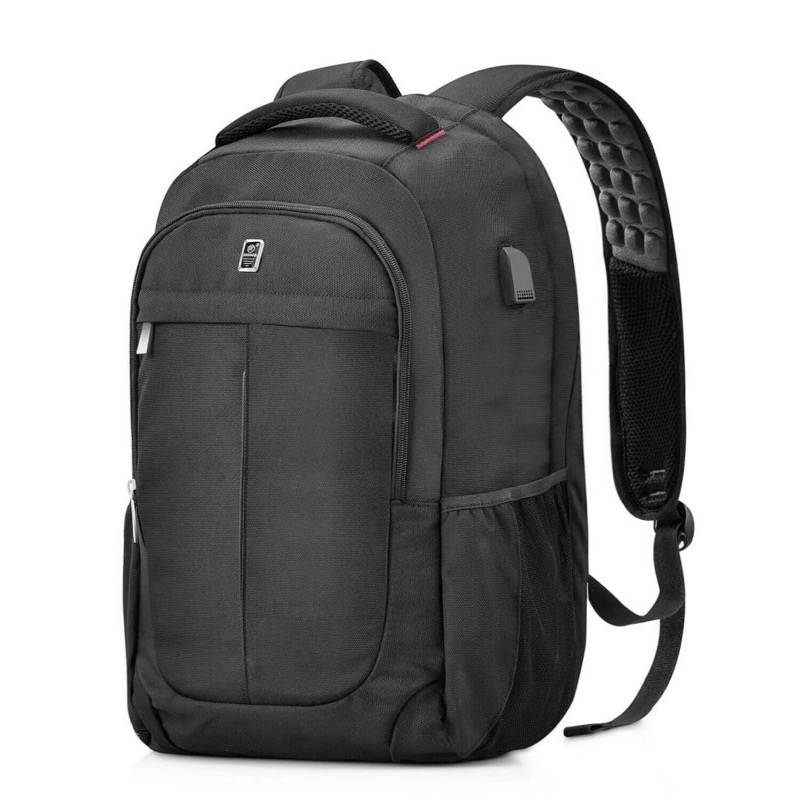 This is one clever backpack! It's for those who travel with lots of tech, and who need to use it on the go. Charge your device thanks to an exterior USB port (you have to provide the power pack, but it saves having to leave your bag a bit unzipped for your cord to hang out), a padded laptop compartment and a hidden pocket at the back for your passport.
It's designed to protect your back, with mesh to encourage air flow and massage pads on the shoulders to help with weight distribution. It's roomy, cleverly designed, and has a 4.6 star rating from over 350 happy customers. It's not the most exciting design but if it's practicality you're after then this is a great choice.
Measurements: 49.5 cm x 35.6cm x 14.5cm
Weight: 0.8kg
Capacity: 32 litres
Price: £35.99 (Currently reduced to £19.99)
Features: USB charging port, hidden passport pocket, anti-theft zipper design.
Best for: Budget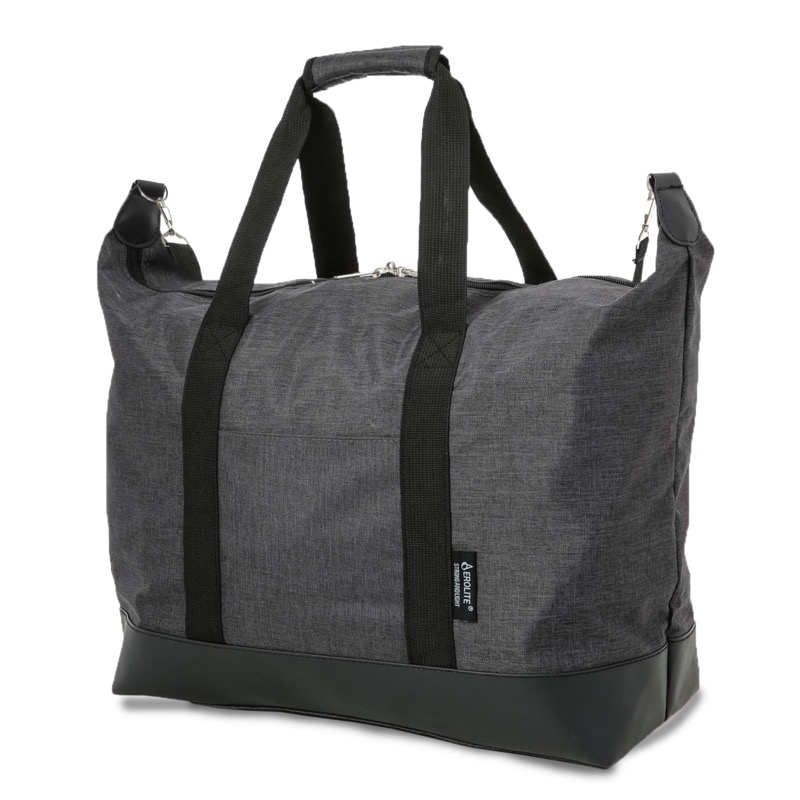 If you're not travelling with a laptop or delicate camera equipment, sometimes a backpack can feel restrictive – all those compartments can make it difficult to pack things like shoes or bulky clothes.
Holdalls and duffel bags are a great solution for fitting as much as possible into a small space, as there's nothing holding you back from squeezing more in (although if you do like compartments, packing cubes can be handy here). Plus, much like backpacks, the low-cost airlines tend to let you take these on board more often than a traditional suitcase.
This holdall is fairly basic, but it comes with a 2 year guarantee, has a removable shoulder strap, and is only £11.99, making it the most affordable carry-on luggage option on this list.
Measurements: 55cm x 40cm x 20cm
Weight: 0.65kg
Capacity: 44 litres
Price: £6.99
Features: Top carry handle, detachable and adjustable shoulder strap, 2 year guarantee
Best for: Stylish holdall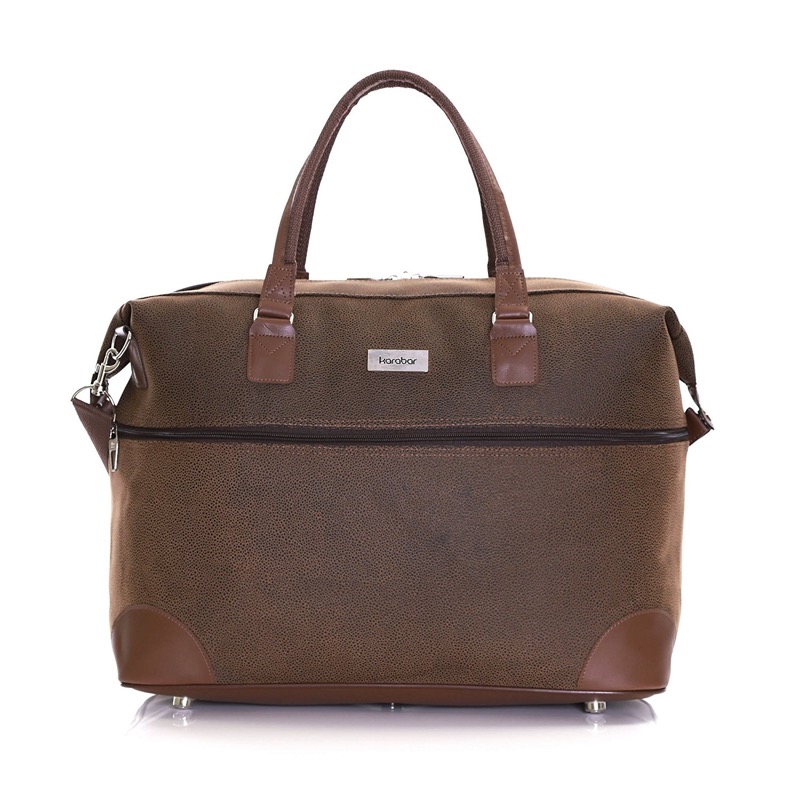 If you like the idea of a holdall, but want something that looks a bit more business-like, this leather look holdall by Karabar is perfect for you.
It's smart enough to take to a business meeting without looking like you've just come from the gym, it comes with a strap that means it can be attached to a suitcase, and it's got a zippered front pocket for easy access to your passport. It has fantastic reviews, and the price is great for something that's so durable.
Personally, I find holdalls a little difficult to travel with because I often overpack and they end up so heavy I struggle to carry them. But if you're a light packer then this is a lovely option!
Measurements: 55cm x 40cm x 20cm
Weight: 0.8kg
Capacity: 44 litre
Price: £24.99
Features: Adjustable/removable shoulder strap, durable material, fully lined compartment.
Best for: Budget and style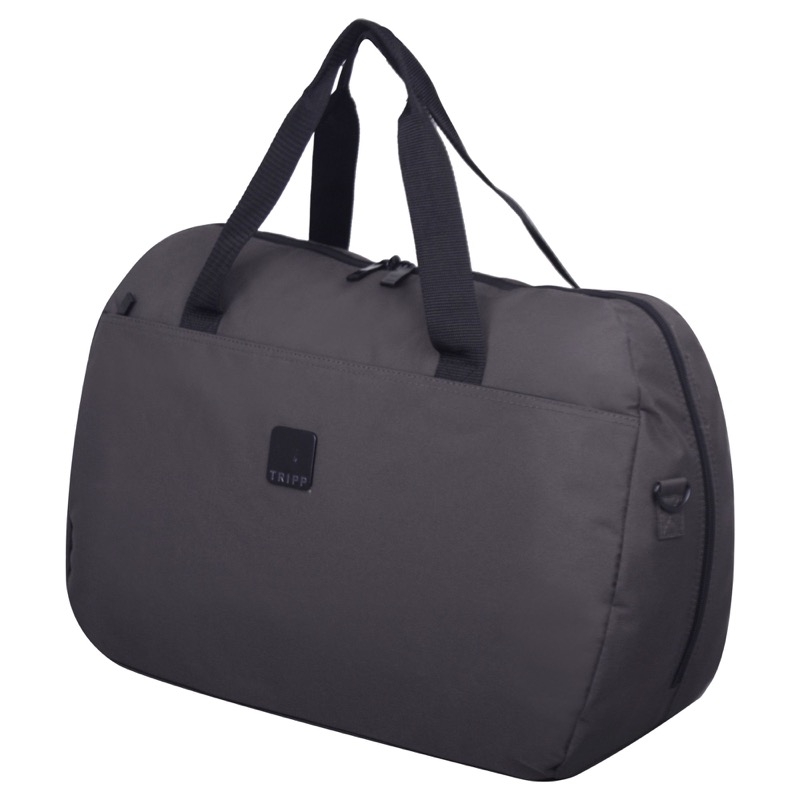 This is the only carry-on luggage option I've included that's slightly over the Ryanair carry-on dimensions (by 2cm). It complies with all of the other airlines I've mentioned though, and honestly, in my experience, if you can squish your bag into those measuring cages (which you can with a duffel), they don't question it. Still. Be warned, it is 2cm over.
This bag looks really sleek and professional, but also has a bit more structure than the classic holdall. Plus, it's made by reputable luggage brand Tripp, which means it comes with that all-important five year guarantee.
Measurements: 50cm x 34cm x 22cm
Weight: 0.9kg
Capacity: 28 litres
Price: £20 (Currently reduced to £13)
Features: 5 year guarantee, smart sleeve, interior pockets.
Do you have a favourite carry-on luggage option?