The beautiful village of Oia in Santorini is one of the most famous spots on the island, if not in the whole of Greece. The dazzling white buildings with blue domed roofs perched on the hillside create the most incredible view. With the blue sea as a backdrop and those famously incredible sunsets, it's no wonder that Oia Greece is such a popular place.
Oia Greece attracts more than its fair share of photographers, Instagrammers and influencers who are all searching for the most incredible views. Honestly, this place is a photographer's dream come true. And even if you aren't a pro behind the lens, you'll still love snapping a few shots because it's virtually impossible to take a bad photo in this place (although I'm sure my dad would give it a good go!)
Some people will stay in Oia but many people will be visiting on a day trip, either from a neighbouring town on Santorini, from a nearby island or on a cruise ship. I was visiting Santorini on a cruise ship so I thought I'd begin by telling you how to get to Oia from a cruise ship!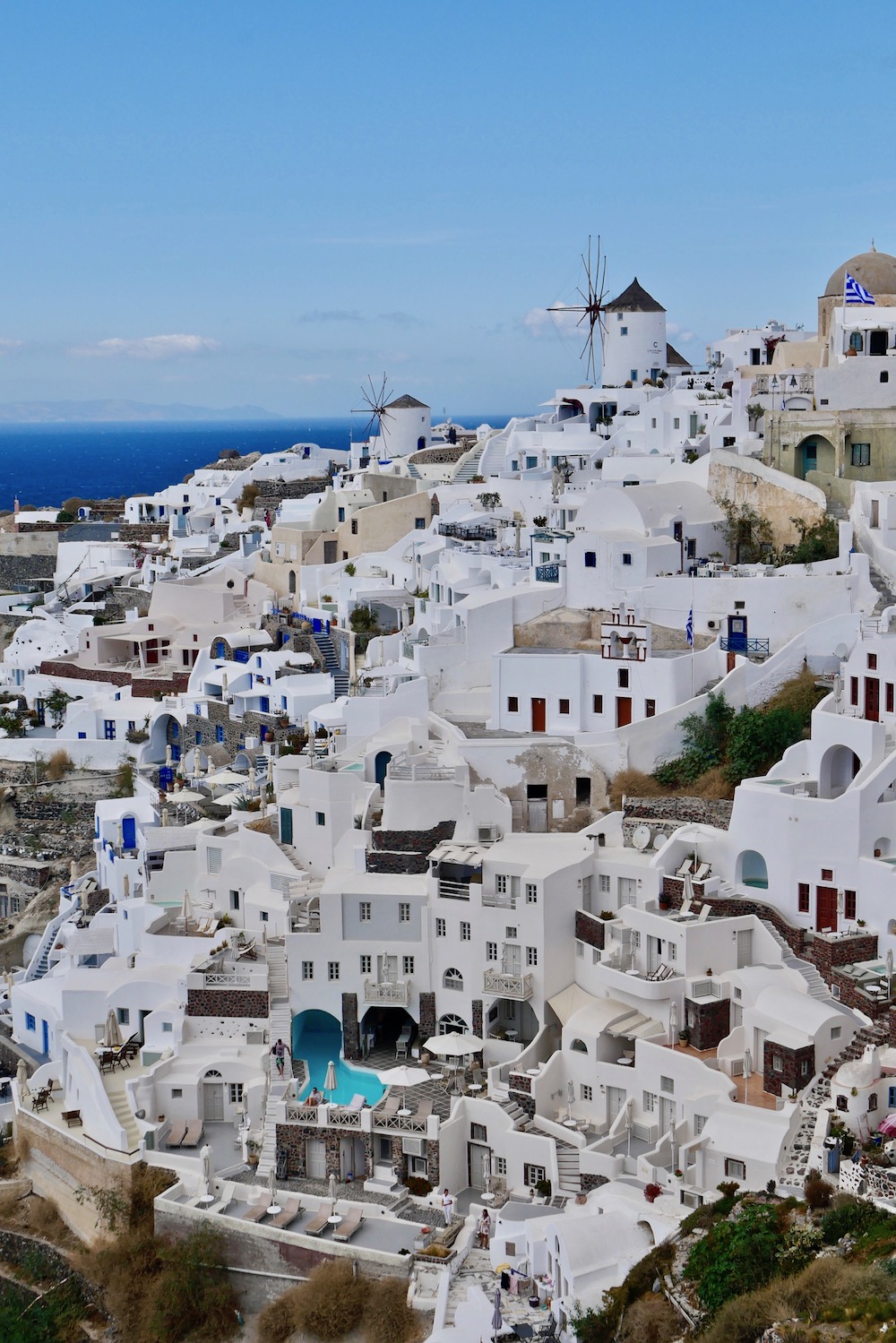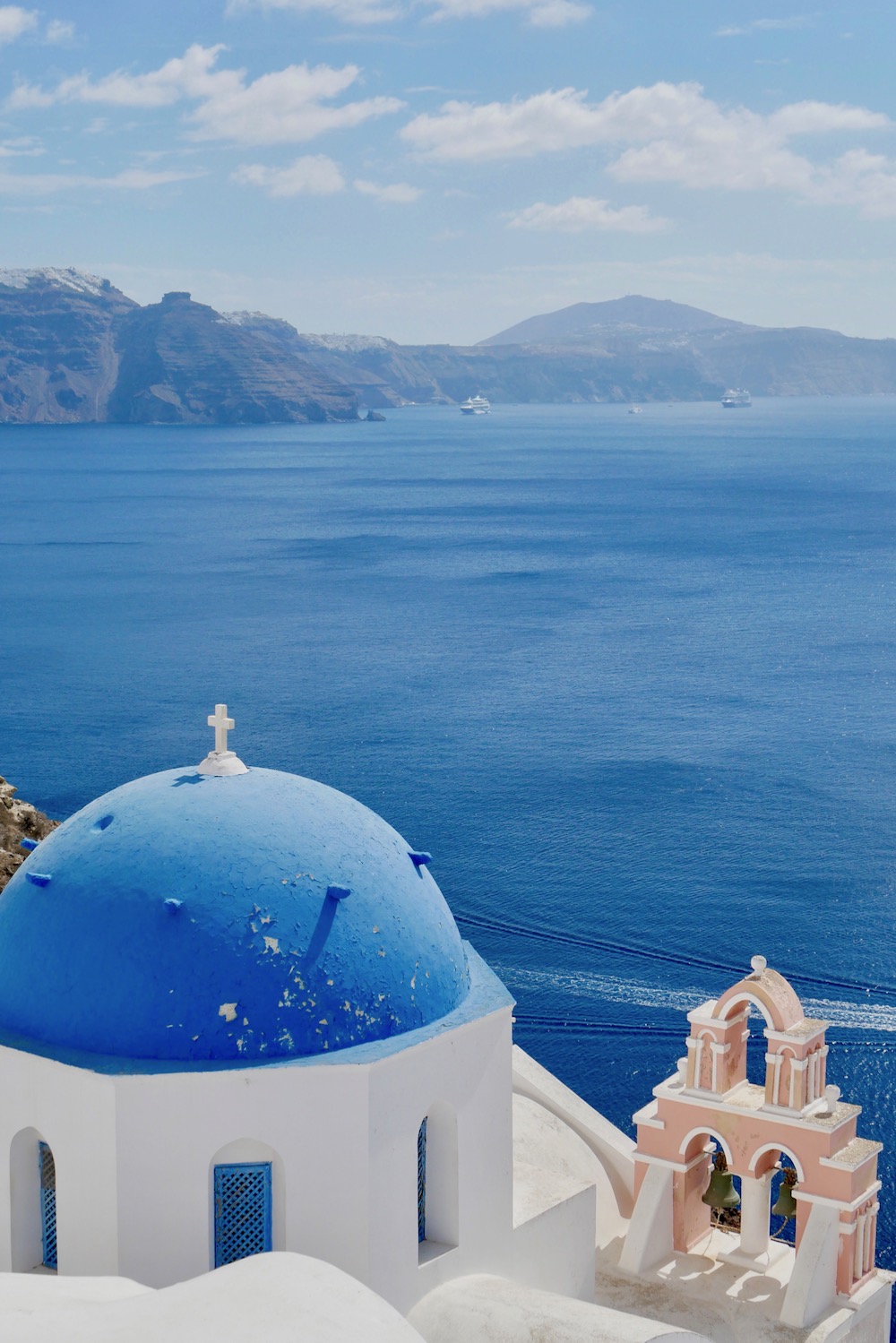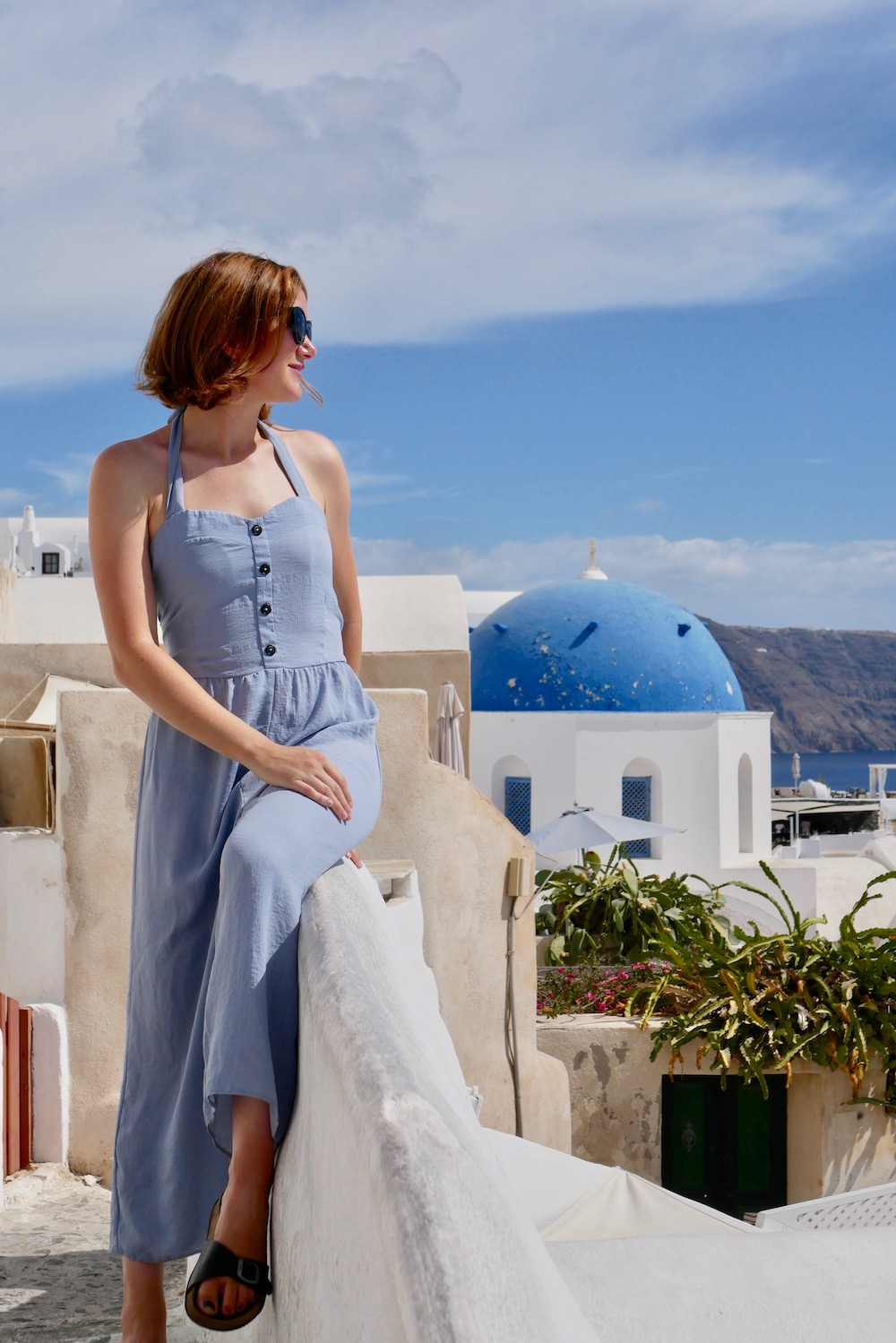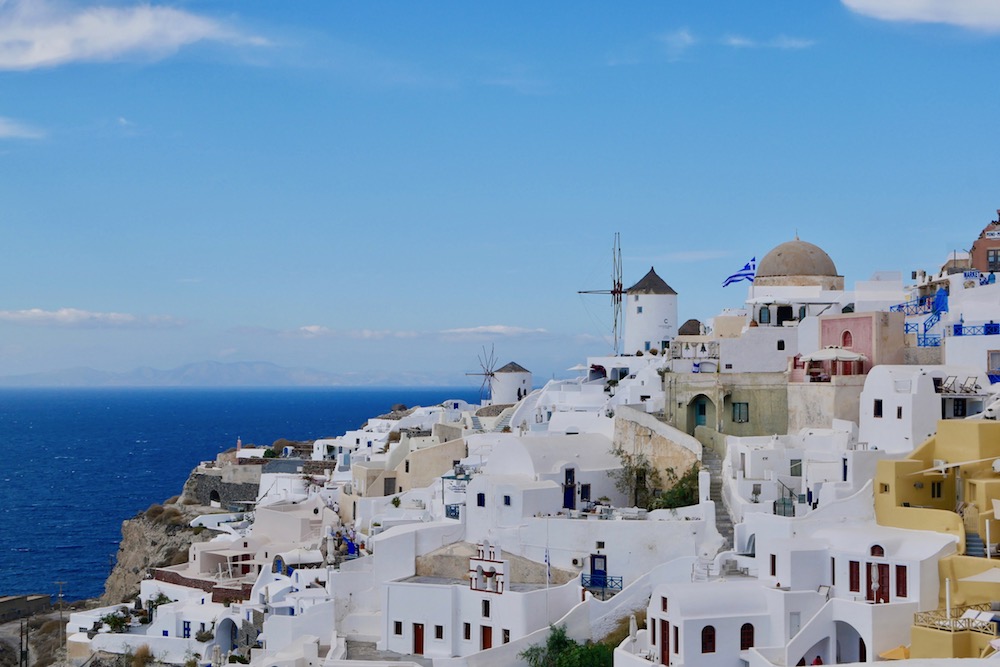 How to get to Oia from a cruise ship
It's actually very easy to visit Oia from a cruise ship. You don't need to take a tour or an excursion as you can easily do it yourself. In fact, I'd strongly advise against taking a group tour because the streets in Oia are very narrow so it's easier to explore alone rather than in a big group.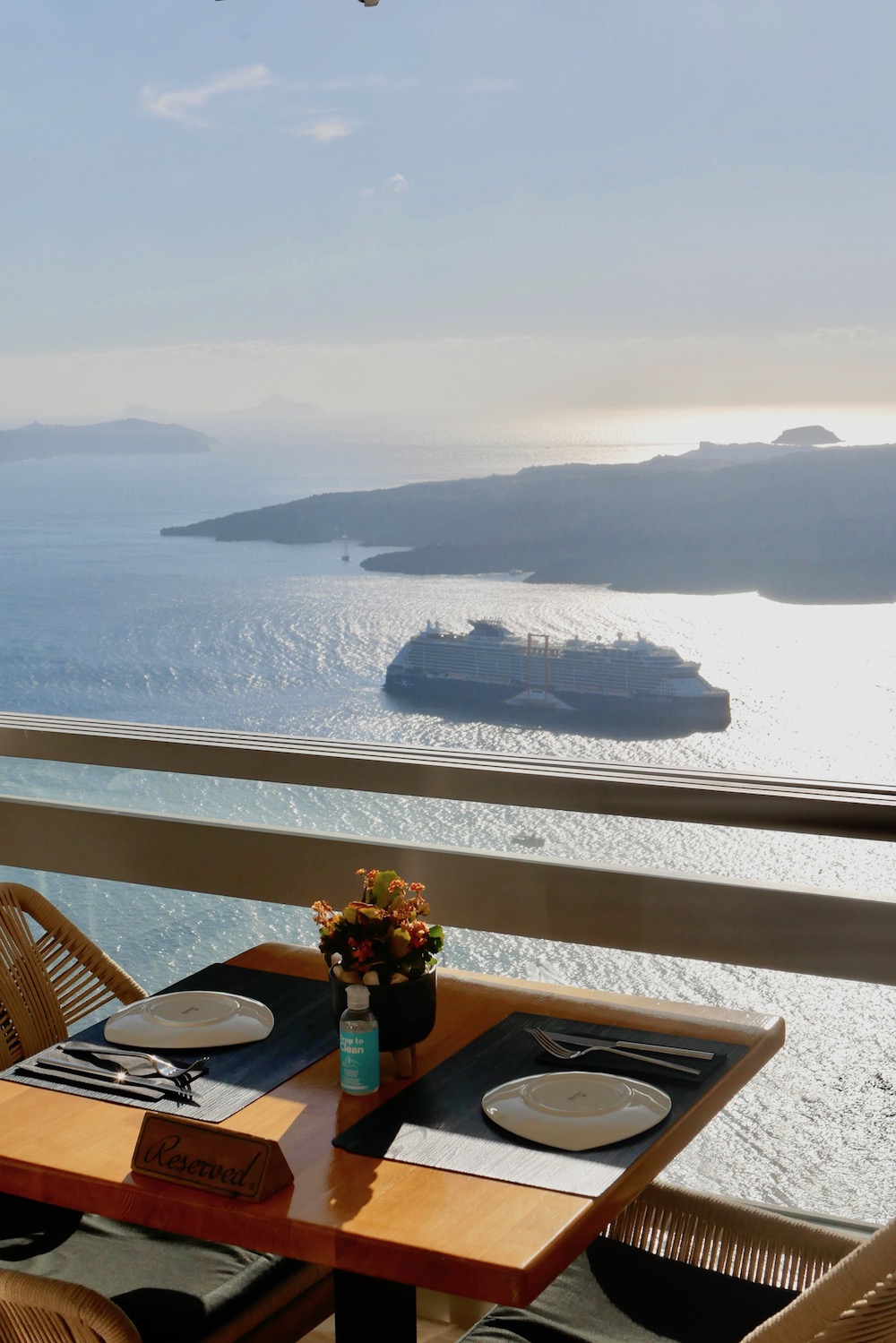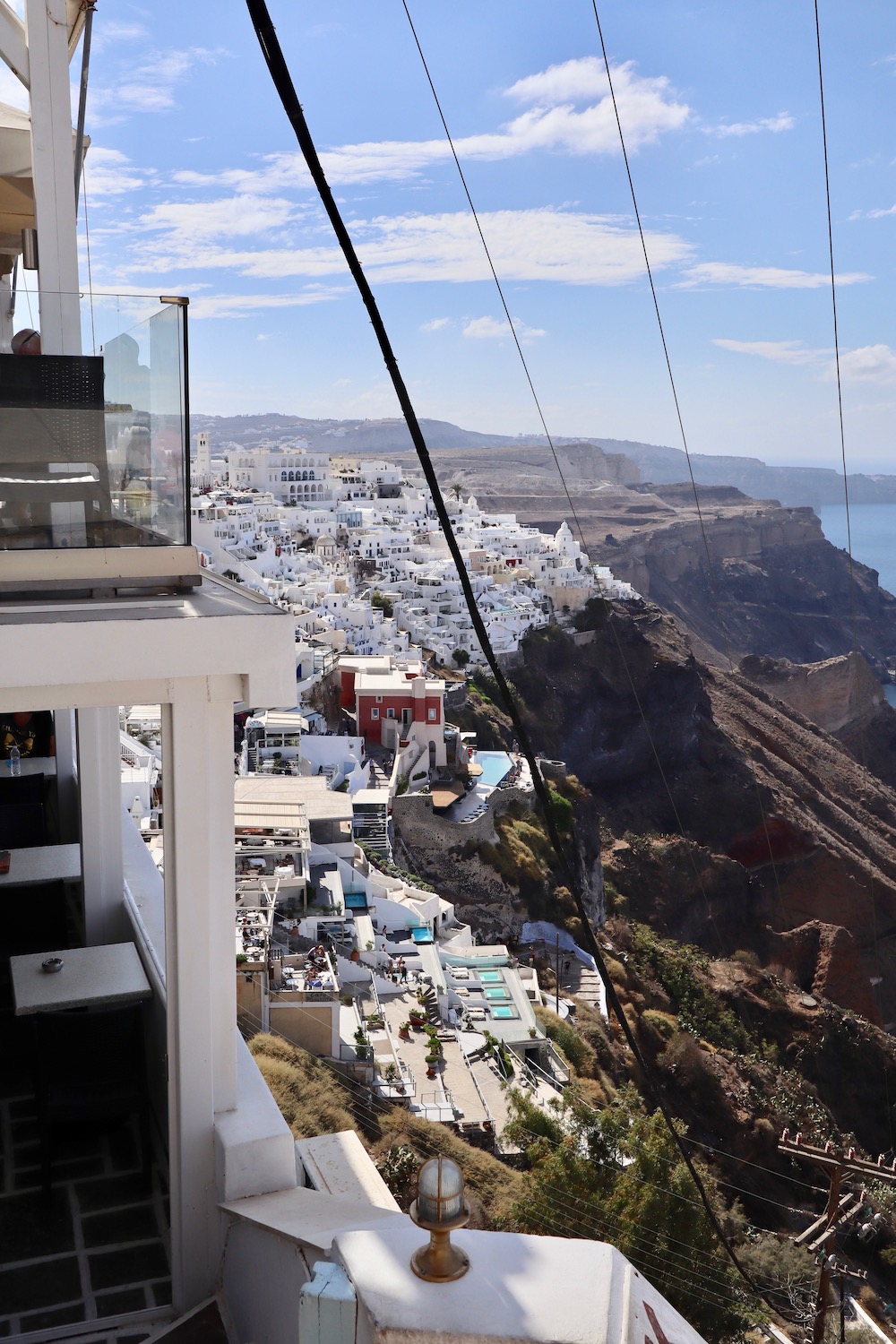 This is how you do it…
Ship – Tender boat to shore – cable car up the hill to Thera – Taxi from Thera to Oia
When your ship arrives in Santorini you'll need to take a tender boat from the ship to the mainland. There isn't a big port here so large ships will anchor out at sea and it'll take 10 minutes to travel to the shore on the tender.
Travel Hack Tip: If you get seasick then it's worth taking a seasickness tablet before boarding the tender. This small boat can be rocky in comparison to the ship.
From the shore you'll be able to take the cable car to the top of the hill. It costs six euros (accurate as of 05.10.21) each way and you are able to pay via card. You can also walk up and down the steep hill as there are large steps all the way.
There are donkeys available to hire to take you up the hill but this isn't recommended for adults and there has been a lot of recent backlash against this.
The town at the top of the hill is Thera and it's a pretty place so definitely worth a look around if you have plenty of time. If you don't have much time then I'd skip it and head straight to Oia.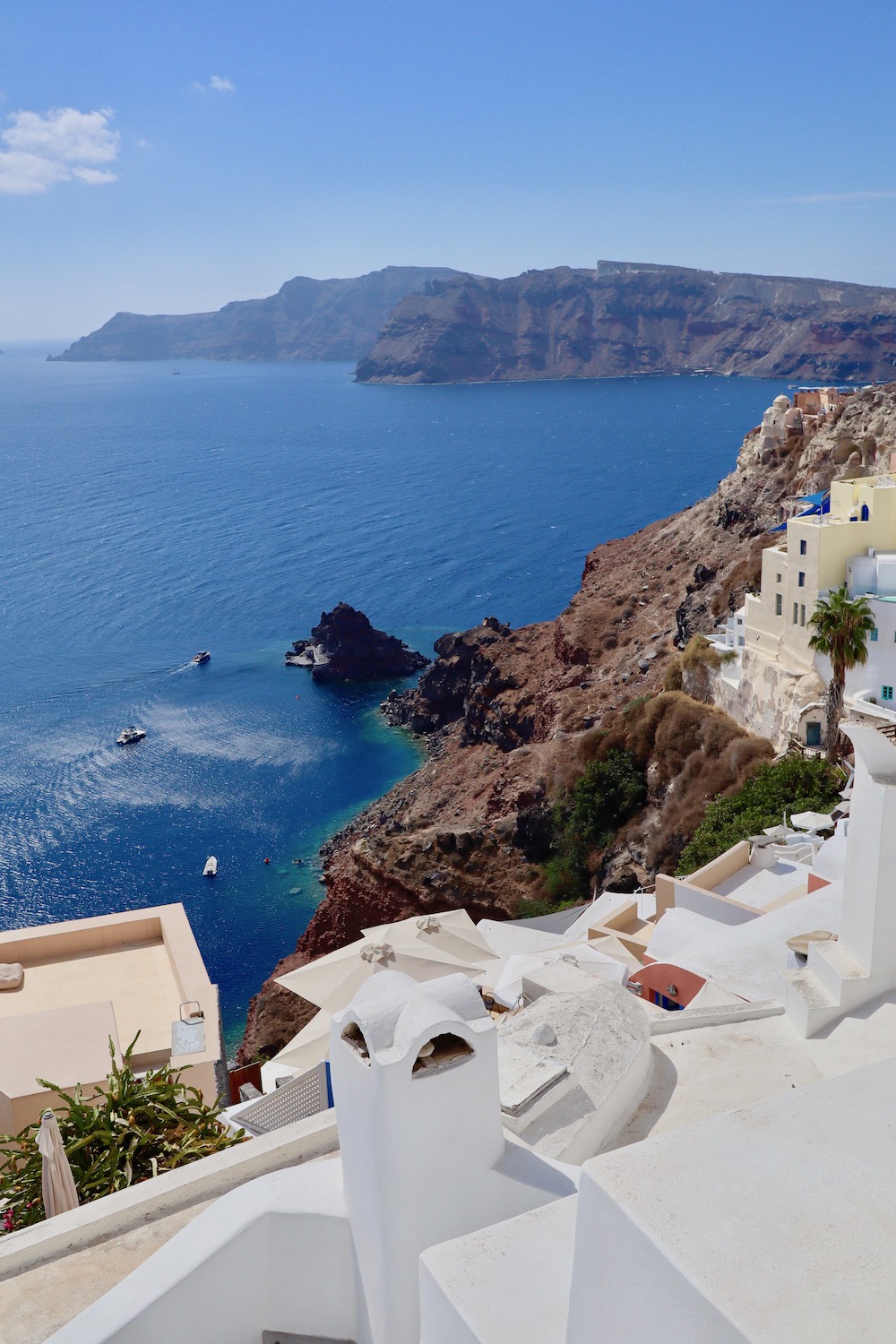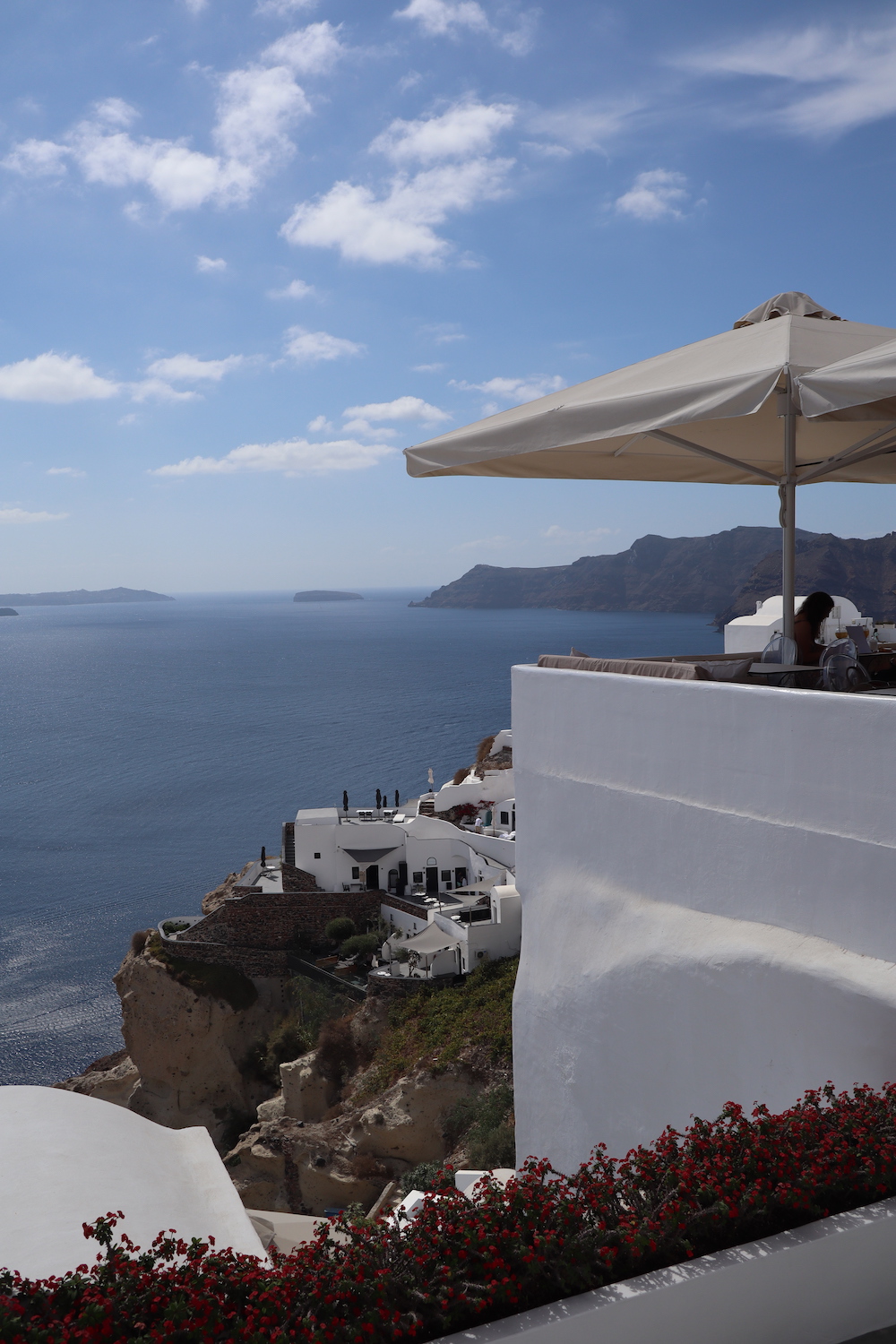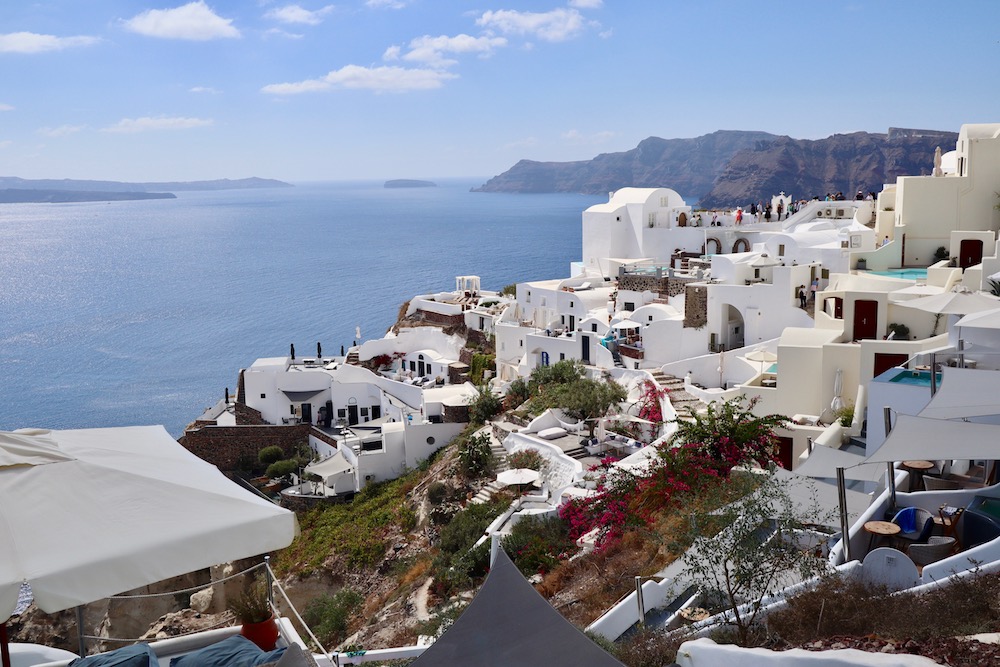 You'll need to get a taxi to Oia. There is a coach but the queues were crazy and we didn't want to waste too much time waiting for a bus!
Our taxi cost 40 euros for four people on the way from Thera to Oia and then on the return journey there were just two of us and it cost 30 euros.
We paid in cash and there are plenty of cash machines available in both Thera and Oia.
If you're struggling to find a taxi then you can go into a travel agent/excursion shop and ask for one there. There are lots of shops selling excursions and tours. The first shop we went into quoted us something ridiculous for a taxi so it's worth trying a couple!
In Oia, we got a taxi from the bus station and fees seemed to be set based on the number of people you have.
You could also pre-book a taxi online. Here's a link to a Santorini transfer service with great reviews!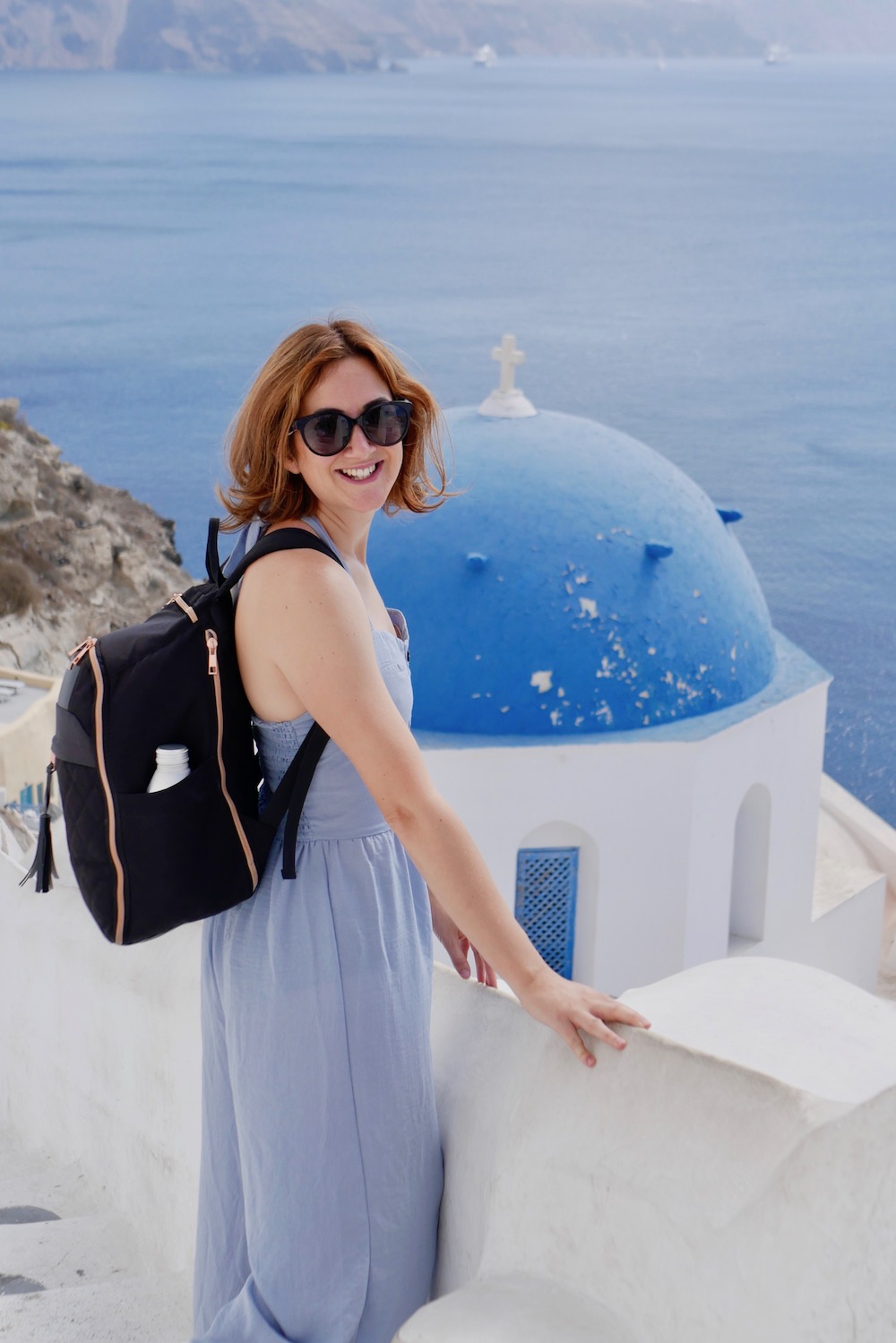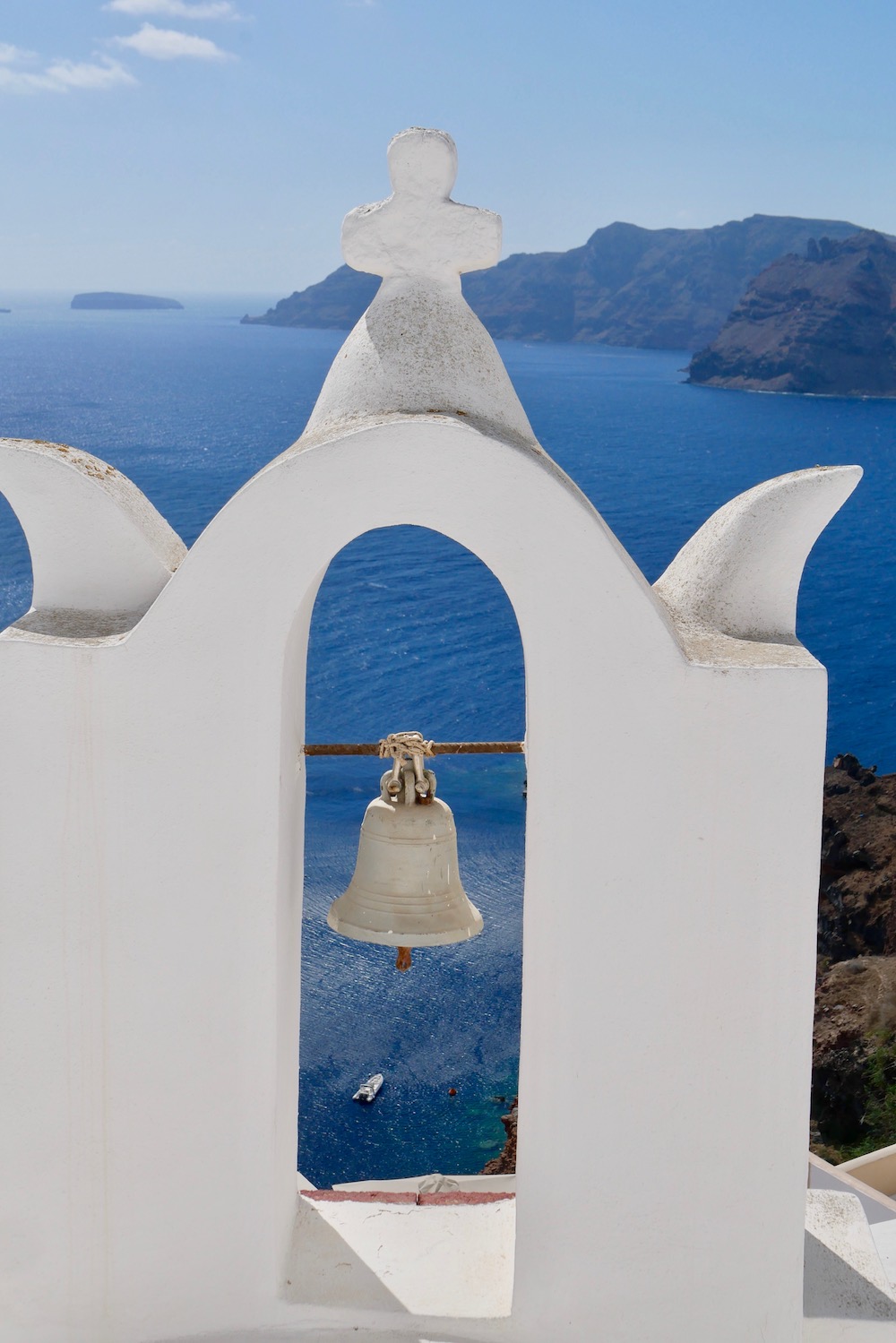 What to do in Oia Greece
So you've arrived in Oia! What do you do!?
Oia isn't the kind of place where you need to rush around ticking sights off your list. Oia is a place to stroll and mooch and stop for a drink, stop for a coffee, have a look in the shops, stop for ice cream or lunch and stop at every beautiful photo location along the way.
If you're wondering how to find these beautiful photo locations in Oia, don't worry, you'll see them!
The photo spots in Oia are often surrounded by a small group of people queueing patiently to get a photo. It isn't unusual to see whole families using the perfect backdrop for an informal photo shoot so the queues can be slow but at least you have gorgeous views to admire while you wait your turn!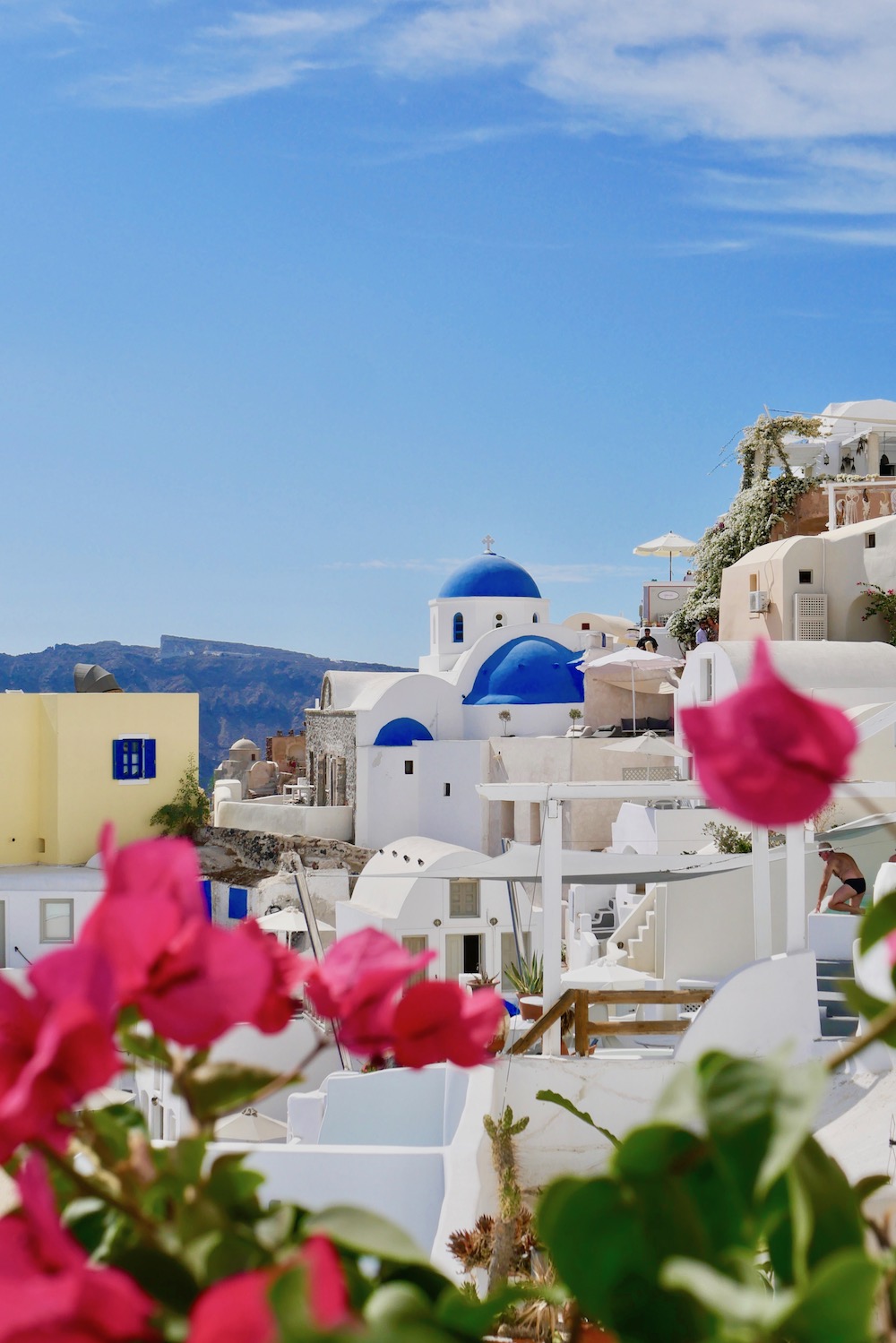 Things to do in Oia, Greece
#1. Watch the sunset
Watching the sunset in Oia is definitely the most popular thing to do. BUT be aware that it gets very very busy. So busy I'd say it's unenjoyable. It's a bit ridiculous and it can be hard to get around. If you've got time then definitely stay for the sunset but don't imagine it's as relaxing and peaceful as the photos would lead you to believe!
Travel Hack Tip: If you have time then I'd definitely take a sunset boat trip. Whether it's a romantic cruise or a party boat, this would be a beautiful way to see the sunset.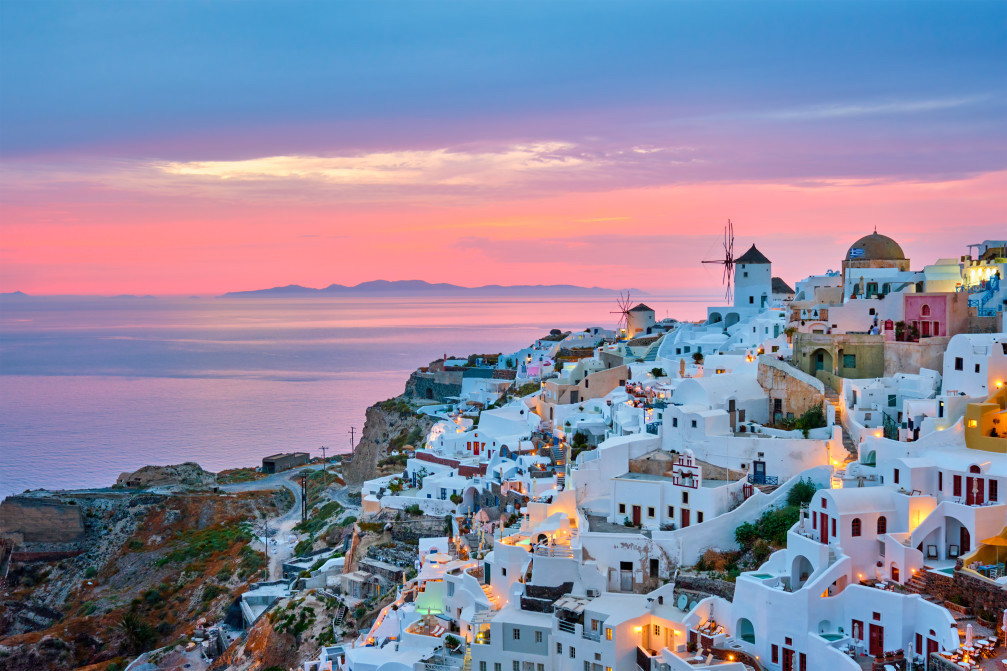 #2. Walking tour with a photographer
Want to see all the hotspots in Oia and get gorgeous photos you'll treasure for a lifetime? Then this might be the tour for you.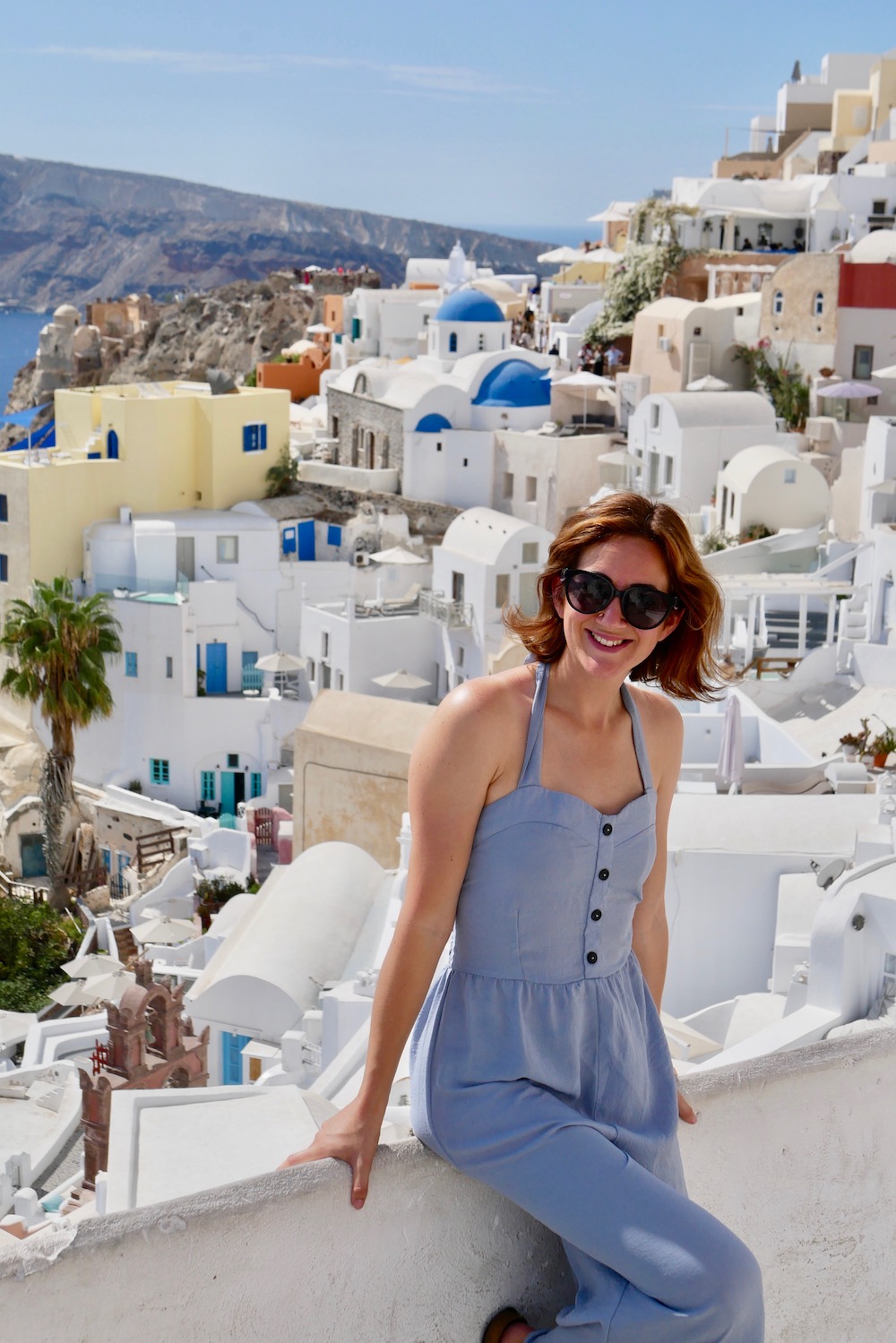 #3. Wander
OK, my personal favourite and not exactly a detailed travel tip from a seasoned travel blogger but I actually don't think you need a plan when you visit Oia. Just have a wander, get lost, get found, keep walking, take photos, find a cafe, find a bar and generally have a lovely time!
Travel Hack Tip: If you're getting off the beaten path then I like to drop a pin in Google Maps to remind myself where I need to get back to. It's unlikely you'll get lost in Oia but it gives you a bit of confidence knowing you're not going to lose your bearings.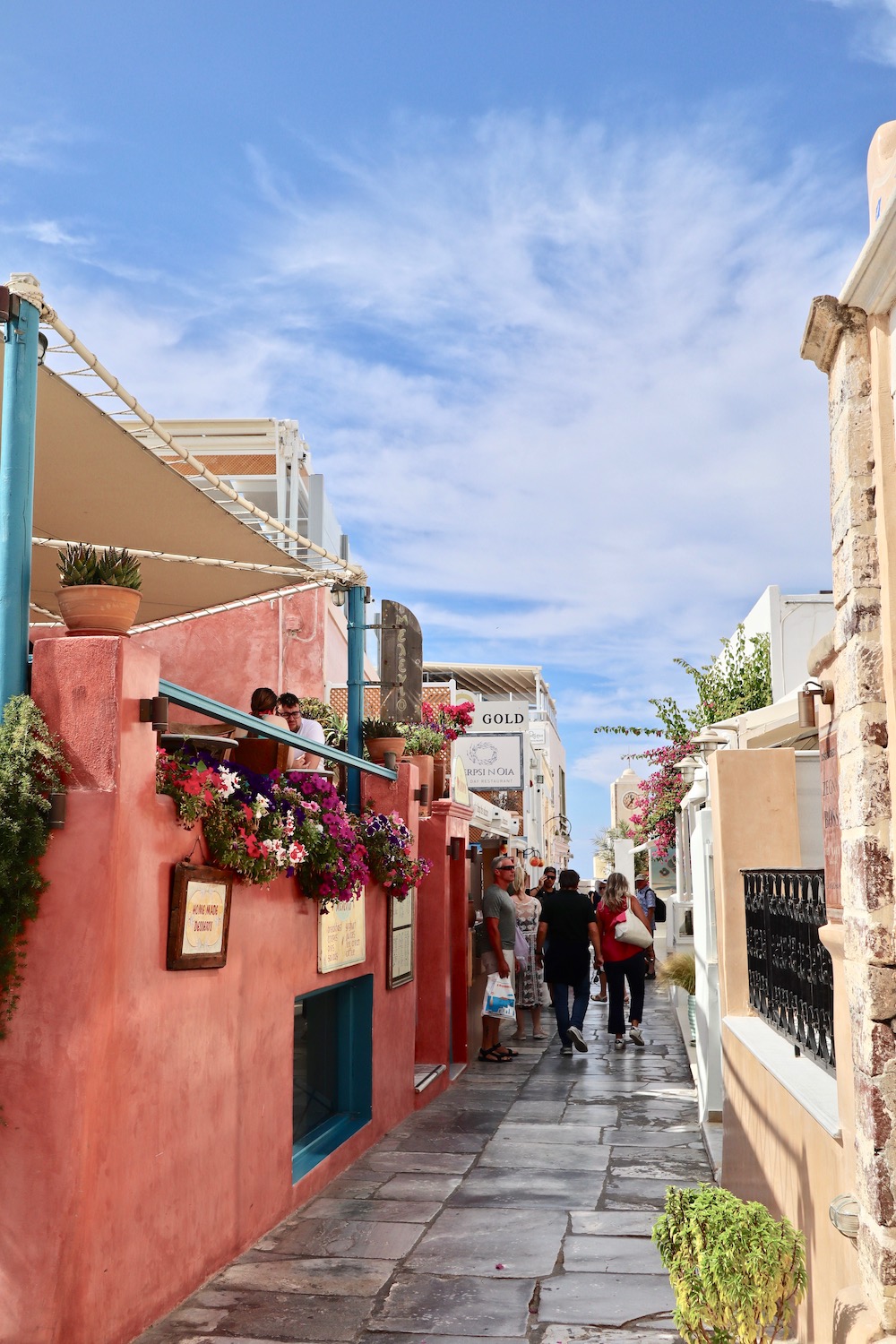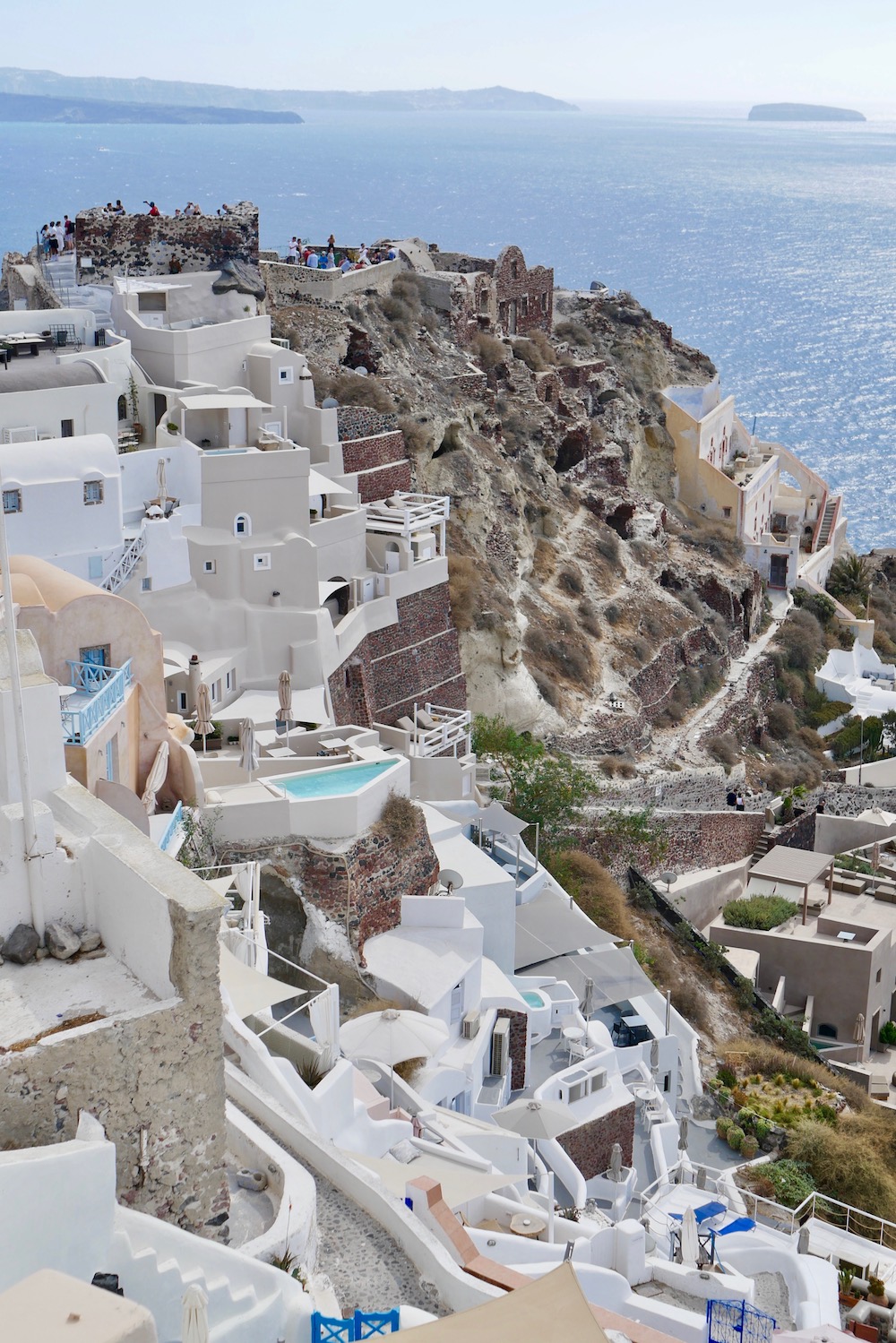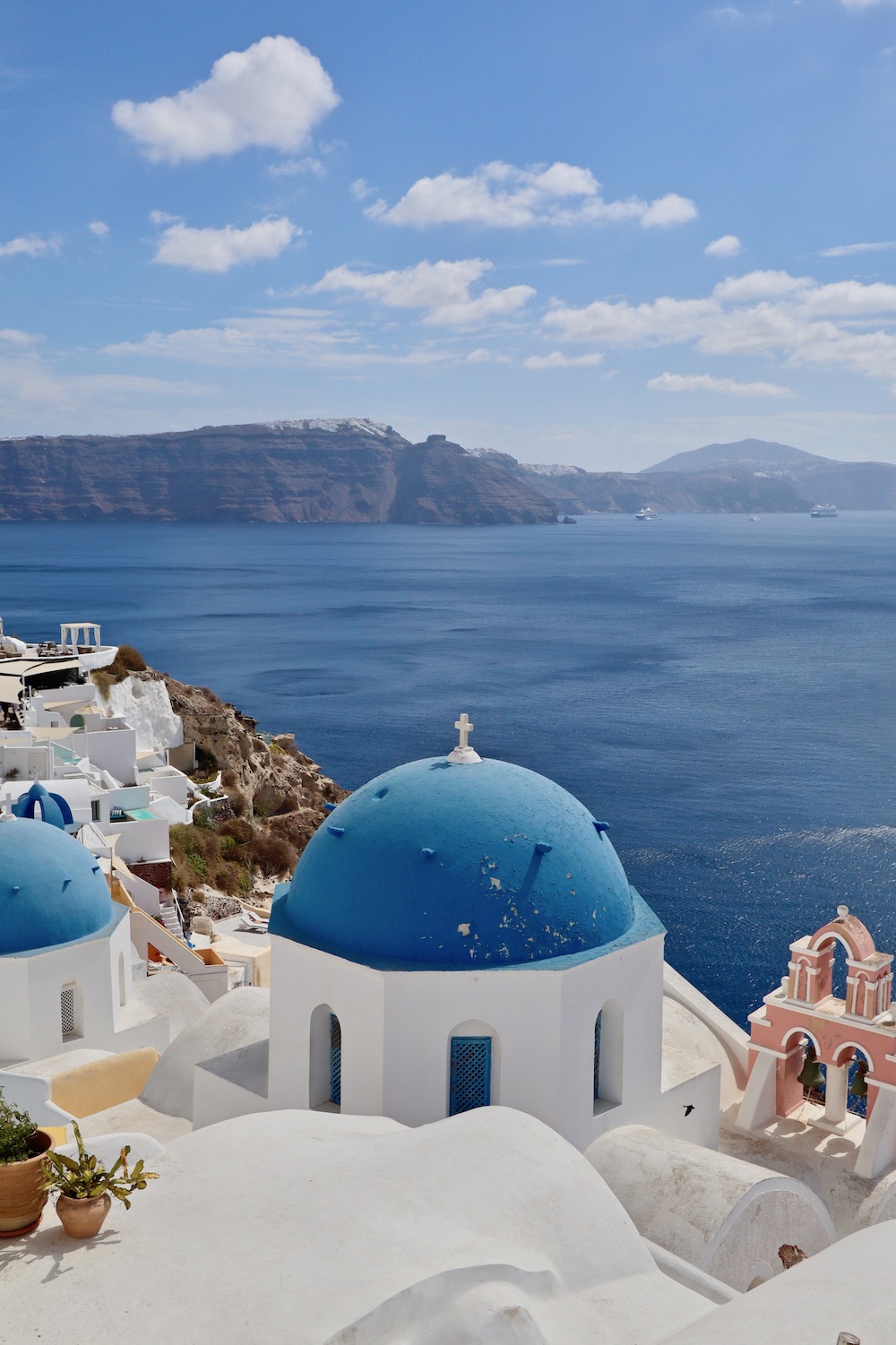 #4. Walk to the windmills
Make sure you walk over to the windmills – partly because they're beautiful but they also make a good destination to walk to before turning back.
The windmills are actually luxury suites you can rent. It's a serious bucket list kind of place if you're planning a special holiday!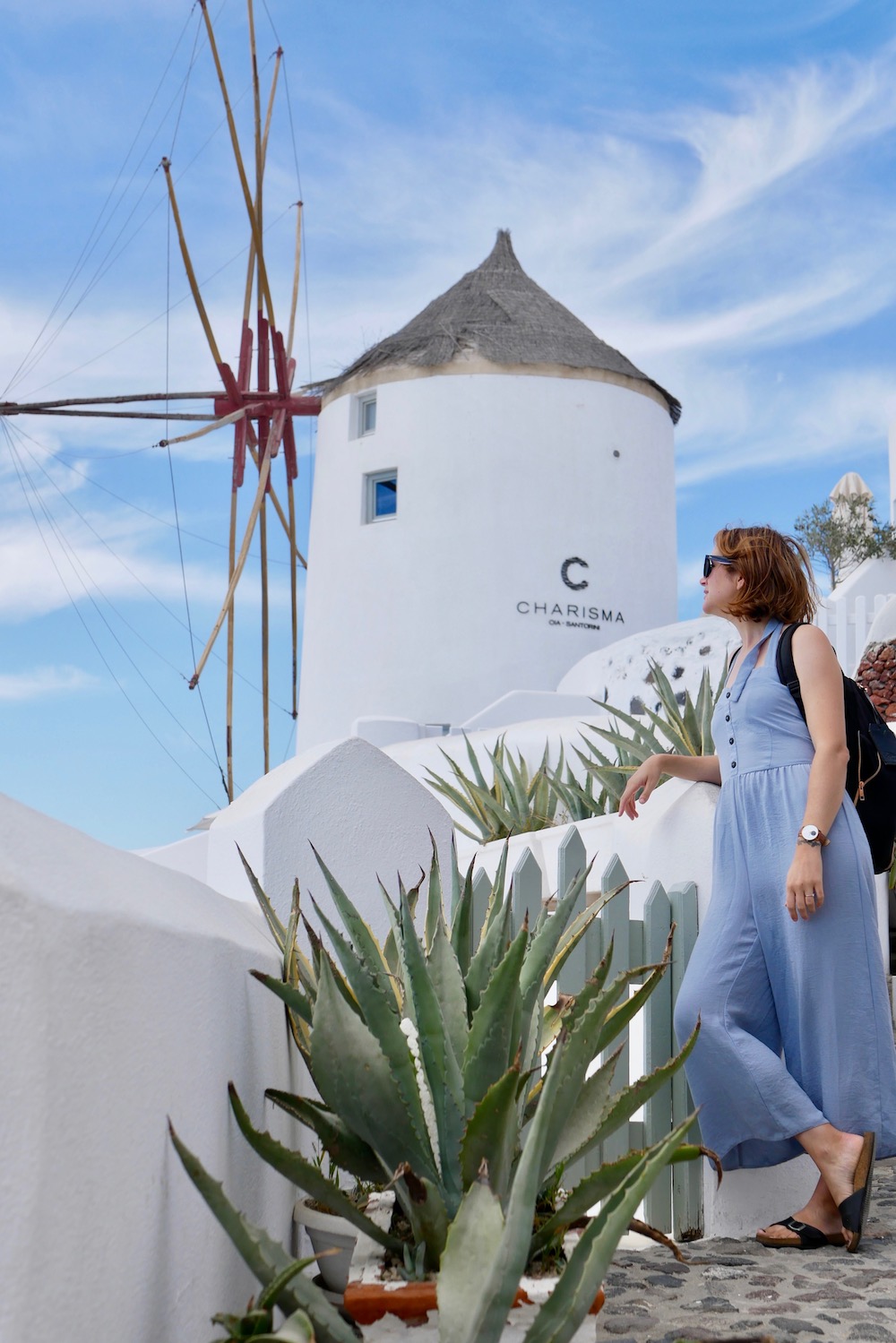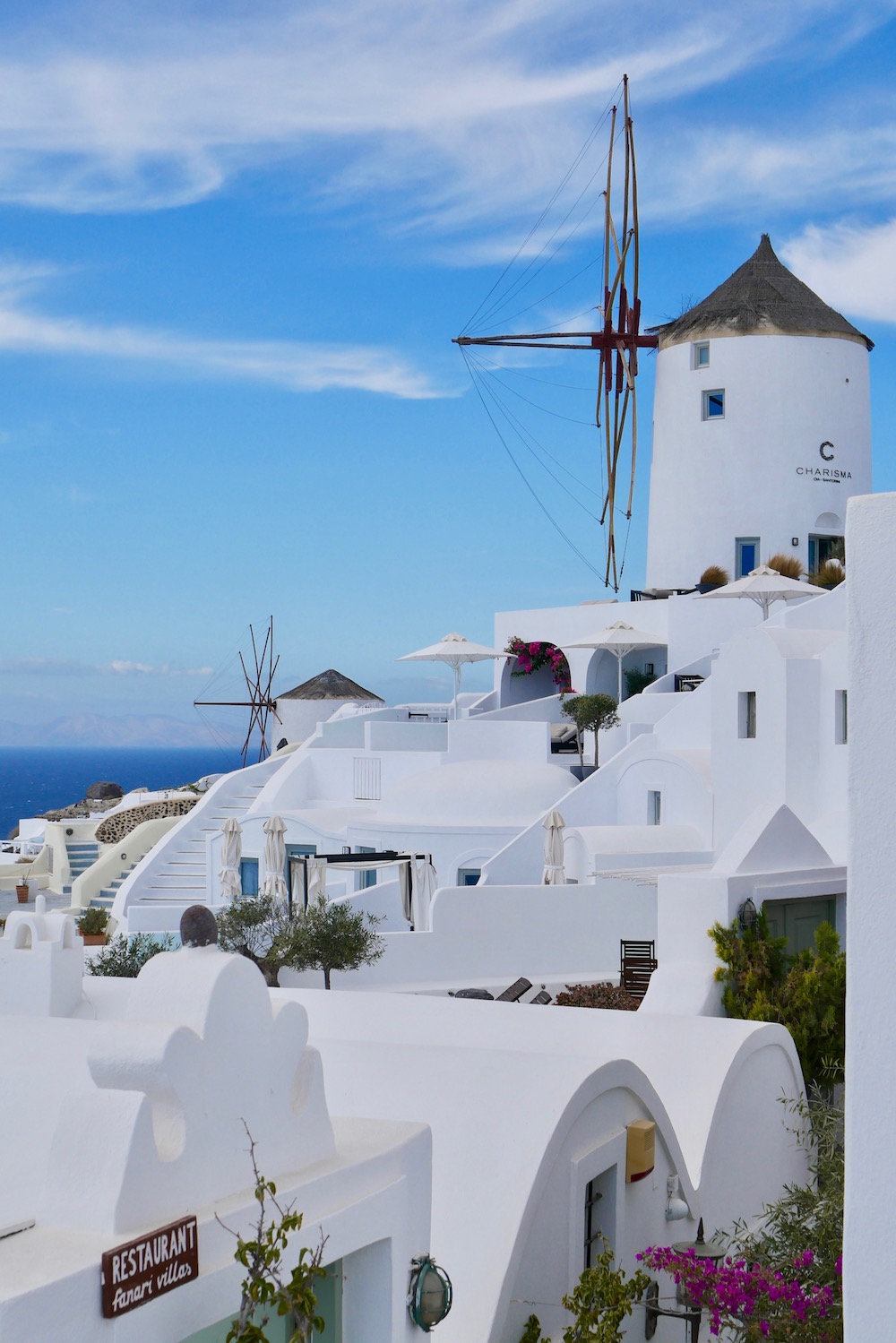 #5. Visit the castle
The Castle of St Nicholas isn't really anything to write home about but it's worth visiting for the panoramic views of Oia Greece!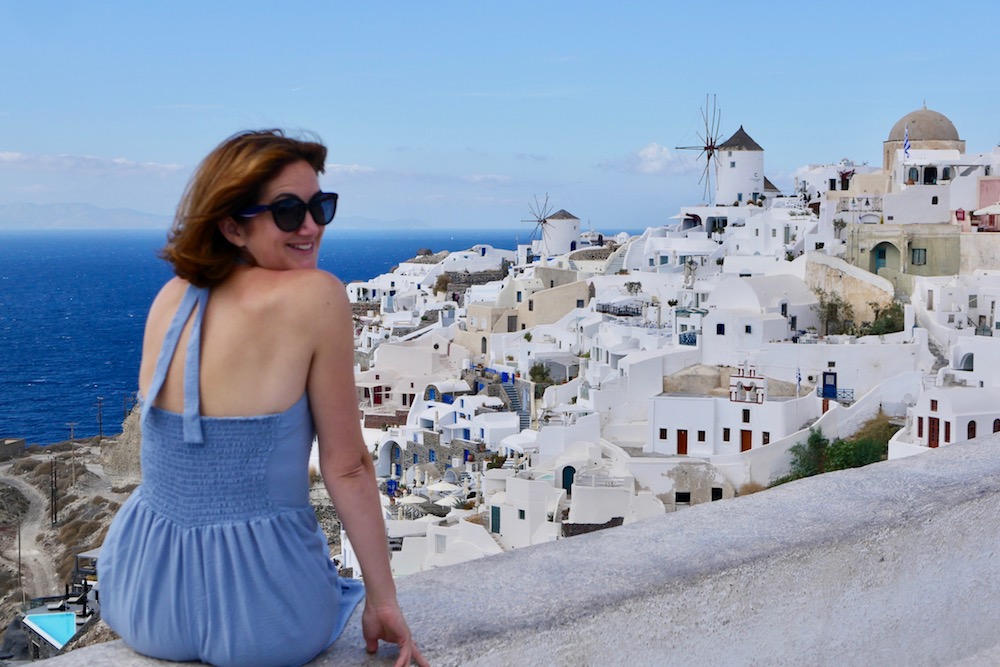 #6. Shop in the little boutiques
There are so many gorgeous little shops in Oia. You'll stumble upon lots of boutiques where local crafters are painting, sculpting, cutting, sewing and generally making lovely souvenirs. Shop around to find the really authentic ones.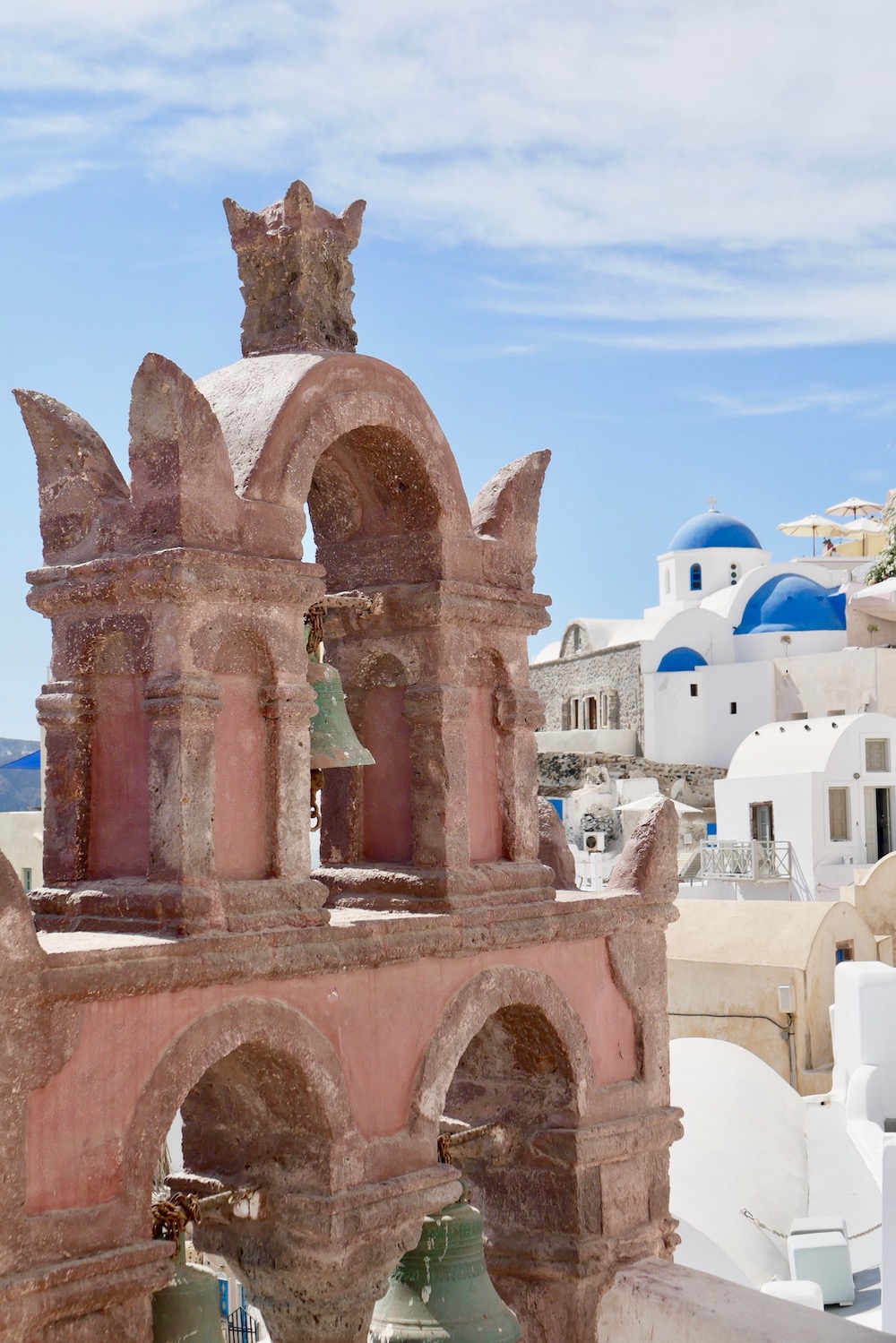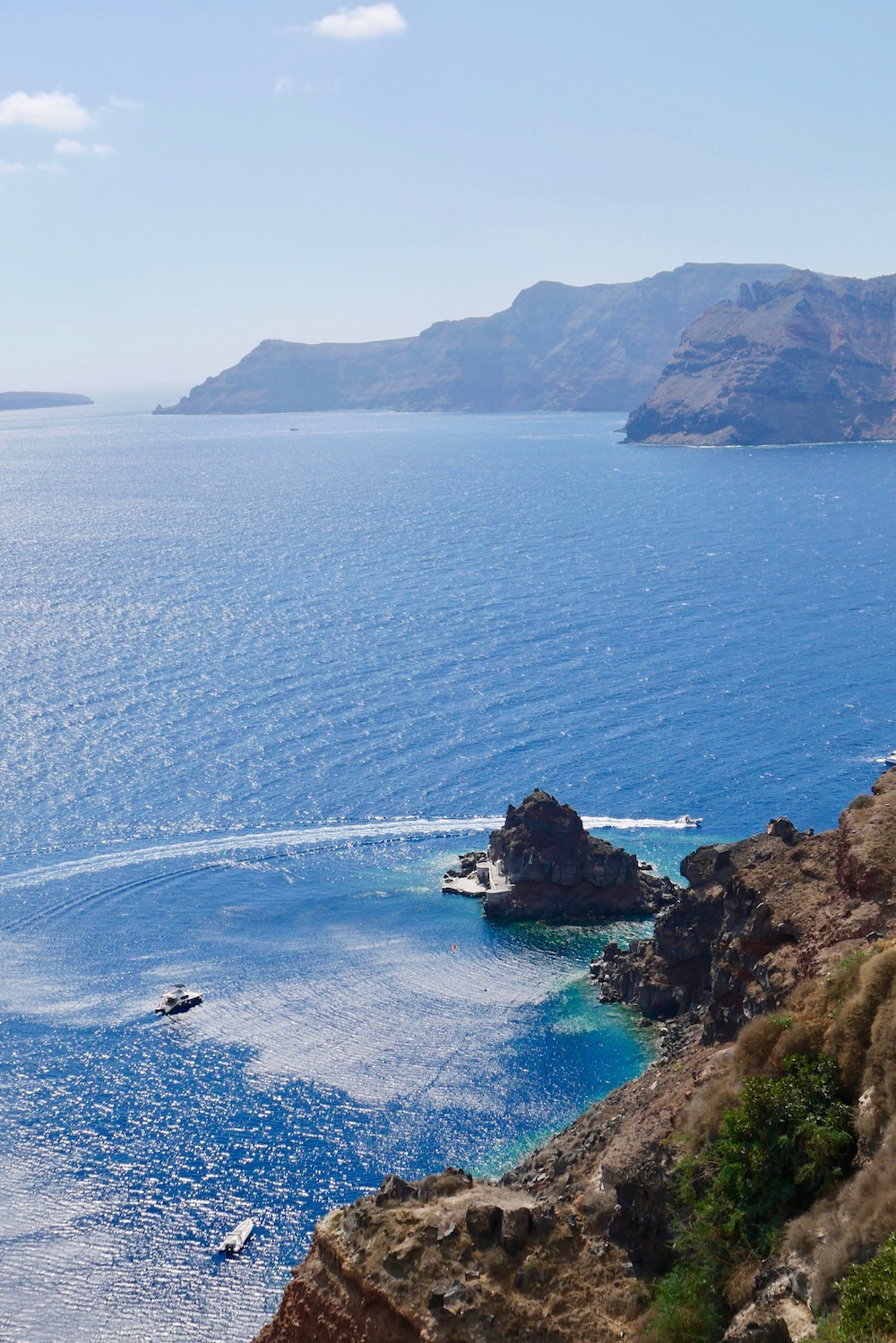 #7. Wine tasting + highlights tour
There are lots of tours offering a 'highlights' tour as well as wine tasting and sunset in Oia. If you've got one full day in Santorini then this would be an incredible way to cram in a lot!
Where to eat in Oia Greece
We found that it is best to have an idea of where you'd like to eat in Oia. There are lots of options and many places were very busy or just didn't feel quite right for us.
We ate at Karma Greek Restaurant which I can't recommend enough. It doesn't have any views but felt like a peaceful sanctuary off the busy streets. The food was delicious and the atmosphere was cosy, relaxed and stylish.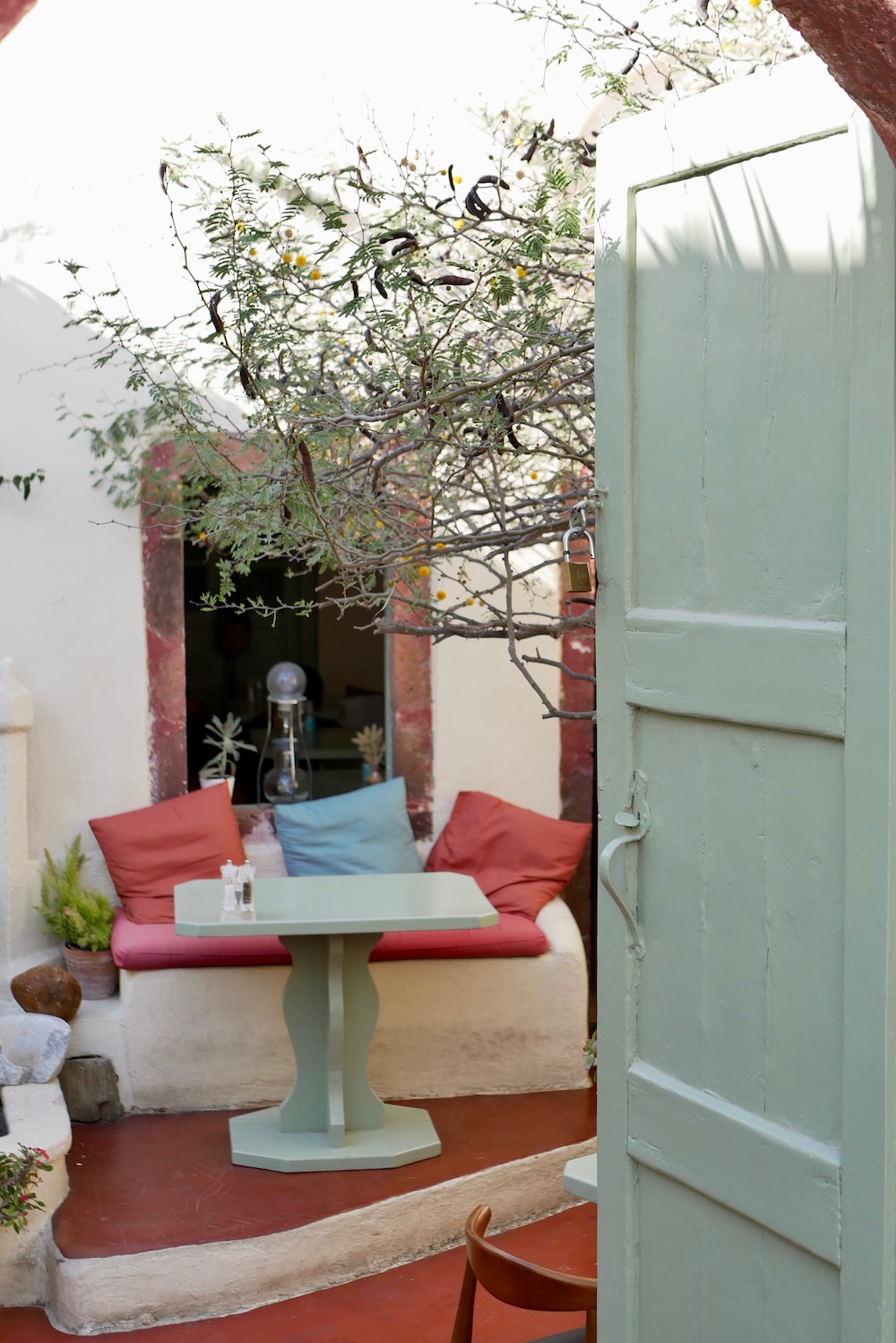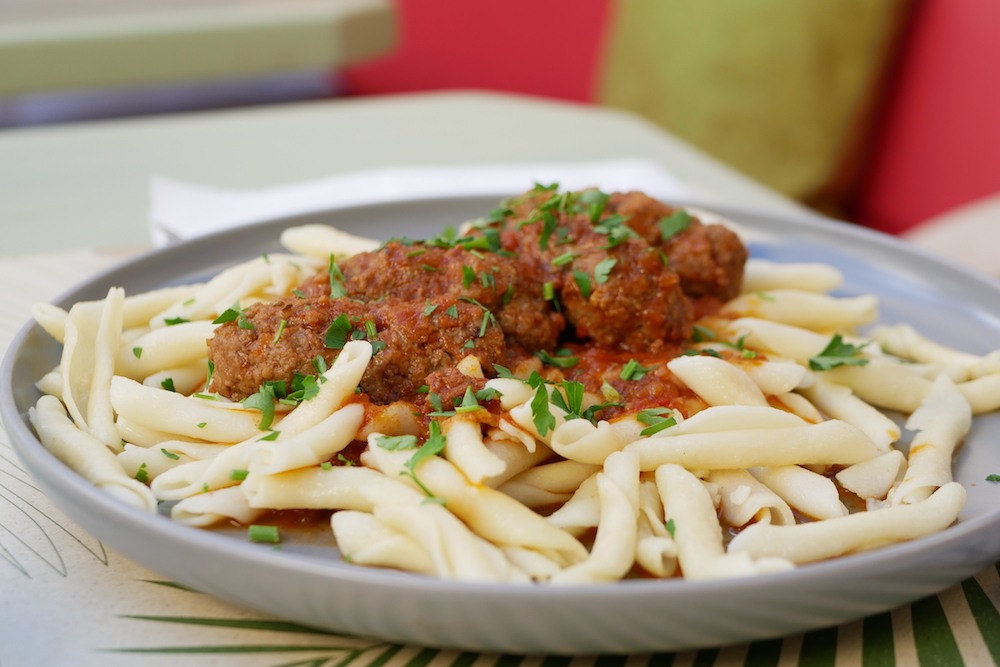 Pito Gyros Traditional Grill House is a great option for meat eaters. They serve traditional Greek dishes in an informal setting. It's great value here too.
Fino Cocktail Bar and Restaurant is the one for you if you'd like a modern, stylish bar with delicious cocktails.
Lolita's Gelato is the place to stop for a quick gelato pick-me-up to keep you refreshed while you're walking the busy streets!
Armeni Restaurant is the best option if you'd like to eat with a view out to sea!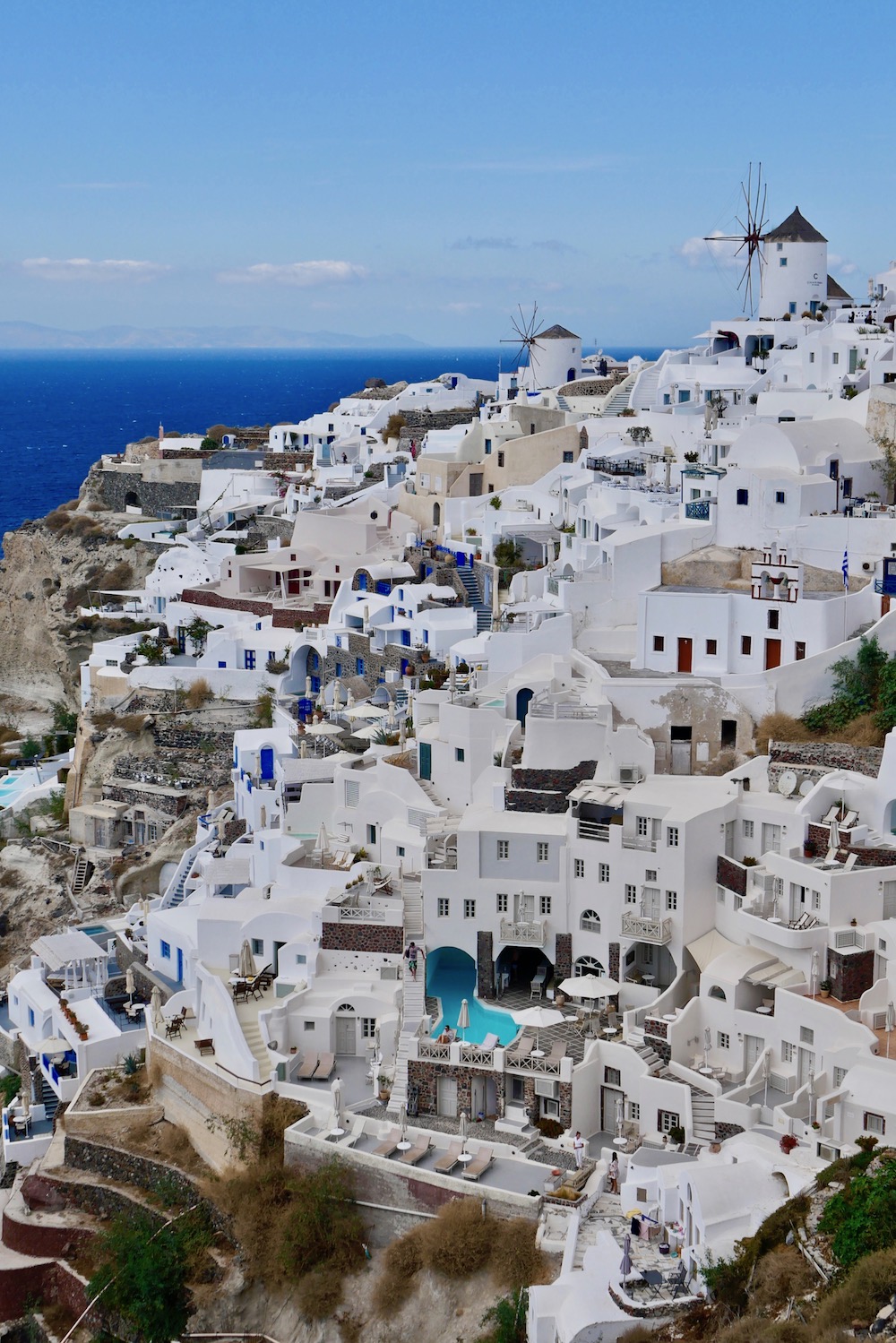 Read more about our trips to Greece:
My layover tour in Athens: How to see Athens with just 5 hours!
10 reasons why I love discovering Greece by boat