If there's one thing that keeps me motivated to exercise, it's having a sexy gym kit.
I know it shouldn't matter. I'm working out to get sweaty and, let's face it, I'm rarely in my gym kit for more than an hour but having a kit that looks good and feels good really motivates me to get to the gym or onto my yoga mat.
You may have noticed that I've become a bit obsessed with fitness holidays recently. I spent a week in Fuerteventura at Azul Fit yoga retreat and I've just returned from a Body MOT weekend here in the UK. Combining my love for travel and health are quickly becoming my favourite holidays and, of course, you've got to have the right gear for your hols, right?
I've been testing out some gorgeous Sweaty Betty kit during my last two fitness holidays and here's what I thought…
Sweaty Betty Review
You know you've got a good gym kit when your yoga teacher comes over while you're attempting a downward dog and whispers, 'Nice pants, where are they from?'
If it's possible to beam, I did it then.
I knew that she'd never be complimenting my downward dog so complimenting my yoga kit was the next best thing.
In fact, wherever I go in my Sweaty Betty kit everyone eyes it up and asks where it's from. (It's getting to the point where I'm wondering if I should ditch the latest trends from TopShop and just stick to my yoga pants 24/7. OK, that's a step too far but it's tempting!)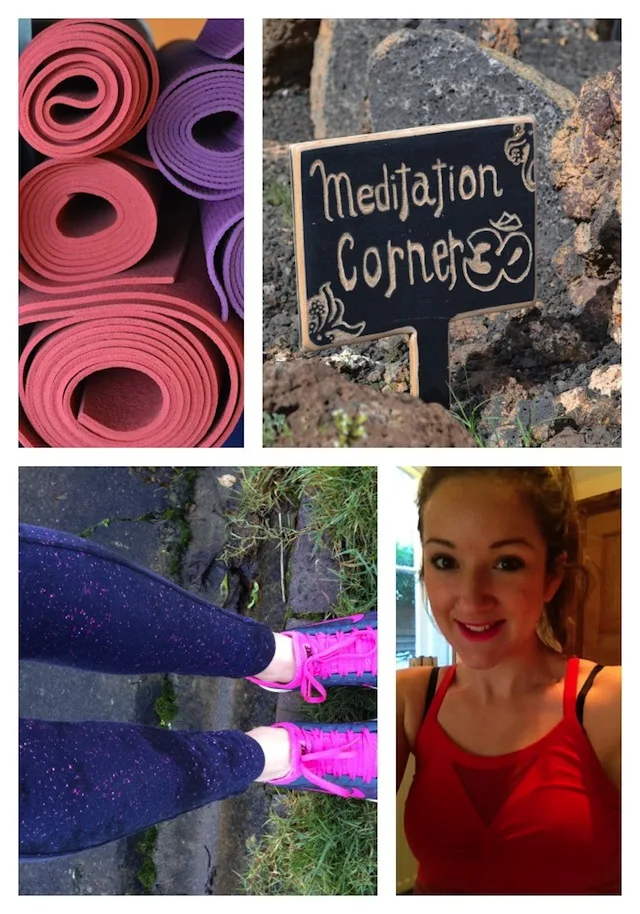 What is Sweaty Betty?
Sweaty Betty is a brand that manages to perfectly combine style and practical sportswear. Everything is designed to look good and feel good and to be feminine but sporty at the same time. Just looking through the Look Book and it makes me want to exercise. It doesn't make me want to be a skinny little model like some sportswear brands do but it makes me want to get outside, go for a run, roll out my yoga mat or hop on my bike. It actually doesn't make me want to go to the gym but go out and do some proper exercise in the great outdoors (and with weather like this, I need all the motivation and inspiration I can get!) Sweaty Betty isn't about slaving away on the treadmill but about a fit and healthy way of life and this is pretty much what I'm aiming for in 2014.
My Sweaty Betty Kit
Most of my kit came from the Sweaty Betty Yoga Statement collection from the autumn/winter collection. The spring/summer collection is out now if you want to take a look and drool over it.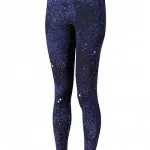 Chandrasana Leggings – £49
I opted for super soft chandrasana cotton leggings with a starry galaxy pattern on them. They're so soft and comfortable that I've taken to wearing them around the house as well as to my yoga classes (OK, and to the supermarket and to walk the dog too). These are the leggings that get all the compliments and I find they're a really flattering design.
Salabasana Capris – £79
I'm loving the reversible pattern on my salabasana capris. It really is like getting two pairs for the price of one and I tend to switch them up depending on what I'm doing. These are also perfect for running because, let's face it, no one is going to miss you when you're wearing these babies.
The fabric is stretchy, opaque and sweat wicking. They also have a flattering design with triangles around the hips that makes them slimming and flexible.
I would recommend trying these on before buying because the slightly opaque material means they're slightly see-through on the areas that stretch like the bum and knees. I'm a UK size 10 and opted for a medium and find that they're perfect.
Sadhaka top – £65
This sadhaka long-sleeve top is so soft I actually find myself stroking it. I don't normally wear long sleeve tops to exercise but this is so light that I really like wearing it to yoga. The fitted sleeves and waist means it doesn't rise up and it's quite long so it's super comfortable. With one side being mesh you stay really cool and I find this goes perfectly with my cotton leggings.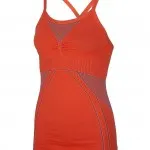 Chaturanga Yoga Cami – £55
Any ladies that do yoga will know that finding the perfect yoga top is so important but so tough. All that bending and stretching and leaning means that you're always pulling you top down to cover you belly or pulling it up to cover your boobs. Then you've got straps falling down and fabric in your face and bra straps on show to deal with. This is why I love this yoga cami.
Sweaty Betty themselves do a pretty good job at describing it:
"Seamlessly engineered vest with naturally antibacterial and sweat-wicking Q-Skin yarns. Features inner bust support and a high neckline to keep everything in place during chaturangas. Ribbed panels optimise postures while ruched centre detailing adds femininity."
Put simply – you don't need to wear a bra and it's the kind of material that doesn't rise up. It's also tight but without being unflattering thanks to the well placed sweat wicking material. I wear this top for all exercises from running and spinning to yoga and Pilates.
I think it's fair to say that I'm a Sweaty Betty convert. Admittedly, it's expensive but like anything in life, you get what you pay for. It's great quality, washes really well and I can already tell that it's going to last.
Disclaimer: Massive thanks to Sweaty Betty for providing me with this gorgeous kit to review. These products were supplied for the purpose of the review but, as always, all opinions and obsessions with yoga are my own.