We all love a day at the beach but please tell me I'm not alone in forgetting HOW MUCH STUFF you need!? There are so many things to take to the beach to make sure everyone is happy all day.
Beach packing is an underrated art form! You think you can just grab a bag, a towel and some sunscreen and you're good to go. Oh no. No, no, no.
Anyone who has tried to spend a day at the beach with little more than a towel and sunscreen will already know that it can go horribly wrong very quickly!
But you don't want to pack such a ridiculous amount of stuff that you can barely carry it to the beach and will spend more time setting up and dismantling your beach camp than you will enjoying your day!
First things first, will you be driving and can you park near the beach?
One of the main issues with a day at the beach is that it's often difficult to park nearby, meaning there's a possibility you'll need to walk a long way while carrying the 8 billion things you need to take to the beach.
If this is going to be the case then I highly recommend a beach trolley.
Look for a beach cart with chunky wheels so you can wheel it across soft sand, wet sand and stoney surfaces without getting stuck.
A beach trolley is also handy for kids who might get tired after a long day on the beach.
I have this Toby Wagon which we use to take all of our things to the beach (and for my youngest to sit in!) but I've got to admit I don't really like it. It's too big to fit in the boot of my car so I can only take it to beaches that are walking distance away. I also find the handle is too short and it makes it awkward to pull. The wheels, however, are brilliant and I can wheel it over any surface!
Your main beach essentials
1. Small, lightweight, microfiber towels
We all love a big, fluffy, cosy beach towel but if you're carrying more than one beach towel then it's going to take up all the space in your bag.
I like the towels from Dock & Bay. They're full sized towels but they're ultra thin so they pack up really small and you can get the whole family's beach towels into a tiny bag. They also look great in these bold and colourful stripes.
---
2. A beach chair
I cannot go to the beach without a beach chair! Honestly, I don't know how I used to spend half a day all sandy and hot and sticky!?
A beach chair is comfortable but it'll mean you're not constantly covered in sand and you'll feel a bit cooler sitting off the hot sand.
Look for one that's lightweight and easy to carry.
I have a folding backpack chair that has a neck support and a little pocket on the side for a drink and my phone. I can easily carry it on my back or shoulder which make things easier when you're already carrying a lot of stuff!
---
3. Extra large beach blanket
A big beach blanket gives you a sand free area to sit, but it also helps you to 'mark your territory'! You know what I mean here. A blanket helps to define your space which is often necessary when the beach is busy. I like this one linked because it folds up to be really small so it's easy to carry.
---
4. Cooler bag
Even if you're not bringing a picnic to the beach it's worth bringing a small cool bag with some ice packs in it to keep your drinks cool.
Travel Hack Tip: We like to freeze a few bottles of water the night before to use like ice packs and have icy water to drink when they defrost.
Here are some of my favourite insulated picnic backpacks.
---
5. Water bottles
Insulated water bottles are great to keep water cool on the beach.
Like I said above, I like to freeze a couple of water bottles to keep everything else cold and once it melts you still have cold water at the end of the day.
---
6. Umbrella
I think a good old fashioned beach umbrella is the best way to get some shade and stay cool on the beach. Pop-up tents are popular but I find they just get so hot (which can be a good thing on a chilly British day, but usually it's a bad thing!)
You can move them around as the sun moves and it's easy to get the shade in the right spot.
I love the traditional fringed umbrellas such as this one from Sunday Supply Co.
Unfortunately, these are really expensive so I went for a cheaper one from Amazon. It has the same lovely fringing but was a fraction of the price.
---
7. Umbrella sand anchor
If you've ever been in that embarrassing situation where your beach umbrella blows away then you'll realise the importance of an umbrella sand anchor! It spins into the sand and ensures your umbrella is tightly anchored down.
---
8. Simple beach tent
I don't like pop-up tents that don't allow any breeze to flow through but I love this tent. It creates plenty of shade and makes a cool, breezy den that kids love to play in.
If you've got a bigger budget then I've spotted this beach tent from Swished which looks brilliant!
---
9. Wind break
If this is a British beach day then it's always worth taking a wind break and a mallet! A wind break can create privacy around your little camp and it can keep you all warm too. It's often warm at the beach but there'll be a harsh wind ruining it all so a wind break is the perfect solution.
Our windbreak has honestly saved our beach day so many times and we can spend much longer at the beach when we have one.
---
10. A cooler bag
A cooler backpack is essential if you're taking food and drink to the beach with you, especially on a hot day! I prefer to use a backpack because they're so much easier to carry when they're heavy (AKA, full of cans of beer!)
---
11. A large beach bag
I take a great big beach bag for towels and clothes.
---
A big IKEA bag (or something similar) is just so handy for all your other stuff like a beach tent, toys and your wind break.
---
Beach toys and entertainment
If you're looking for things to take to the beach with kids then you're going to need some toys and games and beach entertainment! These beach toys will keep big kids and little kids entertained all day. I recommend buying your beach toys before you get to the beach because they're always twice the price from the beachside kiosks.
This is a brilliant toy for younger children as it's much easier than a traditional game of catch.
---
You can't beat a good old bucket and spade…and maybe a watering can and a rake and a few shapes!
My kids prefer the traditional plastic buckets and spades rather than the silicone or collapsible buckets.
My boys are a little older now and actually just really like a good quality spade to dig a massive hole!
No products found.
---
If you're going to a beach with even a tiny bit of surf then bodyboards are a great way to keep people of all ages busy for hours!
No products found.
---
If you've never heard of this game then be prepared for the most frustrating yet entertaining outdoor game that is brilliant for big groups. You essentially have to throw wooden blocks to knock other blocks over. It's one of those games that can be played with children and adults and it can go on and on for ages!
---
I love it towards the end of the day on the beach when most people start leaving so you've got a bit more space. You can then spread out and have a giant game of rounders or cricket!
---
Can't go wrong with a traditional bat and ball.
---
Essential beach toiletries
20. Sunscreen
I tend to stick with Nivea SPF 50 for the kids, I prefer a dry-touch oil spray for myself (I hate being all sticky and covered in sand) and I use the Beauty Pie Feather Light SPF 50 for my face.
No products found.
---
21. Toilet roll/tissues/wet wipes
Always handy to have in case there aren't any tissues in the beach toilets.
---
22. Hair bobbles
Anyone with long hair will need a bobble! Even if it isn't that long, if you can tie it back you'll definitely want to after 10 minutes with the heat, sand, salt, water and wind!
---
What to wear at the beach
23. Flip Flops, crocs or sandals
You're going to need some shoes you can easily kick off and it doesn't matter if they fill with sand! If you've got kids with you, Crocs are an easy option.
---
24. Swimwear
If it's a British beach then you might need something with sleeves to keep you a bit warmer. I have this gorgeous long sleeve swimsuit from Amazon and I love it.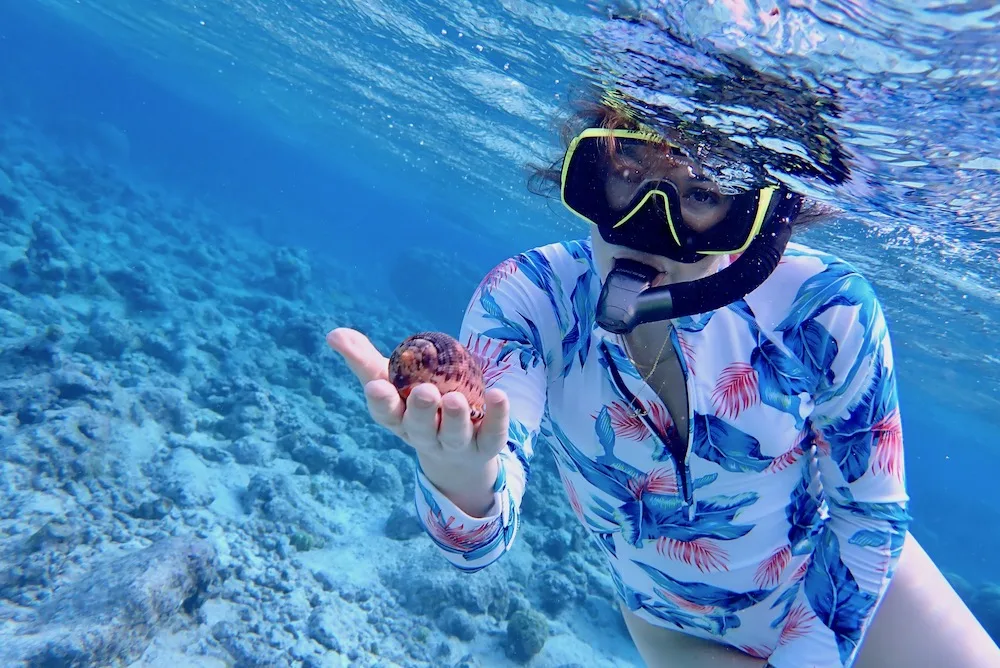 ---
25. Sun hat
This might be one of the more obvious things to take to the beach but it's something I often forget!
---
26. Sun glasses
If you've got little kids with you then I love the Babiator sunglasses. They're so cute and they don't instantly break like cheaper versions.
---
27. Easy to remove clothes
Just don't wear jeans.
---
28. Warm hoodie
This is mostly one for anyone visiting UK beaches!
---
29. Wetsuit
Again, if you're in the UK it's much nicer to swim in the sea while wearing a wetsuit. My kids have shortie wetsuits and they wear them all the time.
---
30. Dryrobe/changing robe
A changing robe is the best for when you come out of the sea. I have one from Red and I love it.
---
What to pack for the beach if you have a dog
31. Poo bags
And keep an eye on your dog! I see so many people not watching their dogs on the beach so they don't see when they do a poo.
---
32. Lead
You might want to get an extra long or retractable lead if you know there will be space to let your dog run free (and they can't be trusted off the lead!)
---
33. Water bowl
Collapsible ones are always handy for travelling.
---
34. Shade
Umbrellas and tents mentioned above!
---
35. Sand peg for dog lead
To avoid having to hold your dog on the lead all day, get yourself a peg you can twist into the sand to hold the lead.
---
Other extras you pay need
There's no end of things to take to the beach so check out these extras…just in case!
36. A waterproof phone pouch
If you're going in the sea and just want to protect your phone from spills and sand then it's a good idea to take a waterproof phone pouch to the beach.
---
37. A book
There's nothing better than sitting back and relaxing on the beach with a good book!
---
38. Mini BBQ
I have a mini gas BBQ that is perfect for cooking up some sausages on the beach.
If you decide to use a disposable charcoal BBQ then make sure you dispose of it properly. Many people think they can bury them in the sand but this won't put out the fire and often actually makes an intensely hot oven. My daughter stood on a buried BBQ one morning on the beach (it had obviously been buried the night before) and it burnt her foot really badly. It also won't get rid of the foil BBQ!
---
39. Coins to pay for beach car parks
Many beach car parks only take coins for payments so keep a stash of pound coins in your car.
---
40. Cash in case beach cafes don't accept cards
Lots of beach cafes don't accept card payments so make sure you've got some cash just in case.
---
41. Football if there'll be lots of space
Can't beat a game of beach football – provided there's lots of space otherwise people get really naggy about it!
---
42. Lip balm with SPF
Sun, sea, sand, salt and wind can make your lips really dry so don't forget your lipbalm!
---
43. Water Shoes
If you're visiting a beach with lots of pebbles, shells or little creatures that could sting or bite you then it's best to have water shoes.
---
45. Portable speaker
Opt for a waterproof and sand-proof speaker so it isn't damaged on the beach.
---
46. Snorkel and mask
I'm loving the new full face snorkel and masks. They're so easy to use and great for kids too.
---
47. Headphones
If you'll be listening to music, podcasts or audiobooks then don't forget your headphones!