A picnic backpack is one of those things I've wanted for so long but I stooped myself from buying one because it seemed a bit…unnecessary.
But now that I've had one for a year I wish I'd got it years ago! What a game changer. It makes family days out so much easier. It's great for snacks, hot food and keep beers cool for days on the beach. I've tested out a few now so here are the best picnic backpacks!
10 of my favourite picnic backpacks and insulated cooler bags
1. The Mountain Warehouse Insulated Picnic Backpack
Mountain Warehouse Picnic Backpack
Best for: Comes with crockery and cutlery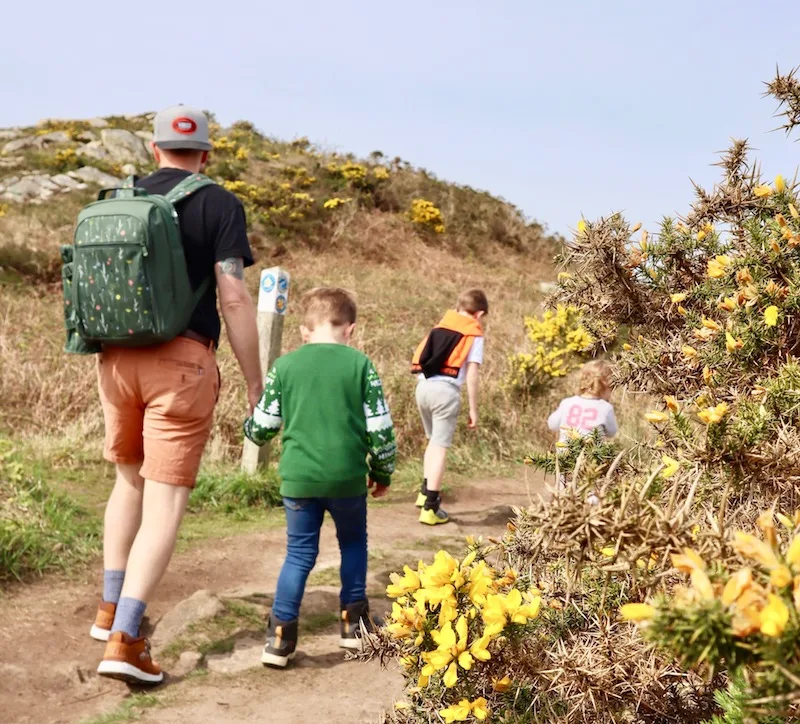 This cooler backpack from Mountain Warehouse is currently reduced to £29.99. (Which is a bargain because I paid a lot more for it!)
The large, insulated rear pocket is really spacious and plenty big enough for a picnic for a large family. The front pocket has:
Plates x 4
Cutlery x 4
Plastic cups x 4
Salt and pepper shaker
Bottle opener
Mini chopping board
The size and shape of this cooler backpack are just perfect and I like that the insulated wine bottle holder is removable.
I love this backpack but, realistically, my family rarely uses the plates and cutlery as we're usually eating sandwiches and snacks. We eat with our hands when we're out and about and the plates and forks tend to complicate things! And as a family with young children, we already have loads of plastic plates and cups so the extra accessories aren't really necessary for us. But I can imagine that if you don't have little kids then all of these little extras could come in handy.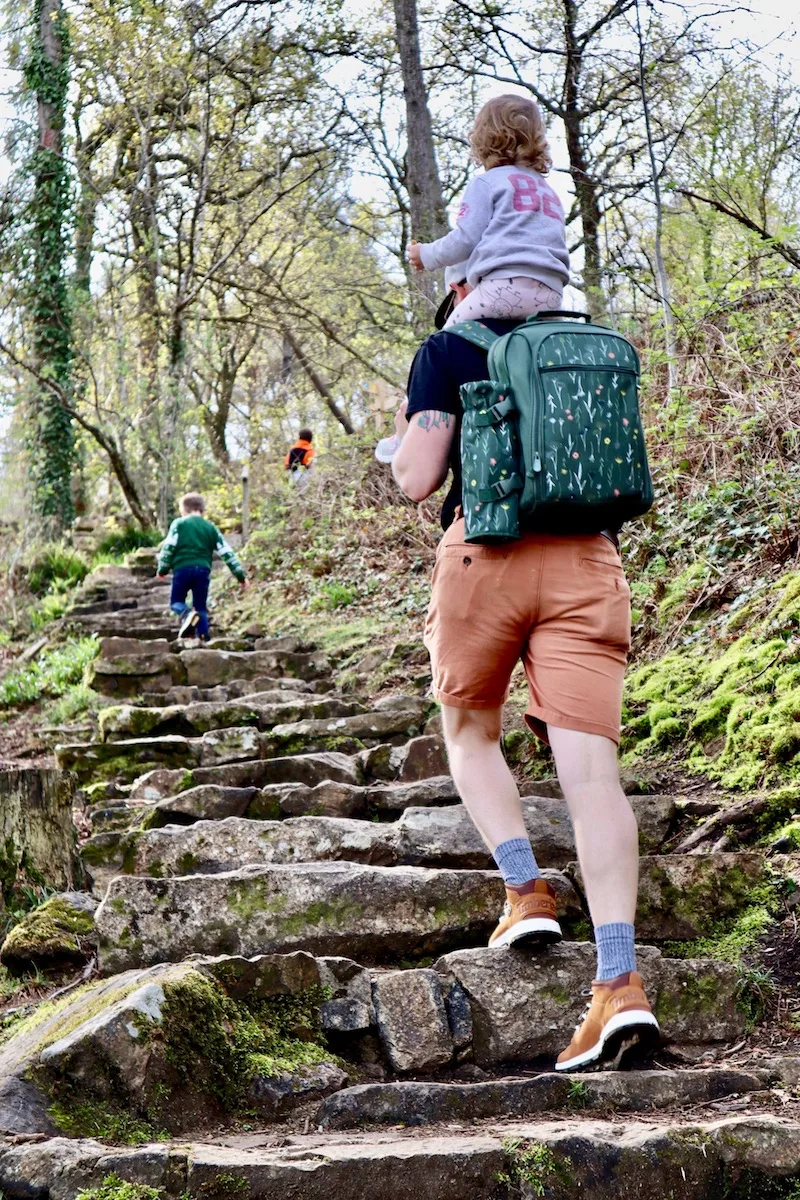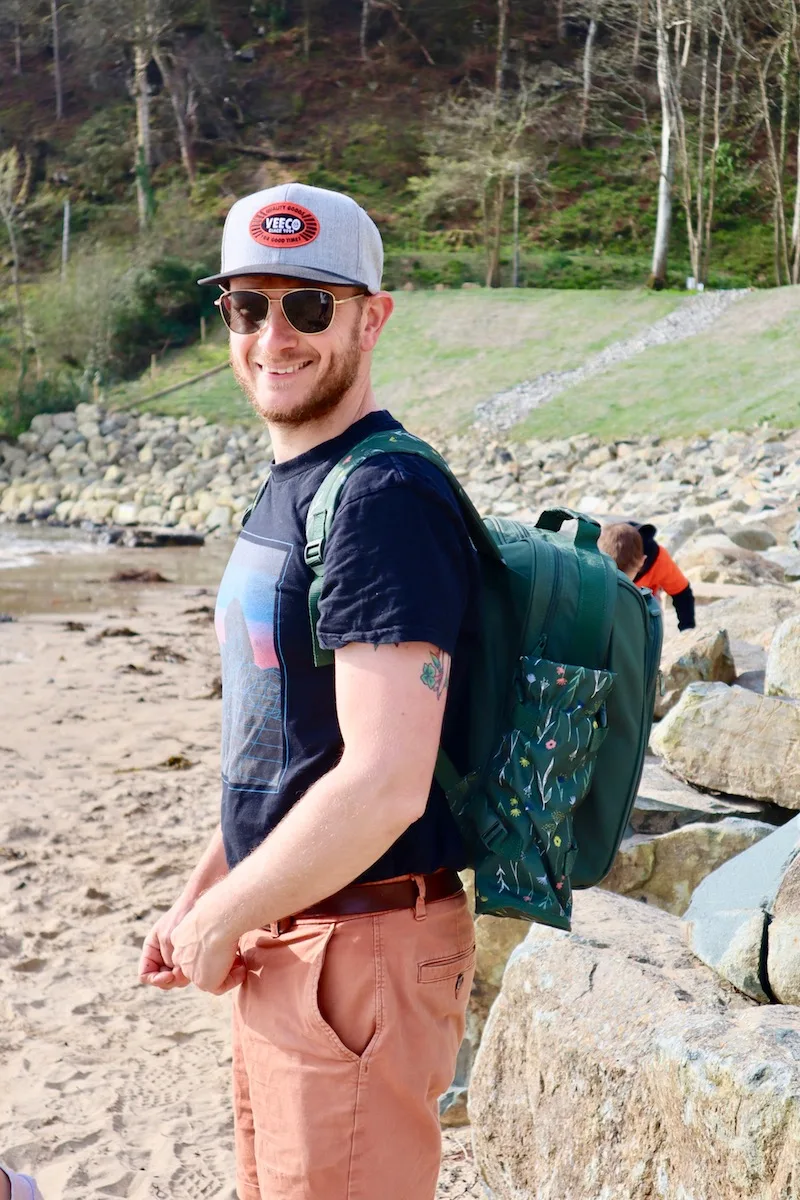 2. Cabin Max IceMax Cooler Backpack
Cabin Max IceMax Cooler Backpack
Best for: Great design, best price and best for a big family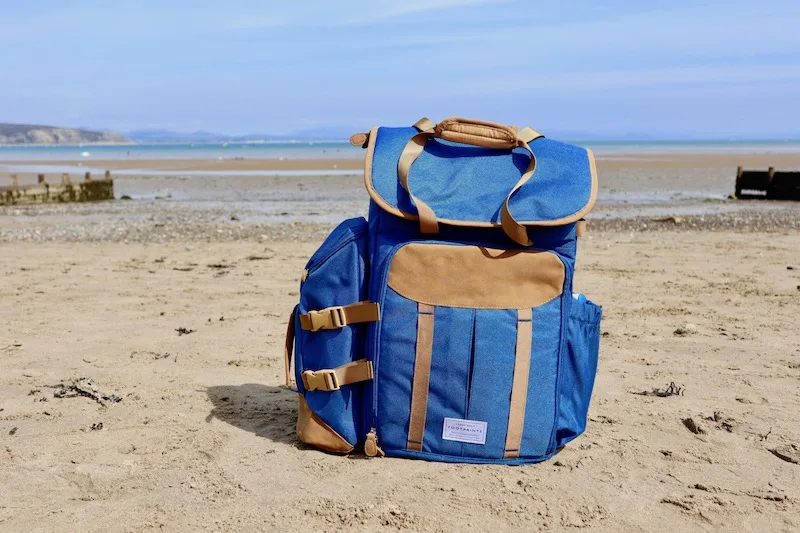 This is our favourite of all the cooler backpacks because of the simple yet stylish retro design. It's also big enough for my hungry family, comfortable to carry and has some extra hidden features that make it fun and useful!
It has a front fold-down pocket with cup holders which are actually really useful when you're trying to drink wine on the beach! It even has a baguette holder and large insulated and detachable bottle holder than it perfect for a bottle of wine!
This is one of the bigger insulated picnic bags so it might be too big if you're just packing a few sarnies and a drink.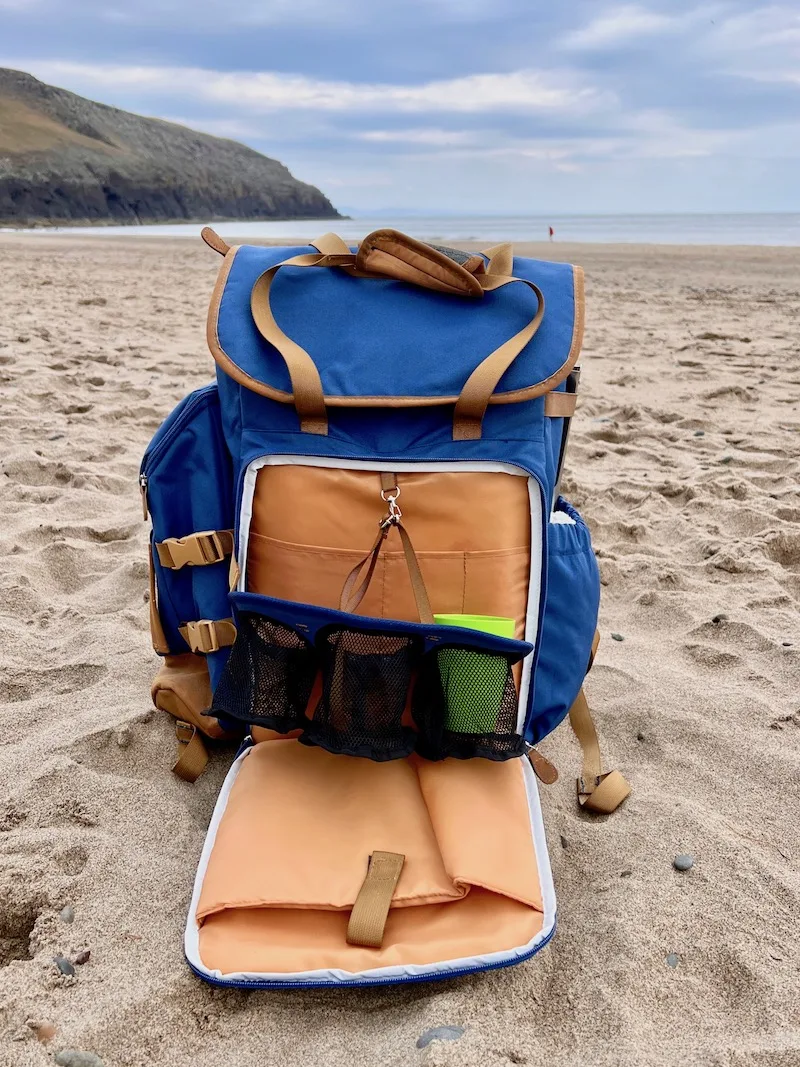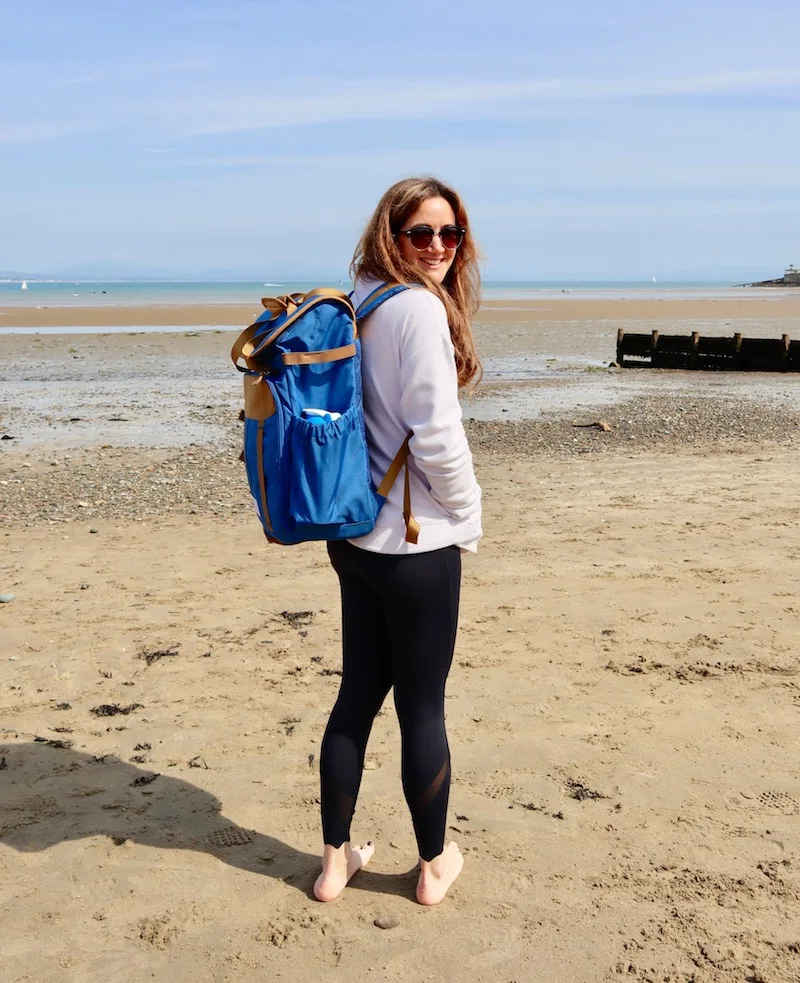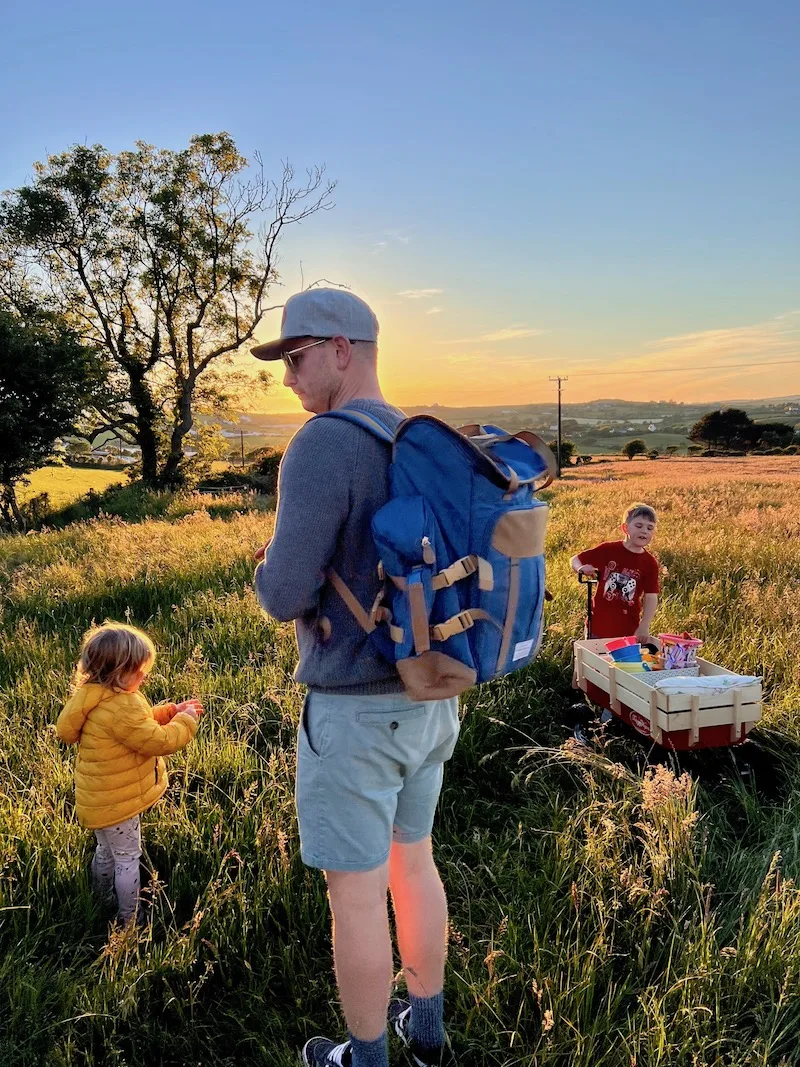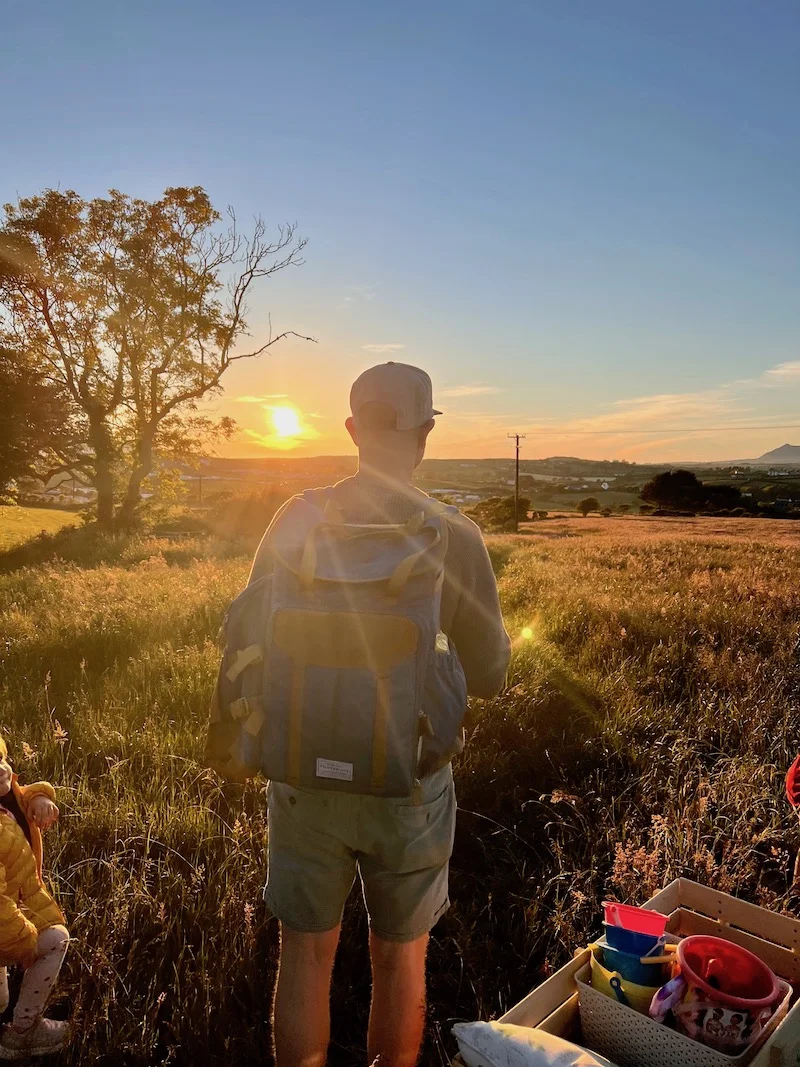 Sale
IceMax Picnic Cool Bag Backpack Insulated Picnic Cooler Bag 25L - Removable Bottle Carrier- Leave...
PICNIC COOL BAG BACKPACK - Leave Only Footprints edition made from RPET polyester– A material derived from recycled plastic bottles. Each bag is constructed from the equivalent of 26 500ml plastic...
SPACIOUS INSULATED COOLER BAG - 25L large main compartment is both insulated and padded to ensure your food and drink arrives fresh and cool. Dimensions main compartment 45 x 30 x 20cm
UNIQUE DESIGN FEATURES – Each cooler bag showcases a number of unique design features that are unavailable on rival products, such as pop out drinks holders to avoid picnic spillages, a dedicated...
Travel Hack Tip:
If you really just need a small, insulated picnic bag then take a look at the Cabin Max picnic shoulder bag which would be perfect!
3. John Lewis Adventure Picnic Backpack
John Lewis Adventure Picnic Backpack
Best for: Adventures on the water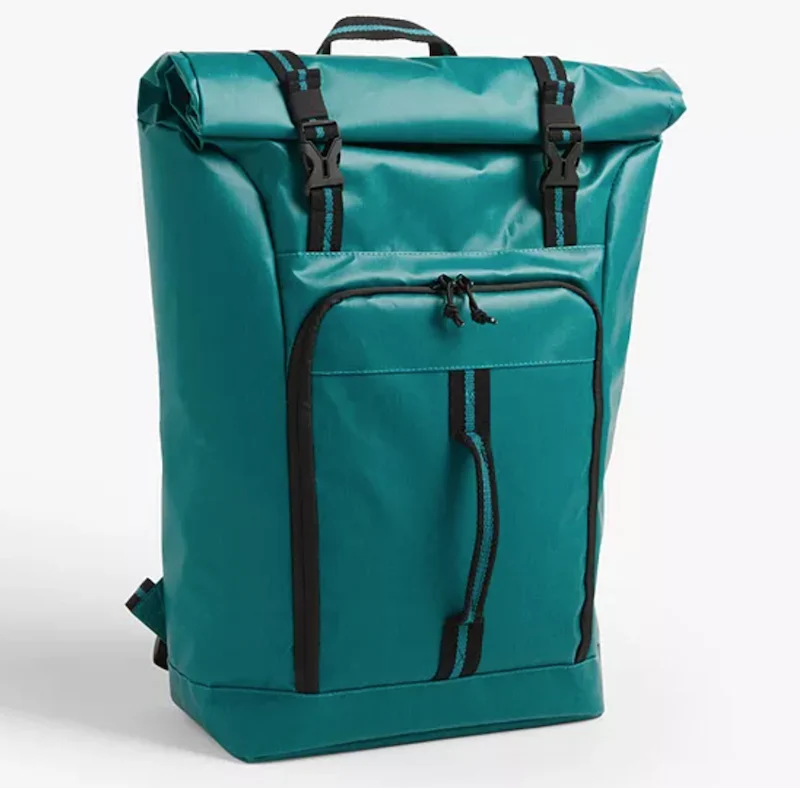 I love this fully waterproof adventure picnic bag from John Lewis. It's a good price at £35 and is a simple yet functional design with a small front pocket you could use for keys and phones and wallets. This would be a great one for the beach or I would love to take it on my paddleboard.
4. Decathlon Isothermal Backpack
Decathlon Isothermal Backpack 20L or 10L
Best for: Hiking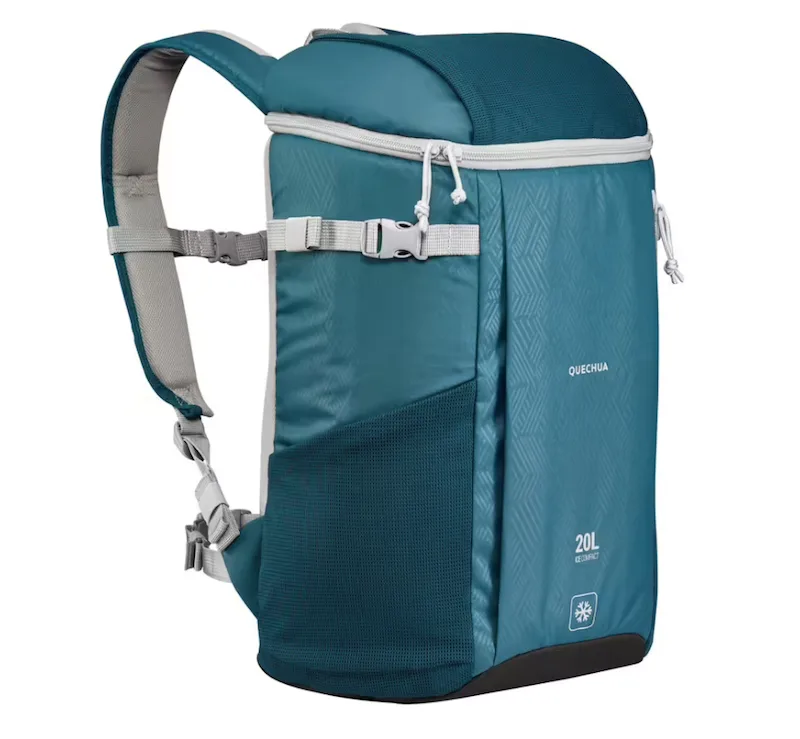 The design for this cooler backpack is clearly inspired by hiking backpacks. It's sleek, sporty and functional. It's comfortable to carry and has separate compartments for your ice packs – a great feature to stop everything getting wet as your ice packs begin to melt and get drippy condensation everywhere.
This bag comes in 20L or 10L too.
5. TOURIT cooler backpack
Best for: A great all-rounder
Sale
TOURIT Cooler Backpack 30 Cans Lightweight Insulated Backpack Cooler Leak-Proof Soft Cooler Bag...
LEAKPROOF COOLER BACKPACK: High-Density insulation material and leak-proof liner inside of the insulated backpacks work together to make sure anti-leaking and keep food hot/ cold for 16 hours with ice...
LARGE CAPACITY COOLERS: 15.8" x 13.0" x 7.5" / 40cm x 33cm x 19cm (L x W x H), Weight: 1.1 pounds / 500g, can hold up to 30 cans(330ml), own enough space for all your necessities
MULTIPLE POCKETS: 1 main roomy storage compartment, 2 side mesh pockets, 2 large front zipper pocket to keep utensils, 1 zipper pocket on the lid, 1 mesh pocket and 1 beer opener on the strap
This is a great, all-round picnic backpack that can be used for beach days, picnics, hiking trips, camping and just long days out with lots of snacks! It's a simple design and currently has nearly 21,000 4.5* ratings on Amazon! It's a simple design but has all the pockets you could need and even has a bottle opener!
6. HILUSEN Work or school Picnic Backpack
Best for: A large picnic backpack to use for work or school (comes in 4 colours)
Sale
Extra Large Backpack for Men 50L,Lunch Backpack Work Bag Travel Laptop Backpack 17.3 Inch with USB...
INSULATED LUNCH BOX COMPARTMENT - The lunch backpack with a insulated cooler compartment,which can keep foods and drinks cool or warm about 3-5 hours(If you put 1-2 packs of ice packs, cold drinks can...
PLENTY OF STORAGE & POCKETS- Large backpack for men own 1 separate thicker padded laptop compartment to hold up 17.3 inch laptop. 3 main compartments with double zippers can accommodate 50 liters of...
TSA APPROVED & MULTIPURPOSE - Convenient at Checkpoint, can be opened the extra large backpack freely 90-180 degrees making you quickly through the airport security and keep items tidy, exclusive...
If you need a cool bag that also has space for all of your work items such as your laptop, a change of clothes and other supplies then this is a great option. It's a large and sturdy backpack with a cool bag section that holds up to 12 litres in volume. It's plenty big enough for your office lunch and has a remaining 30 litres for everything else.
7. Cabin Max Tropical Print
Cabin Max Tropical print
Best for: Fun design
(I'll update the link when it's in stock)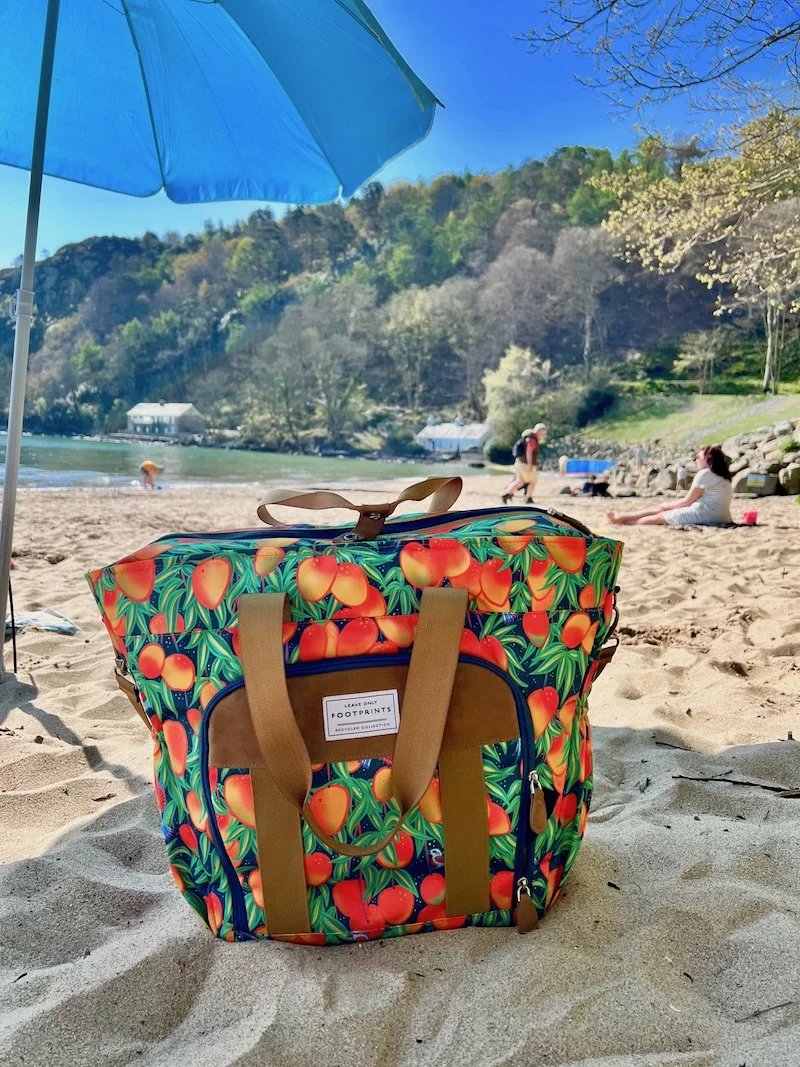 This shoulder cool bag isn't a backpack but I had to include it because it's such a lovely design and is really nice to carry. I actually didn't think I'd use this bag very often because I'm a bigger fan of the hands-free design of backpacks but we actually use this one the most. It's spacious, easy to carry and easy to pack and I'm constantly filling it with snacks and drinks and throwing it into the boot of the car.
If you don't think you'll be walking far with your cooler bag and don't necessarily need a backpack then this is a great option.
It also has the fold-down pocket the other Cabin Max cooler backpack features so you have a wine glass pocket.
Photographed on our favourite Llanbedrog Beach. For another gorgeous beach in North Wales, Porth Iago is another favourite!
8. AEORSAC picnic backpack
18L Aoresac Cooler Backpack
Sale
Aoresac 18L Insulated Cooler Backpack Picnic Lunch Bag Large Capacity Waterproof Thermal Soft Cooler...
🍻【High Quality Materials】- The outside of the cooler bag is made from high density Oxford fabric, the lining is made of high quality PEVA material, fine stitching, good insulation performance,...
🍻【18L Large Capacity】- This insulated backpack is designed with a variety of internal and external pockets to meet different storage needs. It contains a large pocket for lunch boxes and...
🍻【Multifunction Cooler Bag 】- The cooler bag is simple and stylish and is available in three classic colours. It can be used not only for carrying food, but also as a shopping bag, travel bag,...
This 18L picnic backpack is currently one of the cheapest available on Amazon at just £15.99. It comes in black, grey or navy blue and is a simple, stylish design.
9. ANNGGO Double Decker Cool Bag Backpack
Best for: A stylish, feminine design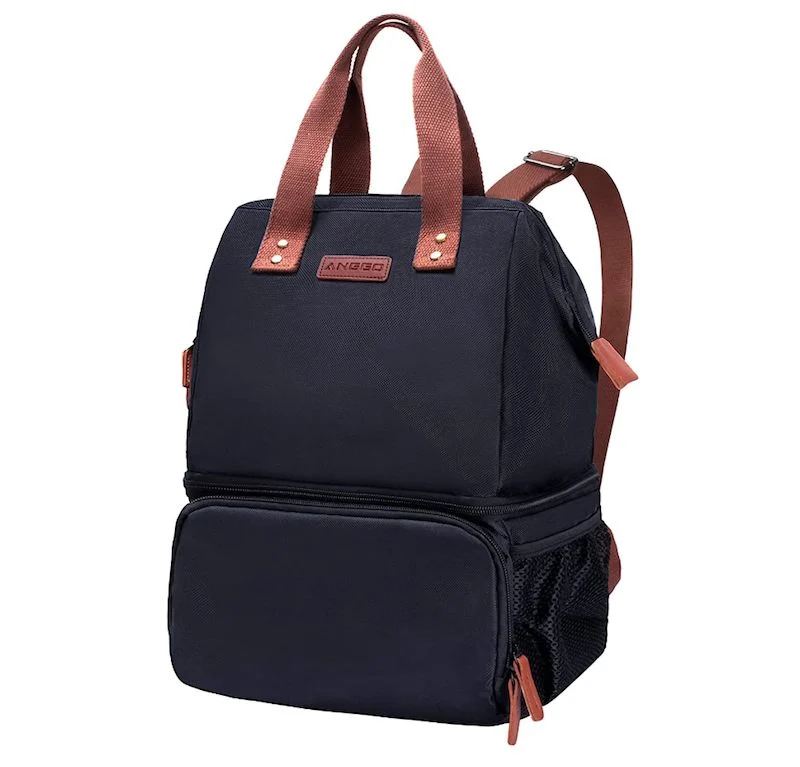 While I wouldn't want to walk for miles with this cooler backpack on my back, I do really like this design. It's the most feminine and stylish of the bags and would be great. This bag also has lots of handy pockets so you could use it like a handbag and you can adjust the straps to carry it like a handbag or on your shoulder.
This would be nice for a work lunch bag if you don't need to walk too far with it.
ANGGO Lunch Bag, 20L Double-Decker Insulated Lunch Bag Cool Bag Cooler Backpack for Women, Picnic...
🎒【Large Capacity Insulated Lunch Bag with 2 Layer】🎒 -- ANGGO Insulated lunch bag (27.5*18*40) is designed for maximum storage efficiency, 2 main zipped compartment, 1 front zippered pocket...
🎒【 Leakproof & Waterproof 】🎒 -- The exterior of the insulated lunch bag is made of 600D waterproof Oxford, premium composite waterproof fabric is resistant to dirty and abrasion, protecting...
🎒【 Excellent Food Preservation Function 】🎒 -- ANGGO lunch box is designed with triple Insulated to keep food stay cold/warm/fresh for hours, it can holds Hamburger, steak, coffee, cola,...
10. Aldi Cooler Backpack
Best for: Budget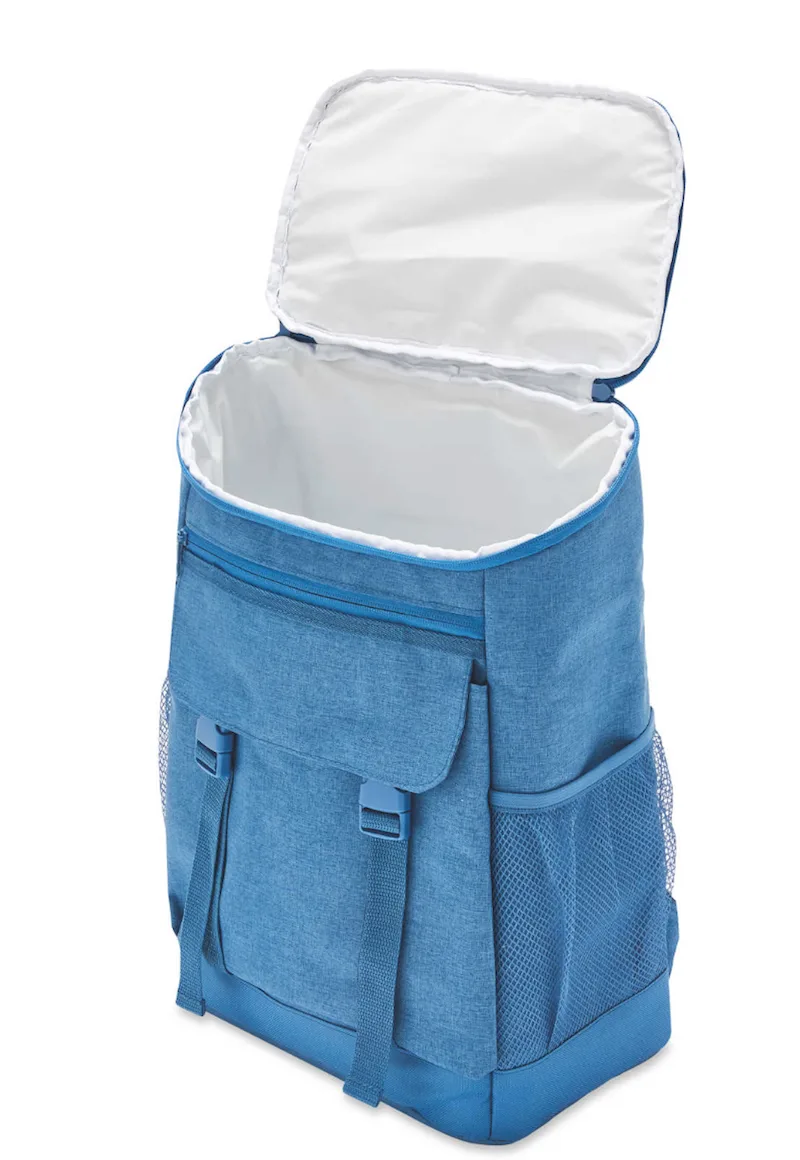 Another budget buy is the Aldi cooler backpack which is a special buy for £8.99. Obviously with the special buys you have to get them while they're in stock so if you want a cheap and cheerful backpack cooler then you'll need to get this one quickly!
What to wear camping: Women's camping clothes and camping outfit ideas

Ryanair personal item size: 6 perfect Ryanair 40x20x25 bags
13 things to do in Manchester

Carry on luggage for kids: The 10 best suitcases and backpacks