A cooler backpack is one of those things I've wanted for so long but I managed to stop myself from buying one because, while I really wanted one, I didn't think I needed one.
But now that I've had one for a few months I wish I'd got it years ago! What a game changer. I've tested out a few now so here are the best cooler backpacks!
9 of my favourite cooler backpacks and insulated picnic bags
1. The Mountain Warehouse Insulated Picnic Bag
Mountain Warehouse Picnic Backpack
Best for: Comes with crockery and cutlery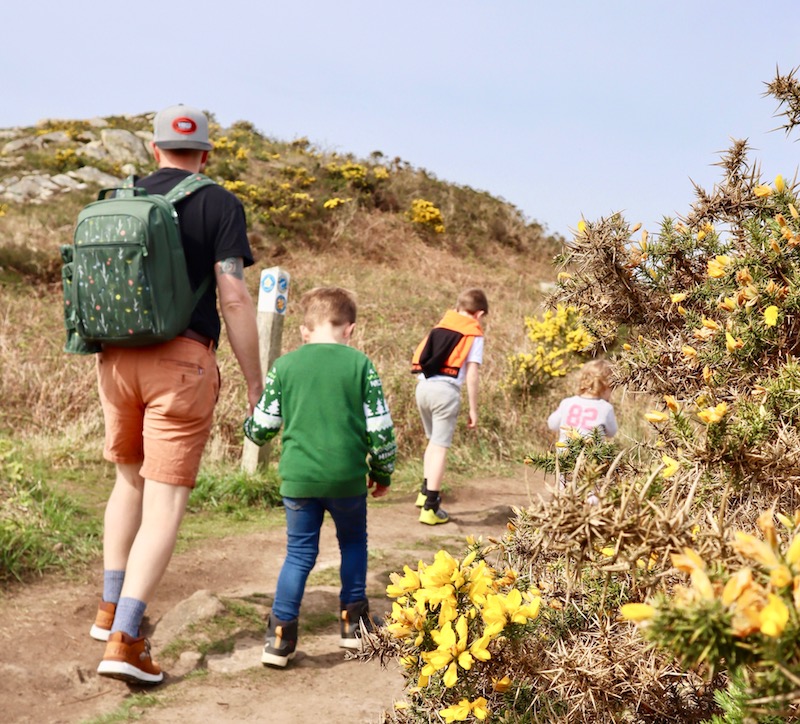 This backpack picnic bag from Mountain Warehouse is currently reduced to £52.99.
The large, insulated rear pocket is really spacious and plenty big enough for a picnic for a large family. The front pocket has:
Plates x 4
Cutlery x 4
Plastic cups x 4
Salt and pepper shaker
Bottle opener
Mini chopping board
The size and shape of this cooler backpack are just perfect and I like that the insulated wine bottle holder is removable.
I love this backpack but, realistically, my family rarely uses the plates and cutlery as we're usually eating sandwiches and snacks. We eat with our hands when we're out and about and the plates and forks tend to complicate things! And as a family with young children, we already have loads of plastic plates and cups so the extra accessories aren't really necessary for us. But I can imagine that if you don't have little kids then all of these little extras could come in handy.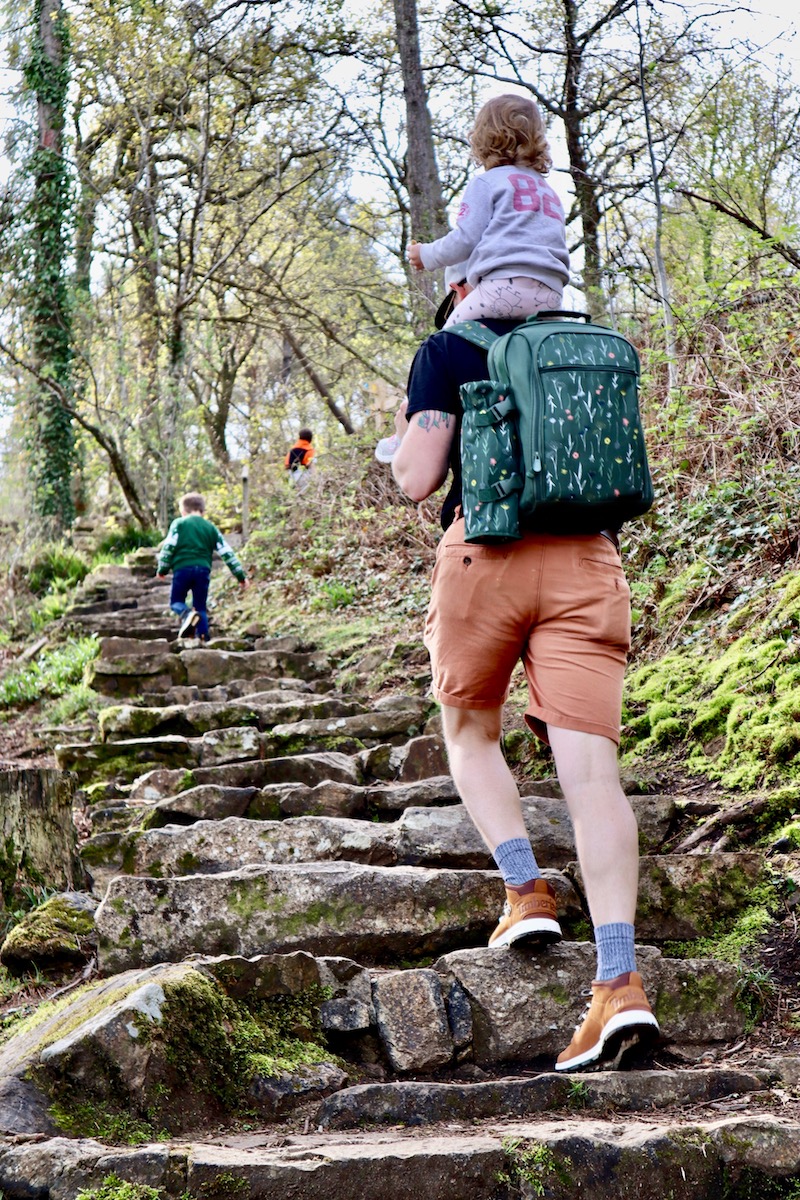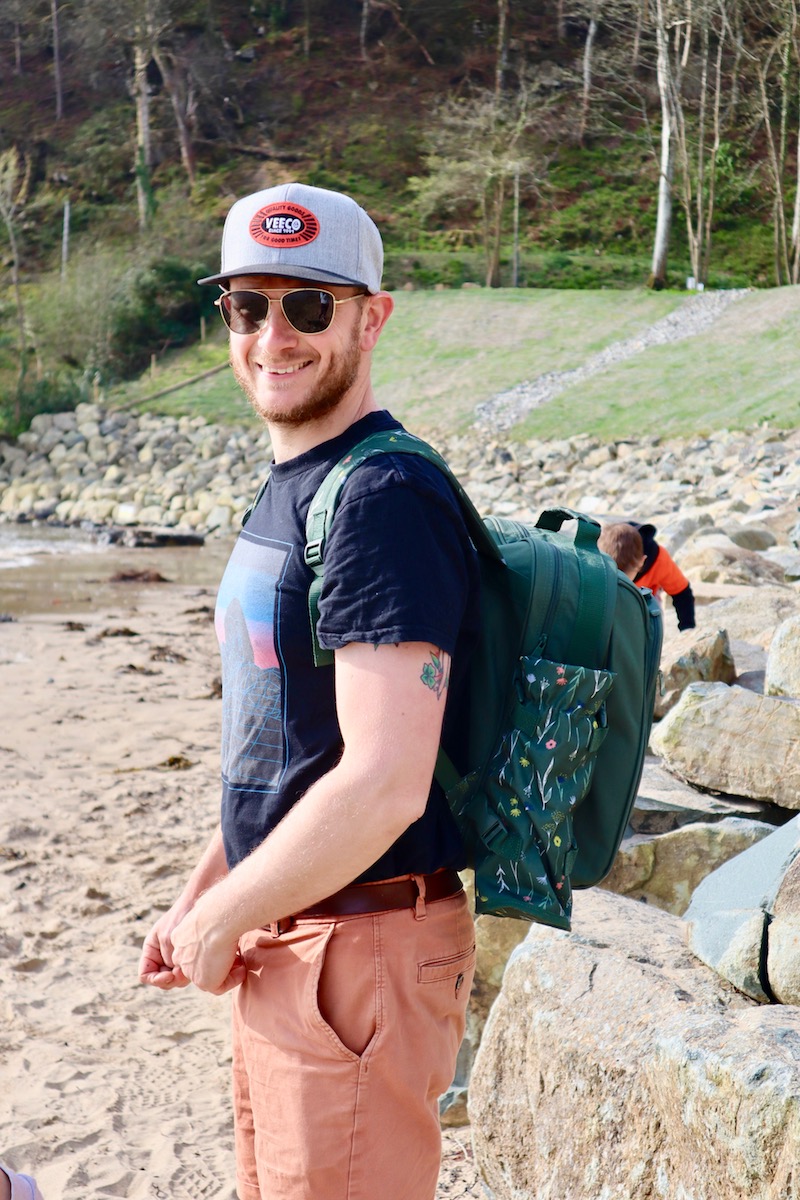 2. Cabin Max IceMax Cooler Backpack
Cabin Max IceMax Cooler Backpack
Best for: Great design, best price and best for a big family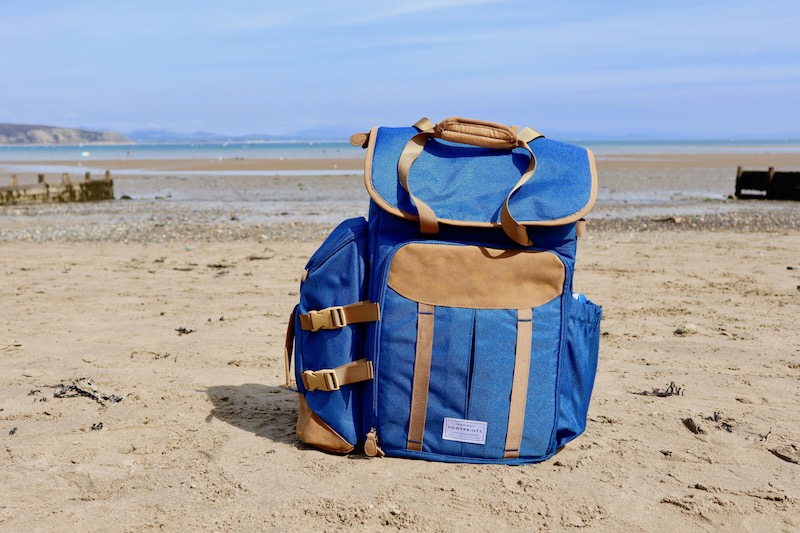 This is our favourite of all the cooler backpacks because of the simple yet stylish retro design. It's also big enough for my hungry family, comfortable to carry and has some extra hidden features that make it fun and useful!
It has a front fold-down pocket with cup holders which are actually really useful when you're trying to drink wine on the beach! It even has a baguette holder and large insulated and detachable bottle holder than it perfect for a bottle of wine!
This is one of the bigger insulated picnic bags so it might be too big if you're just packing a few sarnies and a drink.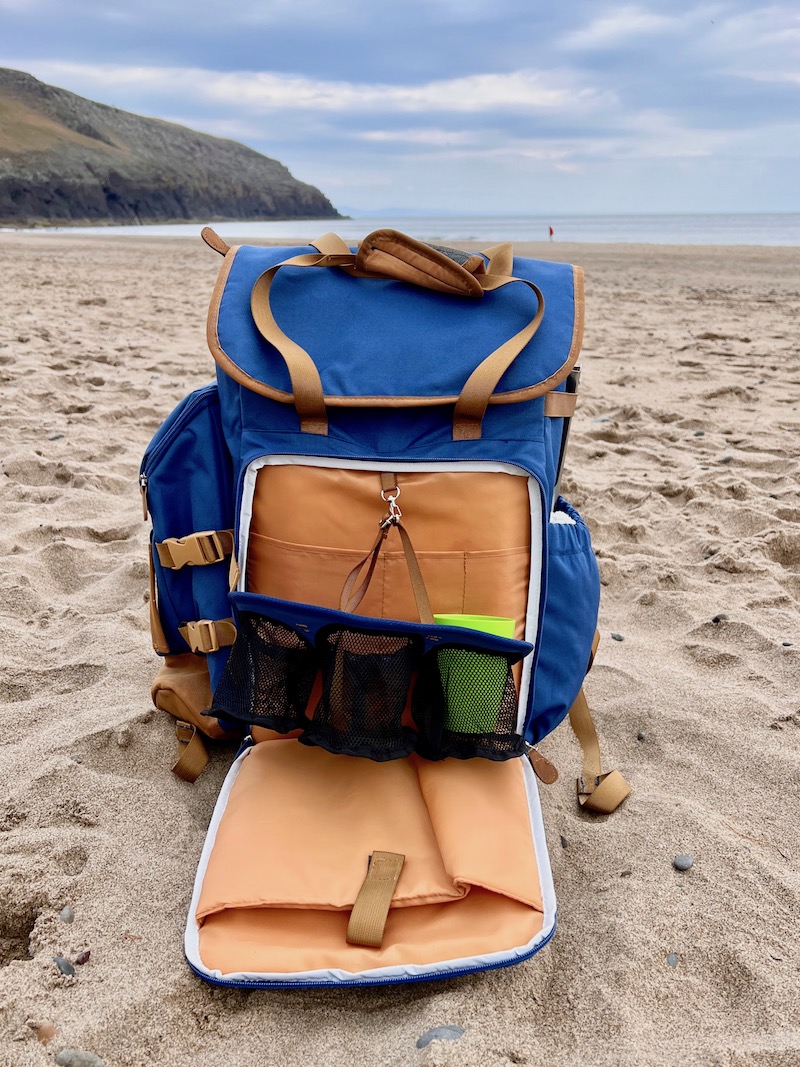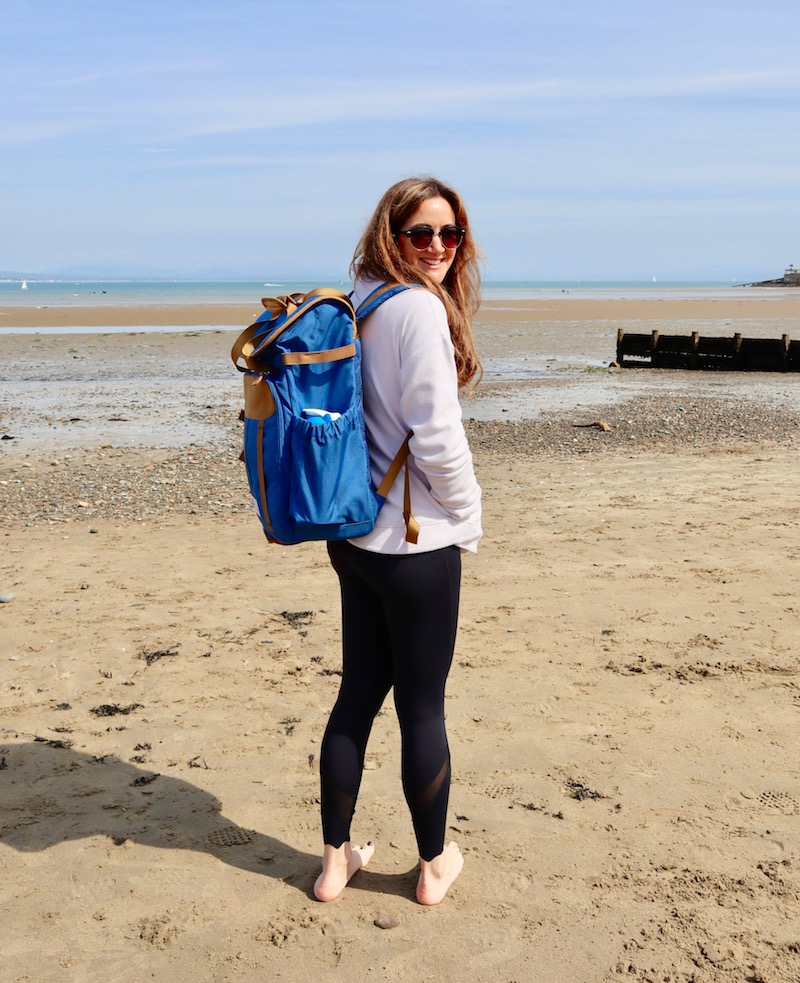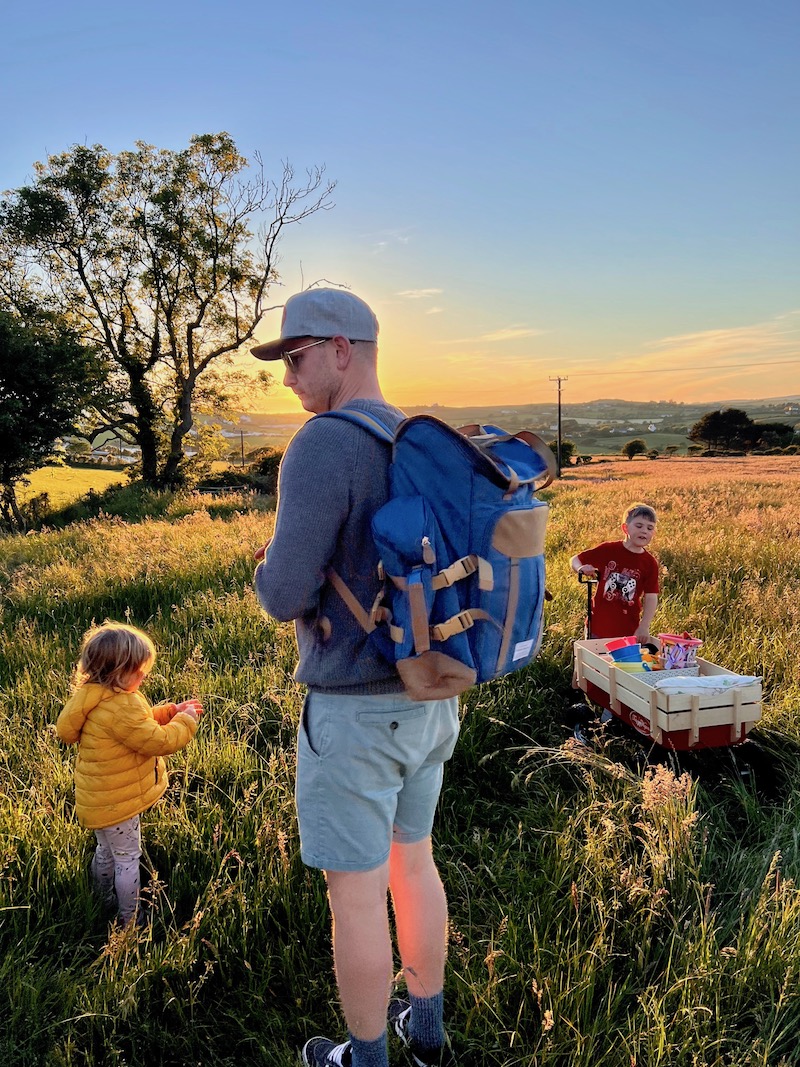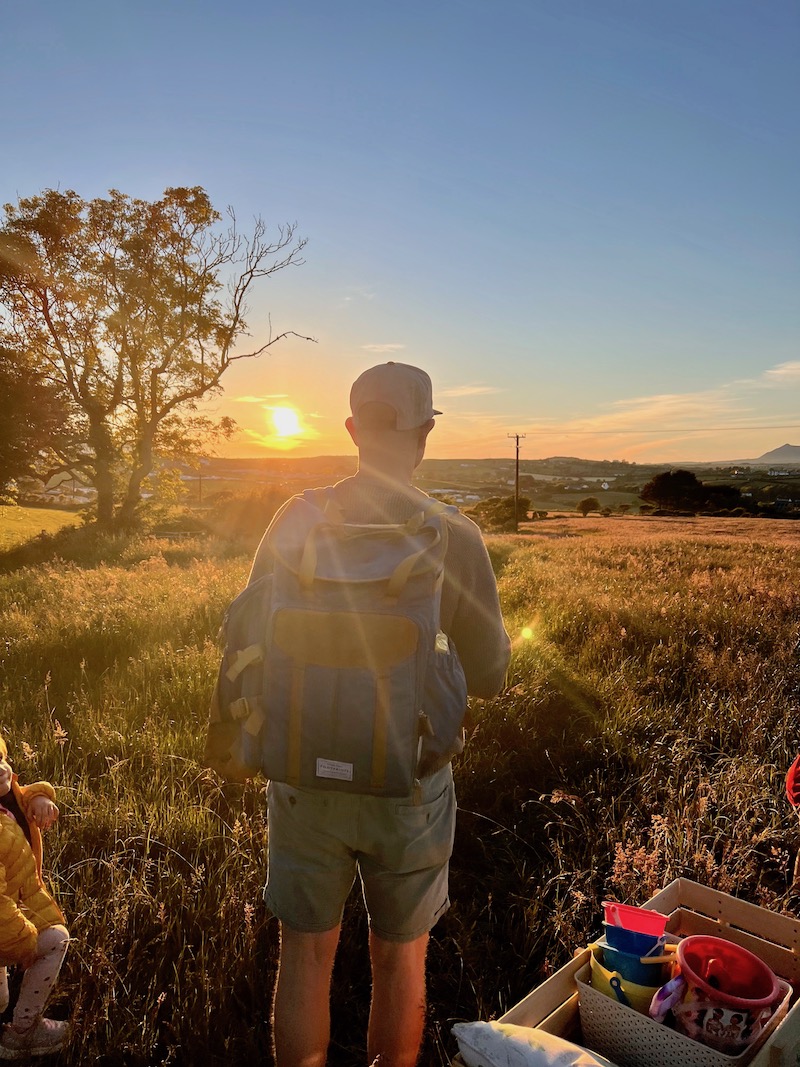 IceMax Picnic Cool Bag Backpack Insulated Picnic Cooler Bag 25L - Removable Bottle Carrier- Leave only Footprints Recycled RPET Polyester (Olive Green)
PICNIC COOL BAG BACKPACK - Leave Only Footprints edition made from RPET polyester– A material derived from recycled plastic bottles. Each bag is constructed from the equivalent of 26 500ml plastic bottles and features faux leather detailing.
SPACIOUS INSULATED COOLER BAG - 25L large main compartment is both insulated and padded to ensure your food and drink arrives fresh and cool. Dimensions main compartment 45 x 30 x 20cm
UNIQUE DESIGN FEATURES – Each cooler bag showcases a number of unique design features that are unavailable on rival products, such as pop out drinks holders to avoid picnic spillages, a dedicated baguette pocket to prevent your bread being crushed, an integrated bottle opener and a detachable insulated bottle holder.
EASY TO LIVE WITH – Can be carried via the padded top handles or worn as a backpack. Plates and cutlery are easily accommodated in the internal pockets and the bag features elasticated straps to hold a rug or picnic blanket.
3 Year Manufacturer Warranty
Travel Hack Tip:
If you really just need a small, insulated picnic bag then take a look at the Cabin Max picnic shoulder bag which would be perfect!
3. John Lewis Adventure Picnic Backpack
John Lewis Adventure Picnic Backpack
Best for: Adventures on the water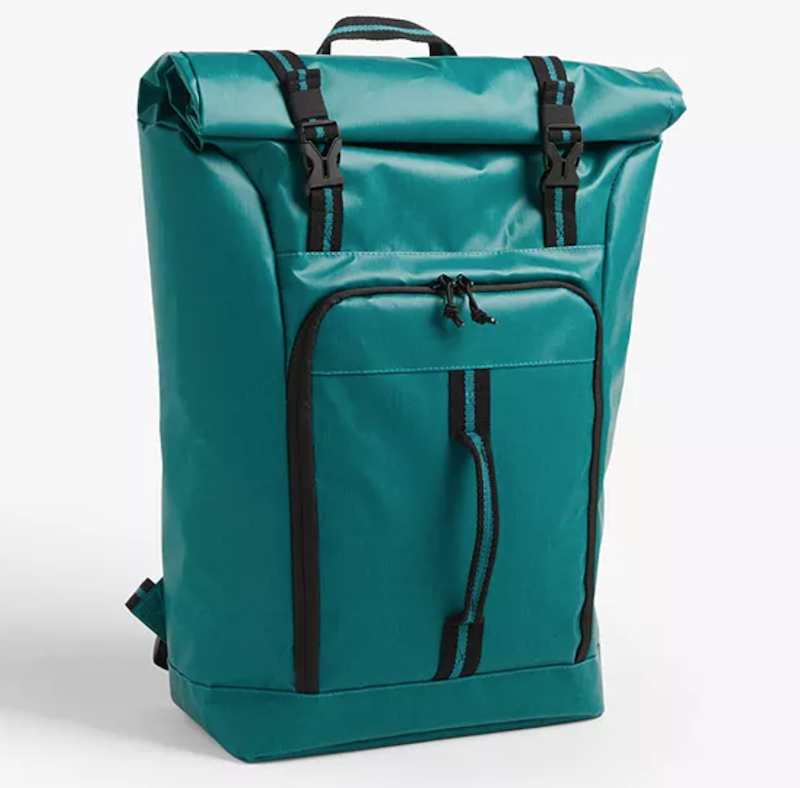 I love this fully waterproof adventure picnic bag from John Lewis. It's a good price at £35 and is a simple yet functional design with a small front pocket you could use for keys and phones and wallets. This would be a great one of the beach or I would love to take it on my paddleboard.
4. Decathlon Isothermal Backpack
Decathlon Isothermal Backpack 20L or 10L
Best for: Hiking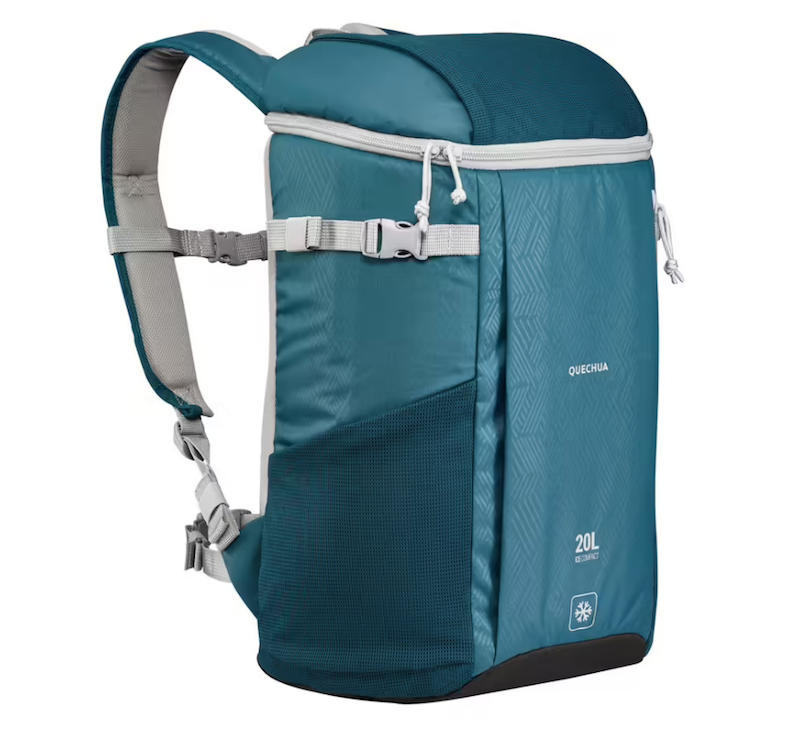 The design for this cooler backpack is clearly inspired by hiking backpacks. It's sleek, sporty and function. It looks comfortable to carry and has separate compartments for your ice packs – a great feature to stop everything getting wet as your ice packs begin to melt and get drippy condensation everywhere.
This bag comes in 20L or 10L too.
5. Cabin Max Tropical Print
Cabin Max Tropical print
Best for: Fun design
(I'll update the link when it's in stock)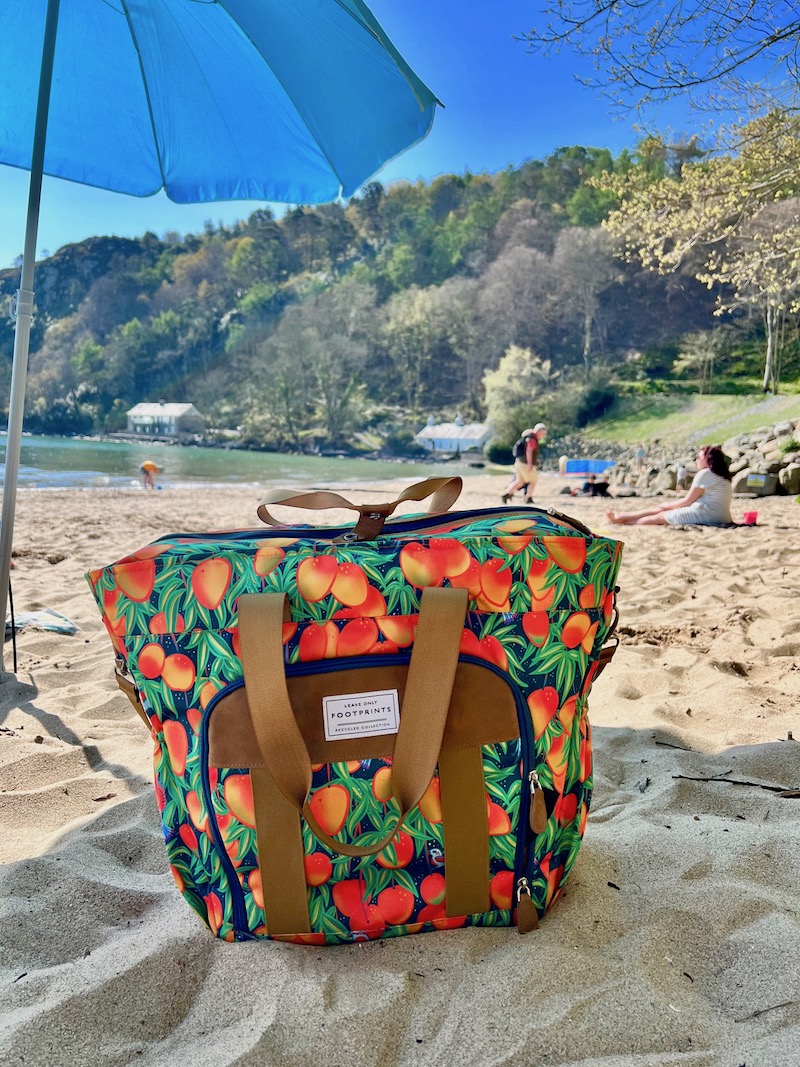 This shoulder cool bag isn't a backpack but I had to include it because it's such a lovely design and is really nice to carry. I actually didn't think I'd use this bag very often because I'm a bigger fan of the hands-free design of backpacks but we actually use this one the most. It's spacious, easy to carry and easy to pack and I'm constantly filling it with snacks and drinks and throwing it into the boot of the car.
If you don't think you'll be walking far with your cooler bag and don't necessarily need a backpack then this is a great option.
It also has the fold-down pocket the other Cabin Max cooler backpack features so you have a wine glass pocket.
Photographed on our favourite Llanbedrog Beach. For another gorgeous beach in North Wales, Porth Iago is another favourite!
6. Dunelm Backpack Cool Bag
Best for: Budget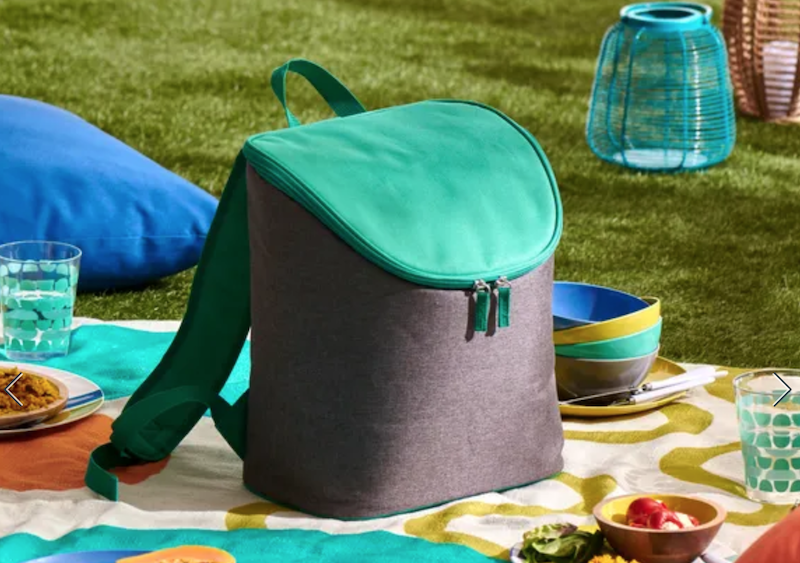 At just £10, this simple backpack cooler from Dunelm is a cheap and cheerful optional. It's a lovely, simple design and perfect for a family picnic.
7. ANNGGO Double Decker Cool Bag Backpack
Best for: A stylish, feminine design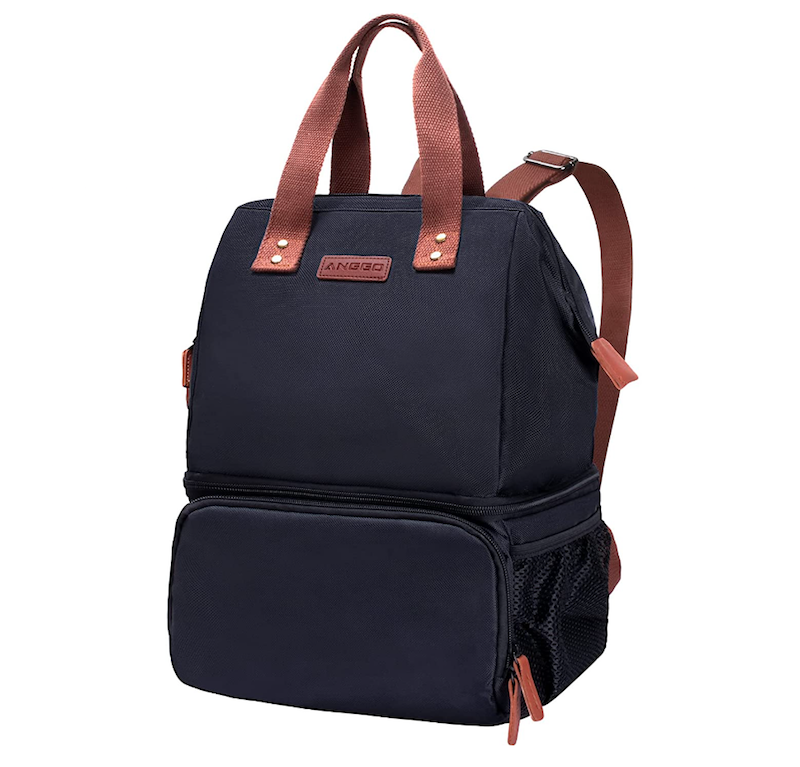 While I wouldn't want to walk for miles with this cooler backpack on my back, I do really like this design. It's the most feminine and stylish of the bags and would be great. This bag also has lots of handy pockets so you could use it like a handbag and you can adjust the straps to carry it like a handbag or on your shoulder.
This would be nice for a work lunch bag if you don't need to walk too far with it.
Lunch Bag, ANGGO 20L Double-Decker Insulated Lunch Bag Cool Bag Cooler Backpack for Women, Picnic Bag Lunch Bag Large with Shoulder Strap, Water-Resistant Leak-Proof for Work, Picnic, Camping, BBQ
🎒【Large Capacity Insulated Lunch Bag with 2 Layer】🎒 -- ANGGO Insulated lunch bag (27.5*18*40) is designed for maximum storage efficiency, 2 main zipped compartment, 1 front zippered pocket and 2 mesh pockets, not only provides you with plenty of space to pack all of your food, as well as pack your keys, cards, phone chargers, napkins, water bottles or other small stuffs you daily needs.
🎒【 Leakproof & Waterproof 】🎒 -- The exterior of the insulated lunch bag is made of 600D waterproof Oxford, premium composite waterproof fabric is resistant to dirty and abrasion, protecting your lunch and items inside from occasional splatters or light rain; The inner layer is PEVA foil with thermal insulation lining and is padded with EPE foam for great thermal resistance. If sauce spills inside, just wipe it off with wet cloth or napkins.
🎒【 Excellent Food Preservation Function 】🎒 -- ANGGO lunch box is designed with triple Insulated to keep food stay cold/warm/fresh for hours, it can holds Hamburger, steak, coffee, cola, french fries and various drinks. Suit to preserve breakfast, lunch foods, perfect for on-the-go meals, picnics, road trips, lunch at the office, the school, the beach and more!
🎒【 Convenient & Portable Design 】🎒 -- This lunch bag has a wide opening for easy loading and unloading; Also with padded handle and removable / adjustable shoulder strap for effortless and comfortable carrying. Can be used as a backpack or handbag to meet different occasion needs, a good bag for our work and daily use.
🎒【 Fine Sewing and Craft 】🎒 -- Textured leather logo makes it attractive and superior, detachable shoulder strap offers us more choice to carry it. A perfect bag to carry our foods, let us enjoy delicious anywhere and anytime. If you have any questions or quality problems about the lunch bag, you can contact us at any time, we will provide you with solutions in 24 hours.
8. Aldi Cooler Backpack
Best for: Budget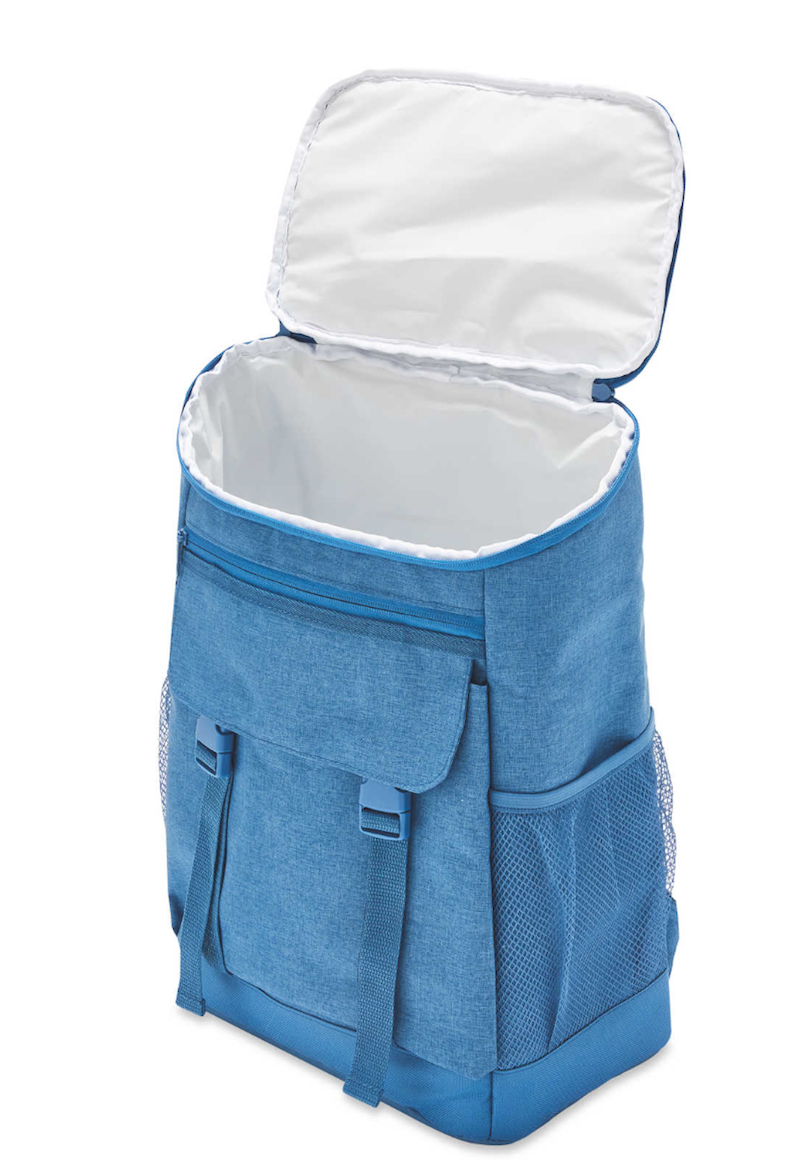 Another budget buy is the Aldi cooler backpack which is a special buy for £8.99. Obviously with the special buys you have to get them while they're in stock so if you want a cheap and cheerful backpack cooler then you'll need to get this one quickly!
20 of the best day trips around England

Here's what I pack in my kid's hand luggage for a mid-length flight
20 things to do in Aruba + My Aruba travel journal

25 of the very best things to do in North Wales