Llangollen is the prettiest little town in Denbighshire in North Wales, UK. I live about 20 minutes from Llangollen (often shortened to 'Llan' by locals) and it's one of my favourite places to visit on a sunny day.
The town is situated on the River Dee so many of the things to do in Llangollen revolve around the water. Llangollen is filled with pretty, historic buildings, quaint cafes, cosy pubs, interesting shops and lots of outdoor activities. The town is surrounded by the Berwyn Mountains so it's also known for its picturesque scenery. It's one of those places that really comes to life when the sun shines as visitors flock to the area for riverside walks, countryside walks and cosy pub lunches!
Here are 30 of my favourite things to do in Llangollen. If you're feeling a little overwhelmed by the list, I recommend putting your favourites into a Google Map so you can see which activities are close together!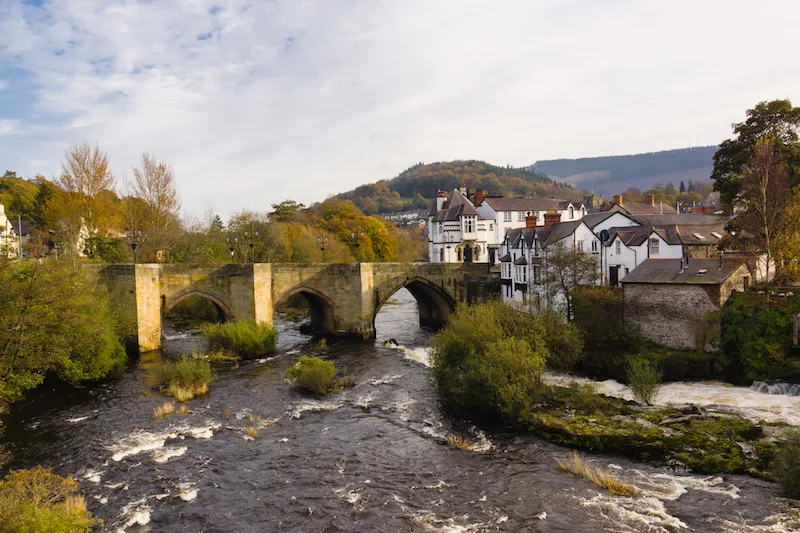 Things to do in Llangollen
1. Have a wander and an ice cream
OK, I know this isn't a ground breaking thing to do in Llangollen but the main thing (or at least what I always do when I visit with my family!) is simply to have a wander around the town, get an ice cream or a coffee from the kiosk near the bridge and walk along the river or canal. You cannot visit Llangollen without doing this! Come rain or shine, this is always a winner.
I usually get a coffee of ice cream from Candy Cottage sweet shop which is located next to Llangollen Bridge in the centre of Llangollen. Another good option is the coffee shop at Llangollen Wharf next to the Horse Drawn Boat Centre on the canal.
2. Pontcysyllte Aqueduct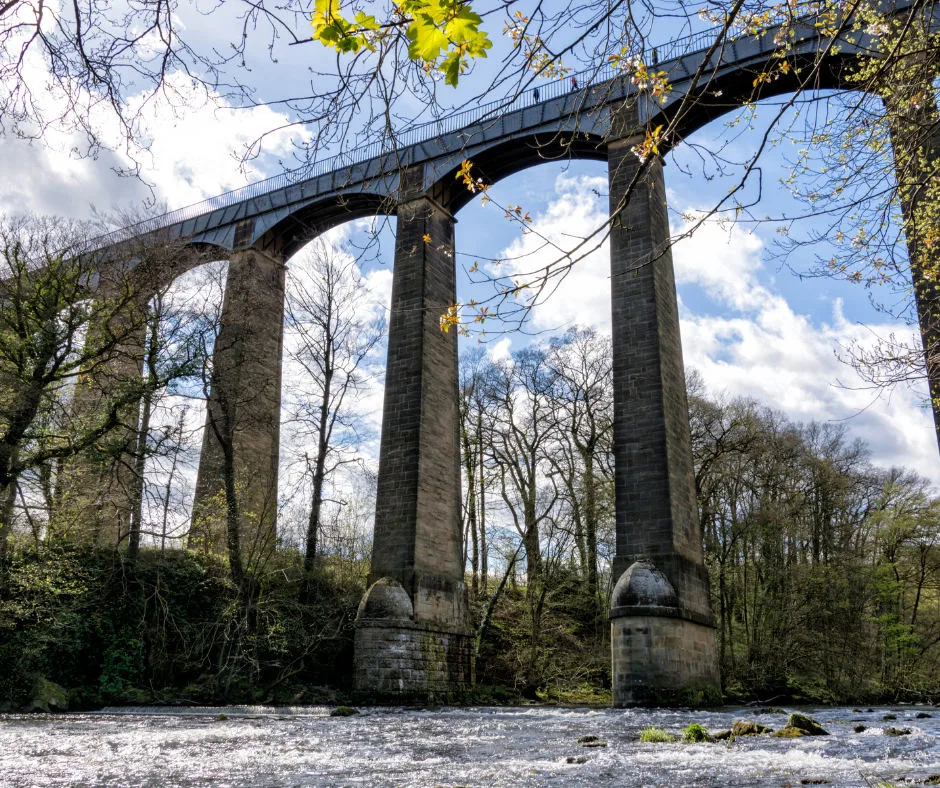 You can't visit Llangollen without visiting Pontcysyllte Aqueduct, a UNESCO World Heritage Site and one of the most popular things to see in Llangollen. The aqueduct was designed by Thomas Telford and completed in 1805 and is considered a masterpiece of engineering.
The aqueduct carries the Llangollen Canal over the River Dee, and is 307 metres long and 38 metres high. It is made of cast iron and stone, and features 18 piers and 19 arches.
Visitors can walk across Pontcysyllte Aqueduct for stunning views of the surrounding countryside. You can also take a canal boat ride across or you can even kayak or paddleboard across too (it's recommended you kneel on a paddle board as you cross!)
The canal boat rides across are fun but, if you're able to walk, I'd recommend taking just a one-way ride and walking back. The canal boats are very slow and, in all honesty, it's a bit boring.
It's also worth visiting the Trevor Basin Visitor Centre, which offers information about the canal and its history, and the Horseshoe Falls, a picturesque waterfall on the River Dee.
How to get there: There are a couple of pay and display car parks nearby. Use the postcode LL14 3SG and look out for parking signs. There's a car park at the visitor centre and one on Queen Street.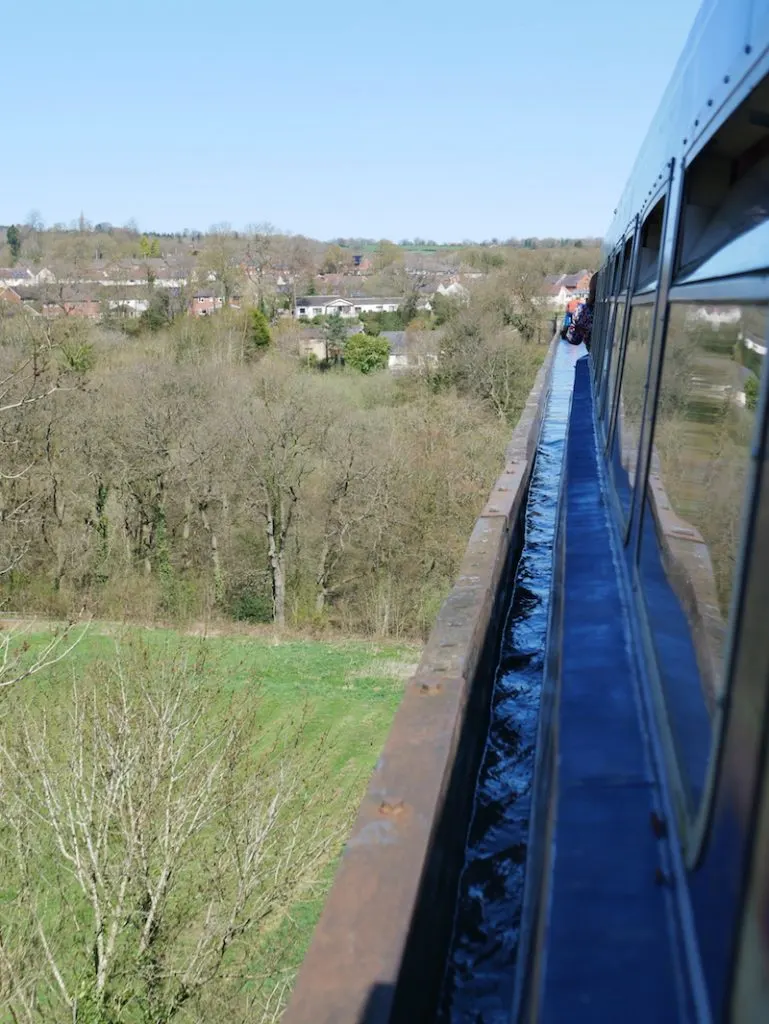 3. Ty Mawr Country Park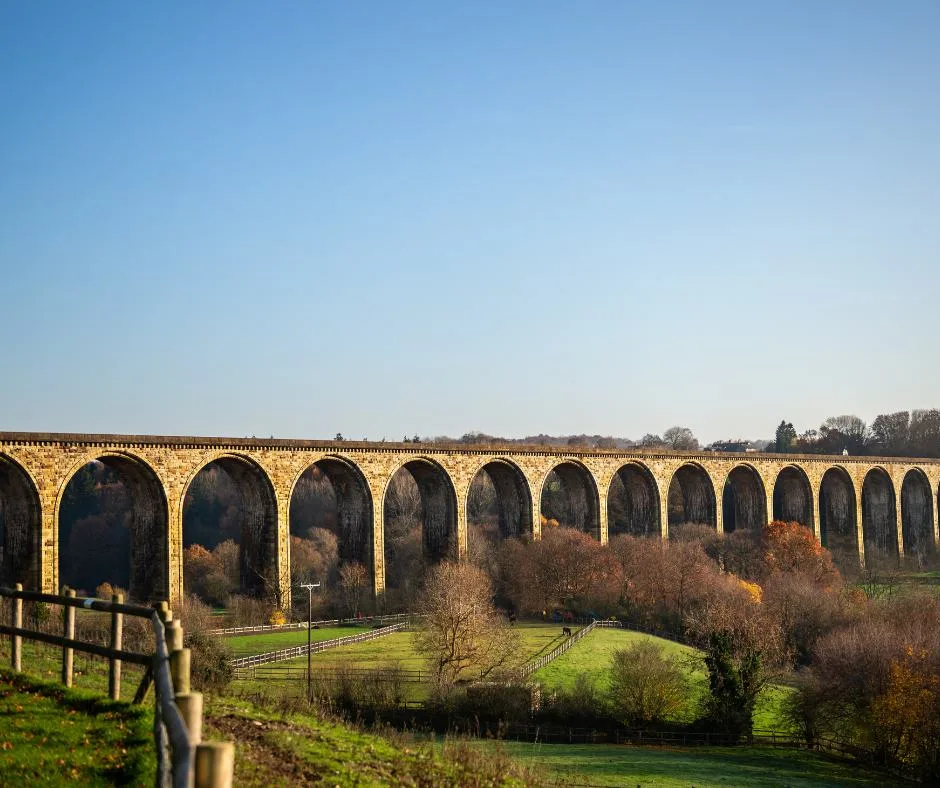 Ty Mawr Country Park is a beautiful park to visit in an Area of Outstanding Beauty. This is also one of the best places to go to get a view of the aqueduct from a distance. There are picnic benches leading down from the car park where you can sit and enjoy the most magnificent view of the Clwydian Mountain Range and Pontcysyllte Aqueduct.
I regularly take my kids to Ty Mawr as it's a great place for a run around. There are also some sheep, goats, llamas, pigs, chickens and ducks which my kids love to see.
4. Llangollen International Musical Eisteddfod
Llangollen is famous for hosting the International Musical Eisteddfod so this is one thing to do in Llangollen if you're in town in early July!
The eisteddfod has been held annually since 1947 and it's a celebration of Welsh culture and music. The festival attracts famous performers and visitors from around the world and there's such a great atmosphere in Llangollen when the eisteddfod is on.
5. Have lunch or a drink at The Corn Mill
The Corn Mill is the most famous place to eat in Llangollen. This beautiful and cosy gastro pub has a large outdoor decking area over the river so it's a popular spot when the sun is shining!
6. Hike up to Castell Dinas Brân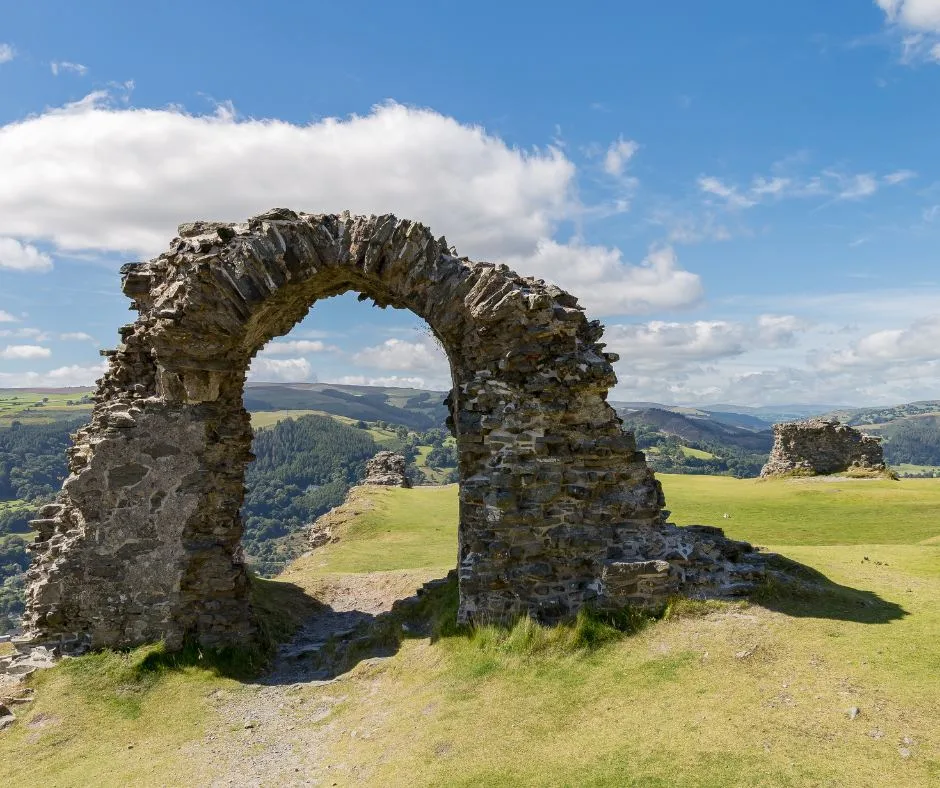 If you're feeling active, one of my favourite things to do in Llangollen is to hike up to the ruins of Castell Dinas Brân, a mediaeval castle. The 13th century ruins themselves are amazing to see but the walk and the panoramic views from the castle are just as amazing. You can see down over Llangollen and the surrounding area and it's just beautiful.
Castell Dinas Brân was built by Gruffudd ap Madoc, ruler of northern Powys, as a defensive stronghold against English invaders. The castle ruins include the remains of a large stone tower, walls, and a gatehouse.
The walk up to Castell Dinas Brân is short but challenging as it's mostly uphill. It's about 1.5 miles from Llangollen town centre but the views from the top are well worth the effort.
7. Panorama Walk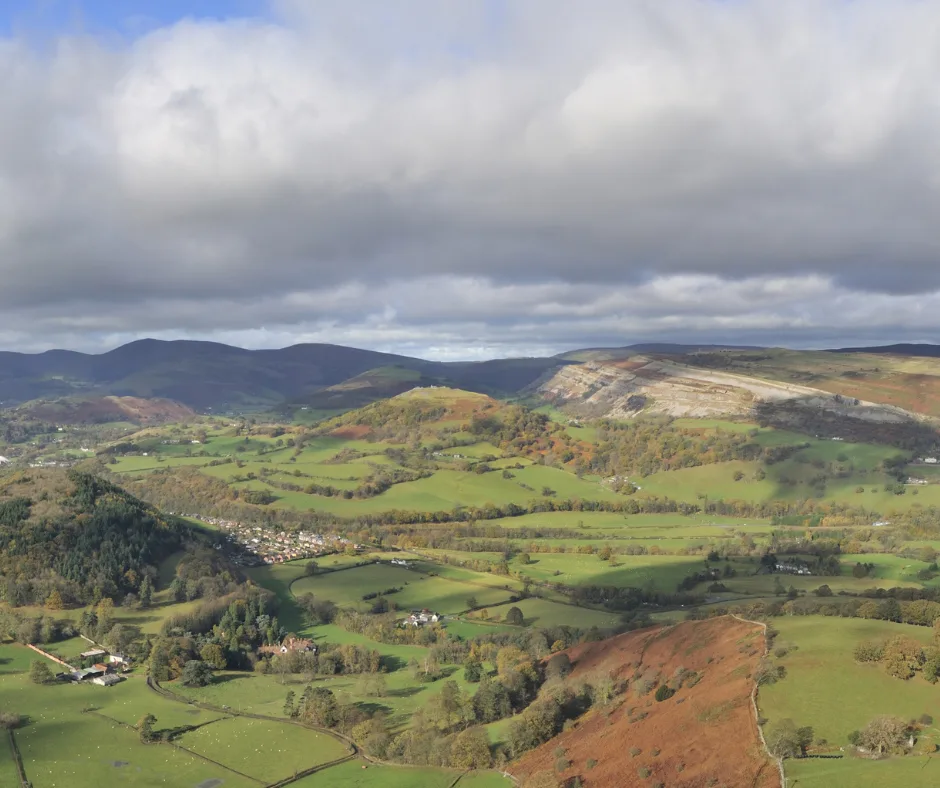 If you've conquered Castell Dinas Brân and would like to keep on walking then you need to do the Panorama Walk. This circular walk is 10km and usually takes a little over 3 hours to complete. It's a circular walk and it's one of those that is fairly easy to complete provided you take your time. You can follow a route on something like AllTrails.
The walk starts at the Castell Dinas Brân car park and follows a steep uphill path to the castle ruins. From there, the path continues along the hillside, offering panoramic views of Llangollen, the River Dee, and the surrounding hills.
As the path descends, it passes through a wooded area before emerging onto a field with views of the Vale of Llangollen. The path then crosses a small stream before returning to the starting point at the car park.
8. Valle Crucis Abbey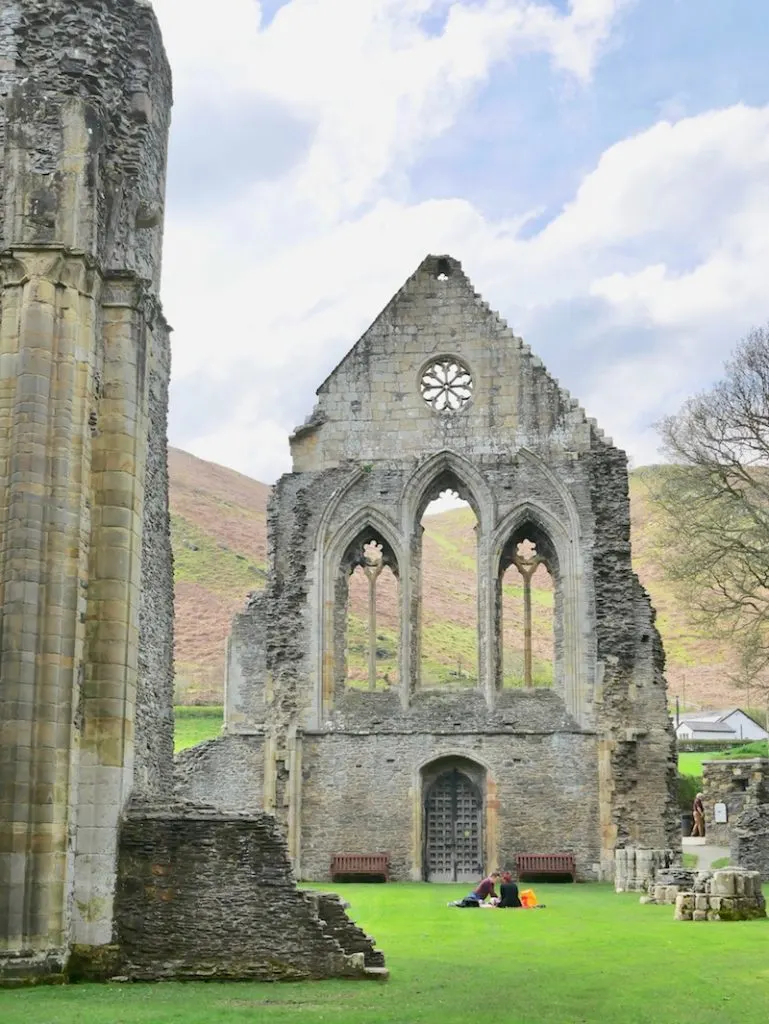 Valle Crucis Abbey is a well-preserved Cistercian abbey dating back to the 13th century. This is one of my favourite places for a picnic on a sunny day! We tend to take our own but there is a gift shop, cafe and farm shop.
The abbey was founded in 1201 and is considered one of the best-preserved Cistercian monasteries in Wales. You can explore the ruins of the abbey, including the remains of the church, cloister, and other buildings. Look out for the beautifully preserved West Door, the intricate carvings on the chapter house, and the ornate tombs of the abbey's former occupants.
There are also beautiful gardens around the abbey. My kids love to play in the stream, a pond and a wildflower meadow which is full of birds and butterflies in the summer.
9. Llangollen Railway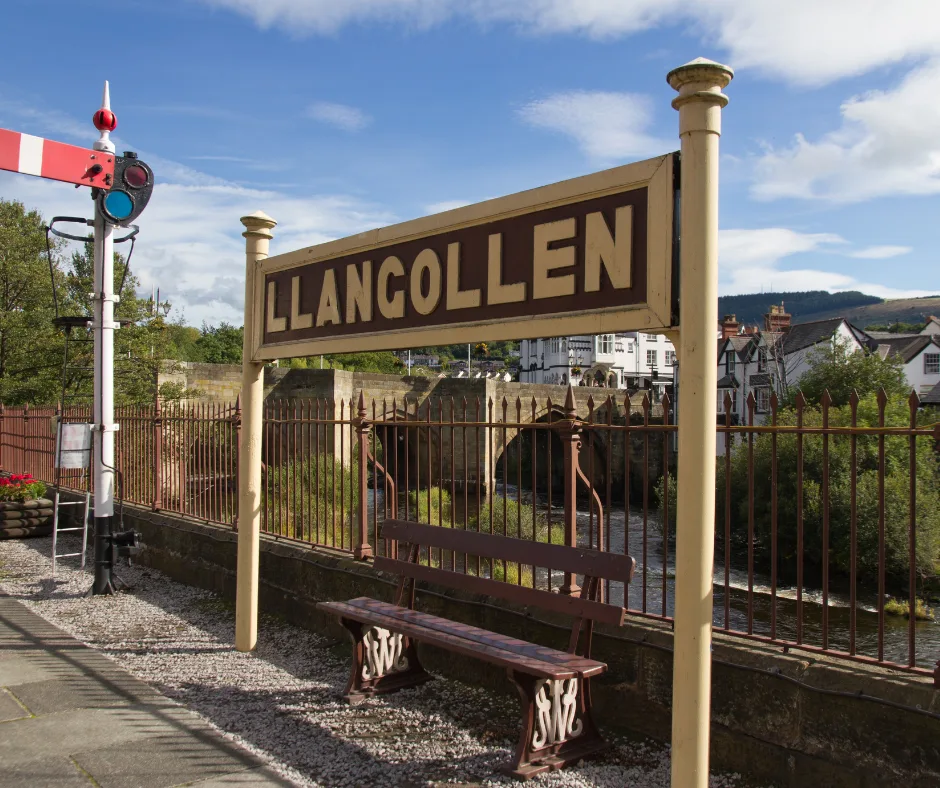 Llangollen Railway is a heritage railway with beautiful steam trains running for 10 miles from Llangollen to Carrog in North Wales. The railway follows a scenic route through the Dee Valley, offering stunning views of the surrounding hills and countryside.
The railway was originally part of the Ruabon to Barmouth line, which was opened in the late 19th century. The line was closed in the 1960s, but a group of railway enthusiasts reopened a section of the line as a heritage railway in the 1970s.
You can enjoy a ride on a historic steam train or a diesel locomotive and there are often special events and experiences. Check out the Llangollen Railway website to see the events. They have particularly good events around Christmas time which are great for families!
In addition to the train rides, visitors can also explore the railway's stations, which have been restored to their former glory, and enjoy a visit to the railway's museum.
10. Horseshoe Falls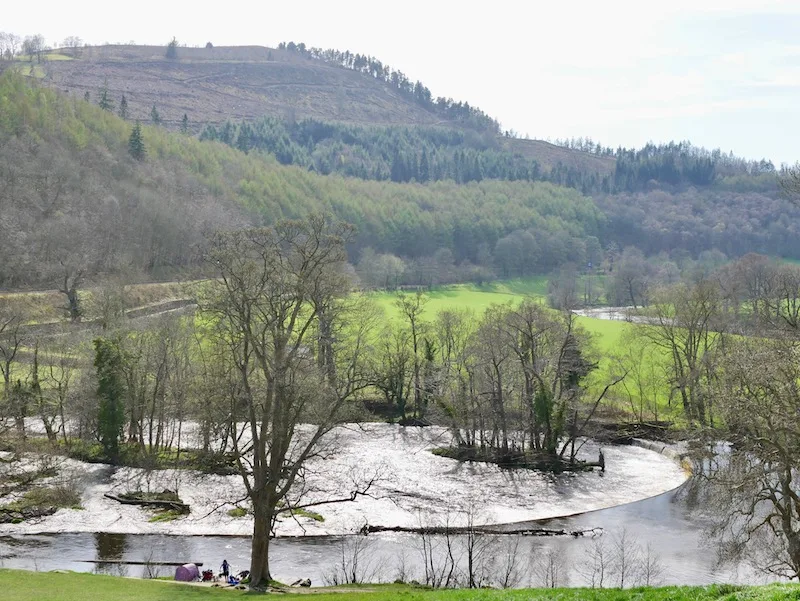 The Horseshoe Falls are a picturesque waterfall just outside Llangollen. The waterfall gets its name from its horseshoe shape, which is formed by the natural rock formations. It's a popular spot for a walk and a picnic and the surrounding fields get busy (in a good way!) during sunny summer days.
The falls can be accessed via a short walk from the nearby car park or you can walk there along the canal from Llangollen Wharf in the centre of Llangollen. This is a lovely 2-mile walk and it's pushchair and wheelchair friendly too.
11. Walk or take a boat ride along Llangollen Canal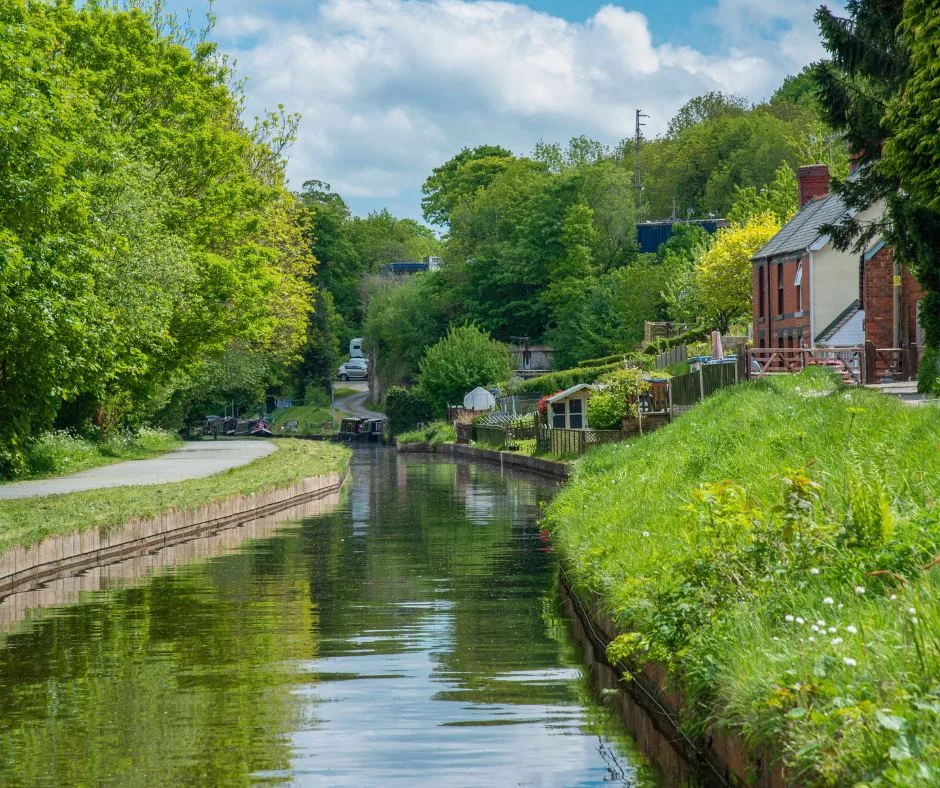 One of the most popular things to do in Llangollen is to walk along the 46-mile canal (not all of it of course!) Most of the canal footpaths are fairly narrow but they are pushchair and wheelchair friendly so they're a great place for the whole family. My kids love running along the canal, look at the canal boats and see the ducks.
The Llangollen Canal runs from Hurleston Junction near Nantwich in Cheshire to Llangollen. The canal was completed in 1808 and passes through the scenic Dee Valley and offers stunning views of the surrounding hills and countryside.
The canal features the Pontcysyllte Aqueduct, which carries the canal over the River Dee and is a UNESCO World Heritage Site.
You can take a boat trip along the canal where there's usually a guide explaining more about the canal's history and construction. Many of the canal boats are pulled by traditional horses which are just beautiful and it's lovely to see these gentle giants plodding up and down the towpath.
The canal is also home to a variety of wildlife, including kingfishers, herons, and otters.
My favourite walk along the canal is from Llangollen Wharf to Horseshoe Falls.
12. Shopping in Llangollen
Llangollen has so many lovely little shops selling local crafts, souvenirs, delicious food, clothing and antiques. Here are some popular options for shopping in Llangollen:
The Handmade Craft Company – This shop sells a variety of handmade crafts, including pottery, jewellery, and textiles, made by local artisans.
The Antique Emporium – This shop offers a range of antiques and collectibles, including furniture, jewellery, and artwork.
Dee Valley Confectioners – This shop sells a range of handmade chocolates and sweets, including traditional Welsh sweets.
Llangollen Market Hall – This indoor market offers a variety of stalls selling local produce, crafts, and souvenirs.
Siop Elfair – This gift shop sells a range of Welsh-themed gifts and souvenirs, including clothing, accessories, and homeware.
13. Paddleboarding and kayaking
Llangollen is a popular spot with paddle boarders and kayakers and you'll likely see a few along the canal on a sunny day. If you fancy joining them, you can hire paddle boards locally. Check out a site such as Into the Blue.
14. Walk along the promenade and splash in the river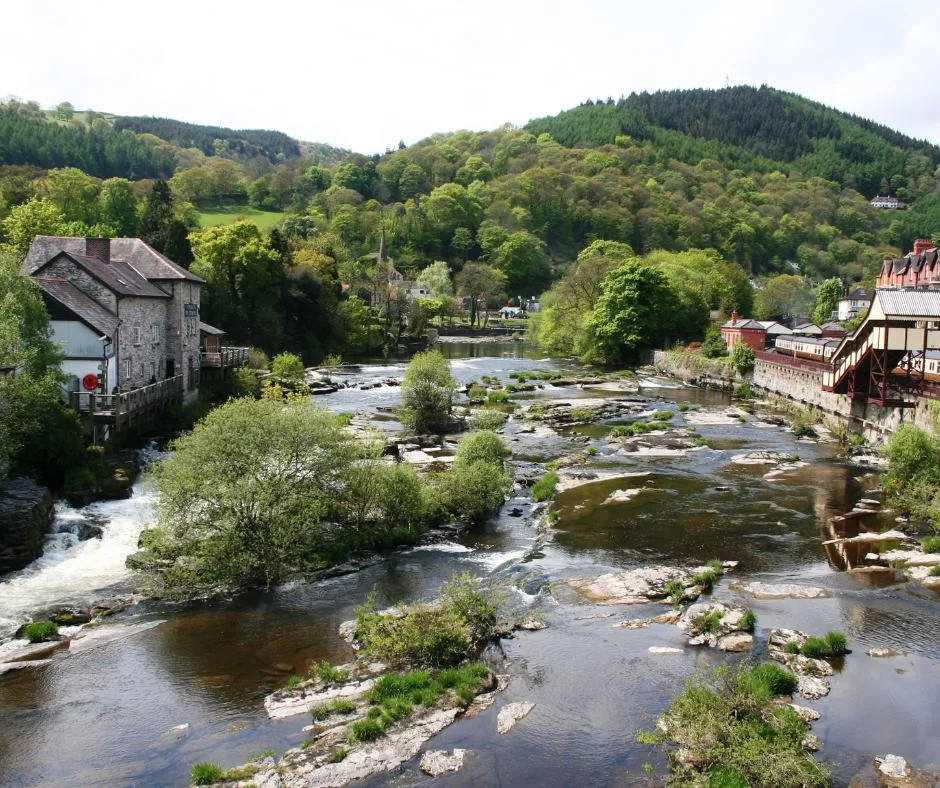 When the sun is shining, one of the best things to do in Llangollen is to grab an ice cream and walk along the Victorian promenade which leads to a café, children's play park, bandstand, crazy golf and skate park. When the weather is nice you'll see lots of people splashing about on the river. There are lots of rocks by the river near the play park so it's easy to have a bit of a splash about without going too deep!
15. White water rafting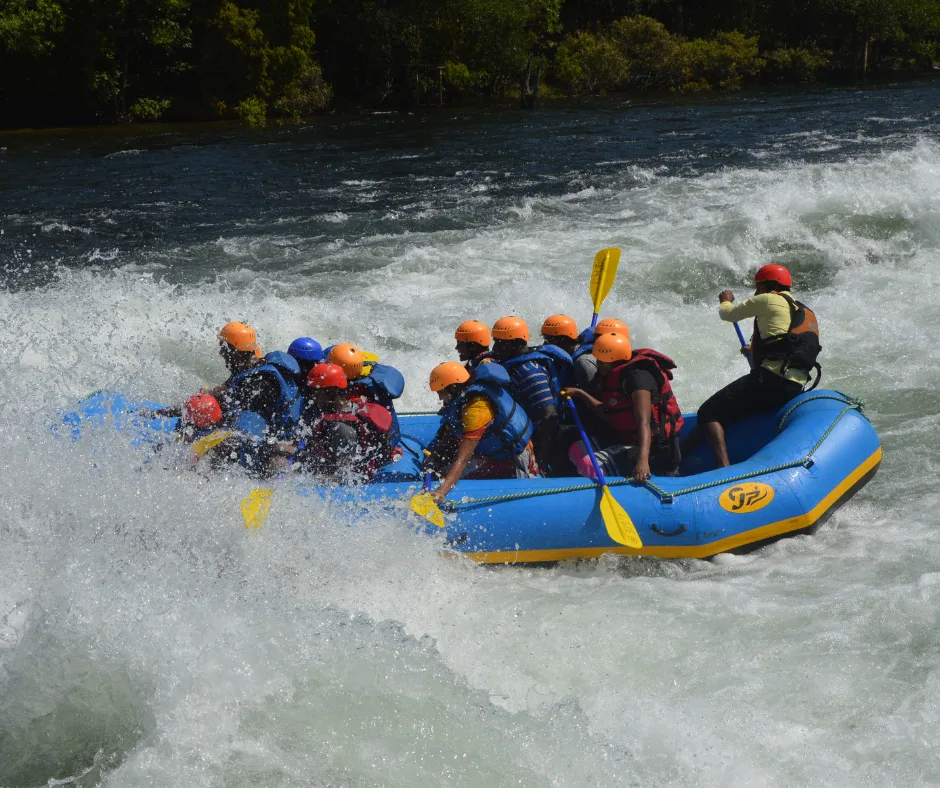 White water rafting is also a popular thing to do in Llangollen. Visit White Water Active for more information.
I first went white water rafting in Llangollen when I was about 10 so it really is suitable for the whole family.
16. Plas Newydd Historic House and Gardens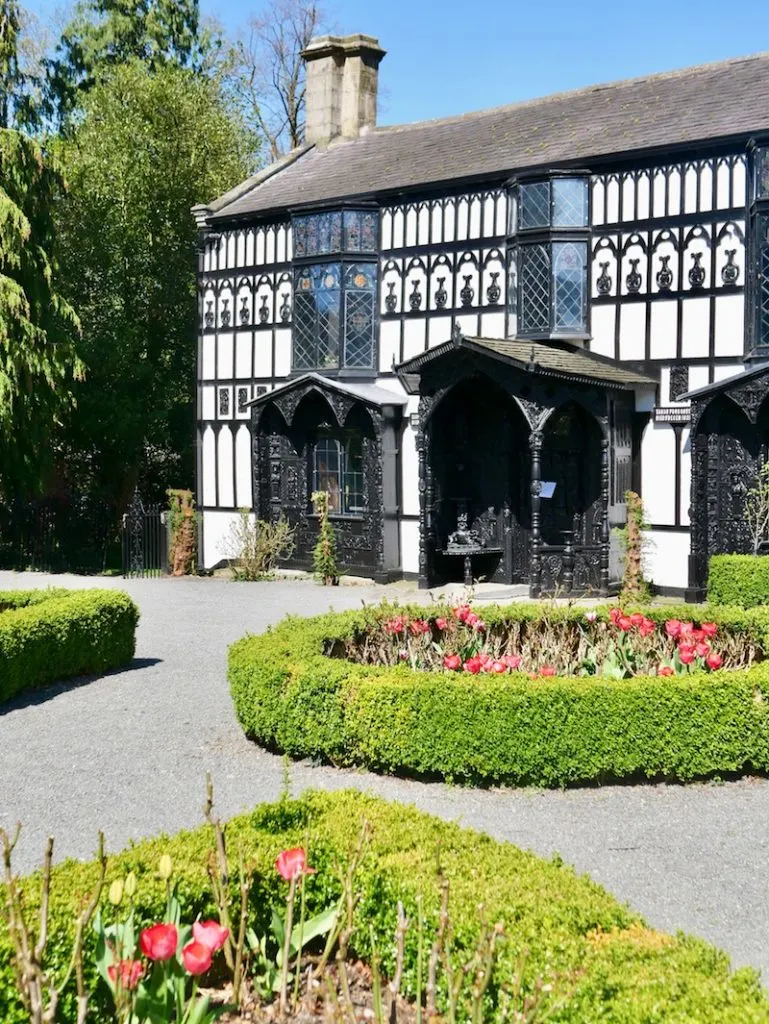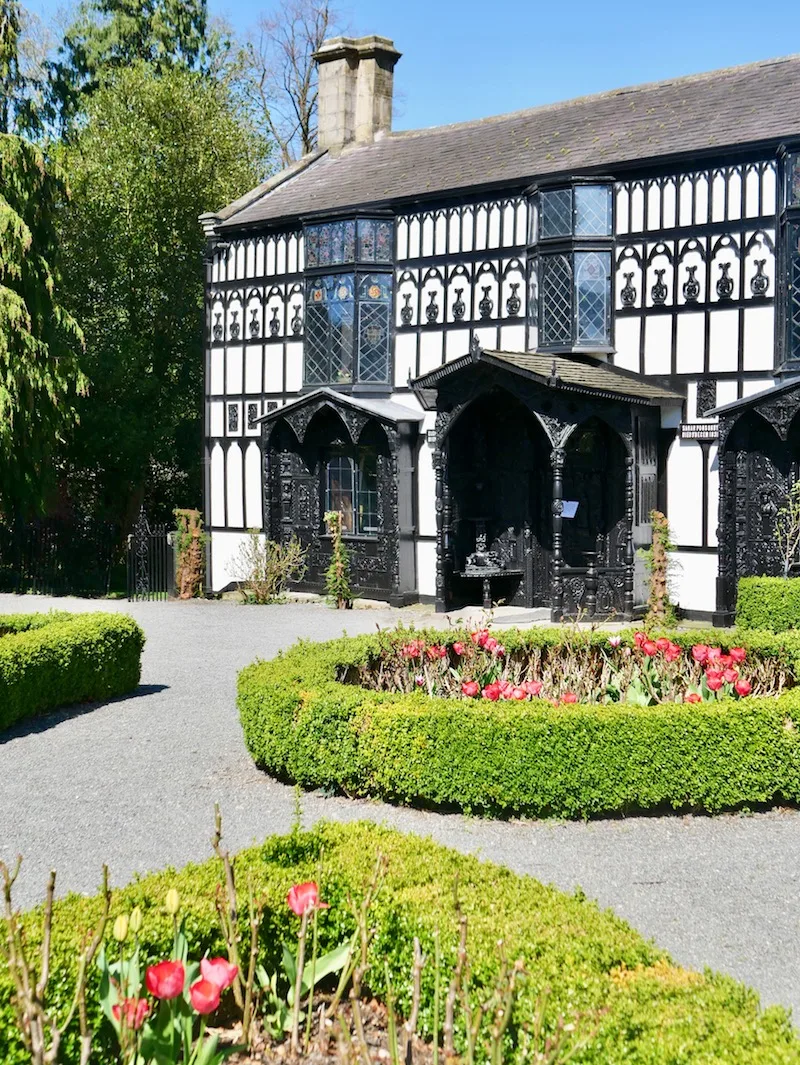 If you're a National Trust member then make sure you pop into Plas Newydd Historic House and Gardens. The property includes a Georgian historic house that dates back to the 18th century, as well as gardens and parkland.
The gardens at Plas Newydd are a highlight of the property with formal and informal gardens, including a walled garden, a rose garden and a woodland garden. There's also a lovely tea room with plenty of outdoor benches to enjoy your snacks in the garden.
17. Restaurants in Llangollen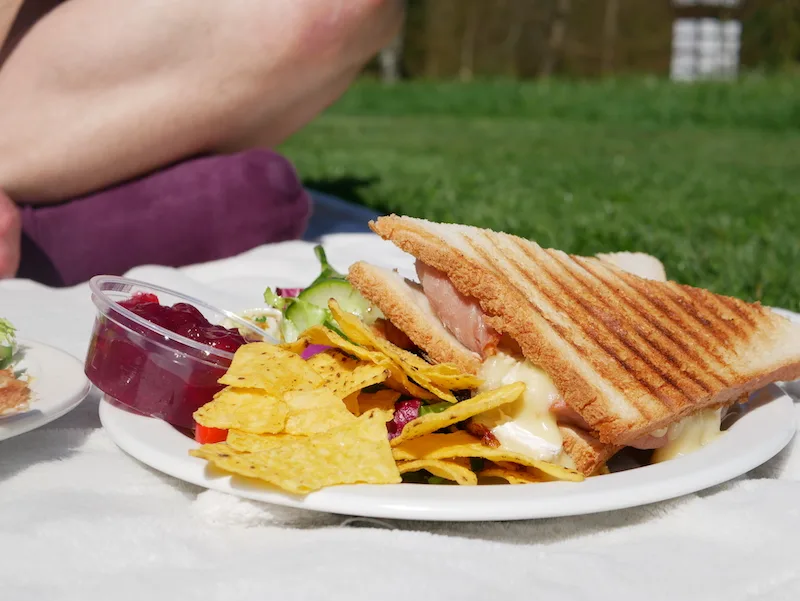 There are several restaurants in Llangollen offering a variety of cuisines to suit different tastes and budgets. Here are some popular options:
The Corn Mill – This restaurant is situated in a historic building on the banks of the River Dee, and serves contemporary British cuisine using local and seasonal ingredients. They offer vegetarian, vegan and gluten-free options too.
The Three Eagles – A gastro-pub located in the heart of Llangollen, offering a range of dishes made with locally sourced produce. They have a good selection of wines, spirits and beers to choose from.
Wild Pheasant Hotel – This hotel's restaurant offers a fine-dining experience with a modern twist on classic Welsh dishes. Their menu is focused on fresh, seasonal produce, and they offer a tasting menu for a special occasion.
The Cottage Tearooms – This quaint tearoom is located on the edge of town and offers homemade cakes, scones, light lunches, and afternoon tea. They also have a selection of vegan and gluten-free options.
The Dee Valley Bistro – This bistro is located in the heart of Llangollen and offers a selection of homemade dishes, including vegetarian and vegan options. They also have a range of cakes and desserts.
Plas Newydd cafe – The cafe at Plas Newydd is also a gorgeous place to eat, especially on a sunny day because you can take your food out into the gardens.
18. Walks around Llangollen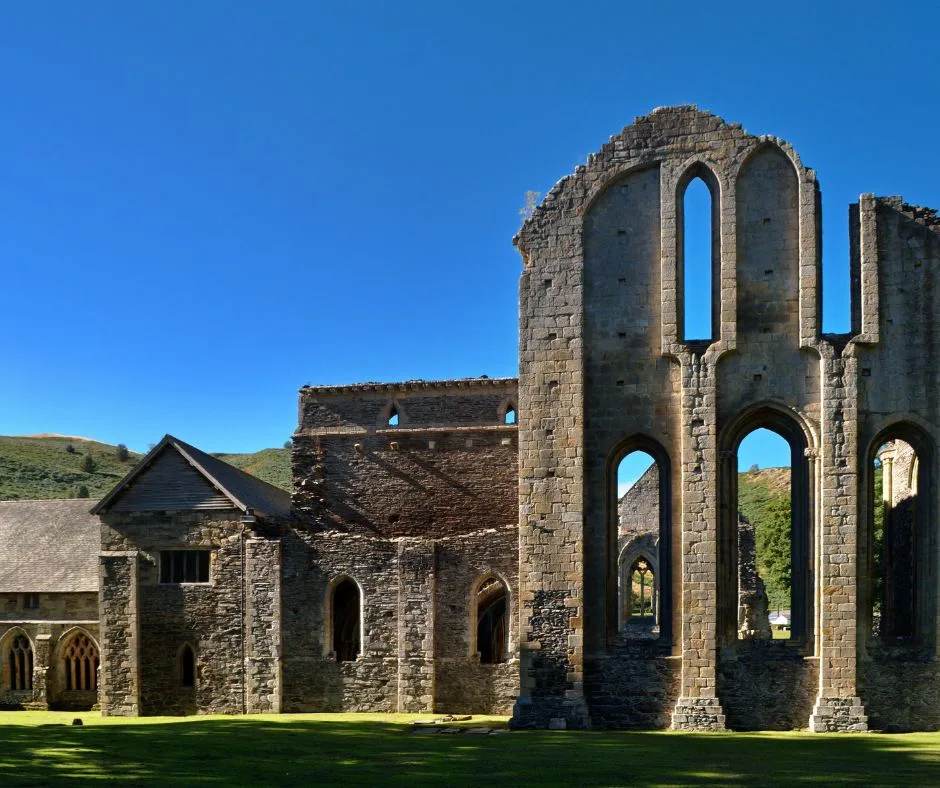 Llangollen and its surrounding area offer many scenic walks for hikers and walkers of all abilities. Here are some popular options:
The Llangollen Canal Walk – This walk follows the Llangollen Canal from Llangollen to the Pontcysyllte Aqueduct, offering stunning views of the Dee Valley and the surrounding hills. The walk is about 5.5 miles long and takes approximately 2 hours.
The Panorama Walk – This walk takes you up to the top of Castell Dinas Brân, offering panoramic views of Llangollen and the surrounding countryside. The walk is about 2.5 miles long and takes approximately 1 hour.
The Berwyn Mountains – For more experienced hikers, the Berwyn Mountains offer a range of challenging walks and hikes, with stunning views of the surrounding hills and valleys.
Valle Crucis Abbey Walk – This walk takes you through the beautiful Valle Crucis Abbey and along the River Dee, offering a peaceful and scenic walk. The walk is about 2 miles long and takes approximately 1 hour.
Horseshoe Falls Walk – This walk takes you to the Horseshoe Falls, a picturesque waterfall on the River Dee. The walk is about 1.5 miles long and takes approximately 1 hour.
Best hotels in Llangollen
Llangollen lots of hotels to choose from. I have a blog post with some of the best hotels in Llangollen but here are 5 of the best for a quick summary. Here are some of the best hotels in Llangollen:
I recently stayed at The Hand in Llanarmon so I have a full review here.
19. What to see during a walk around Llangollen centre
Llangollen town centre is full of historic buildings, narrow streets, and independent shops and restaurants. Here are some of the highlights if you're having a stroll around Llangollen town centre:
Llangollen Bridge – This historic bridge crosses the River Dee and offers stunning views of the river and the town.
St. Collen's Church – This historic church is located in the town centre and features a distinctive tower with a spire.
Llangollen Railway Station – This Victorian-era station has been restored and now serves as the starting point for the Llangollen Railway, a heritage steam train that runs through the Dee Valley.
The Royal Pavilion – This iconic building is located in the centre of Llangollen and hosts a variety of events and performances throughout the year.
The Llangollen Canal – The canal runs through the town centre and offers scenic walks and boat trips.
Candy Cottage – You have to stop here for an ice cream!
Places to visit near Llangollen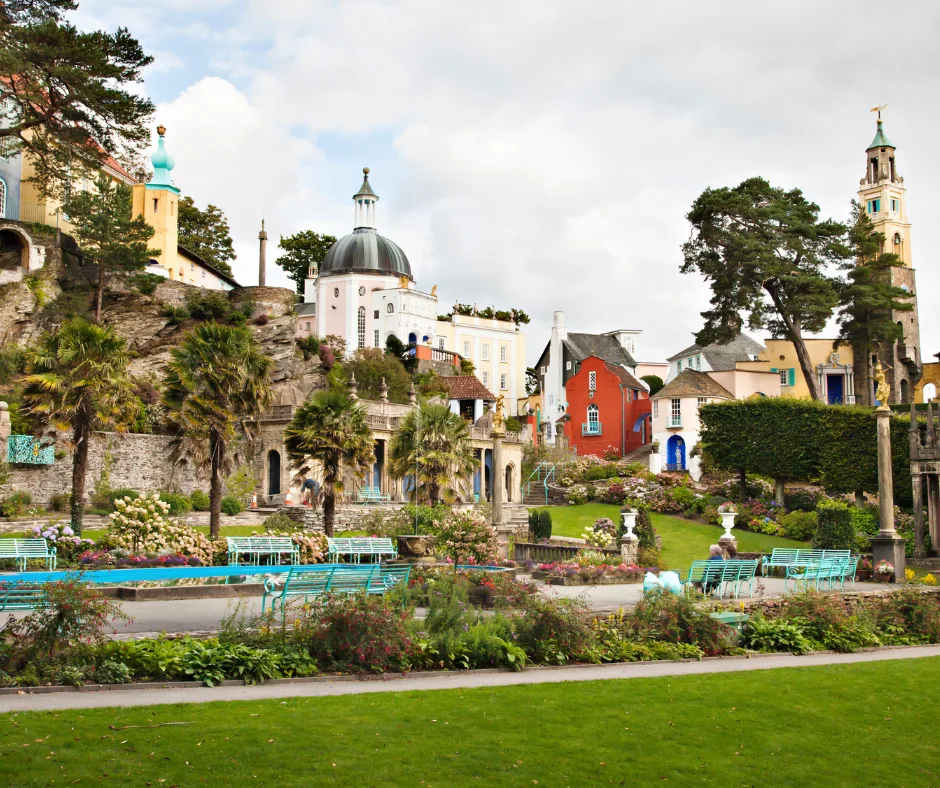 Llangollen is located in a beautiful part of North Wales and there are many attractions and places to visit nearby. Here are some popular options:
20. Chirk Castle – This mediaeval castle is located just a short drive from Llangollen and offers beautiful gardens and a historic house to explore.
21. Erddig Hall – a gorgeous National Trust property with lovely gardens.
22. Portmeirion – The italian style village is a 1 hour 15 minute drive from Llangollen but it's well worth it.
23. Llyn Peninsula – It's around a 2 hour drive to the Llyn Peninsula but if you fancy a day at the beach then this is the place to go. Abersoch is a pretty village to head for and explore the best beaches in Abersoch from there. I'd also recommend going to Llanbedrog Beach and walking up to the Tin Man.
24. Oswestry – The charming town of Oswestry is a 25 minute drive away and it's a lovely place for a wander.
25. Chester – The Roman city of Chester is a 40 minute drive away and it's well worth a visit. I have a post about 100 things to do in Chester and the best places in Chester for Afternoon Tea!
26. Wrexham – Wrexham has recently shot to fame thanks to the Netflix show 'This is Wrexham' about Ryan Reynolds buying Wrexham Football Club. I live in Wrexham and, to be honest, I wouldn't recommend visiting the town (I mean, city. It's recently been changed to a city and no one locally can get used to it because it'll always feel like a small town!) But if it's a rainy day and you want some indoor attractions like swimming, bowling, the cinema or high street shops then you'll find them in Wrexham centre.
27. Snowdonia National Park – This stunning national park is located within an hour's drive of Llangollen and offers spectacular mountain scenery, outdoor activities, and quaint villages to explore. You can walk up Snowdon but there are also loads of adventure activities in Snowdonia to keep you busy!
28. Pistyll Rhaeadr Waterfall – Located just outside Llangollen, this beautiful waterfall is one of the highest in Wales and offers a scenic spot for a picnic or a walk.
29. Aber Falls Waterfall – Another gorgeous waterfall with a short but beautiful hike is Aber Falls. It's about a 90 minute drive to get there and you could also visit Aber Falls gin distillery.
30. Conwy Falls – Conwy Falls is just 45 minutes away and is another lovely but short walk. It's also next to a nice cafe, making it a nice and easy day out.
If you'd like more ideas for things to do near Llangollen then I have a list of 25 things to do in North Wales here.