If you're visiting Vilnius in Lithuania then I highly recommend taking some time away from the city and visiting Trakai. Here's everything you need to know about visiting Trakai from Vilnius.
Trakai is a gorgeous day trip (or even half day trip) from Vilnius. It was so easy to get there and wonderful to see the beautiful Lithuanian countryside.
I was short on time so I spent a half day in Trakai and found it to be just enough time to appreciate the area, see the quaint houses, take a long walk around the lake, visit the castle and eat some pasties!
You could easily spend all day here during the summer months as you can also go hiking, take a dip in the lake and work your way around the many restaurants!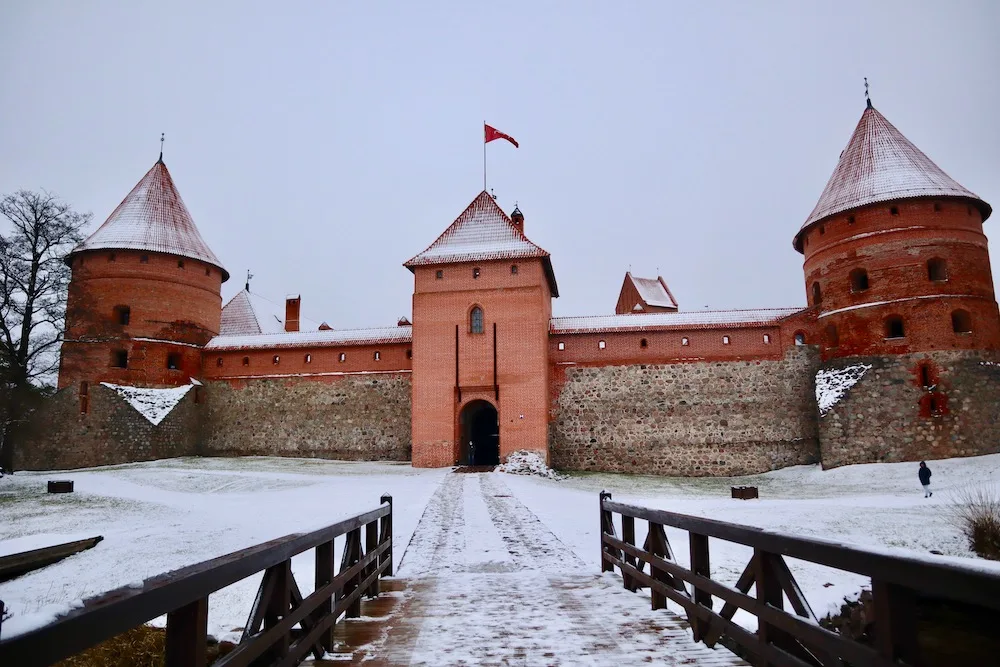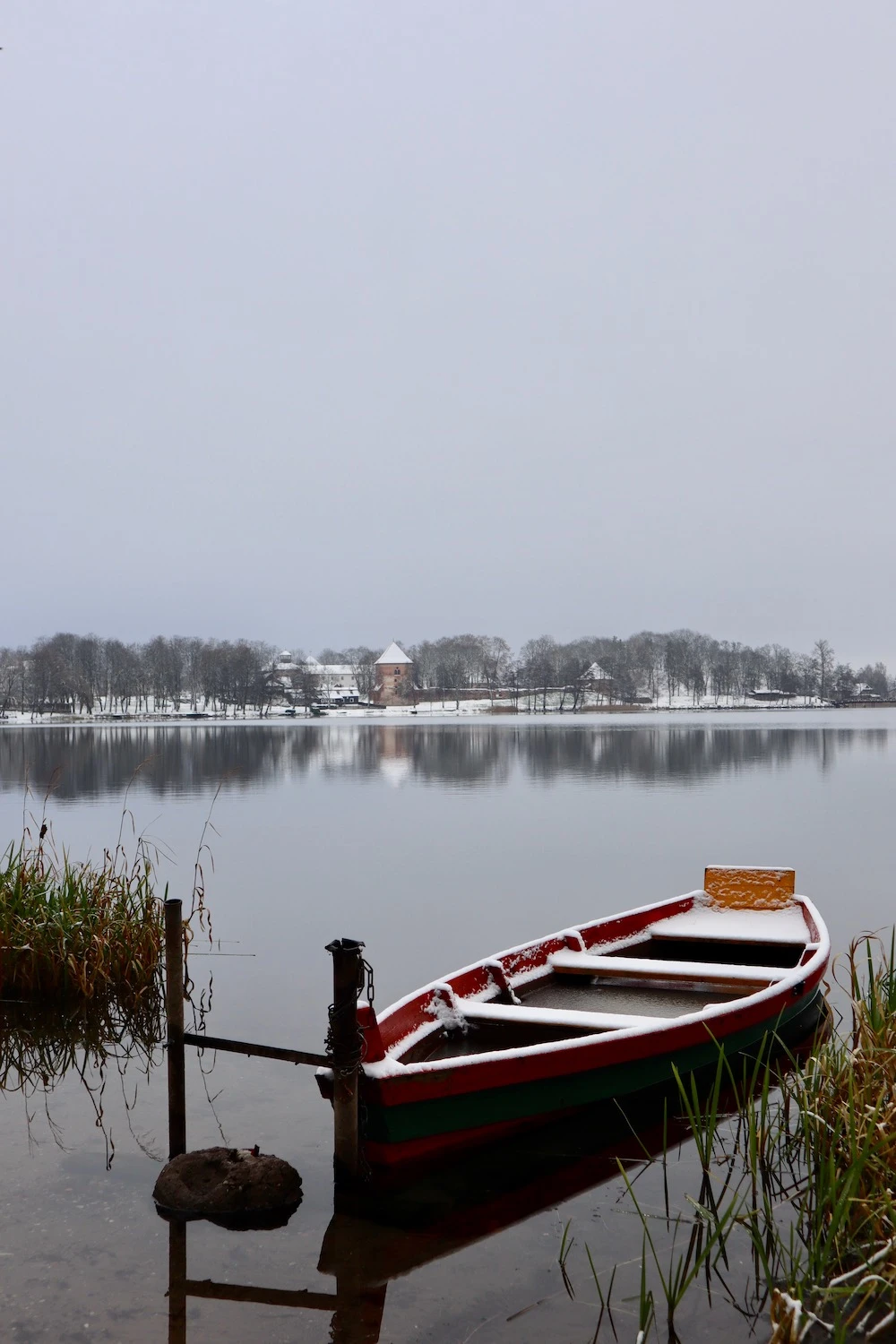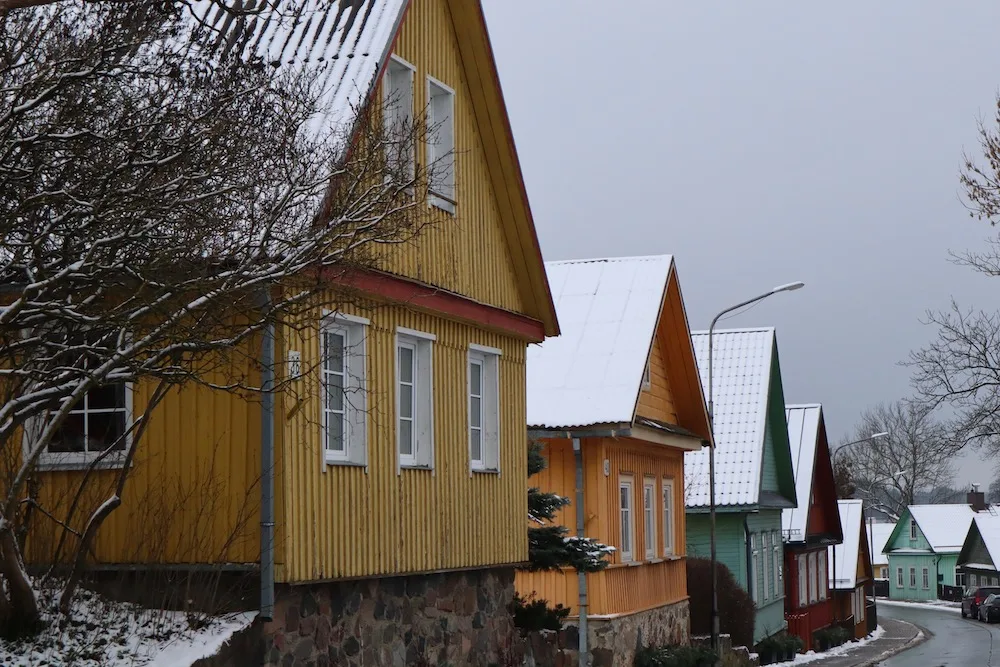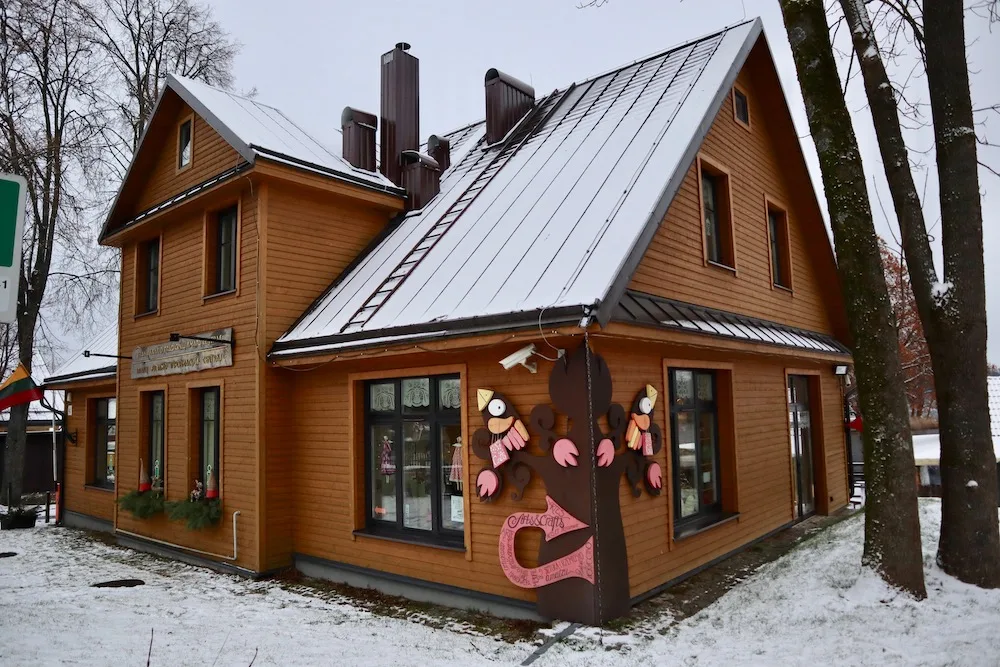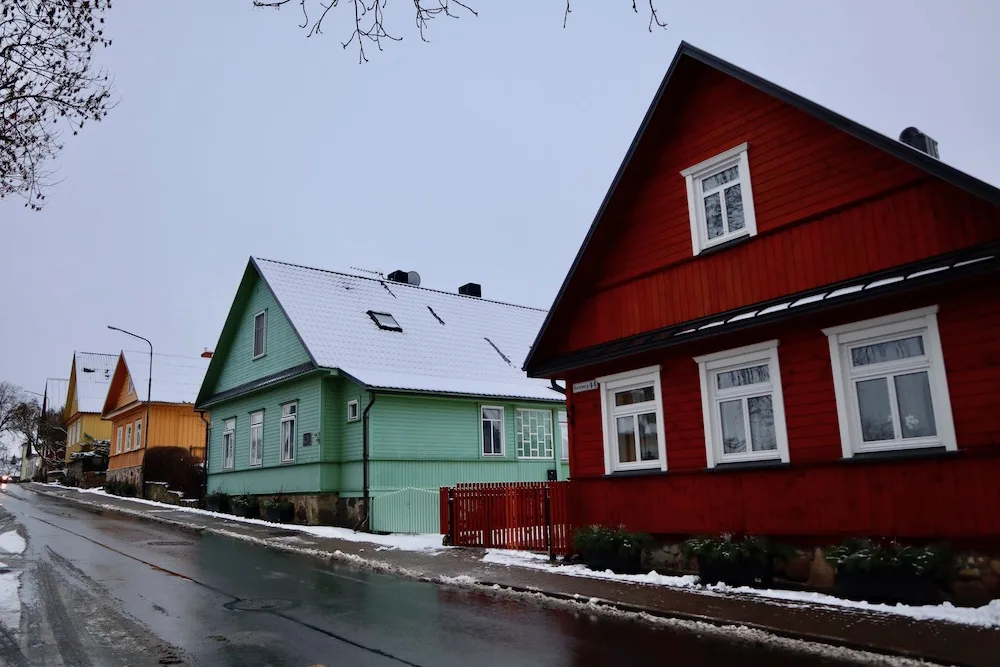 Read more:
What is Trakai?
Trakai is a small, historic city located next to Lake Galve and 17 miles outside of Vilnius. Thanks to the city's close proximity to Vilnius, it's a popular place for tourists to take a day trip. Lake Galve is a prominent feature for Trakai and this is a popular summer destination for lakeside holidays.
Lake Galv? has 21 islands, making it a wildlife haven with so many birds! The most famous island is home to Trakai Lake Castle, a stunning gothic castle with all the fairytale vibes!
Trakai may be a popular spot during the summer but it's equally beautiful in the winter. I visited in November when Lithuania had its first scattering of snow. It was so pretty! The edges of the lake were beginning to freeze and within a few weeks the whole lake would be frozen, making a magical skating rink!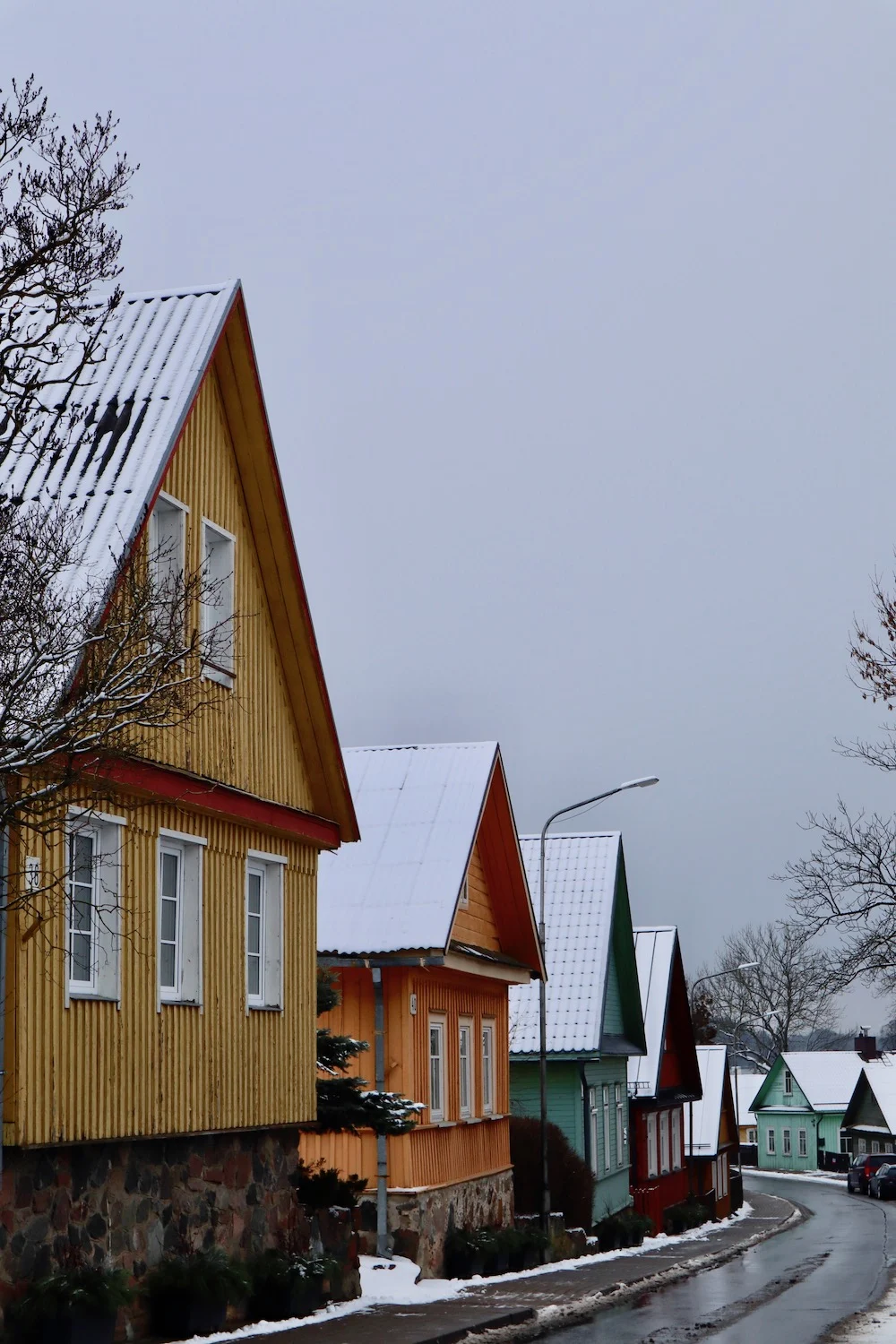 How to get the train from Vilnius to Trakai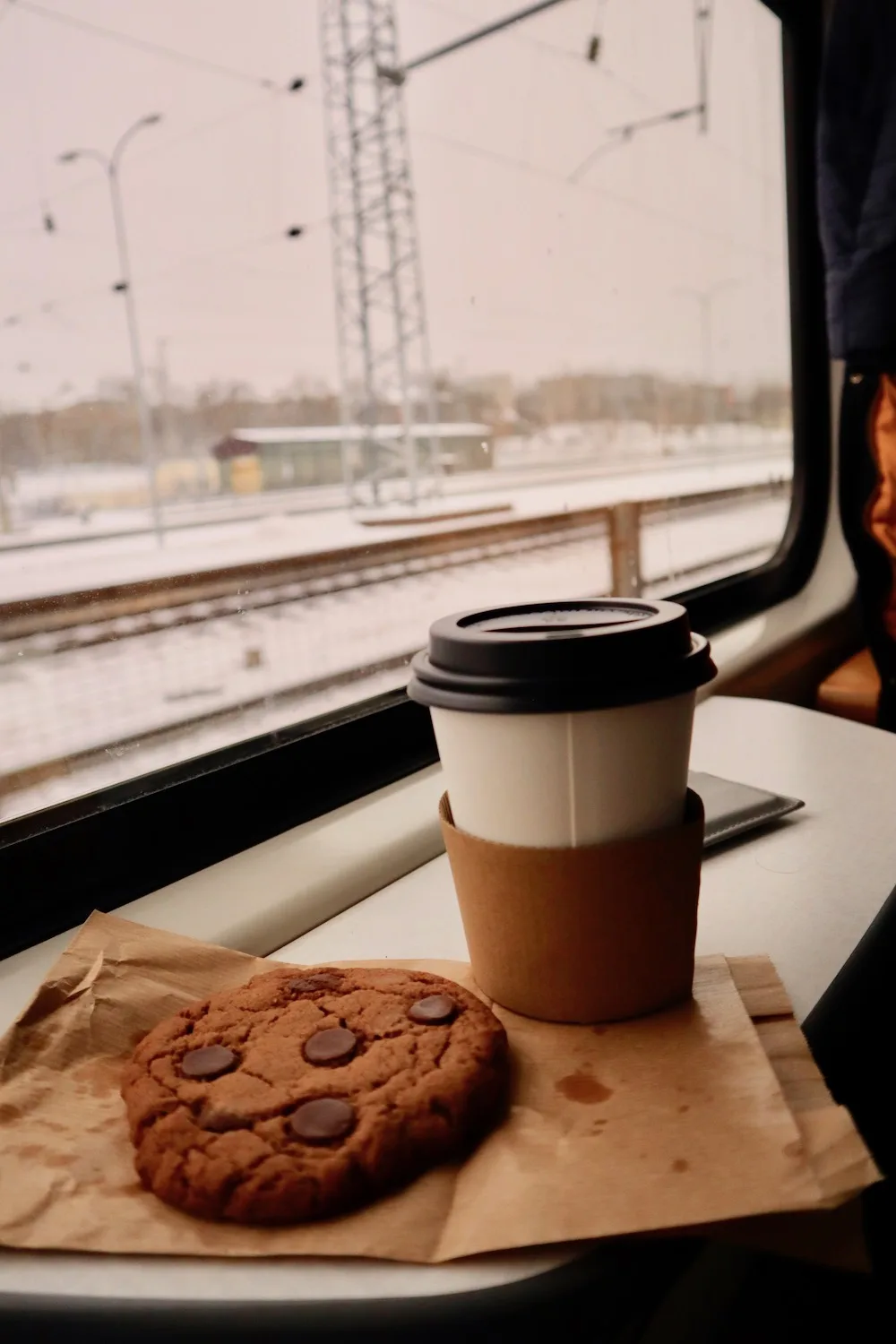 Head to Vilnius Train Station
Buy tickets at the station or online (€2.10 each way)
Train takes 40 minutes
It's then a beautiful 3km walk to the castle or you can catch the bus
I chose to take the train from Vilnius to Trakai and it couldn't have been easier. Buses are available too which are cheaper and more regular but I do like the simplicity of trains!
Vilnius is a small city so it was easy to walk to the train station. I bought my ticket from the ticket desk at the station and it cost £1.76 each way. On my return journey I bought my ticket (via card) on the train as the ticket desk at Trakai wasn't open.
The train station in Vilnius is large and modern with toilets, cafes and display screens showing you which platform your train will leave from.
You can check the timetables and buy tickets to Trakai online here.
There's the option to buy First Class tickets which I don't think is necessary as the standard class was fine and my train was very quiet.
The journey took 40 minutes and was a quiet, pleasant journey. A ticket conductor does travel up and down the train checking tickets. Trakai is the final stop so you don't need to worry about missing your stop.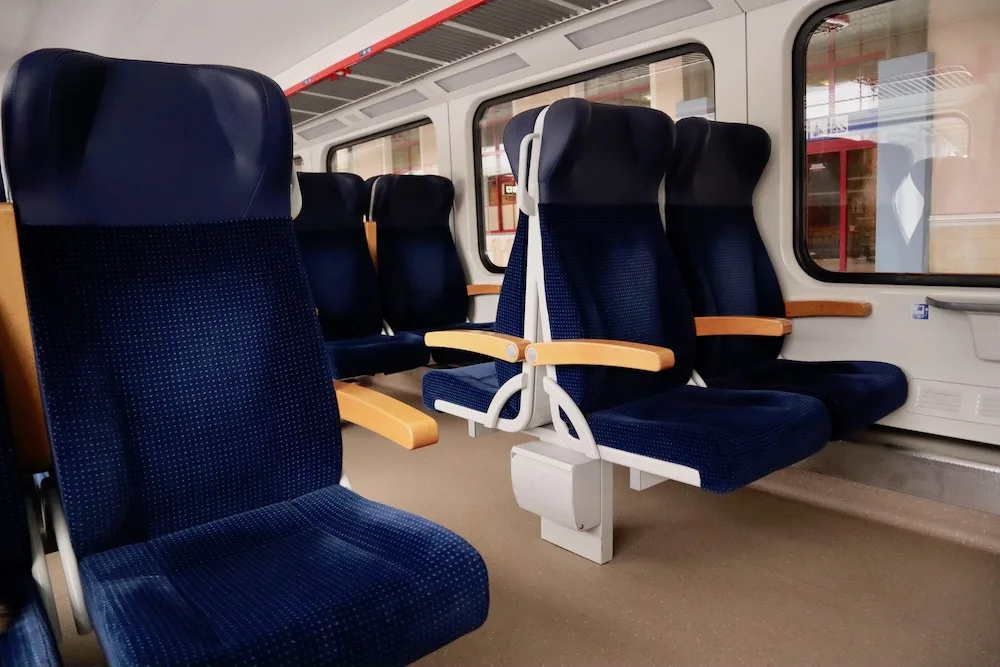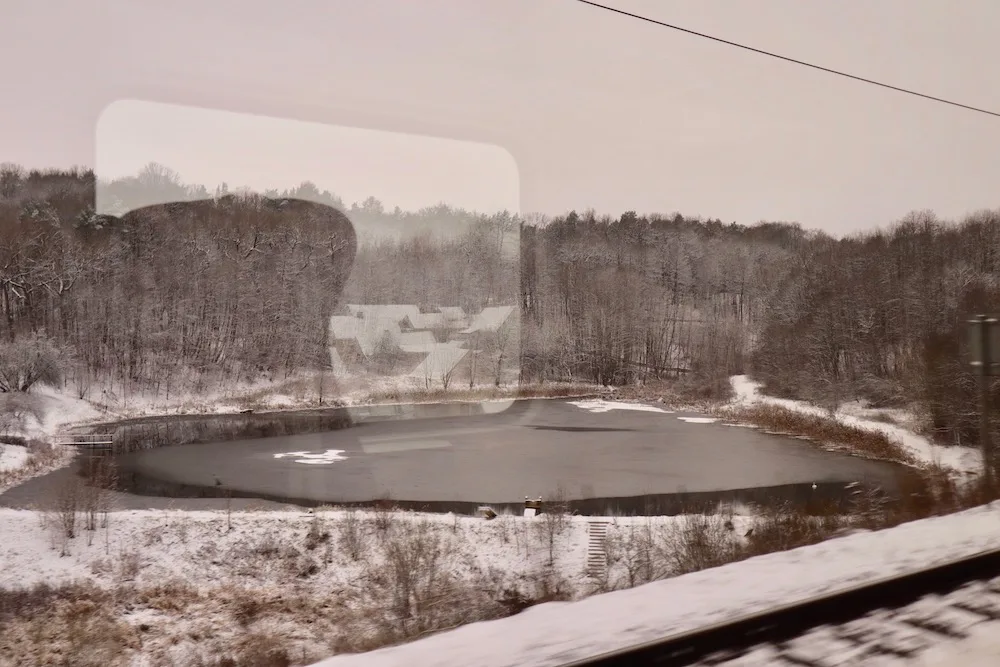 Tours to Trakai
If you're unsure about taking public transport or just want a really simple and easy way to visit Trakai then I'd consider taking an organised tour with Get Your Guide.
What to do in Trakai
Many people think there isn't much else to do in Trakai other than see the lake and the castle but there are actually a lot of historical attractions.
I'm not much of a museum person but if the weather was better I would have loved to go hiking and walk up to the Hill of Angels.
Visit Trakai Castle
Walk around the lake
Take a boat trip on the lake
Eat in one of the traditional restaurants
Go hiking (I downloaded this self-guided hiking trail from Airbnb. It was too snowy to actually do the hike but this is a great option)
Admire the beautiful buildings
Shop for souvenirs
Eat some traditional pasties called Kybyns (try the restaurants or there was a great food truck near the bridge to the castle island)
See the the old Russian Empire postal building
Visit the Hill of Angels (it's a long walk so you'd need extra time for this)
Paddle on the lake
Take a Kybyns Cooking Lesson
Visit the chocolate sculpture museum
Visit the Trakai Orthodox Church
Visit Trakai History Museum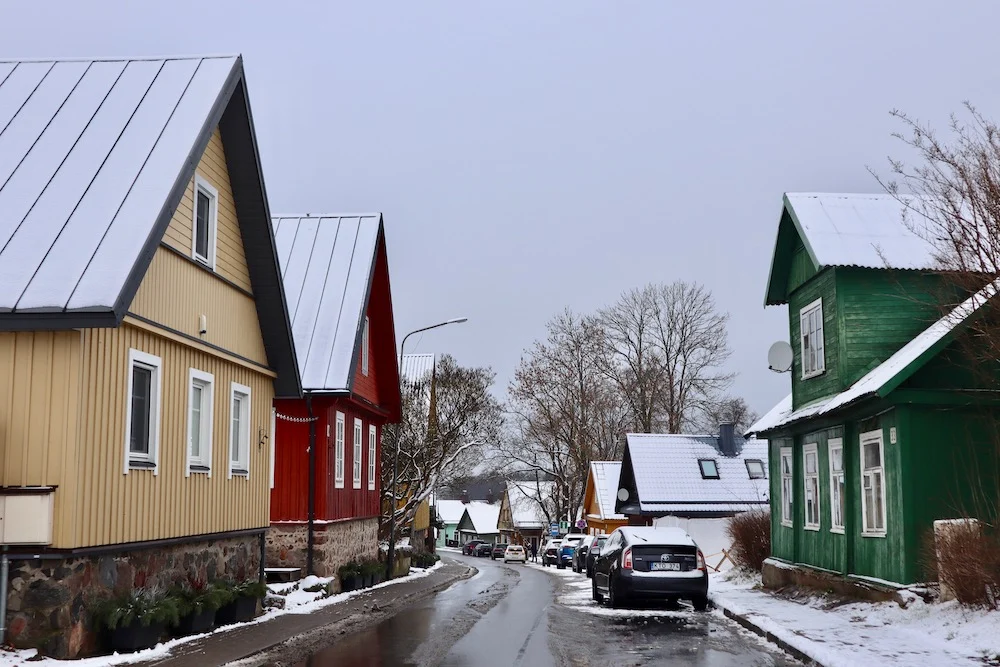 It was a very cold day when I visited Trakai so I didn't stay too long and the highlight of my visit was a walk around the lake and a visit to the Trakai Island Castle.
After getting off the train I used Google Maps to guide me to Trakai Castle. I opted to walk around the edge of the lake and it took about 40 minutes. I actually didn't need Google Maps because it's one footpath all the way there but it helped me see how far I had to walk and how long it would take me.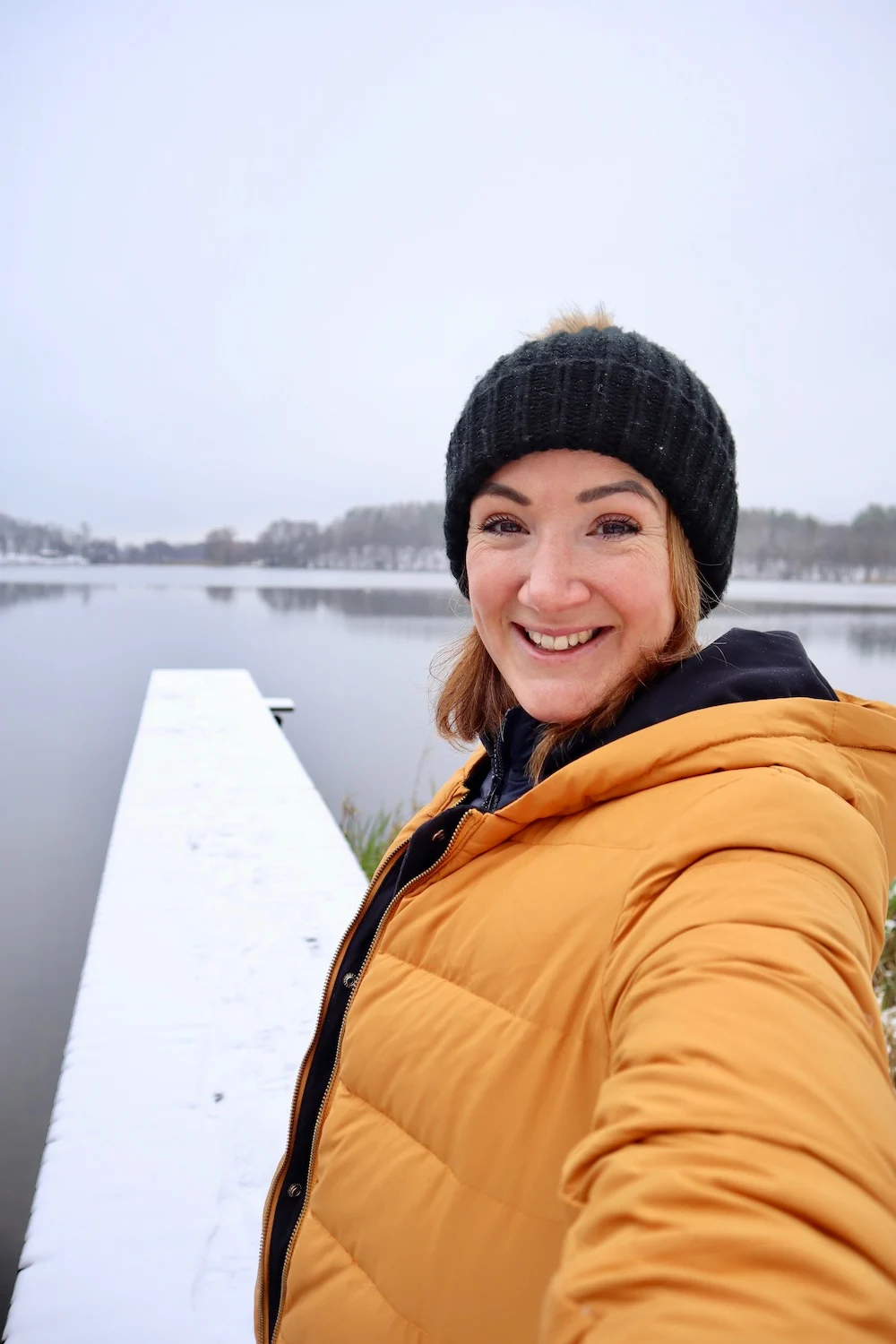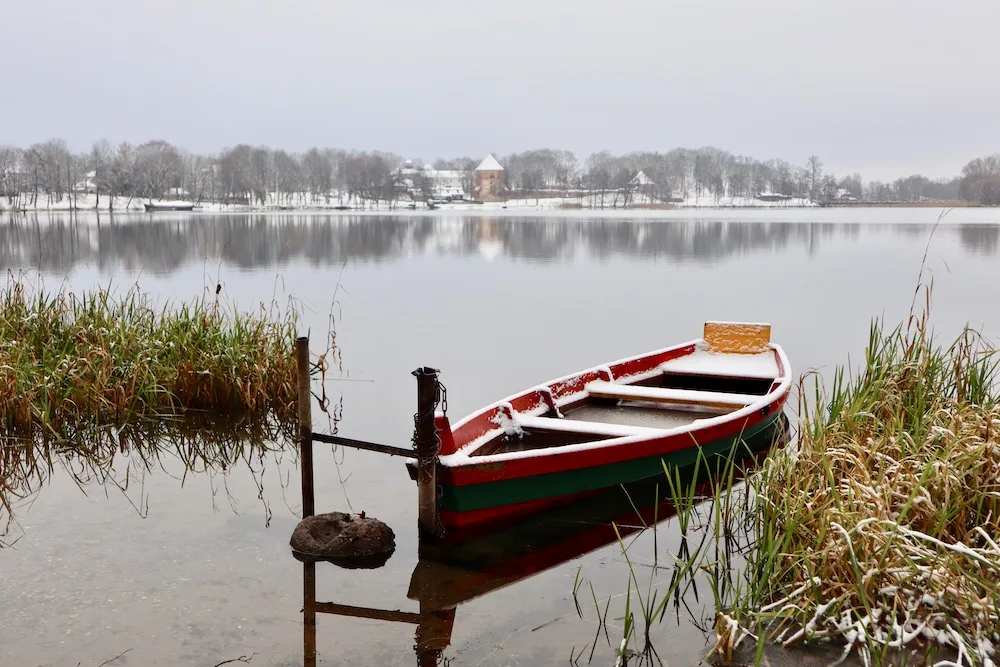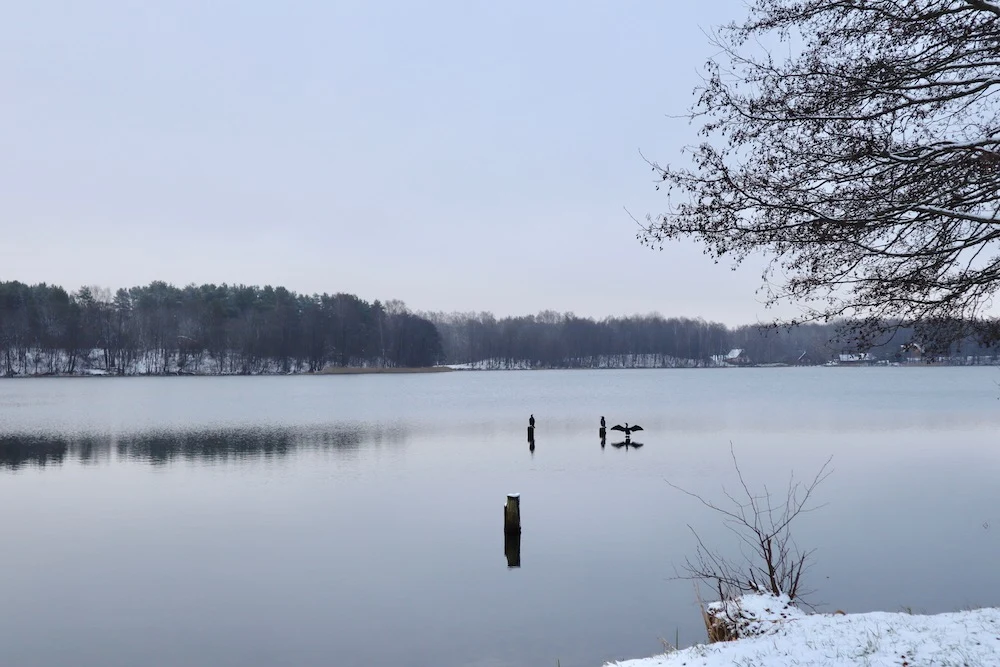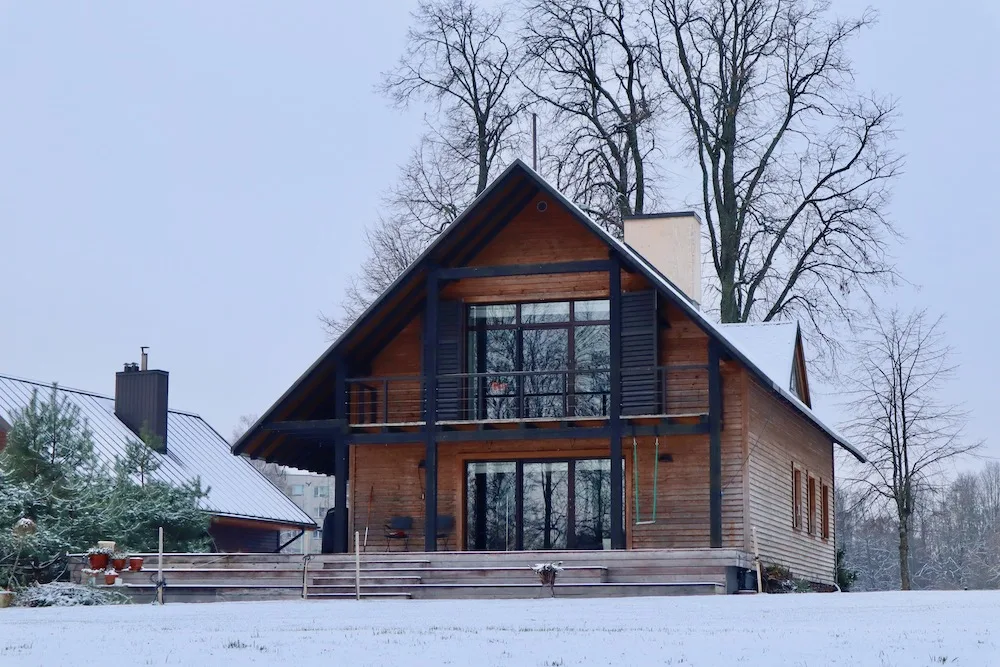 There was actually a construction fence blocking the footpath that leads around the lake but, as it was snowing, I could see footprints around the fence so I decided to see how far I could get. Thankfully, there were no other obstructions along the footpath and I'm not sure why the fence was there. I came across a handful of people during the walk but everyone from my train took a different route to the castle. I think many of them took the bus but they arrived at the castle at the same time as I did so, if you can manage the walk, then I highly recommend it!
Visiting Trakai Castle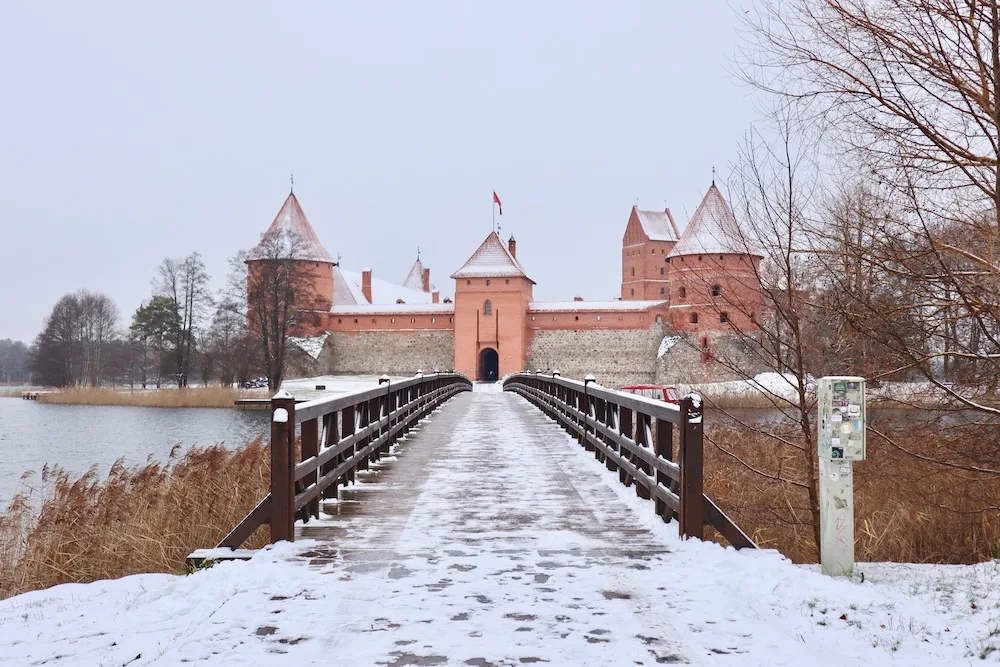 Trakai Castle is the highlight of any trip to Trakai! A long wooden bridge connects the castle island to the mainland and it makes an imposing entrance as you walk along it.
You can pay to go inside the castle and it's well worth the small fee.
It currently costs:
From April to September:
€12 adults
€6 pupils, students, pensioners
From January to March and from October to December:
€8 adults
€4 pupils, students, pensioners
It's also worth noting that there are toilets inside the castle! There weren't any other public toilets open during the winter months so this might sway your decision! There are some interior rooms you can visit inside the castle and these are lovely and warm – another factor which might influence your decision if you're visiting during the winter months. It was well worth paying to go inside to warm up and use the toilets!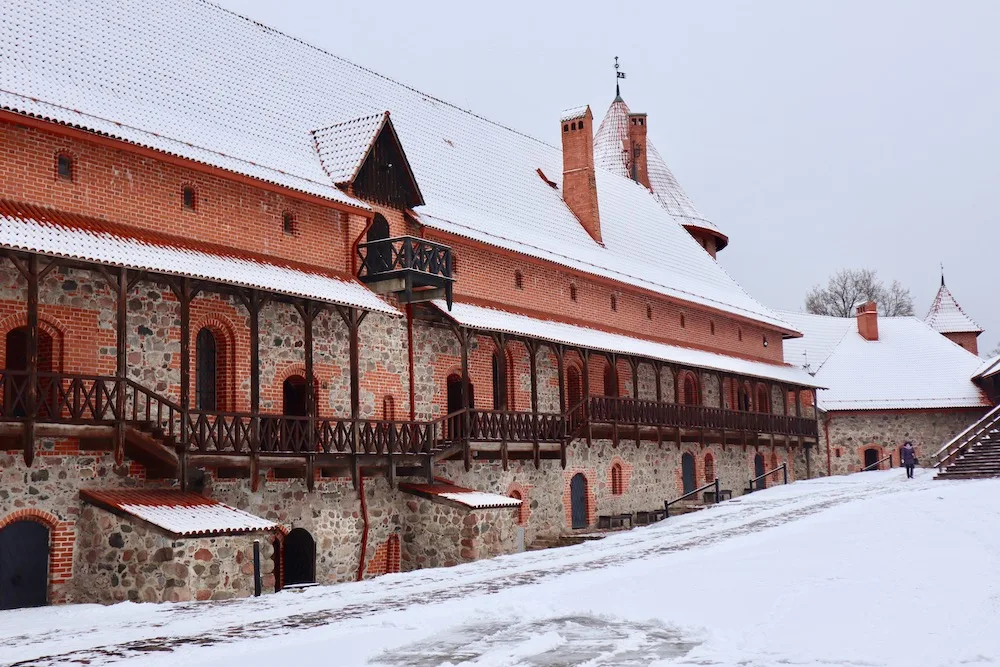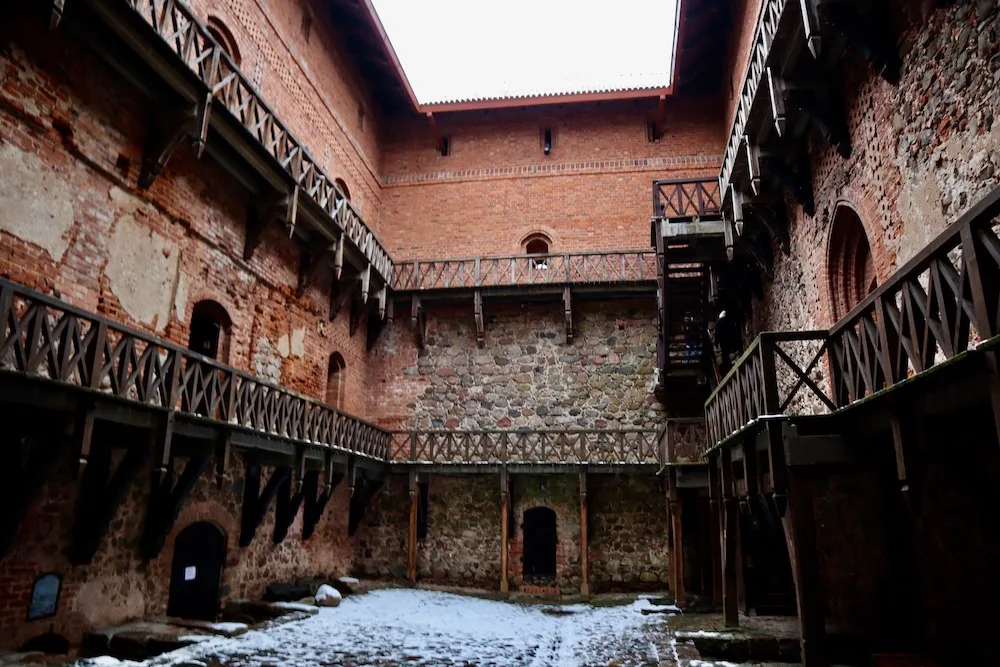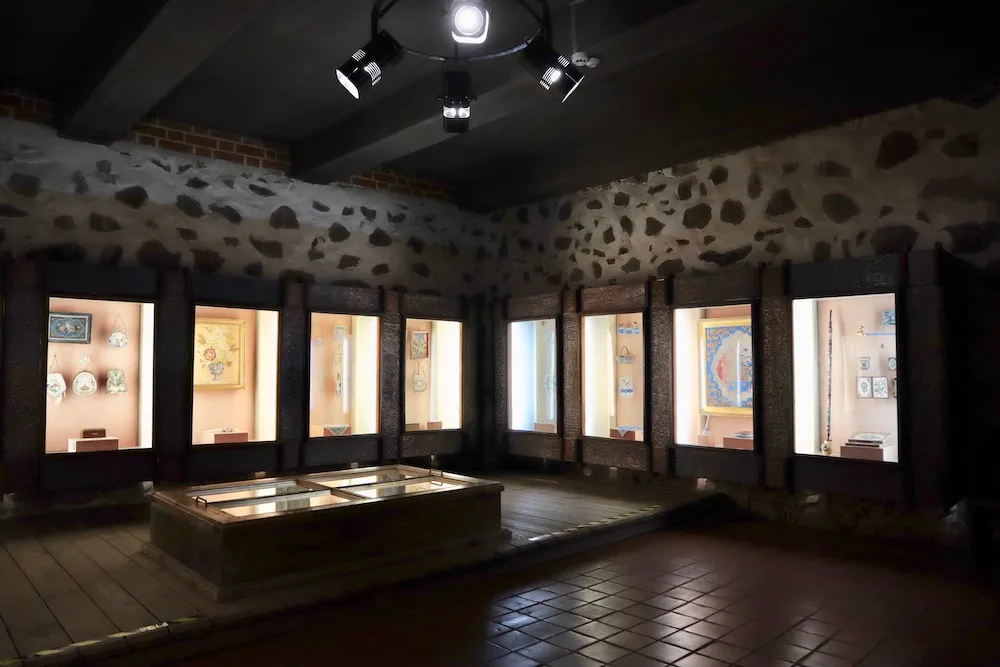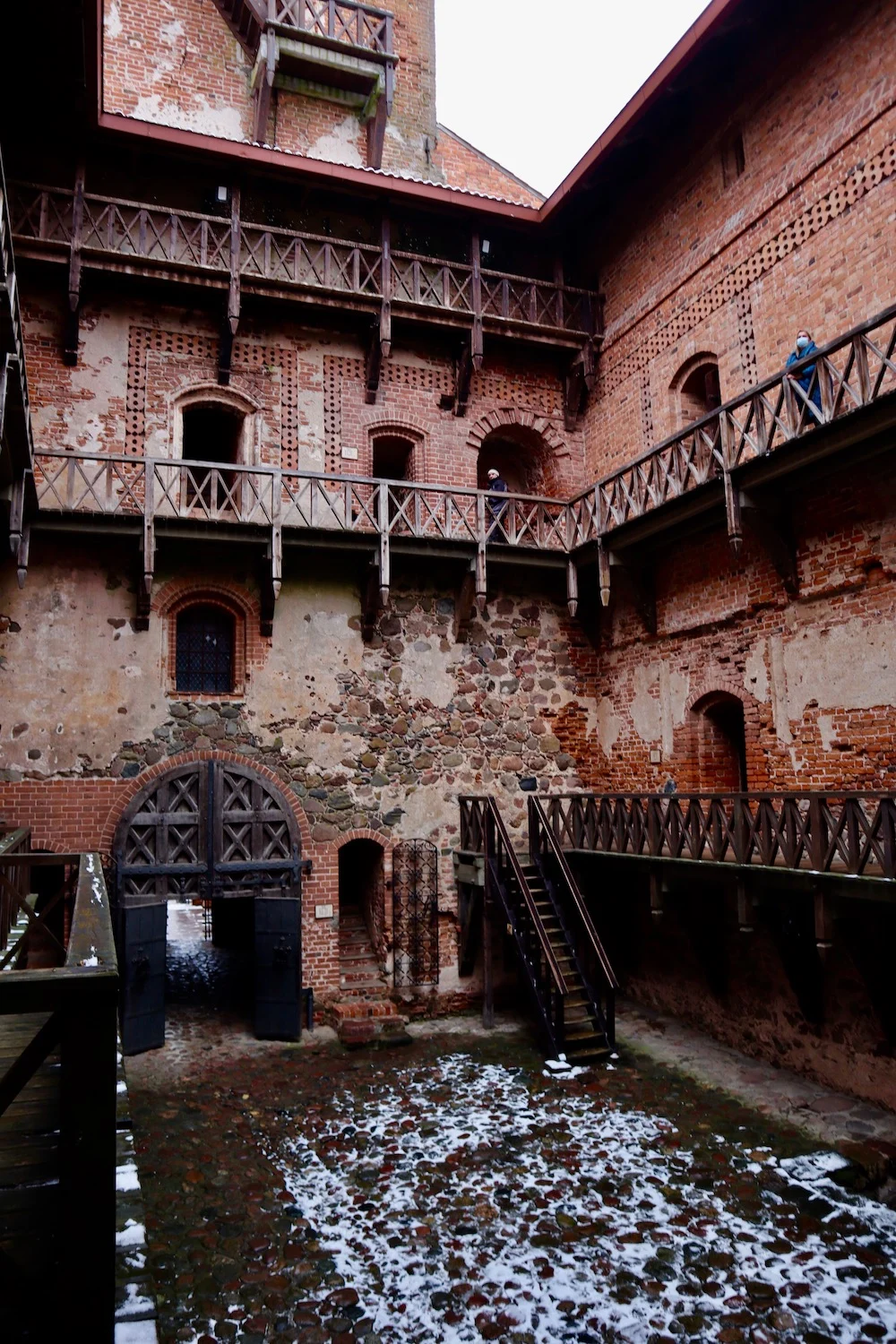 How long should you spend in Trakai?
Many of you reading this will be visiting Vilnius for a short 2-4 day break so I'm going to assume you don't have lots of spare time.
I'd recommend setting aside ¾ of a day to visit Trakai. If you're pushed for time then half a day is fine. If you're visiting during the hot summer months then you may wish to spend all day but if it's winter then all day might be too much.
Tours, activities and trips in Trakai