"Party in April. Sleep in May".
That's the tagline accompanying Whistler's annual Ski and Snowboard Festival. To be honest, it tells you a lot of what you need to know about the event… having just attended, I can confirm; sleep is most definitely needed.
With late spring and summer being full of ski holiday deals, now is the perfect time to book next year's trip to the piste. I'm putting forward the perhaps slightly controversial case that you should delay yours to April, and for one reason only.
WSSF.
If you're dubious, or just wondering what on earth I'm talking about, let me tell you more.
So, what is WSSF?
An annual celebration of snow sports through art, film, photography and music, WSSF has been running for the last 21 years. Based in Whistler (arguably the world's best year-round ski resort) on the west coast of Canada, it draws spring skiers, snowboarders and all-round good time-seekers from around the globe. It typically runs for just over a week, incorporating free and paid for events, a music stage and a huge party to top the whole thing off.
What's so special about WSSF?
WSSF isn't just about skiing and snowboarding – it's a celebration of art, of creativity, of the mountains, even. In fact, despite the name, you really don't even need to be into skiing and snowboarding to attend. The films and photography taking centre stage cover a wide range of topics, from travel and nature to love and identity.
Whistler is a renowned party town for holidaymakers and those crazy folk doing ski seasons. Although drinking and dancing are a (major) part of the festival, there's a lot more to it than that. I came away from every single event feeling inspired, motivated and determined to up my game as a content creator.
Which WSSF events should I go to?
You're spoilt for choice, really. There's so much to see at WSSF, from art exhibitions and photography showcases to roller derbies and comedy gigs, not to mention some seriously stomach-turning ski and snowboard style sessions.
Most events are staged in the Whistler Conference Centre, which is located right in the middle of the town. This makes it easy to go for some pre-show drinks – try The Longhorn, where you can heat up by a real fire and enjoy big hearty food with a view of the main music stage and ski-in Whistler village slope.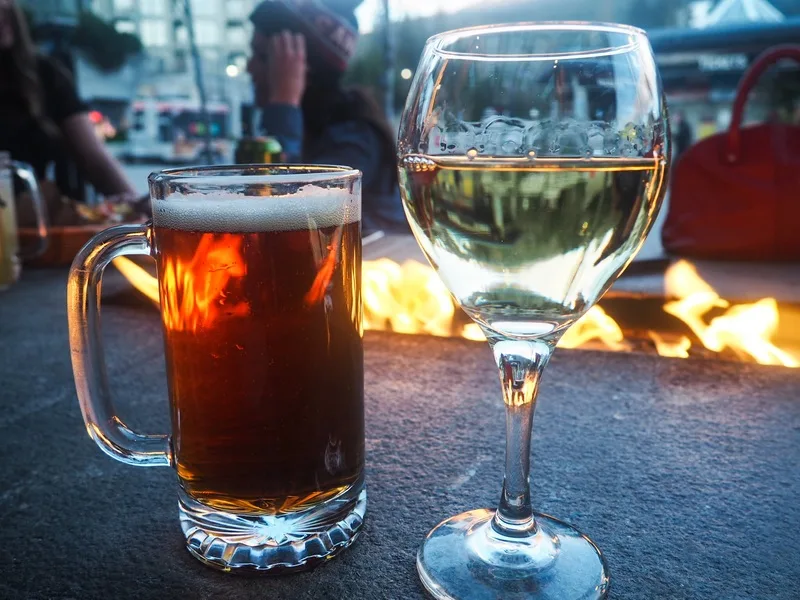 To give you an idea of the kinds of things on offer, here's this year's events calendar, and below are just a few of my favourites.
The 72 Hour Filmmakers Showdown – Creative teams with an idea and taste for punishment forgo sleep and sanity as they film, produce and edit a film all in 72 hours. Mental. The only rules are that the film has to be filmed within 100km of whistler, and needs to include a prop decided on by the judges. This year's films were outrageous, hilarious and beautiful – and each team approached the challenge completely differently. One brought a love poem to life, while another used a video game interface to stage a cleaner's revenge against snowboarding douchebags. The winning film delivered a stark warning against the over-use of social media.
The host, Feet Banks, was naturally funny and charismatic, and it wasn't long before the whole night took on a raucous, mischievous atmosphere. Plenty of audience participation made sure we stayed involved, and we even got to vote for our favourite.
The Olympus Pro Photographer's Showdown – For this event, five of the world's best adventure photographers come together to showcase their best work in a 9 minute film, set to music. This event is a great way to nab some pro photographer tips and admire some incredible, profound work. This was one of my favourite events for this reason – I couldn't wait to get my camera out the next day.
Intersection – Described by many as the "ultimate" WSSF event, Intersection involves five ski and snowboard films going head to head to win $10k. The films had to be created in just one week, during some of the most intense snow Whistler had seen in years. The result was pretty mind-blowing – some of the shots of snowboarders and skiers doing tricks made my stomach flip in the best way.
The Silent Disco – If you don't feel up for the infamously crazy End party on the last night of the festival, the Silent Disco at GLC is a really fun alternative. Walking into a quiet club full of people dancing to three different beats is always going to be hilarious, and the choice of music is fantastic too.
Gibbons Style Sessions – A huge ramp is set up in skiers plaza, allowing you to watch skiers and boarders doing what they do best while you relax with a drink or two.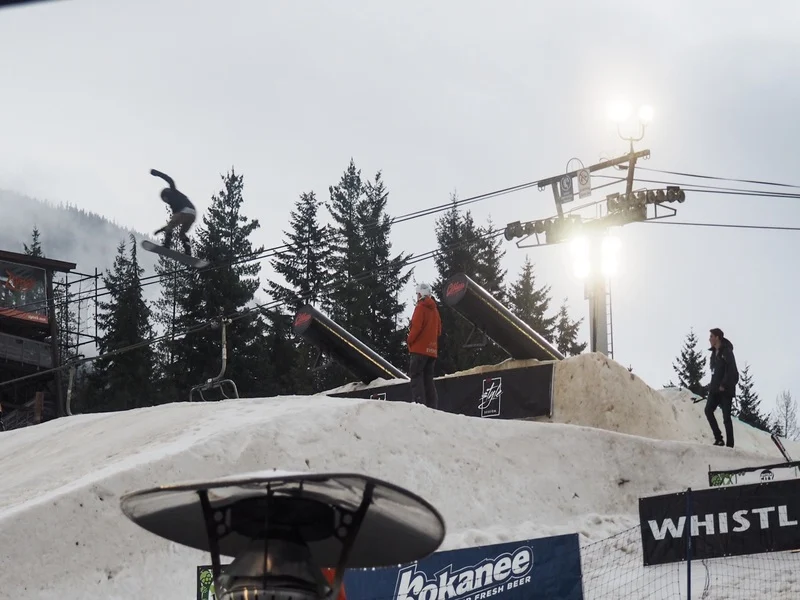 The Whistler Conference Centre is also packed full of fascinating art to check out while you wait for the show to start. There's even a DJ to serenade as you browse.
But… I don't ski. Will I still enjoy it?
Yes! Definitely. A lot of the events don't even revolve around skiing or snowboarding, and the ones that do are interesting whether or not you ski. Plus, there's plenty to do in Whistler without even heading up to the mountain.
If you feel like chilling out, you could head to the Scandinave Spa to enjoy some traditional Nordic TLC. The idea is that you spend 15 minutes in the heat – a hot tub, steam room or sauna – and then spend a – ahem – refreshing 30 seconds in a freezing cold pool! You then relax for 15 minutes in the solarium to allow your temperature to return to normal. It's thought that the quick changes in temperature are beneficial for the body, and after the first cool dip I promise it stops taking your breath away! It's a bit of a Whistler institution, and just the thing for tired muscles.
Alternatively, soak up some culture at the Audain Art Museum (they've got some great local art, which chronicles the history of British Columbia) and learn about the indigenous peoples of the region at the nearby Squamish Lil'wat Cultural Centre.
Ok then. Give me the logistics
Where is it? Whistler, on Canada's west coast.
How much does it cost? The festival itself is free to attend, as are many of the events. The paid for events range from $15 – $35 Canadian dollars (about £7.50 to £17.50).
When can I book? You're best to book your Whistler ski holiday soon as there's loads of deals floating around right now. The festival opens early next year.
Where should I stay? Lodging Ovations at Creekside (quieter, luxurious accommodation away from the main drag), The Crystal (more budget-friendly option right in the centre of town), or The Fairmont (all out luxury, with an amazing spa).
As for me, I'm sad that WSSF is over for another year. I already miss the infectious energy of Whistler. I'm consoling myself by planning next year's festival! Have you ever been? What did you think?
[column size=one_half position=first ]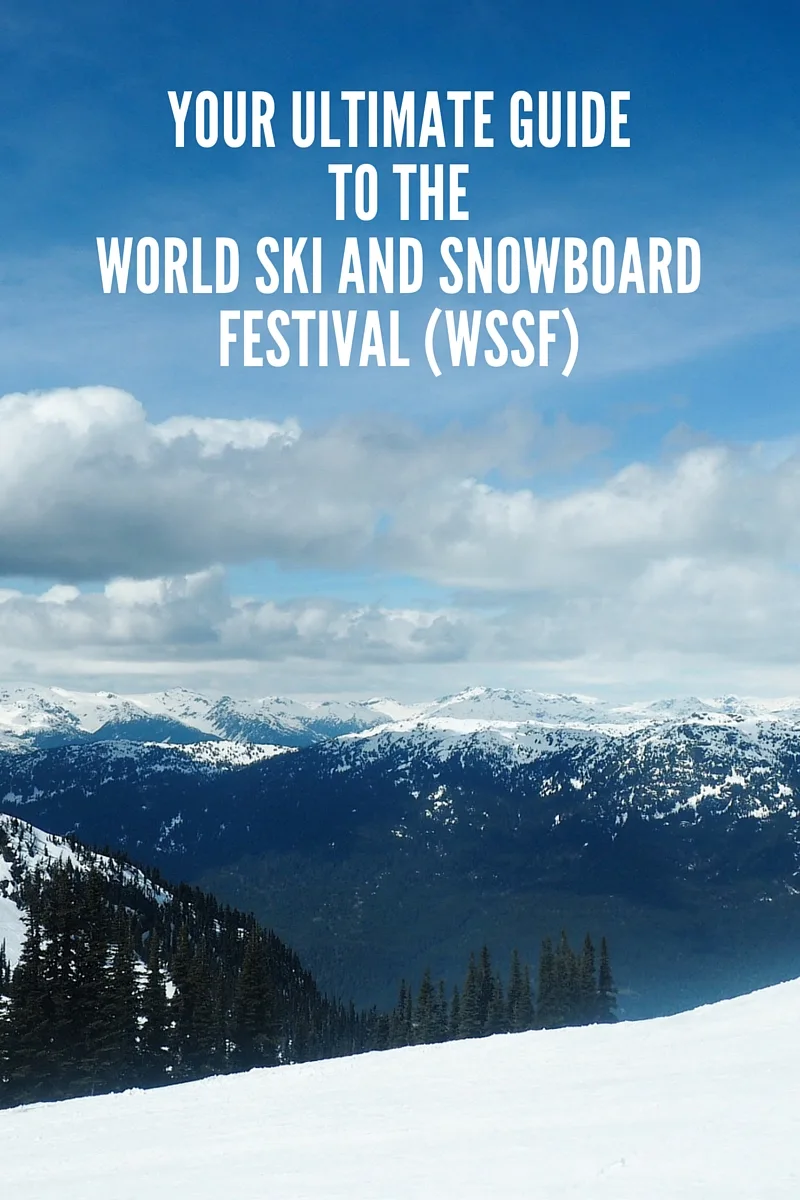 [/column]