Fuerteventura may only be 100 km in length but this Canary island is home to hiking trails, picture-perfect villages, cultural sites, diverse natural landscapes, and more. There are so many things to do in Fuerteventura and there's the added bonus of having year-round sunshine, making it a perfect (and affordable!) destination for us Brits searching for winter sun.
Here are the absolute top 10 best things to do in Fuerteventura that will guarantee an amazing holiday.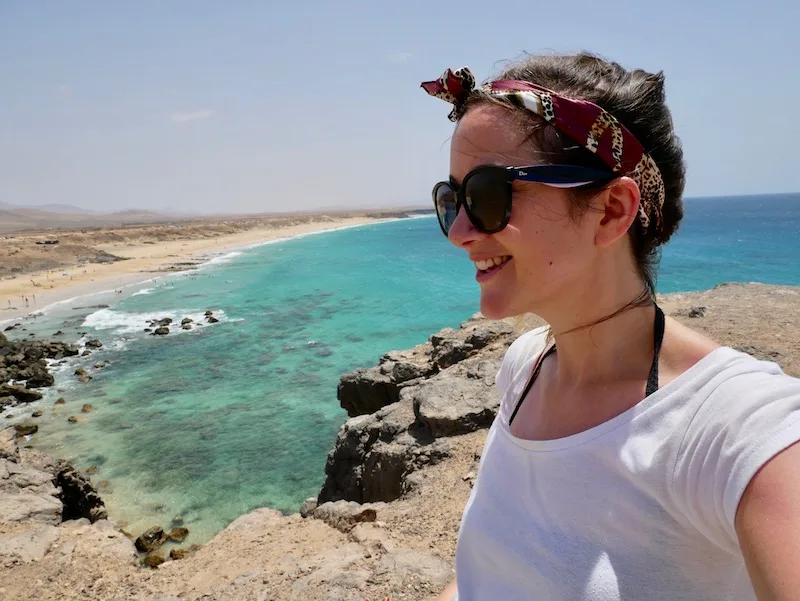 1. Discover the sand dunes of Corralejo Natural Park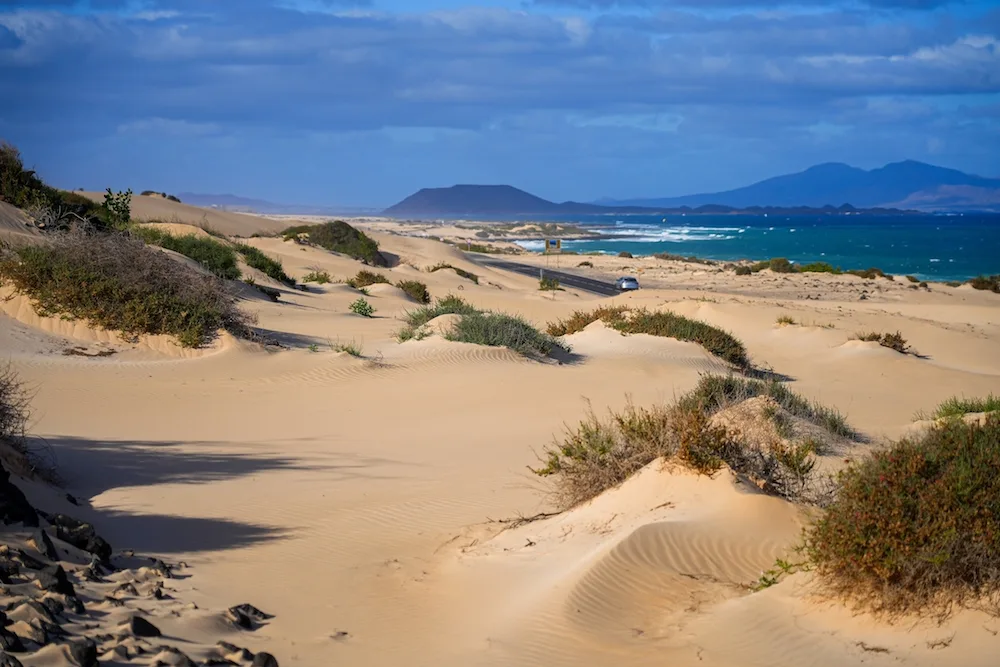 One of the best things about Fuerteventura, and the Canary Islands as a whole, are the starkly different landscapes you'll find on such small islands.
Corralejo is my favourite area of Fuerteventura! It's a resort town and former fishing village on the northeast coast of the island and there are lots of bars, restaurants, and hotels.
If you travel south from the town along the east coast, you'll enter Corralejo National Park. It's an expansive, virtually untouched nature reserve with long stretches of sand dunes.
As you look out across the desert inland you might see nothing but the ripples of the sand with the odd succulent sprouting through. They are arguably the most impressive sand dunes in the Canary Islands and if you've ever been to Gran Canaria you know that's a bold statement!
If you're driving to and from Corralejo town then definitely take the FV-104 highway along the edge of the national park. Stop for photographs at some of the pristine beaches here like Playa del Moro or explore the rocky coastline of Playita del Porís.
And if you want to explore the area beyond the beaches and highway, follow the trail up to the top of Los Apartaderos or Roja mountain nature reserves. Pack your hiking boots because these trails are very rocky! You could even book a dune buggy tour to take you off-road for a real adrenaline rush.
2. Check out Playa de Cofete, one of Europe's best beaches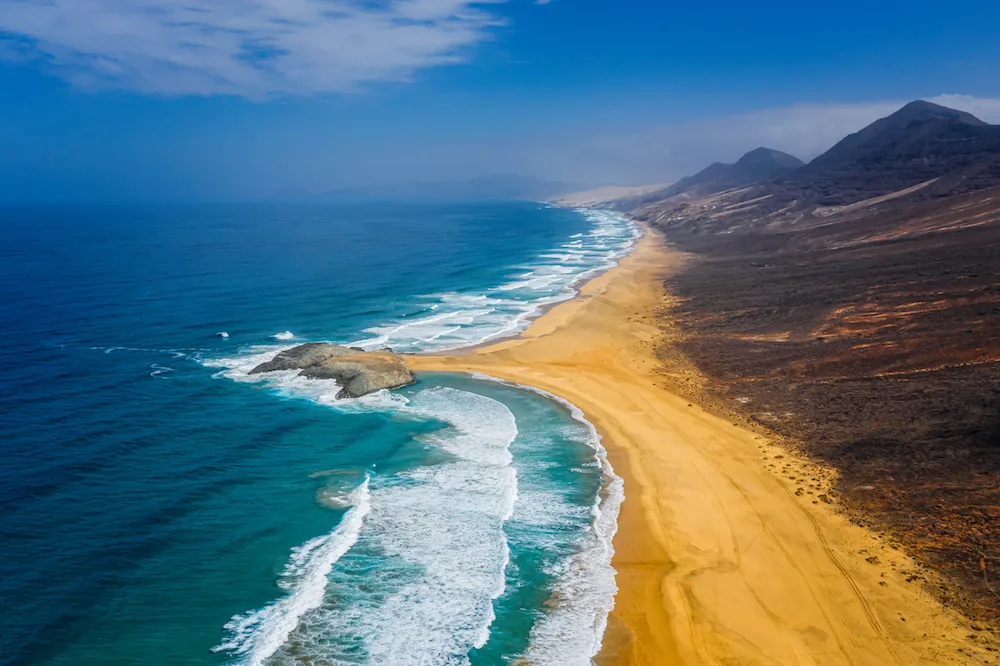 Of course you're going to check out some beaches during your trip to Fuerteventura. It's probably one of the main reasons you're going! There are around 80 designated beaches on the island, six of them are blue flag certified, so you'll be spoiled for choice.
Playa de Cofete is one of the most remote, secluded beaches in Fuerteventura.
This beach is on the edge of the Jandía Natural Park on the southern tip of the island where there are sand dunes and rocky hills. It's difficult to get to this beach without a 4×4 vehicle because the roads are so rocky. You can hop on one of the regular 4×4 tours to the beach from Morro Jable so it's not as difficult to get to as you might think.
Disclaimer before we go any further; This is not the kind of beach where you're going to laze in the sunshine, have an ice cream and a swim. So, why the heck would you visit?!
Mainly because the dramatic beauty of this beach will take your breath away. It regularly featured on lists of the best beaches in Fuerteventura and it came second in the Travelers' Choice by Tripadvisor awards for the best beach in Europe.
This Cofete guided hiking tour and picnic looks brilliant. You visit a volcano and hike through incredible ravines.
3. Sail to Lobos Island from Corralejo Port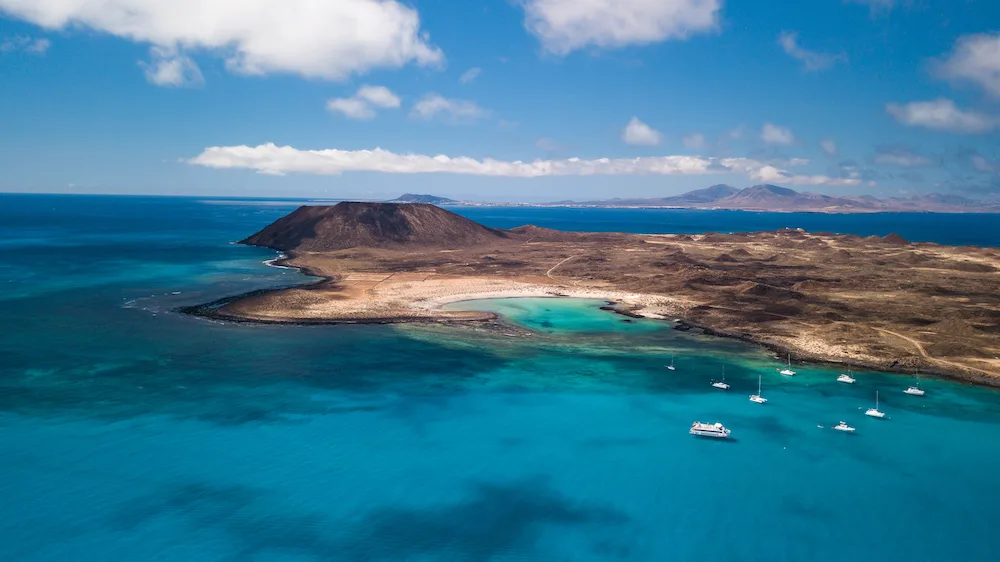 Fancy a day or even a half-day trip from Fuerteventura? If you're staying in Corralejo, you can easily catch a boat from Corralejo Port to Lobos Island.
It only takes around 20 minutes to sail across the Bocaina Strait with Naviera Nortour which is the only public ferry company that currently sails this route, though there are lots of private tour companies. Naviera Nortour departs five times a day during the summer season and less frequently in the off-season.
The island is mostly uninhabited though there are a few rural villas dotted around like you might see in Jandía Natural Park near Playa de Cofete. You can pack food for the day or you can dine at the only restaurant on the island in El Puertito, an old fishing village.
Swim in the waters next to Playa De La Concha De Lobos and bring your snorkel so you can see the exotic underwater sea life. Or you can climb La Caldera, the highest peak on the island or walk out to the Punta Martiño Lighthouse.
It only takes around 45 minutes to hike from the port to the lighthouse on the opposite end of the island. You'll have plenty of time to do everything you want to do on Lobos!
4. Wander Through the Charming Village of Betancuria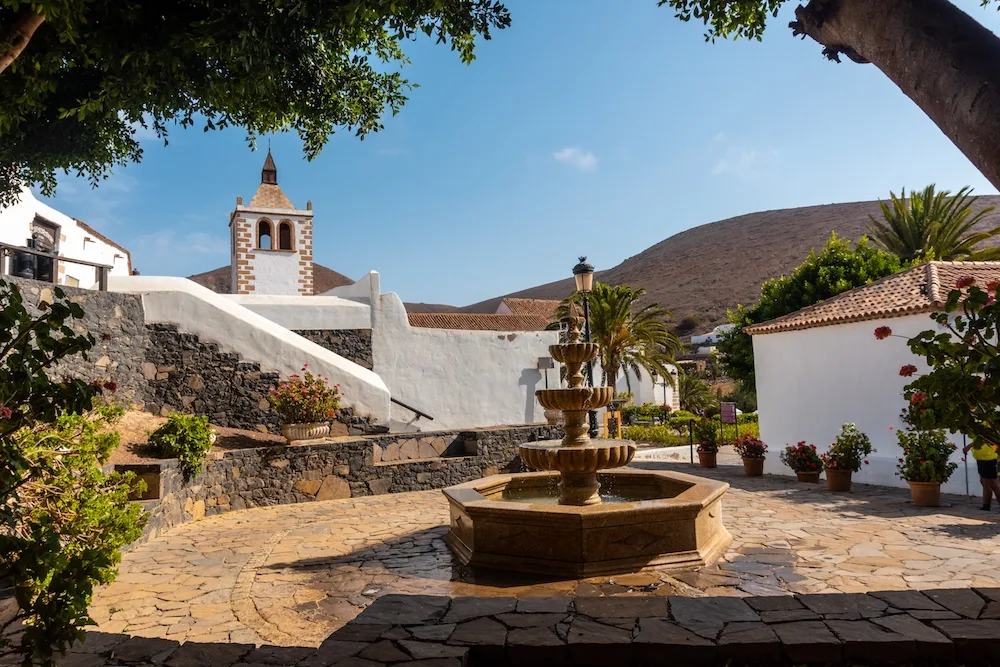 There are dozens of gorgeous little villages dotted all over Fuerteventura with beaming white villas, lush palm trees, and narrow cobblestoned streets. You'll probably stumble across a few as you drive around the island without meaning to!
Betancuria is just one of those gorgeous towns that you should take the time to explore if you're passing by. It's near the centre of the island in the Betancuria Rural Park so it's in a convenient spot. Check out the main square, pop inside the Church of Santa María de Betancuria, and sample some cheese from the local cheesemaker.
Yes, there are lots of 'cheese houses' in Betancuria that produce Majorero-style cheese made from Canary Island goats. Finca Pepe is a farm just outside of the village that rears these goats and where you can taste the freshest cheese you've ever eaten.
There's also an aloe vera cosmetics shop in Betancuria that sells beauty products made from the plants that grow on the island. Perfect local souvenirs you can pack in your suitcase to take home with you!
5. Stay at the Avanti Lifestyle Boutique Hotel
Avanti Lifestyle Boutique Hotel is a gorgeous property in the most amazing location.
When it originally opened in 1969, it was the first-ever hotel in Corralejo. Now, it's a unique 4-star hotel overlooking Playa Corralejo and the coastline. Avanti's blue and white decor flows from the exterior into the interior creating a modern and polished look. But the low beams and beaded curtains make the suites feel homely and cosy.
Restaurante Corralejo is their onsite dining room where you can find lots of fresh fish and fruity cocktails on the menu. You can also book rooms with hot tubs on the terrace and there is direct access to the beach from the hotel. It's perfect for an adults-only (children 16+ are allowed) getaway to Fuerteventura.
6. Explore the markets and windmills of La Oliva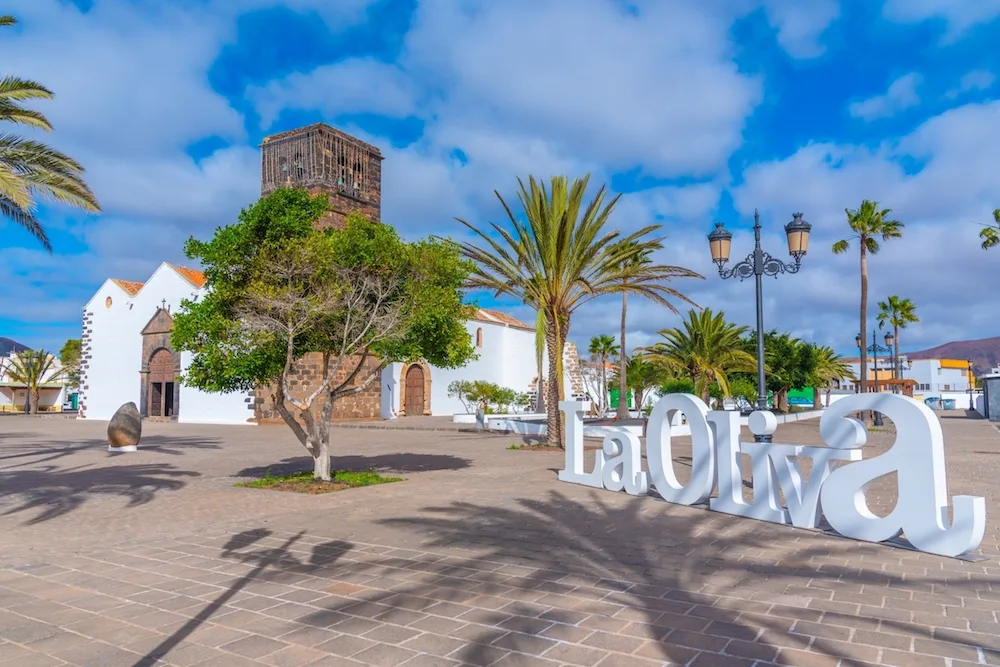 La Oliva is around the same size as Betancuria (just less than 1,500 residents) and there are lots of similarities between the towns. They're both quiet and charming but there are other things you can do in La Oliva that will give you a taste of local life so it's definitely worth making the extra effort to visit.
Check out Mercado de las Tradiciones, an indoor produce market where local farmers sell fruit and vegetables. If you're staying in an apartment, this is the perfect opportunity to pick up fresh ingredients to cook your own meals that are higher in quality and lower in price than the supermarkets! But you can also buy local cheese, wine, olive oil, aloe vera cosmetics, soap, and salt from the Salinas del Carmen salt flats too.
After the market, head out to Molinos de Villaverde. Los Molinos translates to 'windmills' in Spanish (file that fact in the "things I never thought I'd learn to say in another language" box in your brain) and there are heaps of them all over Fuerteventura.
These windmills near La Oliva, in particular, look like they've been recently restored. They will look great on your Instagram feed!
7. Indulge in Fuerteventura's best seafood restaurants
It would be such a shame to travel to an island where fish is caught and served the same day and not taste any of it. The waters around Fuerteventura are filled with tuna, red snappers, swordfish, and much more.
There are some fantastic seafood restaurants on the island where you can taste a variety of fish dishes. Though it probably won't surprise you to learn that you'll find most of them in Corralejo since it's the busiest resort town on the island!
Domenoteca is a tiny family-run fish and wine bar near the harbour that serves locally caught fish and wines from the region. In fact, their restaurant menu changes depending on what the restaurant owner has managed to catch that day. It has unpretentious, welcoming decor and it very much feels like you're eating in someone's home.
Other seafood restaurants in Fuerteventura you should check out are La Playita, Bistrot del Mar, and Gregorio El Pescador. Most serve seafood platters or mixed seafood dishes like paella which are perfect if you want to sample different types of fish in one meal.
8. Stargaze at Fuerteventura Observatory in Tefía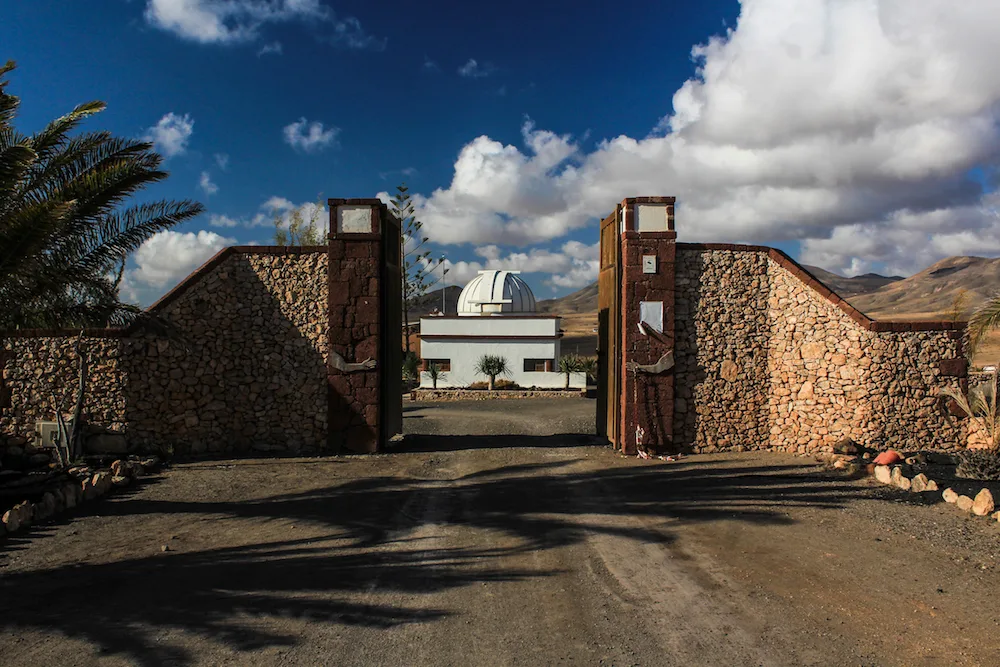 With miles and miles of sand dunes and open nature reserves with no skyscrapers, cities, or street lights, Fuerteventura gets pretty dark at night! This means the island has the perfect conditions for stargazing.
It's definitely one of the best things to do in Fuerteventura and worth staying up all night to witness. But I wouldn't bother getting out of bed unless you are visiting in winter or the shoulder seasons. The sky might not get dark enough in the summer for you to see the blanket of stars that come alive at night closer to the winter solstice.
You could book an official tour at the Fuerteventura Observatory in Tefía if you're super keen to learn more about what you're seeing from a local astrologist. But you could also DIY it by wrapping up and sitting out on your terrace or driving to a quieter spot. There are loads of apps that you can point upward that will tell you which stars and constellations you're looking at.
9. Hike around the Calderón Hondo Volcano Crater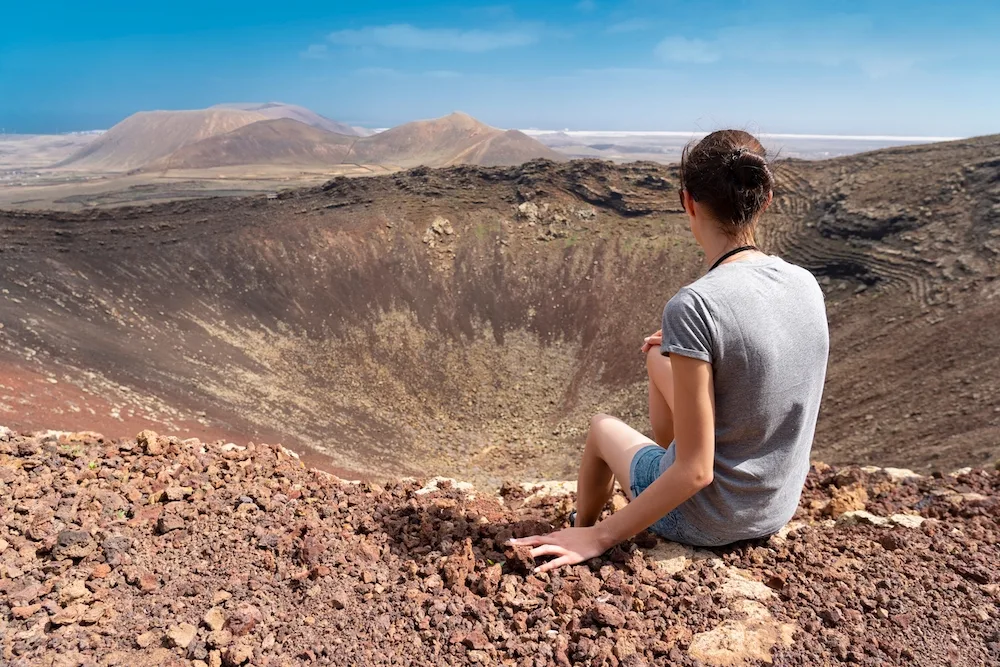 I've mentioned hiking a couple of times on Lobos Island and Corralejo National Park. And actually, it's worth pointing out that hiking is one of the top things to do in Fuerteventura that doesn't involve sand or sea. There are tons of trails through nature reserves but one of the most exciting hikes is to the Calderón Hondo Volcano Crater.
It's a 278m-tall volcano with a viewing platform which is around 25-minutes from Corralejo. There are two paths you can take to the crater from the car park and you'll be able to tell which one is the most popular route. It takes about 90 minutes to walk there and back and it will show you a totally different side of Fuerteventura.
Many people comment that the island has a 'Mars-like' landscape which is difficult to appreciate if you only keep to the coastline. You'll definitely agree that Fuerteventura is one of the closest places to Mars on earth after looking at this giant crater in the middle of nowhere!
10. Book a watersports adventure
You have to make room in your Fuerteventura itinerary to try out a watersport. Fuerteventura has really strong winds year-round so it's the ideal place to try windsurfing, kitesurfing and surfing!
You'll find loads of surf schools offering lessons and there's a surf lesson you can book online here.
If you fancy trying something different, there's even a jet-powered surf lesson which looks fun and would be great if you don't quite have the fitness levels for surfing but want to give it a go.
You could also try scuba diving and snorkelling too and there are plenty of places where you can hire equipment or join a tour.
It's difficult to say definitively which is the best beach in Fuerteventura because so many are fantastic for different reasons. Playa del Matorral in Morro Jable is a great beach for both sun loungers and surfers alike (just beware that there is a naturist section of the beach!).
Grandes Playas Corralejo is a collection of three huge stretches of fine-sand beaches so you're bound to find a spot where you can relax. And Playas de Costa Calma is a spacious beach with clear, deep blue waters which are also perfect for watersports.
11. Join an Azulfit yoga or pilates retreat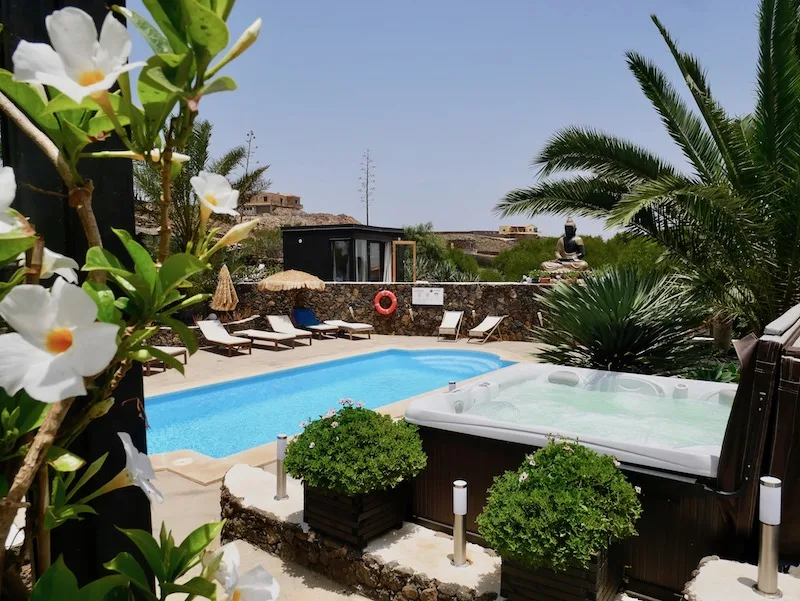 I initially fell in love with Feurteventura during a yoga and pilates retreat with Azulfit. Their retreats are amazing and their Surya location is beautiful. They also do cycling holidays and yoga retreats that include surf lessons so take a look.
Read more: My review of my second Azulfit yoga and pilates retreat