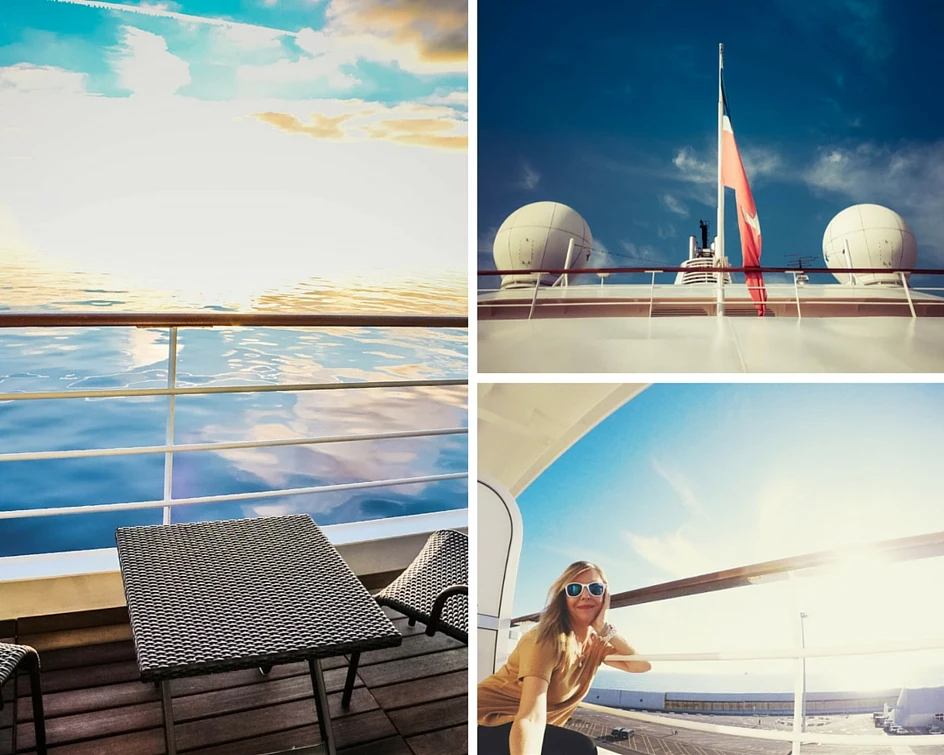 A gourmet start
The ocean was holding its breath. The water as thick and shiny as caramelised sugar, and as flat as glass; without a fold, a crease or a curl, only the soft churn of blue by the white edge of the ship. On the horizon, the sun softly kissed the edge of the sea, exploding gold over the water.
No painter could've recreated it. No musician could've played its harmony. It was a dreamscape; the line between sea and sky invisible, like heaven itself had slipped from the clouds just to prove its existence to me.
I was stood on the deck of my Silversea Veranda Suite, sleep still in my eyes, my mind not sure if it was all a dream, as we glided towards Menorca. Stop 4 on a 7-day all-inclusive gourmet cruise. Ultimate destination: Barcelona, by way of Livorno, Monte Carlo, Marseille, Menorca and Majorca.
The night before I'd enjoyed my second Michelin-starred Gala Dinner, the menu created by guest chef, Erik Arnecke, supported by the prestigious Relais and Châteaux, as part of the gourmet experience. It had been exquisite, as you'd expect. With wines matched by Gennaro Buono, Italy's finest Sommelier.
But what I awoke to that morning was gourmet of a different kind. All of life's beauty poured into a single scene as if, in some way, Mother Nature feared I'd forgotten her…
…jealous, perhaps, of the epicurean pleasures that were seducing me on board. Envious of the ship – the Silver Spirit – that was, at that moment, gently carrying me around the Mediterranean on a farewell Mediterranean voyage.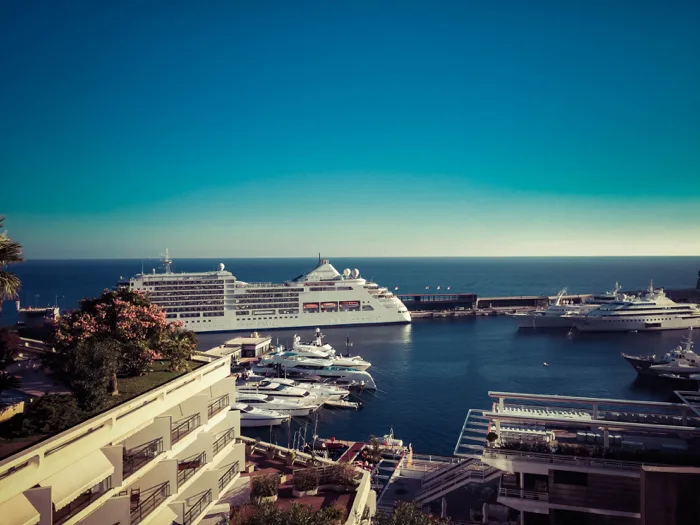 The Ship – Silver Spirit
Perhaps Mother Nature had good reason to envy the Silver Spirit that morning. For this peaceful ship, stacked like an iceberg yet able to travel as quietly as a dove up shallow waterways into the heart of a city, was built to thrill the senses.
8,400 square feet. 8 pristine guest decks. 36,000 tonnes of white beauty; handsome enough to given anyone goosebumps on first glance – as she did to me. Yet despite her impressive size, which I hear is small compared to some cruise liners, the Silver Spirit is an intimate creature.
With only a 540 guests and 376 crew aboard at any one time, and one of the highest space-to-guest ratios in the industry, her plush halls are always free from crowds and her six world-class restaurants are elegantly composed. Many an evening, I wandered from outside to in, from inside to out, just to soak up the stillness.
And every night my sleep was as hushed as a child's, with only the sound of the wash to indicate I was anywhere other than on land.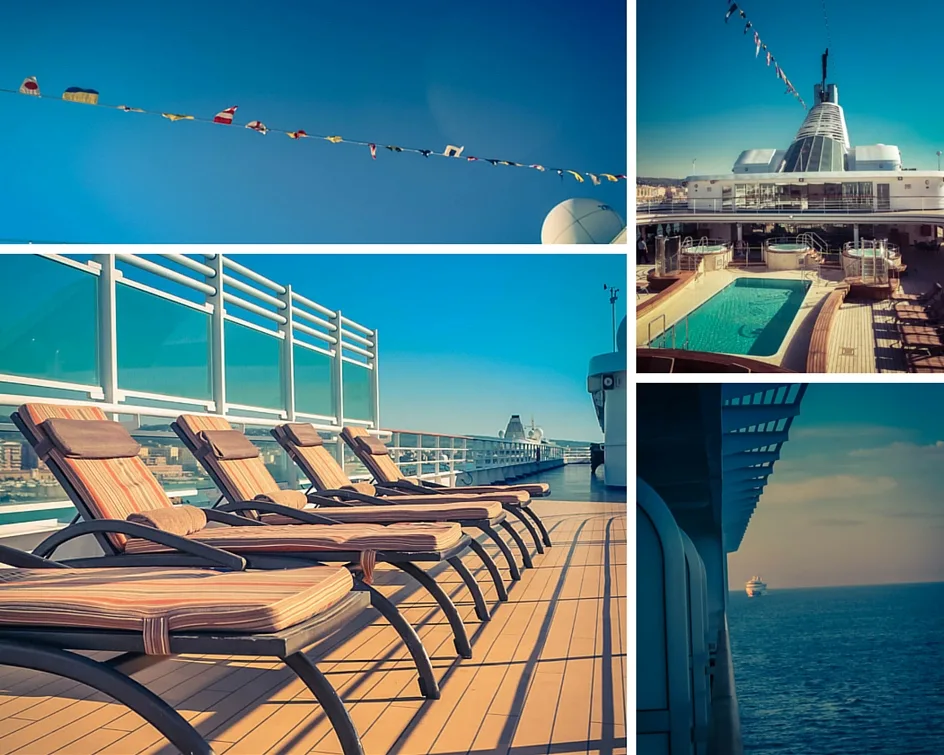 Naturally, the Silver Spirit's splendour is more than skin deep. Travel inside her white walls and you'll discover teak corridors running the length of the ship, becoming cognac-shaded rooms – a library, a casino, a card room, the connoisseur's corner – before turning into star-lit lounges, three sparkling boutiques, and sweeping chrome staircases to carry you up or down the ship, as you wish.
Out on deck, the Silver Spirit doesn't let you down: she's glazed with polished wooden floors, as neat and orderly as a captain's uniform, that encircle chaise longues, bubbling whirlpools, casual tables and easy chairs; becoming terraces for al fresco breakfasts and balconies for sun-blushed dinners.
Much like a sunrise, the Silver Spirit was flawless in her appearance. Every inch lovingly finessed by her family-run Italian owners to ensure the holiday spirits of those on-board stayed buoyant throughout their cruise. Bellissimo.
The Gourmet Silver Lining: This 7-day Mediterranean cruise was all-inclusive. So, apart from Silversea-run shore excursions, the casino, beauty salon and spa services, and a small surcharge at a couple of on-board restaurants, everything aboard was included in the fee. Drinks, dining, 24-hour room service, and the shuttle into town.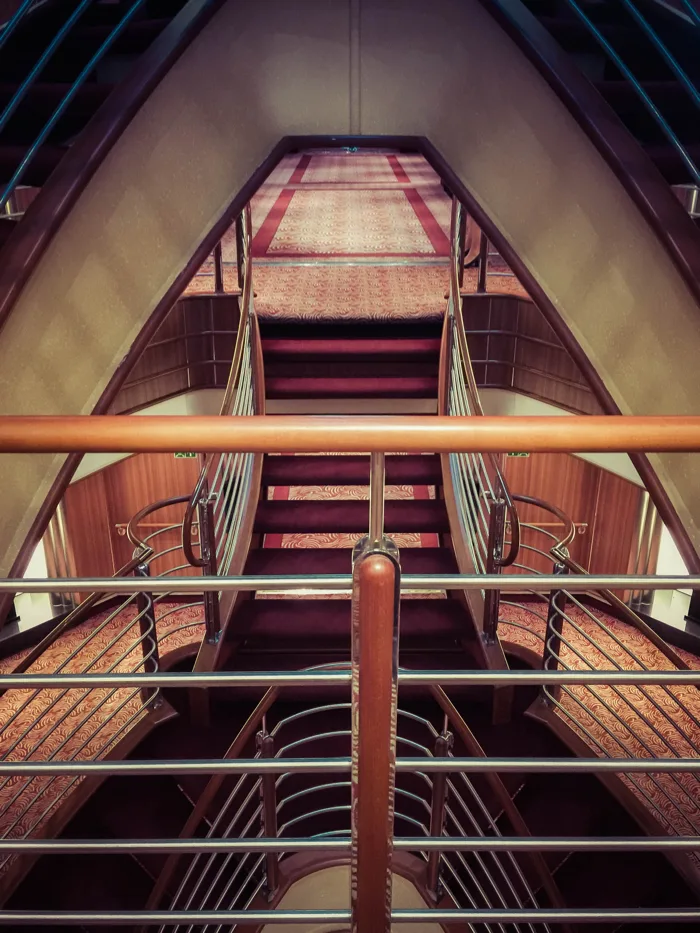 The Service
I suppose though, in the end, you could say the Silver Spirit's on-board elegance is easy. With the right furnishings and enough money spent on them, it's achievable for any cruise liner to be classed as 'luxurious'.
But what's not so easy to come by, what separates the men from the boys, is those people who devote many hours in their day trying to make you happy whilst you're on board: the crew.
I'm talking about the butlers ready to pander to your every comfort and culinary whim in your suite (every suite comes with one). The bar and waiting staff ready to shake you up a drink or show you to your table. The suite attendants ready to turn back your bed covers on an evening and lay Domori chocolates on your pillow.
Although trained to perfection by The Leading Hotels of the World, they went beyond the book, in my opinion.
Take, for instance, Albert, my butler. Like the other butlers on board, he's been schooled by the Guild of Professional English Butlers. But there are some things that come from the heart, not the classroom.
One evening, I returned to my suite – room 836 – and, as always, it was immaculate. The detonation of clothes that I'd left behind a few hours before were neatly piled on the sofa. My copy of the Silversea Chronicles – a 4-paged paper containing details of our next port of call – was waiting on my bed.
But what brought me to a halt was my glasses; I'd discarded them that morning carelessly to one side. Albert had picked them up, polished them carefully, and wrapped them in a Silversea lens cloth, before placing them back where he'd found them.
Can such thoughtfulness be taught? I don't know. But it was a recurring theme on my 7 days on board, sown like the shiny seam in a bank note, into every crew interaction I had.
The smiles and politeness and willingness to help, without prompting, of each crew member I met lit the hallways, dining rooms and bars of the ship. And was noticed and commented on by any guest I happened to get chatting to.
"They are like a family," said some. "Friends," said others. And when I asked, "What makes Silversea different from other luxury cruises?", the answer was always the same, every time. "The crew," they'd say. "They are the difference."
The Gourmet Silver Lining: This outstanding and personalised service is included in your fare. Forget digging in your pockets for crumpled notes as gratuity. Forget breaking a sweat trying to work out percentages. From the pool bars to the Michelin-starred restaurants, the staff help you because they want to.
My Veranda Suite
As Mother Nature unveiled her magnum opus that Menorcan-bound morning, all I had to do was watch, dumb-struck, from my veranda. No street sounds. No traffic noises. No jostling for the best view.
Although every suite on the Silver Spirit has a sea view, it felt like that particular vista was for me alone, a private viewing. Para uno.
Indeed, in my suite I felt totally cocooned from the rest of the world. Like being on a spaceship, bound for a new universe. Yet just beyond my door I knew there was a community of fellow travellers and an active on-board world, ready to befriend.
Mine was a Veranda Suite, a nest of comfort, furnished as royally as any of the hotels I've stayed in and made up of a bathroom (with a full-size marble bath), walk-in wardrobe, bedroom, living room and teak veranda.
All the important necessities were there: WiFi, a telephone, an iPod docking station, robes and slippers, binoculars (which came in handy when I saw dolphins one morning), personalised stationery, a Silversea key-ring torch (cabins can get very dark) and, of course, life-jackets.
The Veranda Suite is just one of the six suite choices on-board. It's not even the most luxurious in comparison to the stately Owner's Suite; to me, however, it was pure gold. Spacious, yet welcoming. Stylish, yet practical.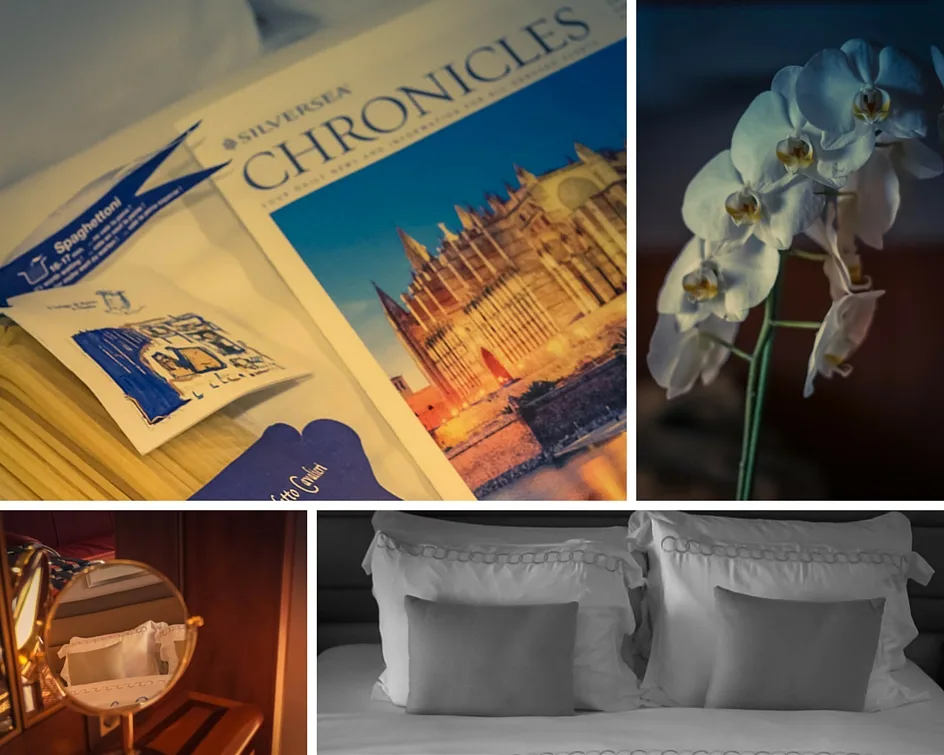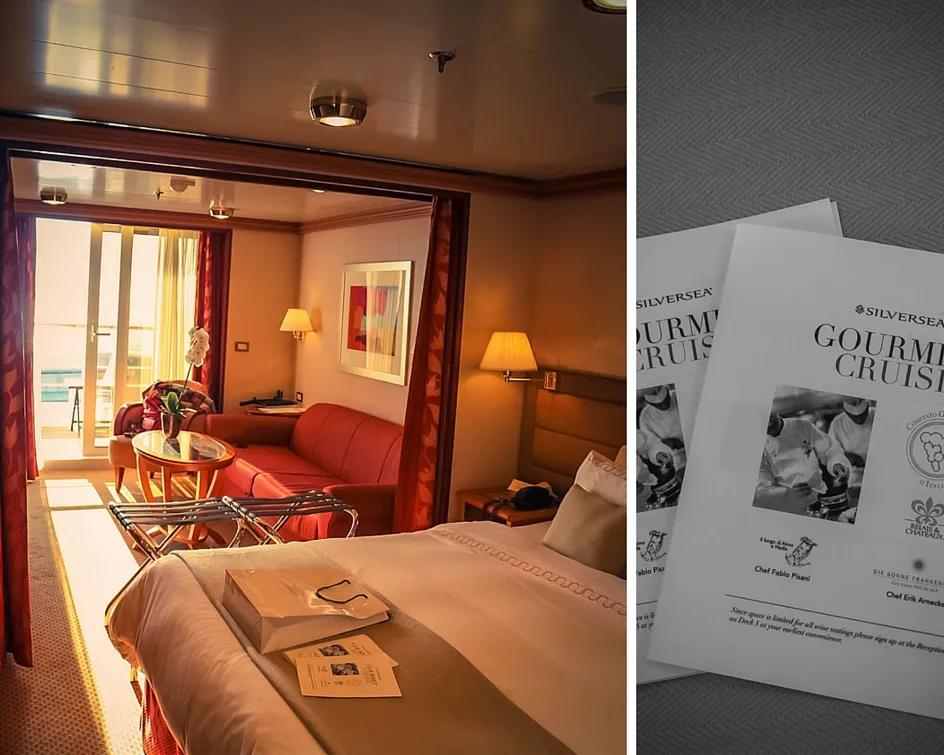 My queen-sized bed, which was a crumple of Pratesi® linen and duck down duvet that sunrise morning, deserves a special mention because I slept like a (water) baby throughout my 7 Silversea days.
One night, before climbing into its thick folds, I slid the floor-to-ceiling patio door aside and let the salty air fill the suite and soothe me to sleep. On another, I ran a bubble bath (using the complimentary Bvlgari bath foam), ordered room service, and curled up on my sofa with the flat-screen TV (of which there were two) for company.
How effortless to be able to settle in such comfort for the night with one country beyond the curtain, and then wake up to another; the outside world changing in the space of a sleep.
And you, like a pilgrim or an astronaut, arrive fresh the next day – ready to explore the new terra firma.
The Gourmet Silver Lining: Nothing is more welcoming than a well-stocked mini bar. My suite not only had a mini bar with soft drinks and alcohol, an ice bucket and tongs, but was replenished to my preferred taste every day, free of charge. Better still, on my first afternoon, Albert arrived at my door with a bottle of chilled Prosecco ready to pour. Salute.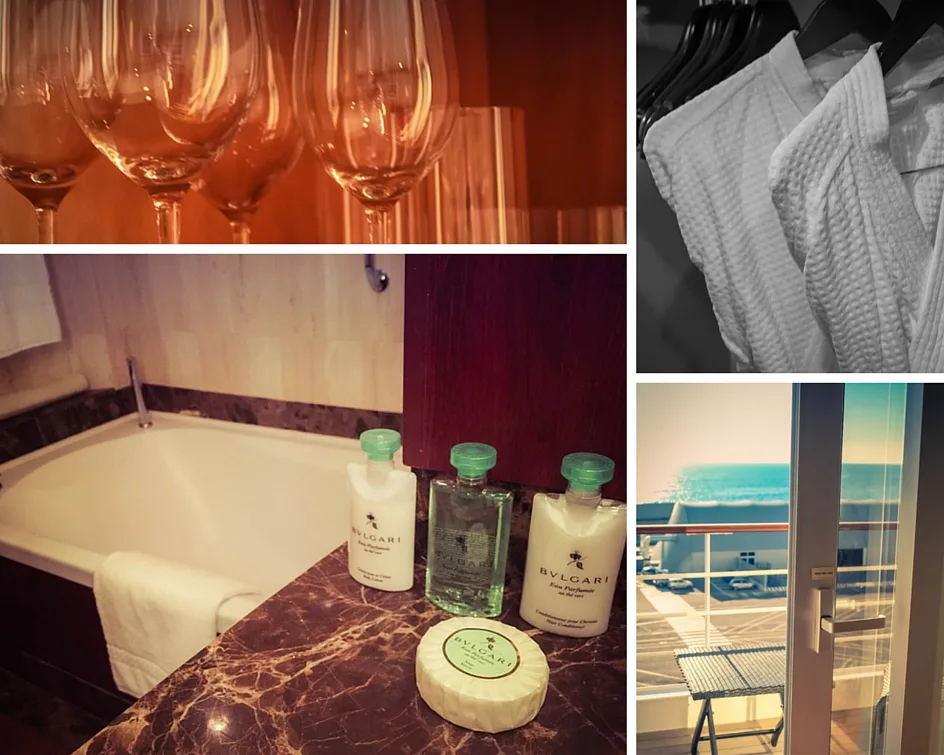 The Food and Drink
The gourmet experience gathered pace in the ship's six restaurants – Seishin, La Terrazza, Stars Supper Club, The Grill, The Restaurant, Le Champagne – four of which I was lucky enough to dine in.
On my first night, Seishin was the restaurant of choice. It's a softly-lit black and red Asian dining room, where the chef works his magic at a glass cooking station.
We chose the nine-course degustation dinner, six courses of which were a little too much for me and my simple country-girl sensibilities. Nevertheless, it was the first slice of Silversea's gourmet credentials and I slipped easily under the spell.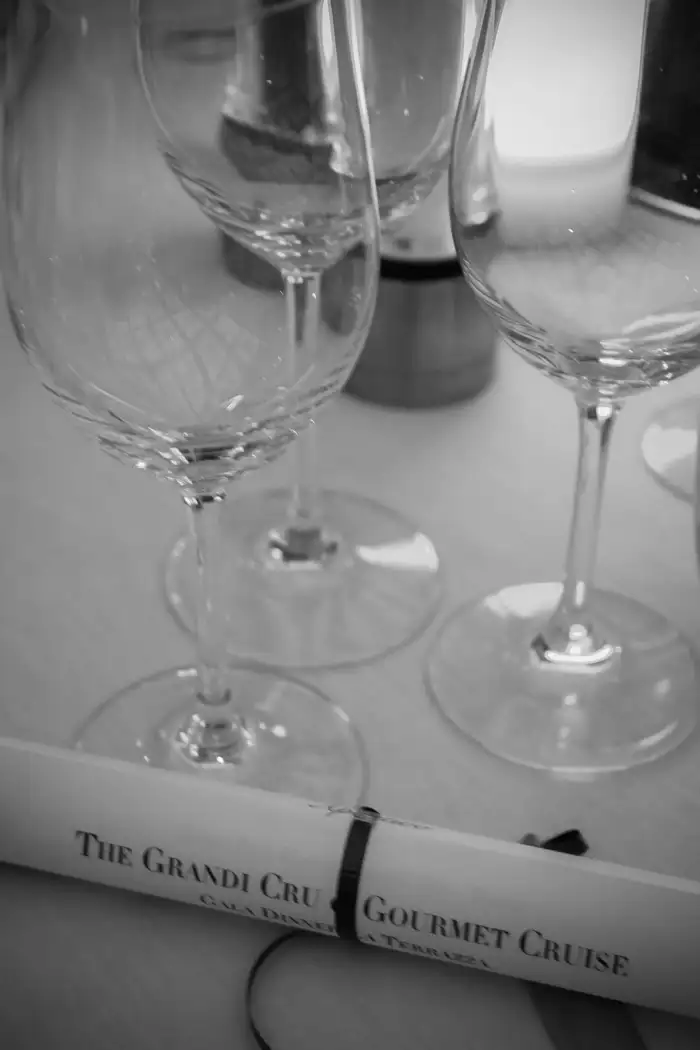 The rest of the on-board gastronomic experiences also effortlessly passed muster:
Al fresco meals at The Grill on the Pool Deck where you turn chef and cook steak, salmon or lobster at your table upon a hissing and sizzling lava rock.
Self-serve breakfasts of pastries, cereal and cooked food on the classy sun-dressed terrace of Le Terrazza – the only restaurant at sea to earn itself an official nod from the internationally-regarded Slow Food movement.
Respectable evenings in the glitz of Silver Spirit's main dining room, The Restaurant, where the service is so polished you can see your reflection in it.
To whet our foodie appetites further, this Silversea cruise also served up: a tour of the ship's galley; a wine tasting evening with Gennaro Buono, award-winning sommelier of the two Michelin-starred Il Pagliaccio, a Relais & Châteaux restaurant in Rome; and two Relais and Châteaux Gala Dinners.
The first was hosted by Fabio Pisani, chef of the two Michelin-starred Il Luogo di Aimo e Nadia, a Relais & Châteaux restaurant in Milan. And the second by Erik Arnecke, chef of the Michelin-starred Philipp Soldan restaurant, located at Germany's Die Sonne Frankenberg Hotel, a Relais & Châteaux member property.
I've never eaten art before. I've never tasted genius. But on those two evenings, where the food and wine danced in immaculate harmony, I did.
The Gourmet Silver Lining: As part of the Silver Spirit special's 'Farewell Mediterranean' voyage (celebrating the end of a season sailing the waters of the Mediterranean), we enjoyed two culinary demonstrations aboard, hosted by acclaimed culinary trainer David Bilsland. Each one showcased the talents of Erik Arnecke and Fabio Pisani, who cooked signature dishes from the menus they'd served.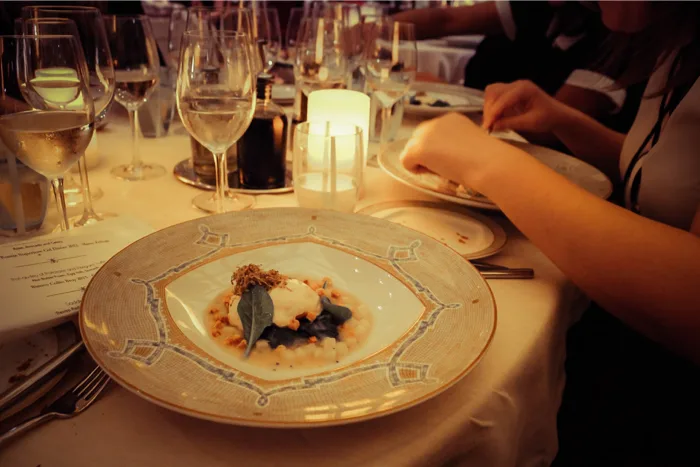 The Art
To be able to get close to great art; to be able to actually fog the glass with your breath; to be able to feel every brush stroke the artist painted is a thrill that, you'd imagine, is reserved only for those who own such masterpieces. Or work with them.
Not so on-board the Silver Spirit.
Along her corridors, hung as modestly as replica prints without barriers or alarms, were works by Picasso, Warhol, Renoir, Dylan and Dali.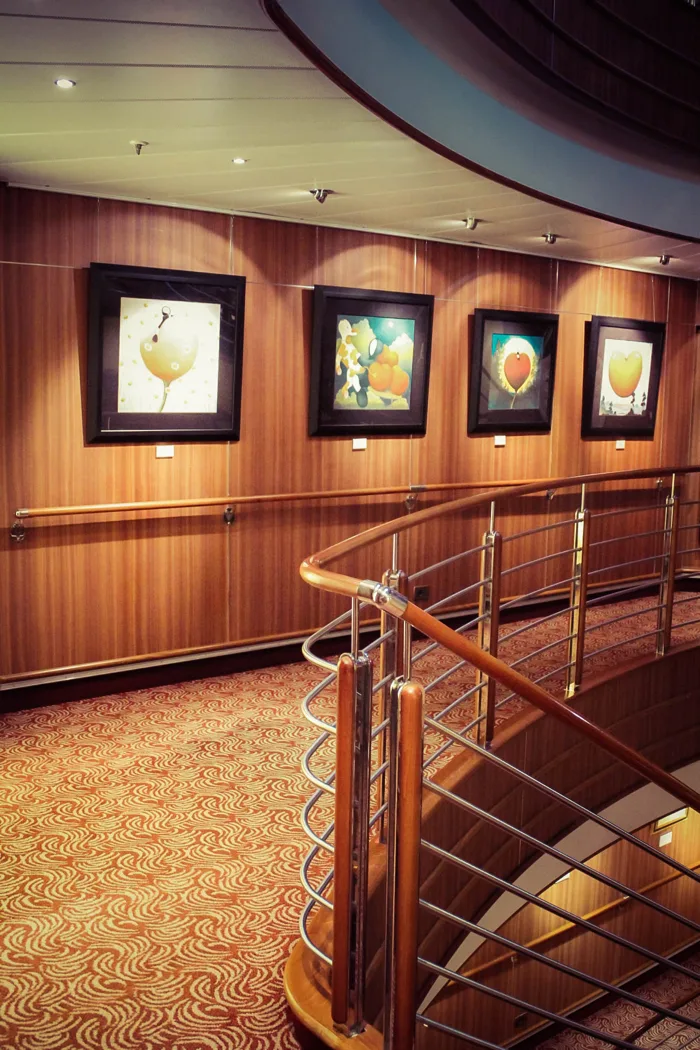 At first, we thought they were imitations, facsimiles of the originals. When we discovered they were real I, for one, felt my heart leap from my chest. They were the treasures of the Andrew Weiss art gallery, curated by Rami Ron who was on the cruise and happy to show you around the collections, and take your order.
Each came with a price tag that would make your eyes water; the cheapest, a picture of Marlin Monroe, which, if I remember correctly, started around $500.
Considerably affordable for some of those on-board, as you'd imagine. For me, just being able to eat them up with my eyes, undisturbed, with a cocktail in hand, was joy enough.
Along with the on-board masterpieces, came this silver lining: the great-grandson of French impressionist painter Pierre-August Renoir, Alexander Renoir.
Like the Michelin-starred chefs, Alexander was part of the on-board 'enrichment programme' – a unique collection of events run on Silversea cruises to stimulate your grey matter and stir your spirit.
Meeting him, watching him paint, listening to his family stories about his great grandfather, Monet and Manet, and then chatting to his wife was one of the biggest thrills of my journey. If not my travels so far.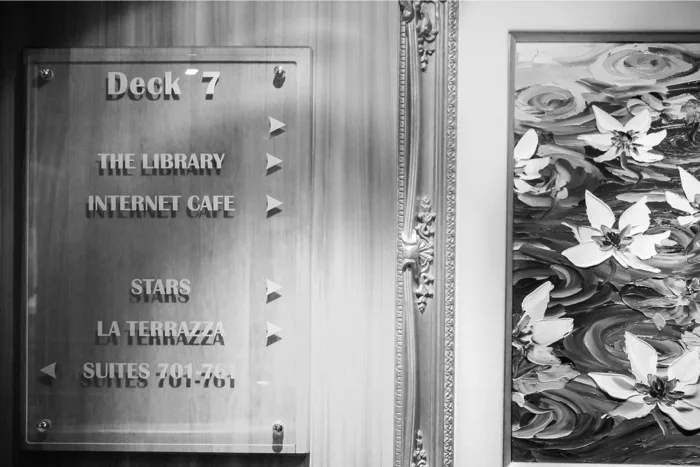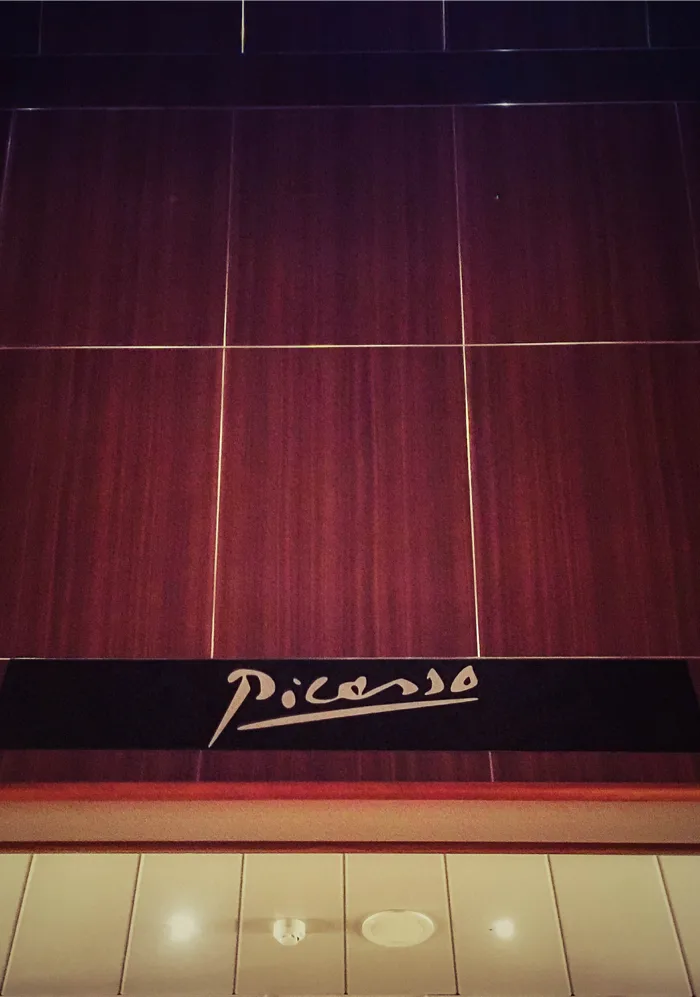 The Verdict
That's Silversea, to a tee: just when you think it can't get better, it does.
While Mother Nature is rolling out a private sunrise for you on your veranda, the bakers in the kitchen galley are flouring fresh pastries for your breakfast. While stars are flickering on overhead as you sail from port, crystal glasses are being filled with sparkling champagne as you stroll on deck. While Picasso and Dali are watching silently from the walls, the real-life Renoir is painting for you in the gallery.
Every moment, on Silversea luxury cruise, comes with an unexpected silver lining. And in the case of this particular 'gourmet' cruise, gourmet ran through everything, not only the food. The art. The service. The suites. The destinations – which I'll write more about soon – they were all created to serve refined tastes and erudite palates.
Unsurprisingly, I am now very hungry for more.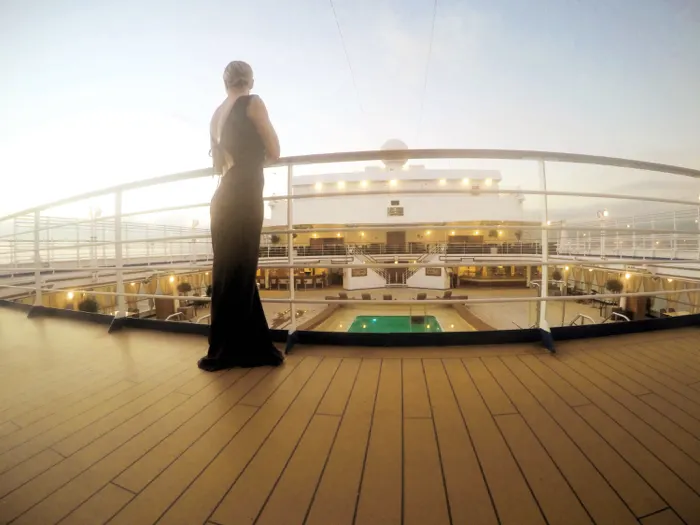 ---
The details
Cost: A similar 7-day cruise around the Med aboard the Silver Spirit in April 2016, starts from £1950 per person.
Included in this cruise:
Spacious suites – over 85% with private verandas
Personalised service – nearly one crew member for every guest
Butler service in every suite – all guests are pampered equally
Open-seating dining options – dine when and with whomever you please
Diversity of dining venues – casual, romantic, regional delicacies, and gourmet cuisine inspired by Relais & Châteaux
Beverages in-suite and throughout the ship – select wines, premium spirits, specialty coffees and soft drinks, plus your own tailored mini-bar
In-suite dining and 24-hour room service – always complimentary, always available
Sophisticated entertainment from live music to production shows
Enrichment lecturer and/or destination consultant
Complimentary transportation into town in most ports
Gratuities always included in your fare
Free WiFi throughout the ship; unlimited in select suite categories
Disclaimer: Silversea kindly hosted me on this 7-day gourmet trip as part of a media package. I would like to say a huge thank you to everyone involved for making it a truly wonderful experience.

Special note: I'd like to also thank Holiday Extras who made the pre- and post-departure so stress-free for me. Before I left Heathrow for Rome, I drove straight to the Hilton where I parked my car for 7 nights and stayed for one night thanks to the Holiday Extras hotel/parking combi-package. When I returned from Barcelona, I zipped across to the Hilton once more and collected my car. It was totally headache free and I'll definitely be using Holiday Extras again for precisely this reason!
PIN FOR LATER: