If you thought Lanzarote was all about beaches and booze and Brits abroad then you can think again. Elle discovered just a few of the amazing sights this tiny island has to offer. Here are 5 of her favourites…
When I wrote about whether you should visit Fuerteventura or Lanzarote in the Canary Islands, I touched on the otherworldly scenery of the latter. Some of the landscapes I saw there were so fantastic that they deserved far more time than the short paragraph I gave them, so in this post I'm sharing my favourite spectacular sights in Lanzarote.
There were a few moments when I had to stop, take a breath and remind myself that I hadn't somehow been transported to another planet. I know that sounds dramatic, but the scenes before me were so strange, and so unlike anywhere I'd ever seen before, that I genuinely wondered if I was still on earth.
Everywhere I looked there was something so stunning that double-takes became the norm, but these were the most memorable scenes, which can only be seen on the island of Lanzarote.
1. Los Hervideros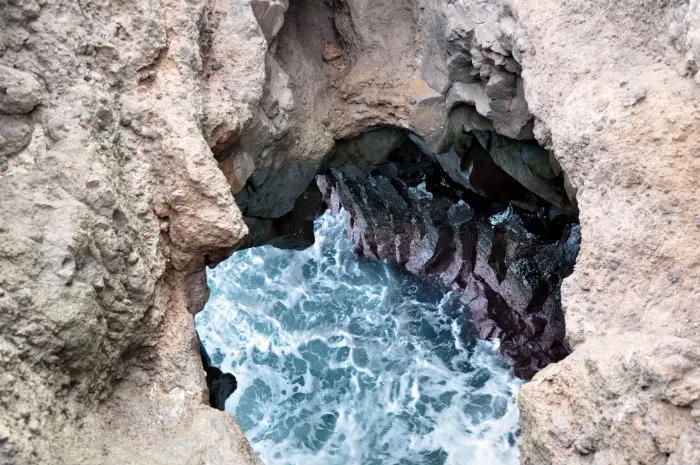 This was my first stop in Lanzarote, and right away I knew that the island would take my breath away. Hundreds of years ago, when volcanic activity was commonplace in these parts, lava oozed from the top of the fiery mountains all the way to the sea, expanding and reshaping the island's coastline. Here at Los Hervideros, the waves thunder and crash against the craggy black cliffs; a powerful reminder of our smallness in comparison to nature.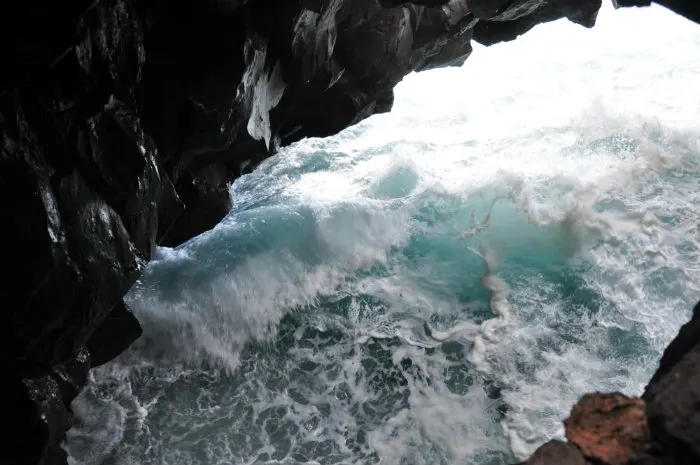 Small balconies have been built into the cliffs, and it's from these perches that I stood and watched the boiling pots – the English translation of Los Hervidos – churning and bubbling below me. The effect is mesmerising, and it's hard to tear yourself away, lest you miss a new wave booming into view before you.
2. Lago Verde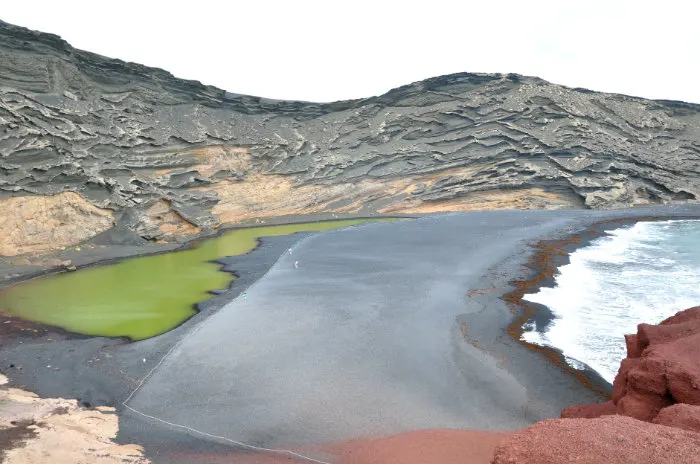 Not far along the road from Los Hervideros is Lago Verde, a sight so bizarrely beautiful that all you can do is stare in the hope that you can comprehend it. Another result of volcanic activity, Lago Verde is a bright green lake located in a volcanic crater on the black shore of El Golfo.
The opening scene of the film Broken Embraces takes place on this dramatic beach. The story was inspired by a photo that the filmmaker Pedro Almodóvar took on his visit to the island – when his film was later developed, he spotted a couple embracing next to the lake and the idea for his romantic thriller was born.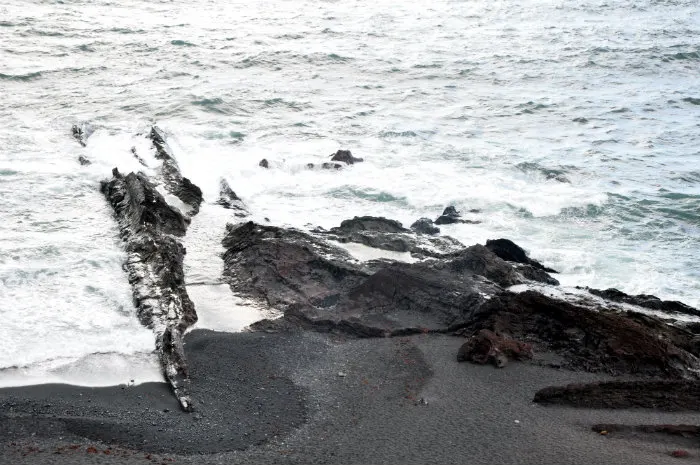 Almodóvar's sense of mystery and romance is tangible as you stare at the green water, the black folds of lava towering above you, the vibrant red sand dunes, the black beach and the waves rushing towards it all in foamy white crashes.
3. Timanfaya National Park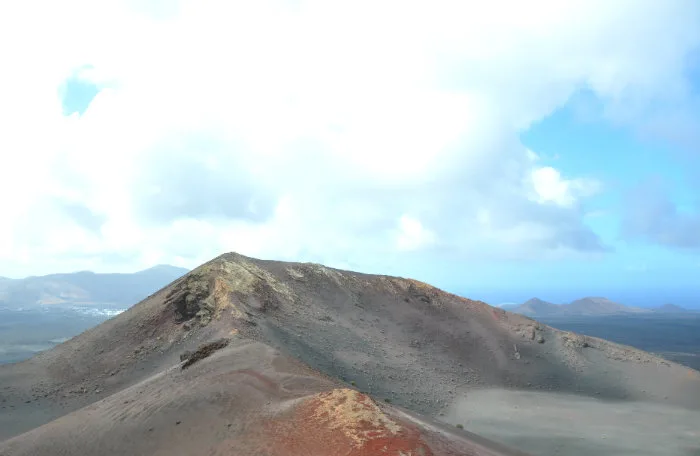 One of the most visited locations in the Canary Islands, Timanfaya National Park is the best place to learn about the volcanic history of Lanzarote. In the 18th Century, six years of volcanic activity wiped out whole towns and devastated areas in and around Timanfaya. What remains is a desolate landscape filled with fiery-coloured sand and miles and miles of lava.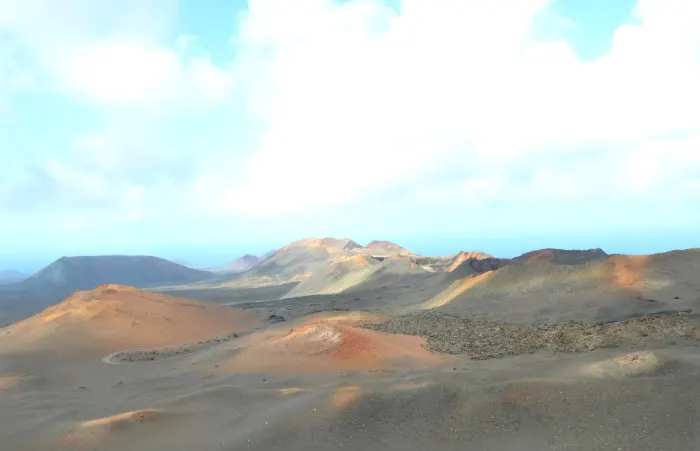 A few walking or camel riding tours allow you to get in amongst the stunning scenery, and bus tours drive through giant lava boulders and undulating sand fields. The visitor's centre is a great place to sit with a cup of coffee and take in the scene before you, but it's also where you can experience the land's underlying volcanic properties. Watch as dry grass thrown into a hole bursts into flames, put your hand inside a nook in between rocks to feel heat radiating, and look out for the sudden geyser as water is poured into a tiny hole into the ground.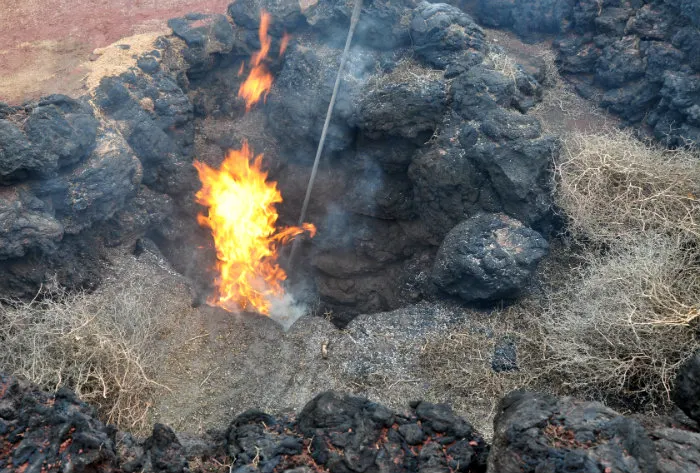 Nature rocks.
4. Wine region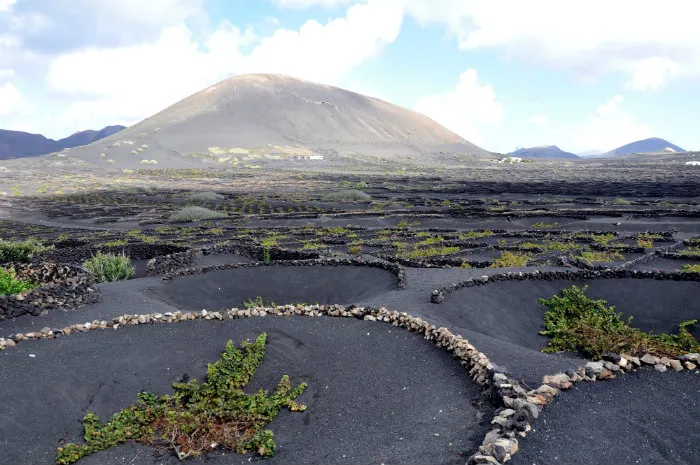 I love visiting wine regions in destinations around the world. Where I come from in South Australia, we have amazing wine regions like the Barossa Valley and McLaren Vale, and my years working in the wine industry gave me a healthy understanding of how the process of wine making works. So I felt like I knew a little bit about wine. Until I visited Lanzarote.
Here, on this volcanic island, vines are dug into holes in the ground so they can reach the mineral-rich, moisture-retaining soil below the volcanic sand. As Lanzarote is an exceptionally windy island, the hole isn't enough protection for the vines, so walls of black stone are built in semicircles along the north side of the vine. The trade wind blows north to south, so the wall ensures that the vines are protected and can yield a crop to produce wine.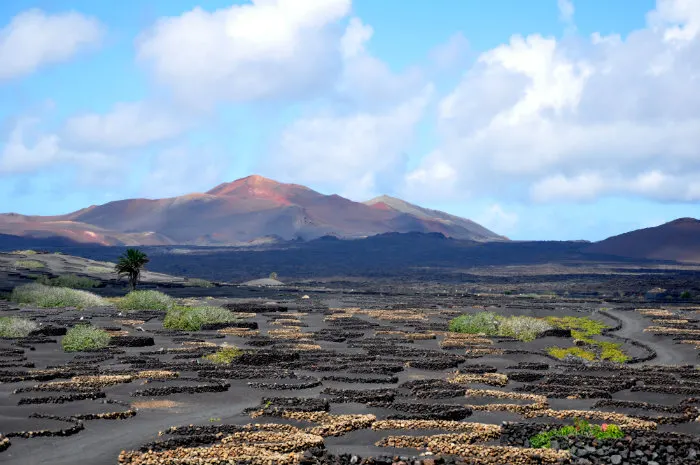 The Malvasía grape is crafted into a variety of wines, from red to white and dry to sweet. You can taste these wines at the wineries themselves or order them in restaurants around the island. If you love wine, you need to visit La Geria, Lanzarote's major wine region. But be warned: it'll change everything you have ever thought you knew about wine making.
5. Jameos del Agua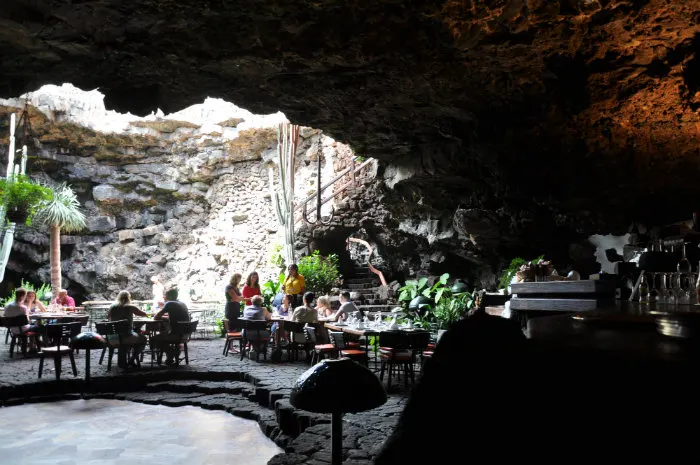 I'm not much of an art buff, but while I was in Lanzarote the worlks of César Manrique caught my attention. Manrique grew up on the island and had a deep love for the dramatic landscape that surrounded him. Although he lived all over the world during his prosperous art career, he eventually moved back to his home island, where many of his works are now displayed.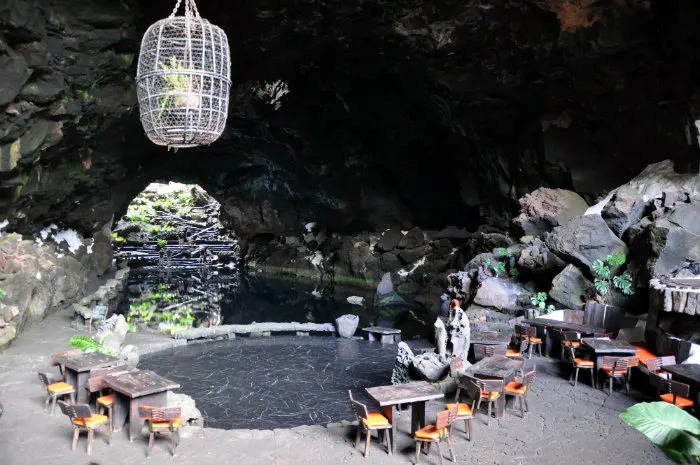 His house near Teguise is an incredible example of how he tried to unite man and nature, with volcanic rocks tumbling through window frames and entire rooms built into natural caves. One such cave is found at Jameos del Agua, where Manrique designed a spectacular restaurant and auditorium. His signature white walls curve and blend into the black craggy volcanic caves, forming a dramatic setting for a meal.
The food is delicious, of course (I could not get enough of those Canarian potatoes) but that's hardly the point. I promise you will barely notice what you're eating in such a charmingly stunning location.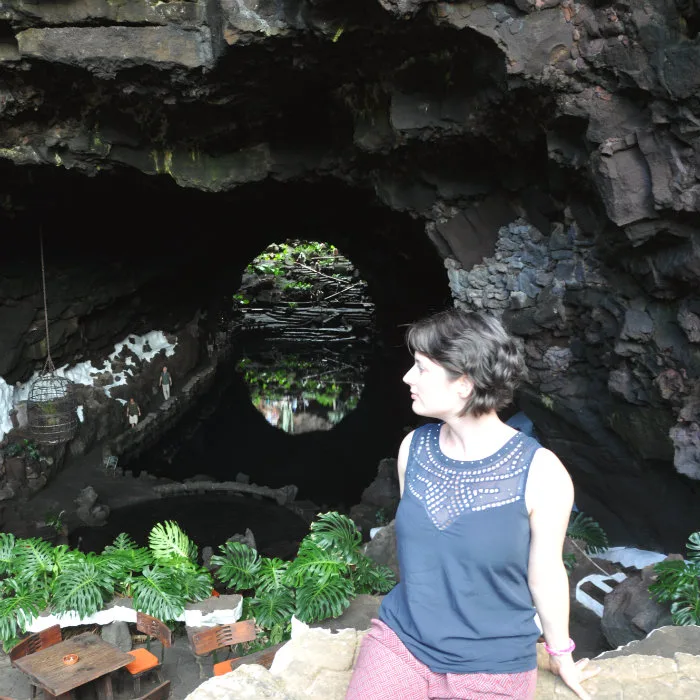 For more information on these destinations and more, please visit the Lanzarote tourism website.
Huge thanks to the Spanish Tourist Office, Lanzarote Tourist Board and Fuerteventura Tourist Board for showing me around these two spectacular islands.
Pin this for later: