Woohoo, you're going on holiday to the Maldives! You're going to have the best time ever.
You may think that all you'll need to pack for a holiday to the Maldives would be your swimsuit and your suntan lotion. These will definitely be high on your list but there are a few extras you'll definitely want to squeeze into your case!
I'll begin with a few packing tips for the Maldives before moving on to some of my favourite items.
Tip #1 – What's the seaplane weight allowance?
Before packing your bags, make sure you check what the seaplane luggage allowance is. If you're flying long-haul, you'll probably have a pretty decent luggage allowance. With Turkish Airlines I had 30kg plus 8kg for my hand luggage. That's a pretty hefty suitcase! But when we arrived in the Maldives we found out that the seaplane only allows 25kg and you'll need to pay for any extras. Our luggage was well under but we saw other guests who had to pay a lot to get their luggage on the seaplane.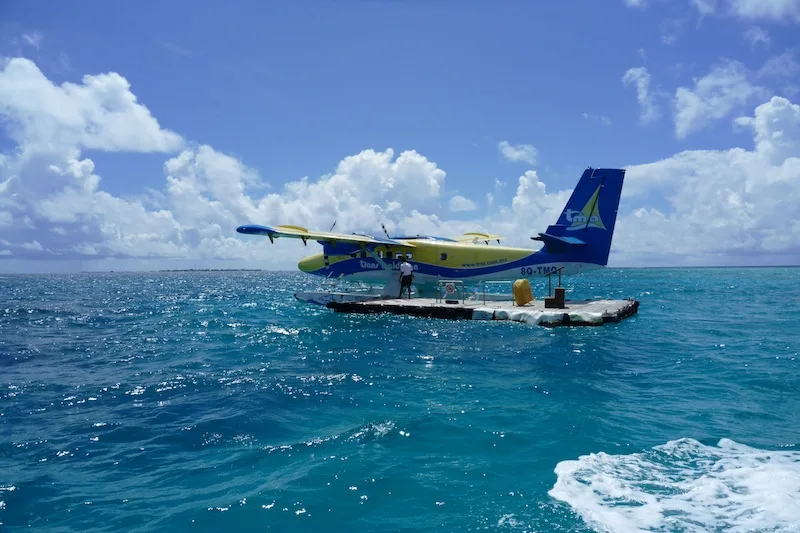 Tip #2 – Dress Conservatively
The Maldives is a Muslim country where a lot of women will wear either a burka or a headscarf. It's polite and respectful to dress conservatively – particularly around the airport, Male and small villages. Once you're in your resort or island you won't need to worry about it too much as it will mostly be tourists around.
Make sure you pack a large scarf that can be worn over your shoulders. Also pack at least one pair of loose, light trousers or a long skirt or dress.
Tip #3 – Swimwear you can swim in
If you're a guy you probably have no idea what I'm talking about right now. If you're a girl, you'll know exactly what I mean. Sexy, skimpy little bikinis looks gorgeous while you're strolling along the beach. But when you're swimming they tend to slip away in the places you really need them to stay put! You're going to want to do a lot of swimming, snorkelling and maybe even scuba diving so when you're packing for the Maldives make sure you have a least one swim suit that's suitable.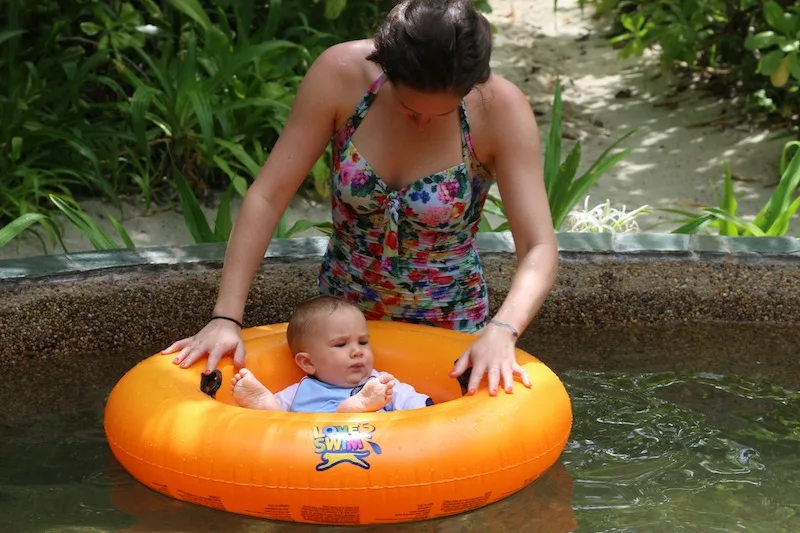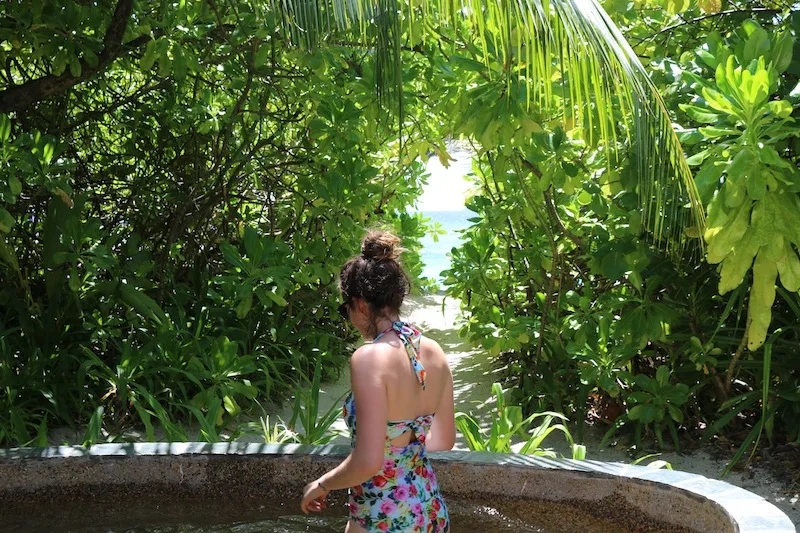 Tip #4 – An underwater camera
If you've been thinking about investing in an underwater camera (like a GoPro) but weren't sure if it was worth it, it really is for the Maldives. The water is so clear and there are so many fish, you really won't want to miss the chance to capture these on camera. You'll also want it for boat trips or when you're on the beach.
Read more: How to take awesome travel photos on a GoPro
Tip #5 – Leave the shoes at home
Our island, Coco Palm Dhuni Kohlu, was made up of entirely sand so most guests ditched their shoes within a day or two. You didn't need them and it just made walking even more difficult! It was great walking around barefoot and I loved getting dressed up but not worrying about heels.
Tip #6 – What to wear in the evenings?
Each resort will be different but, on the whole, laid-back luxury is the vibe most resorts go for. Ladies are lucky and can get away with almost anything but guys often need to wear a collar and will sometimes need full length trousers.
Tip #7 – Take a dry bag (or two)
If you're taking lots of boat trips and particularly if you'll be scuba diving, a dry bag is really handy. You can keep all of your valuables and clothing safe and dry and not worry about them getting wet on the boat or during rainstorms. I love the DryU colourful dry bags.
We also used them as packing cubes when we were packing our suitcases for the Maldives to keep everything neat, organised and compressed.
I also found that dry bags make a cool 'man bag' meaning Sam was happy to carry all of our stuff so I didn't have to squeeze everything into a girly beach bag.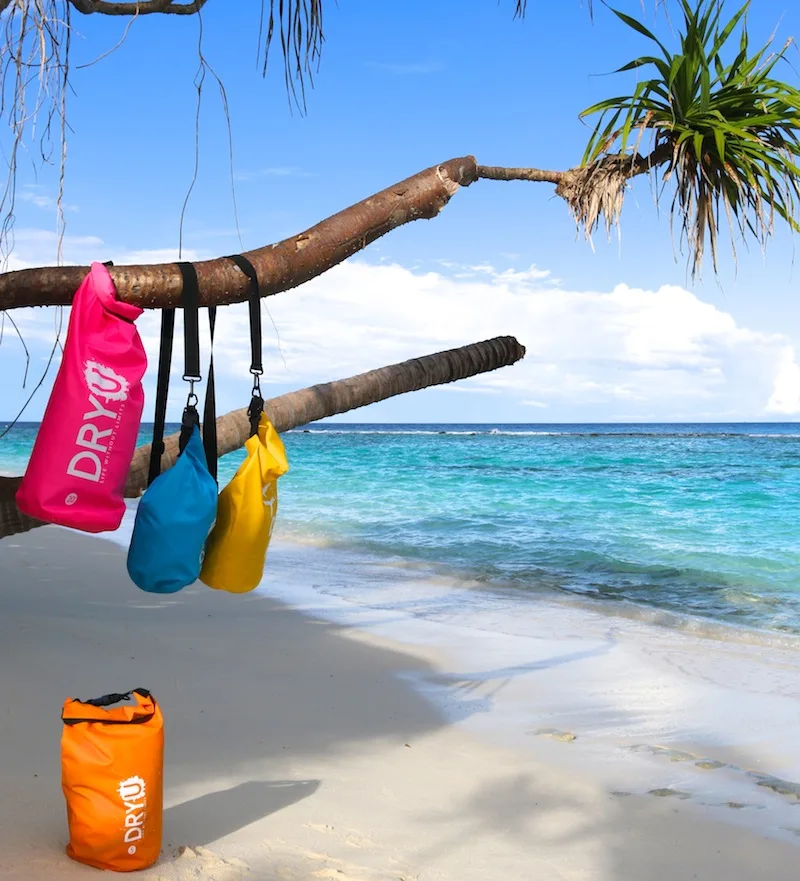 Tip #8 – Keep make-up to a minimum
It's very humid (and sweaty!) in the Maldives so there's no point in caking your face in make-up. Mascara, blusher, eye brow pencil, a shine reducing powder or cream and lippy were all I wore.
Tip #9 – Consider a lightweight speaker
Some hotels provide docking stations but if yours doesn't then pack a lightweight speaker. There's nothing better than lazing by your own private pool while listening to your favourite tunes. A great budget-friendly speaker for travel is the Anker Soundcore 2. It's waterproof and has 24 hours battery life.
Obviously, be mindful of your fellow guests. There would be nothing worse than being in a villa next to someone who had terrible must blaring all day and night.
Tip #10 – Don't forget the insect repellent
Mosquitoes weren't too much of a problem for us but there were a couple around. Don't forget the DEET to keep those pesky biters away. I use Jungle Formula and this is my favourite spray as it's so easy to apply.
Tip #11 – Make sure you have some small notes for tipping
One thing I always forget when I arrive in a destination it to make sure I have small notes for tipping. If you tip your room cleaners on your arrival they'll look after you for your whole stay.
Tip #12 – Brits won't need plug adaptors
They use British plugs in the Maldives so lucky Brits don't need them.
Tip #13 – Use packing cubes
I love packing cubes to help save space and keep my suitcase neatly organised.
Read more: Are packing cubes worth it and do they really save space?
When packing for the Maldives, fill your suitcase with loose, easy dresses that you can throw on over your bikini. I always pack lots of dresses when I'm travelling as they're small and light and easy to wear. A cute swimsuit, a loose cover-up, sunnies, flip flops, a sun hat and an enormous beach bag and that's pretty much your Maldives packing list sorted.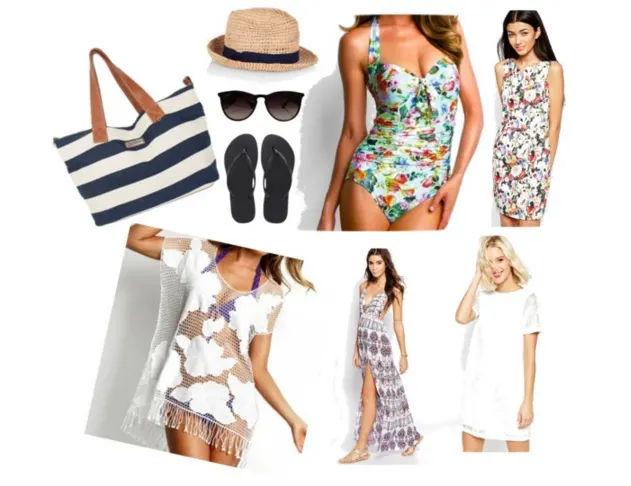 Top Tip: If you're shopping for summer clothes when it's the winter season at home, go straight to the websites of brands or websites that specialise in swimwear. Brands like Seafolly or Roxy and websites like Coco Bay are great.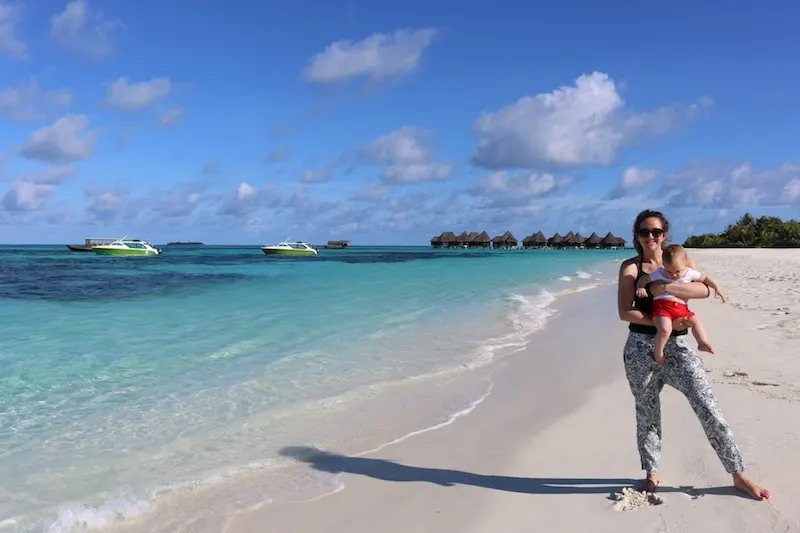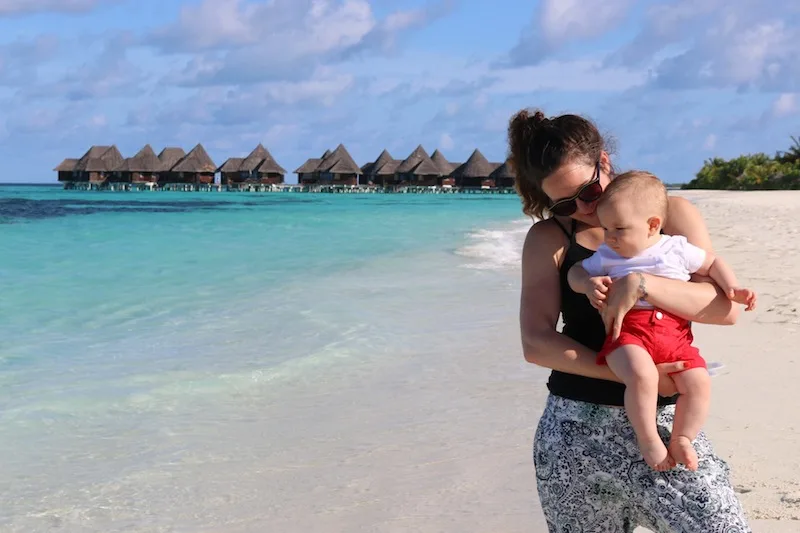 Holywell Trousers – Tahouts – £35
I love these printed pants from Tahouts. They're tailored so they can look quite smart but the printed pattern and light cotton makes them fun and comfortable. These are my perfect plane pants! I love them so much I have them in green and blue.
---
The holiday low-down
I flew to Male, the capital of the Maldives, with Turkish Airlines. I departed from Birmingham with a 3-hour layover in Istanbul – a good choice if you're travelling with little ones!
I stayed at Coco Palm Dhuni Kolhu for 6 nights in a Deluxe Villa on a full board basis.
Massive thanks to Visit Maldives for helping to organise my trip.
Next week I'll be sharing a packing guide for anyone travelling to the Maldives with a baby. For someone so tiny, George had a lot of stuff!
Read more:
Pin this ->