Do you want to know what the prices in Ibiza are like? Is Ibiza expensive? It's a question lots of people have asked me since returning from a 4-day trip to Ibiza with my friend, Jen.
I'd heard horror stories about the prices in Ibiza. Tales of water costing €10 for a tiny bottle and cocktails costing €30.
The truth is that if you're visiting the big nightclubs and bars in Ibiza (mostly around San Antonio) then yes, it is very expensive.
Entrance and drinks in the clubs are sky high. And rightly so. These are some of the biggest and best nightclubs in the world. People travel from all over the world to visit them. Of course they're going to be expensive.
If you're having a clubbing holiday in Ibiza and you want to keep prices down then I recommend paying for your tickets in advance (mostly just to spread the cost over a few months) and drinking at your hotel before you go out.
Another way Ibiza can be expensive is if you're eating and drinking in the fancy bars, restaurants and beach clubs. Again, this is going to set you back because you'll pay a premium for a beautiful location. But, to be honest, I wouldn't say it's much more expensive than the UK. I paid €80 for a 3-course meal and a glass of wine at Amante. Amante is a luxurious beach restaurant and the food was delicious.
To give you a better idea about prices in Ibiza, here's everything I spent during a 4-day trip.
This was a 3-night/4-day trip to Ibiza with an early departure flight and a late return flight.
You can see my full 4-day Ibiza itinerary here to see exactly what we got up to.
As you can see, we did a lot and had a beer or glass or wine with most meals but it wasn't a majorly boozy holiday. We were driving most places so didn't drink too much and I often think it's the alcohol that quickly adds up!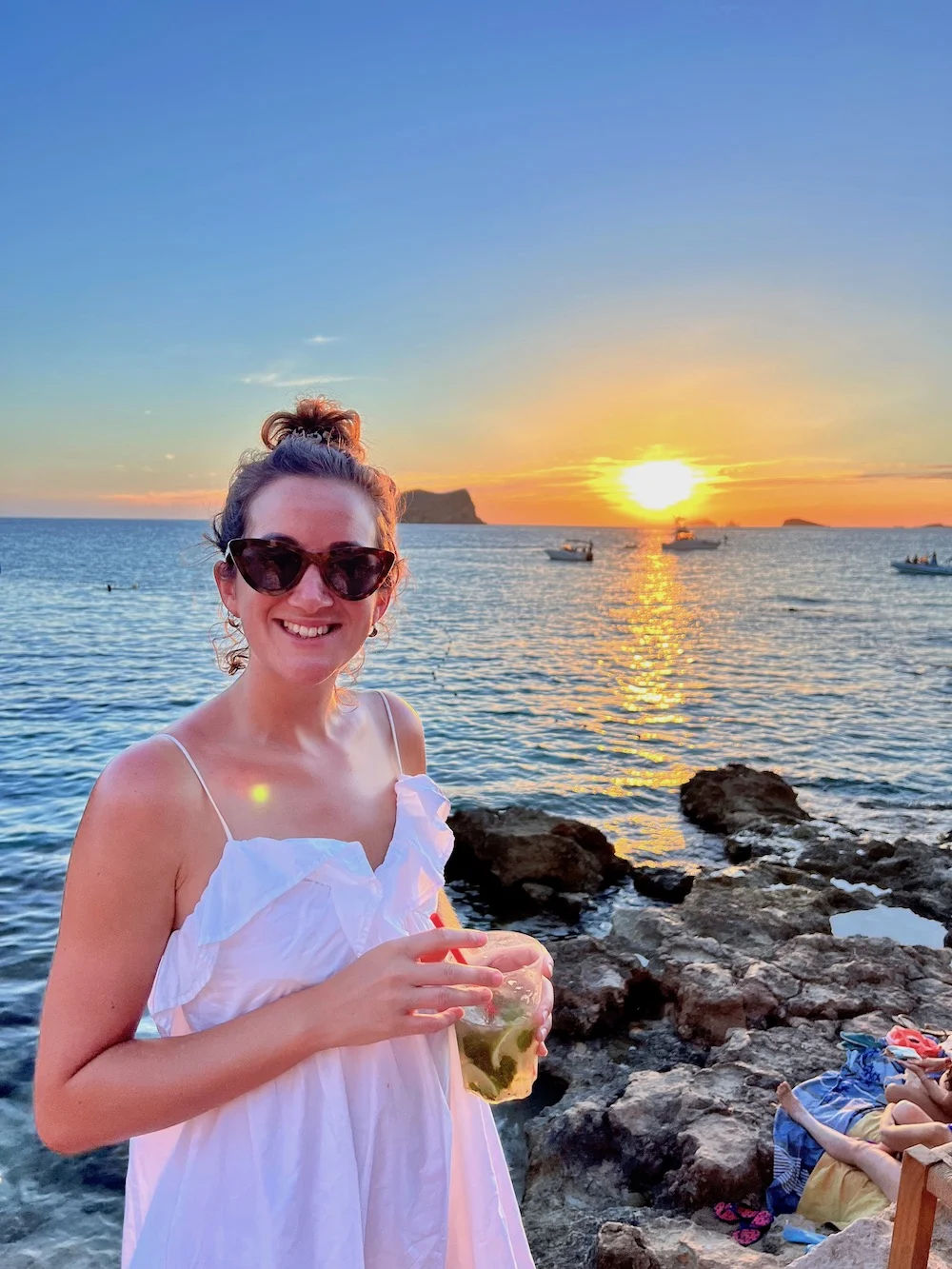 I've split our Ibiza expenses into two categories. The first is expenses split between myself and Jen. If there were four or five of you then most of these prices would be split between all of you. If you're travelling solo then you'd have to cover the total cost alone.
The second list of prices in Ibiza are the costs just for myself.
Expenses split between two people
Item
Description
Price
Hotel for 3 nights
We stayed at Grupotel Ibiza Beach Resort for 3 nights with breakfast
€566.86
Hire car for 4 days
We had a new Kia Sportage hired through Gold Car
€185
Fuel for hire car
After a lot of driving for 4 days
€36.60
Parking
In Santa Eulària des Riu
€5
Parking
We parked the car all day when we caught the ferry to Formentera
€19.70
Parking
2 hours in San Antonio
€2.70
Hire of Suzuki Jimny
Full day in Formentera
(possibly should have taken our hire car over on the ferry but we thought we were going to hire bikes!)
€120.20
Fuel
For Suzuki in Formentera
(Petrol in Formentera was expensive!)
€24
Parking
In Ibiza Town
€4.75
Lunch
At Restaurant Jardin La Brasa in Ibiza Town – Drinks and a Paella to share between two
€68.50
Total
Total divided by 2
€1,033.31
€516.66
Single Expenses in Ibiza
| Item | Description | Price |
| --- | --- | --- |
| Flights | I flew with Ryanair with no luggage | €173 |
| Airport drinks | Coffee and a fresh juice | €6.20 |
| Breakfast | A fresh juice and a smoothie bowl at Natural Point Bistro Cafe | €18.67 |
| Beer and water | At the hotel | €6.20 |
| Dinner at Zulu | Mexican food and a drink | €24.25 |
| Dinner at Cala Escondida | Mexican food and 2 x cocktails | €41.25 |
| Beer | Small beer at Cala d'en Serra Beach | €4.50 |
| Lunch | At Codice Luna Formentera – Soft drink and a goat's cheese bagel | €11 |
| Lunch | At Amante | €80 |
| Ice cream | In San Antonio | €2.70 |
| Drink | At Six Senses | €13.75 |
| Ferry | From Ibiza to Formentera | €42.50 |
| Cocktail | At Mambo in San Antonio | €19 |
| | | |
| Total | | €443.02 |
Total cost for a 4-day trip to Ibiza
The total cost for my 4-day trip to Ibiza was €959.66
In GBP that's approximately £830.31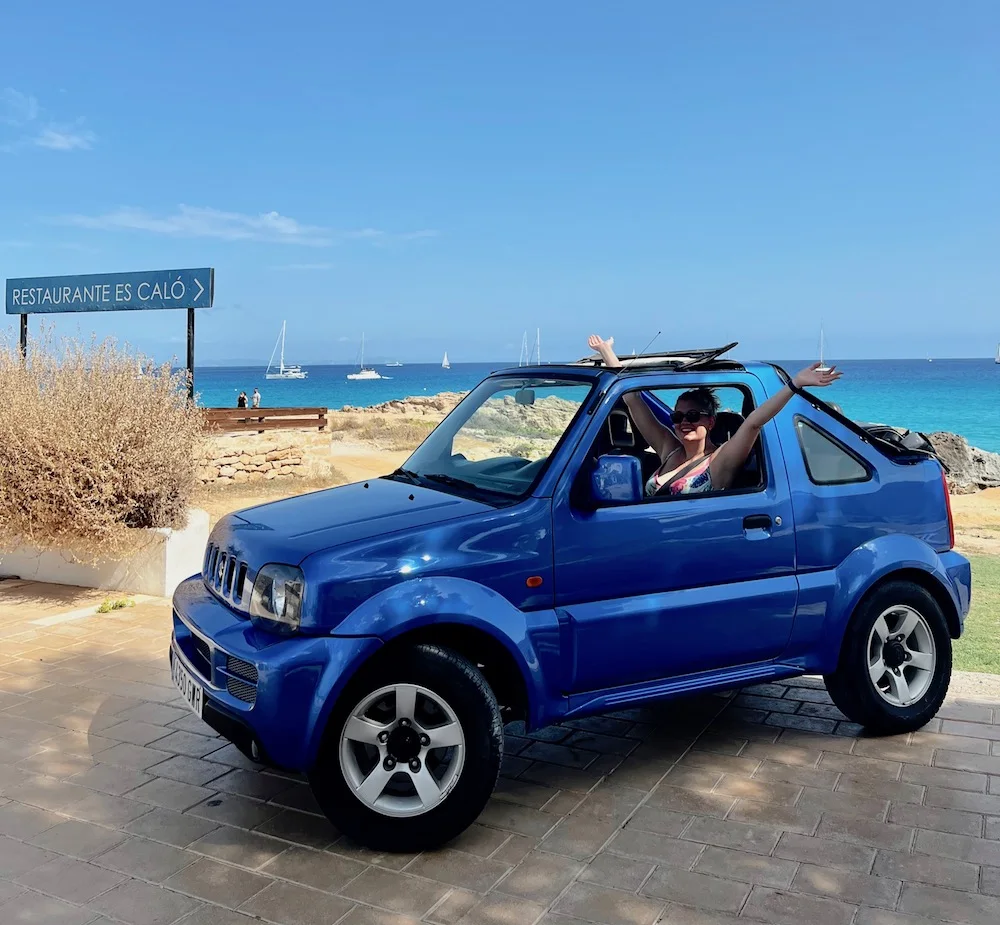 Using a Monzo Card while travelling
If you're thinking I was very organised with my Ibiza expenses then you'd be right! I'm not normally this organised but I've started using a Monzo Card when I travel.
It's an online bank account and there are no fees or extra charges for using it abroad.
You can also withdraw cash for free and it's so easy to split bills with friends who also have Monzo.
These features are great but it's the app I love. The app makes it really easy to keep track of what you're spending and see where you're spending it. You can add notes to each transaction too to remind yourself what it was.
I'm sure I'm not the only one who looks through their bank statements and can't remember what half the transactions were!
You can also create 'pots' to help you save for different things so that's a handy feature if you use a Monzo card as your everyday bank account.
This isn't sponsored or anything, I don't work with Monzo, I just genuinely think it's a great card to use when you travel. It's really easy to set up. I set mine up in less than 10 minutes and my card came in the post two days later.
If you'd like to sign up to Monzo you can use my link and you'll get £5 when you make your first payment on it!
A friend of mine sent me her link before we went to Valencia a few weeks ago and we both got a ping saying we had £5 when I paid for something at the airport so it was nice to then go and get a free glass of wine!
Are hotels in Ibiza expensive?
Yes, I did find that hotels in Ibiza are more expensive than the other Balearic islands and other areas of Europe.
Ibiza has a lot of luxurious hotels and hotels in San Antonio are more expensive due to their proximity to the bars and clubs.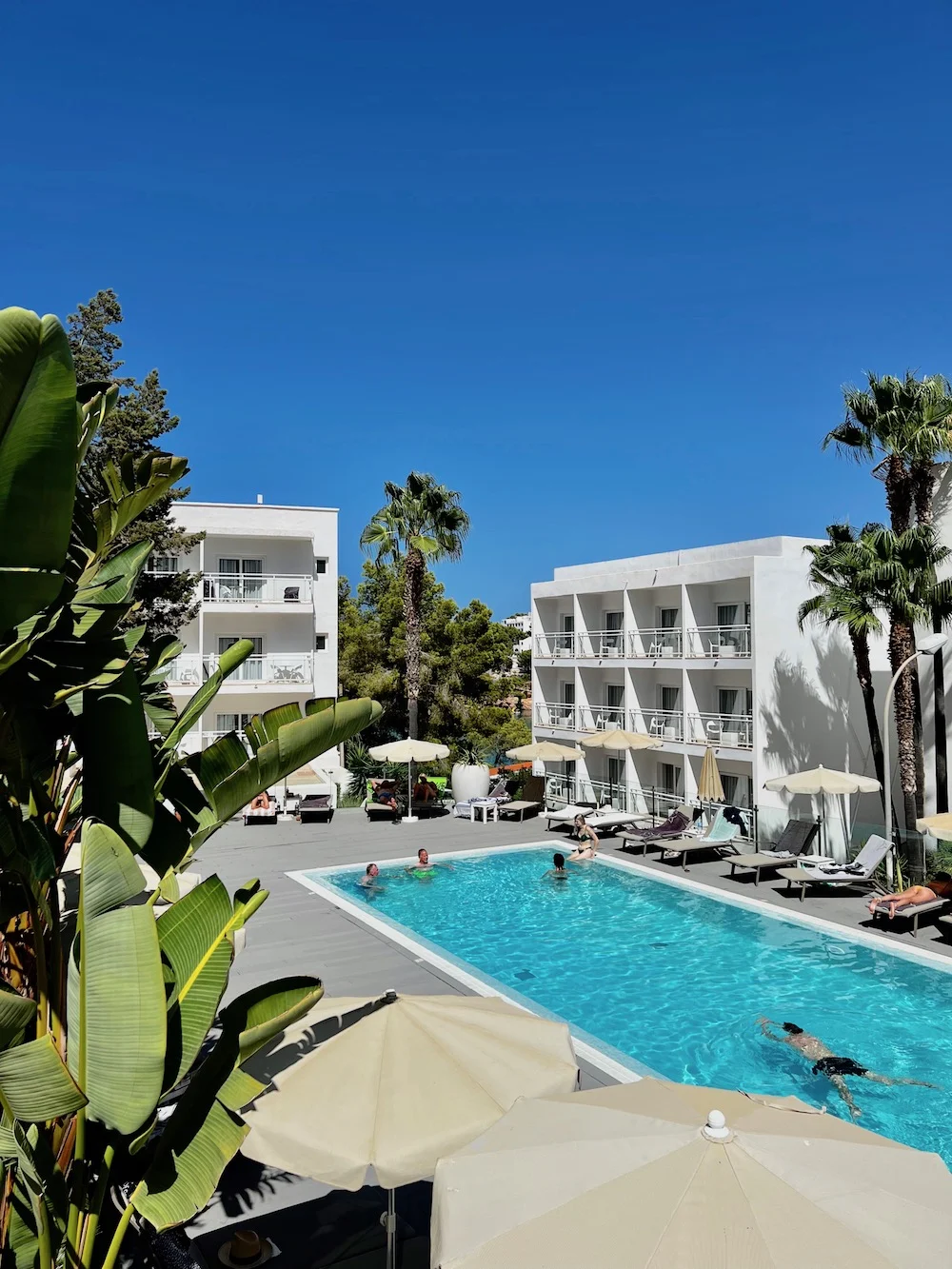 If you're looking for a nice yet affordable mid-range hotel then I highly recommend Grupotel Ibiza Beach Resort – Adults Only in Portinatx. We paid €188.95 per night with breakfast for a twin room.
If you're travelling with children then try Sandos el Greco which is the hotel next door.
Portinatx is a beautiful area with a gorgeous beach and a few bars and restaurants and we found the hotels in the area to be a little cheaper.
Prices in Ibiza for hotels are expensive!
If you want to save money on accommodation then you could look into Airbnb or stay in a more rural location. The only problem with a rural location is that you will probably need to hire a car or scooter and then your costs go up again!
How much is a Coca Cola in Ibiza? And how much is a beer in Ibiza?
When we ate out, I would often have a small beer and Jen (who was designated driver) would usually have a coke.
And to be honest, the prices were very similar.
The prices in Ibiza for a beer and a coke was normally about €4 for a beer and about €3.50 for a Coca Cola.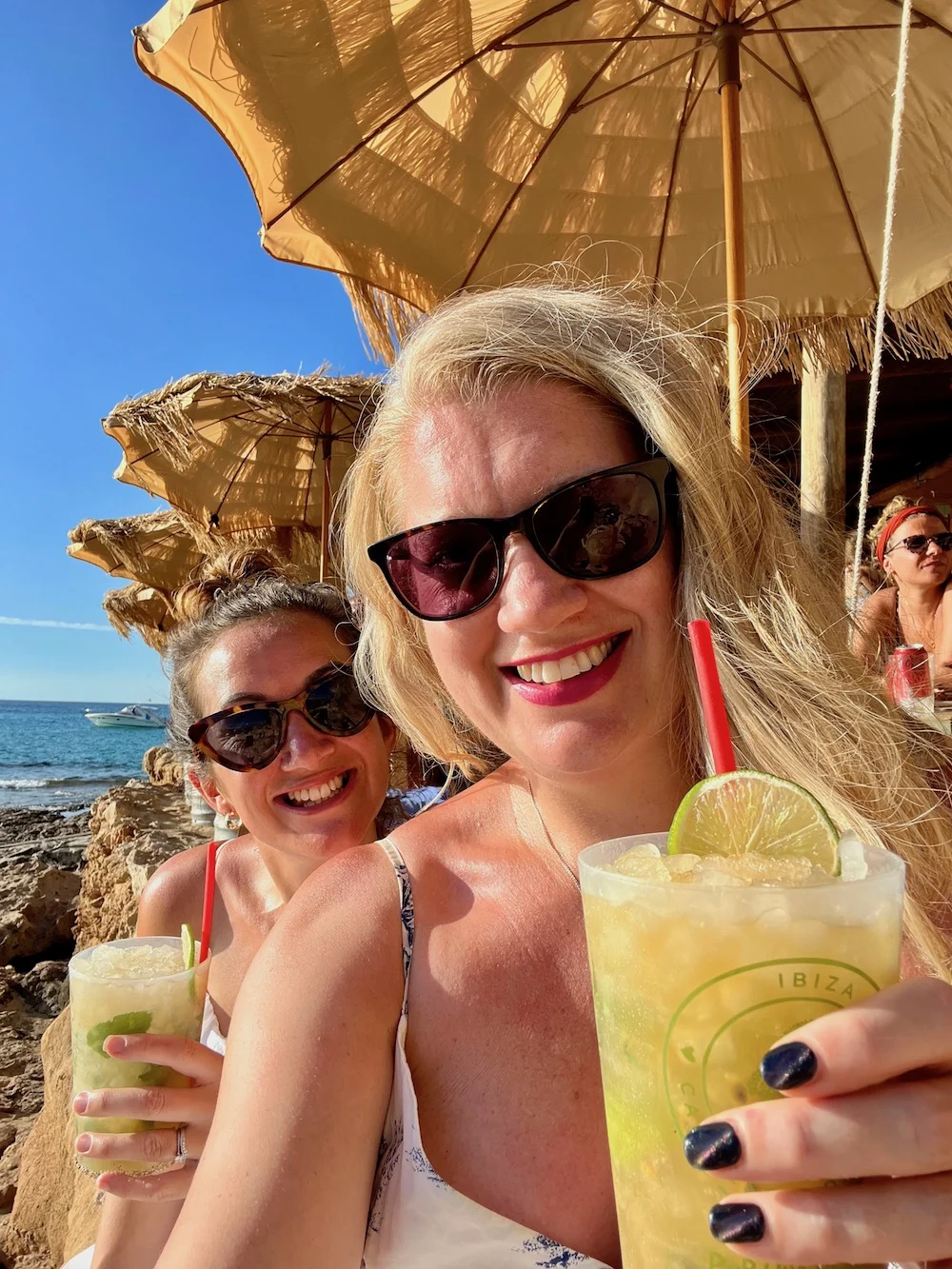 How much is a luxury hotel in Ibiza?
We visited Six Senses Ibiza while we were there and it was gorgeous! Absolutely incredible and I'd love to go back there some day.
A basic room in Six Senses Ibiza is about £1,000 a night (although I did find a mid-week stay for £750 in June 2023 which I've bookmarked!)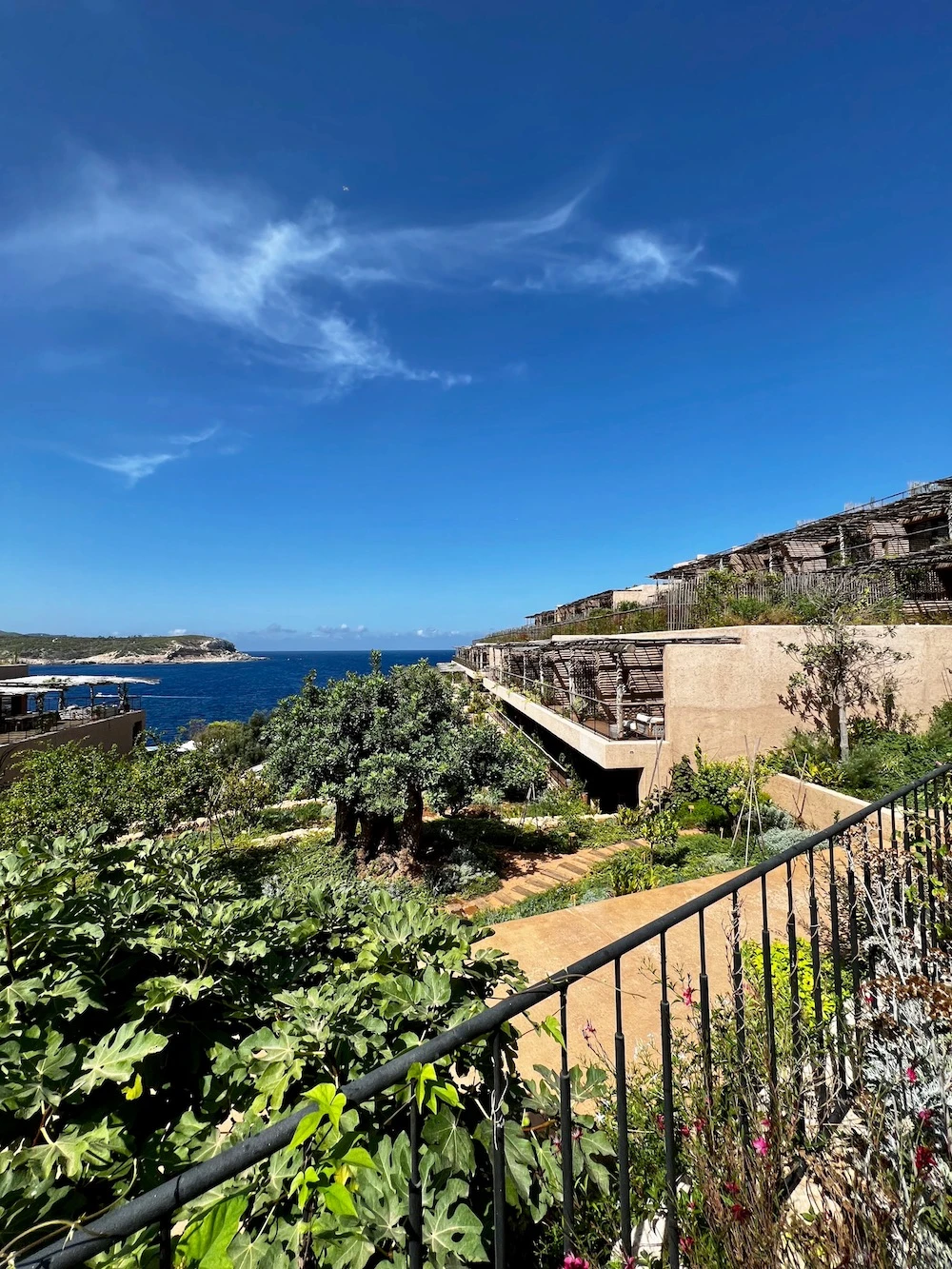 Is Ibiza Town expensive?
Ibiza Town is going to be a little more expensive as it's a popular place for tourists to visit. But I still didn't find prices to be too bad. Jen and I had a drink and shared a paella in the loveliest restaurant and it cost €68.50 or €34.25 each. Yes, it's a little bit expensive for lunch but it was a lovely setting and the paella was delicious.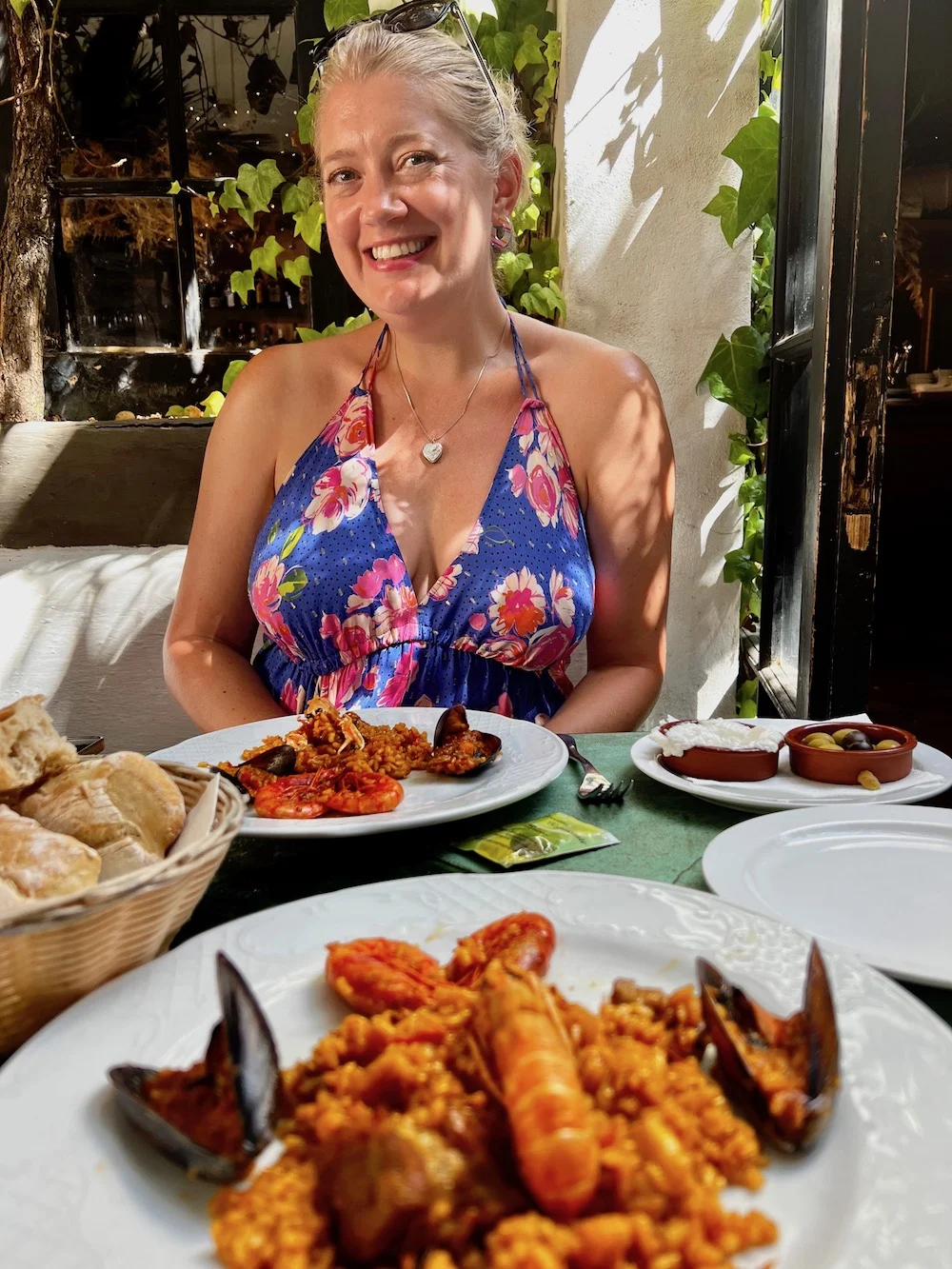 How much would you spend per day in Ibiza?
There are going to be so many things that will affect your daily spend in Ibiza. The time of year, your hotel, how many people you're travelling with, if you hire a car etc. Prices in Ibiza can vary considerably depending on the season and area you're in.
But, to give you a rough figure, I think if you budgeted €200 a day you'd have a really great time!
This would allow you to stay in a mid-range hotel, have a few fancy meals and drinks and hire a car so you can explore the island.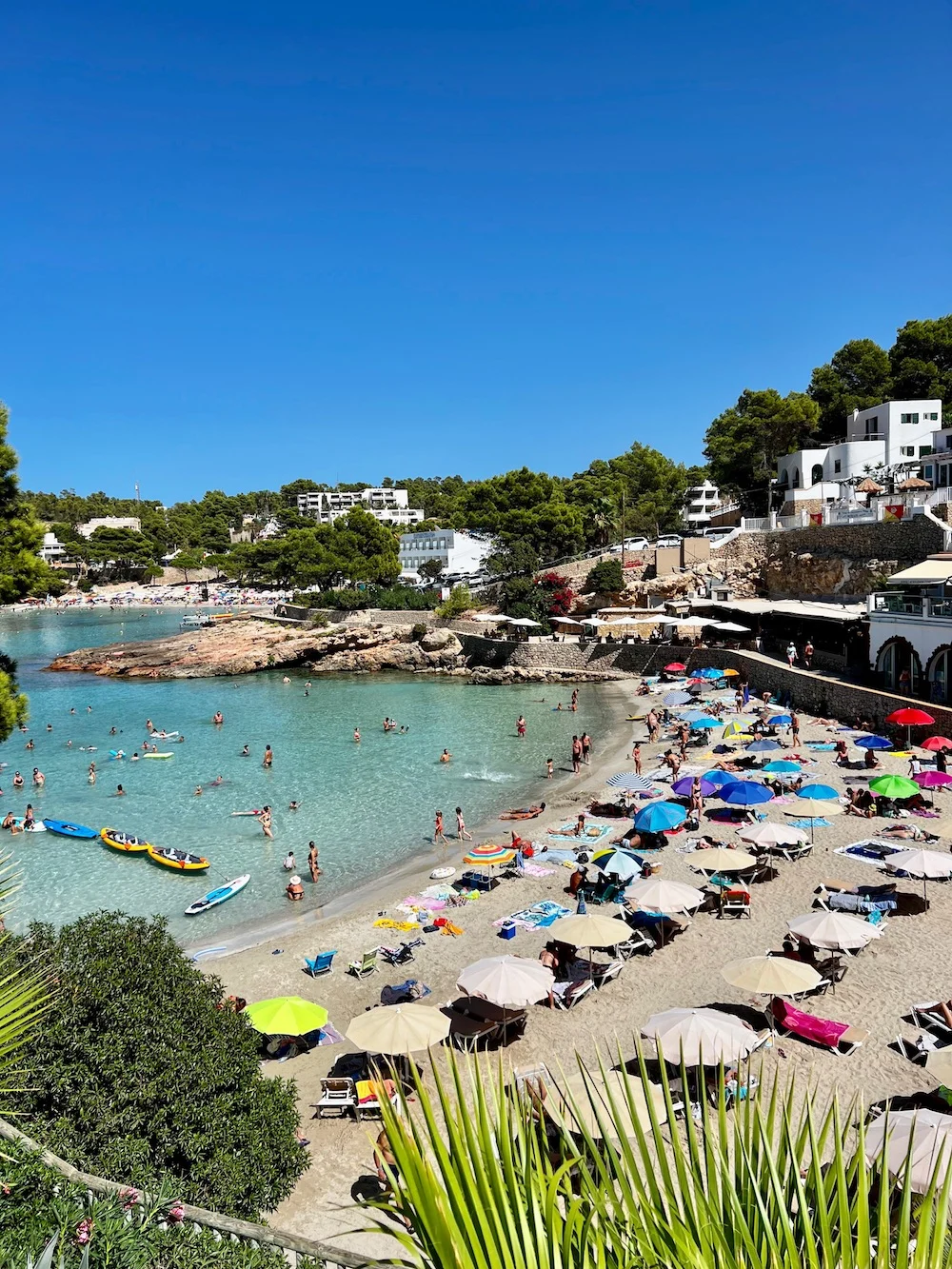 Is Ibiza more expensive in the high season?
Yes, Ibiza is considerably more expensive during the high season, which is the summer months from around June until mid September. July and August are more expensive again due to the school summer holidays.
Other things to look out for are the opening and closing parties at the clubs in San Antonio. Many clubs and bars close for the winter so the opening and closing parties are huge weekends and prices rise as demand spikes.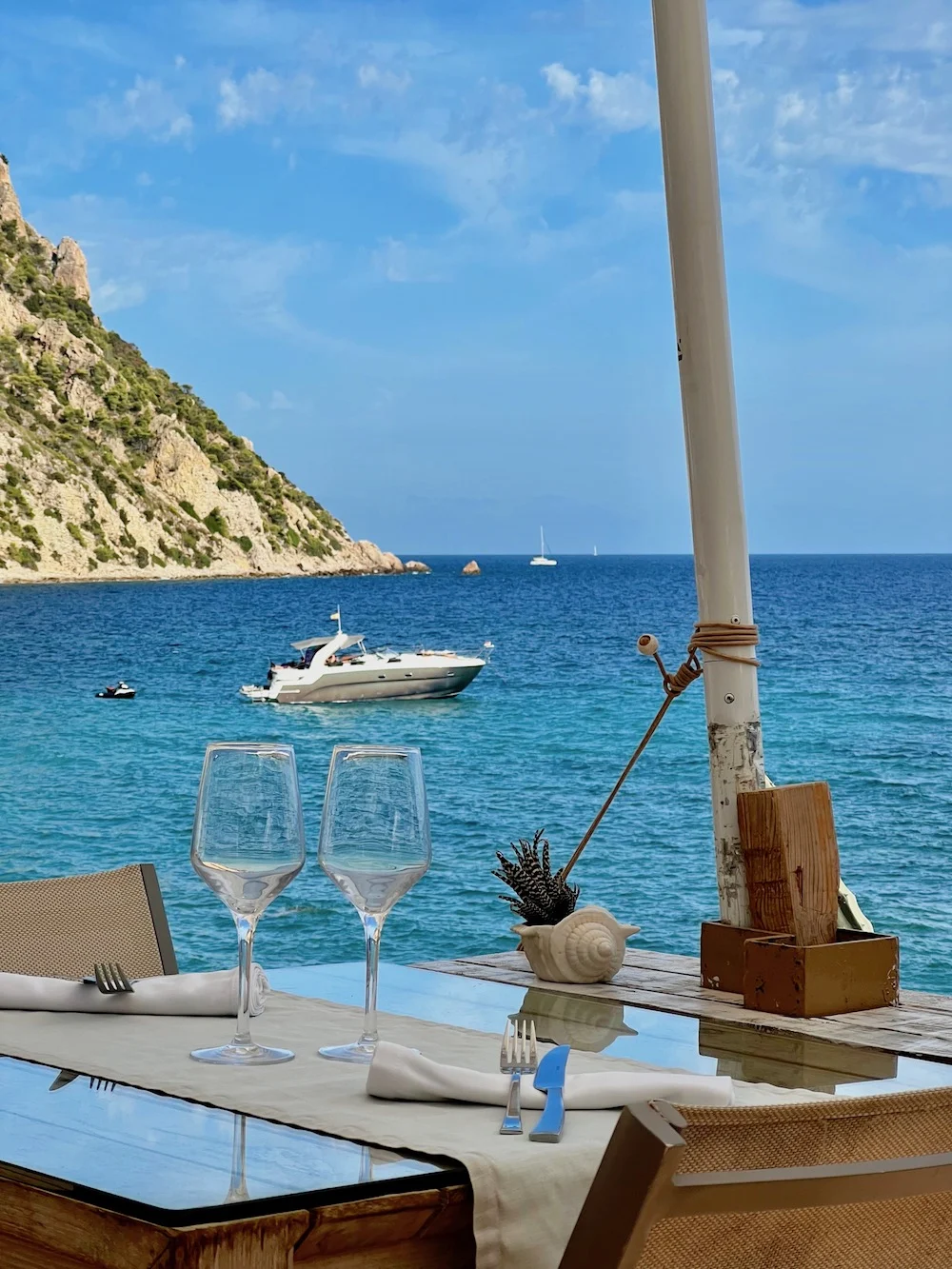 Prices in Ibiza: Is food and drink expensive in Ibiza?
Yes, food and drink is fairly expensive in Ibiza.
Like anywhere else, food and drink is expensive in touristy areas and you can find much cheaper dining options in less popular areas.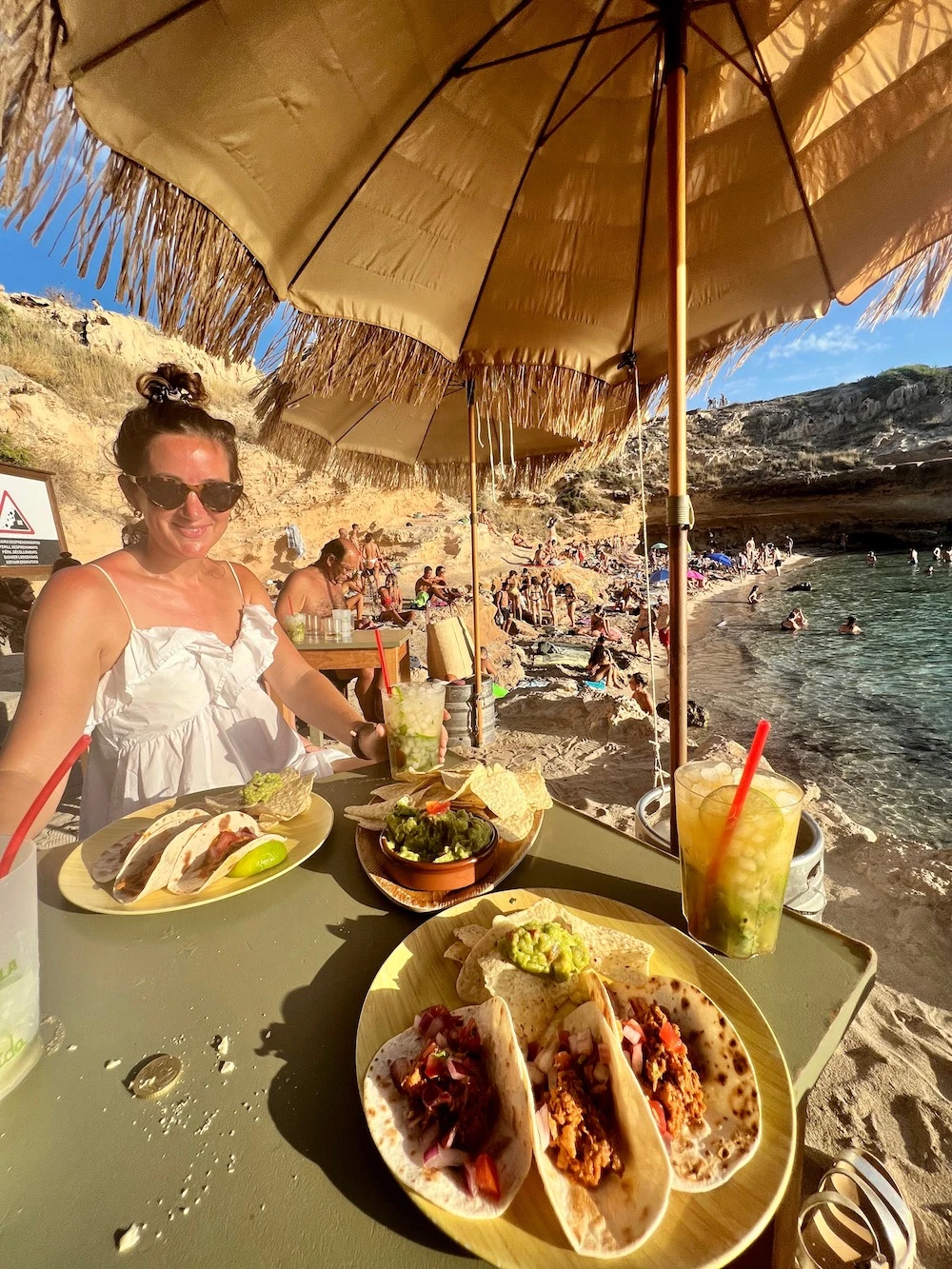 How can you save money on a holiday to Ibiza?
We saved money on our holiday to Ibiza by visiting from Sunday – Wednesday. This is a much cheaper option than visiting Thursday – Sunday or even Friday – Sunday which is more expensive again.
We saved money by paying a little extra to have breakfast included at the hotel. It was about €6 per person per day for breakfast and this worked out much cheaper than going out for breakfast each morning.
We also didn't check any luggage in and had the 'free' under seat cabin bag with Ryanair which saved about £40.
If you want to find out more about travelling super light with just free luggage, read more: How to pack an under-seat carry on bag for a week away!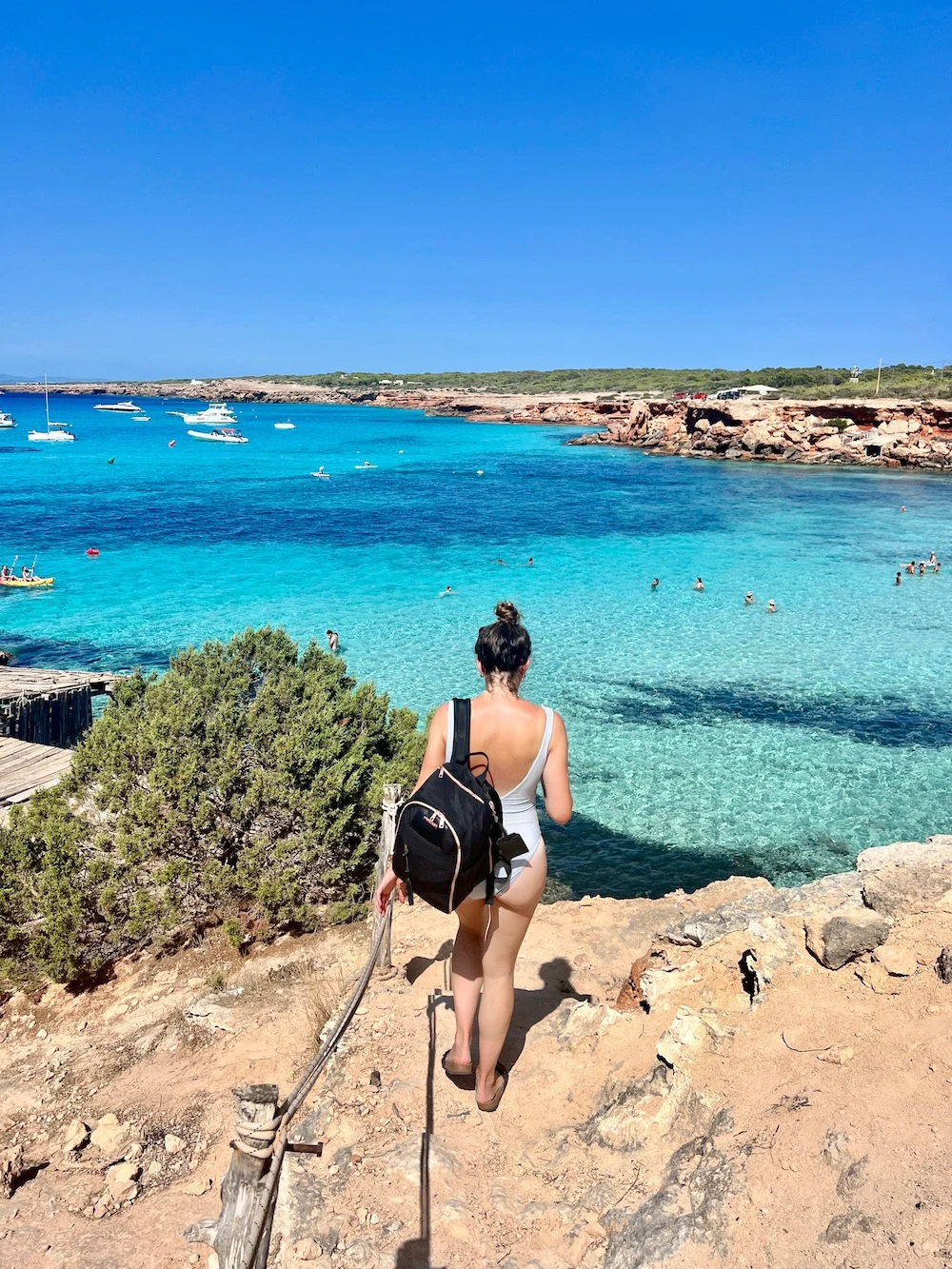 I travel with just The Travel Hack Backpack.
Would you go to Ibiza for a cheap holiday?
No, if your primary goal is to get a cheap holiday then Ibiza is not the place to do it! The prices in Ibiza are pretty high so this isn't the place for a cheap holiday.
If you're looking for a party holiday then why not consider Majorca, another beautiful Balearic Island with a party vibe in Magaluf.
So to answer the question, is Ibiza expensive? Yes, it is expensive.
In my opinion it's well worth the expense. I think it's a beautiful island and is definitely my favourite of the Balearic Islands. I love having the combination of beautiful beaches and scenery with chilled vibes and gorgeous bars and restaurants.
If you are looking for a cheap and cheerful holiday to Spain then I highly recommend a destination such as Salou. I have a guide to things to do in Salou to give you some inspiration.